Happy Friday friends!  Who's ready for the weekend?  Today I'm sharing some home decor inspiration.  I'm rounding up a few pictures from some of the homes I toured last fall.  At the rate I'm going with sharing these house tours, it'll be time for this years Parade of Homes!  You may recall I posted Interior Design Ideas a while back.  Basically it's me sharing home decoration and interior pictures that I didn't get enough of to put into a complete home tour.  They're too good not to share!
*this post includes affiliate links for your shopping convenience, you can read more about affiliate links by reading my Disclosure*
BOYS THEMED BEDROOM
I always enjoy looking at staged homes with themed bedrooms for kids.  I get so many great ideas for what to do in my own kids rooms either now or in the future.
This boys bedroom theme is hockey and I like the focal point being the hockey sticks over the bed.  It speaks to the personality of the room without going overboard.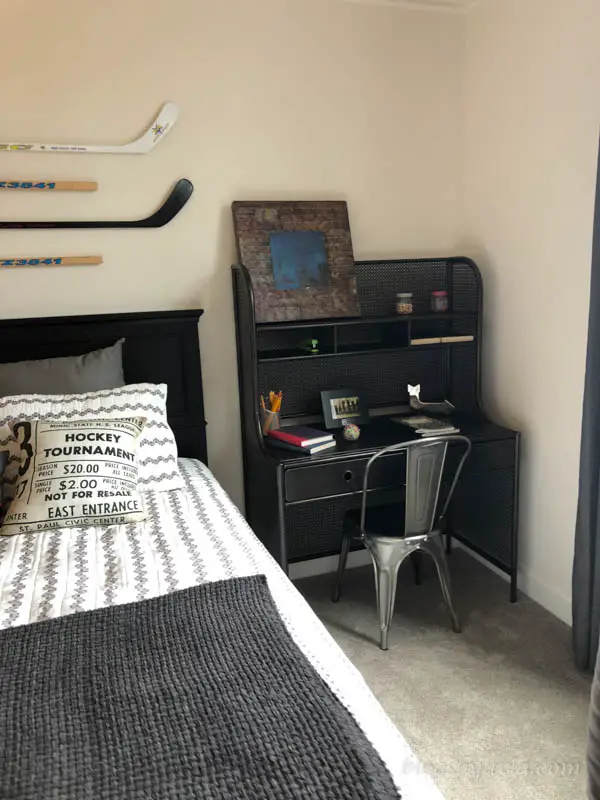 The rest of the room has a masculine and industrial feel that I think a young man can enjoy from middle school through college.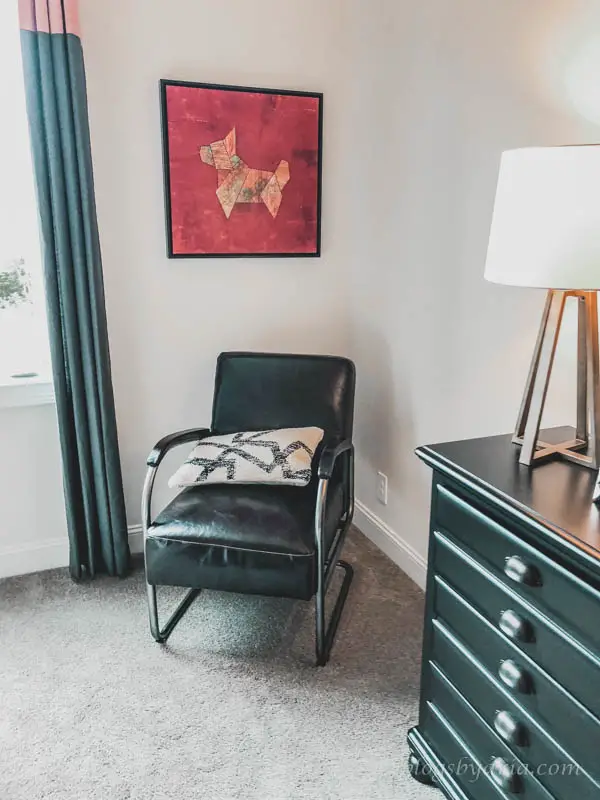 It's definitely a mature space and I like that.  A kiddie space works when children are small but it's nice to have a more mature space like this so that it doesn't have to be completely overhauled several times.
This attached bathroom actually went with the last home interior ideas post I shared. Woops!
ROOFTOP DECK
We saw this house on the first day of us going to look at the Triangle Parade of Homes tours.  The weather was simply beautiful and made for the perfect backdrop for this rooftop deck.  I like that it's an unexpected bonus.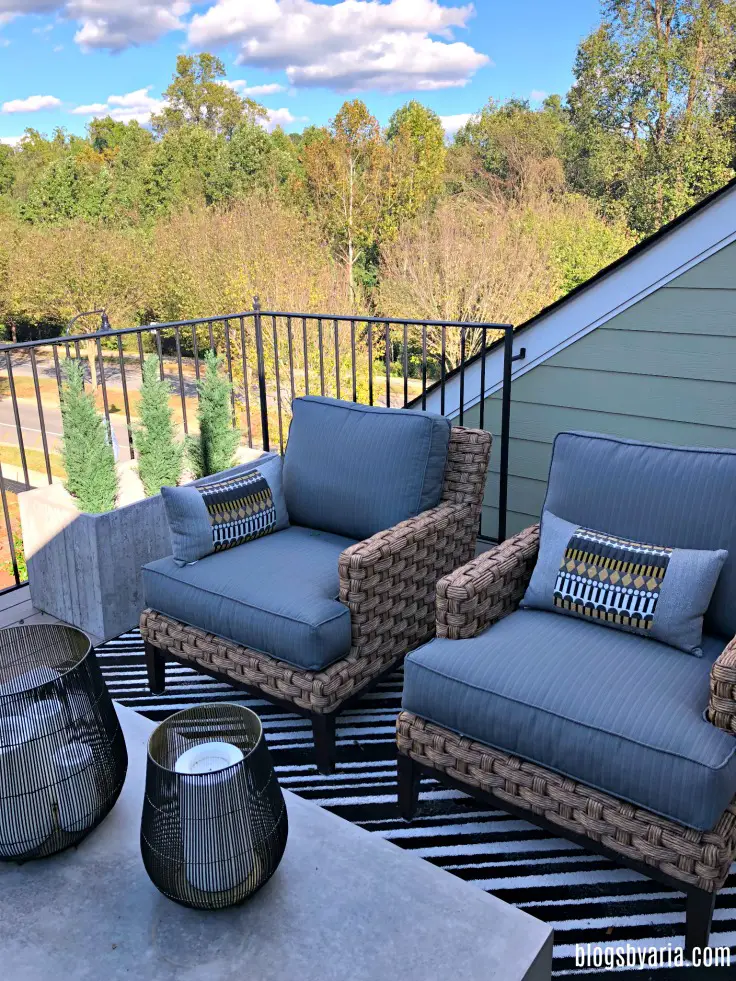 I love the basket weave detail of these chairs.  Such a cozy place to gather with friends and family.
OFFICE / STUDY SPACE
This additional bedroom was staged as home office.  Jordan liked sitting at the desk with the faux computer : )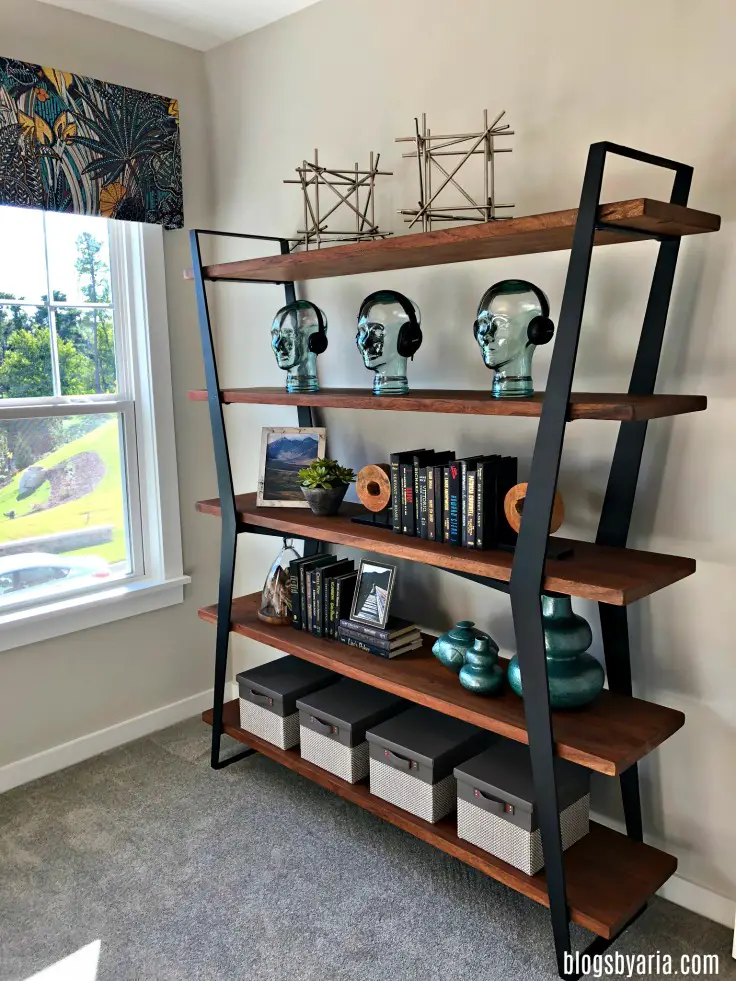 Isn't this a cool shelving unit?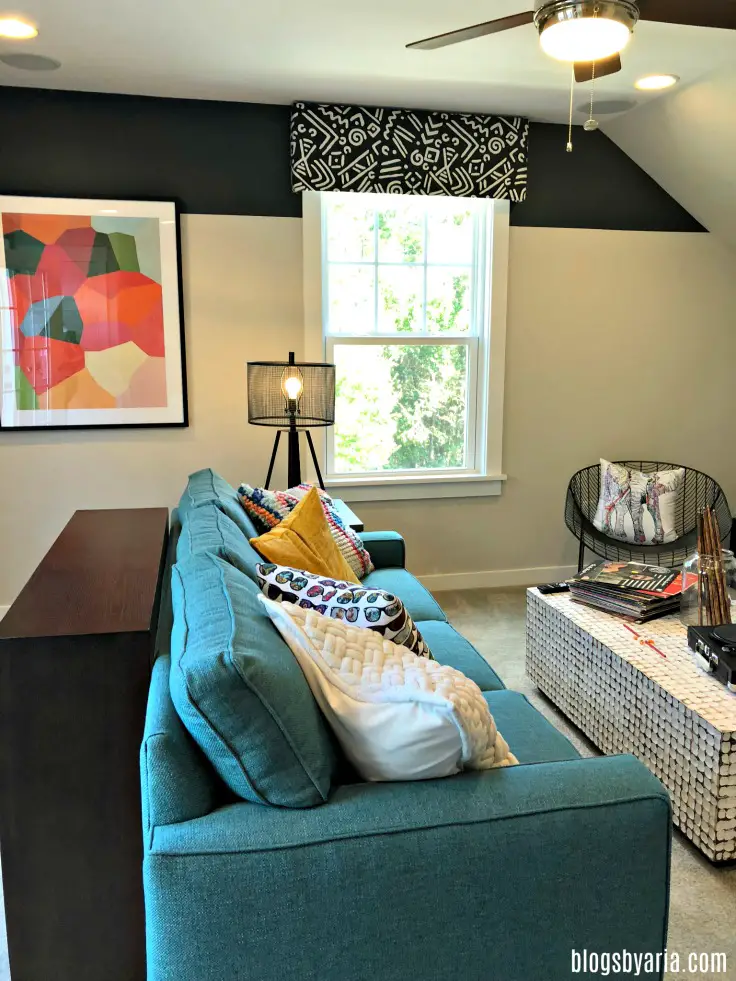 Same house but set up as a rec room or teen hangout space.  I wanted to share these pictures because I love all of the textures used in the design.  I wouldn't naturally be drawn to the coffee table for example, yet it really works in this space.
BEDROOM DECOR INSPIRATION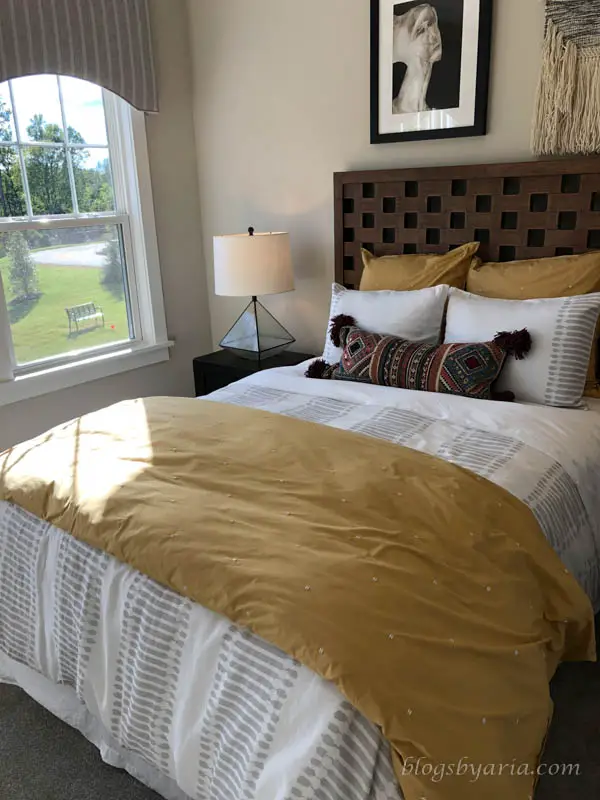 The detail of this headboard is really unique.  I wouldn't naturally be drawn to it but I think with the bedding it has a lot of personality.  It's perfect for a guest bedroom and can be made to feel more masculine or feminine based on the bedding.
Another reason why I enjoy touring staged homes, is to get some great decor inspiration with bedding.  I'm very much, go to the store and buy what I see as a bed in a bag or on the display.  I'd love to get more confident in bedroom decor.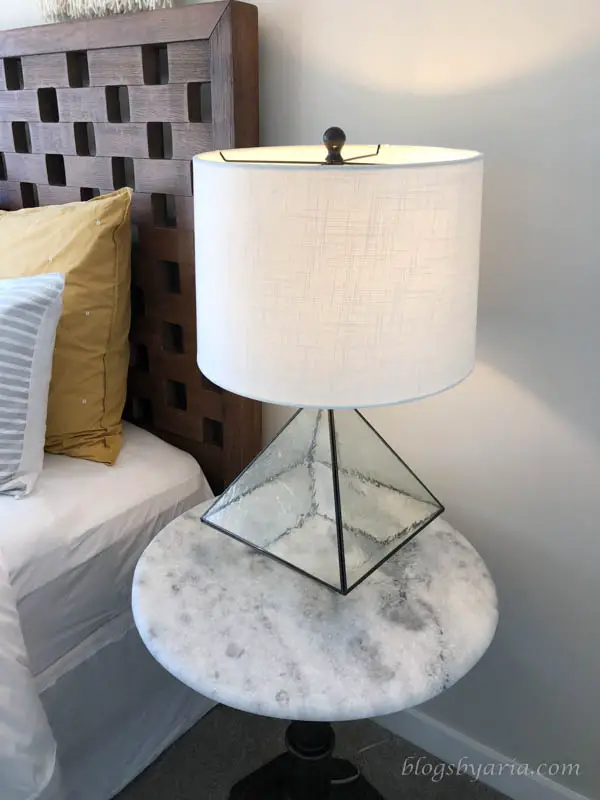 I also enjoy the combination of the glass lamp with the marble top side table.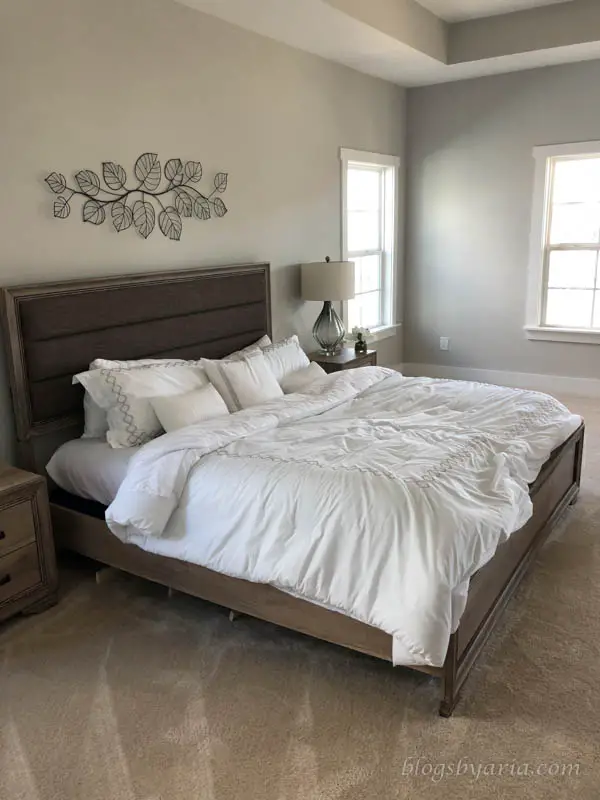 Aside from the fact that someone clearly sat on this bed #facepalm, I like the size of this master bedroom.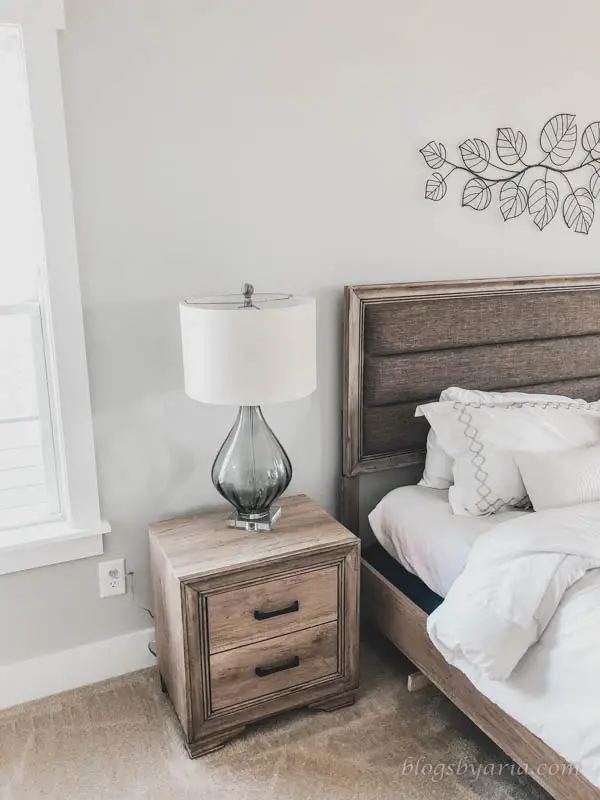 There wasn't anything too special done with the staging.  But you can see that with a king size bed you still have a lot of space to work with.
HOME DECOR INSPIRATION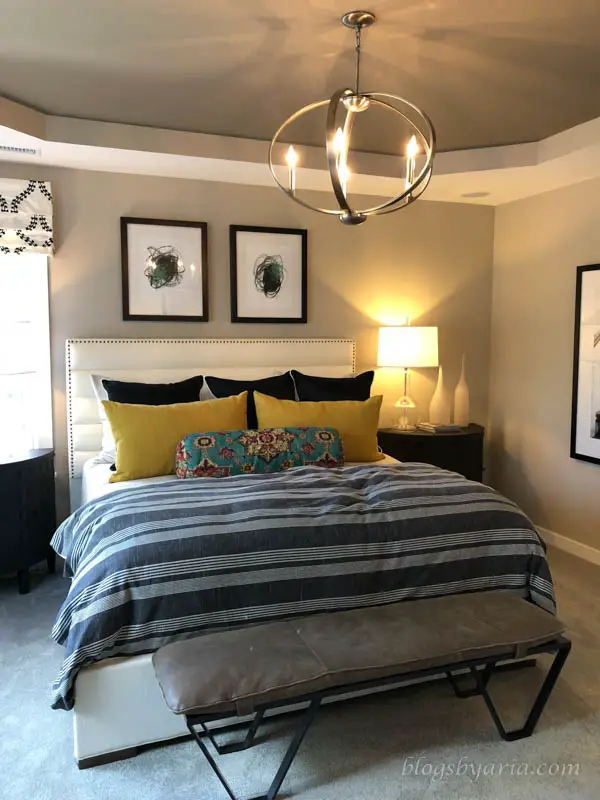 I am absolutely obsessed with this bed!
BATHROOM DETAILS
I thought this was a pretty unique bathroom.  The glass enclosed shower allows you to see the beauty of both the shower tile and the beautiful bathtub.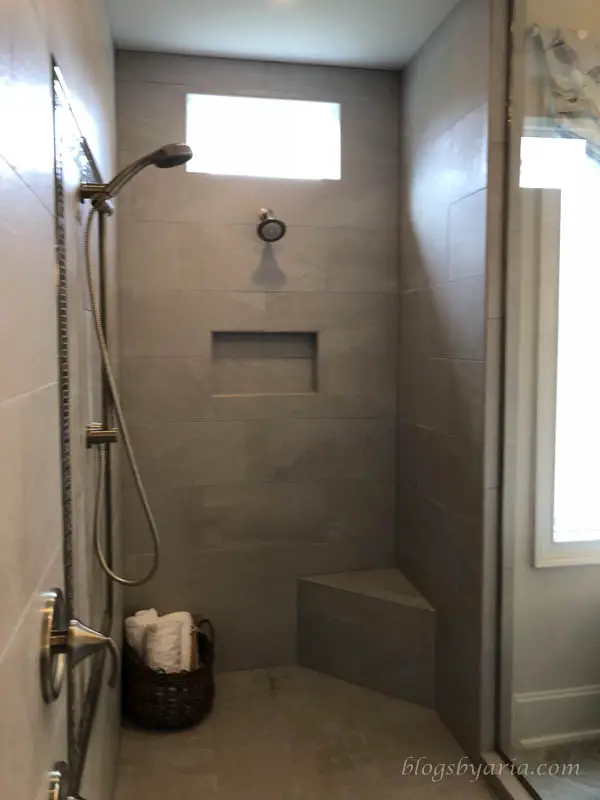 Can never go wrong with dual shower heads right?!
And a beautiful vanity with lots of great storage.
CLASSIC BEDROOM DECOR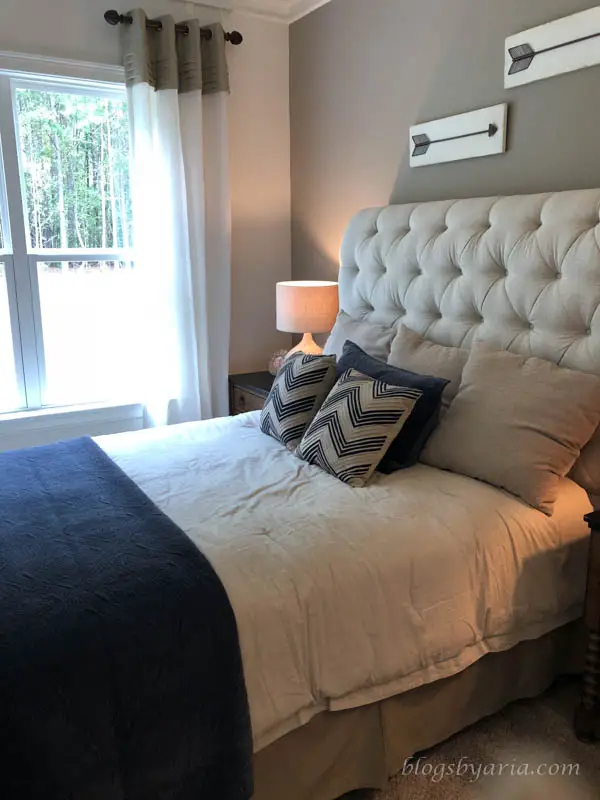 Moving on to another bedroom we looked at, I love the headboard in this room too.  I think I am easy to please with a bed but something about the tufted headboard look is both beautiful and comfortable.  It looks to be similar to my dream bed, The Chesterfield Tufted bed by Pottery Barn.
I thought these were a cute set of chairs.  Nice for a bedroom.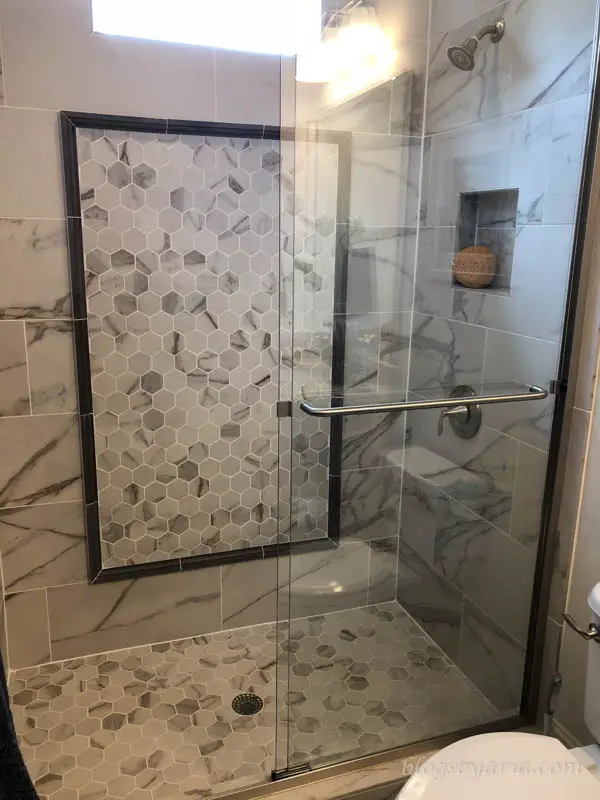 I don't want to keep saying I'm obsessed with things, but I really love hexagon marble in the bathroom.  And I particularly like how they used it on both the shower floor and as an accent wall.
Can't complain about this walk in closet!  It's a great way to use the space caused by roof pitches and peaks.
Enclosed bathtubs are my preference.  How about you?  Standalone vs enclosed?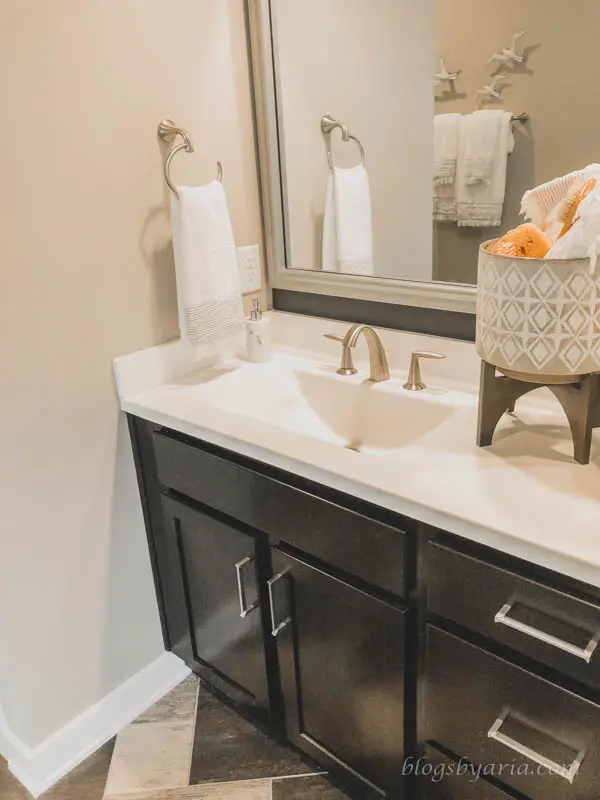 Ending the post with one last bathroom shot.  I love the clean hardware and the faucet.
Now that I've shared some home decor inspiration with you, I can move on to a few more Parade of Homes house tours that I'm excited to share soon!  So stay tuned for that!  In the meantime thanks for spending time with me today : )