Happy Monday friends!  I'm typing this early on a Sunday morning.  I'm up after being up past midnight and it's not because I want to be.  Jordan had his good friend stay the night, a first for us, and they went to bed late and loud and woke me up early and loud.  Needless to say I need some coffee.  Normally the answer is always NO when asked can a friend stay the night.  We live in a two bedroom home and the kids share a room.  But we were needed this time around and DH said yes.  It just so happened that Brianna was going to her friends birthday party and after the hundredth time asking for her to spend the night over there, I said yes.  So here we are.  And here I am, up at the crack of dawn.
I have been meaning to share my monthly planner spreads lately and it kept getting pushed back.  So last week when I had some good daylight I snapped pics of all of them to share with you guys.  So let's get into my October and November planner spreads roundup.  I love sharing them with you!
*this post may include affiliate links, you can read more about that by reading my Disclosure post*
October Planner Spreads
Starting with this plaid monthly kit from Lexie Kylee Designs.  You know if you've been following along this year that I absolutely love her monthly kits.  This kit was no exception.  I just love the colors and I of course always love when it's both beautiful and functional.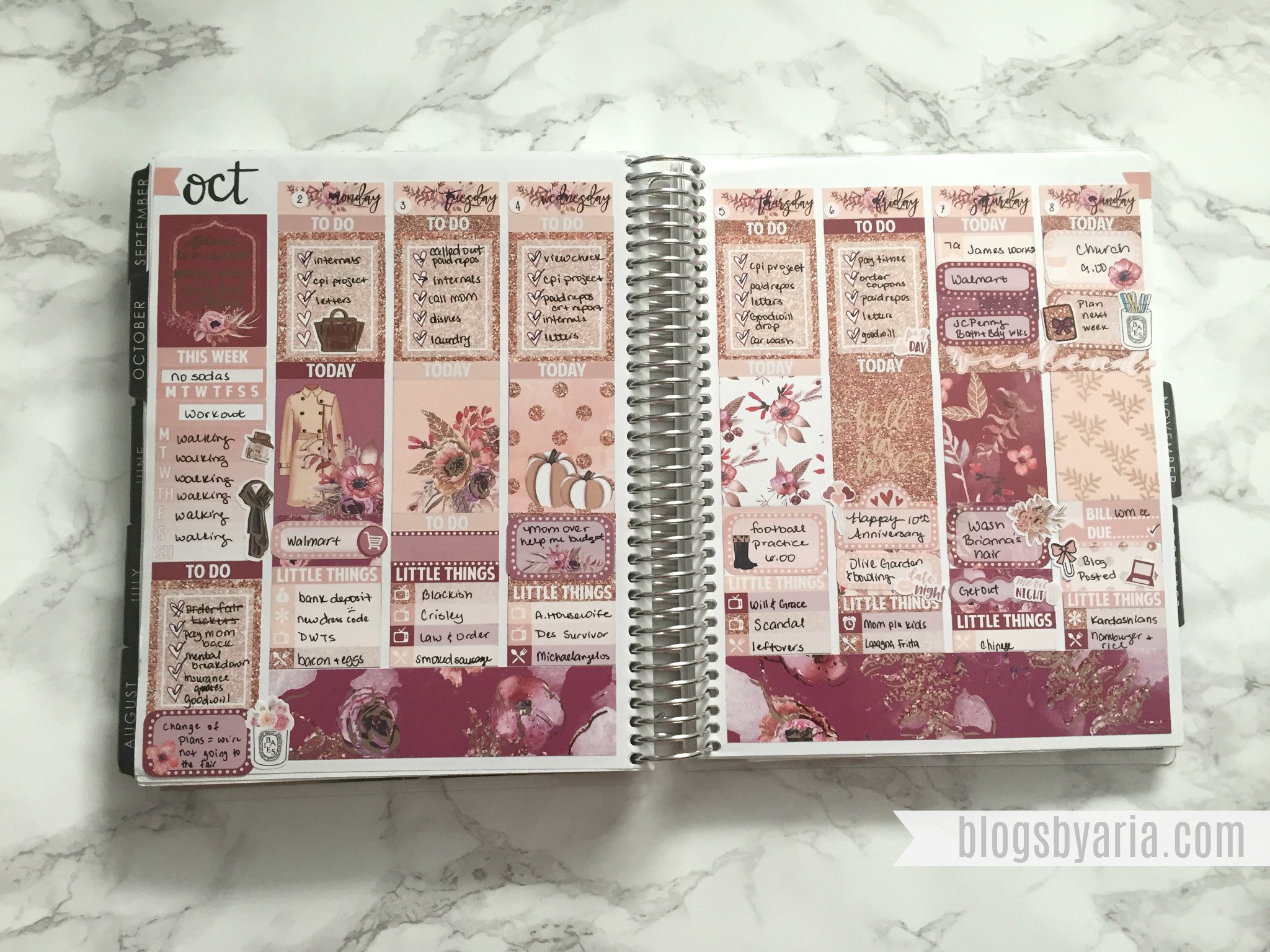 Next is the kit from Simply Watercolor Co that I used for the week of our wedding anniversary.  I loved the gold foiling and it was my first time using a foiled kit.  I love how it turned out.
This was the week that I pre-planned way ahead of time for us going to the State Fair.  I previously shared that debacle and how I learned my lesson for pre-planning too far in advance if it's not a holiday.  I still loved the kit tho, which was by The Glam Planner.  But had I not pre-planned I could have used one of my other fall kits that I have a few leftover for next year.
I was totally obsessed with this pumpkin glam kit by Little Miss Paperie.  It would be even more stunning in glossy.  Ya'll know I'm a matte girl but I'm coming around and using more glossy kits.  I'm always evolving.  This is the week I started to get sick and didn't quite know what the next week had in store for me.
Get 10% off your first purchase at Little Miss Paperie here!
The week before Halloween I used this Haunted Halloween kit by The Glam Planner.  I have wanted this kit since I first saw it last year.  She offered it a couple of times this year due to multiple requests and the first time I couldn't swing it but when it was offered again I was so happy because I could buy it and soon it was mine!  I'm so glad too because I loved using this kit.  It's a scene kit so it's more for looks than function.  This week I went to Urgent Care for the sore throat that I realized was more than just a sore throat.  So grateful for my health and for health insurance.
November Planner Spreads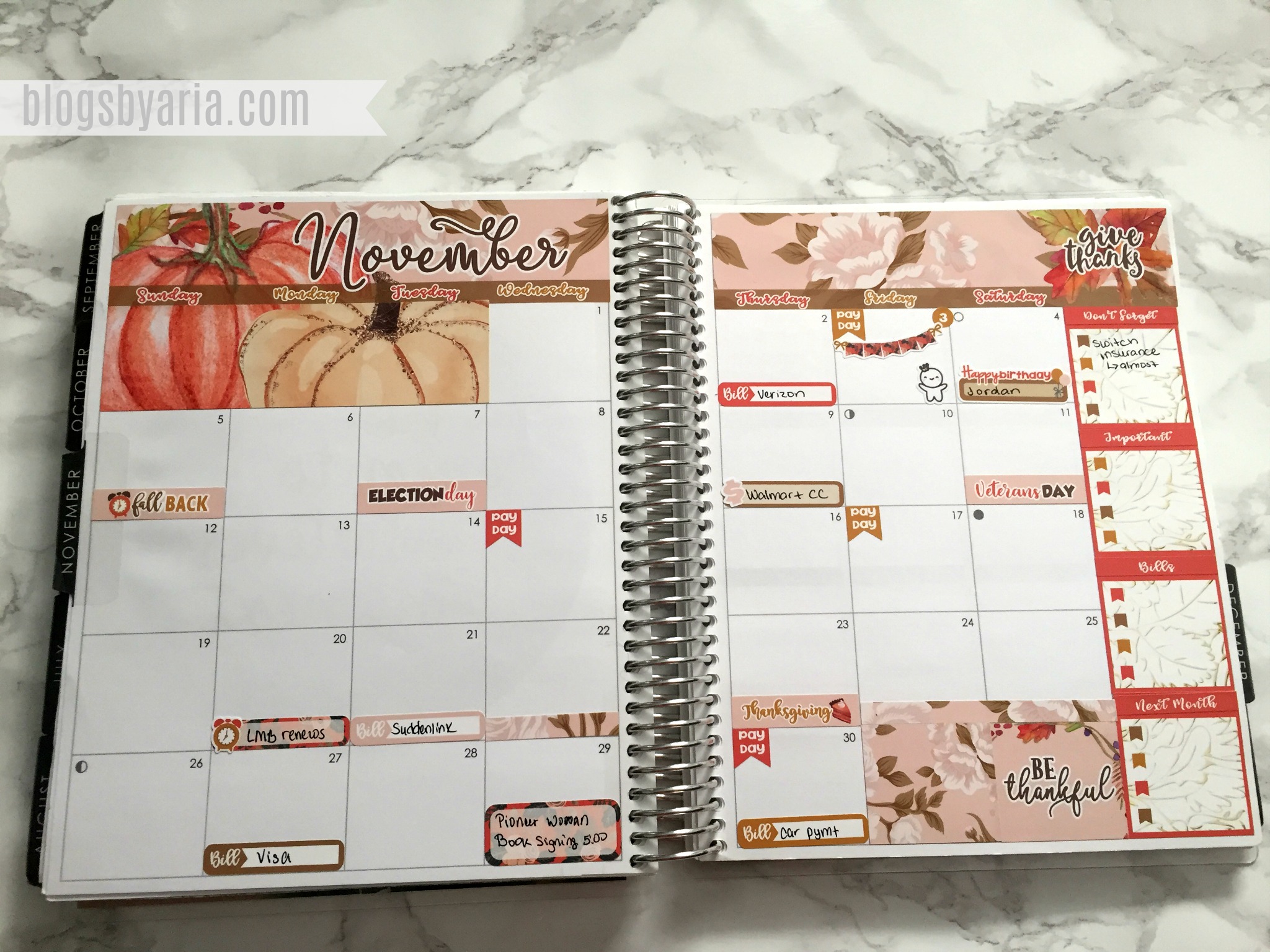 As pretty as this monthly spread is, you can see it didn't prove functional for me.  Some months are like that.  I'm much better when I use my monthly spread but this month kinda got away from me.  This kit was by Lexie Kylee Designs.
This is my birthday spread.  I used the birthday girl kit by Little Miss Paperie in glossy.  I loved this kit!  I wanted a kit that was celebratory and although this has a lot of florals and pinks I didn't want it to be over the top girly.  Does that make sense?  Me and Jordan have back to back birthdays so I really liked the happy birthday balloons for both of us.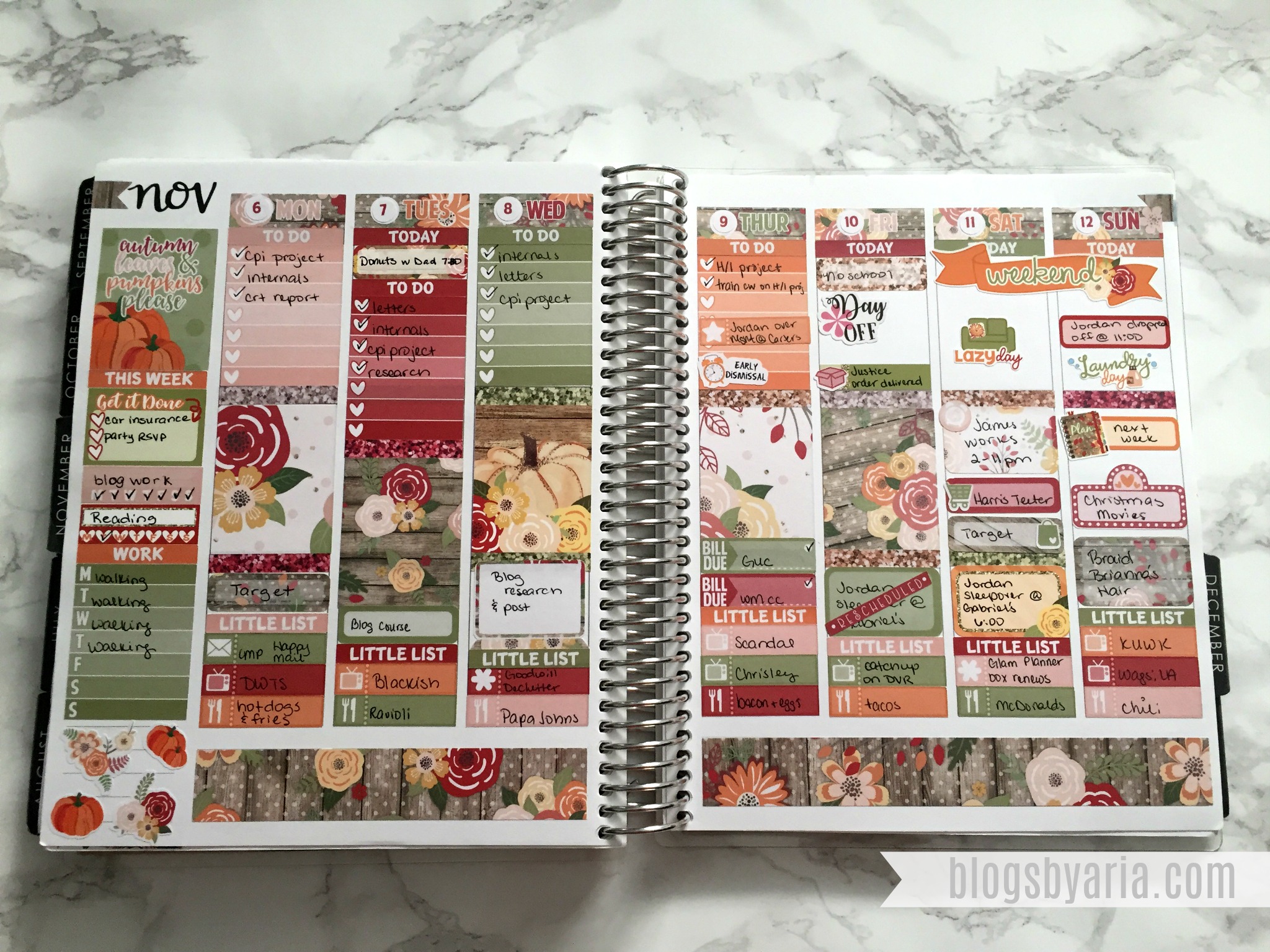 Back to Fall spreads for the following week.  This was a Little Misstery Box from Little Miss Paperie.  This one featured Lexie Kylee Designs and I had enough stickers leftover that I'm going to use the leftovers next year.  Two of my favorite sticker shops in one spread!
Another LMB for the next week.  I liked the light blue mixing with the more traditional autumn colors.
That brings us to Thanksgiving week!  I used this beautiful kit from Lexie Kylee Designs.  You'll see that it matches the November monthly spread.  When I saw this kit I knew it was perfect for me because the quote boxes are about gratitude.  And that's the spirit of Thanksgiving.
It's hard to believe we're at the end of 2017 already!  I mean, I feel like we say that every year but it's crazy how fast time goes by.  Before I know it, I'll be cracking into my 2018 Erin Condren Life Planner and getting into the swing of things.  And another year will be in the books.  Well, on that note let's end 2017 with a bang!  Thank you for spending time with me today 🙂  I am thankful for you!  If you're not already, be sure to subscribe to my newsletter below.  I have some exciting things planned for the new year with my newsletter!  Have a great week!
Get 10% off your first purchase at Little Miss Paperie here!
Get $10 off your Erin Condren Life Planner here!