Since the beginning of the year Target has had some really good releases with their home decor collections.  From Hearth & Hand to Studio McGee and everything in between, they've just keep coming with really great decor finds.  I'm going to share some of my recent Target home finds and how I've styled them in my home.
*this post includes affiliate links for your shopping convenience, you can read more about affiliate links by reading my Disclosure*
bookshelf • wide textured vase • small woven box • large woven box • artisan glaze jar
There are a few things on my bookshelf that are new from Target.  The bookshelf isn't new but it's from Target too!  Let's start at the beginning.  Early in January it finally dawned on me that I really wanted the popular stacked woven boxes.  And I didn't just want one, I wanted them both.
At the time the smaller box was out of stock so I set up in stock alerts.  It would alert me it was back in stock and then it would go out of stock milliseconds later.  And so the torturous game began.  Within a day or so and a lot of stress I finally was able to order both boxes.  Let me just say, they were well worth the fight!  I love them!  Now I see why they're so popular.
Another new find on my bookshelf is this wide white textured vase from the Studio McGee line.  It's one of those pieces that when you see it online you might not look twice at it.  I certainly didn't.  But when I saw it in store I loved it and knew it needed to come home with me.
It's perfect on it's own or you can add some greenery to it like I did here.
The last find on my bookshelf is this Artisan glaze jar.  It has a lid that makes it nice to stow something away.  You could use it in a bathroom as functional decor.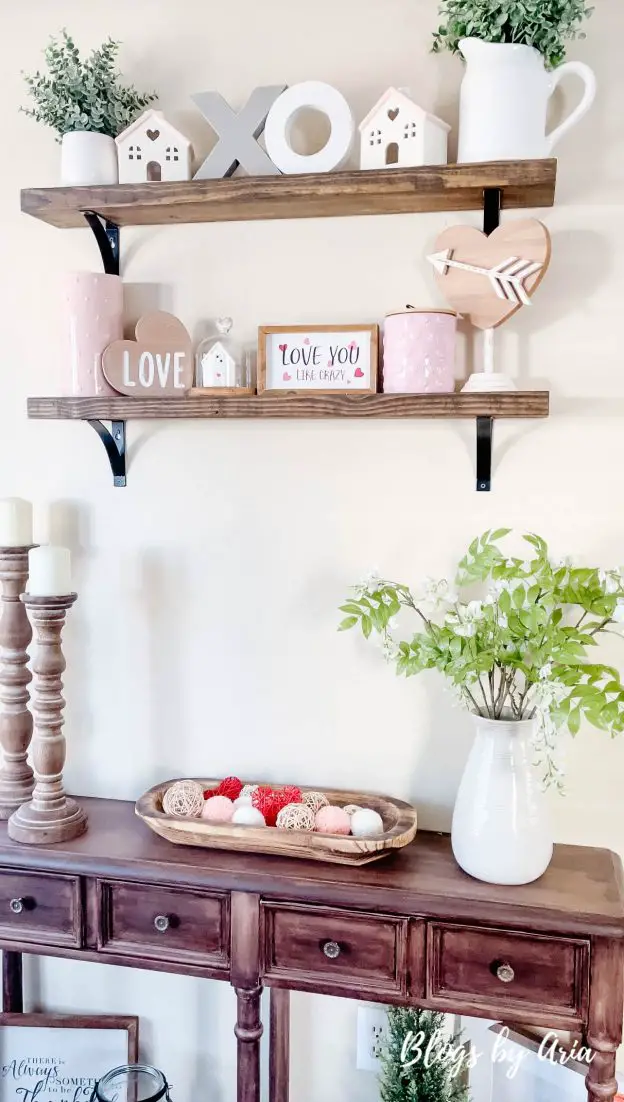 wall shelves • similar candlesticks • similar dough bowl • glaze vase • wisteria stems • console table
I took a screenshot of this picture from a Tik Tok I made.  Never did get around to sharing my Valentine's decor on the blog this year.  But what I really want to share is this Artisan glazed vase.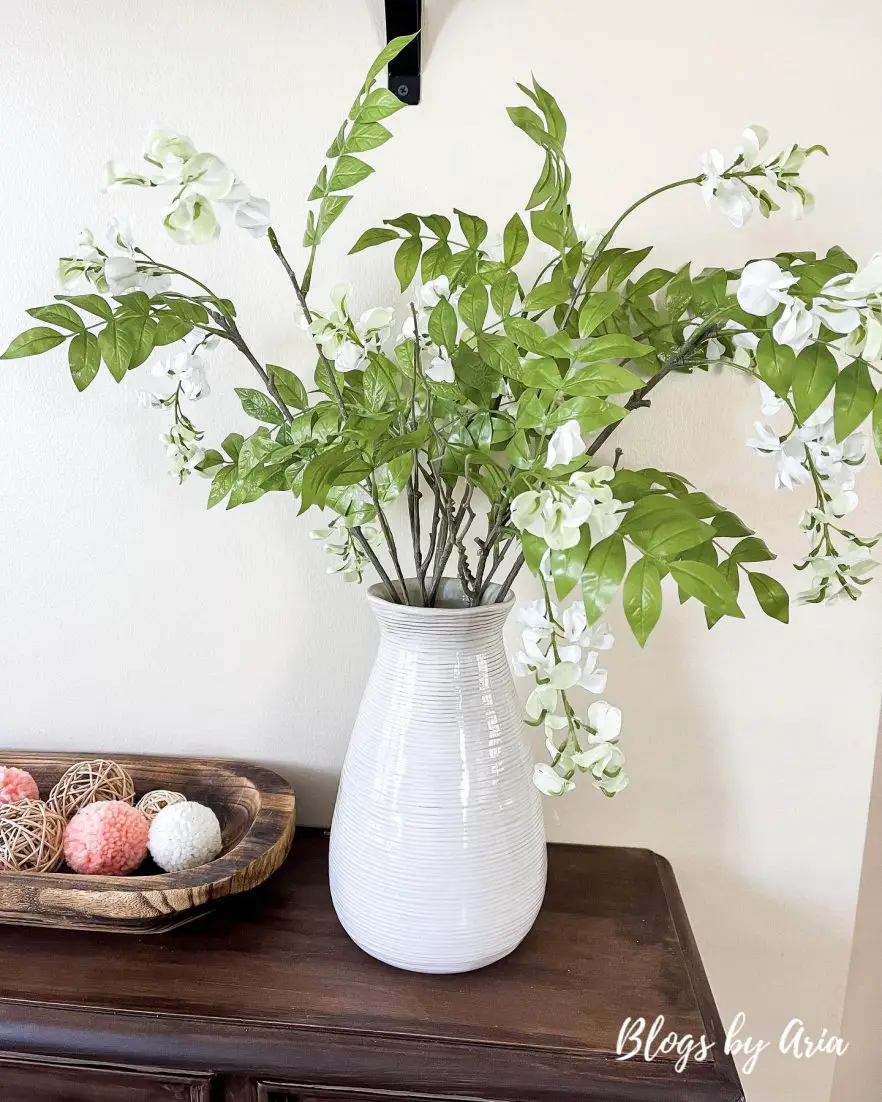 Here's a closer look of the vase and you can see the detail.  This is from the same line as the Artisan glaze jar from my bookshelf.  There's a few more pieces from the line and they're all so very pretty.  I filled the vase with a few faux wisteria stems.  What I like about them are how full they are and they're perfect to transition from the grey days of winter into spring.
nailhead sofa • pink throw pillow • similar white pillow • pink lumbar pillow
It's been awhile since I've shared my living room here on the blog.  One addition is the winter tree art I found at TJ Maxx.  I was looking for Valentine's decor in early January and this canvas art caught my eye.  It's beautiful for winter and also Christmas (if I ever tone it down lol).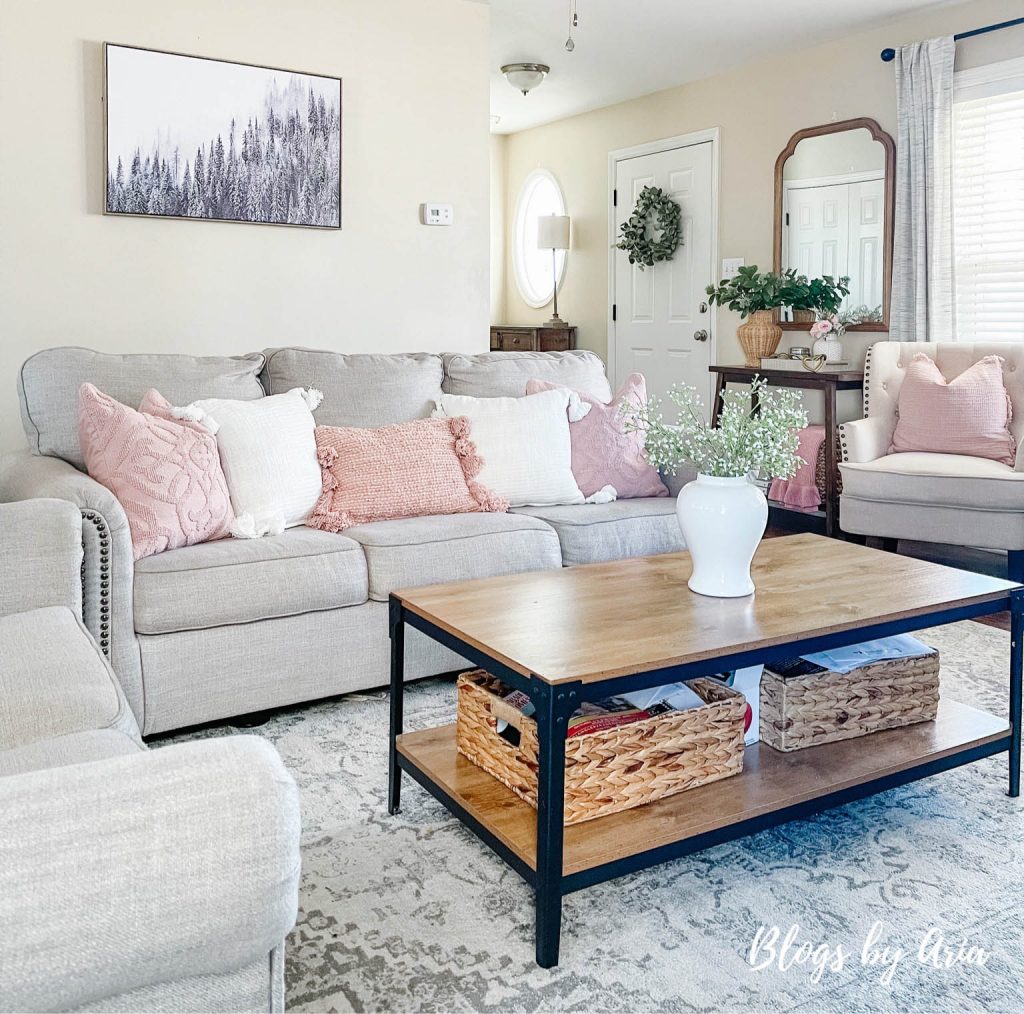 area rug • coffee table • ginger jar • similar baskets
Let's not focus on the overflowing baskets that I clearly didn't realize were as bad as they are when I was taking the pictures.  In the winter you have to catch the natural daylight when you can!  I took these pictures quickly on my lunch break.
Recently I added another set of pink pillows from the My Texas House line.  These woven fringe pillows have such a great texture and they're also soft.  I've since moved them to my couch but I don't have any still shots to show you.
Here you can see I've styled the matching Cameron tufted throw blanket with the pillow.  This is not a throw you snuggle up with.  It's definitely for decor.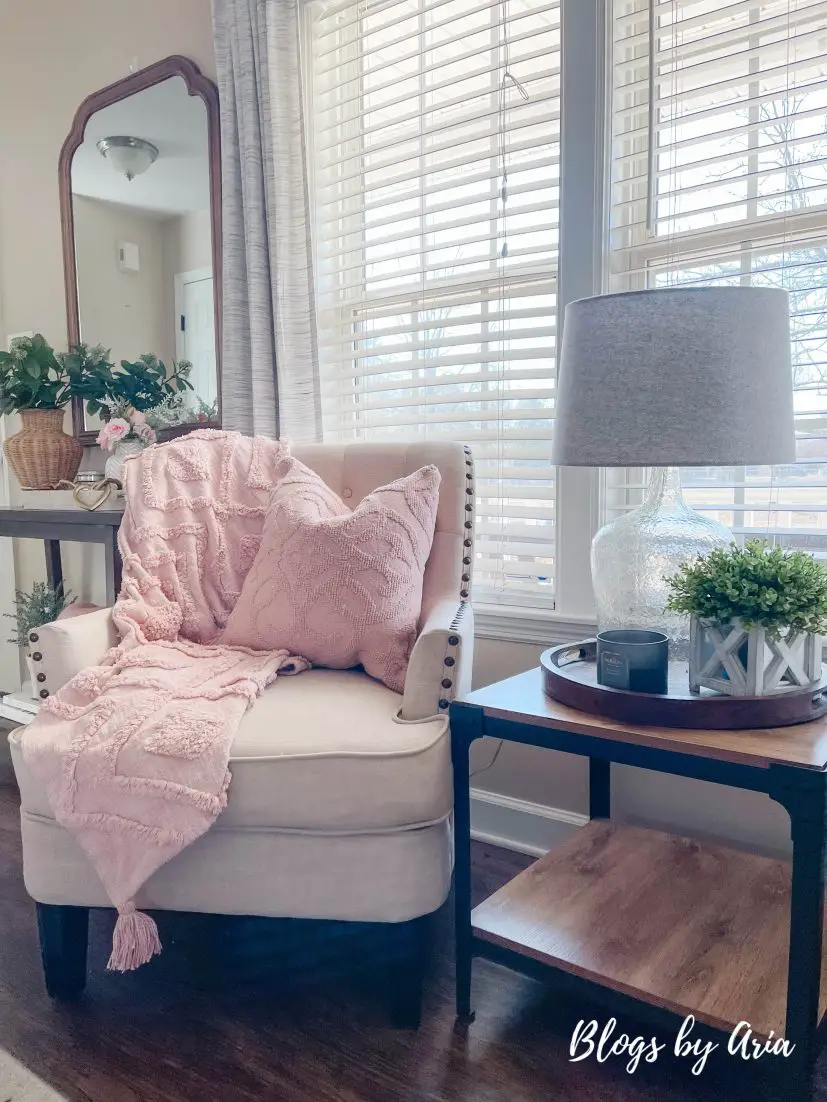 tufted accent chair • throw blanket • pillow • side table • artisan glass jug lamp • similar round wooden tray
I've had these lamps for a few years now and I love them as much as I did when I first got them.  I put them away and pull them back out all the time!
Looks like I did get a screenshot of the new pillows on the couch.  They're so pretty to me.  And so affordable too!  Let's look at my entryway area.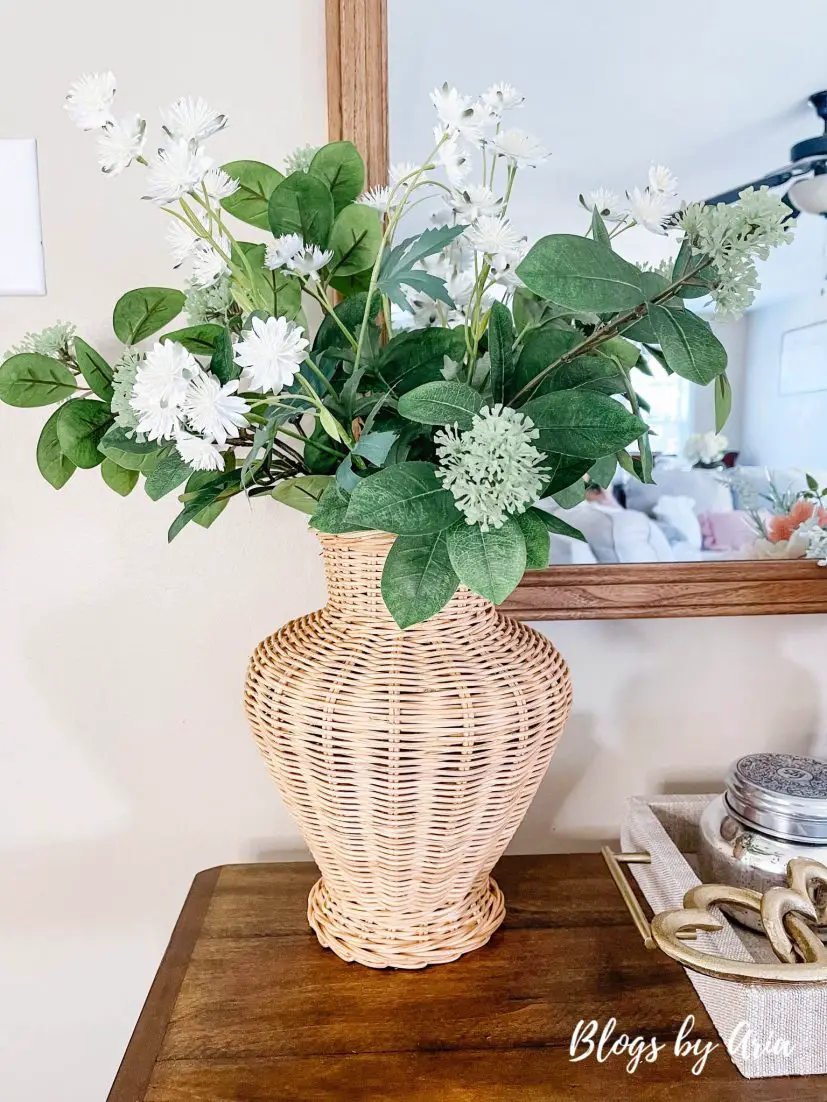 light woven vase • seeded green stems • white wildflower stems
One of my absolute favorite finds from the Studio McGee spring collection is this woven vase.  It's one of those pieces that when I first saw it in store it was love at first sight.  But I told myself I didn't need it since I got the woven vases in the fall.  I'm glad I didn't listen to myself!
Not only is it so pretty, it's a lighter tone which is great for Spring.  It is beautiful with stems or on its own.  I filled the vase with a few seeded green stems and wildflower stems.  To me they're perfect for pre-Spring decorating.
woven lidded basket • tall white vase • fig leaf stems
In case you missed it, when I shared my review of my Pottery Barn entryway table, I moved it from this corner to my entryway.  I like it much better there and I moved my original entryway table to our stairway landing.  Anytime I'm taking a picture in the living room I would always see stuff my husband uses on his work shoes.
When I saw this lidded basket I thought it would be a good way to conceal them.  I picked up a couple of these fig leaf stems from Hearth & Hand because clearly I have an obsession with anything fiddle leaf or fig or any dark green leaves!
Originally I just picked up the stems because I felt that I had a vase that could accommodate them since they're pretty tall.  I didn't want to bend them.  Whatever I thought I had didn't end up working.  One vase that I saw in store I debated but at the end of the day I knew that it wasn't really my style.
Then I remembered that I saw a tall white vase at Target before that I liked and never purchased.  I actually traveled quite a way to pick up this tall white vase from the Project 62 line and I am obsessed with it!
entryway table • linen tray • Capri Blue volcano candle • flowering thyme plant • wall mirror
I also love how the fig leaf stems look on my entryway table!  I'll be restyling this space since I've taken down my Valentine's decor.  You can't really see it from this angle, but this pink ruffle throw blanket is from Target and is so so soft!  It's kind of ruffled up and thrown in the basket here because I was laying with it.  Also you can see the outlet extender I shared in my January favorites post.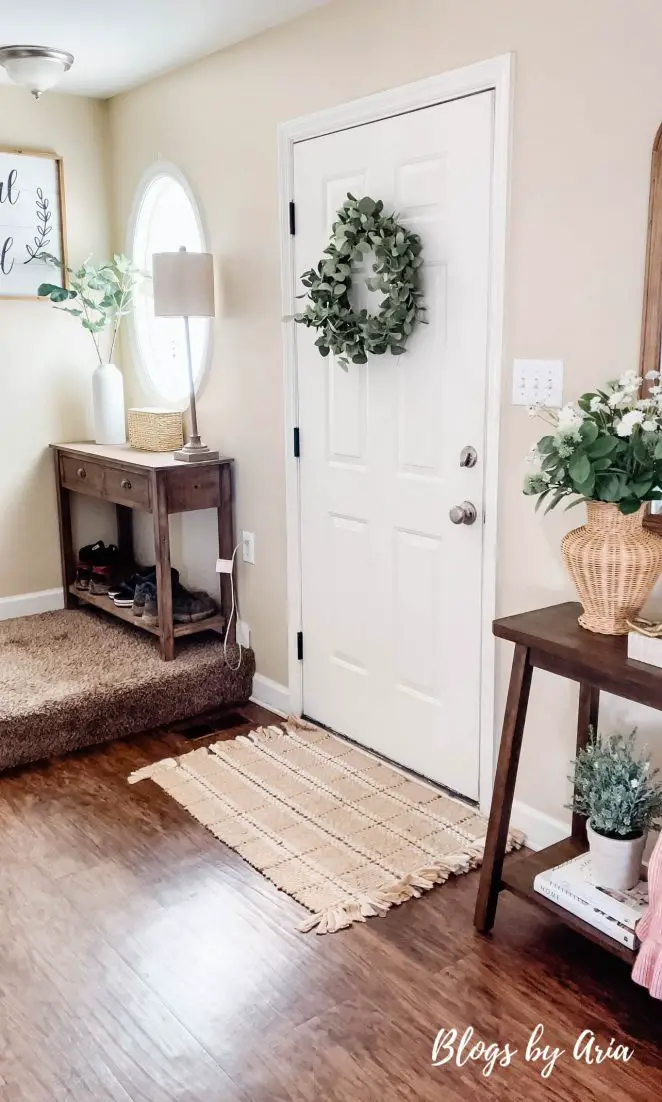 You can see how the entryway tables look together.  I'll be changing out the wreath and will probably donate it because I don't love it.  I'll see if I have a wreath I want to replace it with or if I'll get something new.  I have to keep my wreathes inside since I learned last year that birds like to make nests on my front door wreath.  My tulip wreath from last year didn't survive the birds unfortunately.
potted fig leaf arrangement • wooden mantel mirror • similar candlesticks • similar fiddle leaf fig tree
Another Hearth & Hand fig leaf plant!  It comes in this larger size you see here and a smaller size.  And yes I have both.  I just haven't taken a picture of  it yet.  I love how the fig leaf arrangement looks on the mantel and fills up the space.
Now on to the drama of the wooden mantel mirror that I've wanted since I first saw it online.  The Studio McGee release came out in three phases and when this mirror came out I jumped on it and ordered it.  I really wish it was available in store but as of now it's online only.
So the mirror arrived with a big crack.  I was bummed and I had to send it back.  Target sent me another one.  And that one arrived almost completely shattered.  At this point I could have just accepted it's not meant to be and if it ever became available in stores that I would buy it then.
But the crazy side of me said let's give it one more shot.  I check the Target app almost daily and it showed that the mirror was available to ship to store.  That was never an option before.  So that's what I did.  I had it ship to the store.  When it showed it was ready for pickup I was nervous.  But I figured if it was broken I could just return it there in store (the other returns were via FedEx) and be done with it.
I had them take it out of the package for me in the store and was so relieved to find it in one piece!  Now it's on my mantel and I love it!  I still need to hang it but for now it's just leaning.  For now I have candlesticks on the right of the mirror but I may end up changing that in the future.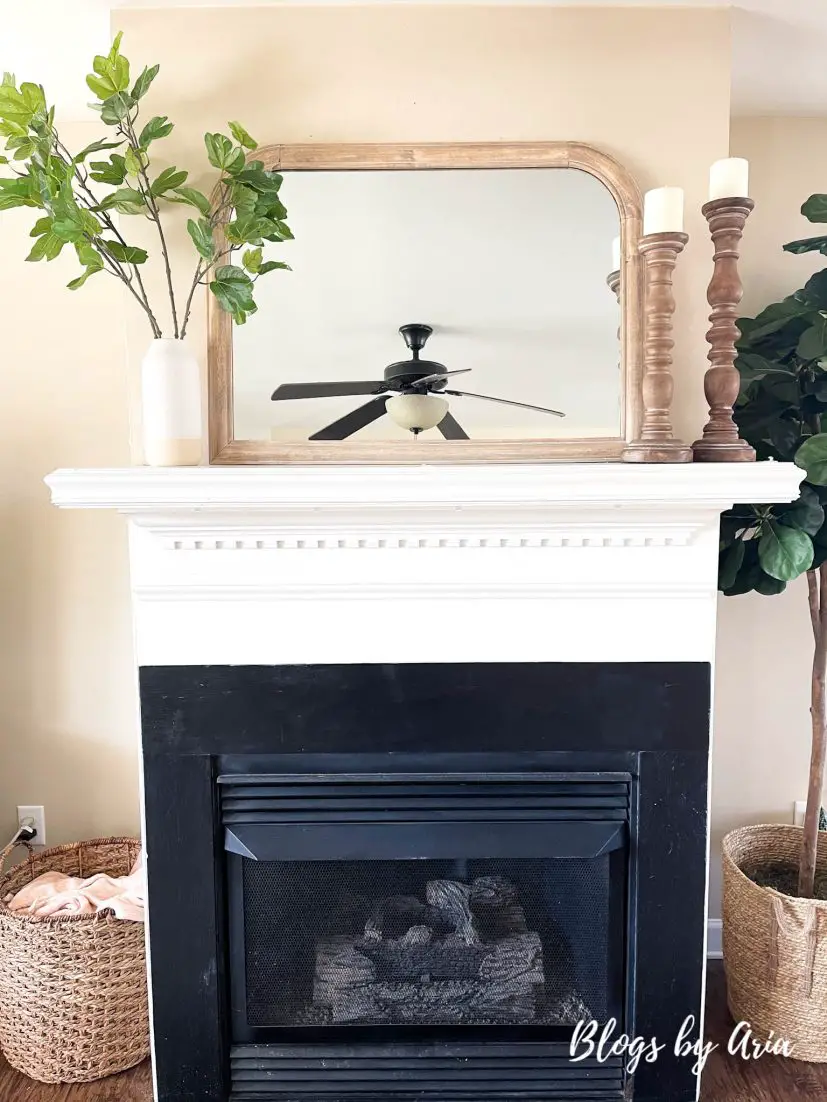 So what do you think?  Was it worth the hassle to get it?  The only thing I don't love is seeing the ceiling fan but that's because I hate this ceiling fan!  But I love the mirror!
I absolutely love all of the Target finds I've added to my collection recently.  Most of my finds are from the Studio McGee and the Hearth & Hand lines.  But the other collections are equally as great.  I've always loved the Threshold line personally and there's just so much to choose from for so many decor styles.
Have you picked up anything from Target recently?  I'd love to know what you got.  They've just released their Easter decor and I'll be sharing that with you soon.  I haven't seen much in store because I've been trying to stay out of Target for a beat.  Until next time, I appreciate you for spending some time with me today ♥