Friends!! Whaaat a couple of weeks it has been!  Life lately has been quite exhausting to say the least.  We're all moved in to our new home and attempting to get settled in and back into some sort of routine.  If you've been following along my #movingdaychronicles on Instagram Stories you know all the ups and downs that we've gone through during this move.  I'm just so glad that the actual moving part is over.
We've been in our new home for a little over a week now and now that I've had a few minutes to breathe I wanted to share my experience.  And oh it was definitely an experience.
Before I get too far ahead of myself can I just take a moment to give my mom a big shout out for all of her help.  If it wasn't for her I'd be in a shambles right now.  She drove from where she lives to our old place and our new place for four days in a row and was such a huge help for us! #grateful
PRE-MOVING DAY
I mentioned in a previous post how I was a little apprehensive about the move because it wasn't an in-town move and because we hadn't moved in 10 years.  For weeks leading up to the big moving day, I packed up items we wouldn't need soon.  I packed almost every night after work.  I took 3 days off from work to allow for the move.
The plan was to complete packing on Wednesday, move on Thursday and use Friday through Sunday to get settled in as much as I could before I started work on Monday.  That was the plan.  I woke up Wednesday and got to work packing away and I was feeling extremely overwhelmed.  How were we going to pull this off?
My mom was going to come later in the day to help pack and clean up.  That turned into us making a trip to Raleigh with her crossover loaded with boxes.  And then DH and the kids coming up with some boxes too.  That was round trip #1.  I ended up getting back home a lot later than expected with a ton more packing to do.  Overwhelmed.
MOVING DAY
Moving day came and I was up at the crack of dawn.  Trying to finish up packing.  The moving truck was supposed to be picked up at 8 am.  I didn't get to make my Goodwill run the day before so I decided while the guys were waiting for the truck that I would run to Goodwill real quickly and drop off a trunk full of stuff.  On the way, leaving the house I passed the Uhaul truck.  I thought "great, they'll get started loading and we can get this show on the road".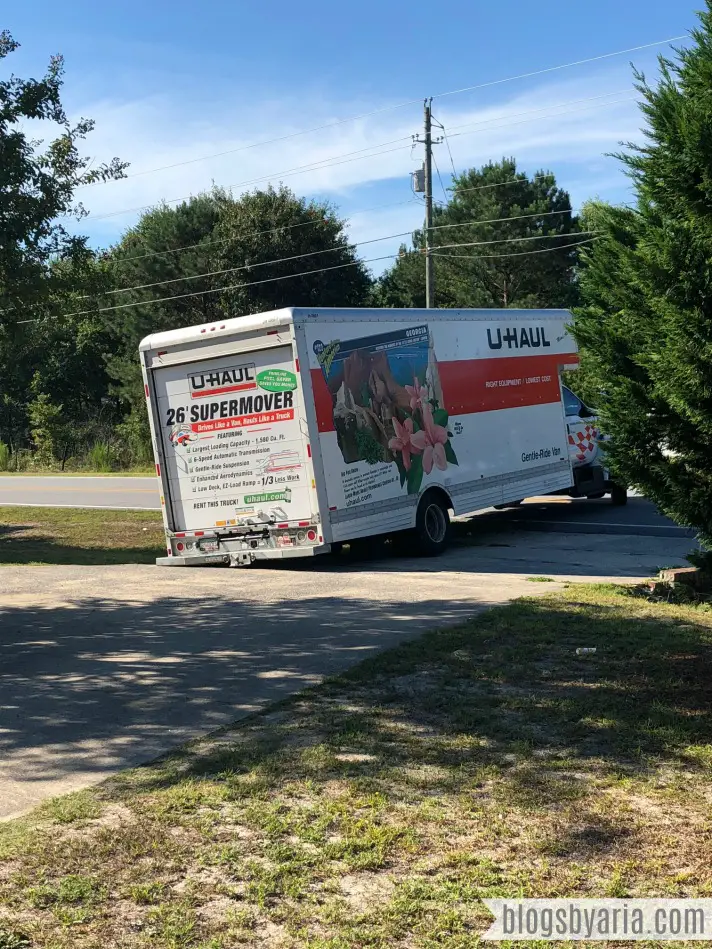 Instead, this is what I came home to.
Of course I had to share…
I should have known that this was just one of the things that would go awry in the day.  I'm not gonna say who was driving the van but I will say it wasn't my DH.  Either way, the van eventually got out of the ditch.
Now the real fun can begin!  Surely you can hear the sarcasm in my voice 😉
The "helpers" helped by staying out of the way until it was time to load the boxes into the truck.
Finally we headed to Raleigh, knowing that we'd have to come back to Greenville to get the last odds and ends and clean up the old apartment.
My parents met us at our new home to help unload the truck and try to settle in.  My daughter and me were in my car also loaded up with stuff.  My son and DH were in his car loaded up with stuff.  Two hours later we were in the new place and wondering where was the Uhaul?
Where was the Uhaul?
I'll tell you where…
It was involved in an accident a few miles away.  I wish I could put in real emojis here so you could see all of my emotions lol.
Needless to say it was a very long day.  Eventually the Uhaul came and we unloaded everything.  DH and my parents put together the beds.  We unloaded most of the boxes and found places for things to go.
There were a couple of casualties, a couple of scratches on furniture but all in all, we're here in one piece.
AFTER THE MOVE
For the next couple of days there were several round trips from our new place to our old place to get lots of crap that got overlooked in the packing stage.  My fault.  To clean up the old place.  And to make sure that nothing was left behind because this was it.  No coming back.  Needless to say I've been exhausted ever since.
In theory I had a good plan of moving on Thursday and using the next three days to get settled in before I started work on Monday.  But in reality the only day of "rest" (not driving back and forth to a city an hour and a half away) was Sunday.  I really needed more days than that but we moved forward.
This whole past week has been difficult.  Getting acclimated to metro traffic in the morning and evenings, not to mention finding my way around my new office building has all taken some real adjusting to.  I planned to come home and get more boxes unpacked each night and it just didn't happen.
As I'm writing this on Sunday, I've gotten a lot accomplished over this weekend.  Not everything, but a lot.  It's stressful having boxes all over the place and not knowing where everything is.  I still can't find the aluminum foil for example.  But with each day we get more and more settled.
I'm excited to share some organizational posts and eventually decor posts in the near future.  Especially since the goal before was to get things unboxed, not necessarily organized.  I am so grateful to be in our new home.  I know that as time goes on it will really feel like home for us and I'm looking forward to making great memories here with my family. 🙂
I want to let you know that I appreciate each and every one of you who sticks around and reads my blog.  It means the world to me.  Be sure to subscribe to my emails below to get my new posts directly to your inbox.  I'm working on a lot of fun posts for you!  Here's to a great week friends!