Happy weekend friends! (or Monday, erm or Tuesday)  We're finally starting to feel like Autumn here in North Carolina!  After Hurricane Michael blew through here earlier this week we've enjoyed overnight lows in the 40's and 50's and it makes me so excited!  As you know we are recent transplants to the Raleigh area and I just found out about the Triangle Parade of Homes.
GUYS!! Ya'll know I'm all about Parade of Homes!  This event takes place over three weekends.  It started last weekend and I didn't find out about it until Sunday.  I wasn't going anywhere on Sunday after enjoying a date night with DH for our anniversary.  The event takes place all over the triangle…Raleigh, Durham, Cary, Apex, Chapel Hill, Wake Forest and more!
I thought it would be great to get out and see as many homes as I could (there's over 200!) to not only get to see some beautiful homes but to also get out and explore different areas and neighborhoods.  And of course take pictures as I am able to 🙂
I took as many pictures as I could…maybe a bit too many.  Way too many to put into one post.  So I'll break this post into two.
*this post includes affiliate links, which means if you click on a link and make a purchase that I get a small commission that helps support this blog and my family. You can read more about affiliate links by reading my Disclosure post*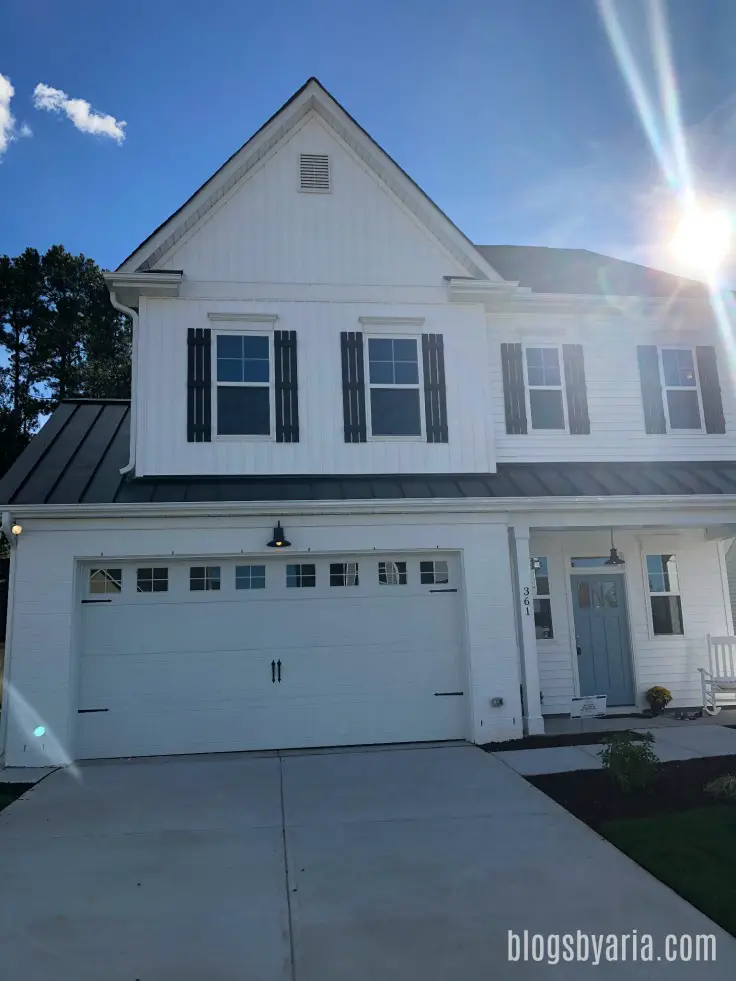 The first house I saw is 3 bedrooms, 2.5 bathrooms and 2,032 square feet.  It has a modern/industrial farmhouse vibe.  I'm not sure if it can be both modern and industrial but definitely farmhouse.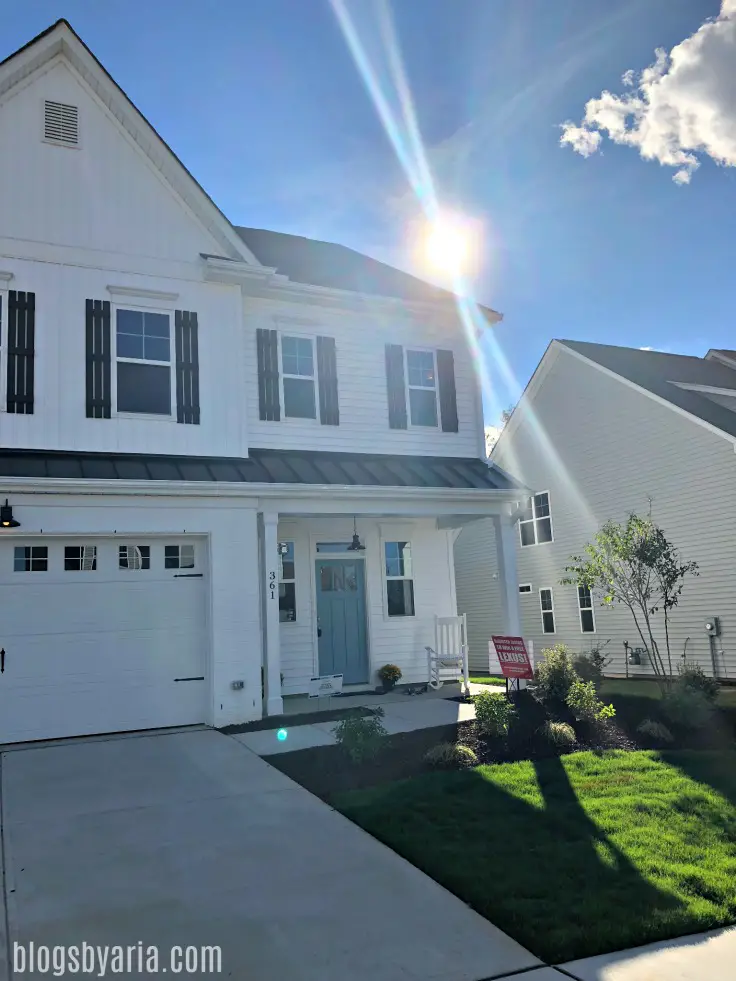 Look at that door!  It's so pretty and I love the details.  The outdoor lighting has a very industrial vibe and I like them.  I also love the shutters.  And honestly you can't go wrong with a white house with black accents.  Very classic.
Here's the opposite view of the front door.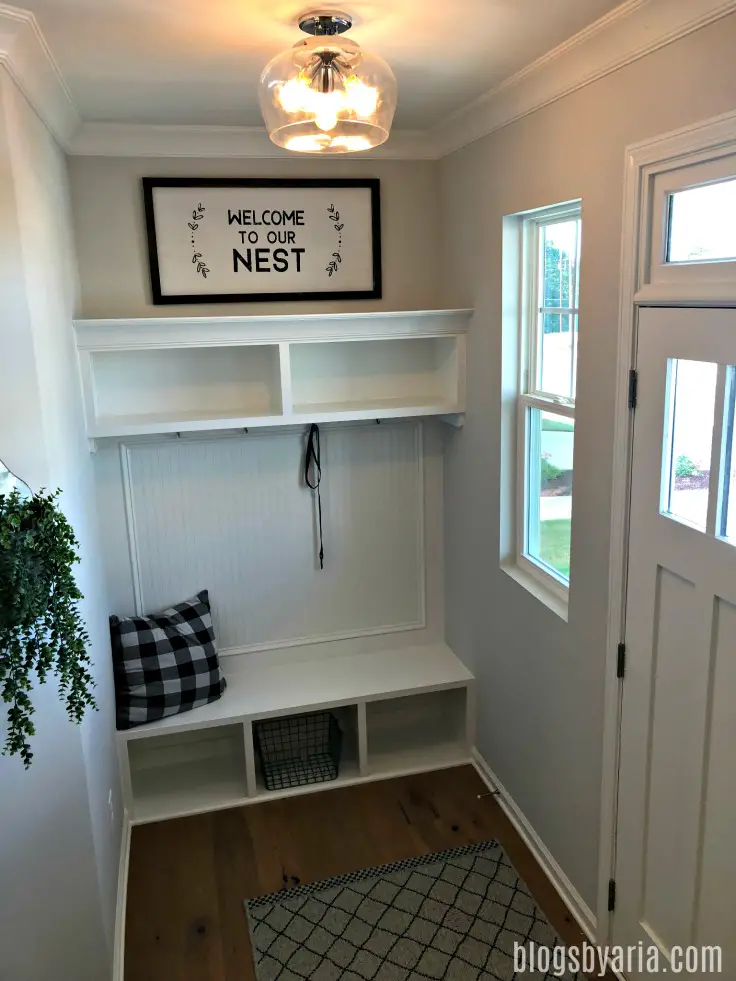 The garage access doesn't really allow for a mudroom space to be near the garage door.  So I think this is a great way to still provide a mudroom area in the entryway.  It's off to the side which I like.  The Welcome to our Nest sign is from Hobby Lobby.  I know because I've seen it there recently but it's either sold out or no longer available online.
Continuing into the foyer is the perfect space for an entryway table and a mirror.  The area to the right is where the garage door is located.
To the left of this photo is the powder bathroom that I didn't snap a picture of.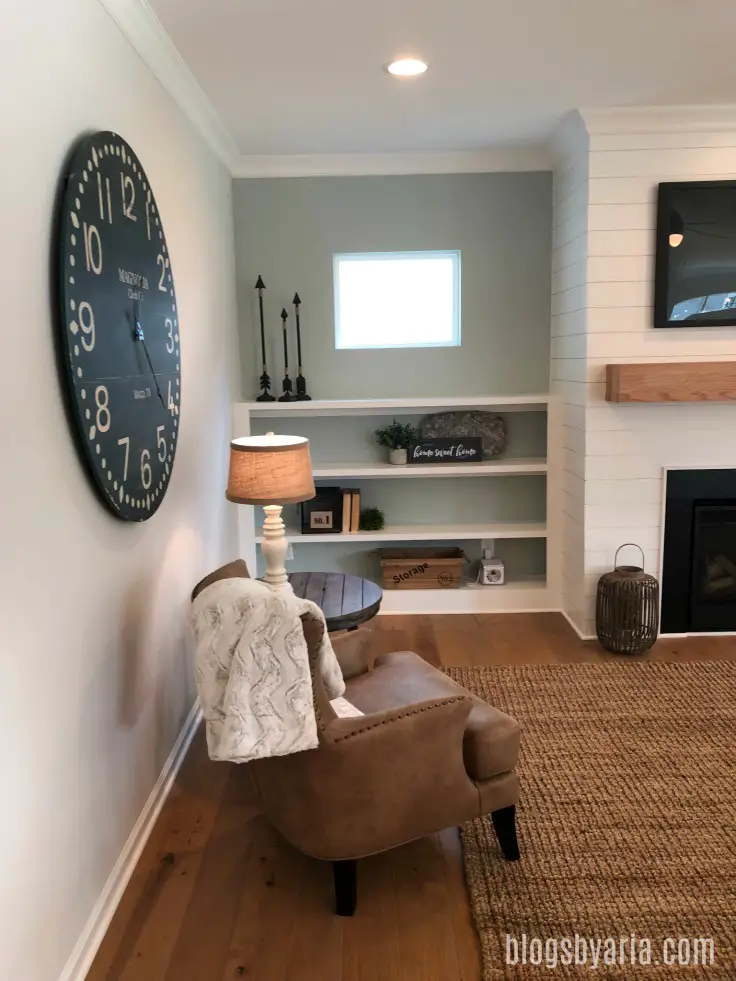 The family room, kitchen and dining area are all part of the open floor plan on the main floor.  The shiplap fireplace is flanked by built-in shelves on both sides.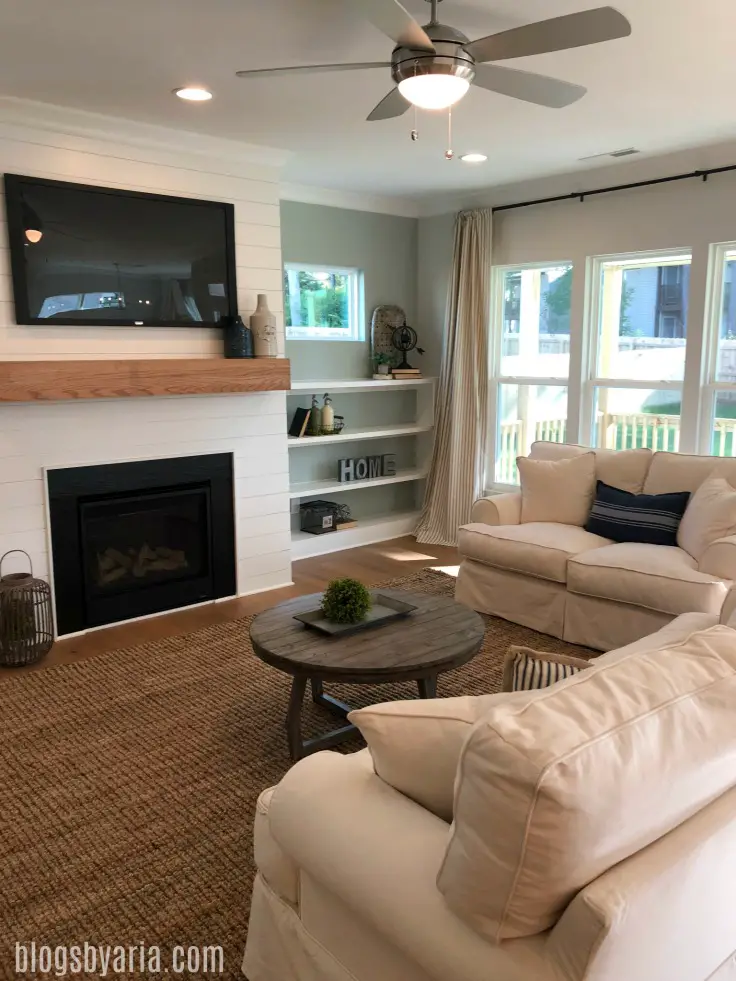 I am here for the fireplace!  I could take or leave the wood beam mantle but I love the shiplap.  It's a gas log fireplace.  You can see a glimpse of the covered patio off to the side.
Like I mentioned, this house is basically 2,000 square feet so that dining space is the dining room.  Looks like a breakfast nook to me but this large island makes up for the lack of dining room.  I love these industrial bar stools.  And the granite countertops.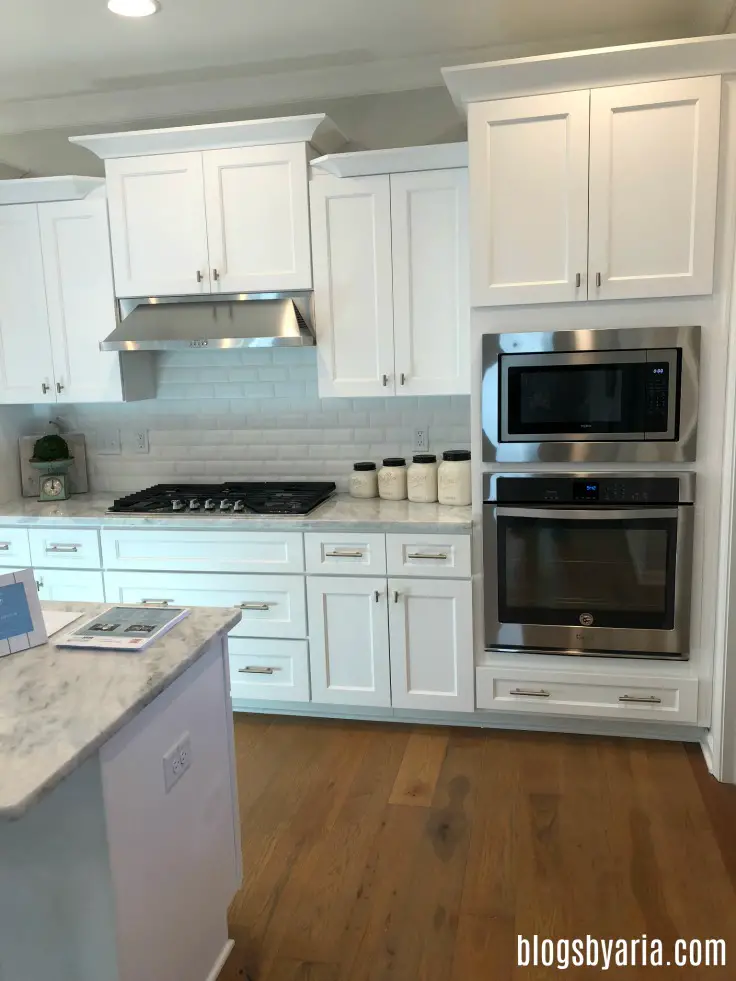 This is a nice kitchen, you know I'm a sucker for a white kitchen!  I love the cabinetry, the countertops and the backsplash.  I would change the hardware pulls and knobs but that's just personal preference.  And a gas cooktop! I didn't take a picture, but there is a large walk-in pantry off to the right of this picture.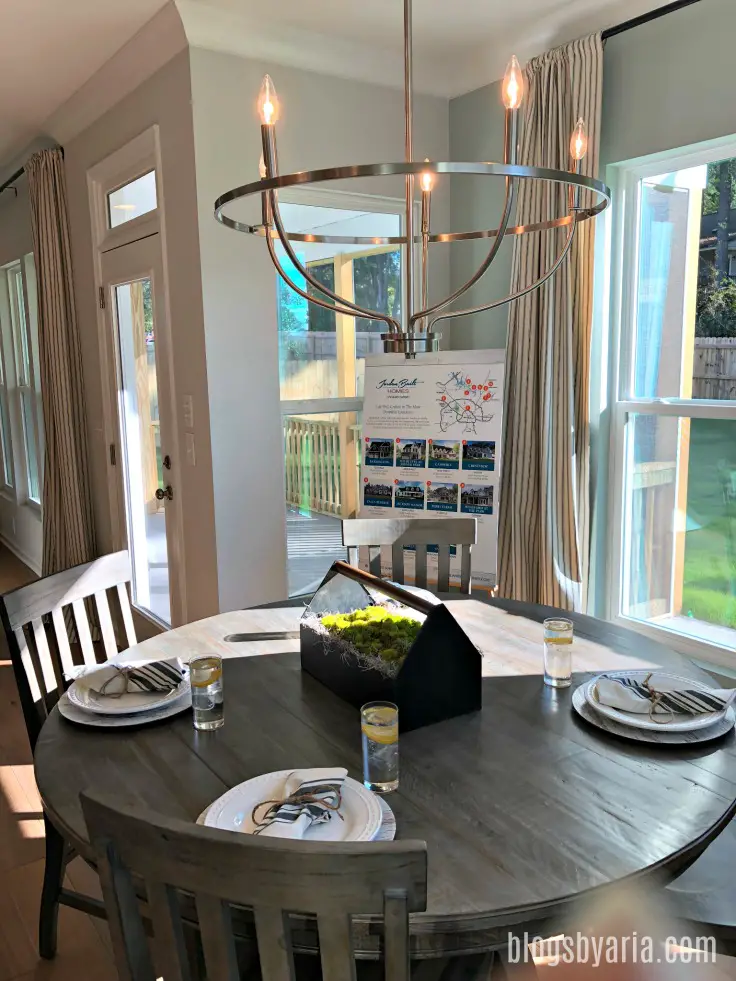 Here's another look at the dining area.  Interesting light fixture.  What do you think?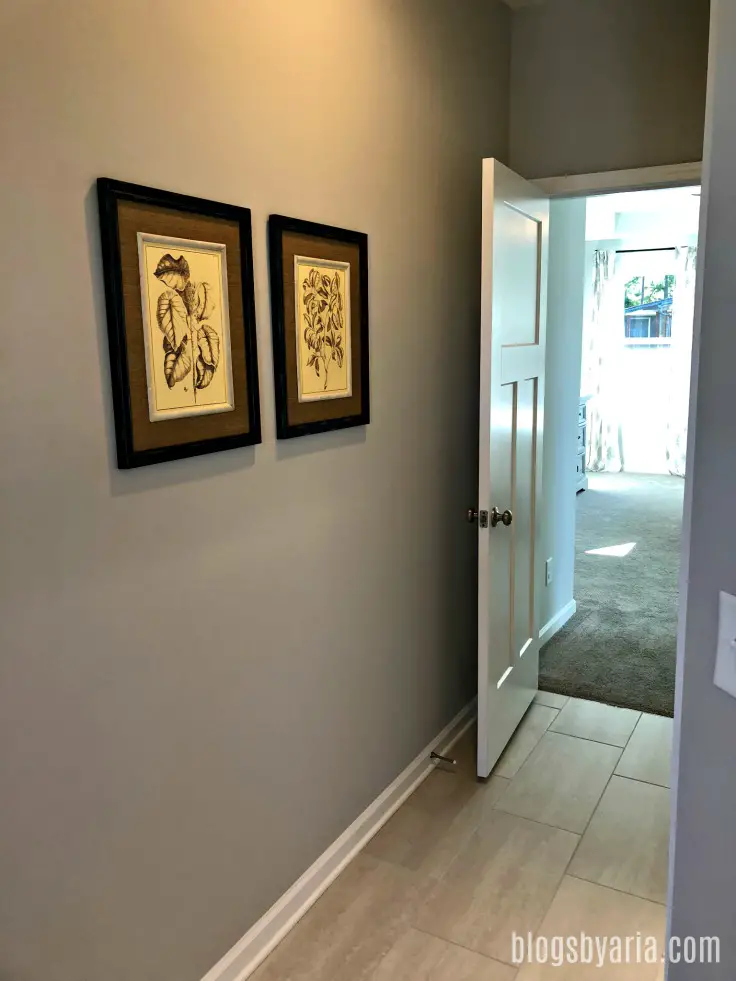 Upstairs let's take a look at the master suite.  This area is between the master bedroom and the ensuite.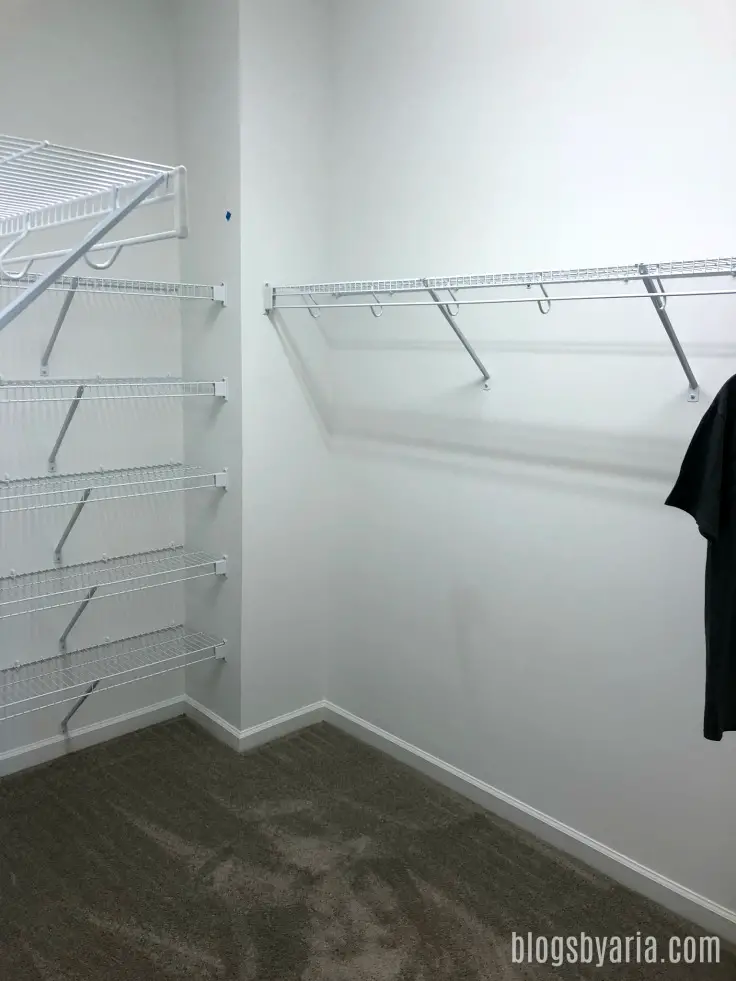 The master closet.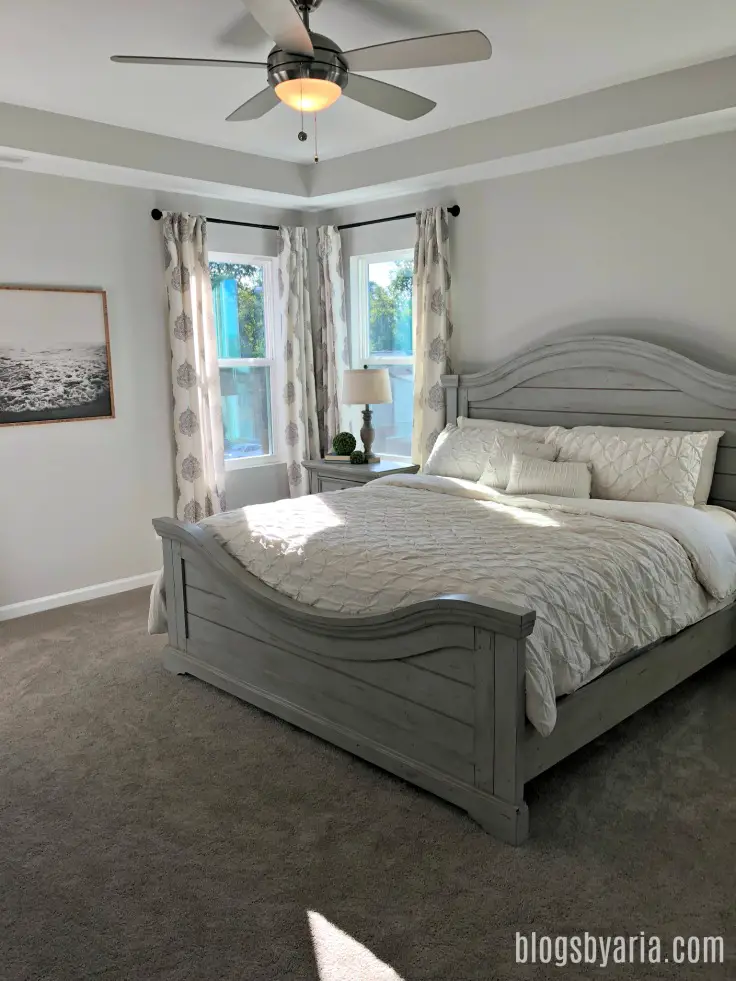 This is the master bedroom.  Which is a really nice size.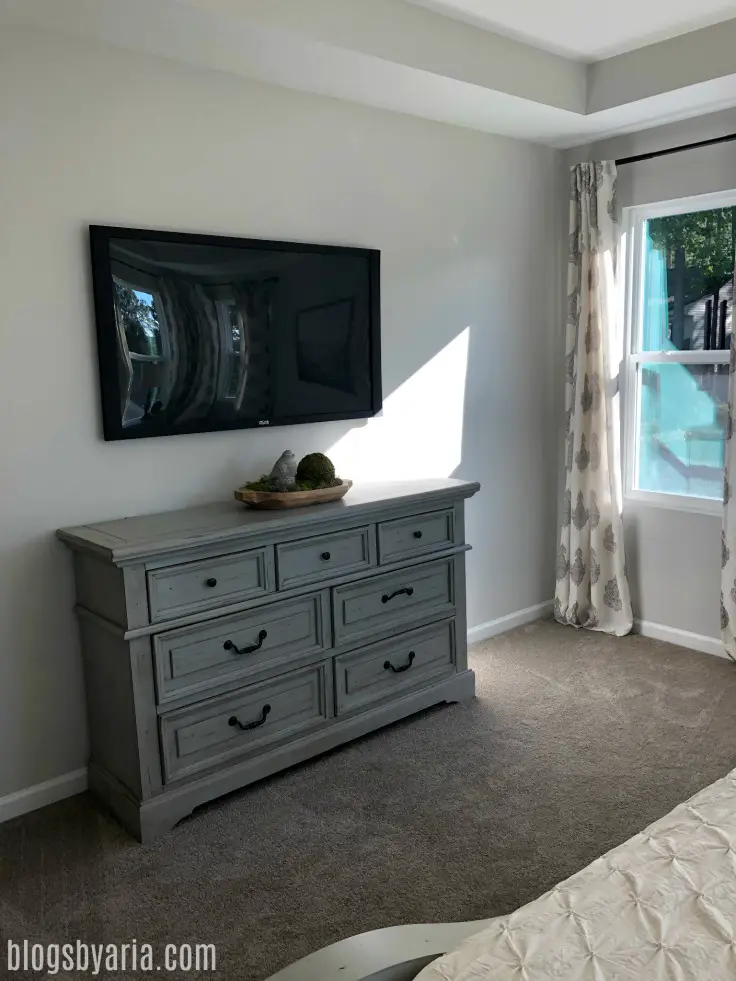 Now let's take a look at the master bathroom…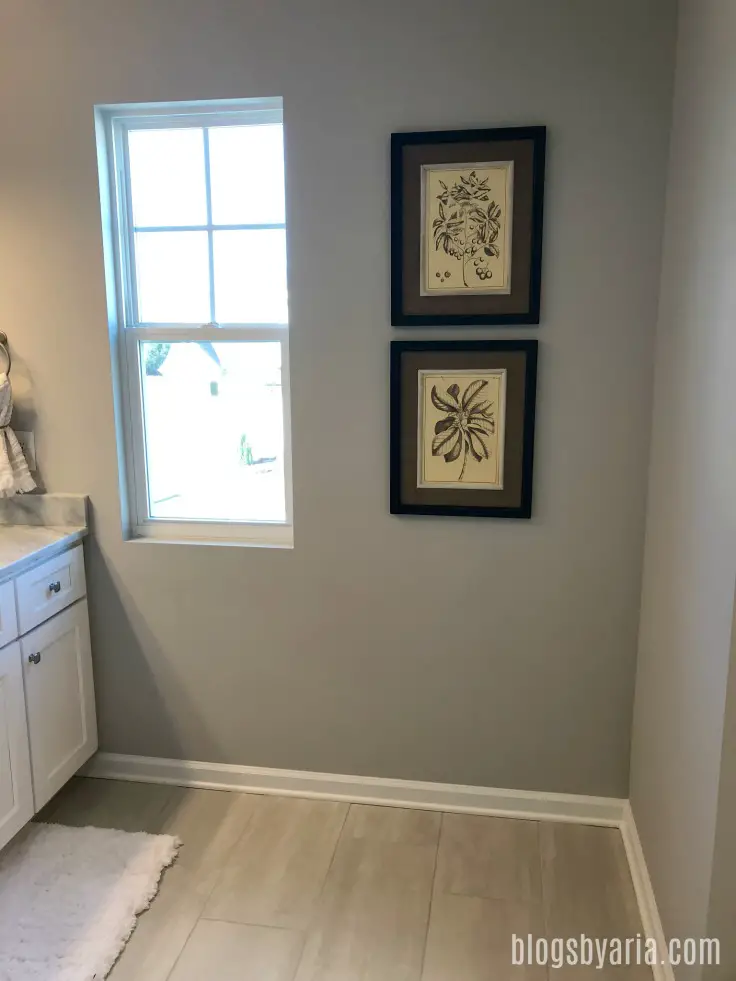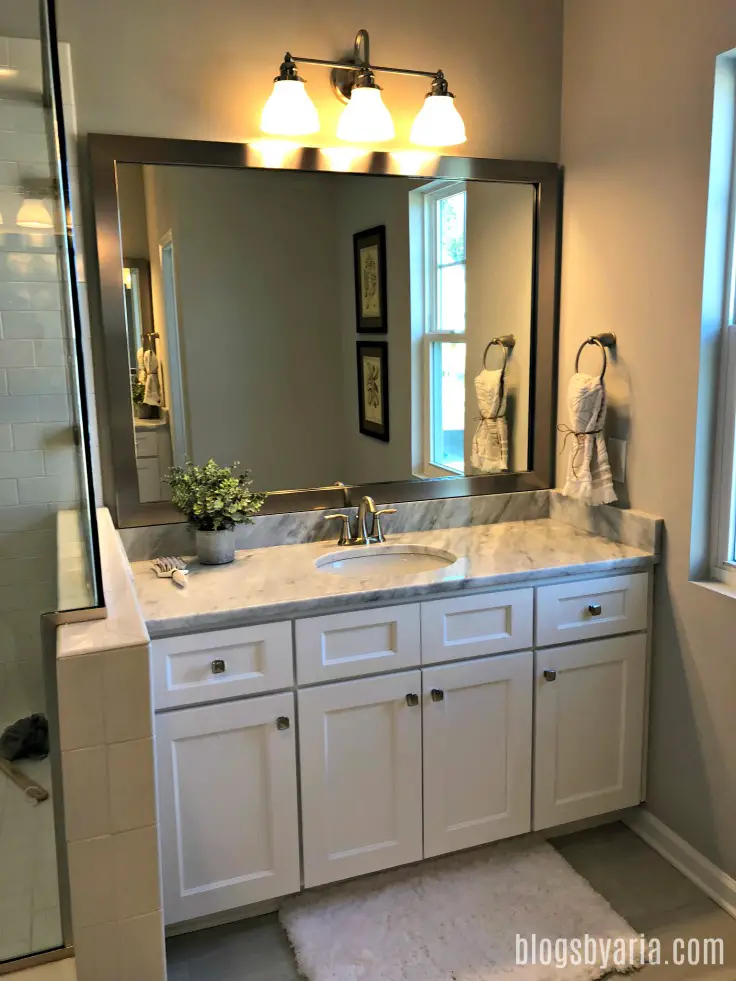 Complete with his and hers sinks.  YEA!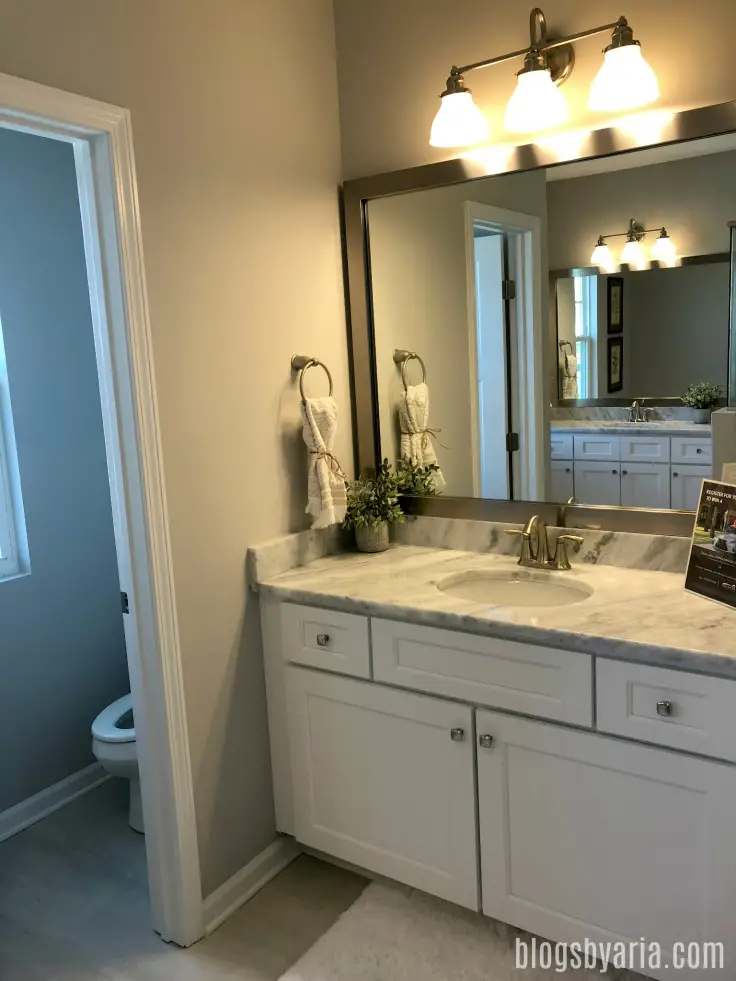 I love the countertops.  And I like that the two vanities are not exactly alike.  Different storage options.
There's not a bathtub, but the shower more than makes up for that.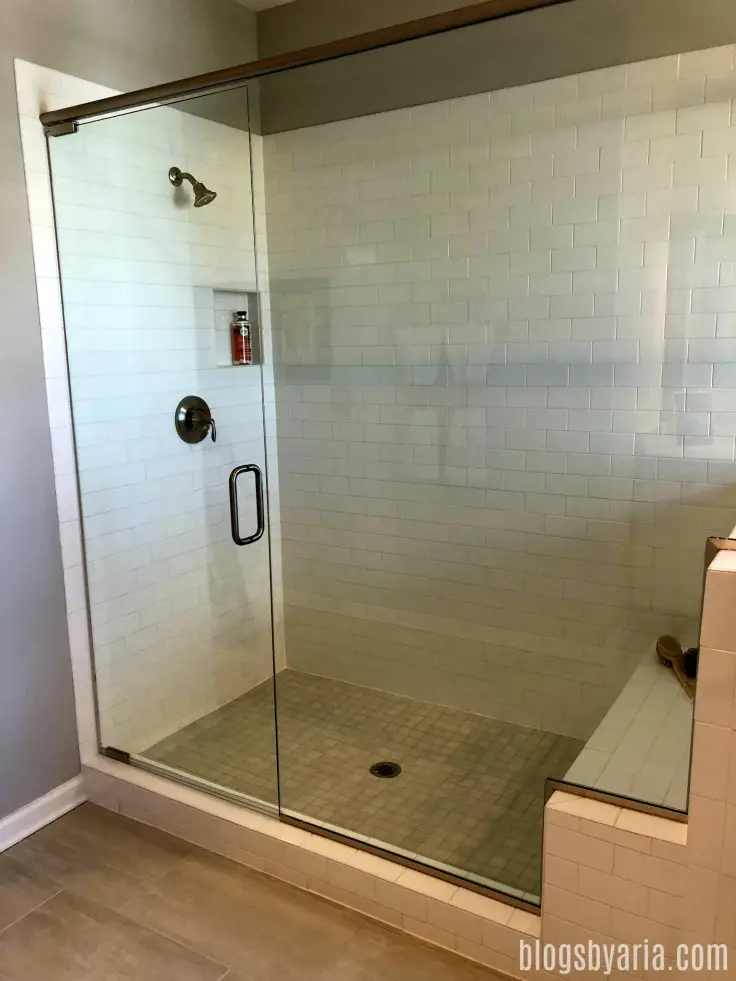 An oversized walk-in shower?  Yes please!!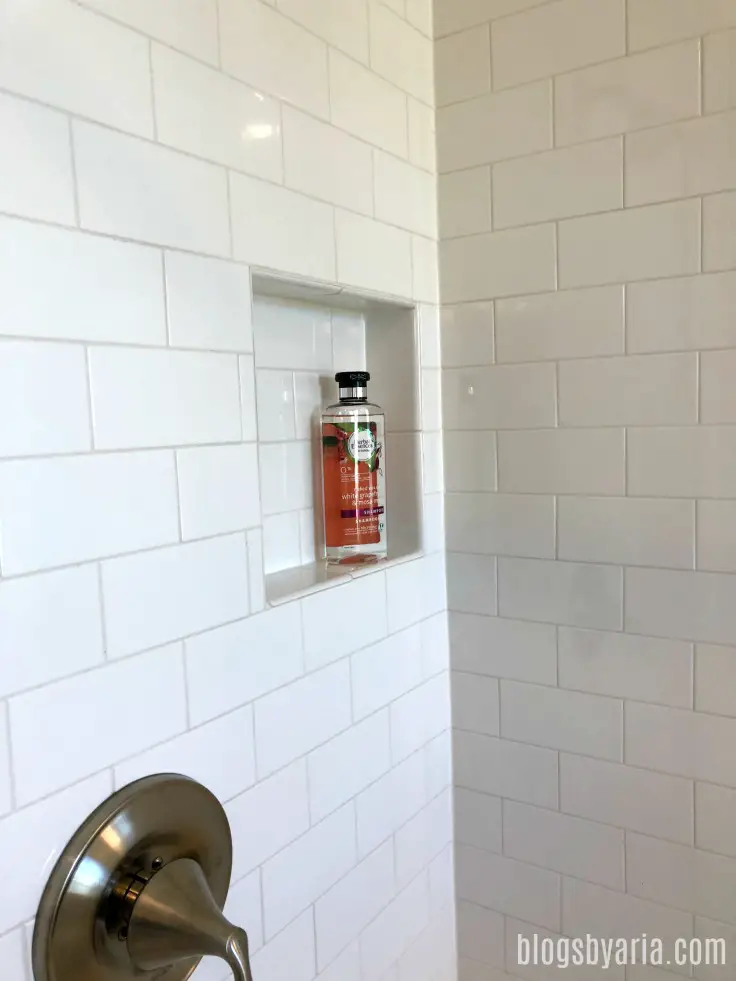 The shower niche is large enough to accommodate full size products, if not value size.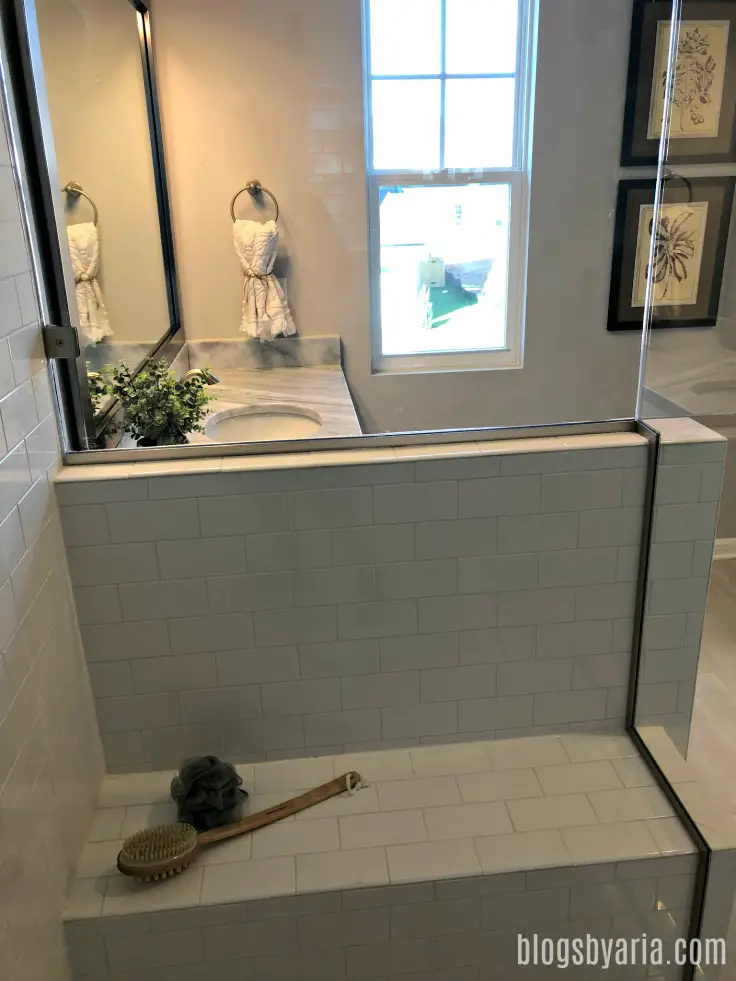 Complete with a large shower bench.
This is a lot of bathroom for 2,000 square feet and I appreciate the attention to detail with the upgrades here.  The bedroom is spacious, the walk-in closet is big and this bathroom knocks it out of the park!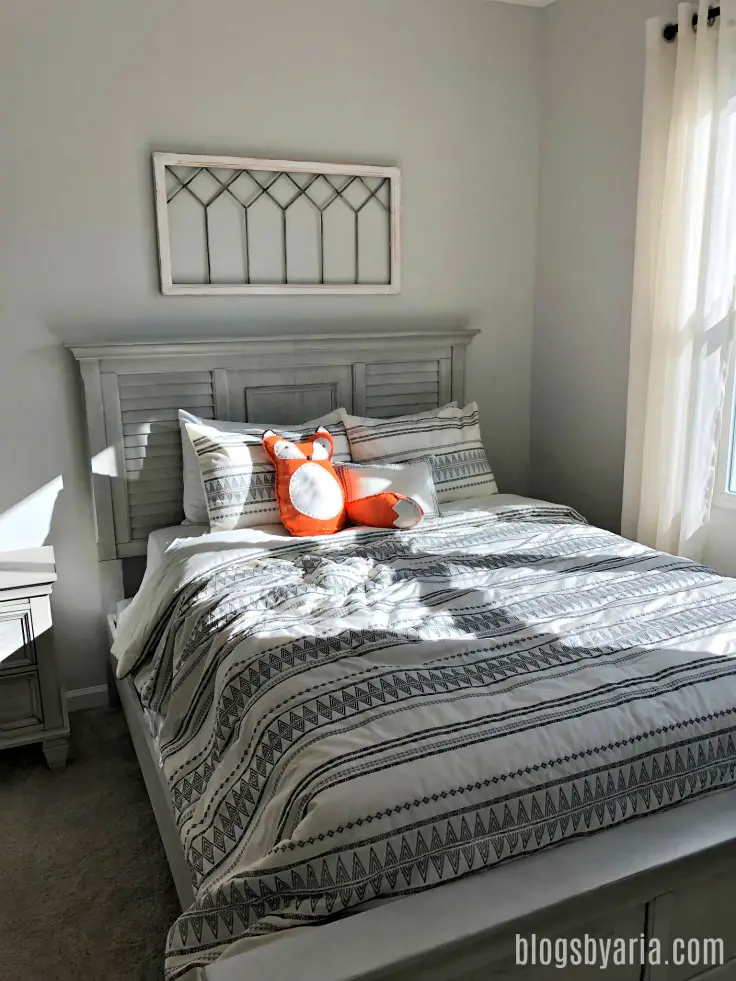 This is one of the guest rooms.  Good size bedrooms for sure.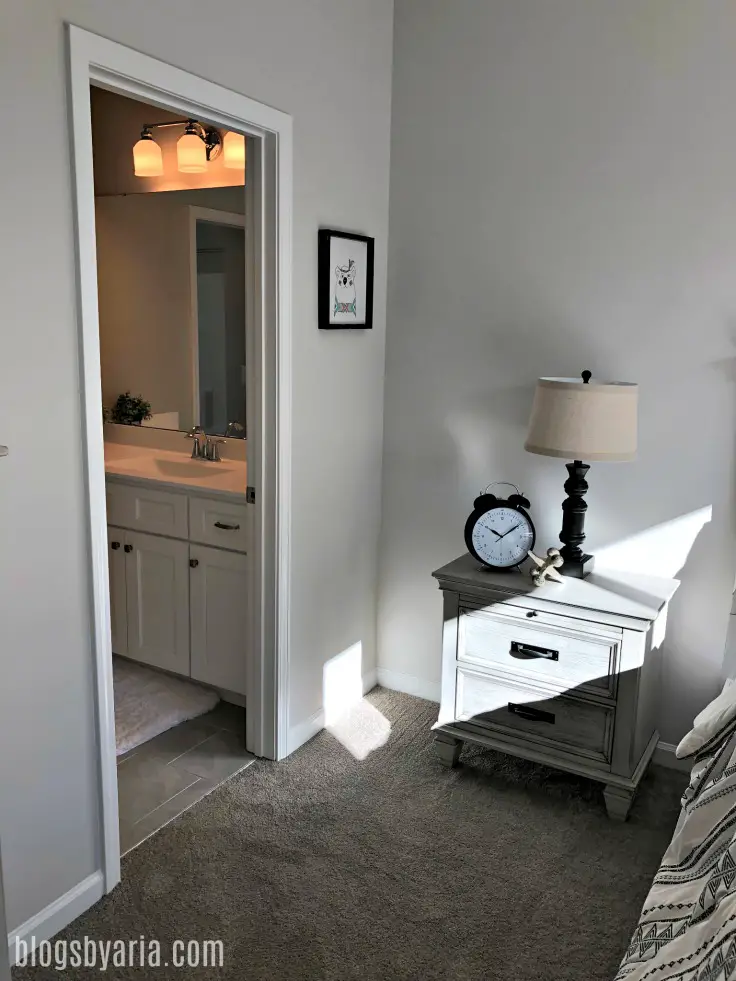 The bathroom is a jack and jill style with each side having their own full size vanity.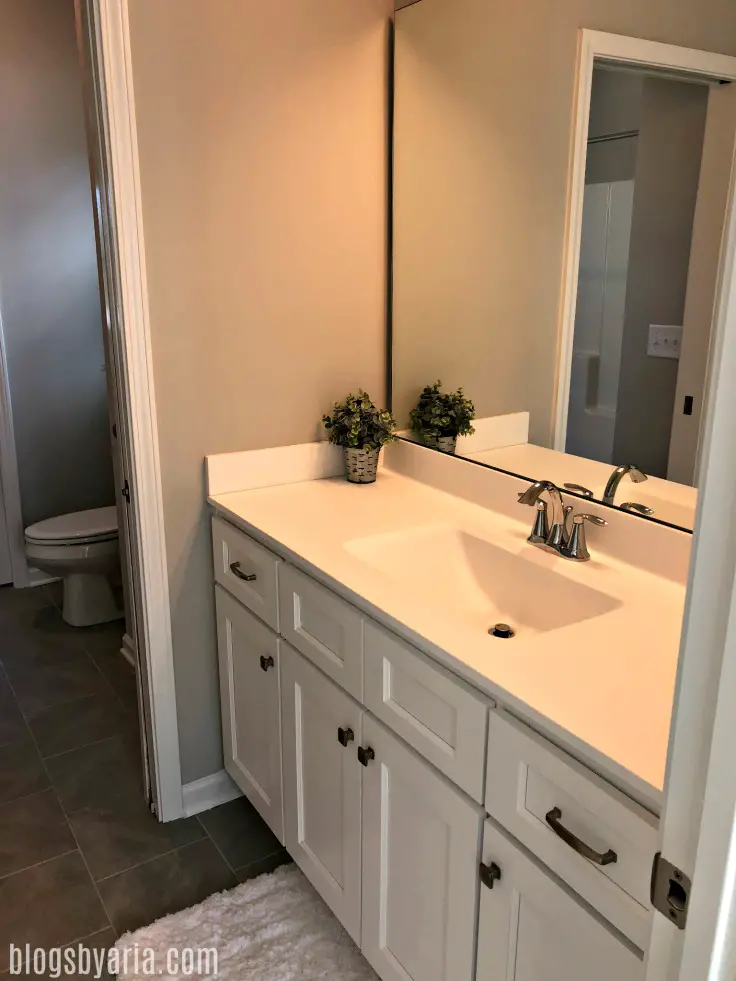 Just think of all the storage!  At least, that's what I see 🙂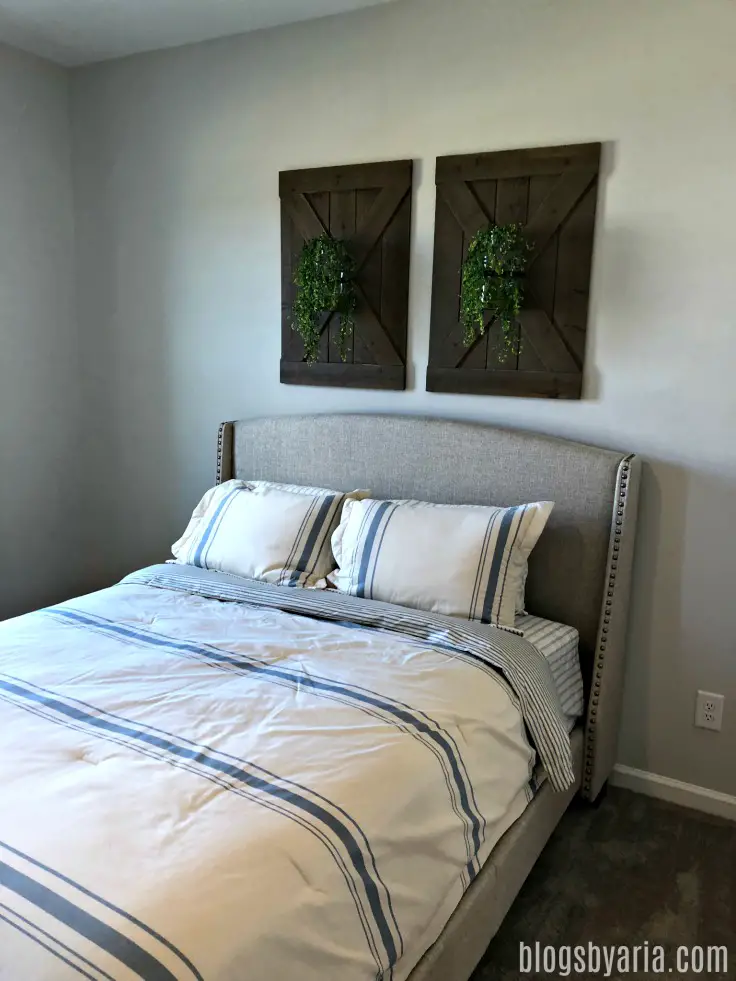 This is the second guest room.
Both of the secondary bedrooms can accommodate a queen size bed with additional furniture and still have lots of room to move around.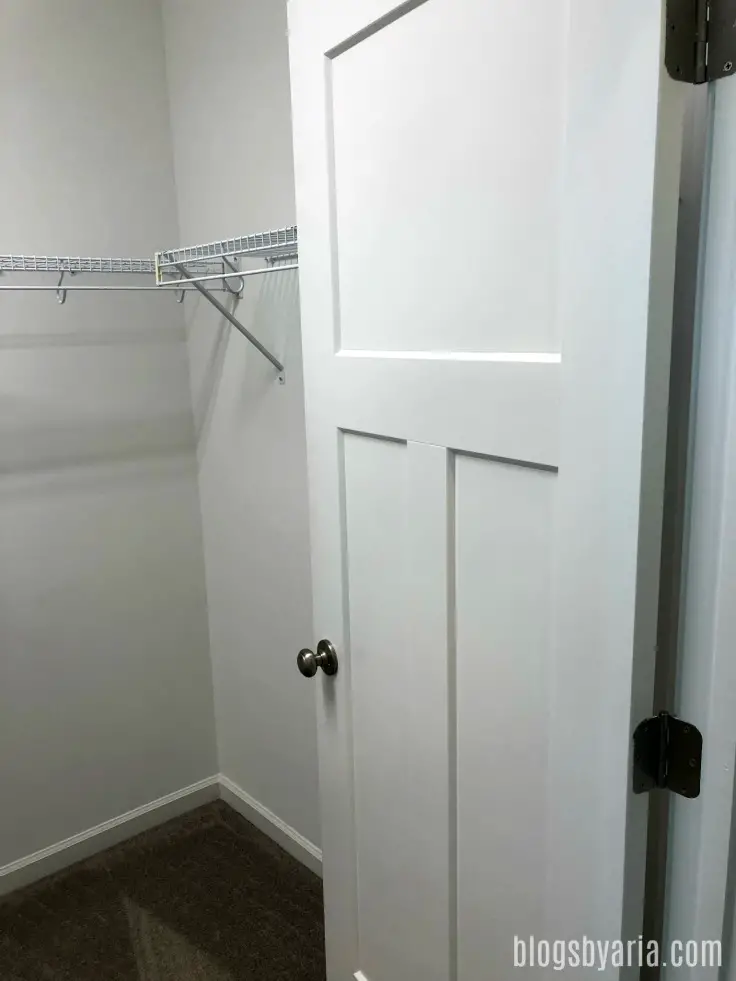 This is the walk-in closet for one of the guest rooms.  The other bedroom doesn't have a walk-in closet but it does have a good size closet.
For a smaller sized home, the builders definitely did a great job with maximizing the space.  It also has a laundry room on the second floor which is nice.  Those are real hardwood floors on the main floor.  And there's adequate closet space throughout the home.  The only downside I'd say is there's no additional storage.  At least, I'll say I don't recall seeing walk-in attic storage and there's no basement, so if it can't fit in the closets available, it goes in the garage and that I don't like.  I know everyone doesn't agree with me on using your garage for cars but that's the real downside to me.  I would love a bathtub in the master bathroom but like I mentioned before, the huge shower makes up for it.  And with the lack of a true dining room, the large kitchen island makes up for that as well.  All in all, this is a lovely house for a small family.
What do you think about this house?  I'd love to hear your thoughts in the comments below.  This is the first of several homes I'm sharing from the Triangle Parade of Homes!  I am so excited!  And I must say, I love that most of the houses I've seen so far are furnished.  And I must admit, I still have pictures on my computer from the Parade of Homes I visited in Greenville this Spring.  I guess I should get those posted too 😉  Have a great week friends 🙂