Let's talk pantry organization shall we?  Better yet let's talk simple pantry organization.  I'm going to share more details about my kitchen in the near future but for now I wanted to talk about my pantry and how I'm keeping it organized.
We've had a pantry before, in our apartment before our last one.  But I'll keep it real with you here…I'm not naturally inclined to be neat and tidy.  I have to work hard at it.  So I don't even remember how I used that pantry from years ago.  I just remember that I was in the thick of it with a 3-4 year old and pregnant with Jordan then having a newborn.  It's all a blur!
In our old home I absolutely hated that kitchen.  The house was an old house and it was built in a time when people didn't need as much storage.  I'm beyond happy to have a pantry now.  It's not a walk-in pantry, and although I'd love to have that, I'm content with what I have.
*this post includes affiliate links for your shopping convenience, you can read more about affiliate links by reading my Disclosure*
THE BEFORE
Here's what the pantry looked like right after we moved in.
The goal was just to put things somewhere and that I would deal with organizing everything later.  That lasted about a week.  I couldn't take it anymore.
What's great is that it only takes 5-10 minutes to organize a small chaotic space.  I should have timed myself but I know it didn't take long at all.
THE AFTER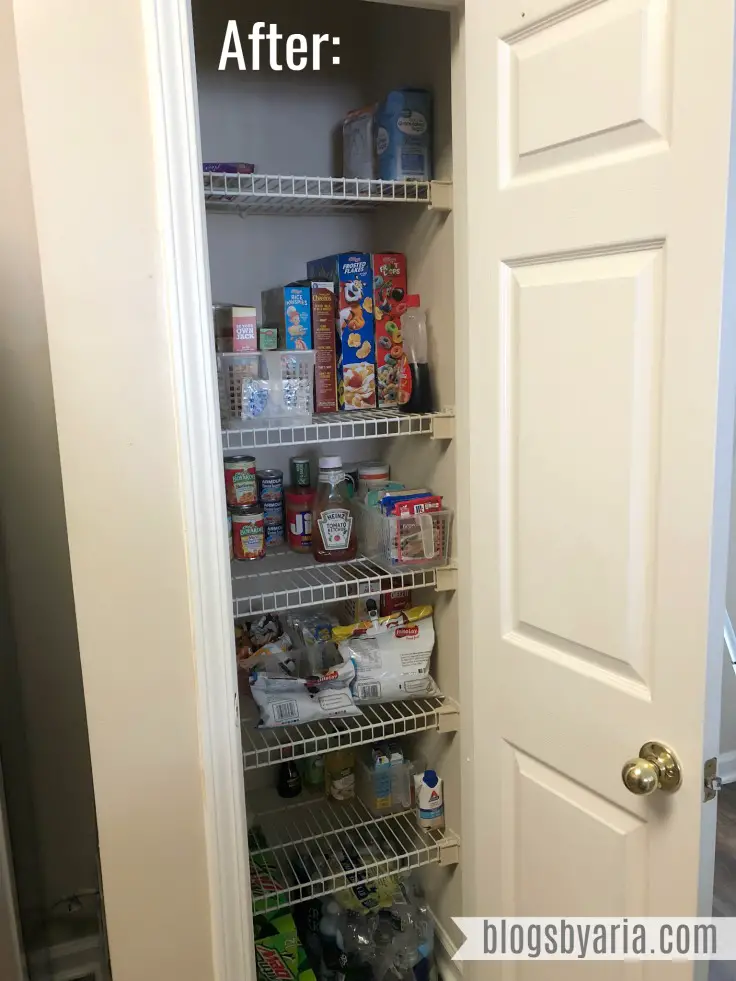 See…simple pantry organization.
Let's take a closer look…
I can almost guarantee you that this will all change probably in the next couple of months as we get a feel for what works best for us.  But the goal was to just get things grouped together with like items.  And to make things easy and accessible for the kids.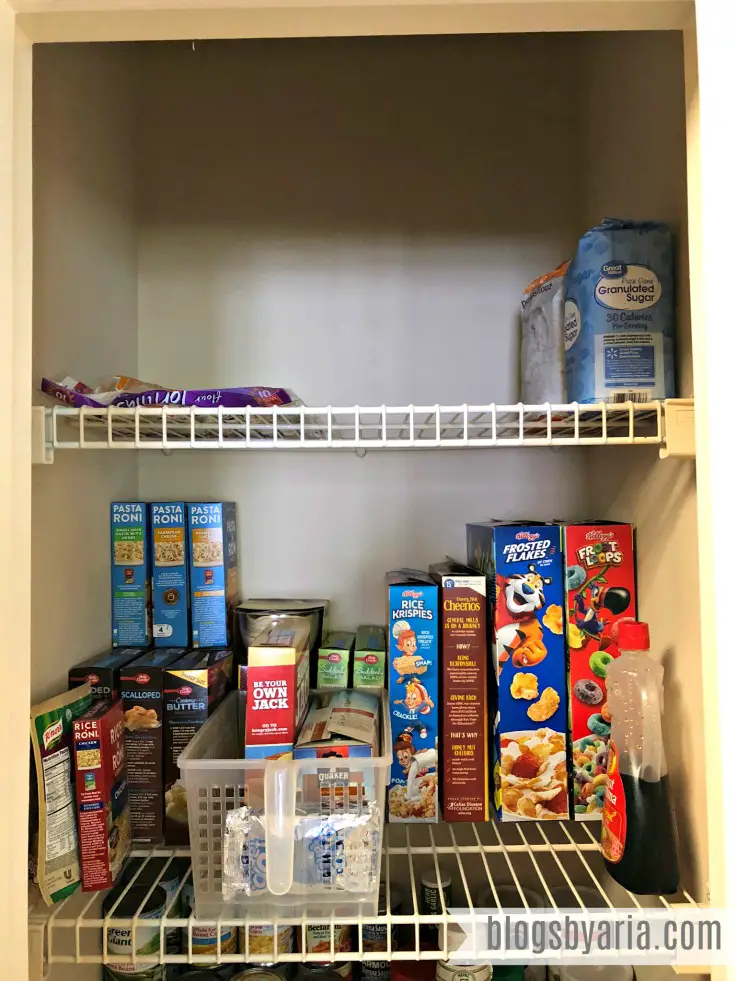 On the top shelf are things that I don't need to reach for as often.  Some tortillas, flour and sugar.  This sugar will be used in the next couple of days and transferred to my sugar container that I keep near the coffee pot.  I eventually want to get a container to keep sugar in the pantry.
What are some things you keep on your top shelf of your pantry?  Give me some ideas please!
The next shelf is where I'm keeping boxed goods and side dishes like potatoes and rice, taco shells, things like that.
On the right I have the cereal.  I do want to get some cereal containers pretty soon.  I think that's more practical for us to keep the cereal fresher longer.
In the basket I have some pop tarts, oatmeal and pancake mix.  Syrup is off to the side for now.  I want to get a tray for it.  Maybe a lazy susan.  We'll see.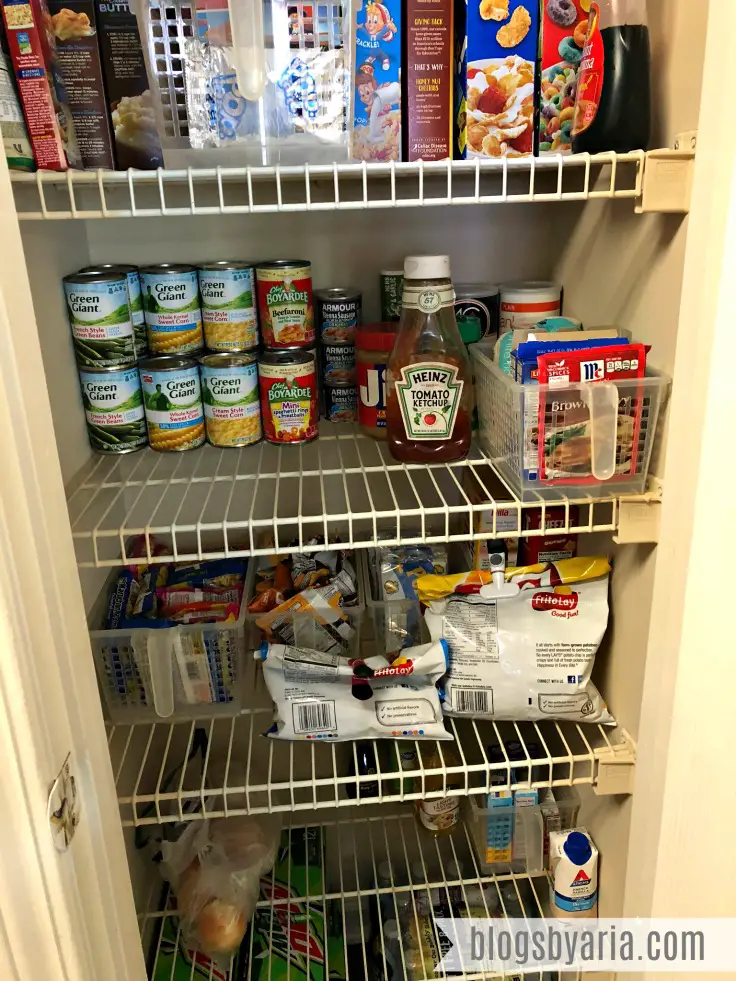 The next shelf is for canned goods.  I'll probably get the can expandable shelves soon.  I go back and forth on that because I don't keep that many cans on a consistent basis, but in the fall we keep more soups on hand and canned beans for chili so I probably should get one sooner rather than later.  I have bread crumbs and peanut butter and things like that, along with ketchup, which I'll need to find a better way of keeping that.  I know some people keep their ketchup in the refrigerator but I can't stand cold ketchup!
In the bin I am keeping rice, gravy packets and Lipton soup mix.  I got these bins years ago from The Container Store and I have to get some more.  They are perfect for corralling things together.  I use them all over the house, under bathroom sinks and in the laundry space, closets, they're super versatile.
Moving right along, on the next shelf I have more bins!  Ramen noodles in one, snacks in the next, popcorn in the third.  Next to that I have boxed snacks like Cheez-its and Nilla Wafers.  Currently larger chip bags are sitting in front of them.  I don't know if I'm going to keep them that way.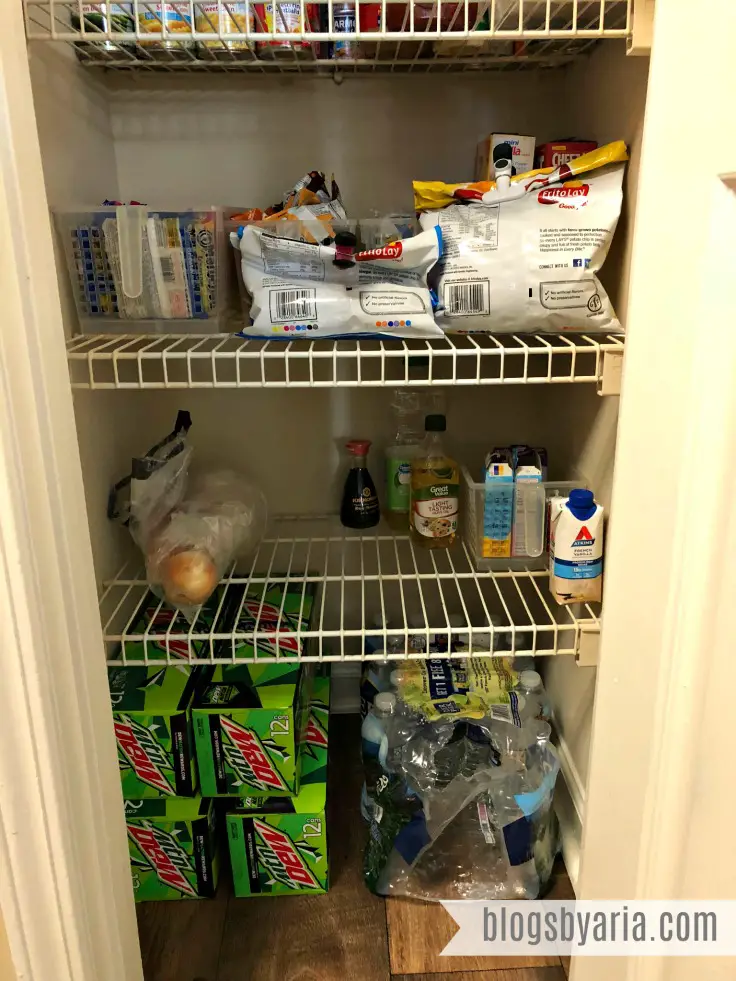 The last shelf is currently holding miscellaneous items.  I want to get one of those baskets to hold things like onions and potatoes. (my wish list just keeps growing 😉 )  They're currently in the bag I brought them home in.  So that is something I'm wanting to get very soon.
Soy sauce, cooking oils, a bin with Crystal Light and Kool-aid water packets round out the shelf.  Oh and one lonely protein shake.
On the bottom of the pantry I am keeping sodas and bottled water.  That will probably stay the same.  It may be the only thing that stays the same in how I organize this pantry.
There we have it!  My simple pantry organization.  It's all about making things work for you and those who live in your household.  What works for me may not work for you and vice versa.  I'll upgrade some of the things I use to keep my space organized eventually but it's not high on my priority list.  So many things are ahead of that.  But taking a few minutes to make the space less cluttered definitely makes a huge difference for me.
Oh, you may be wondering what did I do with some of the paper goods you see in the before and the broom…well I'm still trying to figure that all out.  Paper products could go on the top shelf but right now I moved them to an empty cabinet in the kitchen.  And the broom is in the coat closet haha, probably won't stay there either but we have some maneuvering to do as we come up with routines.  I'll share where everything lands with you in the future.