Happy New Year!  Cheers to an amazing and prosperous year filled with blessings!!  Now that I have fully undecorated my home for Christmas, my home is a blank slate.  Soon I'll be sharing how I'm decorating my home along with some fun projects I'm working on.  But first I thought it would fun to share some of my Wayfair home favorites.  Last year I purchased a few furniture and decor items from Wayfair.  Now that I've had most of them for over six months to a year, I'm going to share my review and thoughts on what I've purchased.
*this post includes affiliate links for your shopping convenience, you can read more about affiliate links by reading my Disclosure*
Shopping for home furnishings is something I enjoy doing but it takes me a long time to make decisions.  I like to read all the reviews, look at all the pictures and triple check measurements.  And then read the reviews again.
It's really great when all of the researching pays off and I have items that not only do I love how they look, I love their quality.  In case you're in the market for some new furniture or decorative pieces for your home, hopefully you'll find this post of my Wayfair home favorites helpful.
COFFEE AND END TABLES
LIVING ROOM UPDATE – OUR NEW COUCH & MORE
Before I dive in to my purchases from 2020, let's take a quick trip all the way back to 2019.  It seems like forever ago right?  My very first Wayfair purchase was my coffee table, quickly followed by the matching end tables.
I shared when I purchased them, shortly after getting our new sofa set how much I love these tables.  They have a sleek, industrial modern style with a touch of farmhouse.  Not only have they held up well over time, they were really easy to assemble.  Definitely one of my favorite Wayfair purchases, hands down.
FARMHOUSE TV STAND
At the beginning of 2020, before we knew the world would change, we upgraded to a large, Smart TV.  I hated our previous TV stand because you could see the cords for all of the components.  I wanted something that had a more furniture feel, where cords would be concealed, and that could accommodate a larger TV.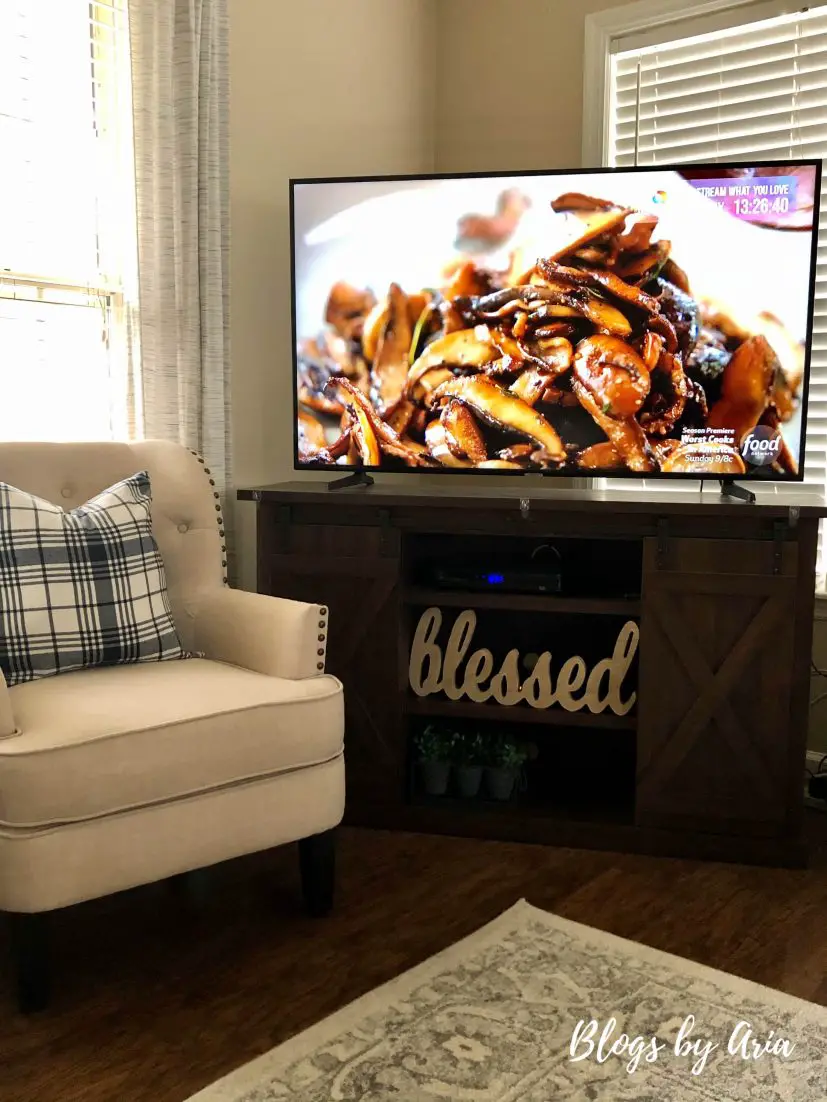 After searching and researching TV stands that were within my budget from Amazon, Walmart, Target and Wayfair, I finally decided on this farmhouse style TV stand.  In case you didn't know, I can be very indecisive when it comes to making large purchases.  Basically anything over $50 and I will hem and haw over it for way too long.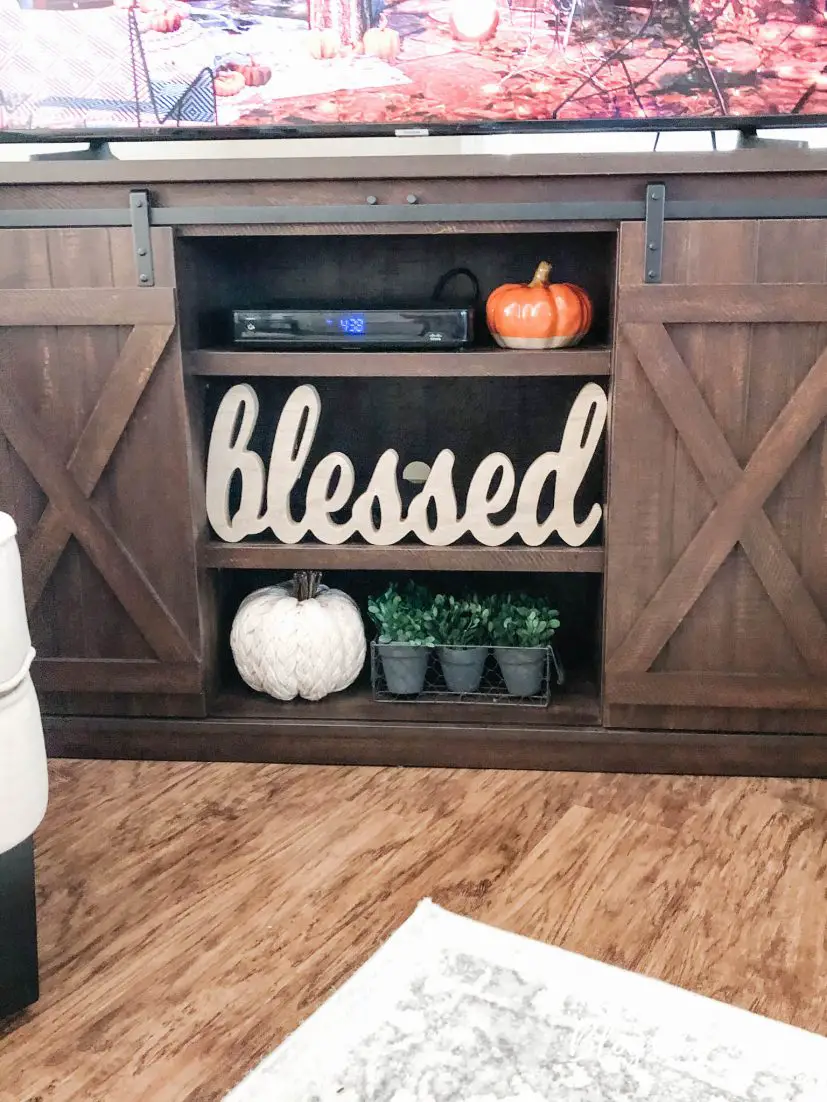 We purchased the TV stand in the espresso color.  Compared to the pictures on the website, I think it's a tad darker than they show.  It was almost too dark.  Thankfully I'm not  matchy matchy with all of my furniture, but it is something to keep in mind.
I was able to assemble it myself but it is very heavy and I definitely needed help with getting the box in the house as well as sitting it upright once it was mostly assembled.  As far as function it gives us everything we need.  We keep the modem and router along with our DVD collection behind the sliding barn doors.
The TV stand is made to hold up to a 60″ TV and ours is 55″.  In the future when we can mount our TV, this will still be a beautiful piece of furniture.
NEW HEADBOARD
Before we knew we were going to move we decided to get a new bed frame and headboard.  Our previous bed was falling apart.  We had had it for several years.  Prior to us moving to Raleigh it was already in bad shape and the move didn't make it better.  I've always wanted a tufted or fabric headboard because I felt it would be more comfortable for reading or sitting up in bed.
After reading a lot of reviews I decided against getting a complete bed from Wayfair.  Not that there weren't good options, they just were outside of our price range.  The options within our budget had very mixed reviews.  Instead we opted to get a headboard and a basic frame.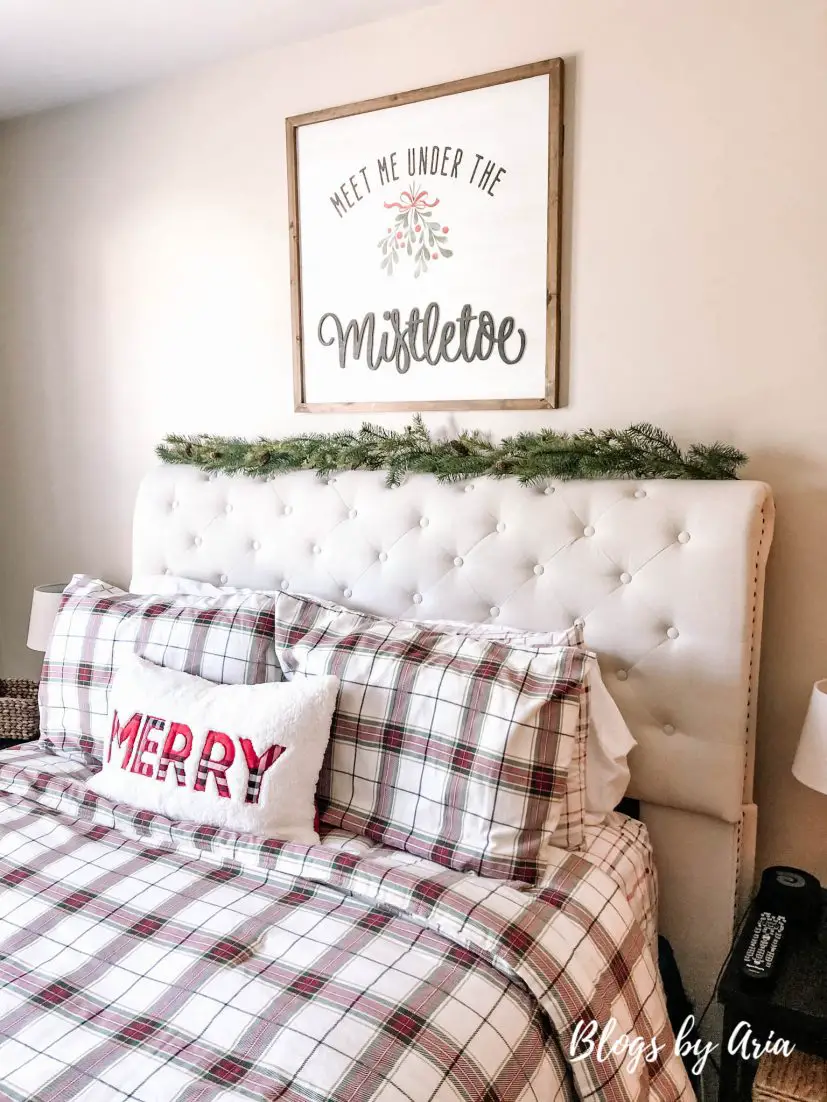 This upholstered panel headboard (this one is similar) had really great reviews and gave me the look I wanted within my budget.  That's the key!  Although to be honest, my husband bought this for me 🙂
WAYFAIR CUSTOMER SERVICE
The frame is a basic frame, nothing special.  It's been holding up well.  We did have to have them send a second one because it was missing a piece.  But that's one thing I do love about Wayfair…they have amazing customer service.
I've seen where people say they had to hold for hours to speak with someone.  I'm not sure why that is because anytime I've had to contact them about an issue it was all virtual and easy to do.
OUR FAVORITE AREA RUGS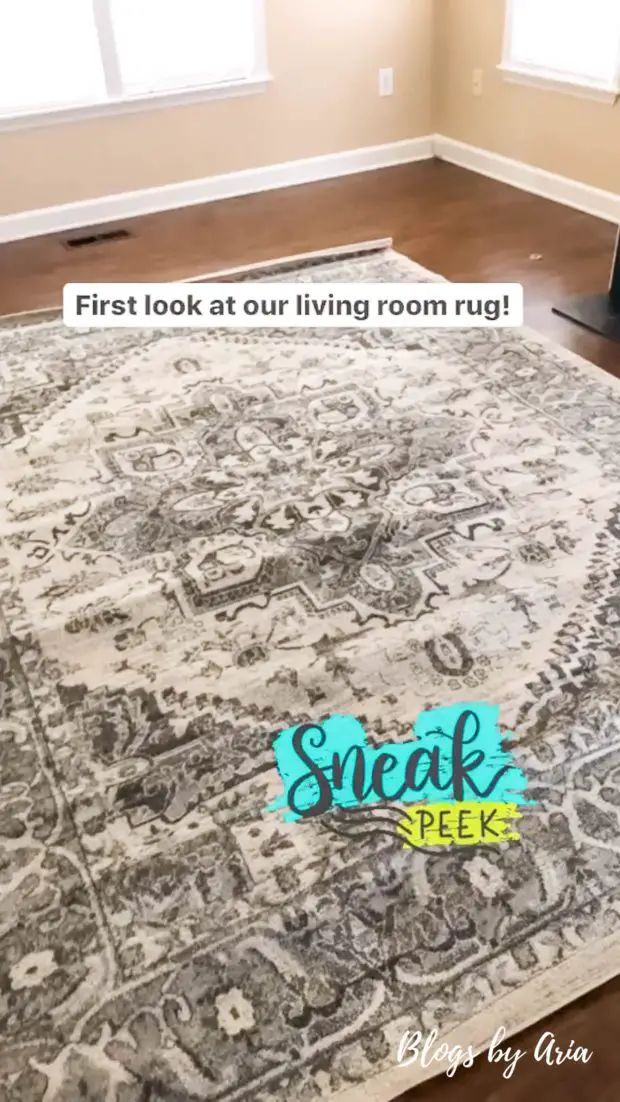 Once we knew we were officially moving and that our new space would require rugs, I knew Wayfair was the way to go again.  We looked at local stores but no one had the pricing and the style we were looking for.  Our living room rug is the Wraxall Oriental in gray and we have the Brandt floral gray area rug in our dining room.
My favorite is the living room rug and my husband's favorite is the dining room rug.  Now we are hoping to upgrade to a larger table this year.  That means we will need a larger rug and I'm perfectly fine with choosing the Brandt floral rug again just in the 8X10 size (which is on sale for over 60% off right now).
Both of the rugs are very nice quality and I will say that when there have been spills on the dining room rug, they've easily come up with simple stain remover.
POWDER BATHROOM FLOATING SHELVES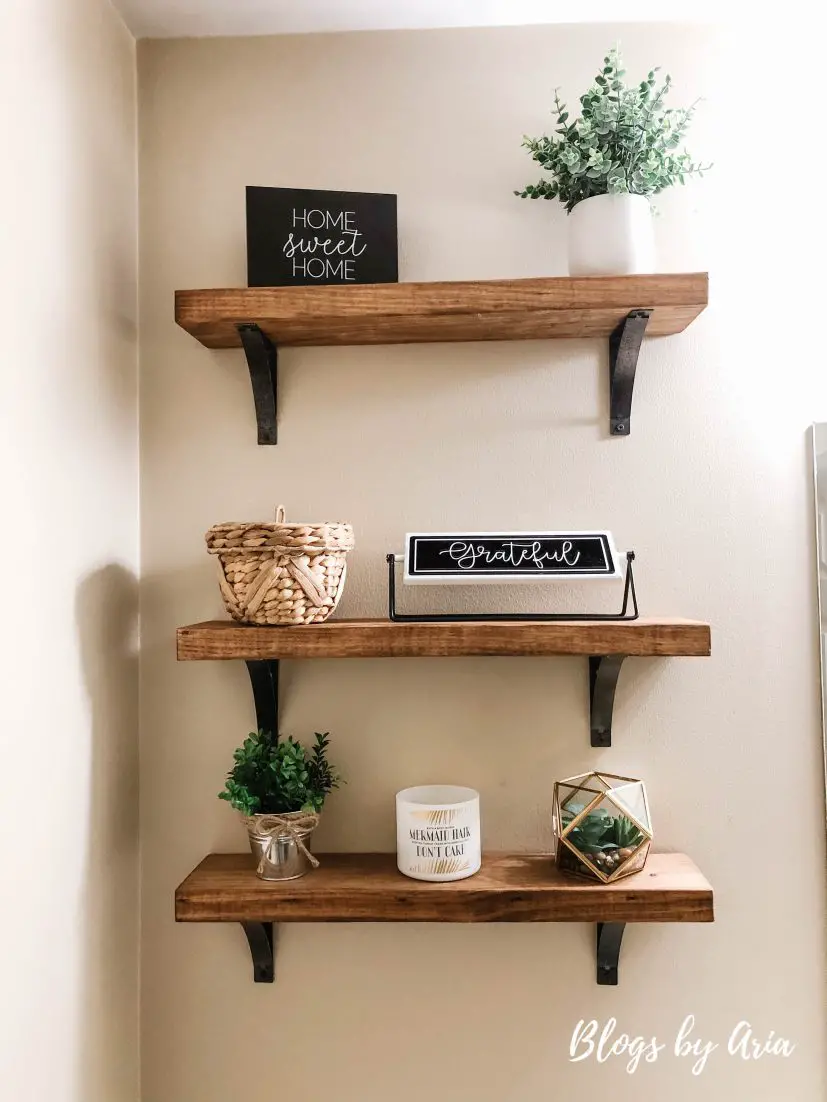 POWDER BATHROOM FLOATING SHELVES
One of the most popular items that I purchased from Wayfair last year were these floating shelves in our powder bathroom.  Anytime I've shared a picture of them I always get questions about where they're from.  And for good reason.  They are so solid and look so nice.
The other set of floating shelves we purchased for our master bathroom don't seem to be available anymore, but these are similar.  I like the look of them both but the powder bathroom shelves were so much easier to install.  They've held up well and we haven't had any issues with them.  Plus they're so much fun to style!
MASTER BEDROOM BOOKSHELF
I tend to gravitate towards this industrial farmhouse vibe and you can see that with this iron pipe ladder bookshelf in our master bathroom.  This space was missing something and I wanted a bookshelf that wouldn't project too far from the wall.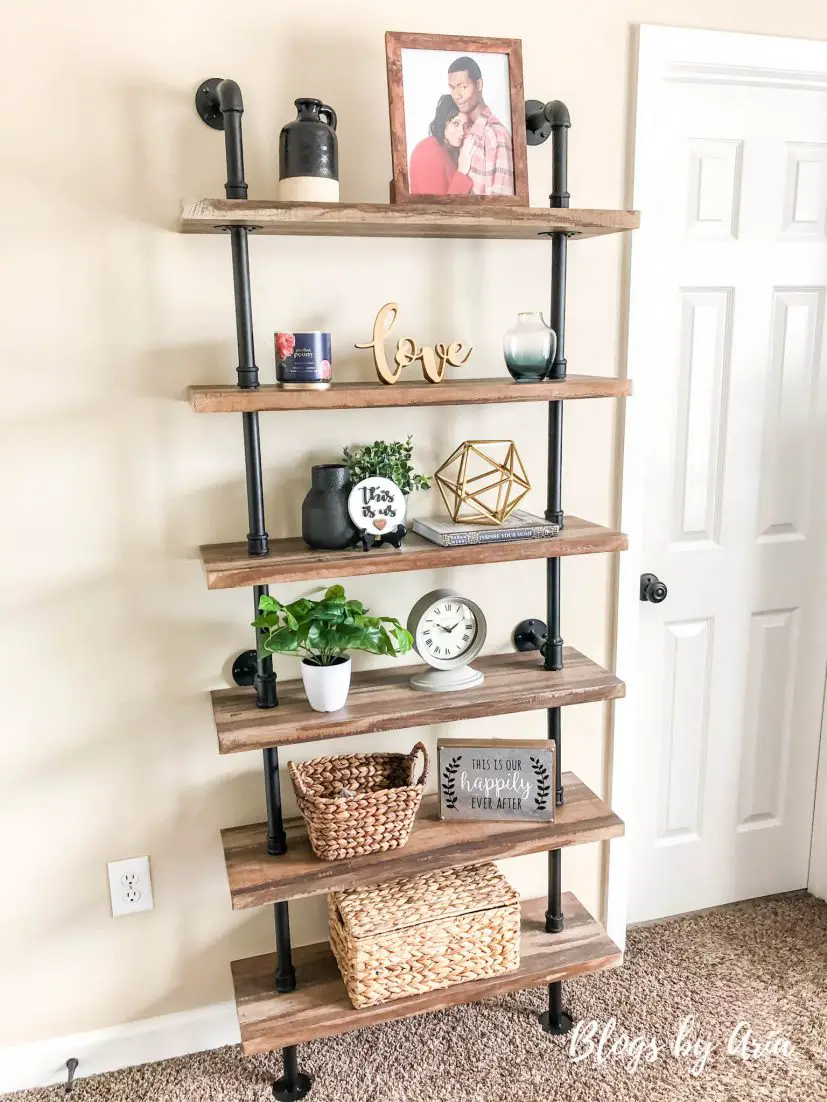 One thing to note is that because this bookshelf isn't very deep it may limit what you're able to store or style on the shelves.  Also the iron pipes do cut off some of the shelf space as well.
Assembling this shelf was pretty simple as well.  When it comes to putting things together, that's usually on me, and I prefer it that way.  We've been married a long time and I know our strengths!  But I'm not yet confident with power tools, so when that is required I get my husband involved.  Or when I need a little muscle 😉
EXTRA KITCHEN STORAGE
After we moved in and were trying to get settled, I felt that we needed more storage in our kitchen.  Eventually I want to show you how I've organized our kitchen…it's still a work in progress.  I started looking at a kitchen cart or island option.
Now the downside to all of this is that this was during 2020 and as you know it was very hard to find items in stock no matter who you were shopping with.  What I really wanted was a kitchen island that had doors and drawers and would fit in the space that I had.  That wasn't so easy to come by.
I ended up getting this simple kitchen prep table.  It's been so helpful to have a little extra counter space and a place to store our larger kitchen appliances like our crock pots.  Overall it was okay to assemble.  Albeit a little time consuming, it wasn't overly difficult to put together.
Plus the prep table was pretty inexpensive.  I'm always thinking of the future and I don't think we'll have a need for this in our next home.  So I didn't want to spend a lot.  I just wanted a smidge more storage and this fit the bill.
THE BEST ACCENT CHAIRS
Now onto my favorite Wayfair purchase of the year…our wingback chairs!  We wanted accent chairs and I really wanted spindle chairs but for lots of reasons decided against them…for now.  After seeing these chairs in someone's YouTube video I decided to look them up.
Never before have I seen anything with over 10,000 reviews and majority of them being 5 stars!  I knew they would fit our space perfectly and in the future could work in so many ways in our home.  I did have to wait awhile for them to arrive.  There wasn't the free two day shipping option for them.
When they did arrive the delivery drivers brought them into my home.  They come basically fully assembled.  All you have to do is add the legs.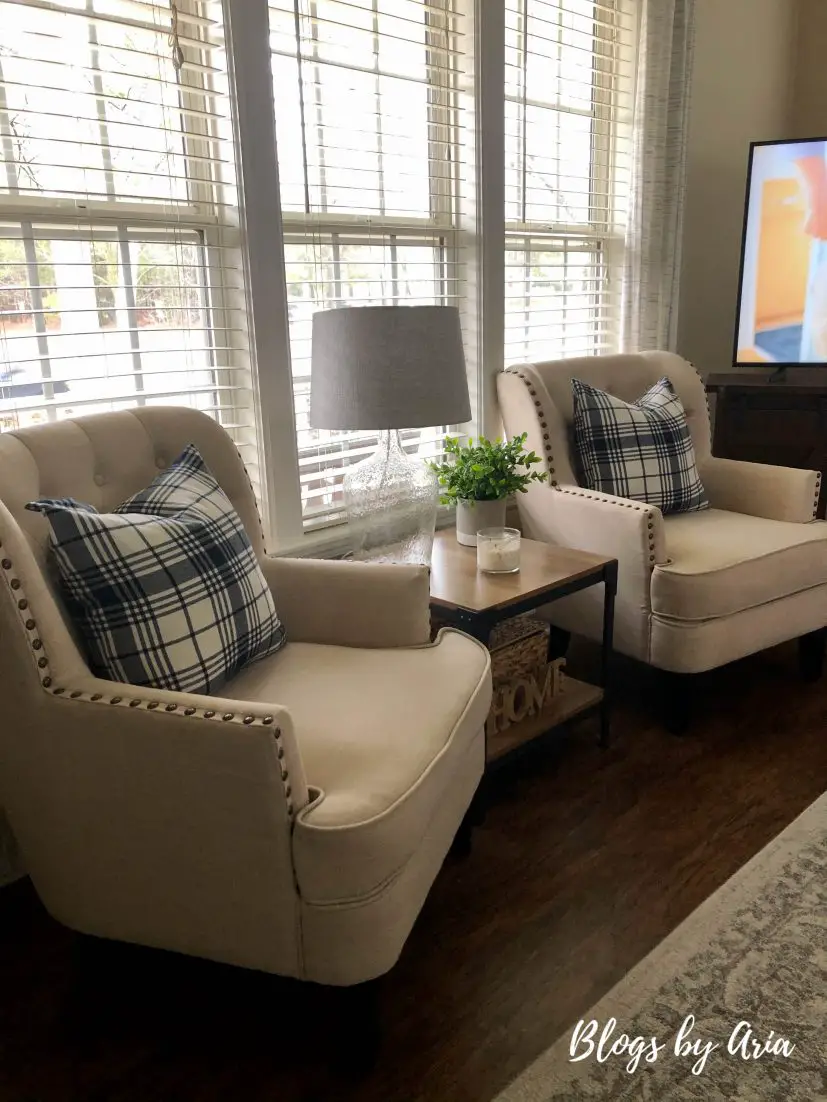 I absolutely love these chairs!!  Not only do they provide extra seating in our living room but they could also go in our bonus room or in the future our master bedroom or a guest room.  We're going to have these chairs for years to come!
FIDDLE LEAF FIG TREE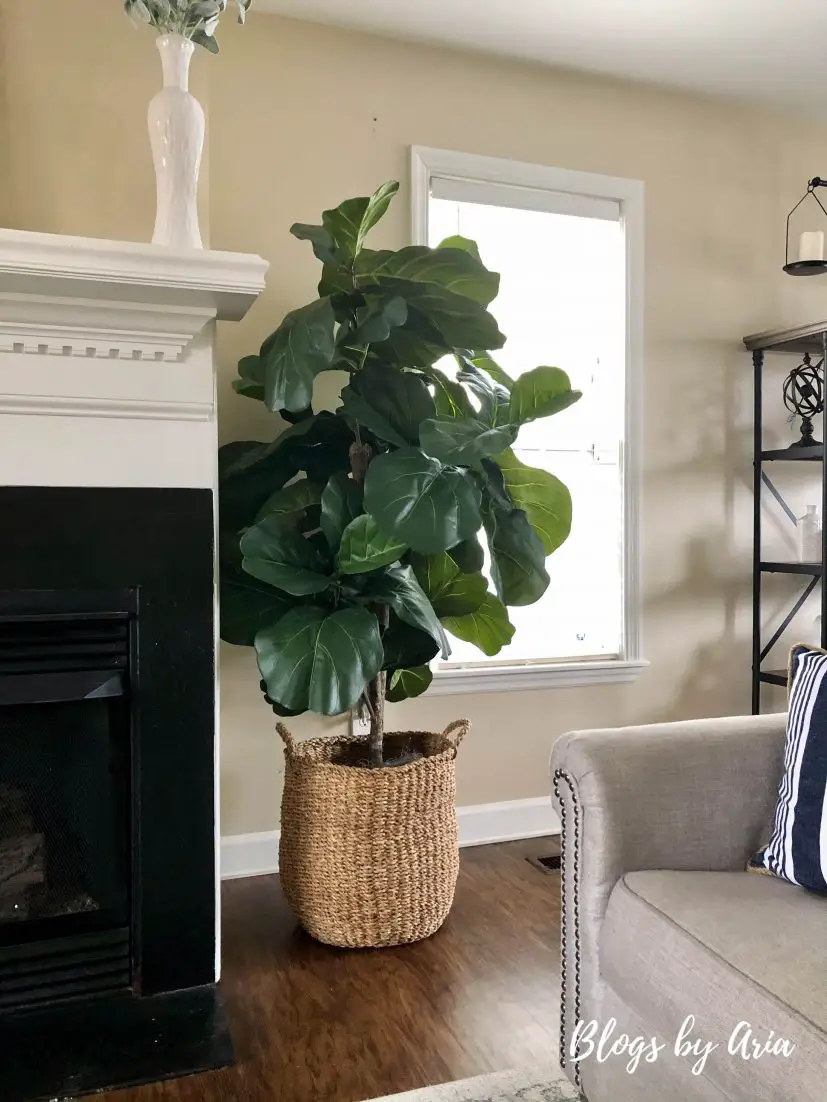 The last item I'm going to share today is my fiddle leaf fig tree.  If you had asked me before I wouldn't say this qualified as a Wayfair home favorite!  But it has grown on me over time.  Good quality fiddle leaf fig trees can be expensive.  When I purchased this fiddle leaf fig tree it was on a great sale.  (I almost always buy anything from Wayfair on a major sale, usually around a holiday)
The tree is definitely on the full side.  I knew that it was fuller than a lot of the other trees I was looking at but when I received it I felt it was just too big.  We had a second tree sent to us and when we did, I moved this tree to the bonus room.
Now that Christmas is over and I have such a blank space I decided to pull this tree back down and see how I like it.  Guess what?  I love it!  It fits perfectly in this space instead of in the corner of the dining room.  Sometimes all you need is a different perspective.
WHY I LOVE WAYFAIR
When it comes to decorating our home over the past couple of years I learned that we don't have to go with a traditional furniture store to get nice pieces.  Wayfair has come through in the clutch for us so many times.  I love that they fit in so many budgets and of course if you want you can pay for assembly.
There's still quite a few items on my need to buy list and I'm sure many of them will come from Wayfair.  They have so many items that fit so many design styles so they're always one of the first places I look.  For now I'm excited to start working on some projects that I will share with you soon.
{SHOP MY WAYFAIR HOME FAVORITES}