Whew!  What a week it's been friends.  I don't know about you but this past week I needed all the extra energy.  I think it's because of the Super Bowl (snooze fest) and just like I never remember to take the Monday off work after the time change, I don't remember after the Super Bowl.  It would make such a huge difference.  I figured I'd pop in with a quick post of weekend ramblings.
I wanted to share a Valentine's Day gift guide last week but I never got around to it.  And now it's cutting it too close.  Something to add to my calendar next year…write that post in January! : )  If you're looking for some last minute date night inspiration be sure to check out my Valentine's Date Ready post.
*this post includes affiliate links for your shopping convenience. You can read more about affiliate links by reading my Disclosure post*
JORDAN'S NEW GLASSES
I knew I needed to take Jordan to the Optometrist for a while and I kept forgetting to set an appointment.  The other week I got a call from his school that he wasn't feeling well.  I was really tired that day too, so instead of trying to see if DH could leave work to get him, I decided to.  He really only had a headache so I gave him some Tylenol and we both took a good nap.  When I woke up I ran a few errands, one of them being to go to the eye doctor ( I couldn't remember their name to call them) and scheduled an appointment.  I love that they have Saturday appointments.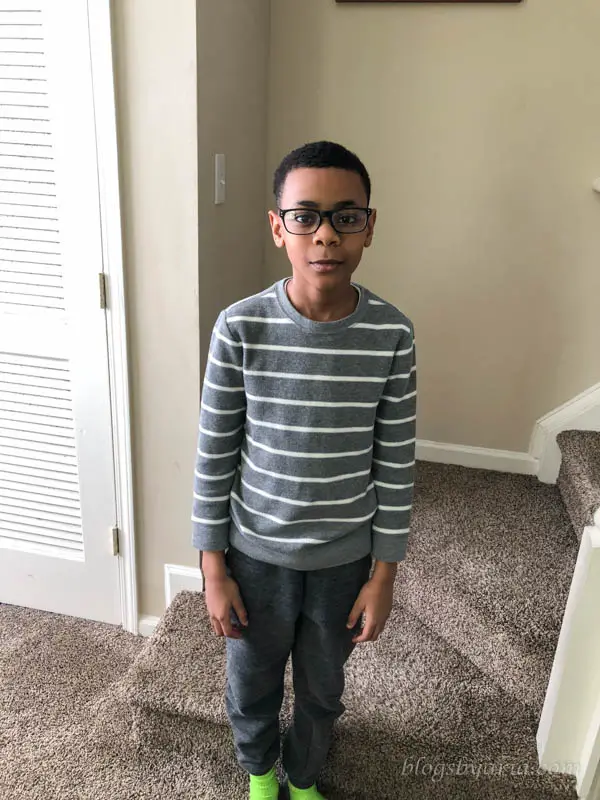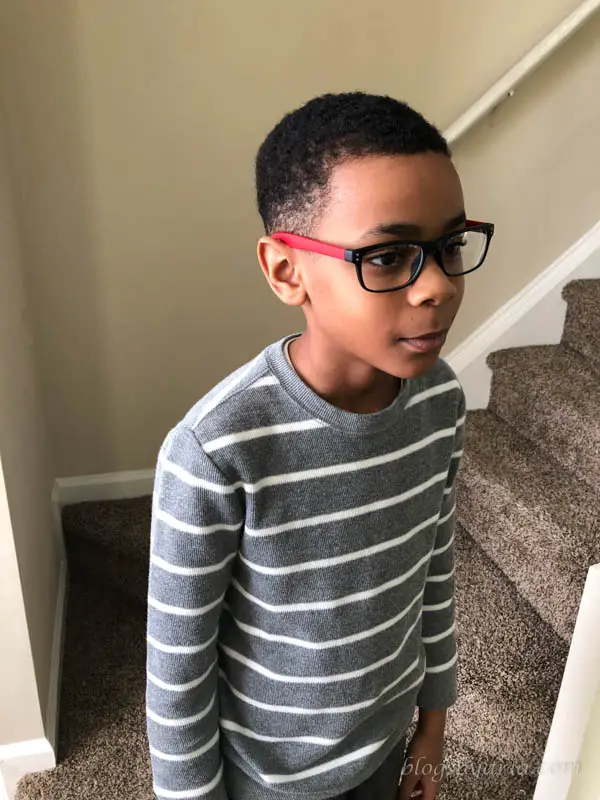 A few days later Jordan got a couple of pairs of glasses.  I let him pick the ones he really liked which are these with the red bands.  I liked blue better but they're his glasses not mine.  So he has his primary pair that he takes with him to school and then a backup pair that he keeps at home.  Now both of my kiddos wear glasses.
Last week Brianna cheered at her last basketball game.  They had a special recognition for all of the 8th grade athletes and she wanted both of us to come.  In between the girls and boys basketball games they called each of the 8th grade athletes to the center of the floor, escorted by their parents and named what high school they'll be attending.  I'm glad we were both able to attend.  It was the second basketball game we could go to.  I couldn't make it to the football games but it was fun to watch not only the games but my baby girl cheer.
I'm not sure if she'll want to continue to cheer in high school or not.  If she does I want to get her into some tumbling classes.  But either way, I'm glad that she was able to be a part of a cheer team this year.  Especially since she's in a new school in a new city and all.  It was a way to give her something to do, make friends and keep her occupied most days after school.
ARIA LOVES TO PLAN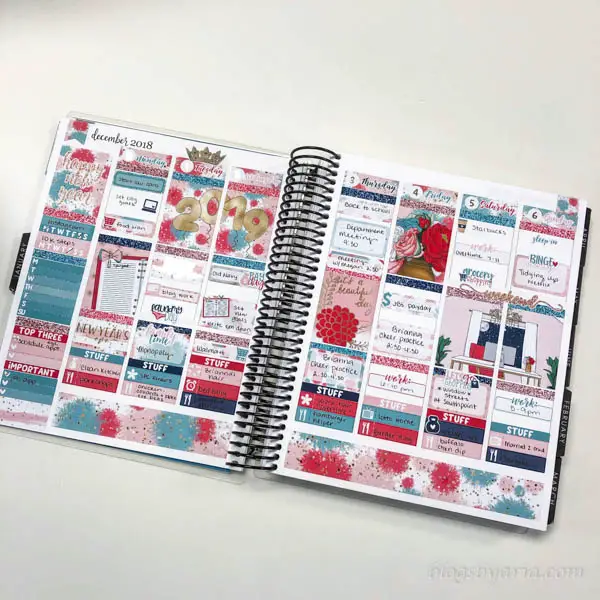 I recently created a new Instagram page dedicated to my planner spreads.  You can follow me at Arialovestoplan : )
As I continue to dive more into sharing home decor and lifestyle posts on my main IG page I felt that sharing planner posts didn't really make sense.  They felt out of place.  I had been debating making a second account for a while and on a whim, I thought of the name Aria Loves to Plan.  Next thing I knew I had created the account!
Right now I'm sharing all of my January spreads and then I'll be current in about a week.  I shared this first spread from Little Miss Paperie.  I love the colors in this kit!
POTTERY BARN
Speaking of home decor posts…when I can find a few minutes to get out of the house I love to go to Pottery Barn.  It's one of my favorite places!  I recently shared that I went to the PB in Durham and wanted to sit on the PB Comfort Roll Slipcovered Sectional to see if I loved it as much in person as I do online.  I think it's the most similar to the Cameron Roll Arm Slipcovered Sectional that I have on my wishlist. The Pottery Barn in Raleigh seemed a lot bigger than the Durham store and I was able to sit on this sofa and I thought it was very comfortable.  The right amount of firmness and softness.
I spotted this leather tufted ottoman when I walked into the store.  I gain inspiration not just from touring homes but from looking in stores like this.  Typically I wouldn't have thought to put an ottoman at the foot of the bed like this, I'd probably only look at benches.  But when you see how something is set up in a store it makes you think, "hey I could do that."  You know?  Same thing with clothing stores and mannequins.
Savings Tip:  Pottery Barn is not an inexpensive store to shop, every so often they have 20% off sales and that's the time to order something big ticket like furniture.
A few weeks ago I was in Williams Sonoma ( love that store!) and this is the All Clad Gourmet Slow Cooker with All-in-One Browning.  It's a ridiculously long title for a really pretty crockpot that does all kinds of great things.  I've wanted it for years.  Yes, I'm even bougie with my kitchen electrics 😉
Something on my must get list is this Black Panther canvas art from At Home.  I saw a few different ones and took pics to see which one Jordan liked the most.  He liked this one and I have a coupon for that store so I want to grab it before they're gone.  I think it'll look great over his bed.
KLEENEX HAND TOWELS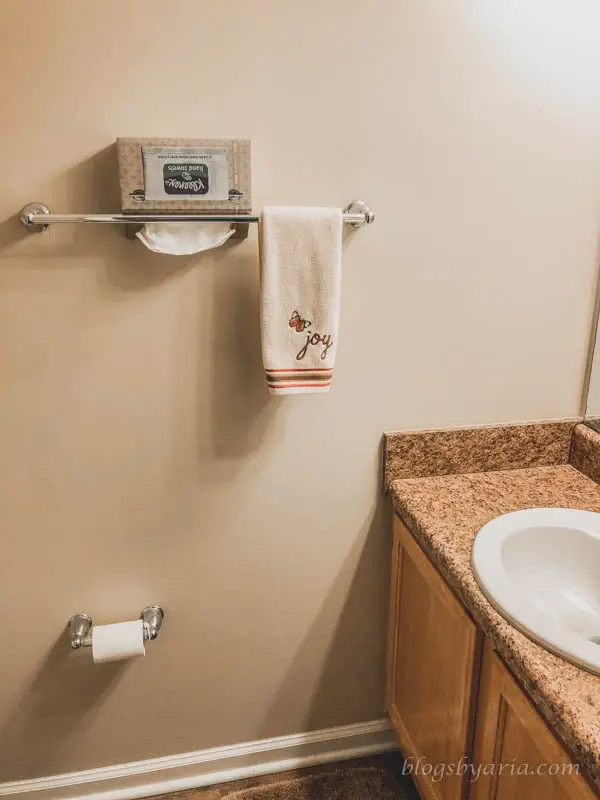 I finally got some Kleenex hand towels for our powder room.  They used to sell them in stores but I for the life of me could not find them anywhere. I still would like to bring some color into this space eventually.  Maybe something on the wall and/or a small faux flowers bunch.  We'll see.  The hand towel is from Kohl's.  I got it because it went with the beige colors of this space but I really want something with some color.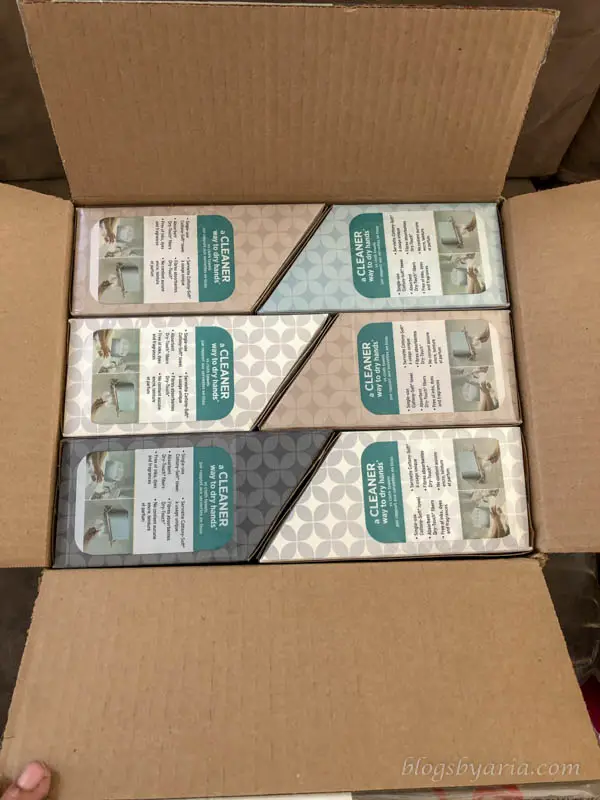 Amazon to the rescue!  I found them on Amazon and ordered some.  Yes it was that important to me to have Kleenex hand towels.  Especially when we have guests over.
TEAM SNACKS
To round up this very random blog post, I realized I never shared this picture last year.  It was one of the weeks where I was team mom for Jordan's basketball or football team.  I don't remember which.  It's an easy snack option that gives the kids what they want but isn't as bad as it could be.  Sometimes the snack would be something like donuts or cupcakes.  Sometimes it would be pretzels or something boring.  Nothing against pretzels…but I wanted to give a little something sweet but that wasn't too too bad.  A chewy granola bar, a cutie and a fruit juice I found to be a great combination and a big hit with the team.  I didn't do water or Gatorade because most of the kids had that throughout the game.  If you're team mom or have to bring snacks to a class trip or something, maybe this will be a big hit for you too.
Enough with the weekend ramblings for today and onto my weekend cleaning.  Not as fun of course but it must be done!  Enjoy the rest of your day friends!  Until next time : )