Friends I have a couple of posts that I really want to share.  They kind of go hand in hand. To start things off today we're talking about my history with the Atkins Diet.
Now I'll be honest with you, I didn't want to come on the blog and talk weightloss.  I've talked about my weightloss journey since the beginning of this blog and I'll tell you, they're not my favorite posts.  They are part of my journey so I don't want to delete them.  However when I go back and read them they make me cringe.
Because I'm being very open and transparent about my journey on Instagram, I was getting questions and found it best to share them on the blog…to live…forever and ever…
Before I share about my why and before I share answers to the questions I'm getting, I have to share the backstory.  So here goes…
*this post includes affiliate links for your shopping convenience, you can read more about affiliate links by reading my Disclosure*
The Early Years
I was a slim kid, kind of like my daughter.  But the summer between middle school and high school I started to gain weight.  I used to spend my summers in Philadelphia with my dad's side of the family.  Well that particular summer my grandmother died and I took it really, really hard.  It was my first time experiencing death in my life and I now realize that I began emotional eating.
the picture of me with the goofy face was around age 13 and size small (back before a kid pays attention to clothing sizes).
But it wasn't just that, it was the fact that after being used to eating reasonably and of course I could eat bad but it didn't matter because it wasn't all the time.  Overall growing up eating fast food wasn't a normal thing.  It was very sporadic. After she passed away we ate bad all the time.  Going to the corner deli for a greasy delicious sausage egg and cheese on a Kaiser roll for breakfast…yum!  That was the summer I discovered Sausage and Egg McMuffins from McDonald's.  Everyday I ate out.  A hoagie, or pizza or Stromboli or cheese steak, you get the point for lunch AND dinner…let's just say I started to put on weight.
one of my senior pics that was taken when I was 16 years old and a size 11/13
In high school when I wanted to drop the pounds I would just workout and it would come off no problem.  We used to have a lot of workout tapes.  I found them to be fun and way better than PE class.  Abs of Steel, Buns of Steel, Jane Fonda, Reebok Step even a Dance Workout with Barbie were my faves.  Those were the good ole' days.  I never had to change how or what I ate.  My jobs in high school were at McDonald's and Bojangles (early college).  Needless to say, I liked to eat where I worked and I would stay around a size 11/13.
senior prom age 17 size 13
The College Years
For me I have two phases of college:  community college and university.  I remember while I was at community college me and my best friend would always go and get lunch together.  And we usually would wind up at Andy's.  If you're in North Carolina it's now known as Highway 55.  Like at least three times a week we were there scarfing down cheeseburgers, cheesesteaks and cheese fries.  Cheese on cheese on cheese.
me in college, after Atkins but I don't recall where I was in the journey at this stage
Once I was at ECU I of course put on the Freshman 15, or in my case the Junior 20.  Which is actually how I met my husband (have I shared our story before?  I'll have to look back and see) at the rec center trying to get the weight off.  At this stage in life I still felt that I could out-workout a bad diet.  Which I could.  But then I started putting on the love weight that came with eating extra meals with my new boyfriend.
The workouts weren't cutting it and one day I was in Walmart buying Slim Fast.  I just so happened to be in the line where a friend of mine was the cashier.  Thanks Shanee! 🙂  Shanee saw I was buying the Slim Fast and told me to put it back.  She quickly explained to me that Slim Fast is full of sugar and it's a waste of money.  She said come over to her house for her to give me a book that she swore I needed to read.  I did and she gave me the Atkins diet book. (I still have it, I think I was supposed to give it back to her) After catching up with her I went back to my dorm room and started reading.
In the first few pages I had the light bulb moment because this guy was talking to me.  I knew then that this Atkins Diet would work for me because I was indeed, addicted to sugar.  Now by sugar I don't mean cookies and cakes and whatnot.  I love those too but I mean things that I didn't know was sugar.  Like bread and pasta and potatoes…all of my favorite food groups!
The timing worked out great because I was about to go home for a couple of weeks between summer session and being able to move into my off campus apartment for fall semester.  My mom offered to take me grocery shopping to get all of the food that I needed for the two weeks Induction period.
It wasn't easy that first week.  In fact, it was down right hard.  I had crazy sugar withdrawals.  But after the first three days it got easier.  That's about how long it took for my body to literally come off the sugar.  If it's that hard to come off of sugar I can't imagine how hard it is to come off drugs, sheesh.  It's something else.
I had great success with Atkins and although I didn't ease into adding carbs in the way they suggest in the book, I was able to eat pizza here and there and cookies and all kinds of things without it halting my weight loss.
this is the only good before and after I could find…from size 14 to size 8/11*
This was the first time I did Atkins.  I have searched through my countless journals to try to find my exact details and I couldn't find them but from what I can recall, I lost over 40lbs on the Atkins Diet in the span of 3-6 months I'd say.  I never had super quick weightloss in the first two weeks, but when I would look at a month, I'd lose 15lbs here 20 lbs there and 8lbs over here…that kind of thing.
WORKING OUT
With the Atkins diet, Dr. Atkins doesn't suggest you start out trying to work out too.  He says focus on the eating for the first few weeks and once you're good there then add in working out.  That's what I did.  Although I didn't end up immediately going to the gym.  I lived off campus now and the majority of my "working out" came from walking to class.
I eventually got a job at Golden Corral as a server.  At this point it was safe to say that I wasn't on the Atkins Diet anymore.  But that was okay because a lot of the basics stuck with me.  Working at Golden Corral meant I walked a ton.  We didn't have Fitbits back then but I know I walked over 10,000 steps a shift and it made it easy to keep my weight down.
Eventually I discovered Pilates.  Windsor Pilates to be exact.  I've always been an infomercial junkie and I felt that Marie Windsor was genuine and could help me tone up.  I ordered the program and started the 20 minute workout.  I did it every day and within a month I went from a size 11 to a size 8/9.  Up until this point I always wore clothes from the juniors department.  But when I started venturing to other stores like Express, I fit a size 8 perfectly.
*the picture above was taken at Easter I think and I had started the Atkins diet in August so at my highest I was a tight 14, probably should have worn size 16 and at my smallest I was a size 8 working to get to a size 6 (my dream size) and then I got pregnant…that's another story for another day.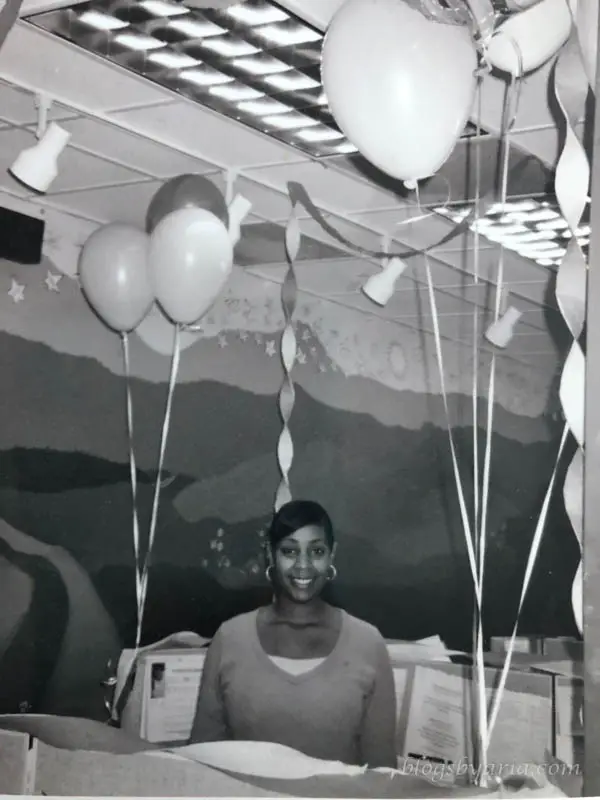 this is a picture of me after I lost weight with Atkins after having Brianna.  I hate that my manager at the time did these pictures in black and white but you can see that I'm around a size 8/11 here.  This is before I got married.
I have also successfully done Atkins after having my kids.  Sometimes were easier than others. I can go more into that if you'd like.  Before I went into detail about where I'm at now and what's going on I had to share the backstory.  And perhaps add some levels of embarrassment with these old pics : )
Now that we've discussed my history with the Atkins Diet, let's move on to what's going on now.  In my next post I'll share the difference between Keto and Atkins and which one I'm doing and my thoughts on all of that.  Then I'll share updates along this journey and my WHY.  Because I think your WHY is important.  So if this is something you want to read more and see more about stay tuned and follow me on Instagram where I put it all out there…the good and the bad.  I'll be sure to sprinkle non-weightloss related posts in there too in case this isn't what you're here for.  I always have something for everybody 🙂