It's our first Christmas in our townhouse and it's been interesting to see my holiday decorations come together in a new and different way this year.  I am sharing my first Holiday Home Tour today and I hope you'll get some inspiration for this year or future years.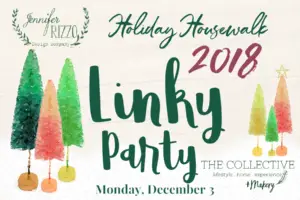 I am very excited to join up with Jennifer Rizzo's Holiday Housewalk Linky Party 2018!
HOLIDAY HOME TOUR
In the past I've shared some of our Christmas trees and a little decor but nothing too much.  This year I take much more pride in our home and feel like I can truly share a holiday home tour.
This year we're keeping things simple.  A few holiday touches here and there really is all it takes.
*this post includes affiliate links, which means if you click on a link and make a purchase that I get a small commission that helps support this blog and my family. You can read more about affiliate links by reading my Disclosure post*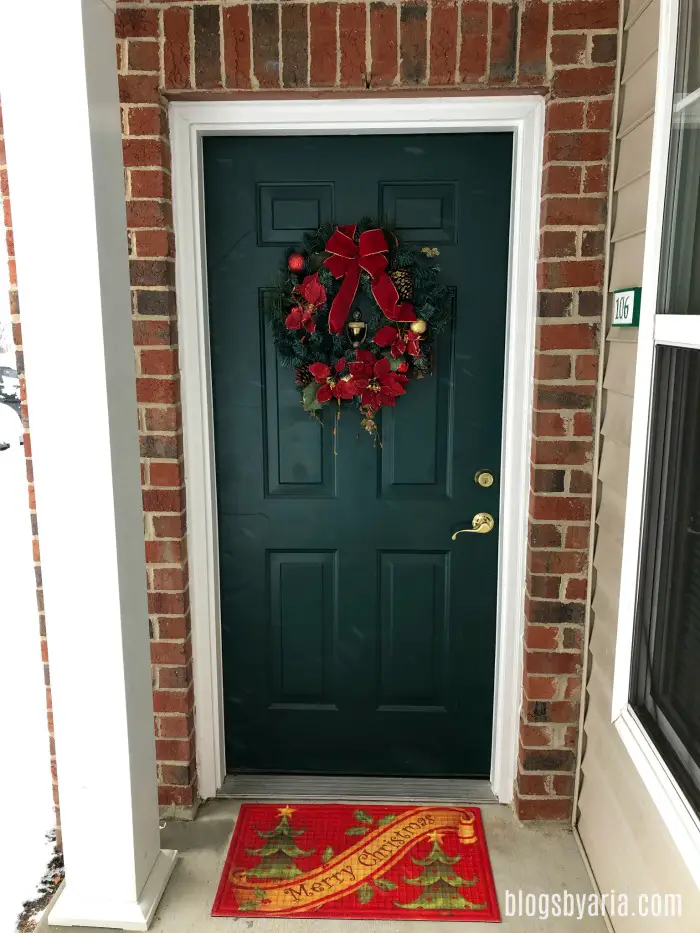 Starting with the front door.  It's nothing fancy to look at but we do have a good covered space leading into our townhome.  A few flurries were flying through the sky when I snapped this pic.  I've had this Christmas door mat for a few years, I got it from Kohl's.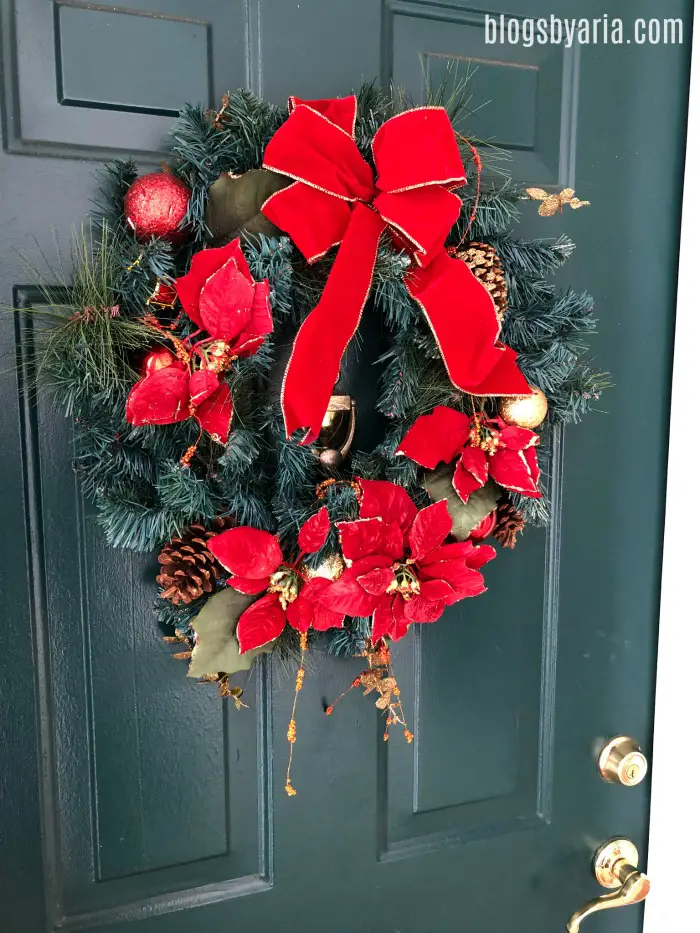 We've had this wreath for as long as I can remember.  It's at least 10 years old.  This will probably be the last year we can use it.
GARLAND & STOCKINGS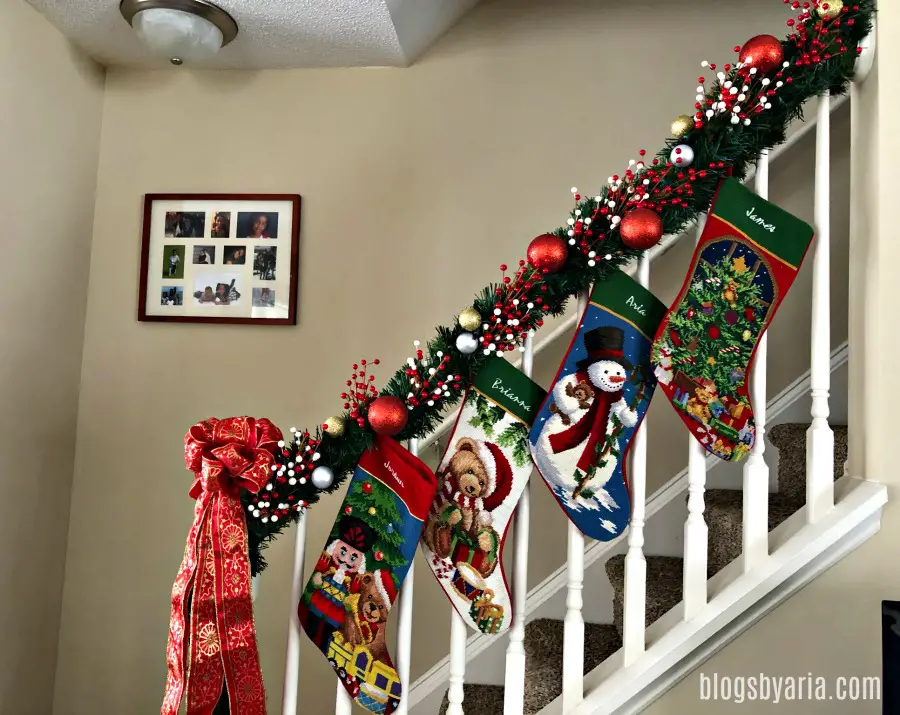 The first glimpse of holiday in our home is the garland on the banister.  I shared my journey to get to this point with the garland on my Stories.  At first I wanted to do swags but then I opted for it to be straight down the banister with the bulk of the garland facing the side.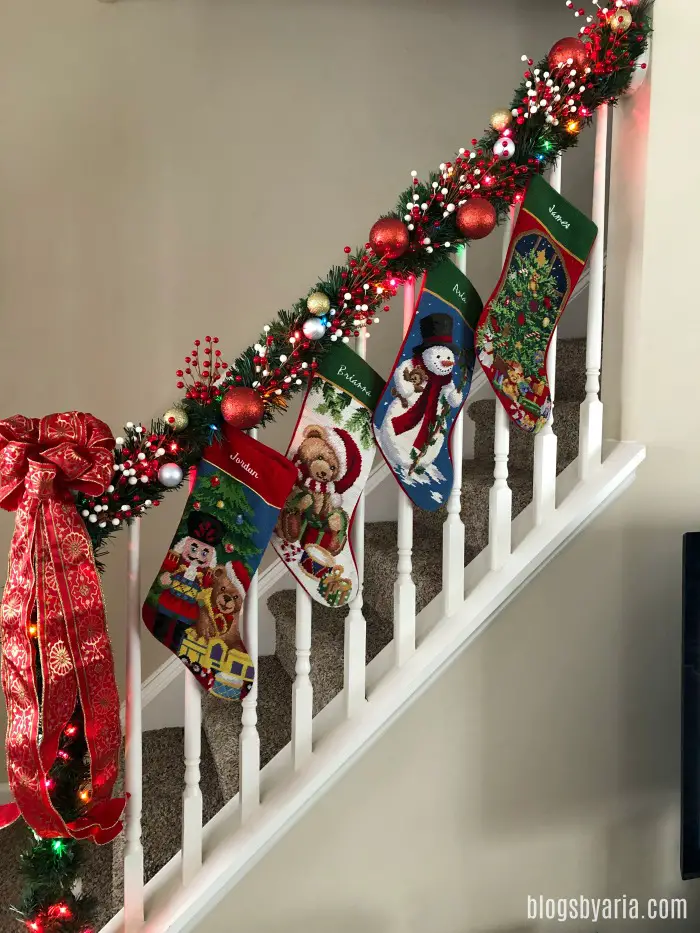 I got my DIY skills on with my hot glue gun and some extra ornaments to create this look.  The garland is standard lit garland I got from Walmart a year or so ago. I also added several berry picks that I got from Michael's.  I'm proud of how it turned out because I am not crafty at all!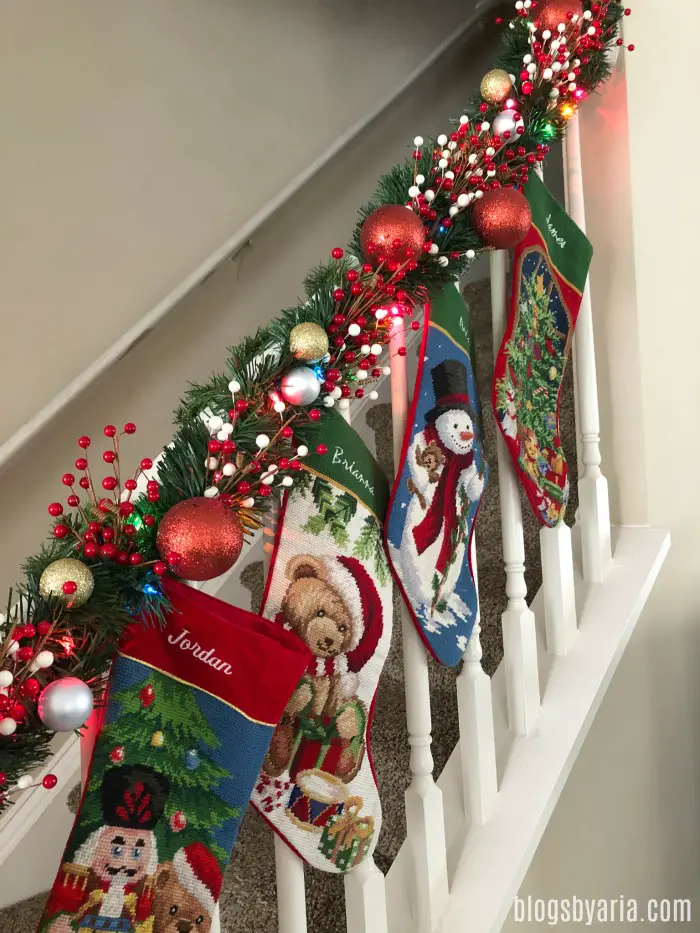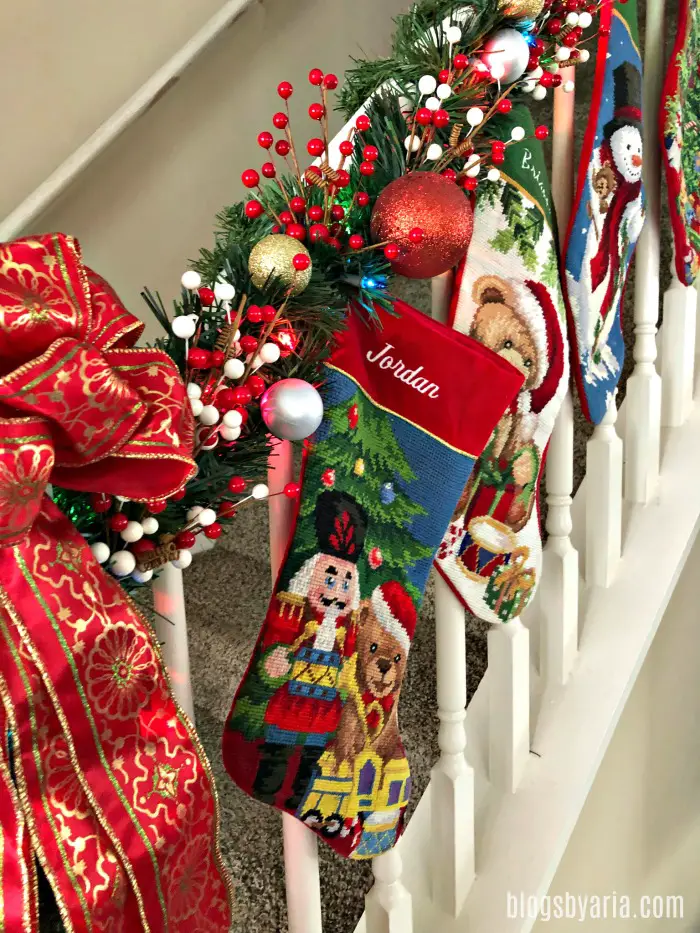 The one big dilemma I ran into with holiday decorating in our townhouse was where to hang our stockings.  In our next home we'll have a fireplace but for now I had to use my decorating imagination to come up with the perfect idea.  Thanks to Pinterest I hung the the stockings on our banister.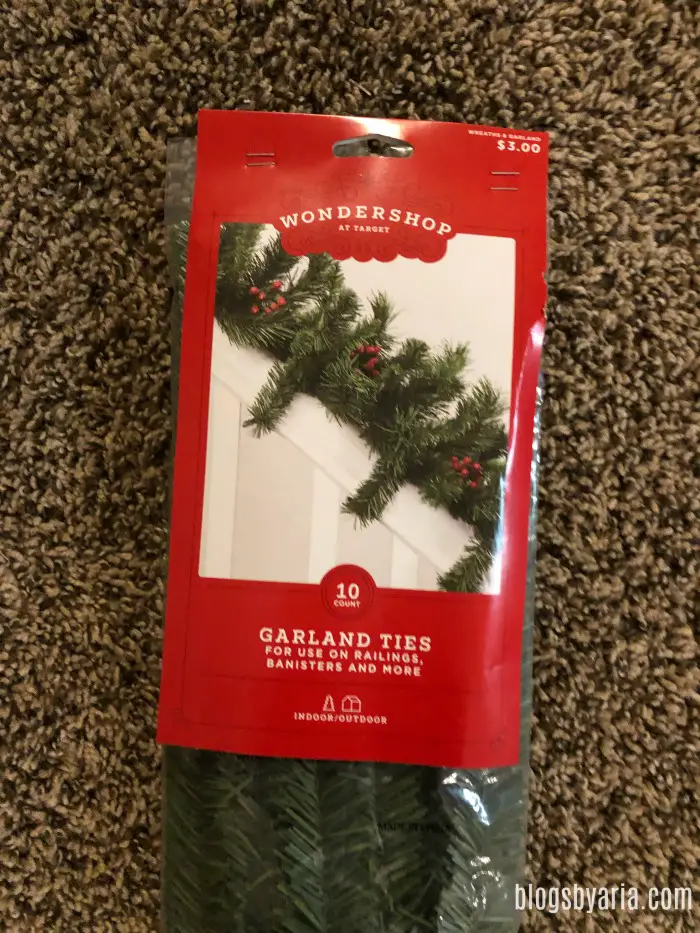 These garland ties I got from Target and I used them to tie the garland to the banister and to tie the the stockings under the garland.  I went ahead and bought a few packs so I could use some next year too.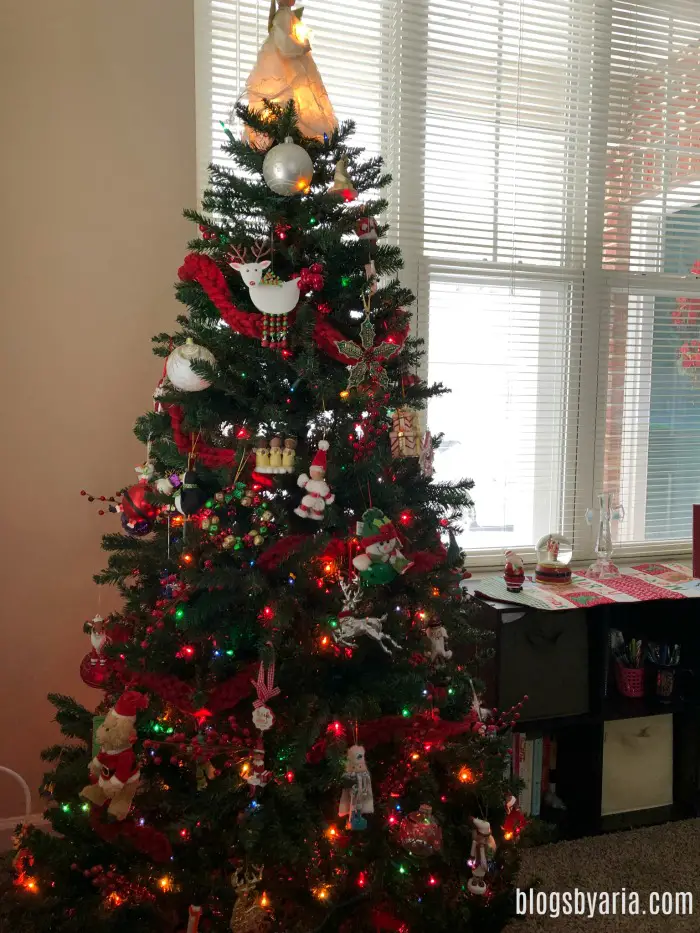 I recently shared our traditional cozy Christmas tree, which is the primary focal point in our main living area.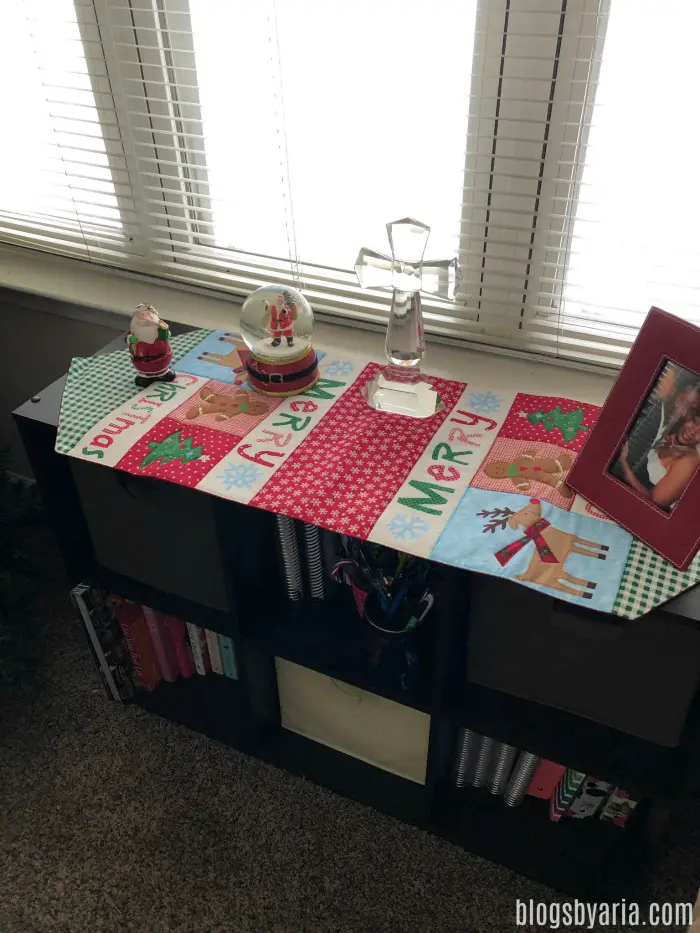 You can see we used a table runner on our cubicles storage unit and added a few holiday decor items.  Not much, the cross is always there and so is our picture.  The table runner was always too short in length so it works well here.
Holiday Home Living Room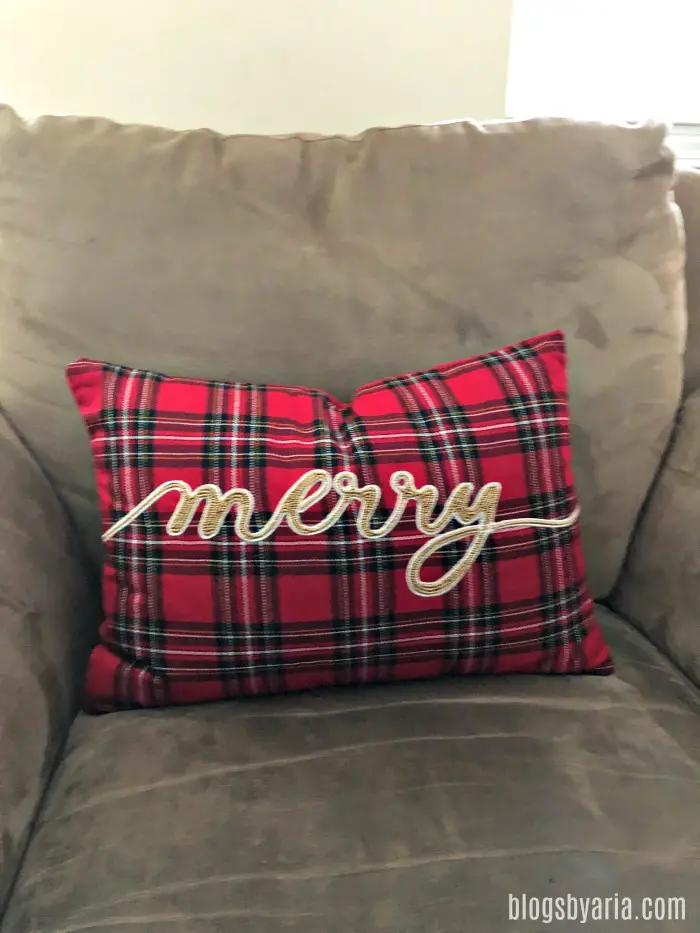 For years I've wanted to add holiday pillows and I finally did.  I found a few I liked that I either got on sale or found great deals for.  This merry pillow is from Pier 1.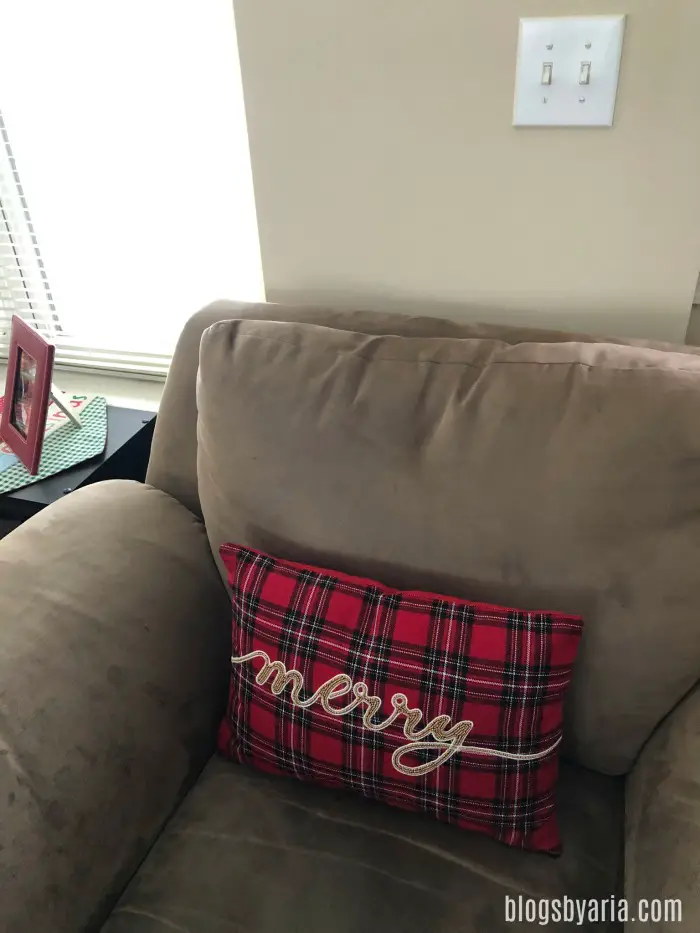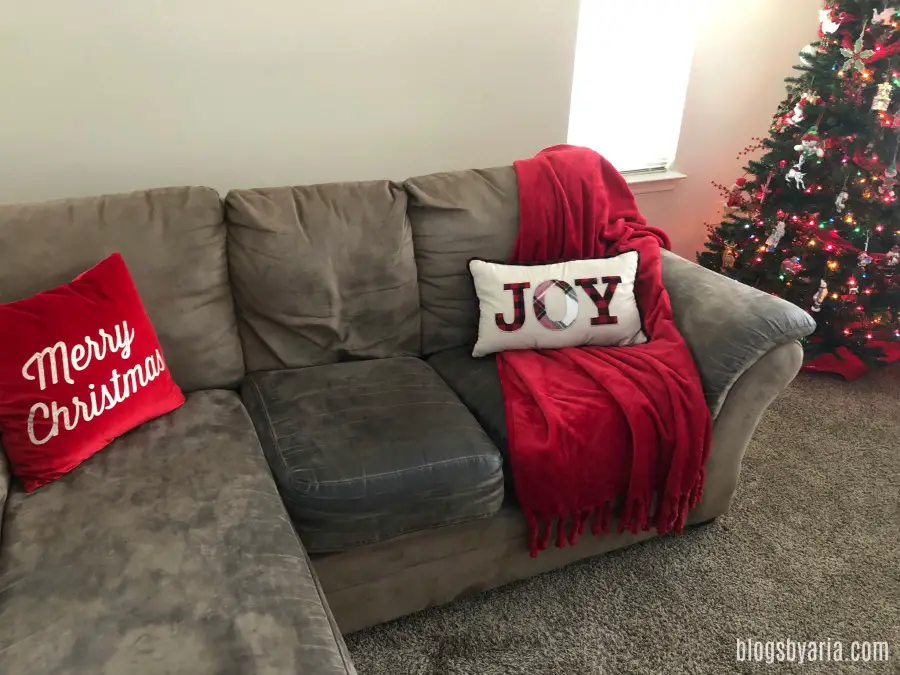 It's time for a new couch, but I feel like the holiday pillows are able to add some cheer!  The Joy pillow is from JcPenney.  The plush fringe red throw is from Pier 1.  And the Merry Christmas pillow is from Hobby Lobby.  All items were on sale 🙂
This throw is so so comfortable!  The kids and I have used it every day since we got it!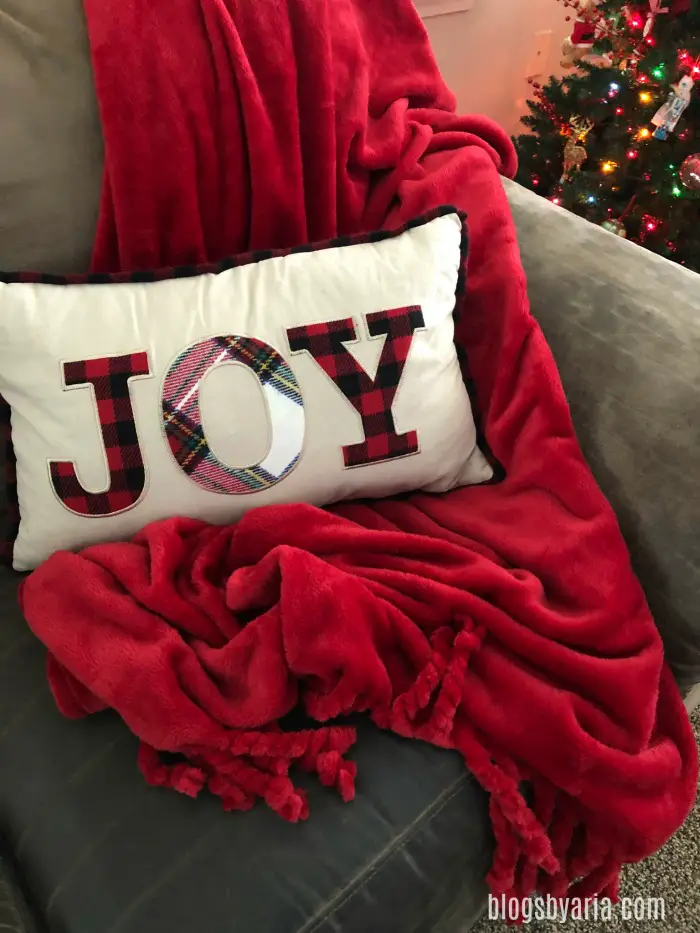 I'm so glad I found this plush throw blanket.  I saw so many that were nowhere near as soft for a lot more money.  This was under $15 so I really got a great deal.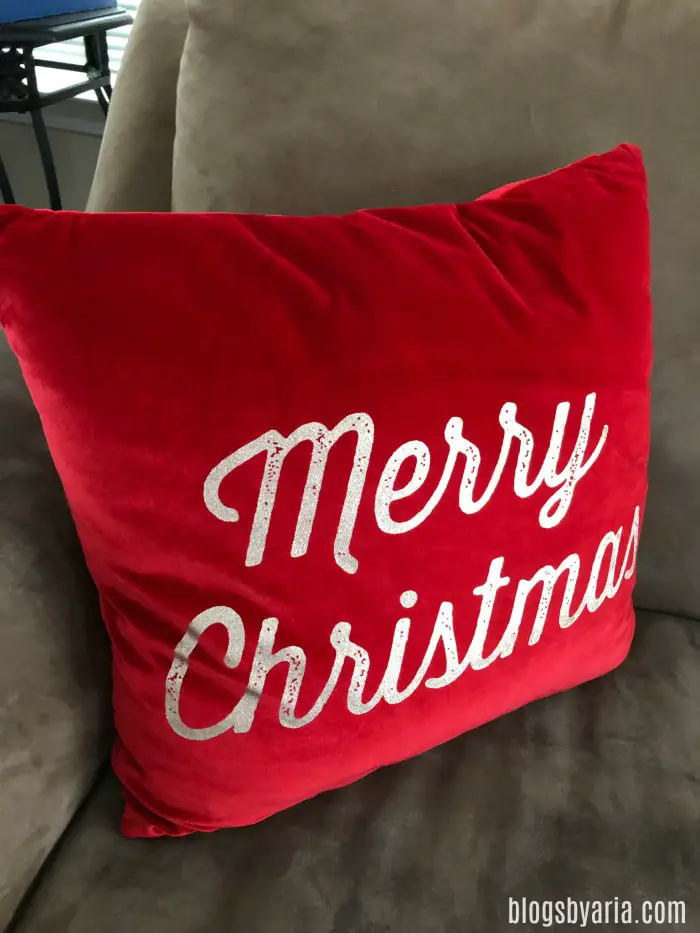 This plush pillow from Hobby Lobby was the first pillow I added to our collection.  I was looking for traditional red colors and had not found anything I liked enough.  I found this and grabbed it.  It's really soft and comfy but you can see the specks in the writing so I don't know how long this will survive.  That's a bummer.  But it was half off so it wasn't much of an investment.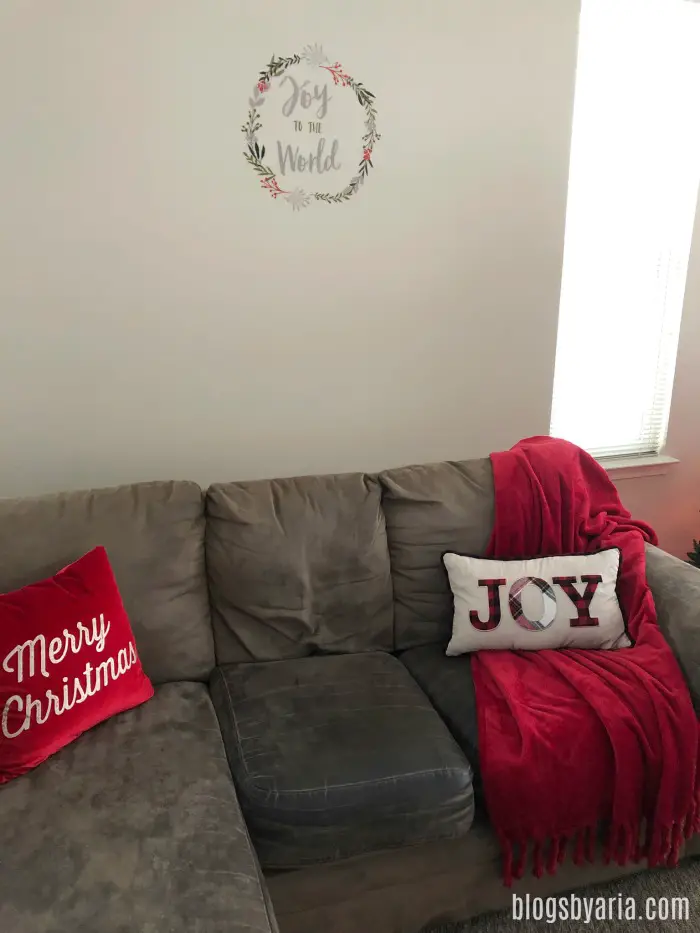 One of the things that is new for our holiday decor are these vinyl stickers I got from Walmart.  Such an inexpensive way to add holiday cheer to the walls in your home if you don't have the budget for wall art.  They peel off easily and you throw them away at the end of the season and you're only out $3 and don't have to worry about storage.
I can admit that yes I know it's not centered, but it took me so long just to make it look like a circle when I realized I was off center I said oh well. 🙂
Here we are able to display a couple of my nutcrackers, my holiday candle and a few Christmas pictures.  I may have waited too long, but I didn't see a 2018 Nutcracker from Target this year, the ones pictured are 2016 and 2017.  We don't make pictures with Santa an annual tradition but when my kids were around kindergarten age they got their Santa pictures.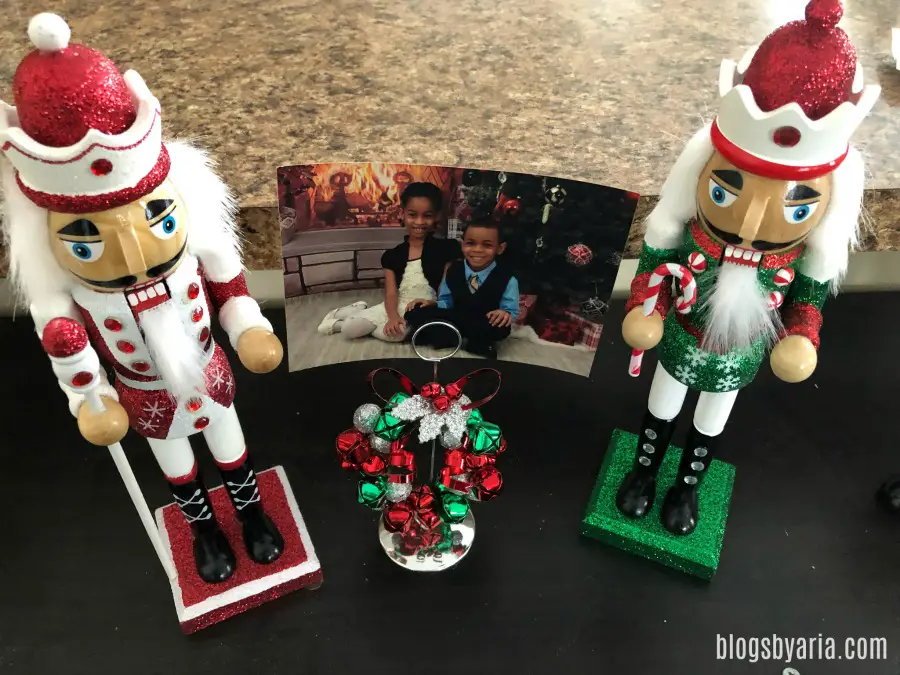 I got these miniature nutckrackers from Michael's for around $5 each this year.  The wreath picture holder is from Kohl's a few years back, along with the ones above.  I haven't been to Kohl's this holiday season which makes me kind of sad because I almost always buy new decor there each year.  The one closest to me now is not convenient at all.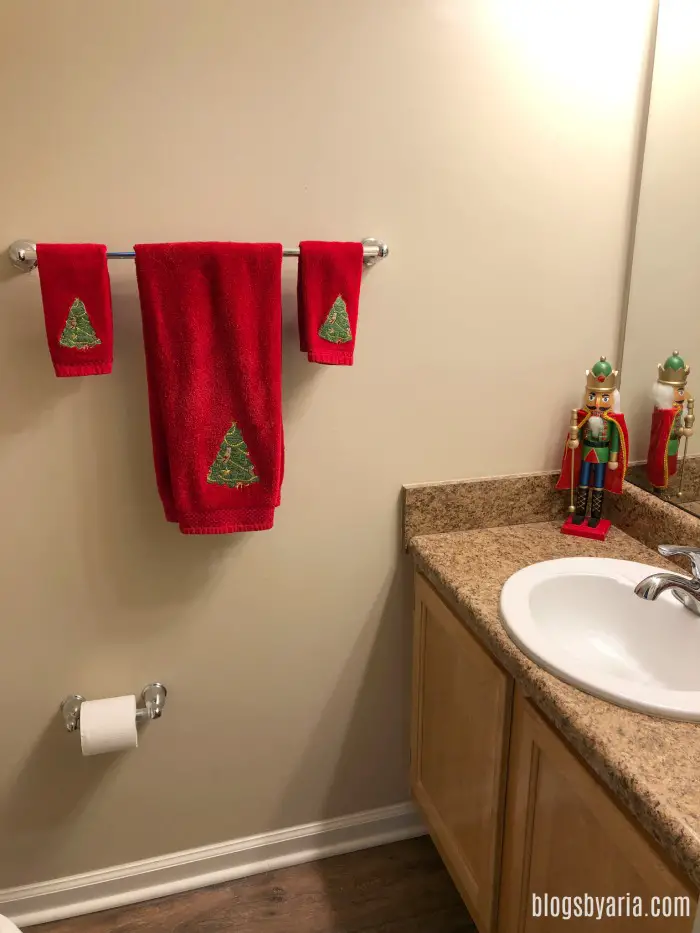 You can find more details about our Christmas powder room here.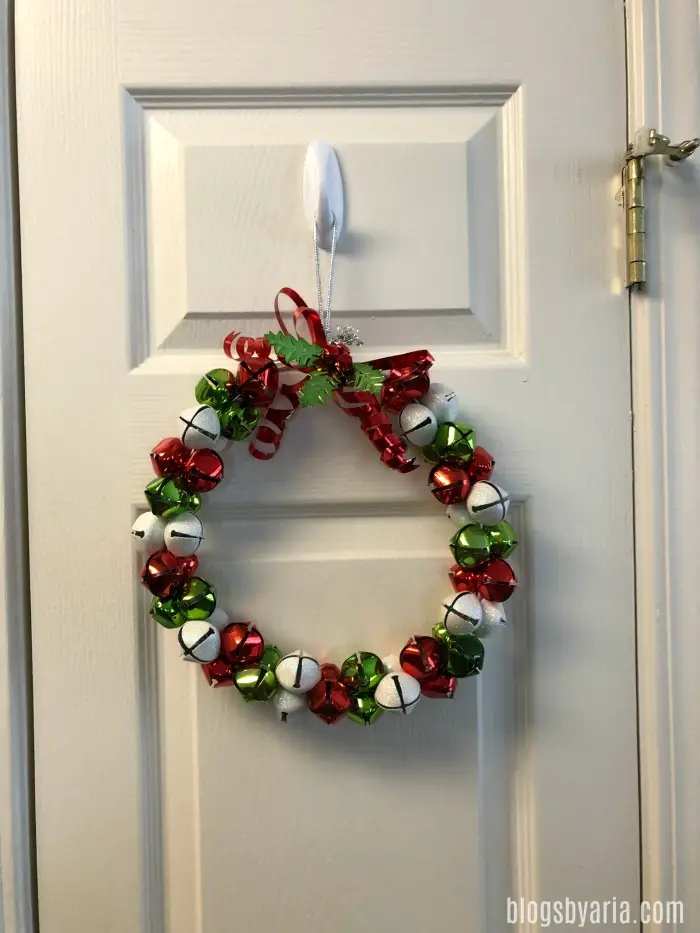 I didn't do much in the kitchen other than hang this wreath to our pantry door.  It's made of jingle bells so it jingles every time the pantry door is used, which is a lot!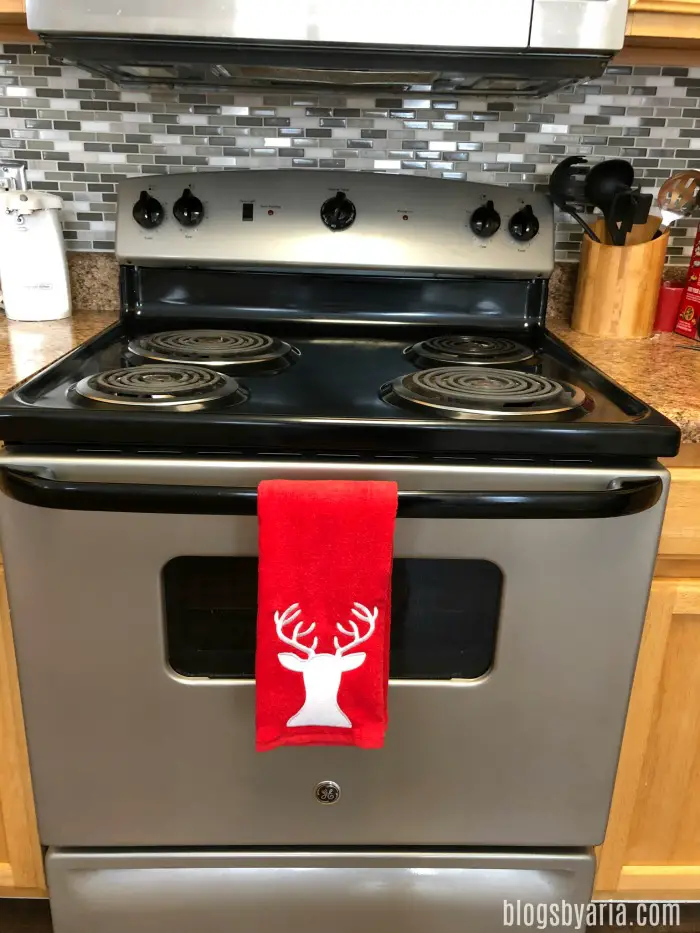 I recently purchased the hand towels from JCPenney.  Of course they were on sale.  Next year I'd like to get a few more holiday decor items for the kitchen in particular.  I'm writing that down so I don't forget.
Kid's Christmas Trees
We added a little holiday cheer in each of the kids bedrooms with mini trees.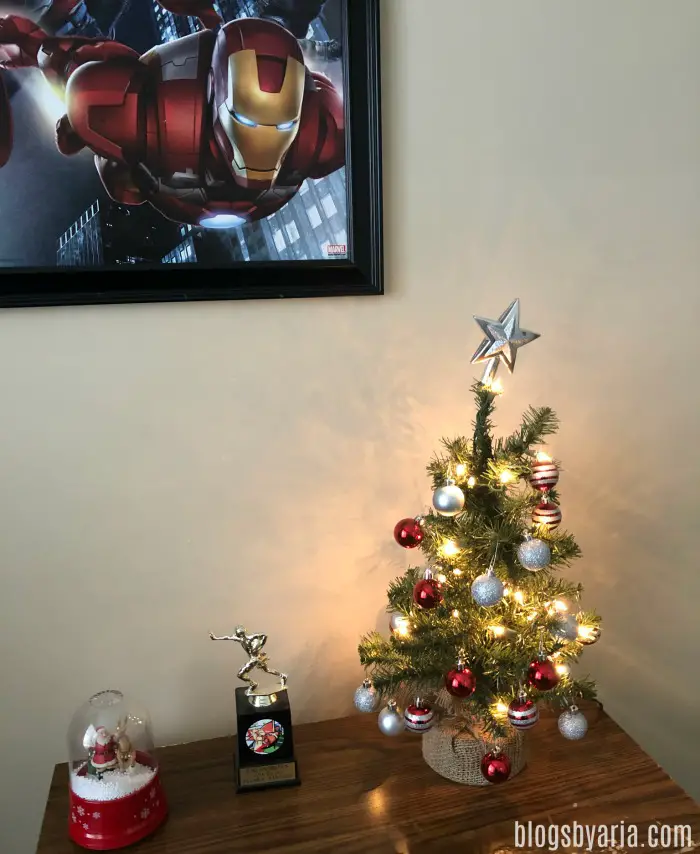 In Jordan's room we used this burlap pre-lit tree from Walmart.  I used to use it at my job in my cubicle.  I got the mini ornaments from Five and Below a couple of years ago and the star from Walmart.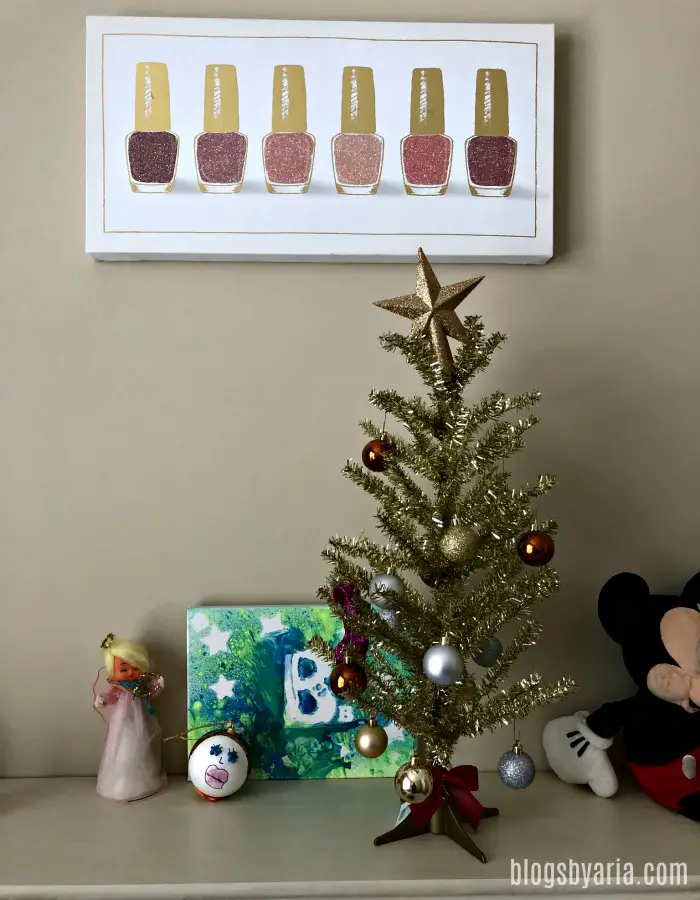 For Brianna's tree I got her this gold metallic tree from Target.  She wanted the same tree as Jordan but I couldn't find it at the time.  Of course I have found them now so I will get it after the holidays for next year.  You can never have too many Christmas trees in my opinion, full size or mini.  The angel is an old tree topper we've had since I was a kid.  She has always liked putting it in her room.
She added the purple shoe to the tree, you may recall the purple heart from our Christmas tree, both were ornaments she got on a school field trip a few years ago.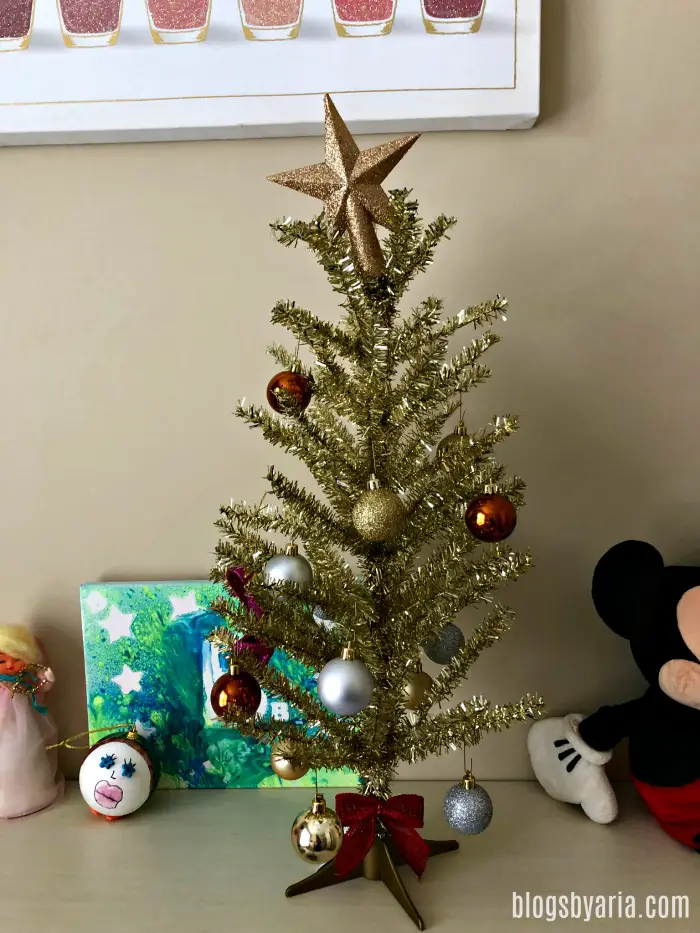 These ornaments are from Target and the star is from Walmart.  I love that I'm seeing more and more mini tree decorations easily accessible in regular stores.  I left the stars crooked on both trees, I figured why not!
That wraps up my very first holiday home tour!!  I'm so excited to finally get the opportunity to share how we decorated for Christmas this year.  I look forward to making this an annual tradition 🙂
I wish you a very Merry Christmas!!!  I love you for reading and spending time with me today 🙂
You may also like these Christmas posts: