Taking a few minutes to tackle an organizing task can make a world of difference in a space.  I'm slowly making my way around the house with my long list of areas to organize and to decorate.  I have a lot of small areas to get organized.  Sometimes it's better for me to do mini projects instead of doing one large project.  Here's a couple of my mini organization projects that I've worked on so far.
*this post includes affiliate links for your shopping convenience. You can read more about affiliate links by reading my Disclosure post*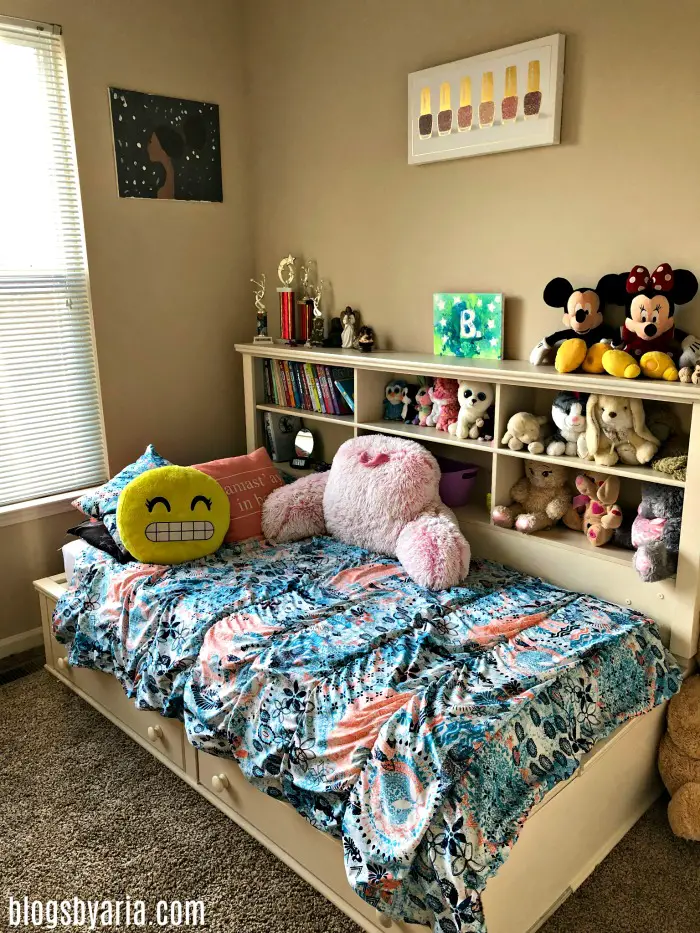 Remember when I shared my daughter's tween bedroom, I really wanted to change her nail polish organization.  I looked at different options online and shared a few in my teen and tween girl gift guide.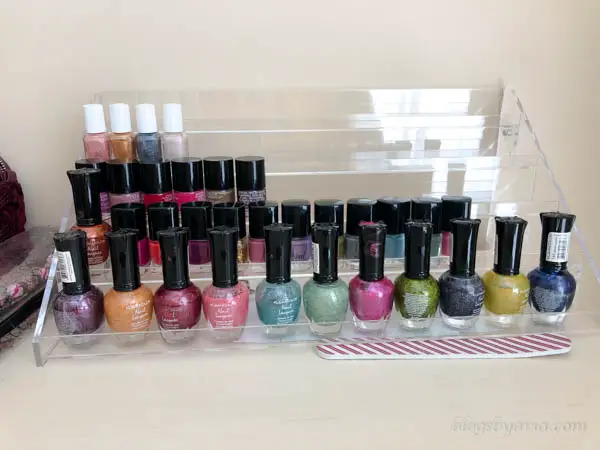 I finally made the decision, I can be so indecisive sometimes, remember how long it took me to pick out my mail organizer?  Sheesh!  I decided on this acrylic nail polish stand.  That way she can always see what she has available.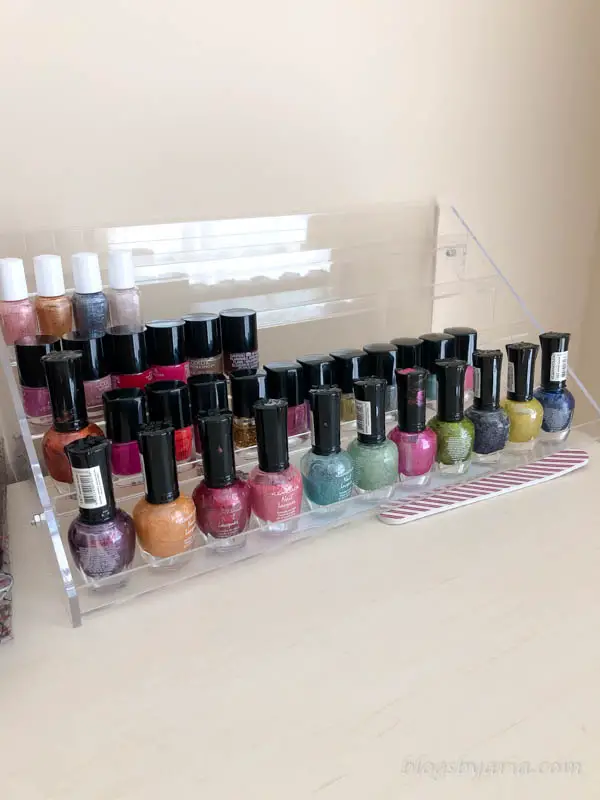 And there's plenty of room for her nail polish collection to grow.  I don't buy a lot of nail polish but when I do I use it a couple of times and pass them on to her.  Her collection will grow as warm weather and sandal season returns : )
This wall is still bare and I'd love to find the perfect wall decor for her room.  Another post for another day and yet something else on the long list of to-do's.
Moving on from my daughter's room, I also tackled a mini organization project in my kitchen.  I haven't shared the kitchen on the blog yet but it will come…soon…I hope…I plan…I'm working on it!
When you have a large organization project to tackle like the kitchen, I find it an easier pill to swallow when I break the big project into mini bite size projects.  I'd love to be able to take a day to tackle a whole room.  I don't have that kind of time unfortunately.  So I started with a drawer here and a cabinet there.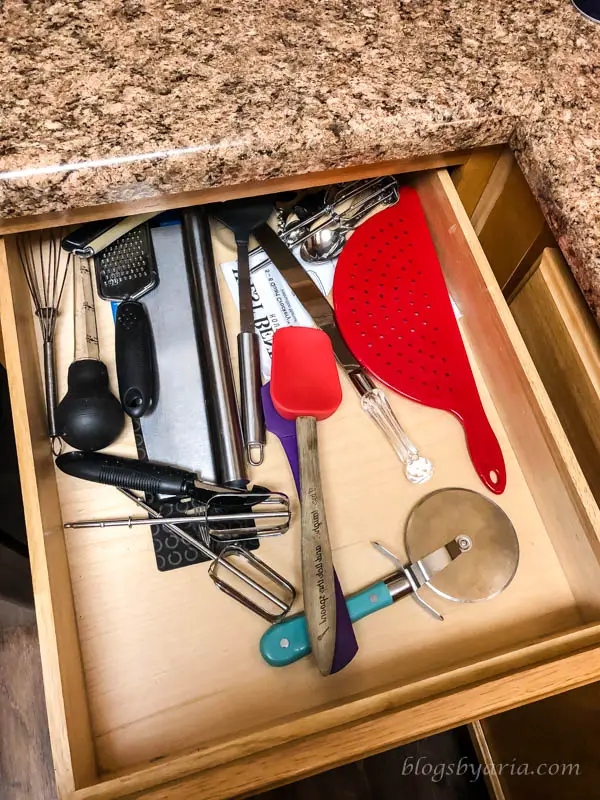 This particular drawer would drive me bonkers because everything was just jumbled up in here.  I have three drawers on this side of the kitchen.  I forgot to take a picture of the second drawer.  whoops.
So first I took everything out of the two of the three drawers.  Next I wiped out the largest drawer and purged what I don't need or use.  I bought this simple plastic drawer organizer from Target.  I can't find the exact utensil organizer online but this is a similar option.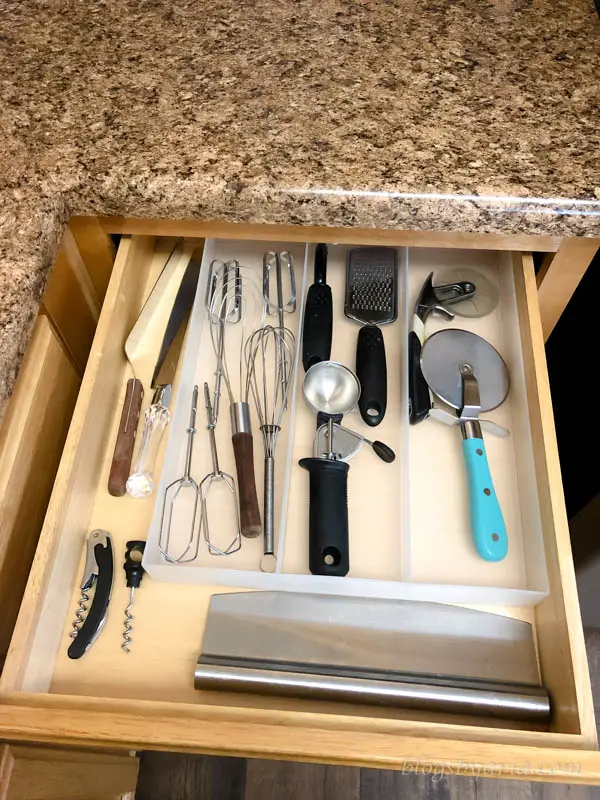 I decided this drawer is best for items that have other like items to go with them.  If that makes sense.  Pizza cutters, ice cream scoop, whisks and mixer attachments.  Since I put mixer attachments in this drawer I also put my offset spatula and cake knife in here too.  I'll probably find something smaller to contain my cork screws but for now this works.
I thought about finding an expandable option but I just went with it since I didn't measure my drawer before I bought it.  It's sturdy and if I decide to switch it out and use it for something else down the road that will work too.
Now I only access this drawer when I need my flat whisk or my pizza cutter.  Everything else doesn't get used much at the moment but they were things I still need and use.
As you can see from the before picture I had all kinds of things in this drawer.  Including metal skewers for kabobs I've never made and even a slow cooker manual with food stains.  I may not be KonMari-ing in the way Marie Kondo prefers but I am only keeping items that I need and use and being ruthless in letting go of what no longer sparks joy for me.
Small steps lead to big rewards.  When I take a few minutes to tackle a mini organization project I feel accomplished.  It makes the big picture appear less overwhelming and I'm more likely to do more because I've shown myself that I can do a lot in ten minutes or less.
Now onto the rest of the kitchen!
What's one mini organization project you can commit to do today?