Oh the fiddle leaf fig tree.  I have a slight obsession.  Okay, maybe it's more than slight.  Recently I found an awesome deal on a fiddle leaf fig tree and I need to tell you all about it.  Today I'm going to share a tale of two fiddle leaf fig trees.
*this post includes affiliate links for your shopping convenience, you can read more about affiliate links by reading my Disclosure*
First some background.  My dream fiddle leaf fig tree has been this one from Pottery Barn.  Even when it's on sale, it's not on sale enough for me to pull the trigger.  Maybe one day.  But for now I've focused on trying to find a nice size fiddle leaf fig tree on a budget.
Around Memorial Day, after much deliberation I decided to buy this fiddle leaf fig tree.  Since we were in the middle of packing up to move, I figured I'd go ahead and order it and just have it prior to the move.  Things sell out and prices fluctuate so often on Wayfair that when you find what you want on a great deal, you grab it!
So I did.  When it was time for it to be delivered we were dealing with a streak of rain.  And when I tracked it for delivery it said it would arrive on Wednesday.  But it didn't come.  As I stalked the tracking all day, it went from showing out for delivery, to the item is damaged.
I received emails and text messages from both Wayfair and UPS.  By the way, of all the items I've ever had delivered from Wayfair, this is the only time it's been via UPS.  It's usually with FedEx.
First, Wayfair was stating that UPS didn't have my complete zip code and to contact UPS.  When I tracked and contacted UPS they showed the item was damaged.  The next day UPS delivered the fiddle leaf fig tree.  Yes the box was a little worse for wear.
I set it to the side and didn't open the box until we got the keys to our new home.
This is what the tree is supposed to look like.  I knew that it coming in a box meant it would need to be shaped and all, but, well, let me just show you…
FIDDLE LEAF FIG TREE | VERSION 1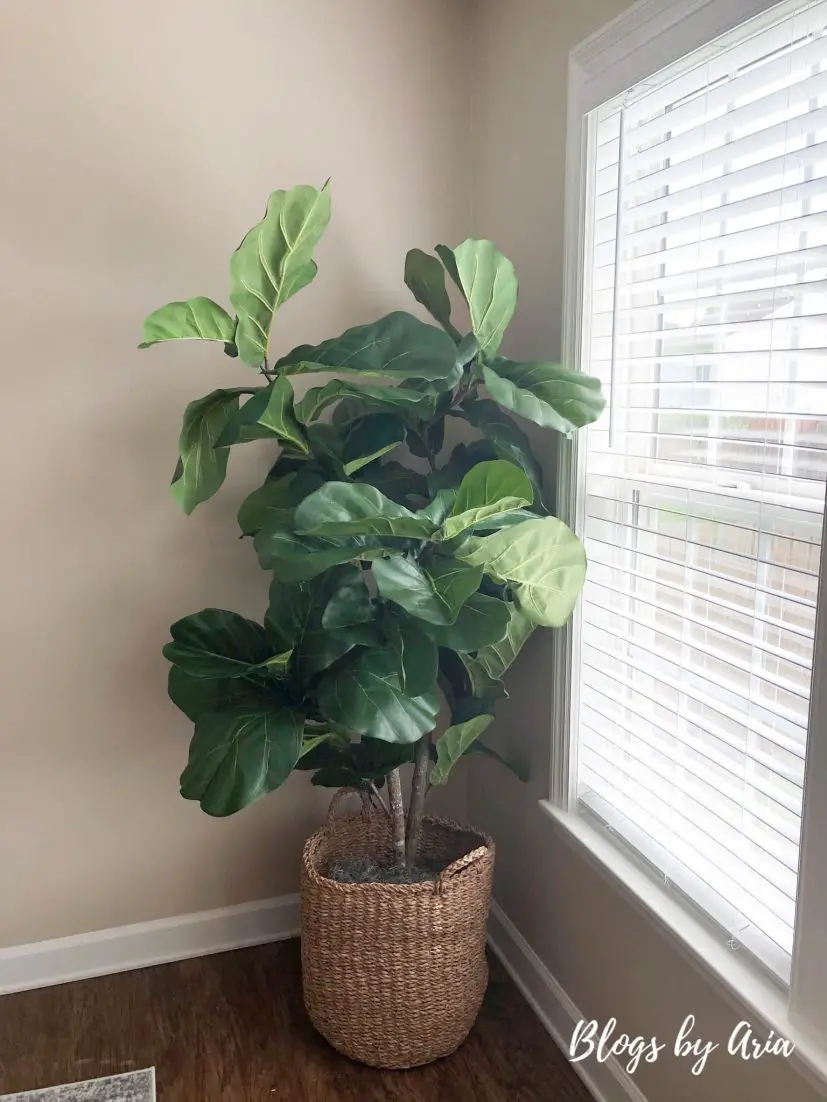 The leaves are huge!  But what I liked about this version of the fiddle leaf fig tree is that the branches look so realistic!  I had a hard time getting the tree to be shaped to look like the picture, but to be honest with you, it wasn't high on my priority list.
We were moving after all.
Another thing I like about the tree is how much height it has!  So many reviews said it wasn't as tall as they expected, but according to the measurements, I've found it's the height they claimed it would be.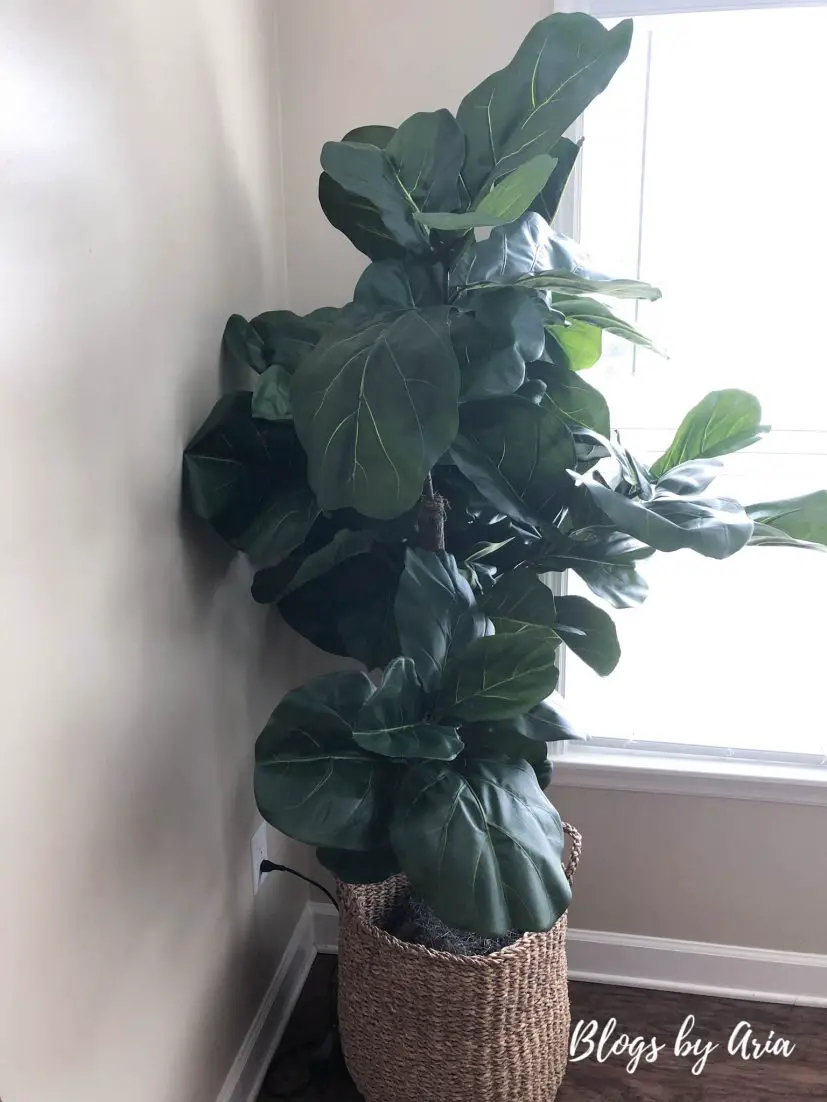 I'm sure that if I just take the time to shape the tree, it will be fine.
FIDDLE LEAF FIG TREE | VERSION 2
After we moved in, I got another email from Wayfair.  The email was referring to the item being damaged per the carrier.  I didn't ask them to send me another tree, but they said they were sending a replacement.
I contacted customer service to see if I could update the address to have it sent to but they were unable to.  It was too far along in the process to modify.
A few days later I got notified that the replacement tree had shipped, but I never got a delivery notification.  Last week I had a moment to check the website and saw that it was already delivered.
And had been for a few days!  Thankfully I didn't have really crummy neighbors and it was still sitting at the door.
So let's discuss the replacement tree.  The box was beat up but not by too much.  When I unpacked the tree…it looks like a completely tree.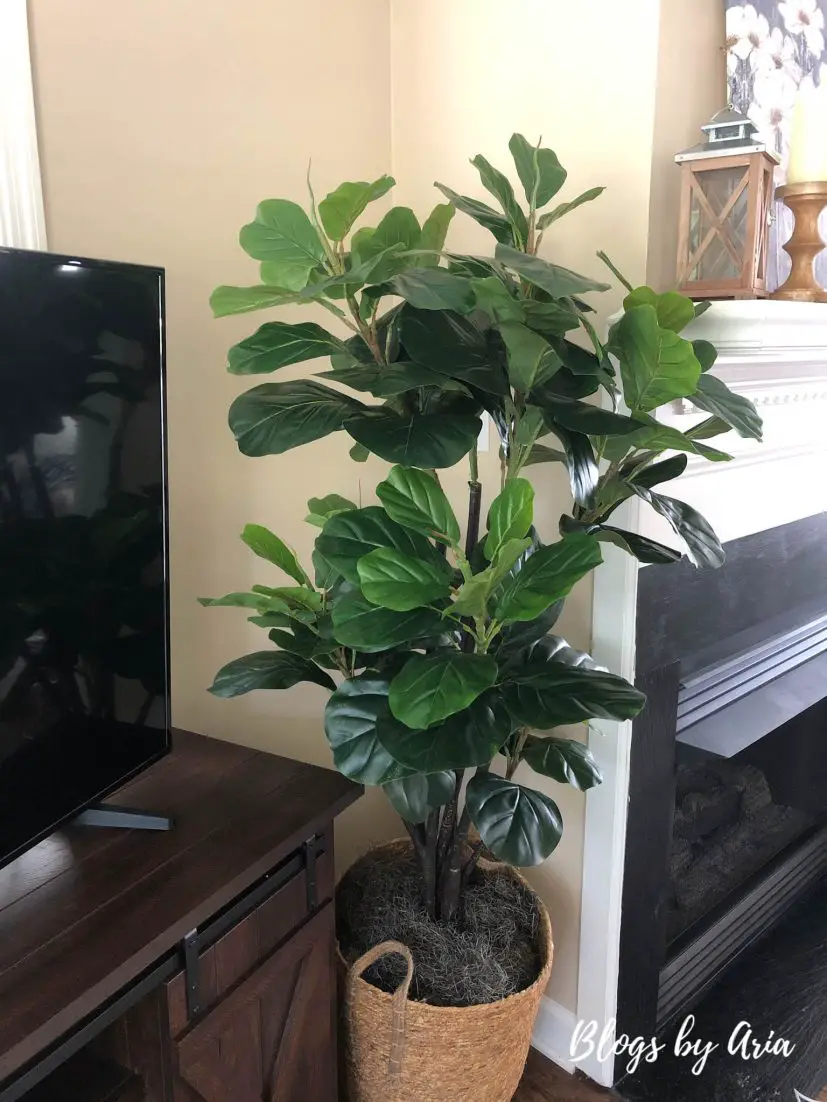 It's not as full and the leaves are smaller.  Unfortunately it seems to not sit flat, as you can see it's leaning.  I'm sure I can fix that issue I just have to figure out how.
I wanted to share different angles because you can see where some of the limbs connect and I don't like that.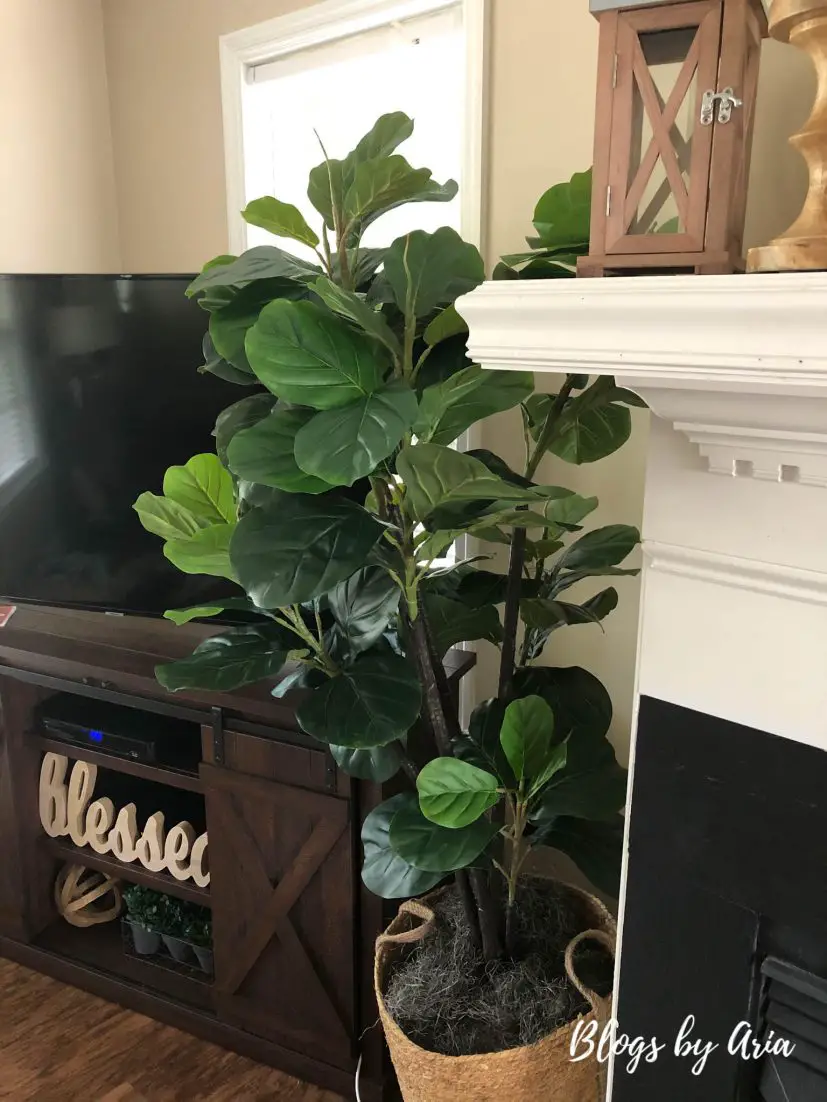 Up close the branches don't appear as realistic as the first version of the fiddle leaf fig tree.
THE GAG IS…
The bottom line is I ordered one tree and they look like two completely different trees.  You want to know why?
They're not the same tree!  I don't think I even fully realized that until I took these pictures and I can see even more differences.
Look at the basket…look at the handles…not the same basket.  Not the same weave.  Not the same texture.  And clearly the leaves aren't the same.
At the end of the day I'm not super satisfied with this fiddle leaf fig tree purchase.  But I'm not going to return them.  That would be a major hassle.  And I got a buy one get one free situation going here.
What I've decided is that I'm going to take the smaller tree that's by the TV and move it in the place of the larger tree in the dining room.
For now we put the larger tree in the bonus room.  Until we're fully settled in around the rest of the house, everything pretty much goes into the bonus room.
As I'm typing this I'm thinking maybe we can put the slimmer tree in our master bedroom and put the fuller one back downstairs once I get it shaped correctly.  Thankfully the trees are very lightweight so they're easy to move around when one is being indecisive 🙂
Or I may eventually sell it or donate it.  For the moment though, we'll just move it and add that to the long list of to do's.
The moral of the story is…there is no moral of the story!  It's a crap shoot! But it was a tale I felt was worth telling.  The tale of the two fiddle leaf fig trees that will go down in history 😉