Welcome to my fall kitchen!  This is the last completely decorated space I have to share before I share my fall home tour.  When it came to decorating my kitchen for fall I wanted to go with a less is more approach.  We use our kitchen several times a day so as much as I would love to have pumpkins everywhere, I have to be mindful of how much decor is too much.  If you're decorating your kitchen for fall, I'm here to give you some fall kitchen decor ideas you can use.
*this post includes affiliate links for your shopping convenience, you can read more about affiliate links by reading my Disclosure*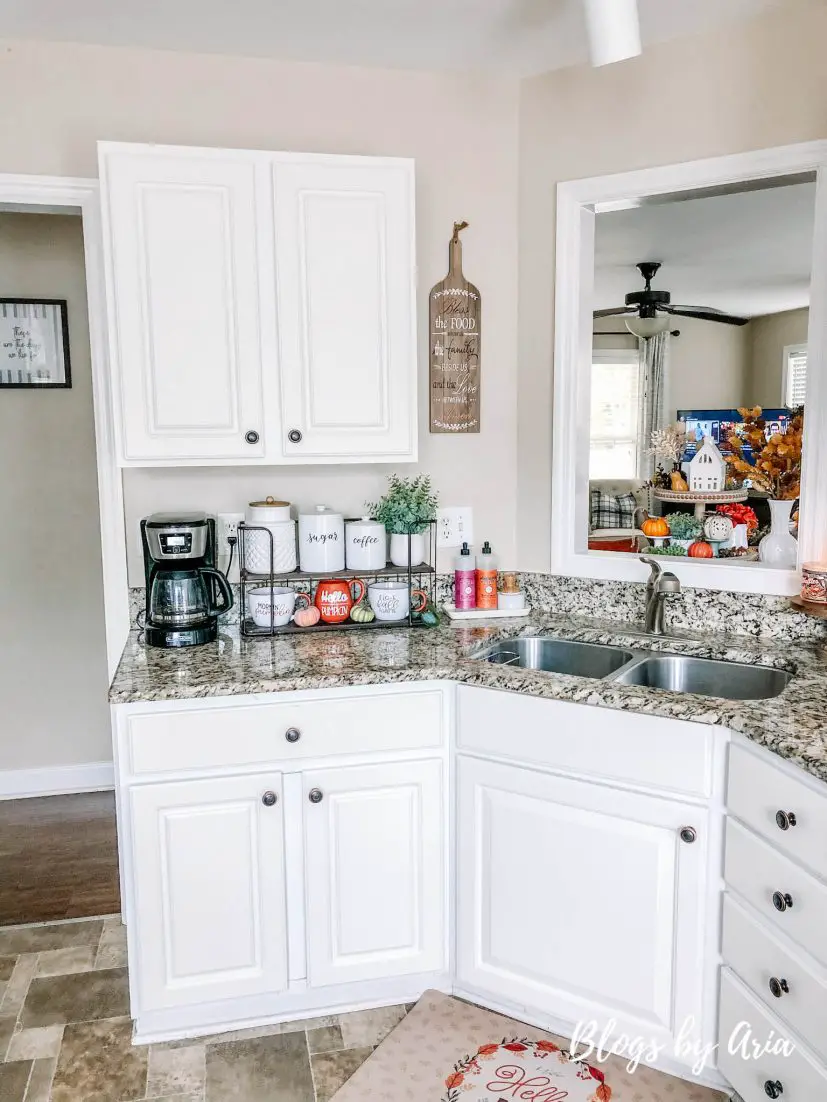 FALL COFFEE STATION
Let's start with my fall coffee station.  This space started off with my desire to showcase my fall coffee mugs.  I purchased a mug rack and didn't really like it.  It jutted out too much from the wall and didn't really handle the size of the Morning Pumpkin and I love fall a Latte mugs.  Granted they're oversized mugs, but I still wanted to display them.
After researching, I saw this galvanized mug rack on Amazon that I liked.  But I'm not really a fan of the galvanized metal look so I kept searching.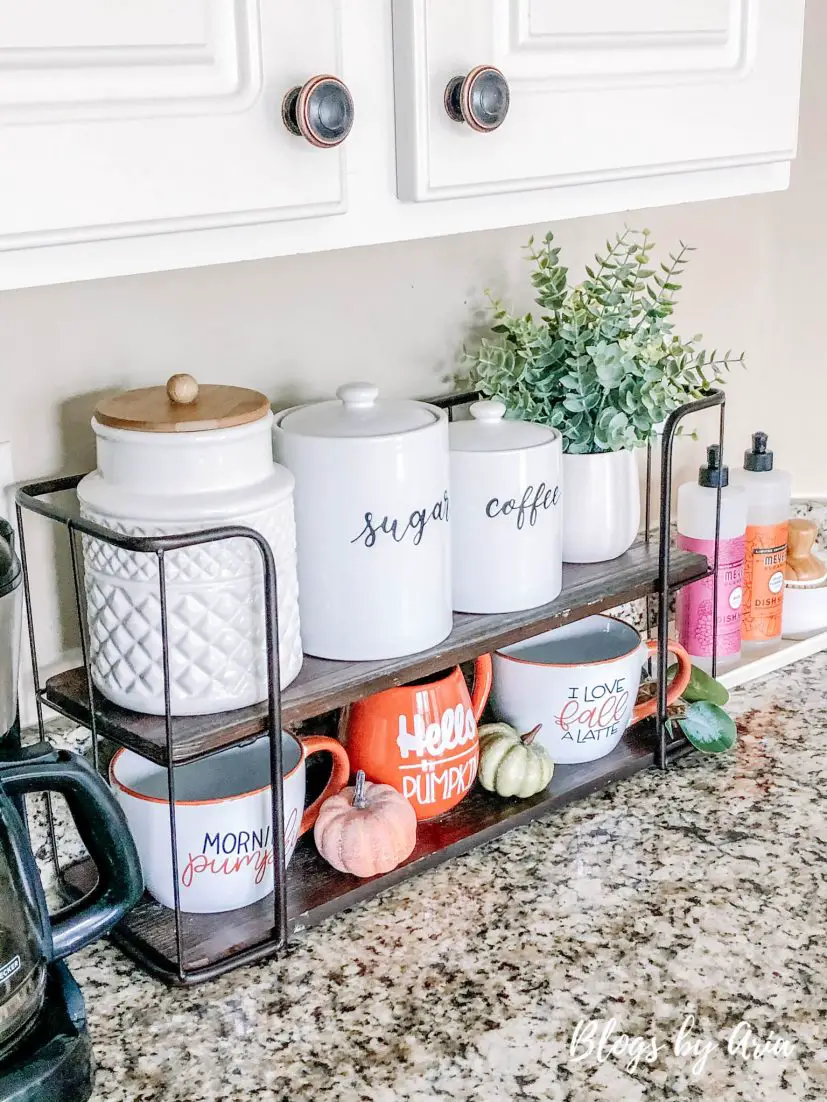 So I turned to Hobby Lobby and found this two tiered metal wall shelf.  Even though it's meant for the wall, it works perfectly on a countertop.
I love that not only does it display my fall mugs, that I don't drink out of by the way, it also holds our everyday coffee containers.  The wood top canister holds our coffee filters and the sugar canister and coffee canister are both from Target.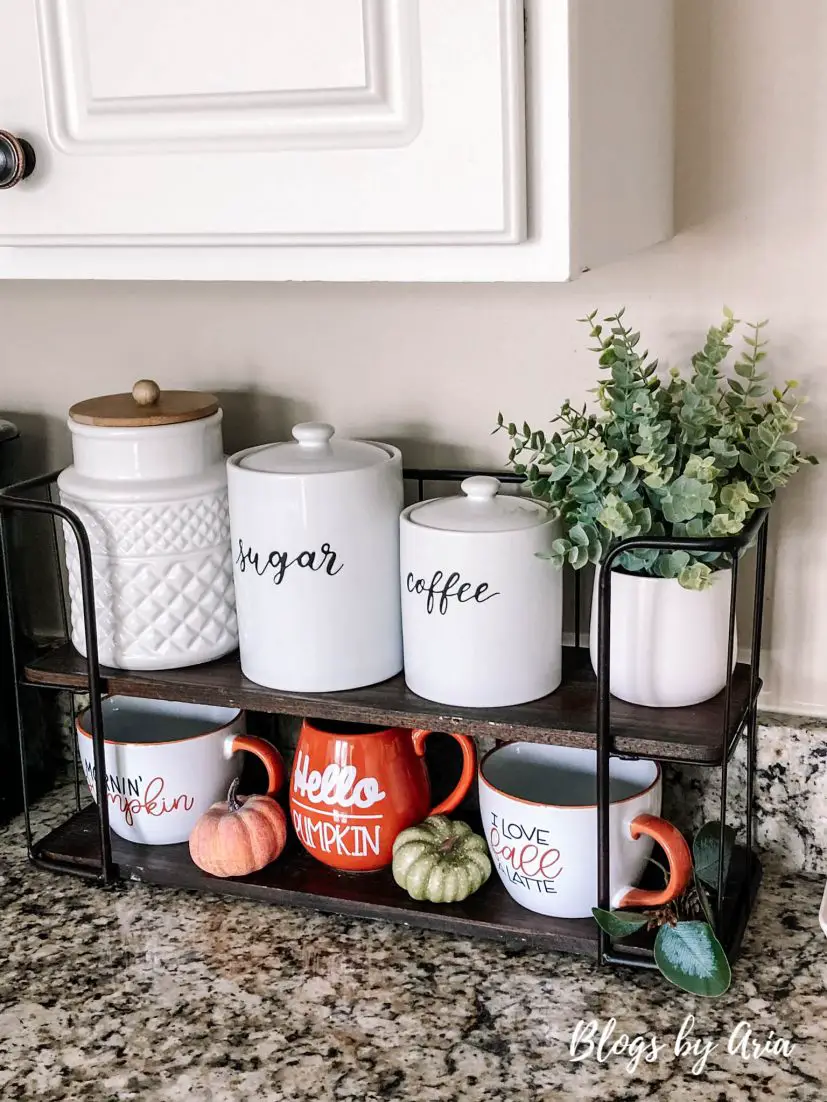 Eventually I'd love to get an espresso machine, but for now we just have a standard coffee maker.  Besides, I have to convince my husband that it's a worthwhile investment.  I'm the one who got him drinking coffee to begin with but he doesn't drink specialty coffee.  I on the other hand would love to have espresso daily without the Starbucks price tag.  Besides, working from home doesn't quite make it convenient for a Starbucks run.  I digress…
ADD FALL GARLAND
Last Christmas I decorated our kitchen using garland and I loved how it looked.  I thought it would be nice to do the same thing with fall garland.
It didn't quite work out as planned but I wanted to include this picture to give you an idea of what it could look like.  Perhaps a fuller garland would have worked better, these are just simple strands from the dollar store.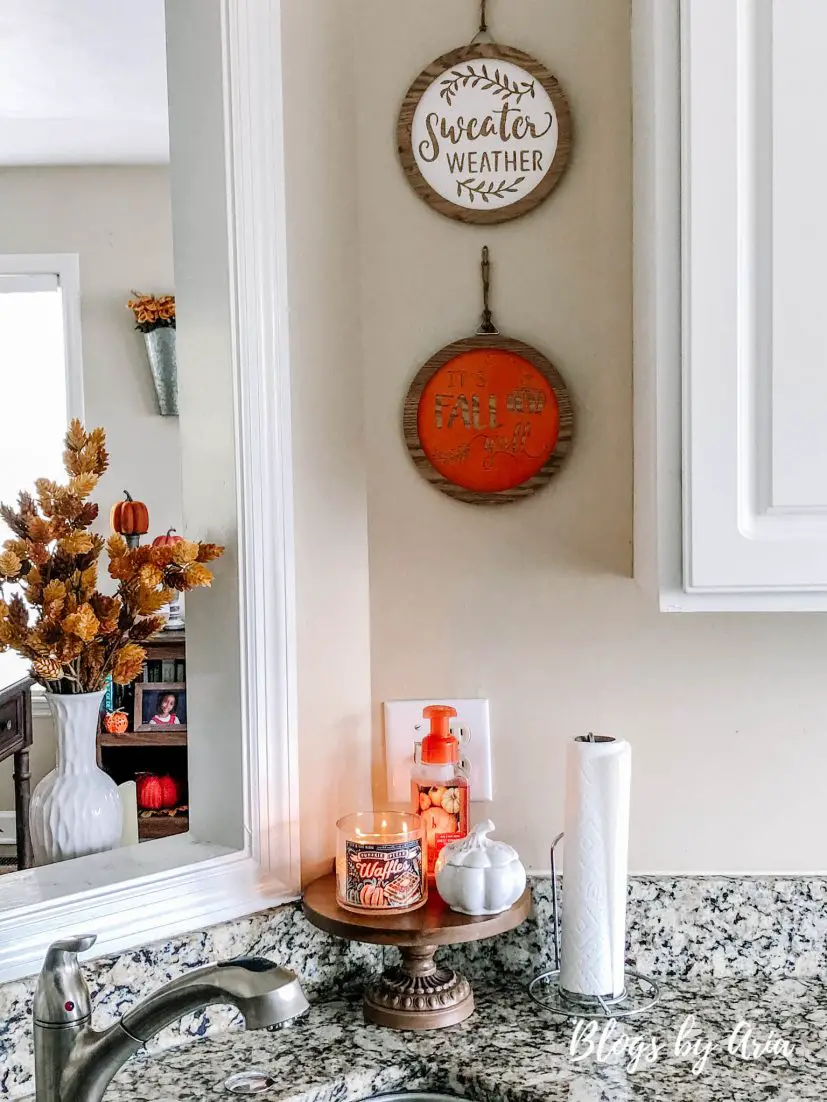 What I do love are these small fall signs I got from Hobby Lobby.  Sweater Weather and It's Fall Ya'll.  And on the opposite side of the sink is a sign from Michael's.
USE FALL SCENTS IN THE KITCHEN
There's almost always a fall candle lit in the house somewhere and the one currently in the kitchen is Pumpkin Pecan Waffles…one of my favorite fall scents.  I paired it with a Sweet Cinnamon Pumpkin hand soap and a decorative pumpkin.
SWAP EVERYDAY ITEMS FOR SEASONAL ALTERNATIVES
Moving to the opposite side of the kitchen, I have my favorite pumpkin kitchen towels that I got last year, I think from Home Goods.  The decor level is pretty low over here since this is where I'm cooking, but I managed to add a little taste of fall in this space.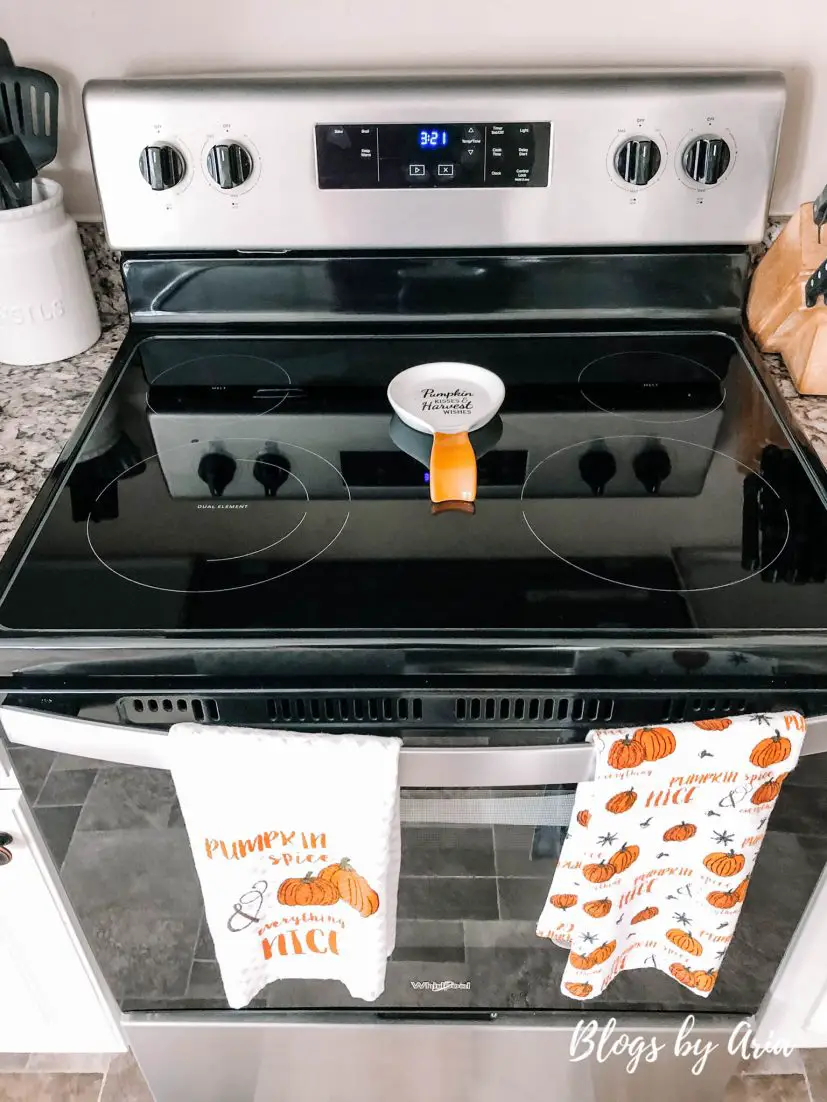 I've seen lots of similar fall spoon rests to this one I got from Hobby Lobby.  A spoon rest and a kitchen towel are easy ways to add a festive touch to something that is practical for daily use.
If all you did was add a fall themed dish towel and a spoon rest, you'd be set for fall kitchen decor, but of course I have to do a bit more than that 😉
Have you seen the decorating trend where a rod, often from Ikea is used on the end of a set of cabinets or a kitchen island?  They're a perfect way to add decor to your kitchen.  Well, I can't put that into the end of my cabinets, nor would it make sense with the layout of this kitchen.
Instead, I found this magnetic drapery rod that I was able to add to the side of our refrigerator.  I added these black hooks so that I could hang items from the rod.
Eventually I'd like to add a woven basket with flowers or a mini wreath too.  But for now I have this hello pumpkin oven mitt, set of beads and a mini charcuterie board.
BRING THE OUTSIDE IN WITH A HARVEST WREATH
Before I was able to get this post up, I actually went to Kirkland's to grab a few mini wreaths.  Today (Sunday, Football Sunday to be exact) they're on sale for $10.
If you follow me on Instagram, you saw that I shared this news but I wanted to show you how my kitchen looks with the addition of a cute mini wreath.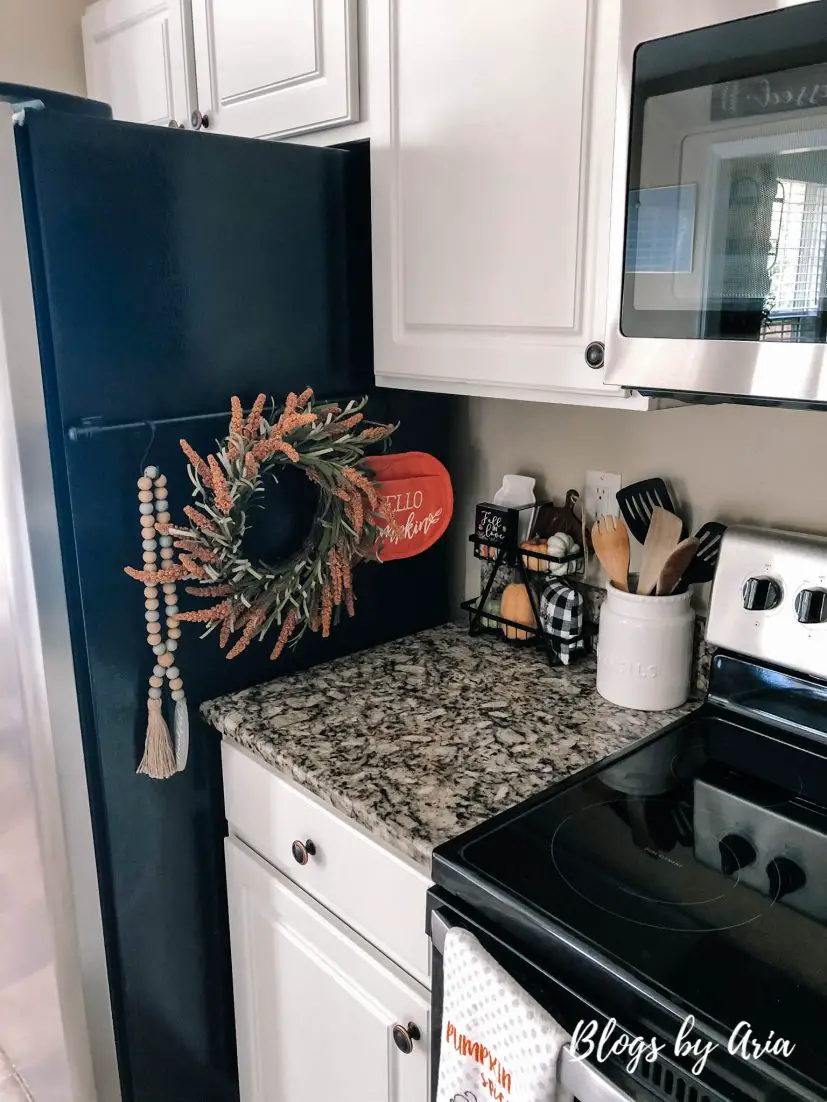 Using this orange foxtail wheat mini wreath ties in the colors of autumn that I'm already using in my kitchen.  Admittedly, this particular wreath was a little heavy for my curtain rod, but I do like the look and maybe I could use a command hook under the rod to hold the wreath in place.
I ended up finding another home for the orange wreath that works out perfectly.
My cream pumpkin and magnolia mini wreath looks nice here too, but I'll show you another way to use it.  You may recall I used the same wreath in my fall living room decor and on my neutral fall bookshelf.
MORE PUMPKINS PLEASE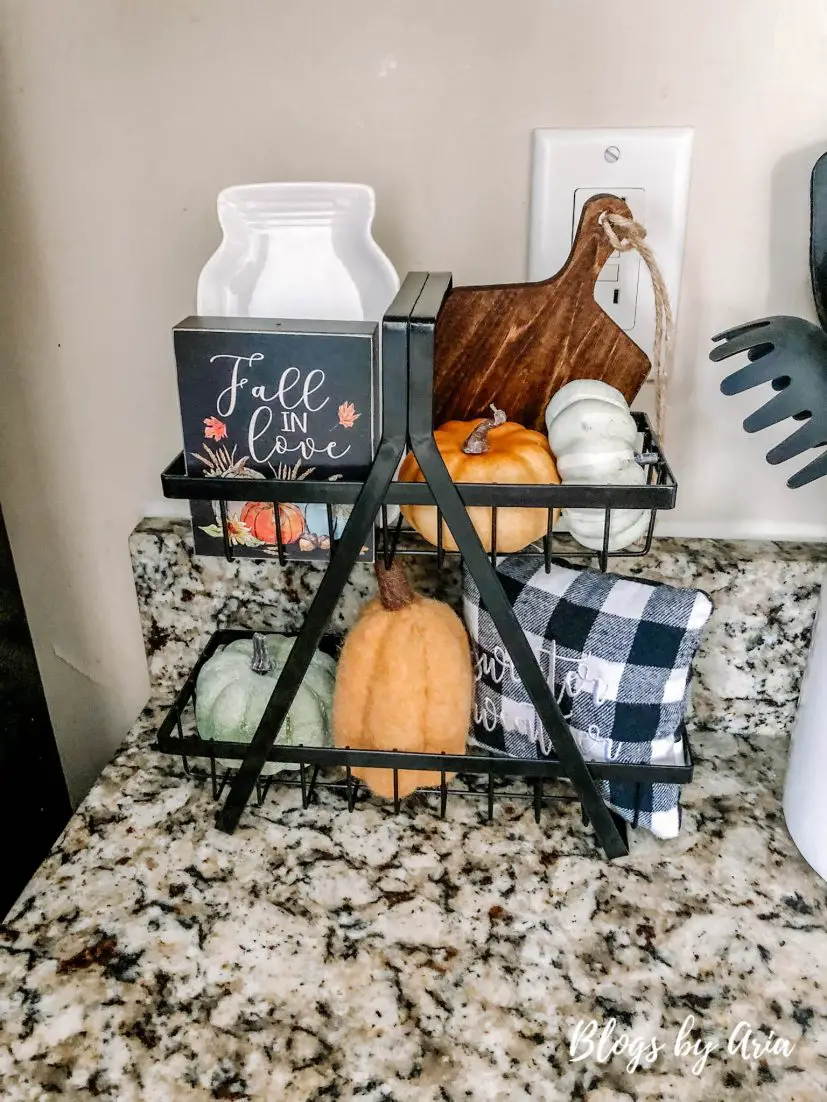 In this little space next to my utensils crock, I have this two tiered metal basket tray filled with some mini pumpkins and a few other fun fall finds.
The fall in love sign is actually a picture holder I took the wire piece out of.  I also used this sweater weather pillow and mini cutting board.
On the opposite side of the kitchen, we added a kitchen prep table to give us a little more storage space and counter space.
From an aesthetic point of view, I would've preferred to get a kitchen cart with doors.  From a budget and availability aspect, I picked one that fit the space and fit our needs.
similar bread box | cookie jar
The kitchen cart also allows me to show off more of my fall kitchen towels. 🙂  I got these cute fall towels last year and used them to decorate in my fall powder room.
I picked up this small tiered tray from the Target Dollar Spot recently.  For a couple of weeks I had decorated my larger two tiered tray in this space but DH felt that it was officially too many pumpkins going on!
I'll admit, he was right, so I scaled it down to this small one.  Most of the items on this tray also came from the Target Dollar Spot.
USE FALL FLORALS IN A DECORATIVE PITCHER
As did this pitcher and the greenery and flowers…all from the Target Dollar Spot.  #targetforthewin
DECORATE THE PANTRY DOOR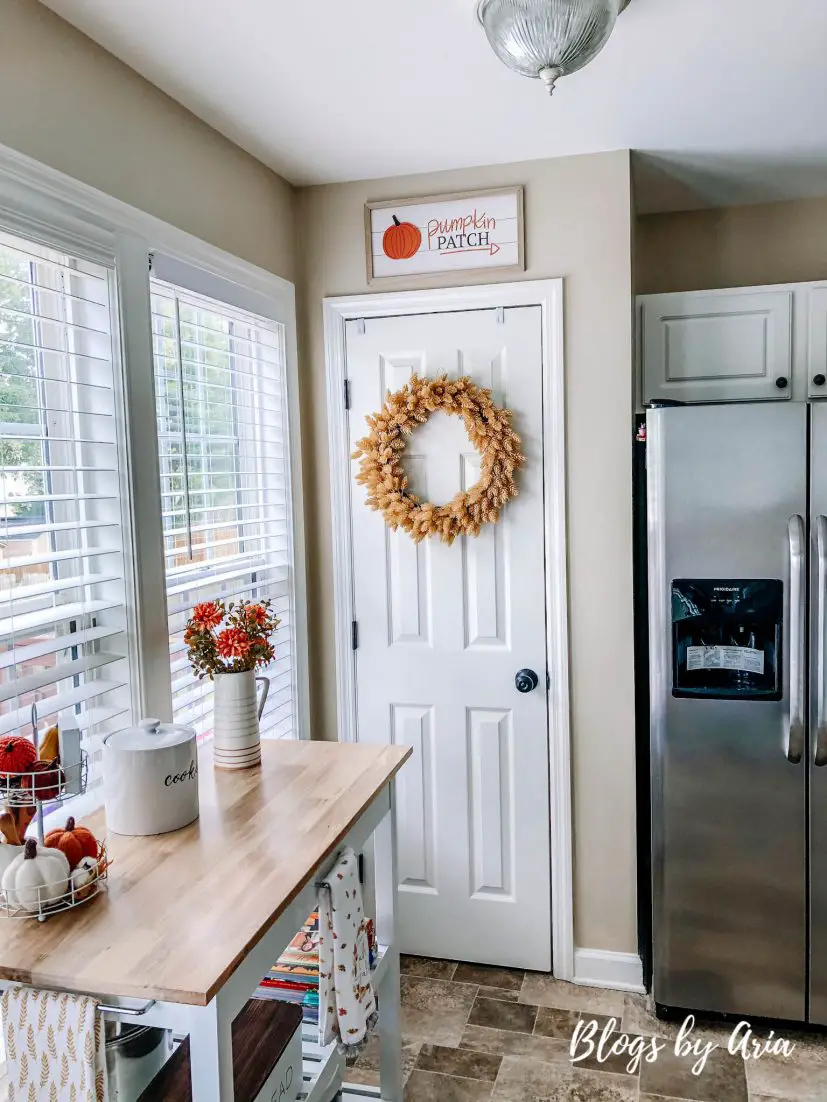 While we're on the subject of the Target Dollar Spot, this pumpkin patch sign is another fun find.  I originally wanted it to go over the stove, but it was too big.  It's the perfect size for the space above the pantry door.
And another fun fall find that I've wanted since last year, is the Hearth & Hand Hops Wreath.  I was using it on our front door as a transitional wreath from Summer to early Fall and now that I've put my primary fall wreath on our front door, this beautiful golden wreath is now in our kitchen.
Last but not least, I added a mini ladder that is a great way to add decor to your kitchen.  I added a mini wreath but it's also perfect to add a decorative fall kitchen towel.
For awhile I've wanted to get this ladder and I finally did when I decided to get more mini wreaths.
Behind this ladder is an ugly eyesore of an electrical outlet and a phone jack.  Now I can cover that up with some fun fall decor.  Like I mentioned before, these pictures with the mini wreaths were taken today and the sink is full of dishes.  So I couldn't get a panned out shot.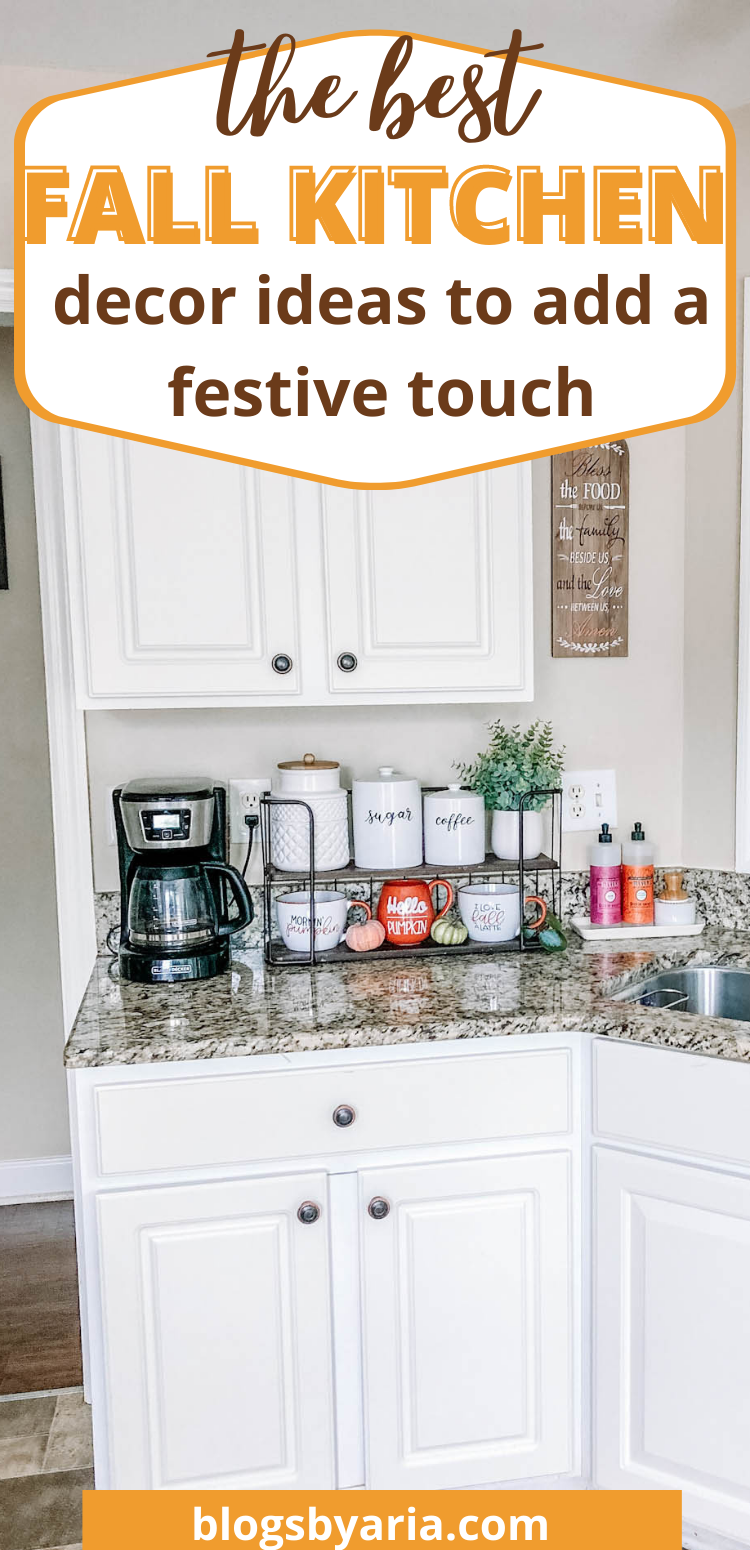 I've really enjoyed coming up with a few fall kitchen decorating ideas and sharing how I decorated my kitchen for the season.  Decorating a kitchen is really about toeing the line between function and beauty.
I want to enjoy a touch of fall throughout my home but without adding too much clutter, especially in the kitchen.  Hopefully you were able to get some inspiration and ideas for decorating your kitchen for fall too.
Next I'll share my fall home tour along with a couple of spaces that didn't get their own dedicated posts.  And then I'll take a shot at adding Halloween decor for the first time.  I'm just so happy it's Fall! ♥