Now that it's officially Spring it's time refresh our space with Spring decor.  I'm sharing 5 ways to add Spring decor for a simple refresh.  After a long (or not so long) Winter I definitely wanted to breathe some life into my home with pops of Spring.
What I love about Spring is renewal.  In more ways than one.  Seeing barren trees sprout blooms again.  Hearing birds chirping (even when they're waking me up) and the sun staying out longer is just exciting. There's something to love about every season but Spring just makes me happy!  I want to bring that happiness inside, especially as I'm avoiding the downside of Spring…the pollen.
You can add a Spring refresh in your home in just a few easy steps and they're budget friendly too.  The key word here is easy.
*this post includes affiliate links for your shopping convenience, you can read more about affiliate links by reading my Disclosure*
FLOWERS
One of the easiest ways to add a Spring refresh in your home is by adding flowers!  Whether you go real or faux, adding floral decor really can add life.  I prefer to add faux flowers because I can set them and forget them.  Last year I tried to keep hydrangeas alive and it didn't turn out so good.
I've shared before how much I love these tulip bouquets from Kirkland's.  Tulips are my favorite flower and of course I had to get several when I saw them and touched them in store.  They feel like real flowers.
A few of my blogger friends swear by these pretty peonies.  They're darling!  Whatever flowers you choose, find a nice vase and pop some flowers in and voila!  It's already feeling like Spring!
PRETTY SPRING FLORAL OPTIONS
ADD GREENERY
Just like adding flowers liven up a space so does adding greenery.  Adding plants is something new to me over the past year.  Now that I've started adding plants I don't know why I never had them before.  Again, there's no green thumb on my hands so I do go the faux route.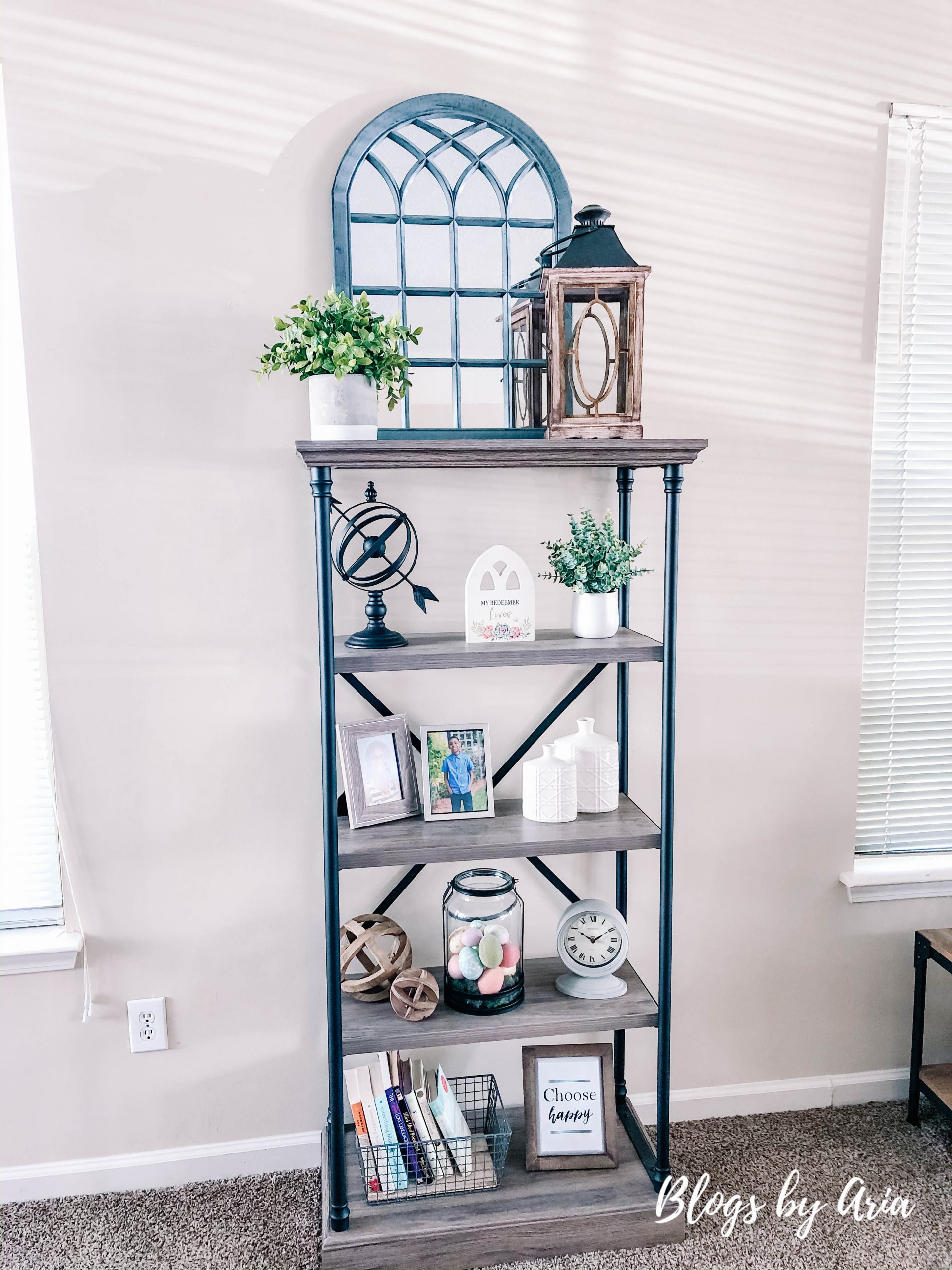 Kirkland's Home Decor Favorites
A lot of my plants come from TJ Maxx, Hobby Lobby and Kirkland's.  I'm very picky over the ones I do buy because I don't want them to look fake.  I think with the ones I have in my home so far, I've done a pretty good job.
I shared a lot of great options for adding greenery in my Kirkland's decor post.
Don't go overboard, you don't want it to look like a jungle in your home, but a few well placed plants really can make a world of difference and again, breathe life into your home for a refreshing feel.
GET COLORFUL
After Christmas I really wanted to step away from the color.  And not that long ago I was saying I wasn't quite ready for Spring.  For Spring I like to see more color.  Color makes us happy and soft pastels or even brighter colors can really have a happy effect on our mood and feelings.
You can easily add color with pillows on your couch or bed.  I got these pretty blue floral pillows from Kohl's.  There's a little yellow in the pillows but you can't really see it in this lighting.
You may be thinking blue isn't all that colorful, but it's a big color for Spring this year and I feel comfortable with the blues right now.  I tried a brighter floral pillow set a couple of weeks ago and it didn't work out to my liking.
Truly I struggle with not going overboard on my pillows but I feel like I need a couple more…the jury is still out.
REFRESH YOUR HOME WITH SPRING PILLOWS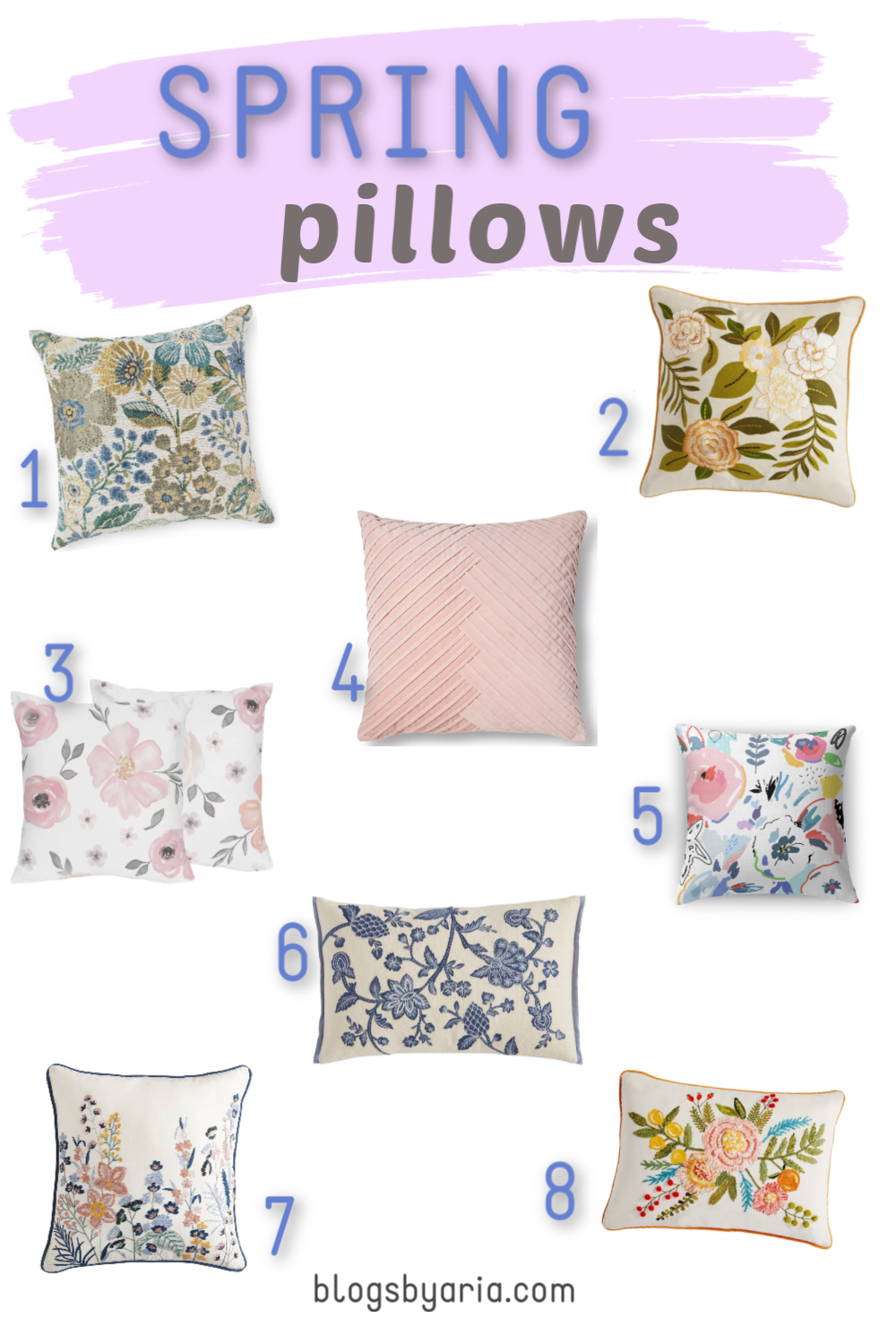 Or add a colorful wreath that covers both adding flowers and color.  This hydrangea wreath was a Home Goods find and I thought it would look nice on our entryway closet door to greet us when we walk in.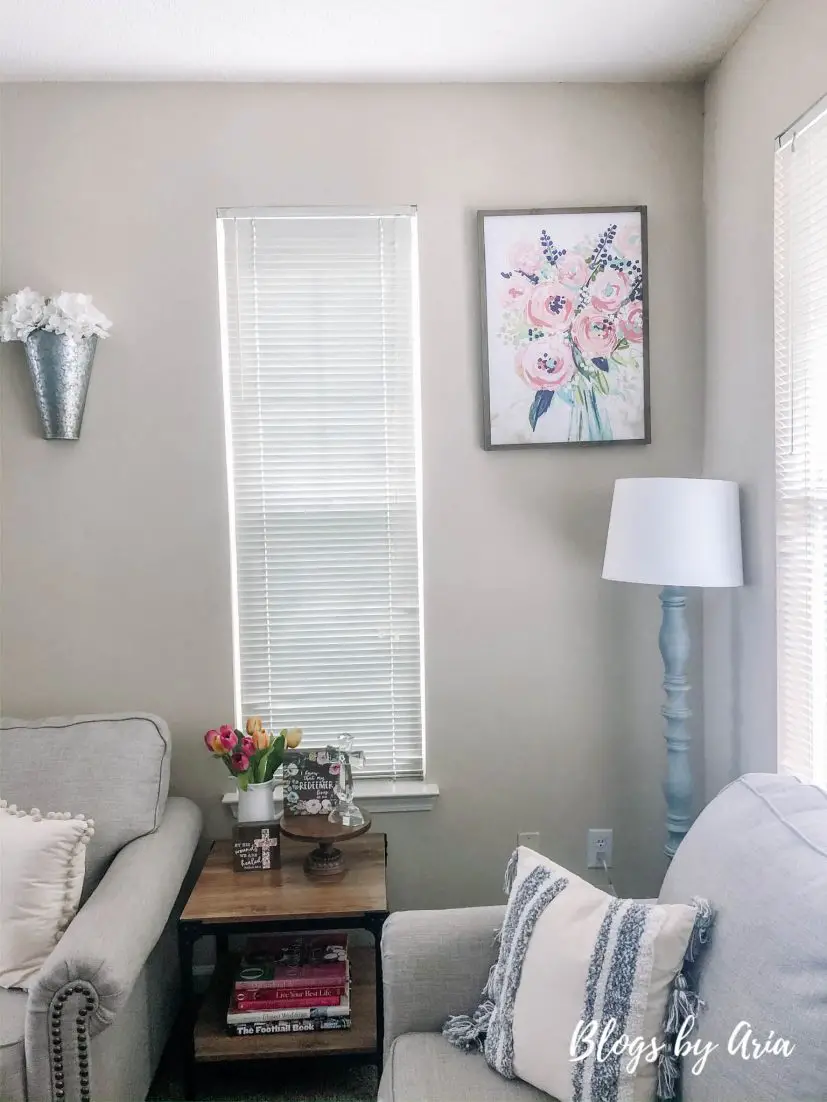 Another great way to usher in Spring in your home is by adding a colorful print to your wall.  Like this pink floral art I added for Spring.  It makes me smile every single day.
AFFORDABLE SPRING WREATH OPTIONS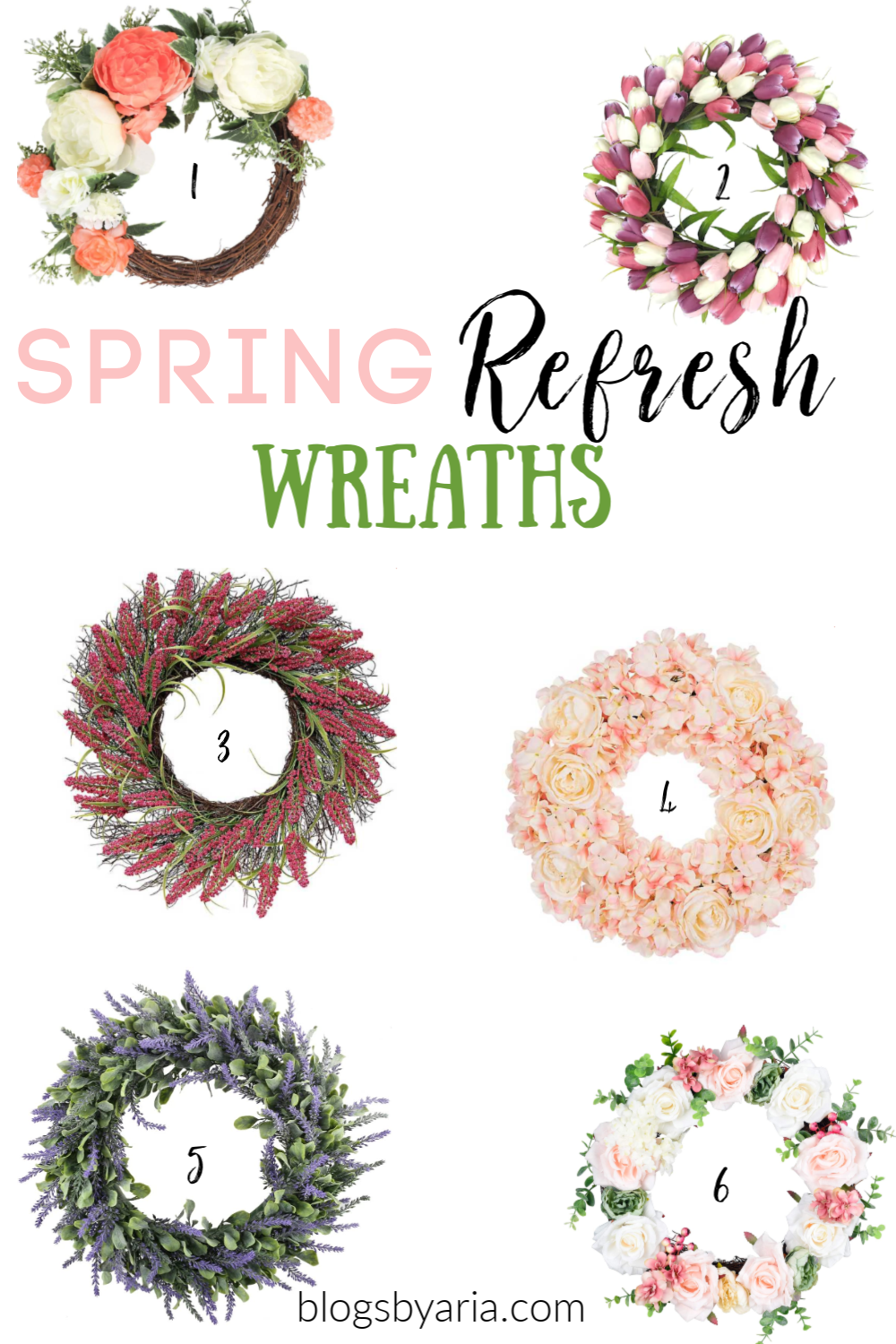 USE LIGHT FABRICS FOR SPRING
In the colder months we like chunky throws, furry pillows and flannel sheets.  Even if the weather hasn't warmed up where you are, now is the time to pack away the cold weather decor and break out the lighter fabrics.  Remember when you put all the winter clothes away and pulled out the short sleeve shirts and shorts for Spring and Summer?  It's time to do the same thing for your decor.
Replace your plush throw blanket for a lighter weight selection.  We keep our functional throw blankets in a wicker basket and when I do have a throw on the sofa it's more for decor and texture.
Switch out your flannel sheets for a light sheet option.  I recently did this and I really want to find a new comforter set, I just ordered this one today and hopefully it turns out great.  I don't typically buy comforters or bedding sets online when I can't touch it you know?
SPRING SCENTS
I think adding florals and greenery are the easiest ways to refresh your home for Spring.  Coming in a very close second, is adding Spring scents.  When you walk into a home what's the first thing you notice?  How it smells.  You know if chicken was fried recently, if the trash needs to be taken out, or if there's a pet living there.  So you can't neglect refreshing your home with scent of Spring.
There's a couple of ways to add a fresh Spring scent.  Of course there's candles and there's room sprays.  But my favorite way to add the scent of Spring is with Wallflowers from Bath & Body Works.  I love wallflowers every season and I can't say that one season is better than the next because they all smell amazing.
In the Spring I really like to add floral scents.  A few of my favorites are:
Those are just a few of my favorite Spring wallflowers.  I have them in my bathrooms and one in the entryway.  I used to have a glade plugin in my entrance but I just feel like the wallflowers are a little stronger.  Whichever way you prefer, it's an easy way to add that Spring touch.
I mentioned room sprays, and I must share that I have fallen in love with the Mrs. Meyers Rose scent.  I have it for dish soap, spray cleaner and hand soap.  Recently I purchased the room freshener spray and it's another easy way to add a fresh floral scent that's not too heavy.
Using cleaning products that have a scent like this make me happy and oddly enough, more likely to clean.  The smell isn't overly strong but is very noticeable if I'm cleaning and my husband comes home, he can smell it and says it smells nice in here.  It's an added bonus to just smelling clean, it also smells fresh and like Spring!
I've shared 5 simple ways to refresh your home for Spring this season and I've shown you how easy it is to implement these changes for yourself.  With many of us being at home right now it makes it even more of a priority to create a haven in your home.  The best thing is that it can be done on a budget.  That's always what I'm about!
I hope you found this post helpful!  Stay well ♥