They say kitchens and bathrooms are what sell a house.  A kitchen is more than just for cooking and storing food.  It needs to have a great flow, be practical in its layout and look pretty too.  I've been sharing Parade of Homes tours for a few years now and I've had the privilege to see some beautiful kitchen design ideas.  Today I'm sharing 15 beautiful kitchen design ideas and inspiration for your viewing pleasure.
Whether you're remodeling, building or dreaming, I have tons of kitchen eye candy you're going to love!  I love a beautiful kitchen even though I'm not a fan of cooking.  But I like to think that the right kitchen can motivate me to cook more.  Surely there's a correlation right?
There are a few kitchens I'm sharing that haven't been shared on the blog yet!  So you're getting a sneak peek!
Classic shaker style cabinets paired with black hardware are always a favorite for me.  In this kitchen you get the convenience of cabinets and drawers for function.  Along with glass inset cabinets for display.  Double crown molding goes up to the ceiling.
All kitchens don't have to be designed the same and in this kitchen the island gives you two sinks along with extra island storage.  The island is also a unique shape which allows for a better flow from the kitchen to the family room.
I love how unique this glamorous European style farmhouse kitchen is!  The subway tile backsplash reaches all the way up to the vaulted ceiling with stained beams.  It is adorned with a stunning custom zinc hood vent with brass accents and flanking floating shelves.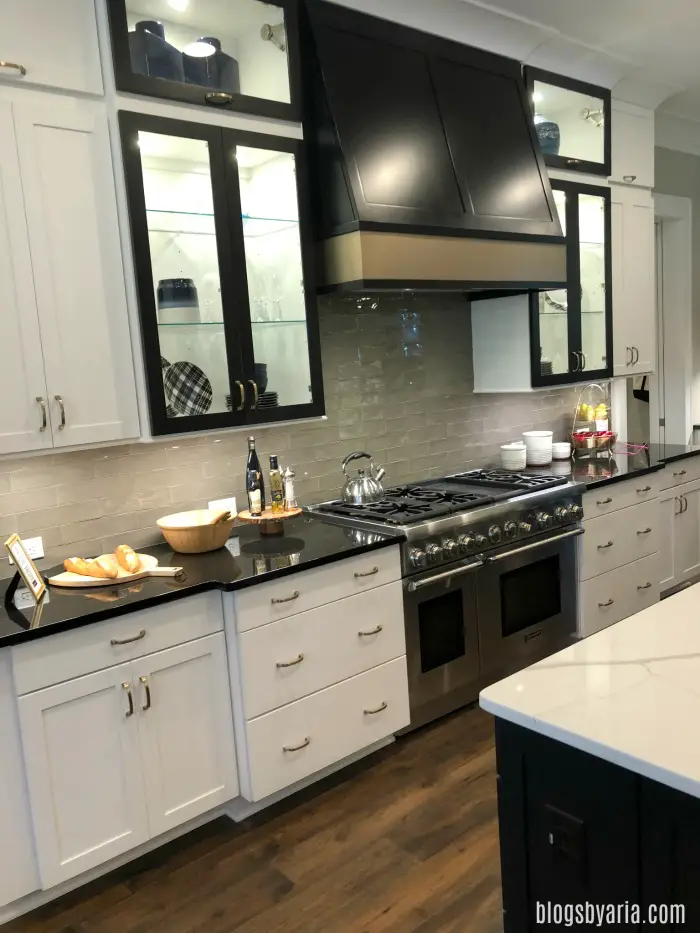 This gorgeous kitchen combines a modern style of black, white and gold.  The iridescent backsplash shines against the lighting and there's beautiful glass door cabinets to display your beautiful dishes.
A minimalist kitchen can still be beautiful.  Some people may feel some traditional kitchens provide a lot of visual clutter and would prefer a less is more approach in kitchen design.
A white kitchen with an oversized island is my dream.  My dreams are pretty easy to achieve!  When it comes to my dream kitchen I just want lots of counterspace, lots of cabinetry and lots of ovens!  Pretty simple right? 🙂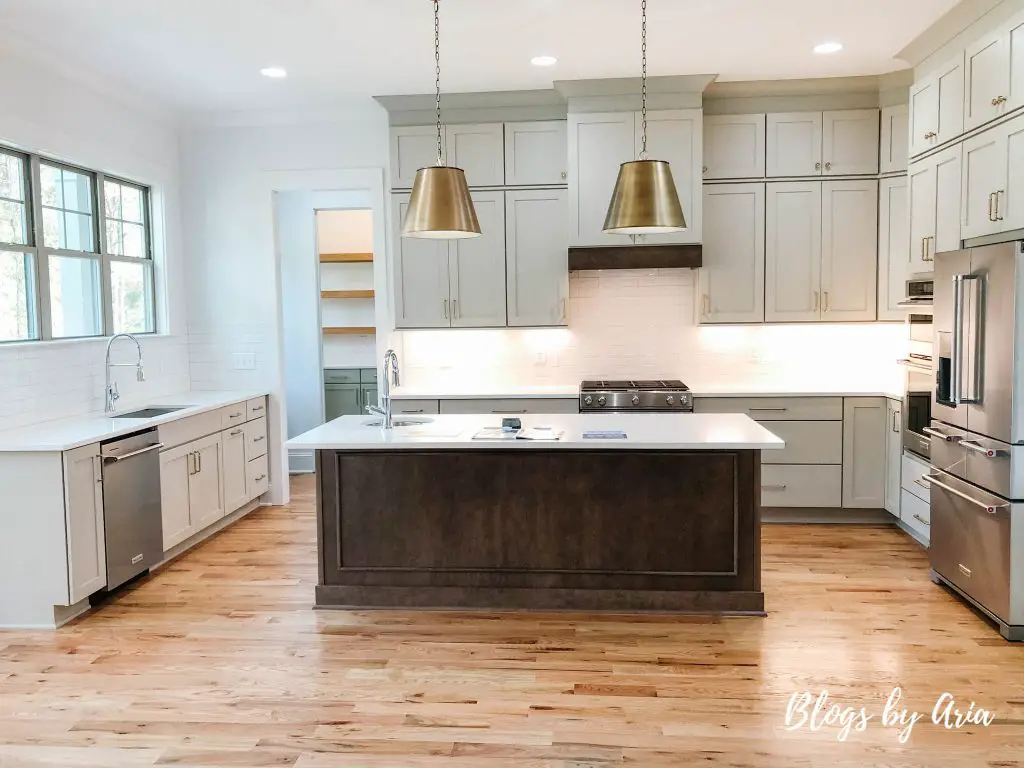 These days it's far more common to have a sink in the island instead of along the wall.  I used to want my kitchen sink facing a window and now I'd actually prefer it in the island facing the family room.  This kitchen certainly isn't lacking in size and storage space!
Featuring light gray toned cabinets with a dark stained wood island, this kitchen is in line with contemporary design influences.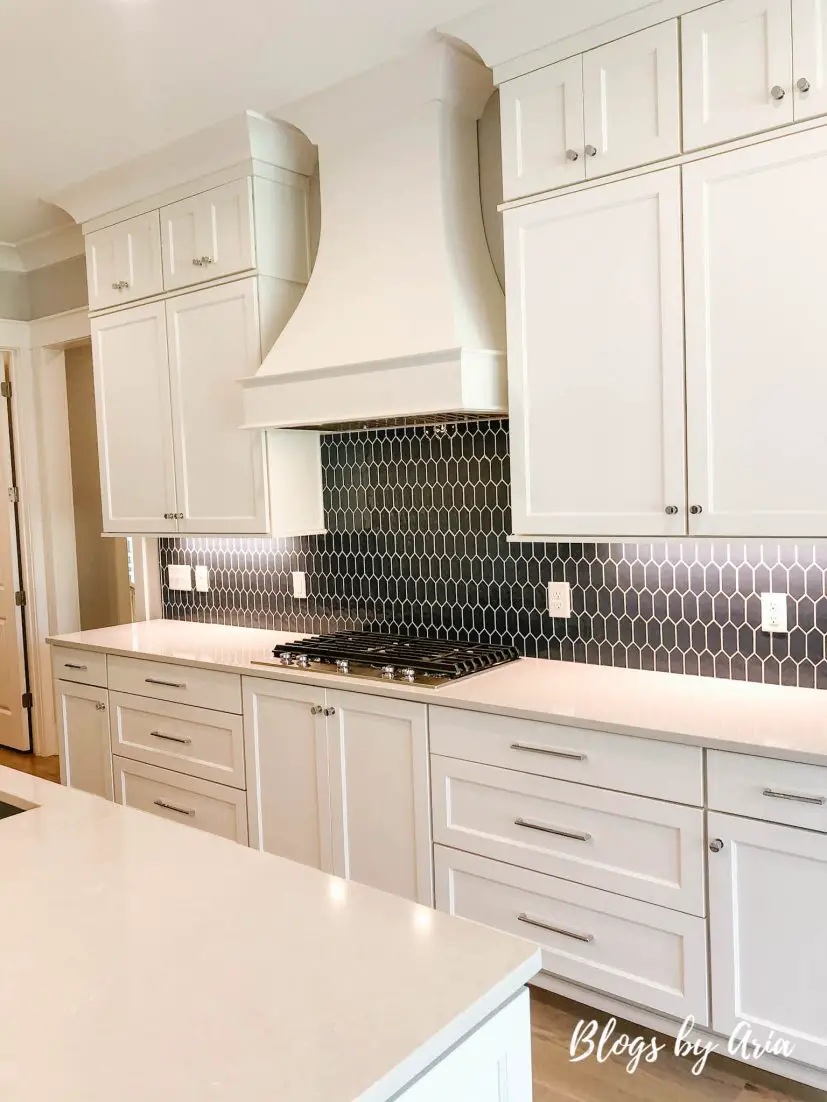 This navy tile backsplash pops against the white cabinets and countertops.  The only thing I would change would be to change the placement of the electrical outlets.  If there was more thought put into it, they could have wired the electrical outlets into the cabinetry.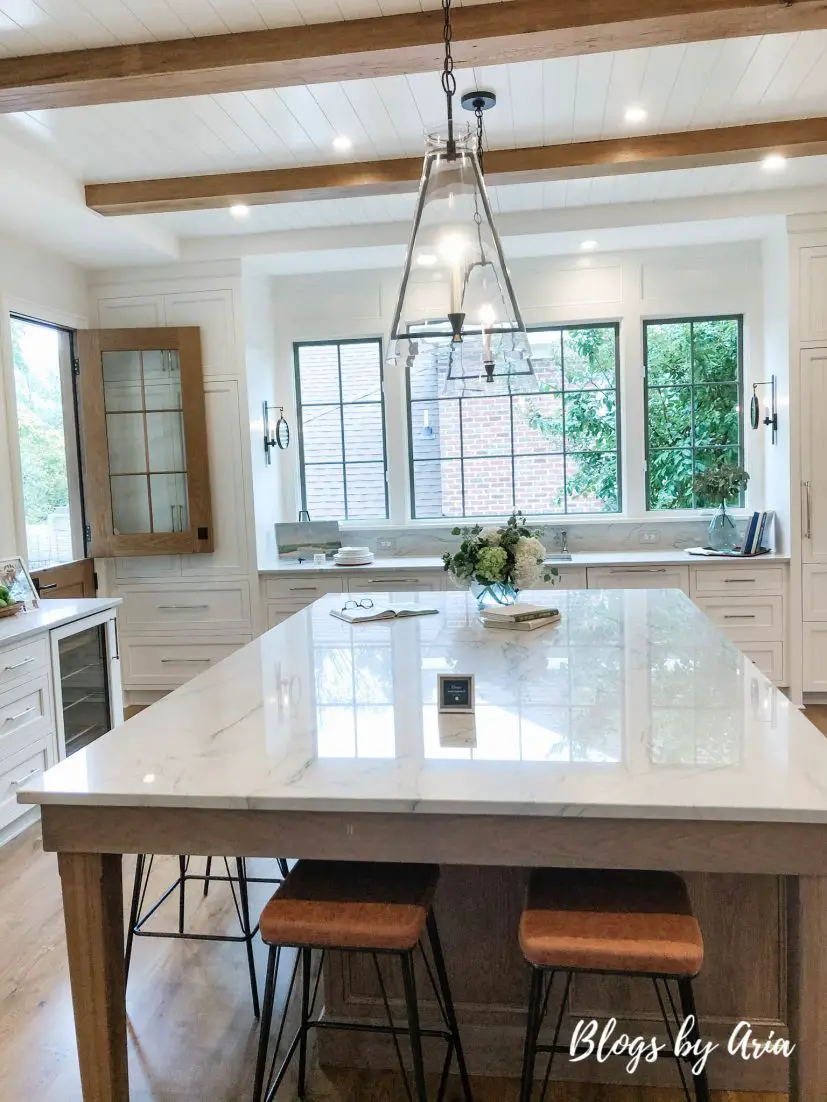 An oversized island featuring marble countertops is just one aspect that makes this kitchen so beautiful!  You'll have to check out the post to see all of the gorgeous features that make this kitchen special.  The large windows over the sink, the Dutch door and the custom cabinetry are just a few.  It's truly a dream kitchen!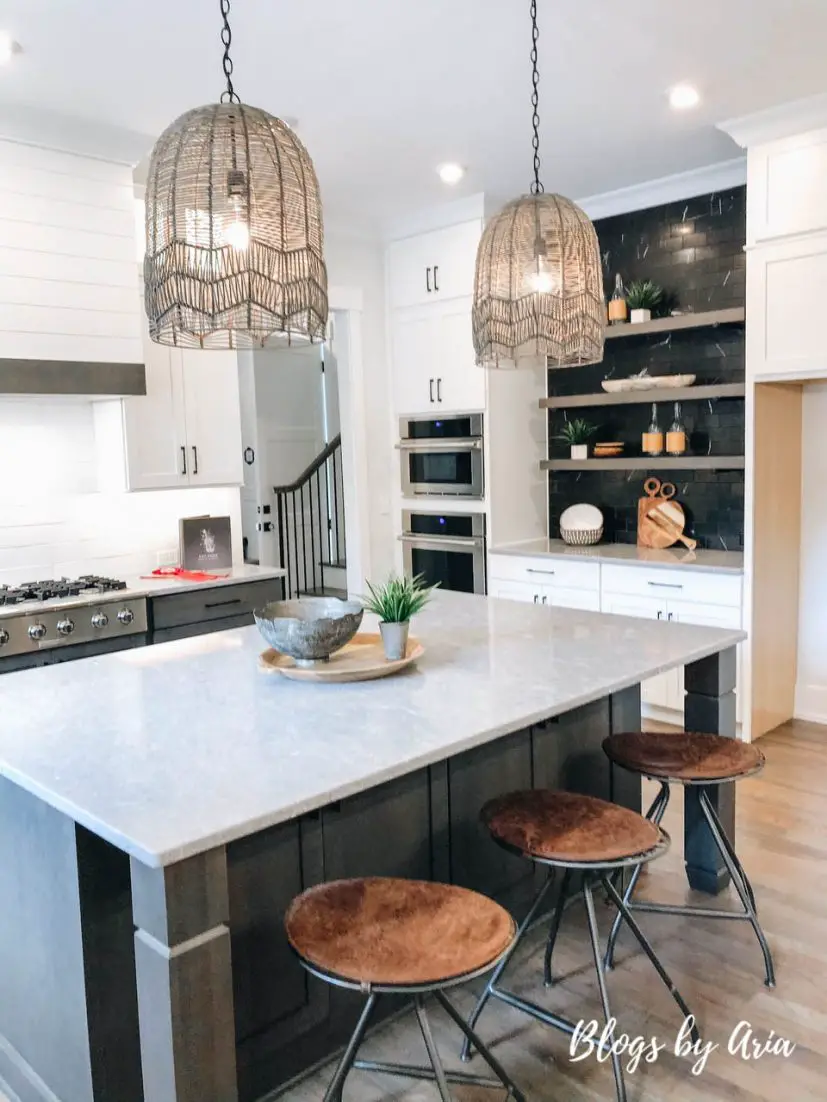 One of my favorite and most unique kitchens I've seen recently are in this modern farmhouse kitchen.  What I love about this kitchen is the shiplap trimmed range hood and the floating wood shelves that are backed with black marble subway tile.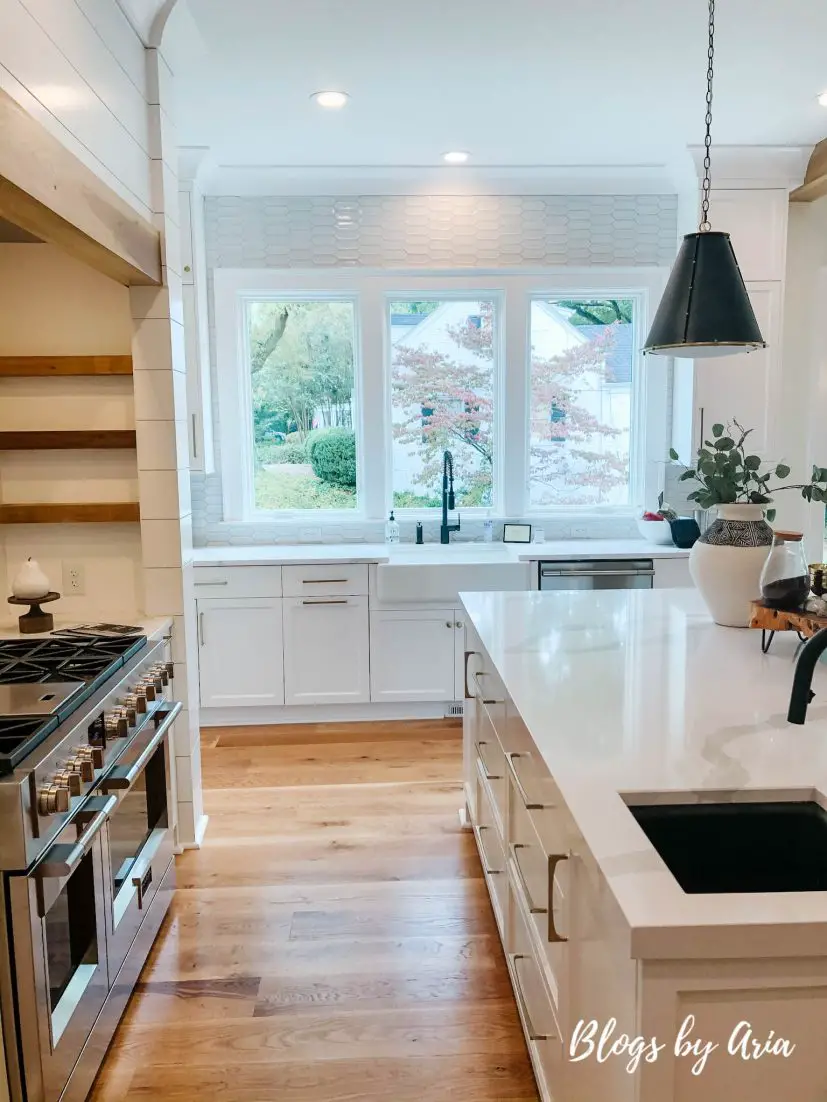 What I love about this kitchen is…everything!  Seriously, the first thing I saw when I walked into this kitchen was this big beefy range!  So many burners, a double oven and there's more when you check out the tour.  Then I saw the farmhouse sink facing the gorgeous triple window.
Lastly I saw the oversized island with so much surface area to work on!  For someone who never seems to have enough counterspace, this would be a dream for me to have!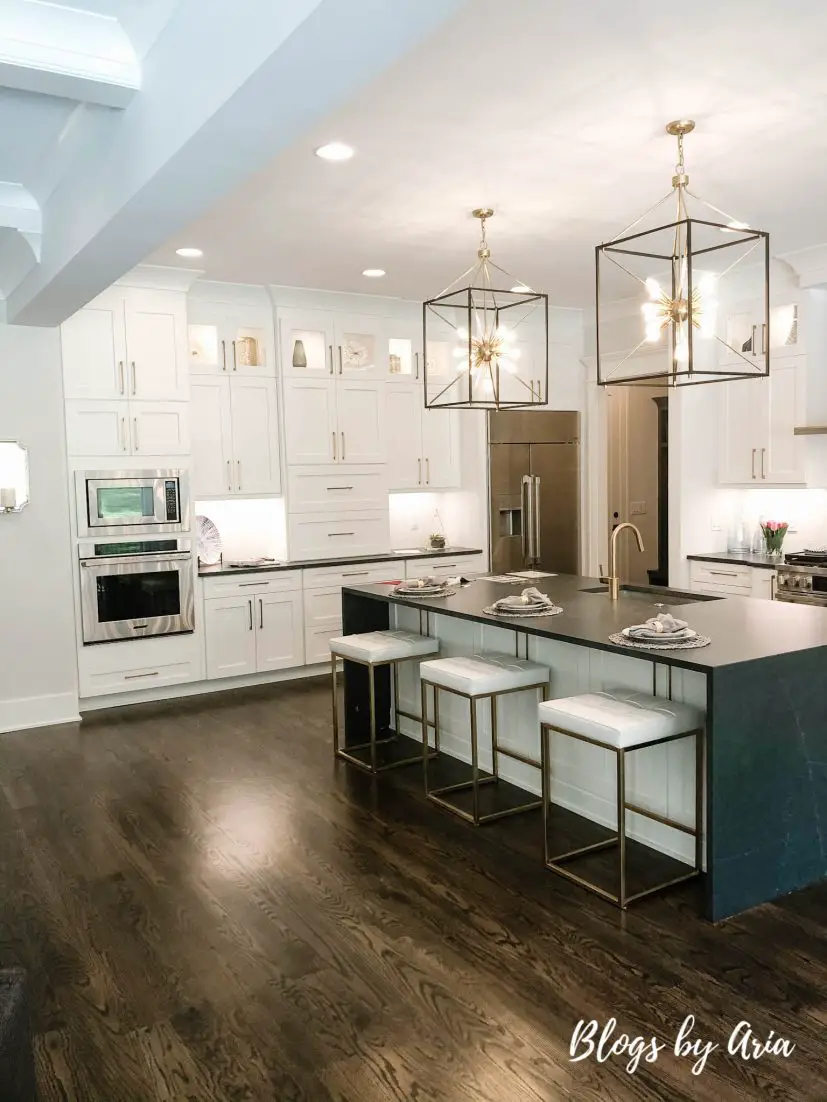 Waterfall island counters are still a popular kitchen design choice.  What I do love about this kitchen and what I would like in my own one day, is an appliance garage.  It's cabinetry that covers some of your small appliances hidden from view.  When you need to use your toaster for example, you open the door and use it and it doesn't take up valuable counterspace.
A very popular trend in kitchens lately is gray cabinets instead of white.  This modern farmhouse kitchen features dual toned cabinetry in gray and black adorned with white quartz countertops.  The tile backsplash is perfect for this color combination.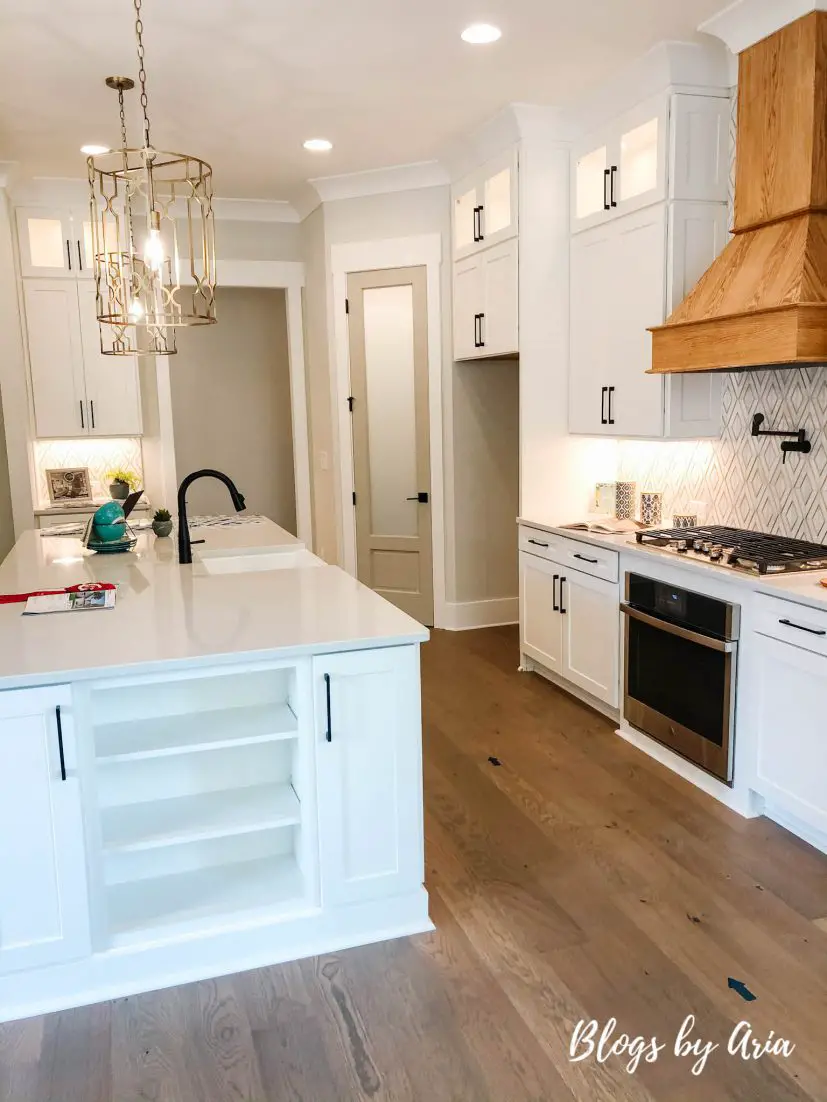 A kitchen island that provides a lot of surface area and storage space is my kind of island!  Plus there's something so classic about a frosted pantry door don't you think?  I don't like a stainless steel range hood so I am liking this new kitchen design idea of having a stained wood hood.
Light gray shaker cabinets with gold hardware is another popular kitchen design idea.  I look at this kitchen and see all the drawers and it makes me so happy!  Is there anything worse than pulling out pots and pans out of standard cabinets?  To me drawers are a better option.
I can look at beautiful kitchens all day long!  The kitchen is the heart of the home and as someone who doesn't enjoy cooking, I believe that a well laid out and beautiful kitchen could change that.  A well laid out kitchen makes it easier to fix dinner for your family.  And having a good sized kitchen makes it more conducive for the family to gather.
Hopefully you found some beautiful kitchen design ideas that you love and would love to have in your own home.  If you want to get even more design inspiration be sure to check out my Parade of Homes tours!  I love to tour houses and share them with you.