Slob is such a harsh word, but it's the truth.  I've never been one who has a natural joy for cleaning.  It's just not in my DNA.  And it's something I've struggled with my entire adult life.  My husband and I have argued about it.  I've even had my mom and friends help me clean and organize.  I'd keep things looking nice for a few weeks and slip right back into my slobbish ways.  But now that's changed.  Today I'm sharing how I changed my slobbish ways and you can too.
Because I know I'm not the only one with this struggle.  At least, I hope I'm not 😉
ENOUGH WITH THE EXCUSES
I could always tell you why I couldn't keep my house clean.  Aside from the obvious reason that it just isn't in me.  I work full time.  I'm tired.  I'm not the one making most of the mess why should I clean it all.  I hate cleaning.
All of these things are true.  But that's no excuse to not keep my home clean and tidy.
When I did get things clean, I'd vow for things to stay that way.
But then life would happen and it would get right back to where it started.  And I hated myself for it.
Because when my house is clean my body is relaxed.  My brain is freed by the lack of clutter.  I just feel better.
BE INTENTIONAL
I won't lie…part of the reason, or maybe even a majority of the reason why I was able to kick my slobbish ways to the curb was due to our move to our new home.
I knew that with a larger space/better layout that it would help with keeping our home neat and tidy.
But that doesn't mean that when you move into a larger space, or if you just had a bigger home that everything would magically be clean.  I used to think like that.  If you don't change your slobbish ways then you'll just have a larger home with more space to be dirty and cluttered.
The key to maintaining a clean home is to be intentional.  Just like with losing weight or staying in shape, or maintaining good relationships, you have to be intentional about it.  You have to make up your mind that this is how it's going to be and follow through with that.
So although coming into a clean slate of a new home helped me to get started, if I wasn't intentional about it,  I'd be in the same boat that I was in before.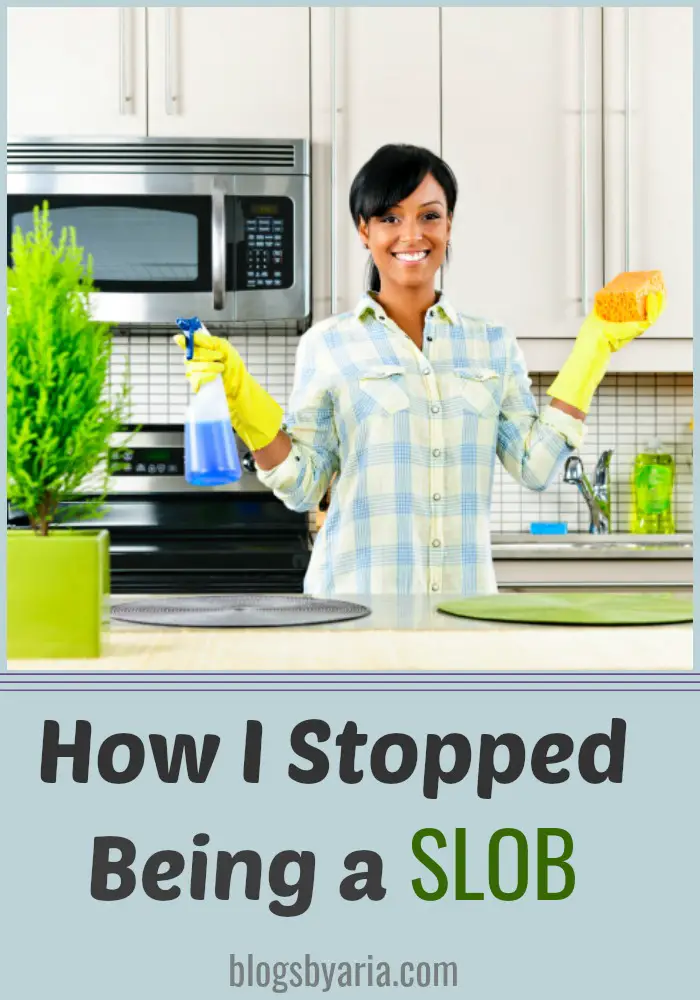 ENLIST HELP
Both of my kids are able to help me keep the home clean.  I don't rely on them for it all but having them help me out really makes it seem like a less daunting task.
The key for me to kill my slob instinct is to not let things get to the point of overwhelm.
That's where the kids come in.
My daughter is 13 so she can do a lot.  She washes dishes.  Cleans bathrooms.  Sweeps and mops and can help with the laundry.
My son is 10.  Some of the things I have him do are unload the dishwasher, wipe down counter tops, take out the trash and vacuum.
They're both responsible for keeping their room picked up and their closets organized.
I like to change up their tasks from week to week so they're not stuck doing the same things all of the time.
CLEANING DAYS
Every weekend we take a couple of hours to do our cleaning.  Whether it's on Saturday or Sunday depends on our schedules but the goal is to really take out the time to just clean.  Sometimes I'll put on a playlist or listen to some podcasts and just get it done.
Do I enjoy this time?  Ummm no.  But I enjoy the result.  So just like going to the gym, it may not be fun while I'm doing it but I like how I feel after.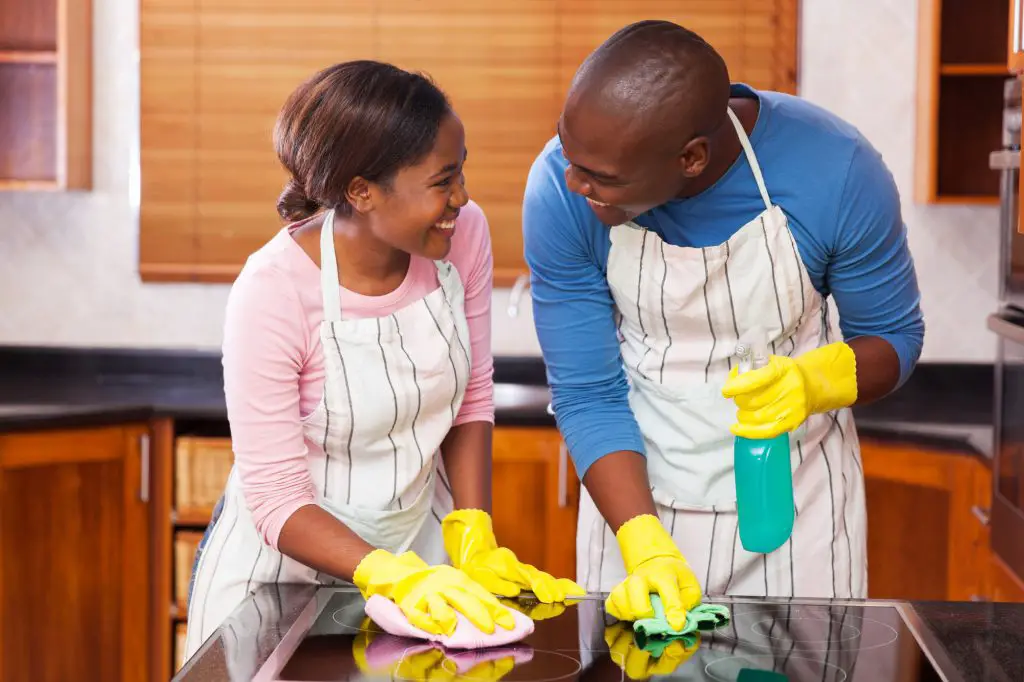 CREATE A CLEANING ROUTINE
In my mind, if I were a stay at home mom or work from home mom I'd have this elaborate cleaning routine.
I'm not there yet, so I try to have some tasks that I do each week.
I decide based on how my week is looking, on Sunday when I plan for the week, what I'm going to incorporate into my week.
I do laundry two or three days a week.  For regular clothes I do them during the week.  I wash sheets and towels on the weekends.
I try to clean the bathrooms twice a week sometimes it's only once, just depends on how much I have going on.
The kitchen is a consistent effort to clean at least several times a week.
Like I mentioned before, having the kids help makes things a lot easier for me.
MAKE DAILY HABITS
Honestly, the key to being intentional in keeping my home clean is making it a daily habit.  So even though I work full time and I blog and I work out and I'm trying to live my best life, I still have to make this a daily habit.  A non-negotiable.
Here's a few things that I make myself do every single day:
5-10 minute tidy up.  A simple practice of taking things and putting them where they belong.
wipe down the kitchen counters.
clear the sink.  Having a clean sink makes a huge difference in how the kitchen feels.  Whether we're running the dishwasher that night or not, the sink must be clear.
Those few things, when done daily really makes it easier to feel on top of things in my home.
We also have a few rules for the kids.  Like, if it belongs to you, it belongs in your room.  With the exception of coats, that go in the coat closet and backpacks that are kept in there too, I shouldn't see your sports equipment or school work or nail polish or anything else that belongs to you.
I'm so glad we're out of the toys phase!
I won't pretend that I'm perfect and always get it right.  I try to be authentic and transparent with you all the time.  So I can admit that sometimes I fail at this.  But just like with losing weight, I don't let a slip up for one day turn into several days of bad habits.
There's been many a night where I'm about to go to bed and I remember that I didn't tidy up or clear the sink.  So I get up and go do it.
I'm a work in progress.
I will never be a neat freak.  God didn't give me that gene as much as I wish He did.  Instead I am a woman who is intentional about maintaining a clean home.
My life is better for it.  My marriage is better for it.  And I'm teaching my kids that they can change bad habits.  And hopefully they won't be like I was when they're out on their own.
Does cleaning come naturally to you?  Or are you like me and you have to be intentional about it?  If you have any tips or tricks about keeping a clean home please share with me in the comments below!  I'm still a huge work in progress and can get all the help I can!