When it comes to cleaning I think it's half habits/genetic disposition and half motivation.  Let's face it, you don't want to do what you don't want to do.  It's as simple as that.  But being an adult means you have to do things you don't want to do right?  I'm always looking for ways to get better at areas that need improvement.  One of those things for me is cleaning.  As a former slob, I thought I'd share my best lazy girl cleaning motivation tips.  Because I'm still lazy and my house still gets out of control and we all can use some cleaning motivation.
*this post includes affiliate links for your shopping convenience, you can read more about affiliate links by reading my Disclosure*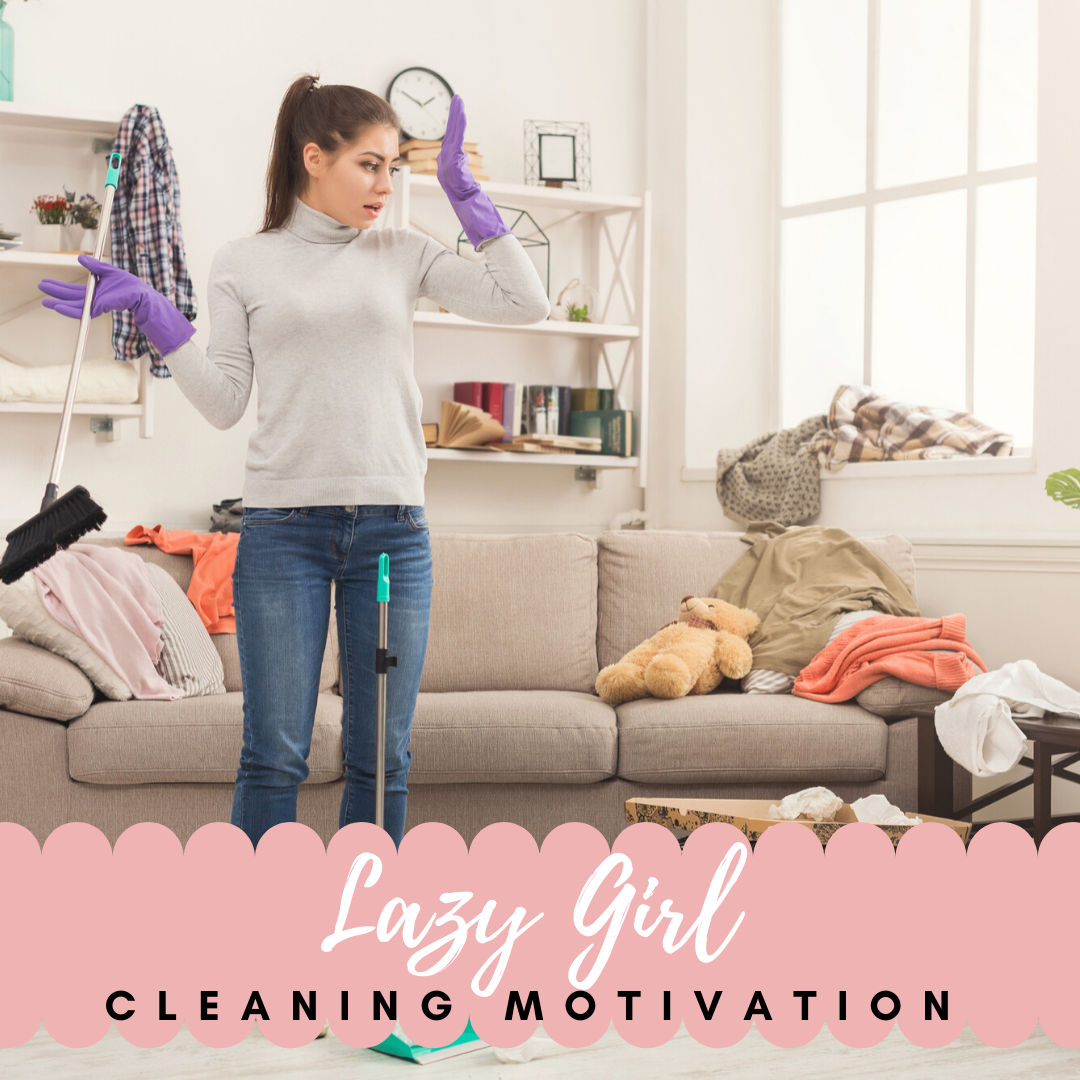 WATCH CLEANING VIDEOS ON YOUTUBE
Yes those are a thing!  And yes, they really give me cleaning motivation!  Last Summer when I was already daydreaming of decorating for Fall and Christmas, I searched YouTube for home tours and decorate with me videos.  Soon YouTube was recommending many of the same YouTubers videos that were called "clean with me."
I watched a few and subscribed to some and I love them!  Sometimes I watch them and it will inspire me to get up and clean.  Other times I will play them while I'm cleaning and it helps me to keep going and clean a little more.  It's like having a cleaning personal trainer 😉
If you're in need of some cleaning motivation I recommend a few of my favorite YouTubers to start with:
FIND CLEANING PRODUCTS YOU LOVE
I know, I know…cleaning products you love sounds like an oxymoron.  Watching the clean with me videos did help sway me to buy a few items I would have never paid attention to in the store.  Like Mrs. Meyers cleaning products.
Something about cleaning or washing dishes with a product that smells good lifts my mood.  I've shared about my love of Mrs. Meyers products before, but it's so strange to me that if you give me a dish soap that smells good, that I'm more likely to want to wash the dishes.  And I hate washing dishes!
Not only do I want cleaning items that smell good, I want them to work well too.  It is a bit of trial and error to find the best cleaning tools to fit your needs for your home.  But once you do, it helps the process by working with tools that work well.
CREATE A CLEANING PLAYLIST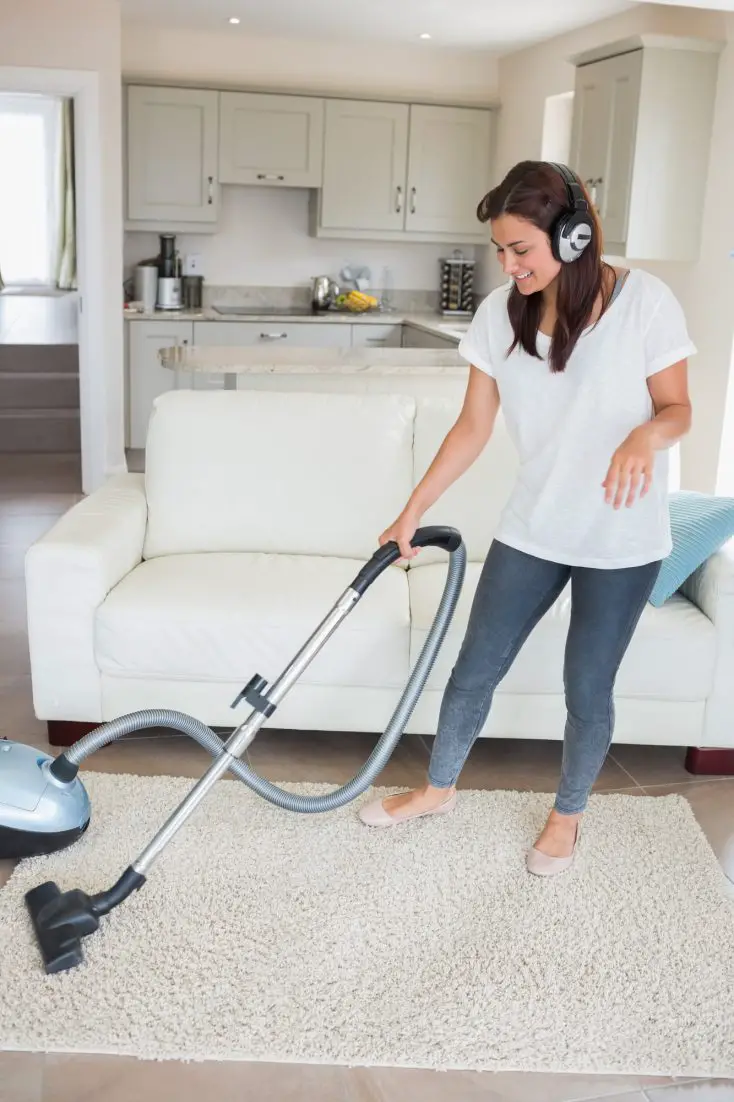 Whether you are able to blast the music out loud or it's in your earbuds, cleaning to music will definitely help to motivate you to get the job done!  Sometimes I'll listen to a podcast but mostly I'll turn on some tunes.
I suggest creating a couple of different playlists because sometimes we're in different moods.  Me personally, I enjoy some good old school pop and R&B.  Paula Abdul, Bel Biv Devoe, Bobby Brown, Britney Spears.  Upbeat songs that make me wanna dance and help doing chores feel less like a chore.
CHANGE YOUR MINDSET
Everything comes down to mindset in life.  You can choose to whine and complain about having to do the laundry or clean the kitchen but that doesn't mean it still doesn't have to be done.  I'm not saying I get excited about any aspect of cleaning, because I don't.
But I do try to look at it from the point of view that I have a nice kitchen I like to keep clean.  It looks nicer when it's clean.  I enjoy how my home makes me feel when it's neat and tidy and when it's messy it doesn't feel good to me.
Holding on to the feeling of what it feels like for my home to be clean helps me to make the mental shift to want to maintain that feeling.  This is something I can't do so much when things are out of control, but it is helpful when it comes to maintaining a clean home.
VISUALIZE A CLEAN HOME
Similar to keeping a positive mindset about my home, it helps to visualize my home clean and tidy.  Visualize what your home looks like when it's clean.  Allow that picture in your mind to motivate you to get there.
Cleaning and decluttering are two different things, but visualizing your home the way you want it to be will probably also motivate you to clear the clutter.  That will in turn help you feel better and less stressed.
FOCUS ON CLEAN ENOUGH
Let's keep it real here.  Especially when you have small kids, or any kids, or a husband, or yourself (you get my point) it's not feasible to have your home look magazine ready all the time.  We live real lives.
So don't worry about everything being perfect.  Just focus on clean enough.  Because clean enough is better than messy or dirty.  Clean enough is better than being embarassed when unexpected visitors arrive.  Clean enough is better than feeling like a failure as a wife and a mother.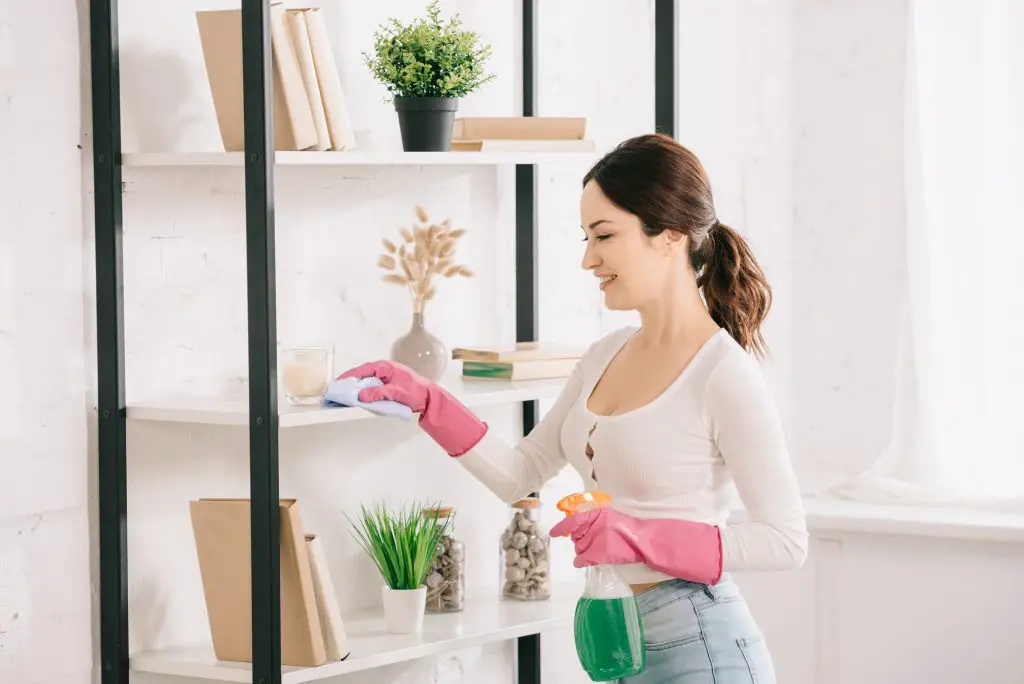 SURFACE CLEAN
One of my biggest areas of struggle is paper clutter and allowing things to pile up on the coffee table and the dining table and the kitchen counters.  I still struggle with this every single day.
You'd be amazed at how much cleaner your home will look if you make it a priority to keep the surfaces cleared.  It's great if you can do this as you go throughout the day.  But I'm realistic and I just aim to tackle it every few days or on the weekends if it's a particularly busy week.
5-15 MINUTE RULE
Every night, preferrably with the help of other family members, take five to fifteen minutes and just pick stuff up and put it away.  This can be part of surface cleaning.
If I see one of the kids or my husband heading upstairs with only their phone in their hand, and there's something (especially if it belongs to them) that can be taken upstairs, I make them take it with them.
Same rule applies to me.  I do it a lot with shoes and socks because I usually take off my shoes when I get in the house and not when I've gone up to my room.  So a couple of pairs of shoes can be found downstairs.
Taking a few minutes, at least once a day, even better if it's more than once, and doing a quick pick up really helps to keep the house from looking super messy.
CLEAN TO DECORATE
Probably my number one cleaning motivation tip is to clean to decorate.  I love to decorate my home and you can't decorate a messy space.  So in order to add decor, I need to clean up first.  That's my motivation to clean.
But my motivation to keep it clean is the decor.  When I walk in the front door, or I come down the stairs and look into my living and dining room space I want to see how nice my home looks decorated.  I don't want to look at all the stuff that needs to be done.
So because I like my home to be decorated nicely, I do my best to keep it clean.  It really is as simple as that.
The bottom line to keeping a clean home is to make it a priority.  It doesn't have to come natural, it just has to get done.  I'd love to say that I woke up in the morning and was excited to clean.  I'm never excited to clean.  You'll never hear me say "I can't wait to do the laundry today!"  But I like the end result.
Just like going to the gym, you may not want to go.  But if you go and give it at least five minutes, you'll want to keep at it until the workout is finished.  And you know what?  You'll feel better when it's over.  And you'll feel even better when you stay consistent and see results.
Same thinking applies to cleaning.  I hope you found my lazy girl cleaning motivation tips helpful.  I'd love to know if you're like me (naturally lazy and not inclined to clean) what gets you in the mood to clean?