The Studio McGee Spring collection is beginning to release at Target this week!  It's a huge collection and I will be sharing as much as I can from the Spring line.  Before I do, I want to share my top picks.  These are items that I have my eye on for my home.
I started sharing the Studio McGee launches last Fall and I shared the holiday collection too.  Since the Fall I've found that although I don't love the whole collection, because it's not my design style, there are always a good amount of pieces that speak to me.  Sometimes too many!
*this post includes affiliate links for your shopping convenience, you can read more about affiliate links by reading my Disclosure*
small triangle ficus tree · wooden mantel wall mirror · flowering thyme potted plant · striped jute embroidered square pillow · herringbone pointelle throw blanket · woven plaid throw pillow · woven plaid lumbar pillow · woven striped pillow · linen tray · small fern in cement pot · chunky knit throw blanket · light woven vase · raw edge hemstitch cotton slub comforter set
The Spring collection is massive, so I think to only have a handful of must haves is good on my part! *pats myself on the back* 🙂  There are lots of furniture pieces, outdoor decor and everything in between!
Let me show you what I have my eye on.
If there's a hierarchy of my top picks, which there's not, I'd say on the top of my list is the wooden mantel wall mirror.  When I was browsing the new collection online it stopped me in my scroll.  I think this would work perfectly over my mantle.  There's some plans I have to refresh that space in the Spring and I think the mirror will help bring it all together.
On my Instagram I shared that I was a little concerned that maybe having a mirror on the mantle and in the entryway may be too much for one space.  It's a small space as is.
After thinking about it, and getting very little insight from my poll (it's was about half and half), I think the two mirrors will work fine.  If anything, it can help make the room larger by reflecting light.  So we'll see how it turns out.
I've already started to see a few of the pieces from the new Studio McGee collection pop up in stores and on Instagram.  I'm so jealous of people who have well stocked Targets.
This linen tray I think would be perfect on my coffee table or entryway table.  And I've seen this flowering thyme plant in so many pictures I'd like to get it as soon as I can.
One item that I did see, and did not pick up (yet) is this woven plaid pillow.  It's gorgeous in person and I definitely want to have it.  But I try to be disciplined in January with my spending so I didn't pick it up.  Plus I do need to pare down my throw pillows.  This pillow is perfect for me because it has blue and plaid…a favorite combination.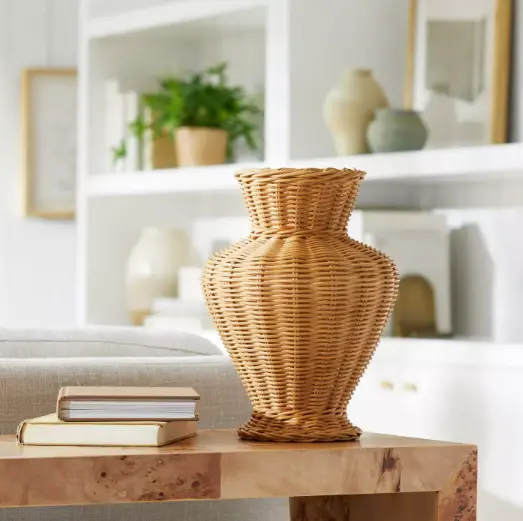 Of course I want this beautiful light woven vase.  It's like a woven ginger jar and I think it's perfect for Spring.  It's pretty enough to stand alone or with greenery or flowers.  Definitely have to get one for my space.
Speaking of greenery, this small ficus tree is calling my name.  I'd like to see it in person to get a better idea on if it would work in my home or not.
There are so many beautiful pillows and throws in the Spring collection.  Literally something for everybody.  So many pretty textures and colors.
What I'm really excited for and is near the top of my list is the new Studio McGee bedding collection.  There's so many styles to choose from but the one that I think would work well for us is the raw edge hemstitch cotton slub comforter set.  Talk about a mouthful!
I've been wanting to get all white bedding for so long and when I've seen some that I liked a little, I couldn't pull the trigger.  Or the reviews weren't great.  Or I could find the comforter set and not the Euro shams.
Hopefully this set will work.  It's surprisingly affordable.  I don't want to spend a lot on bedding until we can upgrade our bed.  Currently we have a queen size bed but once we move to a larger house with a larger primary bedroom, then we'll get a king.
I'll be using this styled photo as my inspiration.  Our bedroom is also on my list (has been for awhile) of spaces I want to tackle this year.  Hopefully we'll make some headway there.
What do you think of my top picks from the Studio McGee Spring line?  Anything you love too?  I'll be sharing more of the collection on the blog and on my LTK.  Be sure to stick around!
Facebook | Instagram | LTK | Tik Tok
STUDIO MCGEE X TARGET SPRING 2022 TOP PICKS