In January I started a vision board series that I really enjoyed researching and writing.  I was working on creating my own vision board for the new year and wanted to share what I was learning along the way.  Fast forward to today and I still have a couple of posts left to share to complete the series.
As you know, life has been flipped upside down and I found myself spiraling for lack of a better word.  The progress I was making on my goals came to a standstill and I've even regressed in some of my goals which I'm not too pleased about.
There's no time like the present to focus on improving yourself and creating the life you want.  I am up to the challenge and I hope you'll join me.
*this post includes affiliate links for your shopping convenience, you can read more about affiliate links by reading my Disclosure*
You can catch up on the other vision board posts in the series:
So! Now that you know the benefits of creating a vision board and the mistakes to avoid, it's time to look at ways to make it even more effective. There are a few tips and tricks you can follow to increase the effectiveness of a vision board.
If you're looking to fast-track your progress and make a vision board work for you, check out the tips below. You'll discover 5 great ways to make your vision board super effective.
Focus on the most important goal first
Even if there's a lot of things you want to change about yourself, focus on just one thing at a time. More than that, focus on the most important goal first.
Think about the goal that will make the biggest difference to your life right now. Do you need more sleep for example? Or maybe you need to quit smoking to improve your health? By focusing on the most important goal first it's going to deliver the biggest well being benefits.
MAKE A PUSH GOAL
Have you heard of a push goal?  It's kind of like that.  A push goal is a goal that you set that by accomplishing it, it makes all of the other goals possible to achieve.
Let's look at a simple example of getting more sleep.  Why do you want more sleep?  Well let me speak for myself…
I work in a job that requires me to be on my A game from the moment I get to work until the minute that I leave.  I work in finance and if I don't get enough sleep then I'm more likely to make mistakes which can impact a lot of people.
A few years ago when I got this position I realized pretty quickly that I needed to make sleep a priority.  So I set my bedtime earlier.  I didn't snooze the alarm when it went off in the morning.  I may not have realized it at the time, but I was focusing on one goal at a time and it was really a push goal.
Let's say on my list of goals I also wanted to lose weight (of course).  We know that sleep impacts weight loss and that when we get more sleep we get more energy.  Plus by working out we get more energy and tend to sleep better.  It's all a cycle that works together.
EAT THAT FROG
Another way to look at tackling the most important goal first is to eat that frog.  Have you heard of that?  It's the concept of eating the most disgusting or the hardest task first and once you do, the other tasks are easier to swallow.  I highly recommend getting the book it can really make a huge difference in how you handle to do lists and life in general.
Let's go back to the sleep cycle as it relates to weight loss for a minute…I could write a whole book on this but in short; setting your alarm an hour earlier in the morning and working out would be eating the frog.  Most people don't want to wake up early and workout on top of that.
But I can tell you from personal experience that after about a week of doing the hard thing first, it's much easier everyday after.  Then guess what else happens?  You have more energy throughout the day and your body naturally wants to go to bed earlier.  You get more sleep and reset your body clock and voila!  Mission accomplished!
Be clear and specific about each goal
Each goal that you do decide to address needs to be clear and specific. You should use the vision board to create a very specific goal to follow such as losing at least two pounds each week or working out three days a week. This is going to help to keep you motivated and see the fastest progress.
The less clear you are about the goal, the less effective it's going to be. So think of your goal, then break it down as much as you can to get specific.
Think of it like when you're in the market for a new car.  You don't just want any car right?  More than likely you have an ideal car in mind.  But you may not require it to be a Hyundai Santa Fe for example, but you know you want a compact SUV.
Then you probably think about what's important to you in a new car:  gas mileage, cargo space, safety features.  As you keep thinking about this car you now have put a picture in your mind as to the style of car you want.  As you then do your research you further narrow it down to the car that you want.
That's how I decided on the Toyota Highlander as my dream car.  I know a lot of people who their dream car is very fancy or luxurious and that's cool, mine is legit a Toyota Highlander.  Why?  Because I wanted a crossover with good mileage, cargo space, safety features with the option of using the third row when it's necessary but without driving a huge SUV.  And as I was researching it came down to the Highlander as being it.  And now I'm obsessed with it!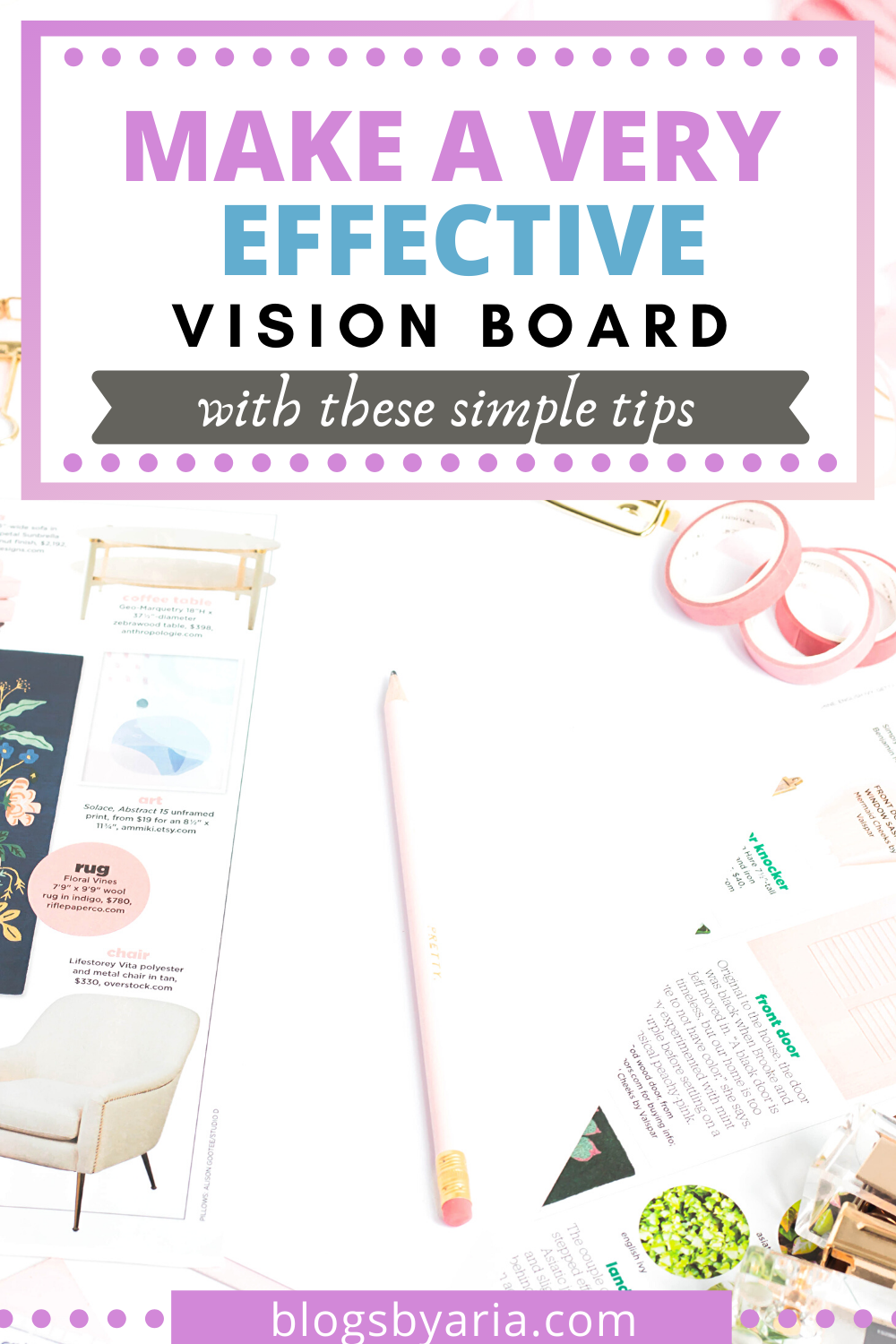 Know that you'll need to put the work in
Vision boards are an extremely effective tool but they aren't going to transform you unless you put the work in. Use the vision board you create to motivate you to make the changes necessary.
Once you break down your goal you may find that there's a lot of mini goals which first need to be completed.  Figure out what those smaller goals are so that you can put in the work to get them done so then you can attack the big goal.
The key to becoming the best version of yourself is focus. You need to be 100% focused on achieving the goal that you set. This means you're going to really need to want it. If you don't want it badly enough, you're not going to be willing to put the work in that's required to achieve it.
 When Beyonce is preparing to go on tour do you think she's doing all the things that aren't specifically about the tour?  She showed us when she was preparing for Coachella that she was in the studio working on choreography for hours a day.  She was involved in every aspect of the show as well as eating right and working out…she was literally eating, breathing and sleeping that performance.
And guess what?  It paid off.  I've been to a few concerts in my life and I've seen some good shows.  I've even seen Beyonce early on in the days of Destiny's Child, I still want to see her in person but let me tell you…Beyonce's Homecoming performance was the absolute best show I have seen!  Her work and focus and dedication to detail is visible through and through.
We can do the same thing when it comes to putting in the work to accomplish the goal.  So many of us fail at our goals because of one reason:  we fail to put in the work consistently.
Yes I know I'm preaching to the choir…I'm in the choir too!
Consider creating an anti-vision board
Have you ever heard of an anti-vision board? It's basically a vision board which consists of the things you don't want. The idea is that you'll look at the board to motivate you to avoid whatever is on it.
An example would be if you're looking to lose weight. You could place images of yourself at a larger weight, or pictures of organs which have been damaged by obesity, giving you a powerful motivator to get healthier.
Anti-vision boards work just the same way as a traditional vision board. You could even create one of each board so you can see what you don't want, followed by how to achieve what you do want.
Think of this as the "this is your brain on drugs" campaign from back in the day.  It works for some and for others not so much.  But it's definitely an option if you know that this type of "brain trick" will make you look at things differently.
Have you ever been overweight and see a picture of yourself?  You look at yourself in the mirror every day but seeing that picture causes you to do a double take?  For some reason it was that catalyst to inspire you to make changes.  That's the effect an anti-vision board can have.
Focus on your feelings not your thoughts
When putting together an effective vision board to create a new you it's easy to get ruled by your thoughts. The trouble with that is your thoughts can often be filled with doubts and limitations. So it's best to focus on how you feel and how the goals you're setting will make you feel.
By focusing on your feelings rather than your thoughts, you'll be able to create better and more fulfilling goals.  Almost every law of attraction book I've read says to focus on feeling good.  Do whatever you can to feel good right now and as you continue to make that your goal, you'll begin to think better thoughts.
I know it sounds woo woo but it's the truth!
My Favorite LOA Books:
Vision boards can be a fantastic tool for helping you to transform yourself. As you've now discovered, there are a lot of mistakes you can make when creating an effective vision board for your goals. By familiarizing yourself with these mistakes, and following the tips above, you'll be able to create the most effective vision board to help you recreate your life.
Hopefully you found this post helpful!  I always aim to inspire you when you stop by my blog.  It's never too late to change your life and like I said earlier, now is the perfect time.  We're not all at home but many of us are and our routines are looking less routine.  But we can make new routines and when this is all done we can emerge a better version of ourselves.
That's what I've decided to do.  I've put in too much hard work to allow a few setbacks to completely derail my progress.  I'm here to encourage you and myself and I'll be right here cheering you on! ♥