Welcome to my tartan plaid and nutcracker Christmas living room!  Talk about a mouthful!  I've had so much fun decorating our living room for Christmas this year.  I knew that I wanted to build on my tartan plaid decor from last year and add a few more nutcracker friends to join the party.
I packed as much as I could into this space without going overboard.  Being able to decorate a new space is always fun and I feel like all of the years of daydreaming about decorating my home for the holidays are finally coming together.
There's been a lot of tweaking over the weeks so some pictures will have some elements that are no longer there!  That's a perk of decorating early right?  You have time to move things around.  At least that's what I keep telling myself.
*this post includes affiliate links for your shopping convenience, you can read more about affiliate links by reading my Disclosure*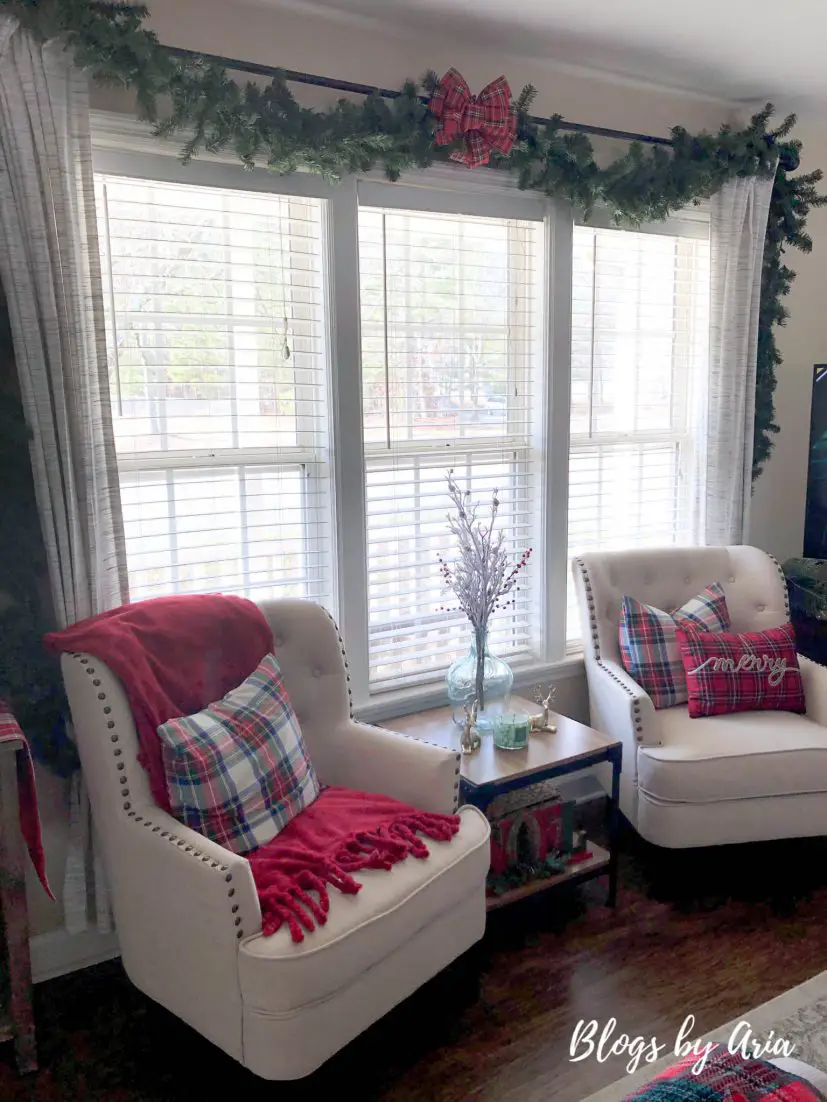 Photographing this area is not easy.  The floors always look distorted.  You'll be able to see it a little easier below.  I used pre-lit garland to frame the window and added a tartan plaid bow in the center.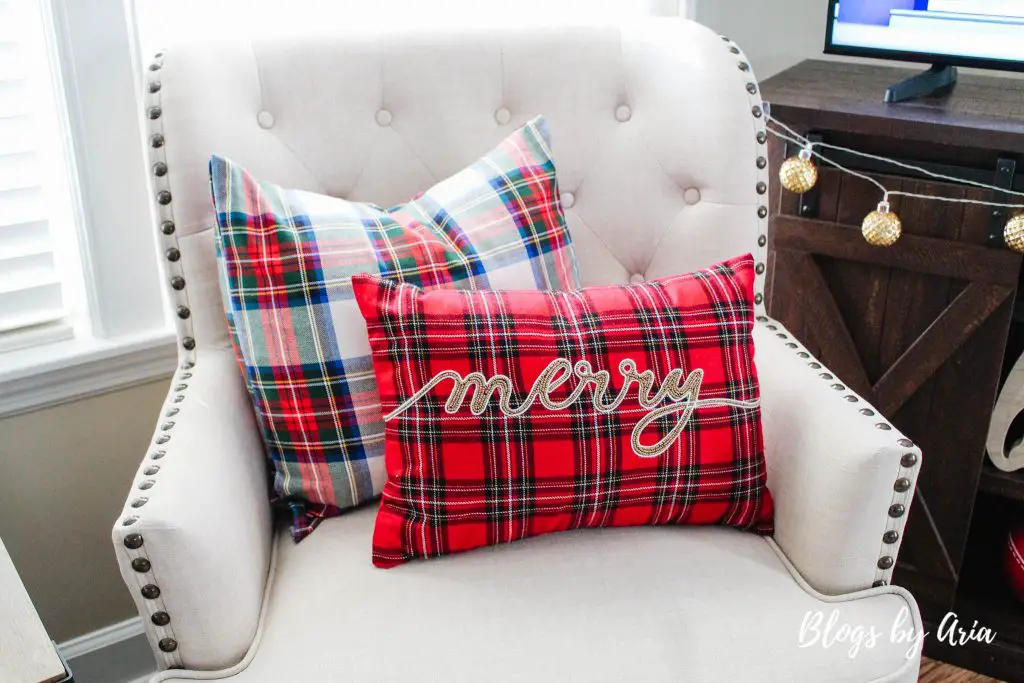 Adding these Stewart plaid pillows to my accent chairs is the perfect touch to go along with my merry tartan plaid pillow.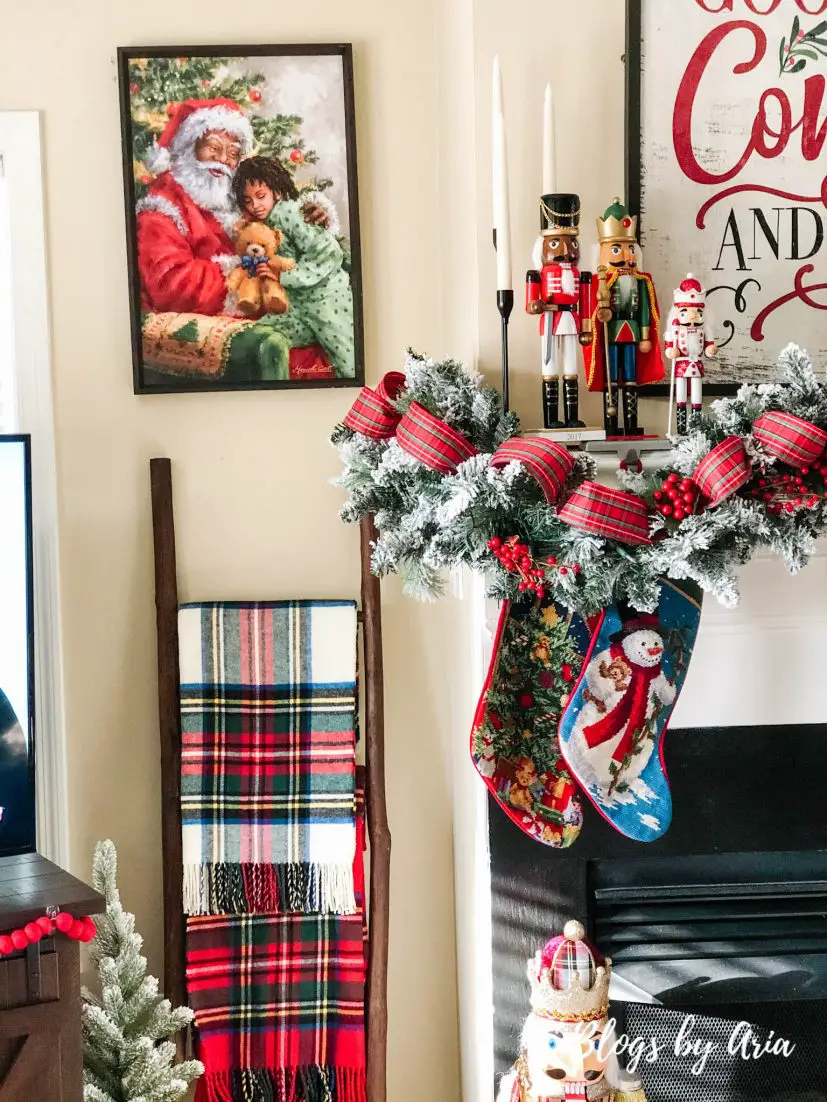 This is one of my favorite shots of our living room.  But you'll see that it's changed up already.  This black Santa artwork is a Hobby Lobby find.  They had it last year and I didn't grab it, so this year I didn't want to take my chances and grabbed it early on.  Representation is important to me and I think this artwork was well done.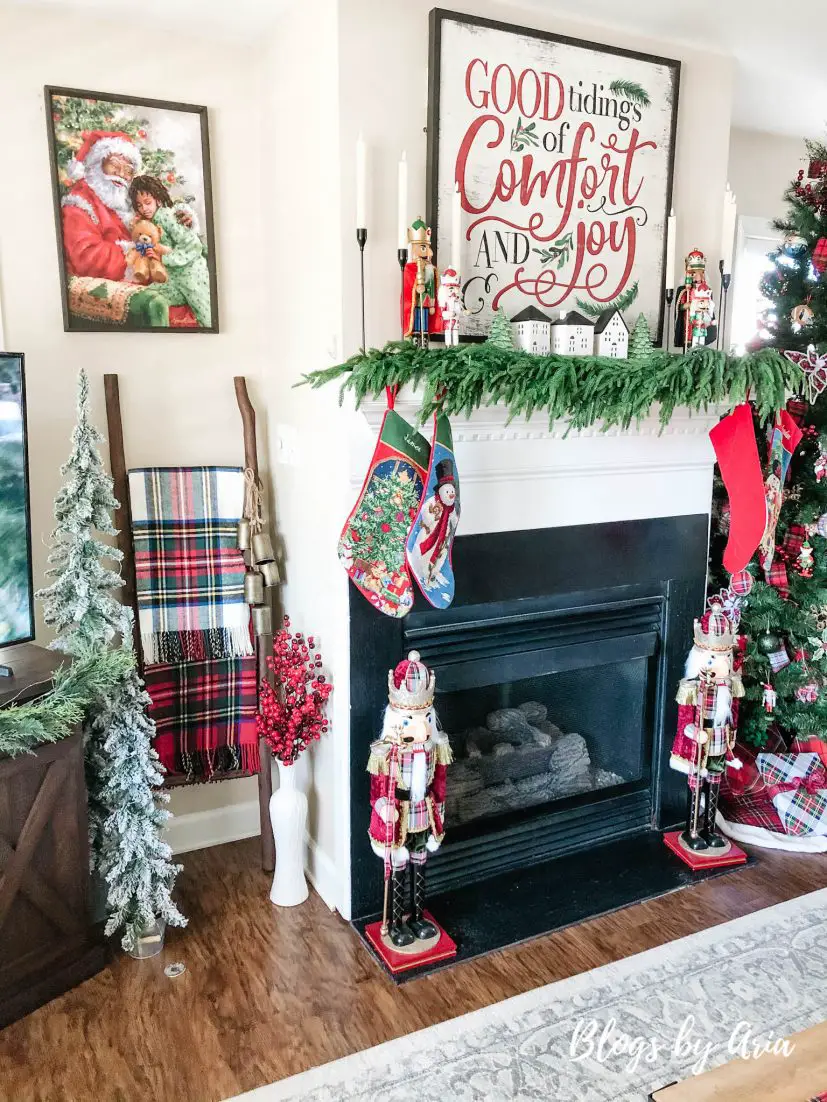 Originally I used flocked garland on my mantel but I felt it was too heavy and bulky.  Once Kirkland's had their norfolk pine garland available to purchase (they advertised it before it could be ordered online or bought in store) I was able to switch out my garland.  The best decision!  This Norfolk pine garland is another option available now.
I used these skinny flocked trees to hide the cords for the TV.  And if I could add twinkle lights to something I did!  On almost everything!  Hopefully I can share a few pictures of everything lit up at night.  I added some antique gold bells to my blanket ladder too.  They're a big trend this year and I don't see them going away anytime soon!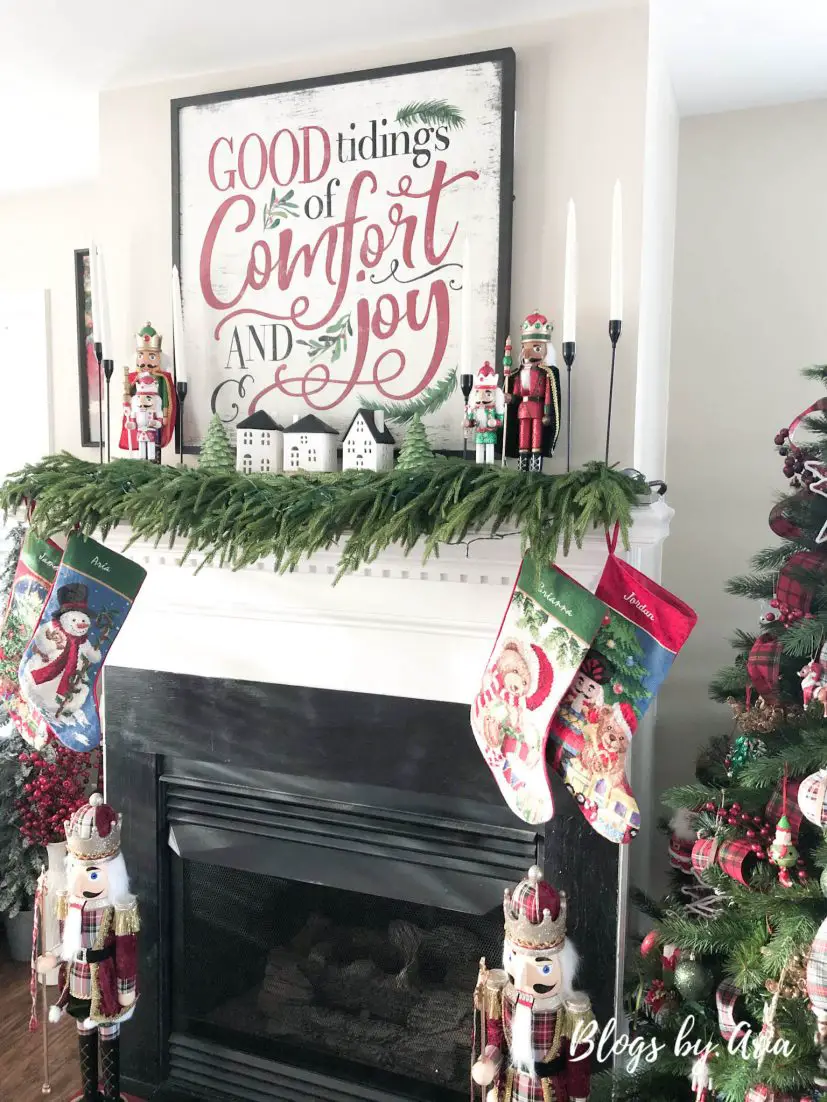 Aside from the Christmas tree, the focal point is my Good Tidings of Comfort and Joy artwork.  I love the slight distressed, farmhouse feel to it.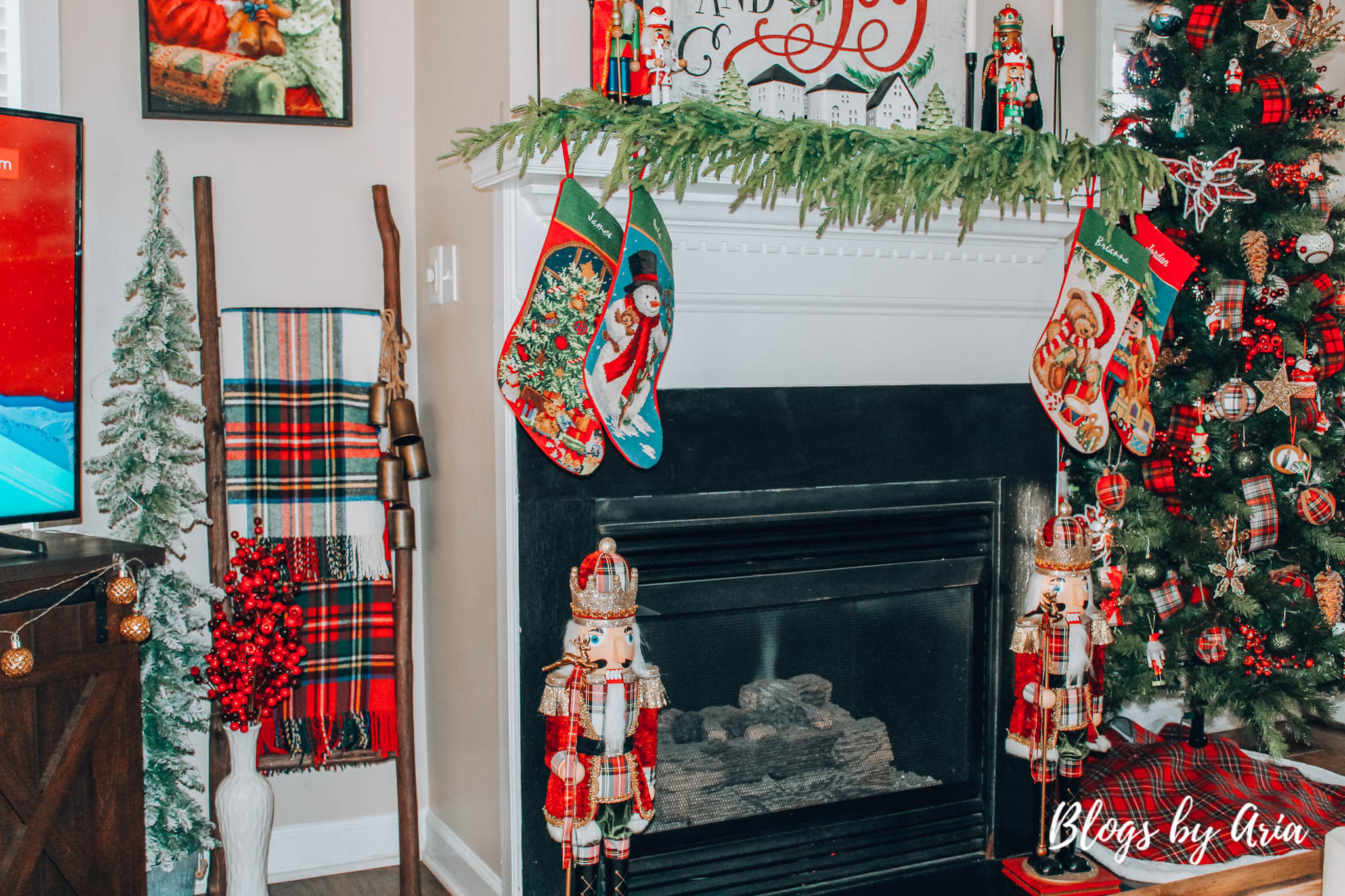 I like to play around with different filters and presets so I included this shot.  It gives the space a moody vibe.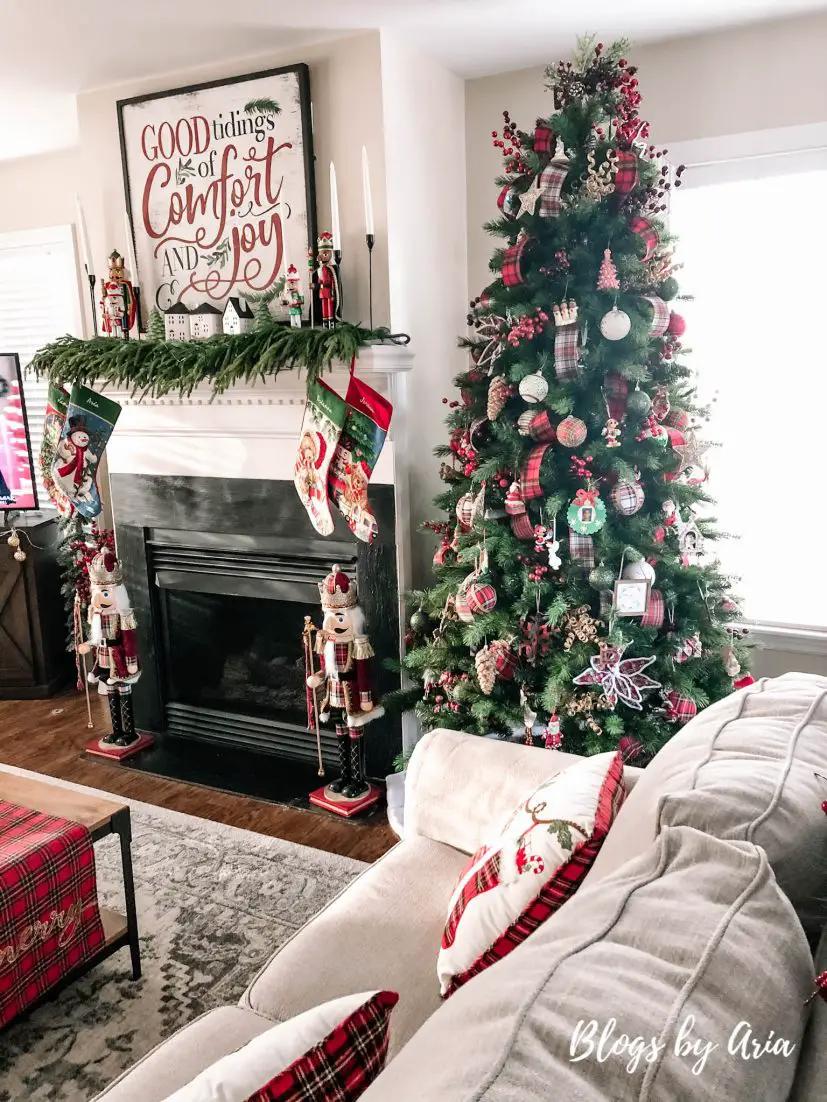 You can see more details about my red plaid Christmas tree here.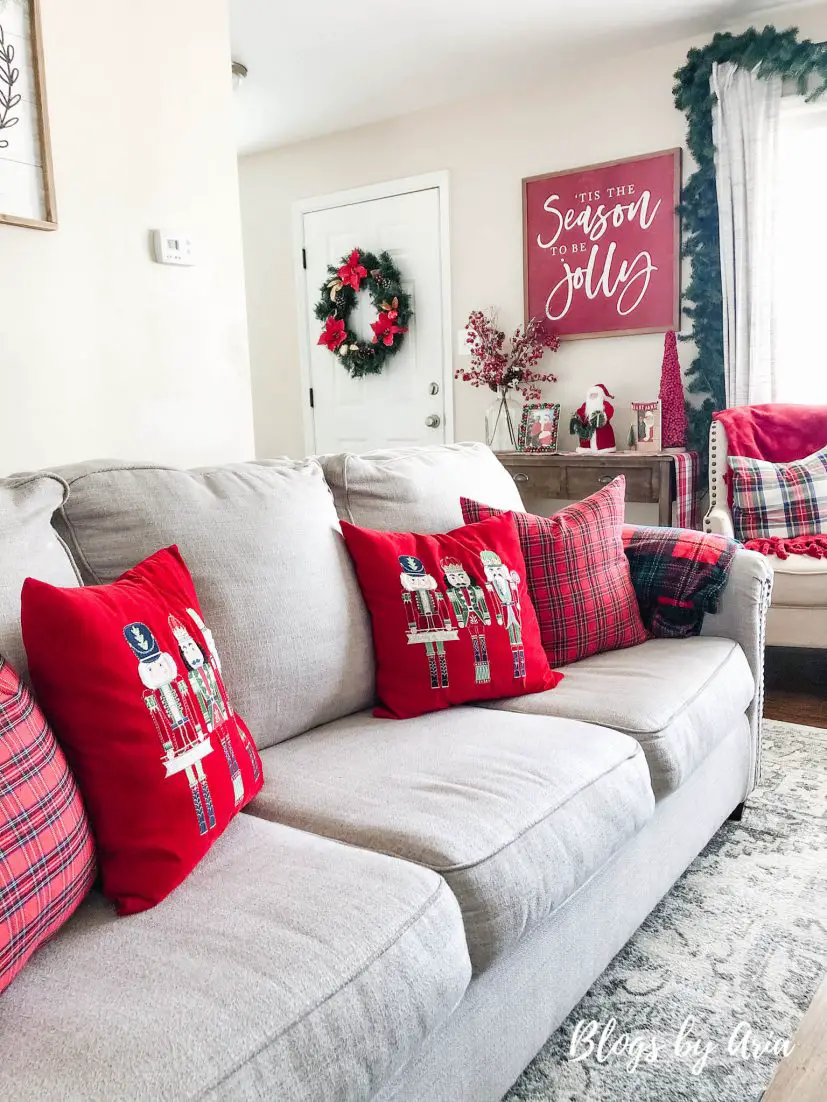 tartan plaid pillow | tartan plaid throw
My nutcracker and tartan plaid pillows are on our sofa along with my tartan plaid throw.  Everything here I got last year.  I shared the details of my entryway styled for Christmas here.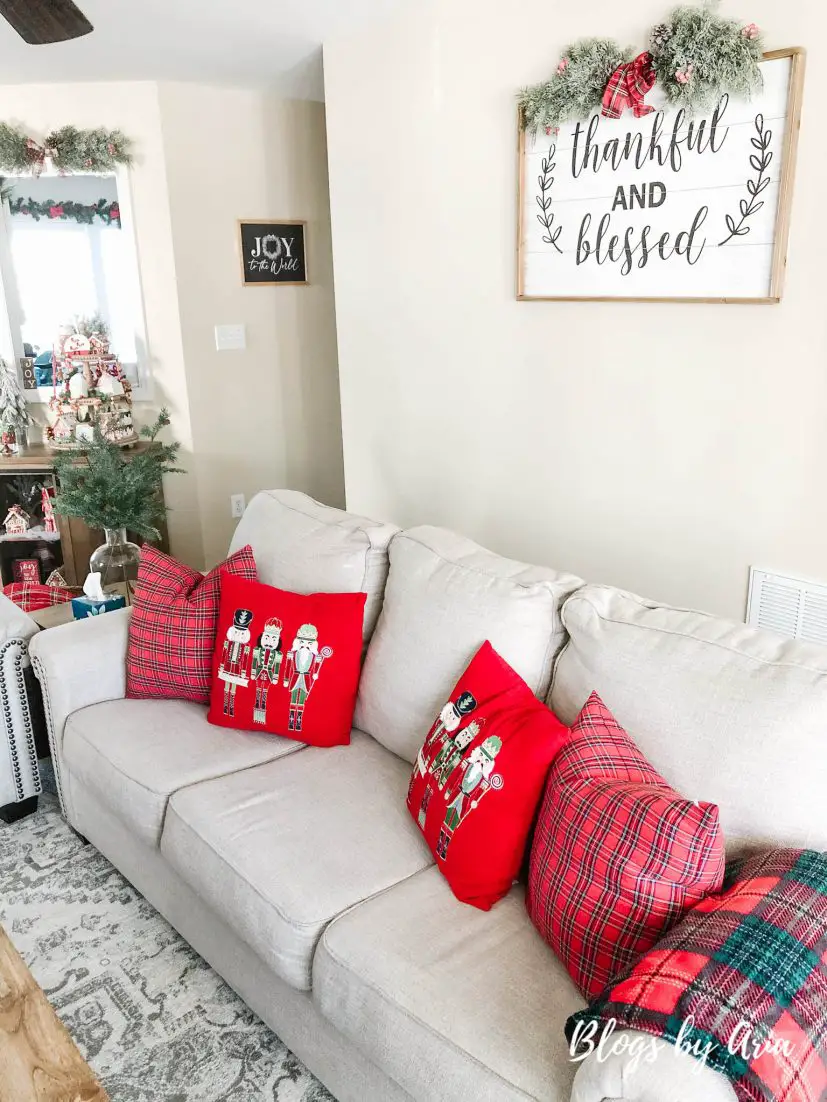 In my budget decorating post I shared that I like to add stems on artwork and doorways.  Such a small touch but it makes a big impact.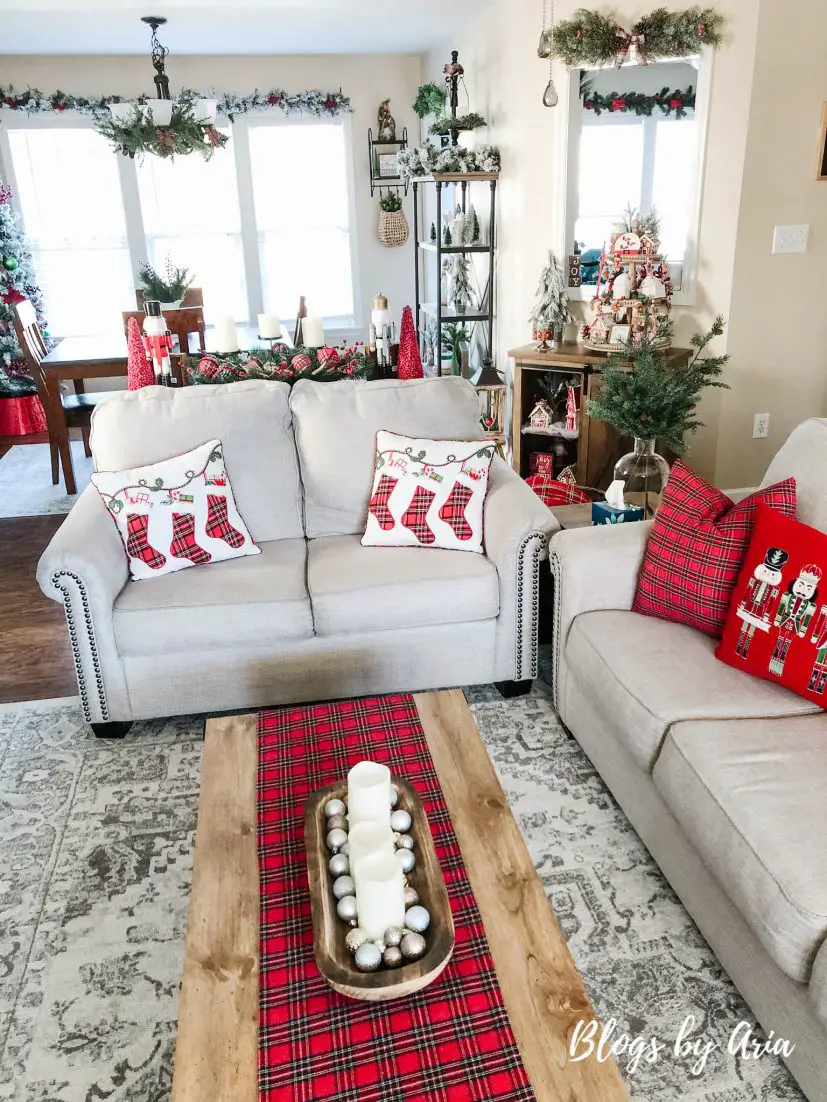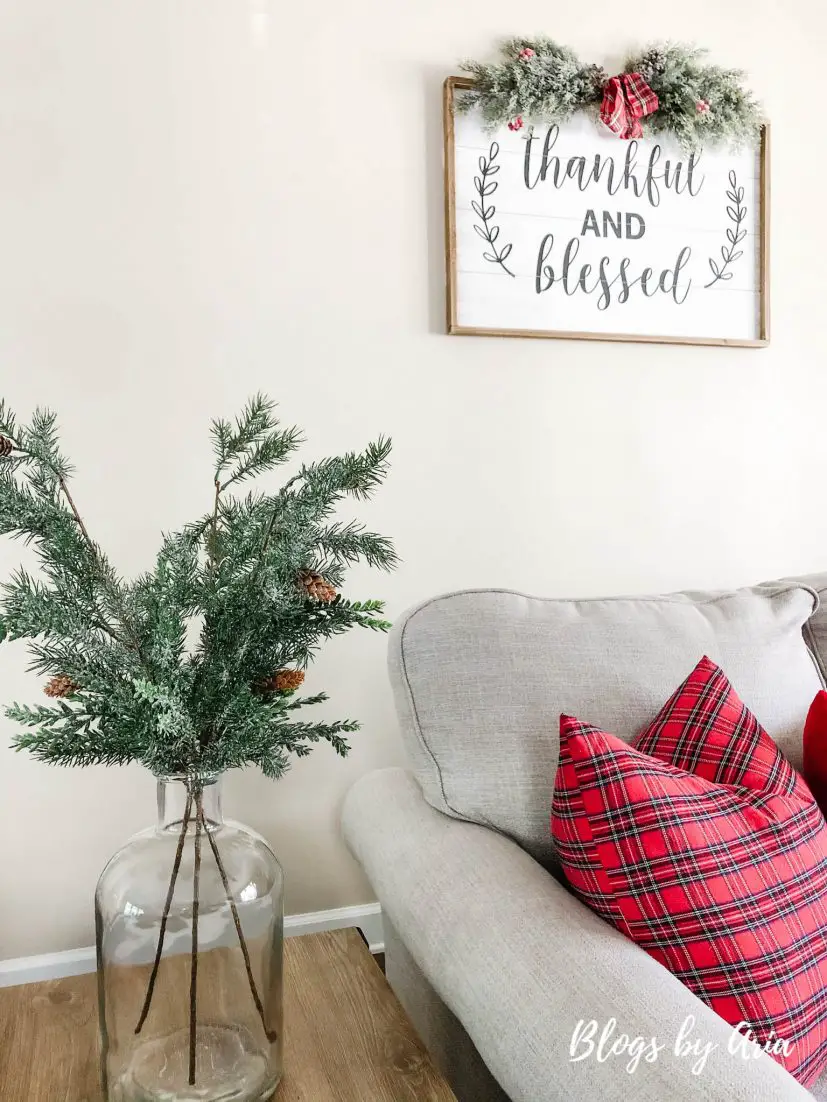 I love these simple green and pinecone stems I got from Michael's.  They're an easy way to add a festive touch without a lot of work.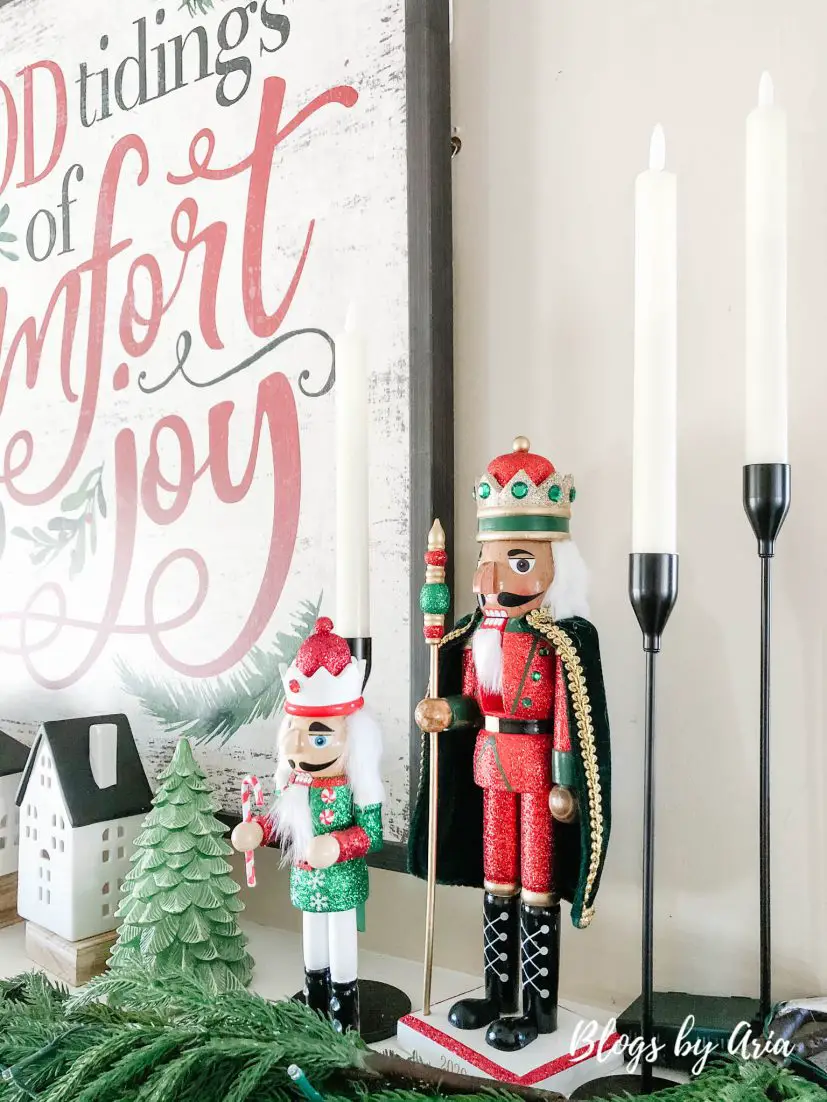 white houses | candlesticks | candles
My newest nutcracker is so sparkly I love him!  Almost every year I get one of Target's nutcrackers.  Although I don't have the 2019 nutcracker for some reason.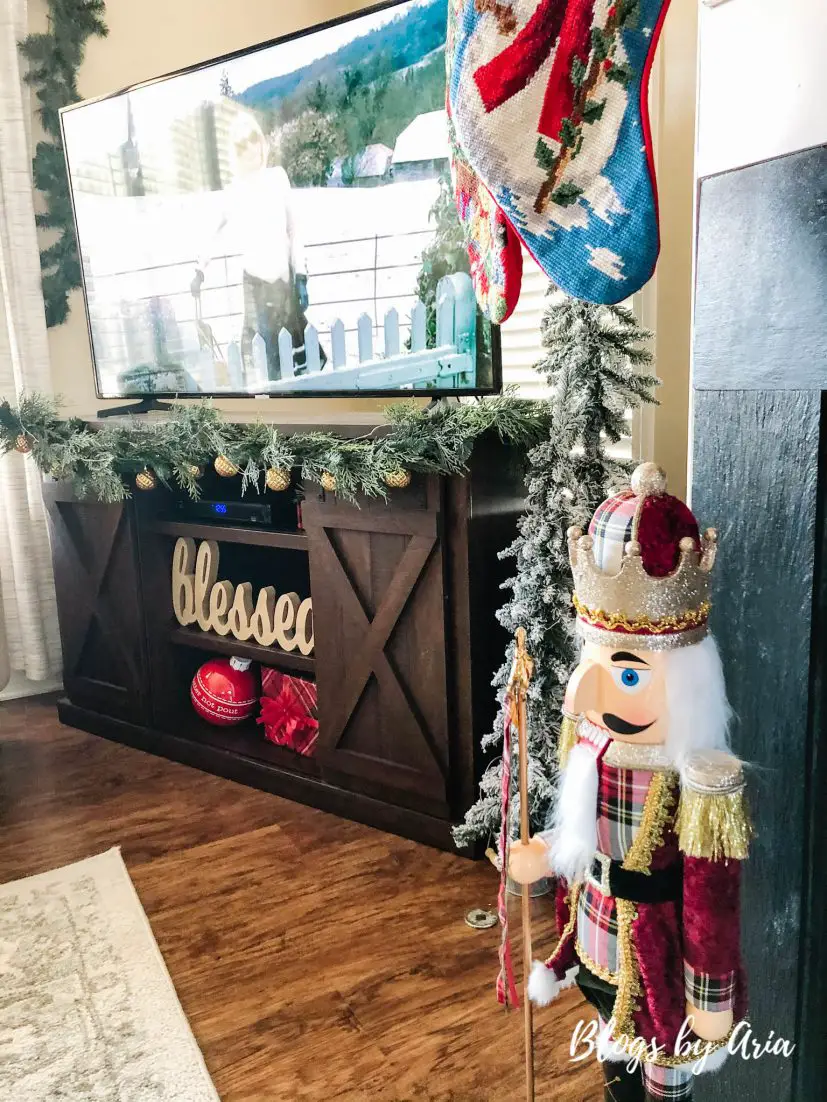 My two new nutcrackers this year are standing guard of the fireplace.  I love that I found them with the tartan plaid print uniforms.  That was definitely a happy day when I found them!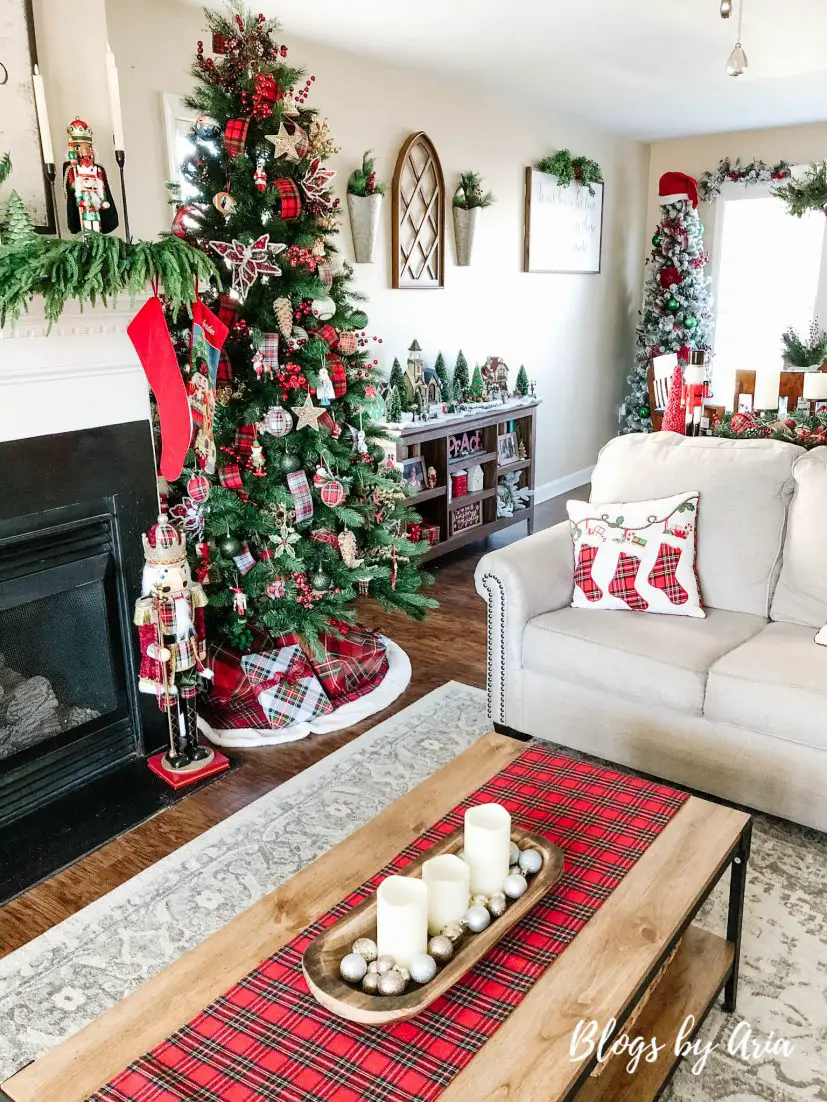 My coffee table centerpiece is a dough bowl with candles and mini ornaments.  Very simple and elegant.  Takes no time at all to pull together.  I got the tartan plaid table runner last year.  I shared my flocked dining room tree recently if you want to see more details about that.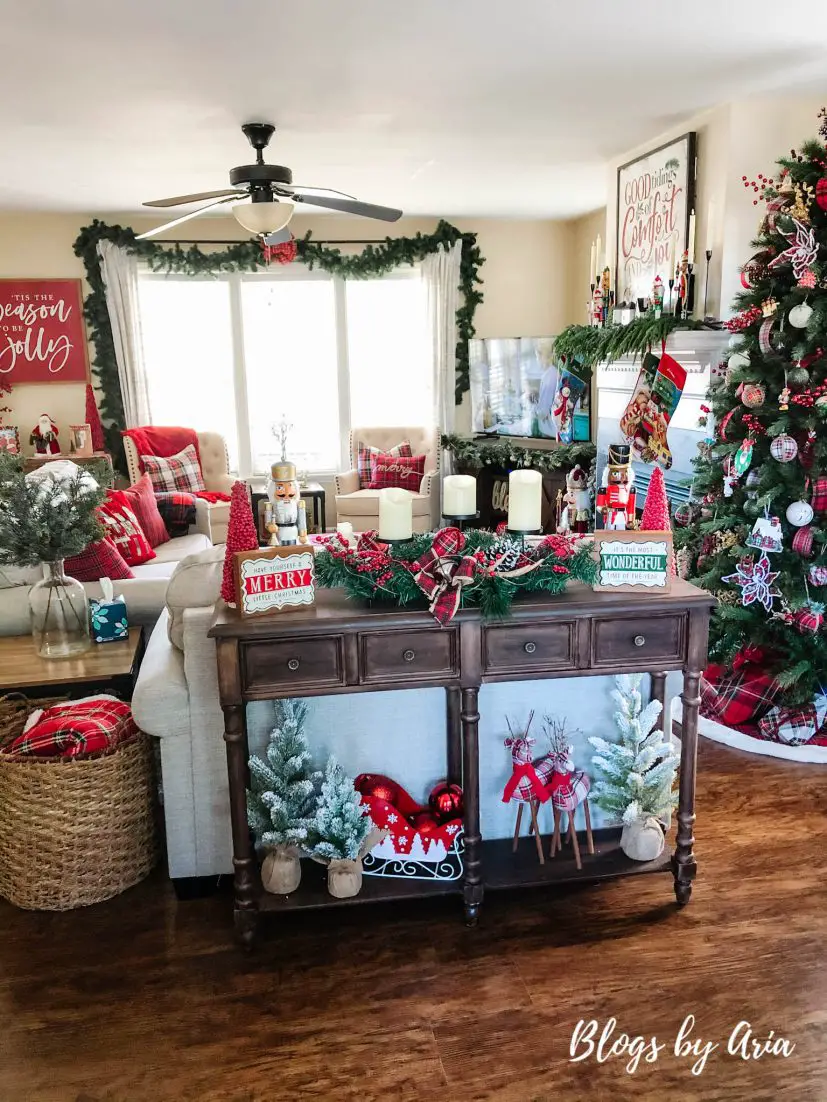 From this view you can see the garland over the window better.  And you get to see my sofa table decorated for Christmas!  This area took a while to come together.  Originally I wanted to put my Christmas village on this table but it's too narrow.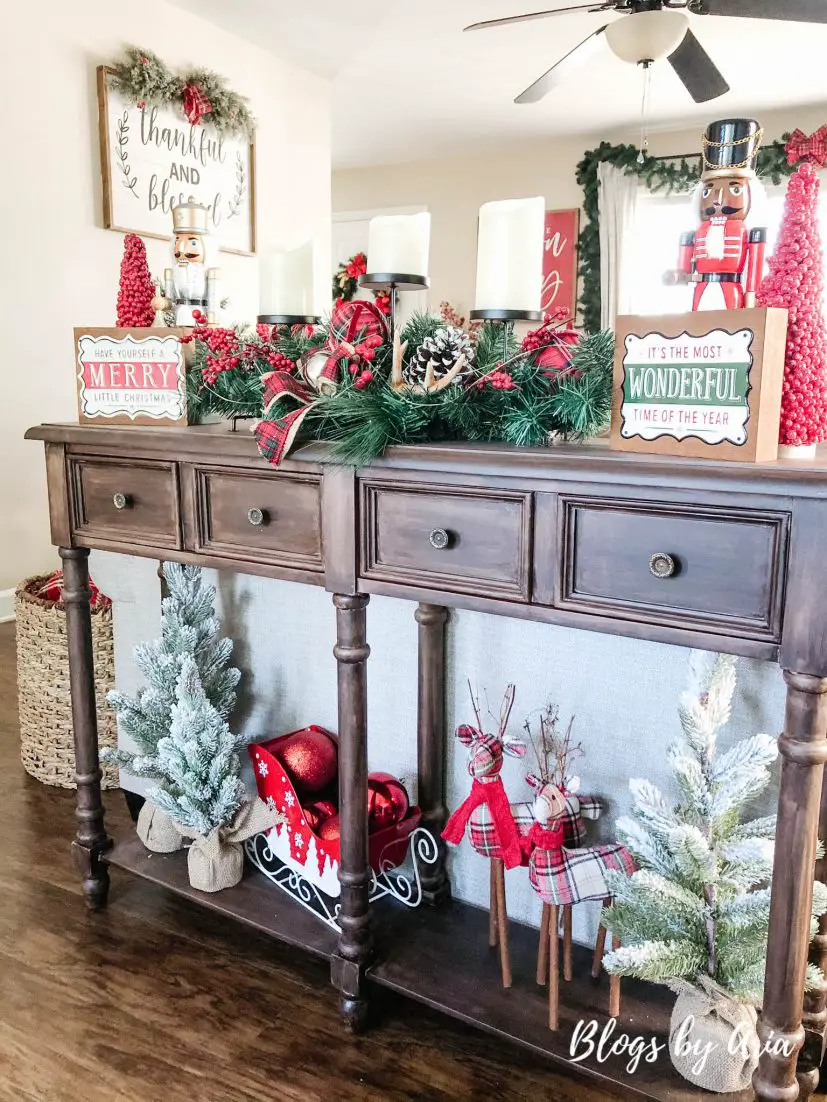 On the bottom I have a couple of flocked trees, plaid reindeer and a sleigh I filled with ornaments.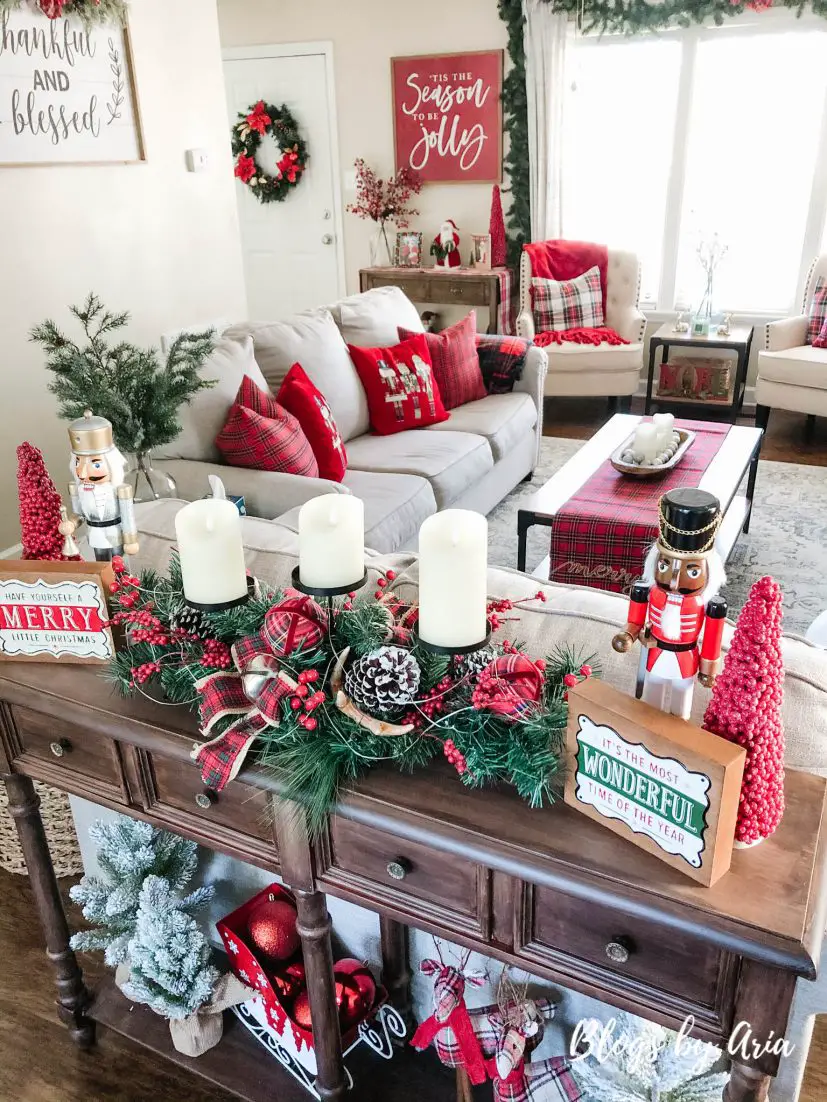 This pretty centerpiece was a Home Goods find and I had it on my coffee table.  It's moved around several times and has found its home on this console table.  I flanked it with a couple of nutcrackers and berry trees.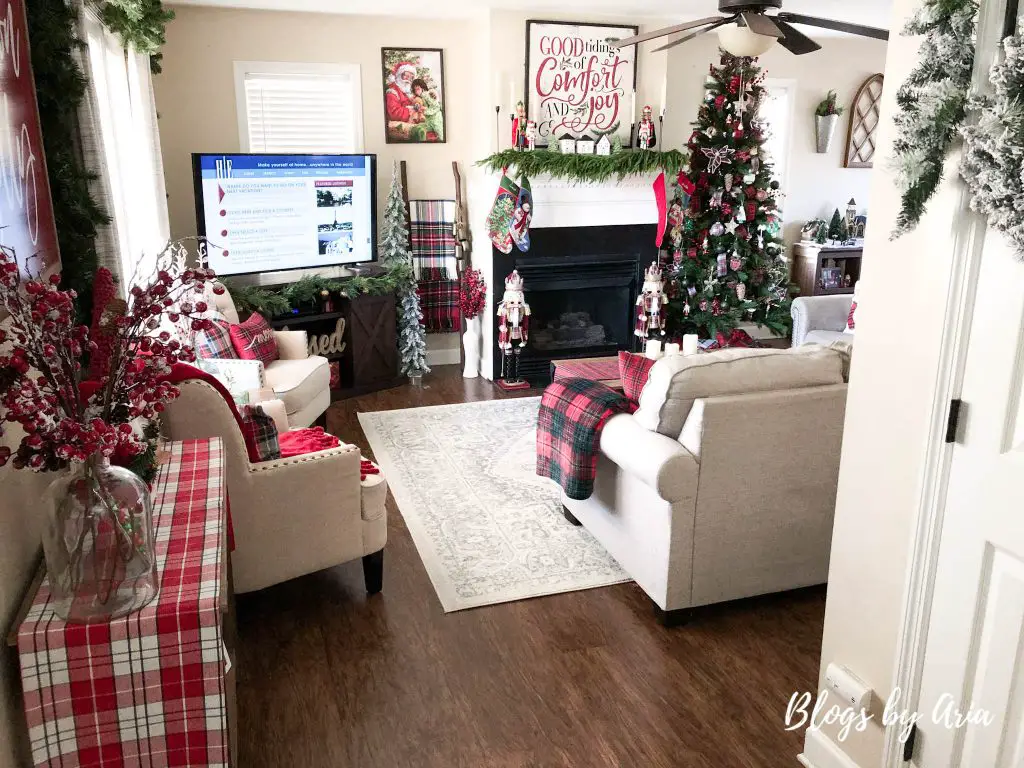 Whew! I know that was a lot of picture overload!  But there's so much to share and so little time!  A couple of weeks ago it dawned on me that this is a picture of what I saw in my mind years ago.  Years ago when I was so very unhappy with where we lived and where I was in life.  I just wanted to have a home that was decorated beautifully for Christmas.  I saw the tree and the fireplace with our stockings and I realize that now I have manifested that vision.
Not only am I grateful to be able to decorate my home for the holidays and enjoy this space, but I am so happy to be able to share with it with you!  So this is truly a dream come true for me and I hope you leave a little inspired too. ♥
CHRISTMAS LIVING ROOM SOURCES