Very slowly but surely I am making progress in decorating my home for the holidays.  I started early in hopes to share early, however it seems all I did was start early.  Earlier this week I shared my Christmas master bedroom and that's the only space that's completed so far.  There's still a lot of work to be done.  Fingers crossed I can make a lot of headway this week.  One space that I did complete recently was my Christmas entryway table.  So let me show you how that turned out and then I can get some more decorating done.
*this post includes affiliate links for your shopping convenience, you can read more about affiliate links by reading my Disclosure*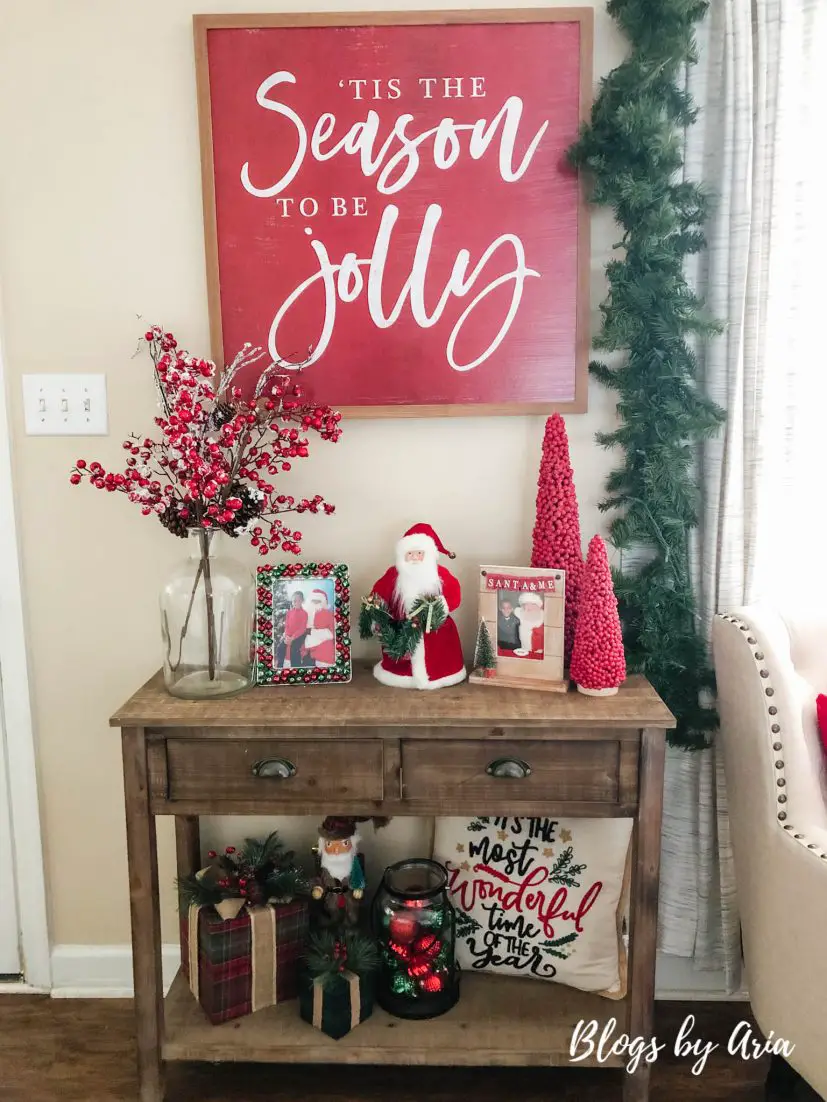 wall decor | entryway table | glass vase
Starting with my favorite Christmas sign that you'll recall from my living room last Christmas and I also shared it in my Kirkland's Christmas Favorites post.  I knew that I wanted to do something different in our new space this year and thought it would be perfect over my entryway table.
I work from home from my dining room table and I love seeing this view every single day.  It's just so festive and fun!
One area that I struggle with especially for the holidays is greenery and floral.  I just don't have that knack of pairing different stems together and creating a masterpiece.  That's okay!  When I was creating this space I knew I wanted some kind of floral arrangement on this side to counteract with the garland hanging from my window.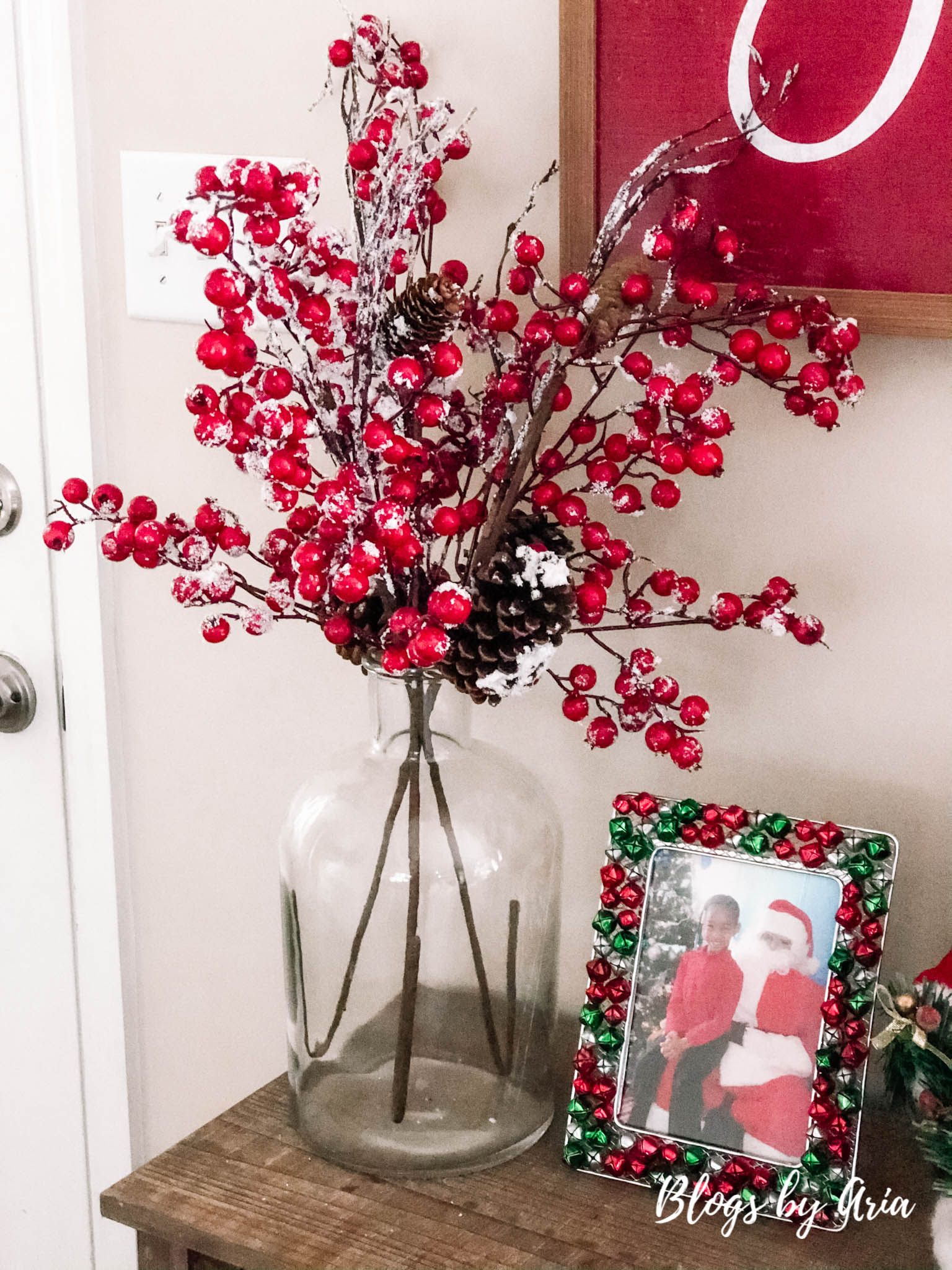 When I was in Hobby Lobby my eyes were drawn to these snowy berries. (similar berry stems)  I love the look of them!  I used them in my glass vase that I got for under $15 from World Market.  Unfortunately you can't see the detail of my daughter visiting Santa Clause in kindergarten.
We don't have an annual visit Santa tradition in our family.  But both of my kids got to see him early on in elementary school and I love these pictures.  I've had this jingle bell frame for years now but Kohl's has a very similar option too.
Santa frame | tall berry tree | berry tree
On the opposite side I have my son's Santa picture in this adorable Santa & Me picture frame.  To keep the height somewhat symmetrical I added these berry cone trees.  The Santa in the middle is from Hobby Lobby.  Technically I think it's a tree topper.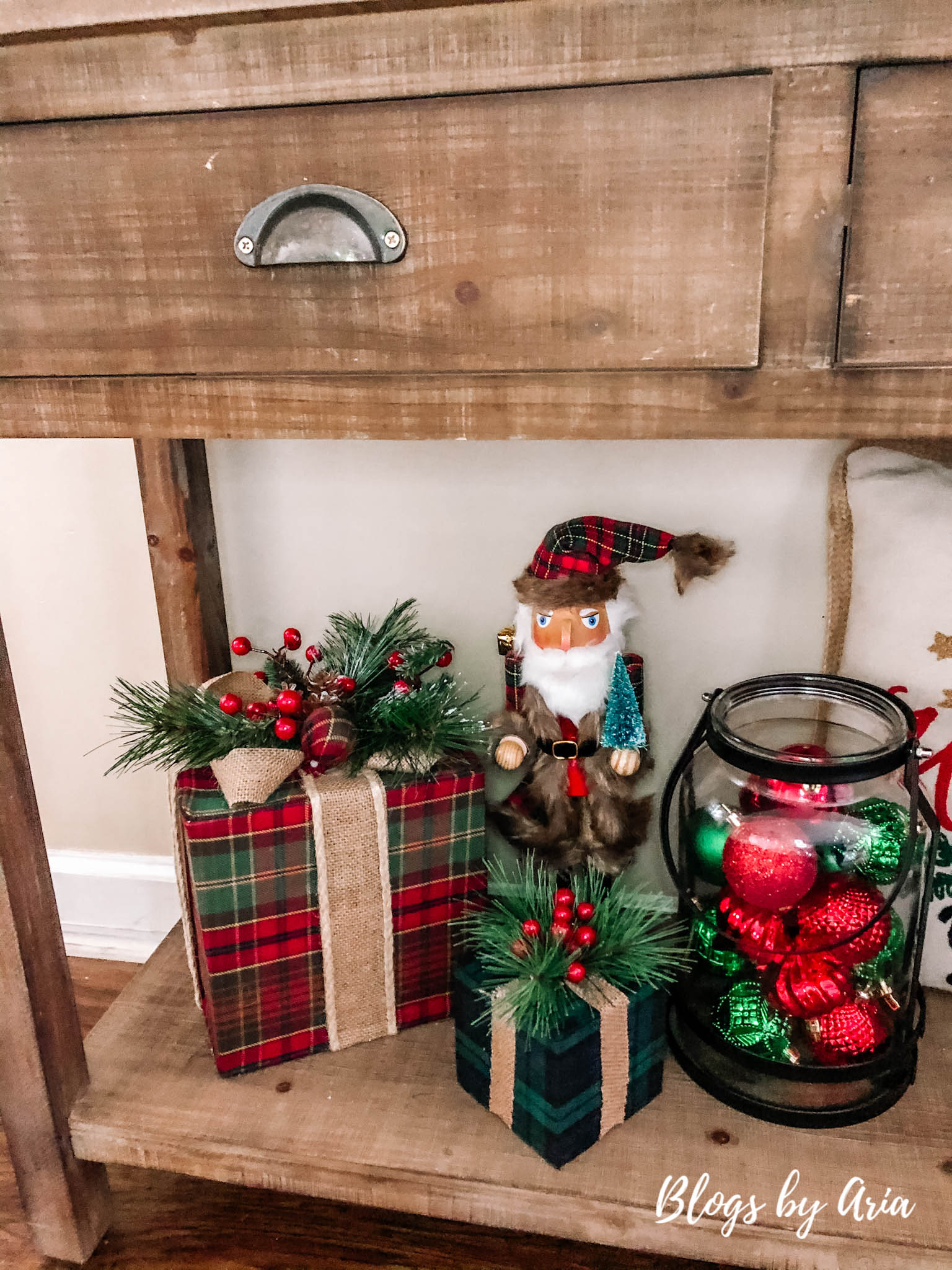 Coming down to the bottom of my entryway table I had so many ideas that I tried in this space.  Ultimately I chose to use these plaid wrapped gifts.  The large one is from At Home stores and the small one is actually an ornament from Kirkland's.  It's a pretty big ornament!
Another At Home purchase was this nutcracker.  Clearly, if you know me you know I don't need anymore nutcrackers.  But I liked that he's decked out in my tartan plaid so I had to scoop him up!
Typically At Home is a buy in store only kind of store, but since the pandemic they offer some shipping and buy online pick up in store options which is great!  I don't shop there a ton but for Christmas I usually shop once, for one large purchase with my birthday coupon.
Also I added some simple ornaments to my glass lantern.  It's a simple way to add a festive touch on a budget.  The ornaments I got from Walmart for under $5 for the box and the glass and metal lantern is $20 from Kirkland's.  When I got it, it was half off but you can almost always get at least 15% off with their weekly coupons and sales.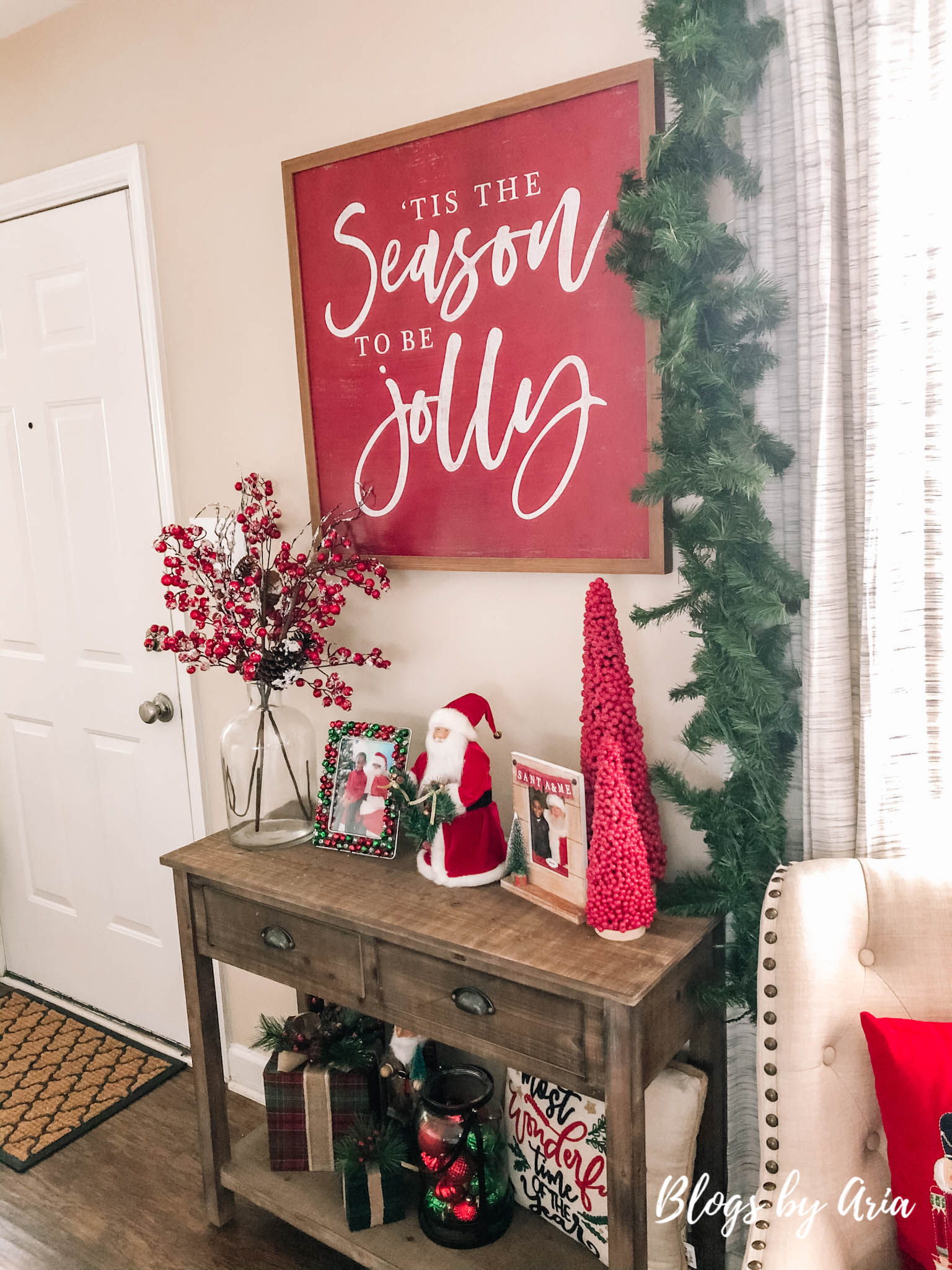 On the right I have this pillow I got from Big Lots last year.  To be honest, I just wanted to cover the outlet but I'm not loving this pillow in this spot.  So it's definitely subject to change.  If I do change it, you'll see it when I share my Christmas home tour.
If you've been following along on Instagram you know my love/hate relationship with Command hooks in this house.  They're getting on my nerves!!  I need to find a way to streamline the garland coming down from my window because here it's way too bulky.  At night it looks beautiful though, so maybe I'll share a few night time pictures once all of my decorating is complete.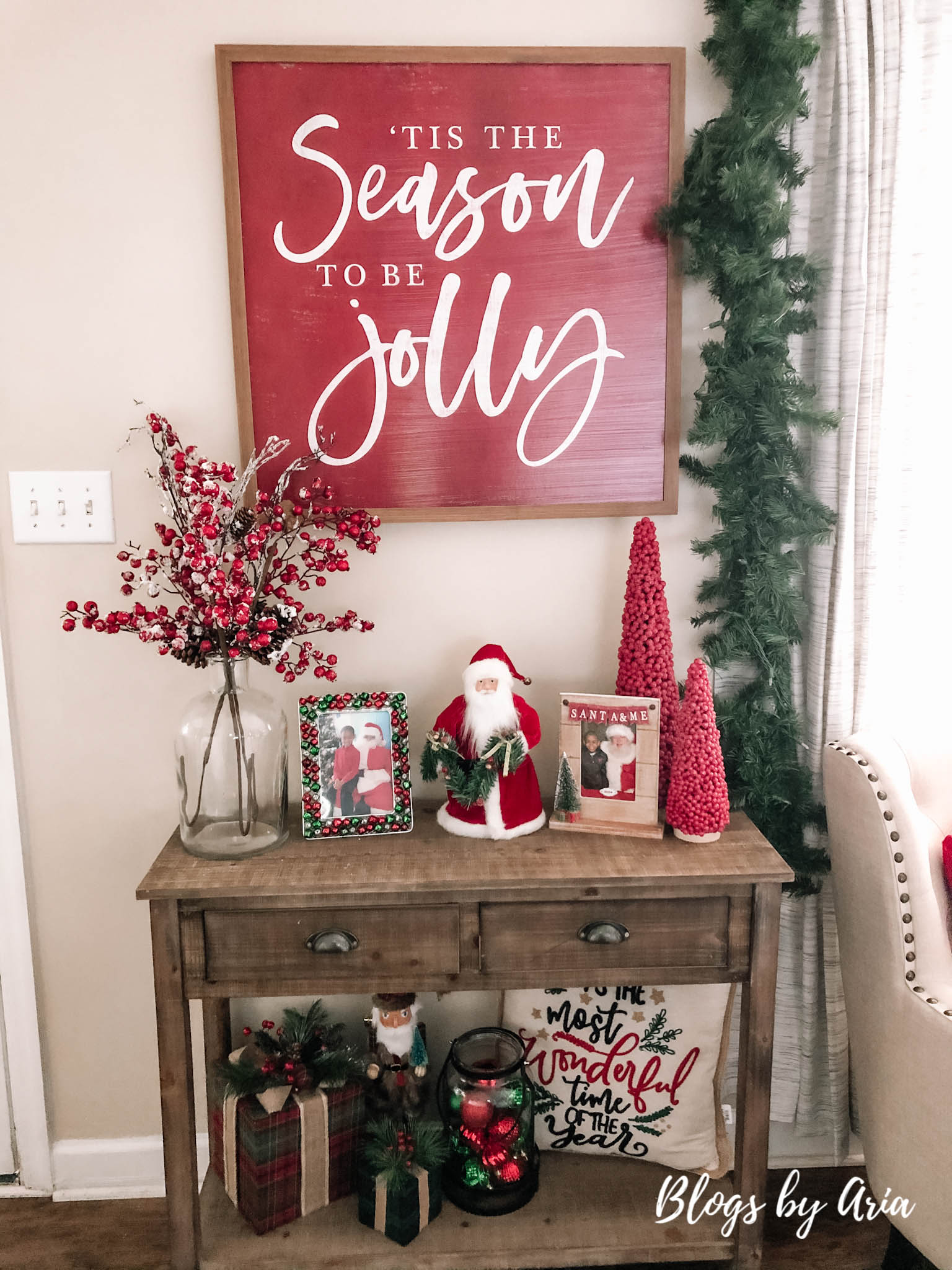 Overall I love how this entryway table has turned out.  I did want to find a simple table runner but I'm okay if I can't find one.  Having at least one space finished downstairs has helped me have a sense of direction with the rest of the main floor.  I'm ready to be done with the decorating so that I can sit back and enjoy it.
I really want to get better with my photography.  To put in so much time into the decorating I don't like when it all doesn't come out with my pictures.  Even so, I hope you found some inspiration and ideas for creating an entryway that's fun and festive for the holidays.  Although this is my entryway table, this works on any accent table wherever you have it located.  Or on a bookcase or bookshelf!  Endless opportunities!!
One down, so much more to go!  This weekend we're expecting warm weather so I want to go ahead and get our front porch decorated for Christmas.  And hopefully there's a lot of progress made everywhere else!  Fingers crossed! 🙂