I'm so excited to share my dining room decorated for Christmas with you today!  If you're new here, our main floor is an open layout so the dining room and living room are both open to each other.  I wanted the space to be cohesive and I'm really happy with how it turned out.  Here's a few Christmas dining room decorating ideas that you can incorporate into your home!
*this post includes affiliate links for your shopping convenience, you can read more about affiliate links by reading my Disclosure*
Of course the showstopper in the dining room is my flocked Christmas tree!  I shared all the details about the tree here.  And you can get a good overview of our dining room from our living room and see how it all comes together.
Originally I was going to mirror the garland from my living room window in the dining room.  But since I have the flocked tree in this corner, it actually works out great with the flocked garland over this window.
Even though I really did want another piece of Christmas wall art, I didn't really want to spend anymore money on anything seasonal.  The other week when Hobby Lobby had their wall decor on sale, I picked up this sign.  I love the sentiment but I also like the size.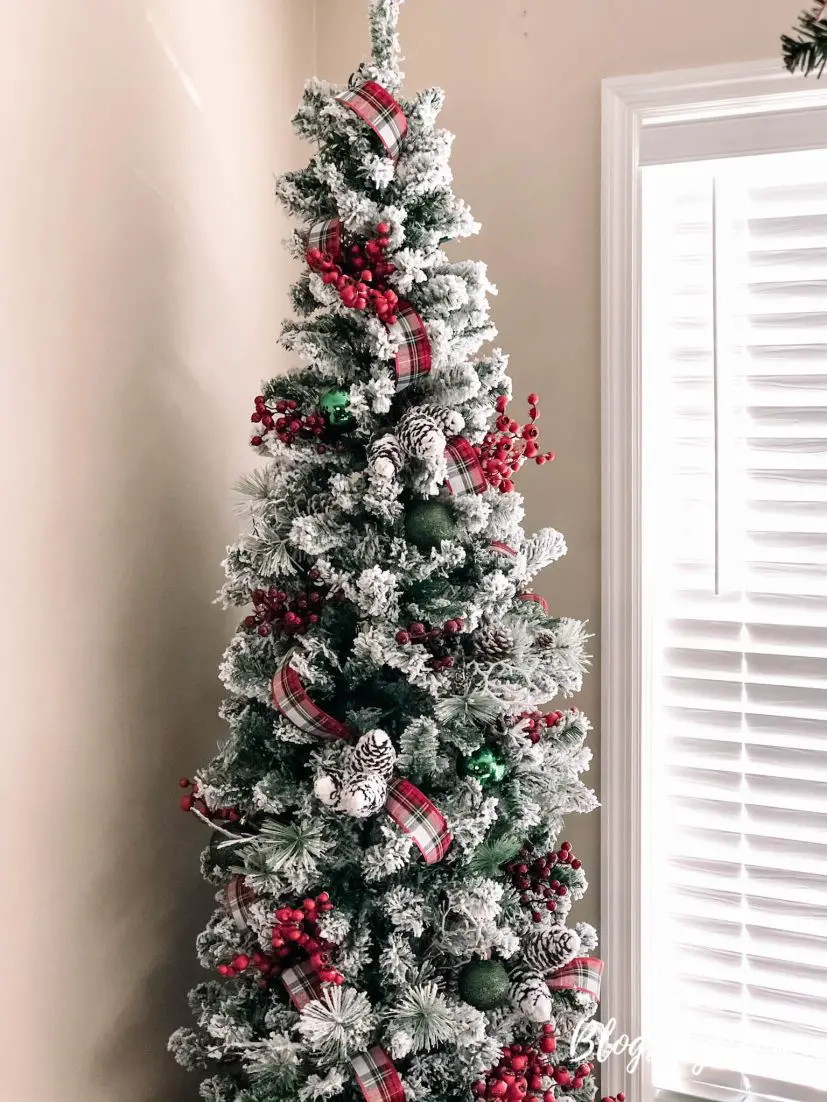 I had plans for my lanterns but never really loved how they turned out.  They're just holding up the wall at this point and I'll happily decorate with them again after the holidays.
CHRISTMAS STYLED SHELVES
bookshelf | scale | flocked tree
Without planning it, this bookshelf ended up being the one space that's neutral just like my fall neutral shelves.  I hate that almost everything that I got is no longer available.  Next year I think the supply chain will be a little better.  But it all started with these beautiful ceramic houses I got from Hobby Lobby.  I picked them up knowing they wouldn't stick around for long…and I was right.
I didn't really have a plan for where they would go but one day I decided this is where they'd live.  In addition to gingerbread houses and Santa mugs, turns out this year I've really gone all in with houses!
After adding the houses, the rest of the shelves kind of just came together.  I knew that I wanted to do something special with my scale.  A couple of mini wreathes and candles did the trick!  Adding some flocked garland with battery lights completes the space.
For some time now I've wanted to upgrade our nativity set.  The one set I found that I really liked was way over budget.  So I'll have that on my list for next year.  In the meantime, I fell in love with this figurine of Mary, Joseph and Baby Jesus.  It was from Hobby Lobby.
Also from Hobby Lobby is this Christmas Prayer piece.  I'd seen a lot of people share it in their Hobby Lobby hauls and I liked it but didn't feel the need to get it.  But once this space was going with a more neutral look, I knew it would be perfect in this spot.  I'm glad I was able to get it.
No corner left untouched!  In this space I added a little touch of Christmas decor with another nativity statue that I got from Hobby Lobby.  I like to get what I believe to be more culturally accurate representations of the nativity.
I love these simple wood and enamel signs I got from Michael's this year.  I ended up getting several when I realized I didn't have many signs.  You can see some of the other signs I used in my Christmas living room tour.
I finished off this little are with a hanging basket and Christmas greenery.
CHRISTMAS VILLAGE
I've always wanted a Christmas village and this year I made it a priority to get one.  We can add a new house each year.  I love this one from Costco!  It includes even more trees that I couldn't fit up here.  The houses are battery operated and work on a timer.
I added a set of twinkle lights to the larger bottle brush trees just to set the display off.
The only thing I haven't shared is the dining room table with the tablecloth I purchased.  Of course, it's tartan plaid!  The one I originally had was from Hobby Lobby and frankly wasn't good quality at all.  So I purchased another version at Kohl's.  But I'm going to wait until Christmas week to add it to the table.
This is the first time decorating a dining room for the holiday season but it certainly will not be my last!  I have big ideas for future Christmas dining rooms!  Once we have a larger dining room and a larger dining room table, I'd like to start playing around with creating tablescapes.
I've crammed a lot of decor posts into this week leading up to Christmas and I have a few more left to share with you.  It's a busy season but it sure is a lot of fun!