This post is sponsored by Elemis & Shopstyle. However, all thoughts and opinions are 100% my own.
I've shared a few times in the past that I've been really putting more focus into my skincare.  I'm approaching my 40's in a couple of years and making my skincare a priority is very important to me.  Recently I shared my skincare routine and included my favorite products that I've been using.
At the time I knew that I had a couple of items I wanted to add into my beauty regimen.  Recently I was given the opportunity to try out a skincare brand that I've been hearing a lot about recently.  In the past several months I've been hearing a lot about Elemis.  When they reached out to me and asked if I wanted to collaborate with them I jumped at the chance!  Elemis is the #1 luxury British skincare brand!
Today I'm sharing my initial thoughts and first impressions review of a few of the Elemis products that I have.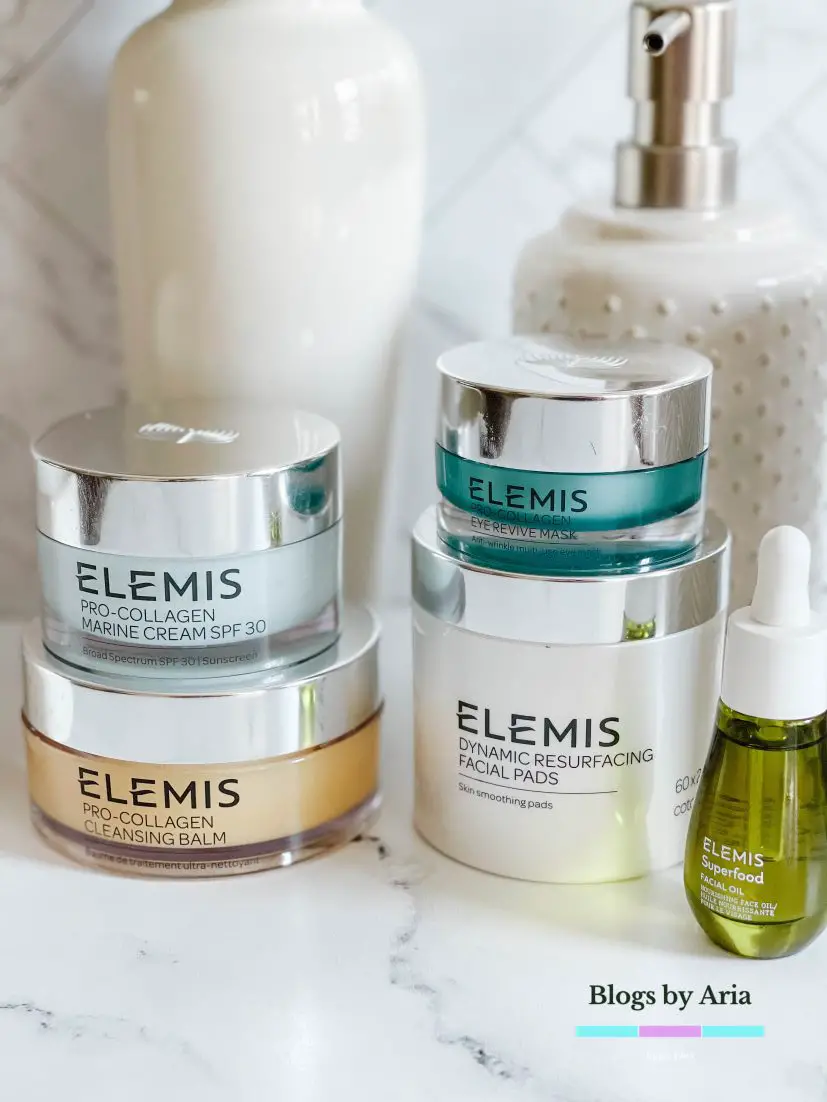 *this post includes affiliate links for your shopping convenience, you can read more about affiliate links by reading my Disclosure*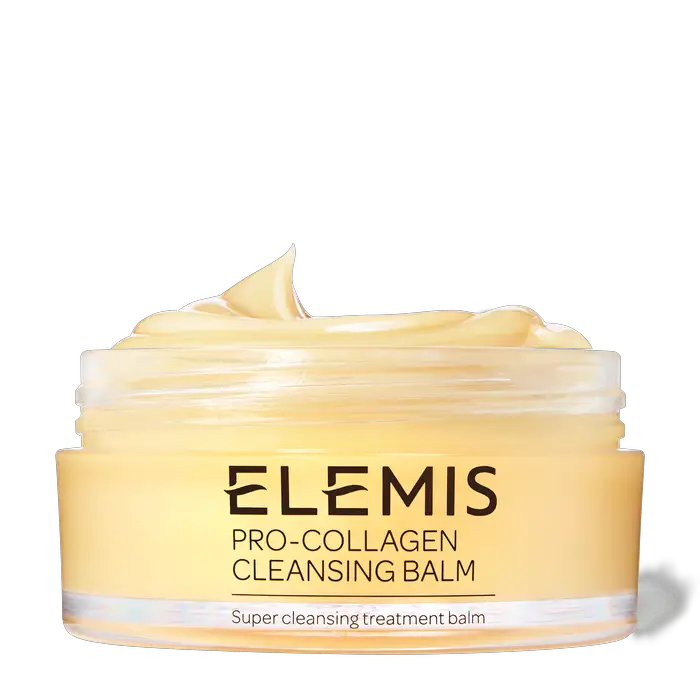 ELEMIS PRO COLLAGEN CLEANSING BALM – A nourishing cleansing balm that melts away makeup, daily pollutants and impurities for a soft and glowing complexion.  This is the product I've heard so many of my favorite bloggers and influencers rave about!  I've tried make up remover/cleansing balms in the past and I haven't really loved them.
The Elemis Pro Collagen Cleansing balm not only melts away a full face of makeup but it actually cleanses my skin.  I'm not left feeling like I need to wash my face again after removing my makeup.
It took me a few uses to really understand how to actually use it.  The key is to apply it on your skin and then with warm water, wash your face.  I do that a couple of rounds and then use the cleansing cloth to wipe away any excess makeup.
I use white towels and it's so nice to no longer see the remnants of black eyeliner and mascara on my towel every night.
ELEMIS DYNAMIC RESURFACING FACIAL PADS – Formulated with Lactic Acid and Probiotic Ferment Complex, they are clinically proven* to accelerate skin's natural cell turnover in 28 days. Used twice daily, these textured pads help reduce the look of dark spots, pores and uneven skin texture. Convenient and easy to use, they physically lift away dead cells and gently exfoliate, leaving the skin looking significantly smoother and brighter.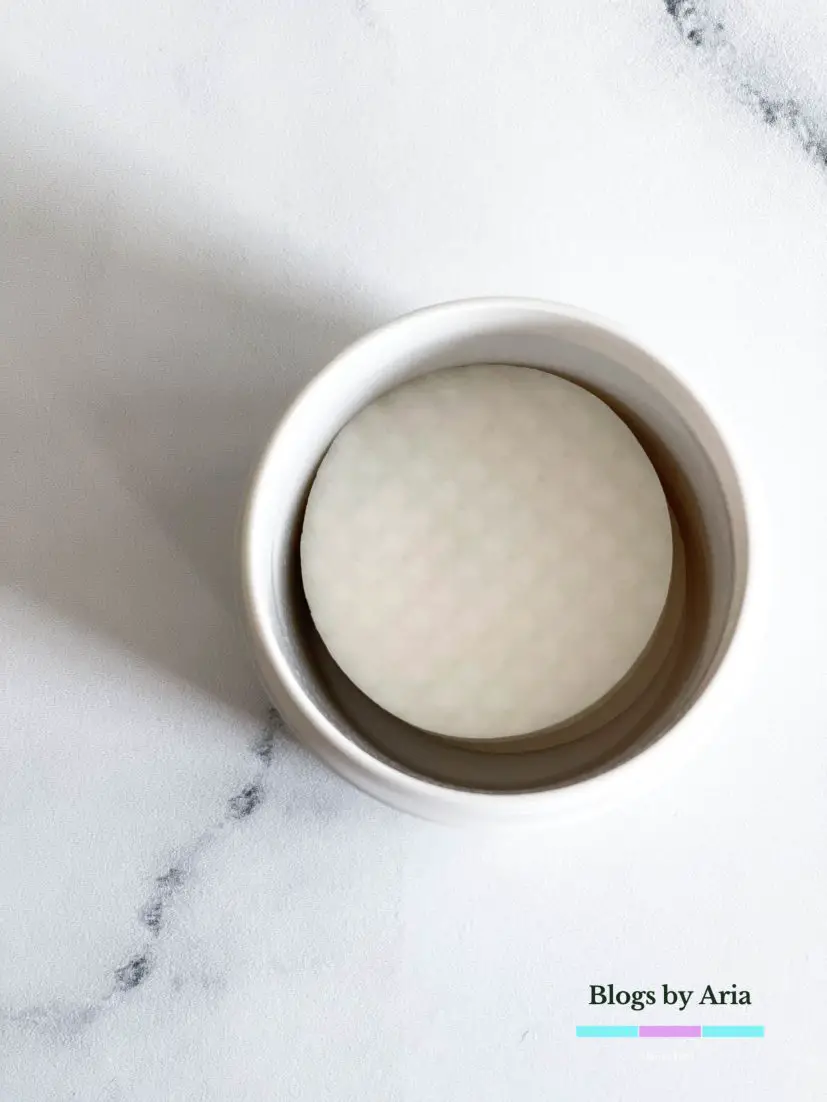 I've read a lot of reviews and watched some YouTube videos about these resurfacing facial pads.  At first, I was concerned about how harsh they would be on my skin.  I decided to use these as directed and used them morning and night.  I am happy to say I didn't have any skin sensitivity to this product.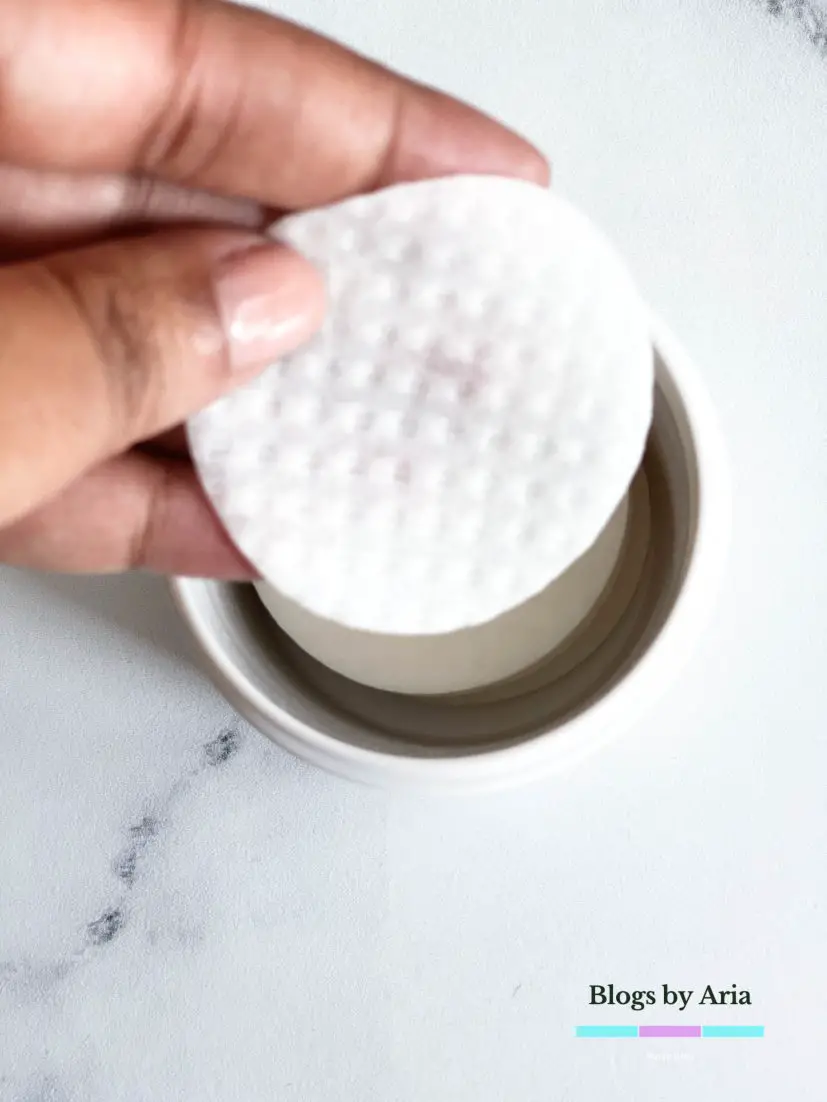 Since I'm doing first impressions, I am excited to continue using these dynamic resurfacing facial pads and see the long term results.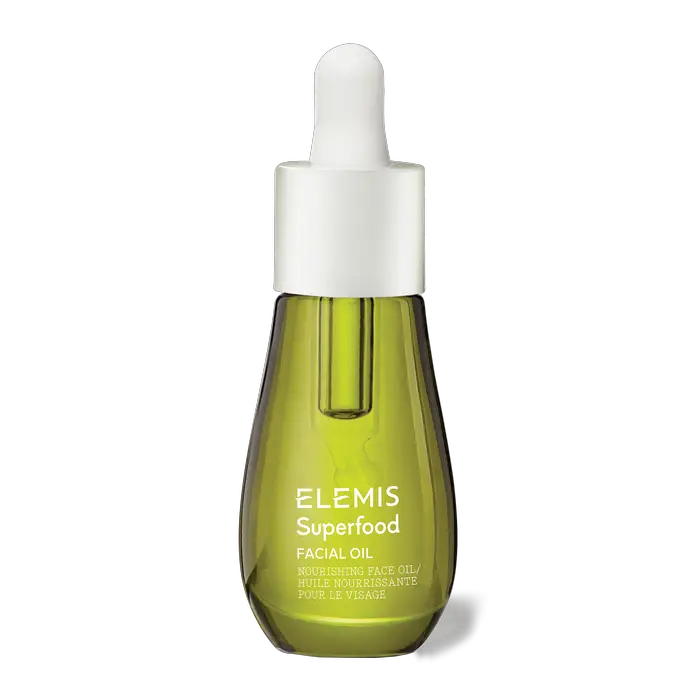 ELEMIS SUPERFOOD FACIAL OIL – A nutrient-rich facial oil that feeds your skin with 9 antioxidant-rich Superfoods to reveal a healthy-looking glow. Light, non-greasy and easily absorbed, this nourishing facial oil helps to plump and smooth. It minimizes the look of dullness and enhances skin radiance for a glowing complexion.
This is my first time using a facial oil.  I've used serums and creams but never an oil.  What I like about this superfood facial oil is that it is fast absorbing and doesn't leave my skin feeling greasy.  What I don't like about this facial oil is the smell.
I'm not someone who pays much attention to product scents but that's because I'm not overly sensitive to smells.  But I really don't like the smell at all.  The upside is that the smell doesn't linger for long.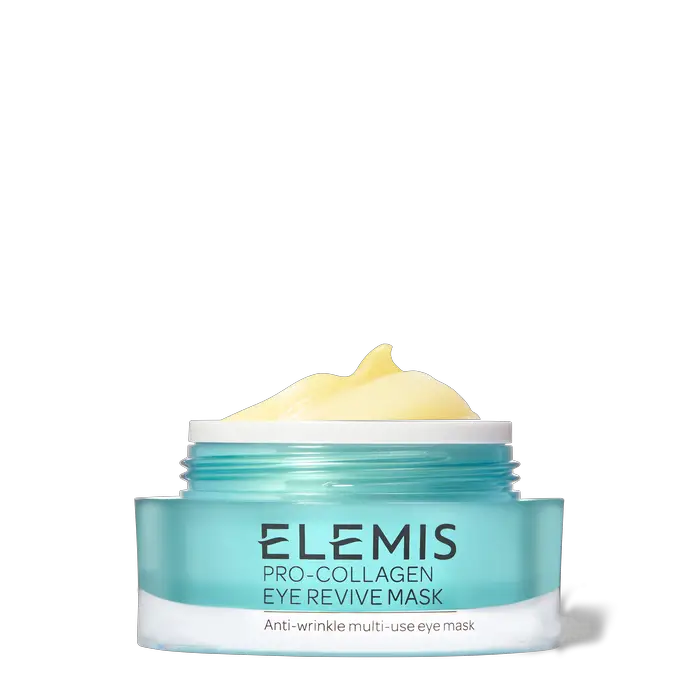 ELEMIS PRO-COLLAGEN EYE REVIVE MASK – A serum-infused eye mask that minimizes the look of wrinkles, while targeting the look of puffiness and dark circles.  The 3-in-1 formula can be used as an overnight anti-ageing mask, a hydrating undereye primer and a moisturizing rescue balm to smooth and rejuvenate the delicate skin around the eyes during the day.
(the eye mask is on the bottom left, hopefully you can see the texture)
I've been using the eye revive mask morning and night.  It's a nice, thick gel texture and really moisturizes.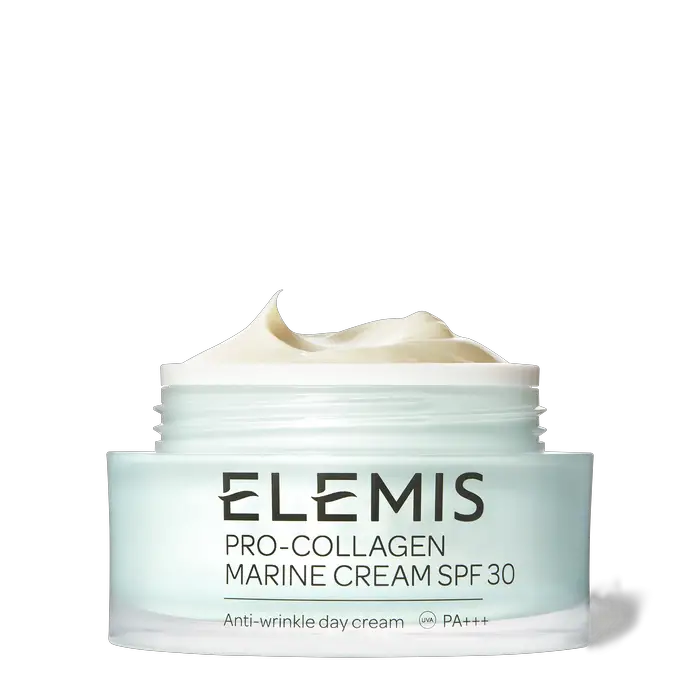 ELEMIS PRO-COLLAGEN MARINE CREAM SPF 30 – The ultimate 3-in-one anti-wrinkle moisturizer that improves hydration and firmness whilst protecting the skin from sun exposure.  the advanced formula is clinically proven to reduce the look of look of fine lines and wrinkles in 2 weeks. It also helps to improve the look of firmness and elasticity for skin that looks smooth and rejuvenated.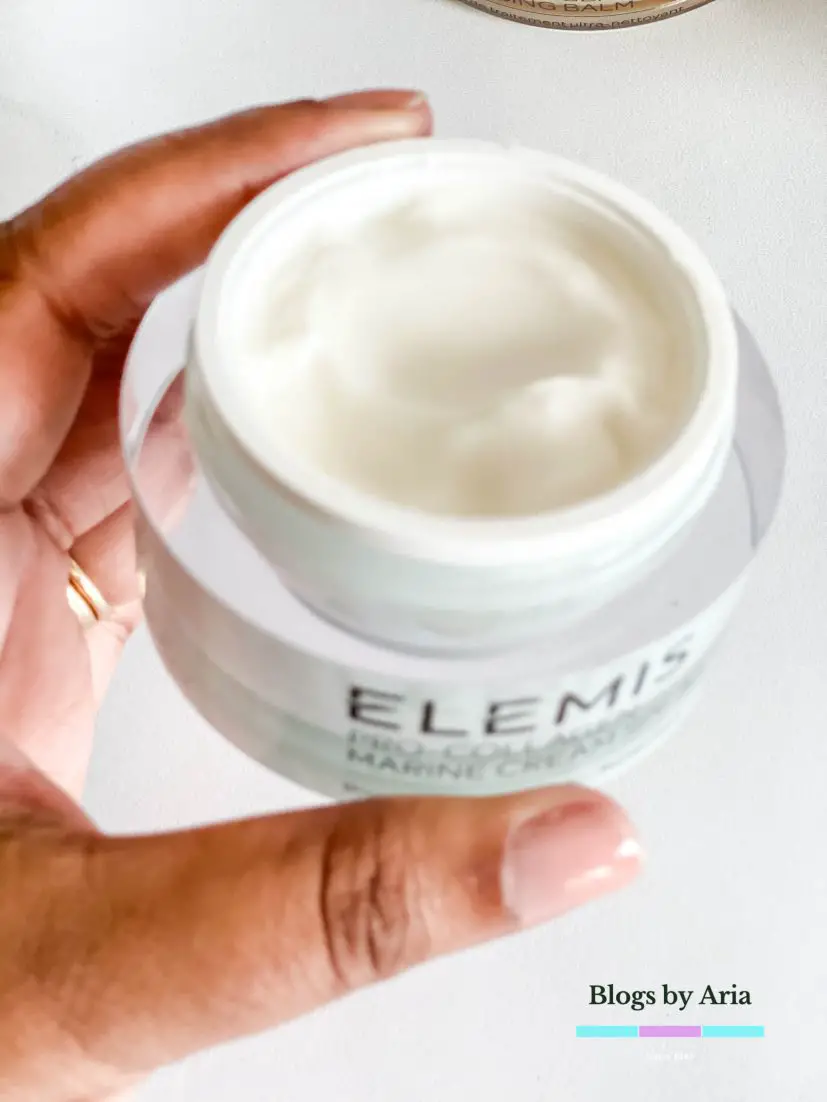 I loved this marine cream from the first time I tried it!  I could probably dedicate a whole post to it but let me tell you what really stood out to me.  When I apply this on my skin it feels luxurious and like the ultimate finishing step to a skincare routine.  It just feels so nice!
Even better, it's an SPF 30 cream that doesn't feel like sunscreen.  It doesn't smell like sunscreen.  And most importantly, it doesn't leave the white cast that many sunscreens do.  Trust me, I know, because I have one in my drawer right now that's like that.  When I tried the Elemis pro-collagen marine cream I knew that I would never go back.  It's that good!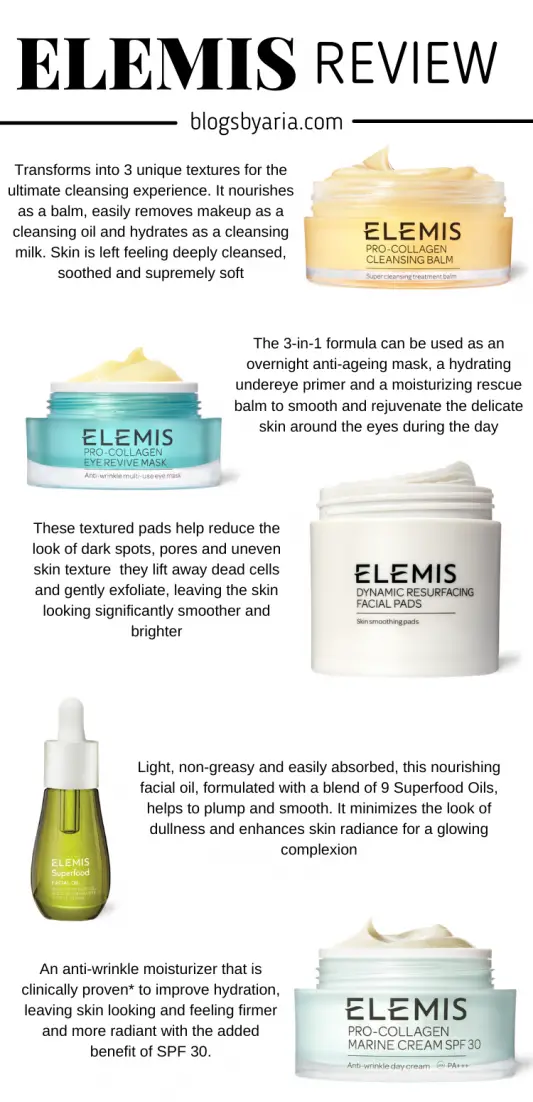 MY OVERALL THOUGHTS
As with adding in any new skincare products, I did have a pimple pop up.  But it only stuck around a few days and after that I've had clear skin.  Because I wanted to give first impression thoughts on these specific Elemis products, I have only been using them. (the only product outside of Elemis I used was a nighttime moisturizer) I'm excited to add them into my full skincare routine.
Would I suggest the Elemis brand?  Yes, you should definitely explore the Elemis products.  It's an extensive brand, and I've just barely scratched the surface.  I've already scoped out a few additional items I'd like to add to my collection.

All five products that I've had the privilege to try are all best sellers and I can honestly see why.  Have you tried anything from Elemis?  If so, I'd love for you to share your favorite products in the comments below!
If you haven't yet tried Elemis, or are looking to add to your collection, I have a coupon code for you!!  Use code LoveElemis20 to get 20% off your purchase!!
Until next time my friend! ♥