This post has been months in the making.  At the beginning of last year I decided I was finally going to put my skincare first and make it a priority.  Instead of trying to look for fuller coverage foundation, I felt that I need to address the skin issues I was trying so hard to cover up.  I've developed a skincare routine that is working for my needs and am excited to share it with you today.
I'm always trying new products to add into my routine.  In fact, I recently purchased something during the Sephora Beauty Sale that I'm excited to try.  What I'm sharing today is a broad overview of the products I've been using.  In future posts, I'll share more details and reviews of products.
*this post includes affiliate links for your shopping convenience, you can read more about affiliate links by reading my Disclosure*
MY SKIN ISSUES
Creating a skincare routine is really focused around your skincare needs and issues.  My primary skincare issue is dark spots that are from previous acne.  I consider my skin to be sensitive and acne prone, so I look for oil-free products.
Also I tend to purchase products that are for either normal or combination skin.  My skin isn't really dry, only during the winter and it's not overly oily either.
Aside from dark spots being my focus, I also look for anti-aging products that help to minimize fine lines and even skin tone.  They say black don't crack, but I think it's wise to do my part with preventive measures.
CLEANSE & TONE
Exfolikate | Confidence in a Cleanser | Glycolic Acid Toner
Let's talk face wash.  I actually should've taken this picture in a different way.  When I was taking my pictures, I was thinking of breaking up this post into daytime vs nightime.  But we can still work with it.
I have four face washes that I rotate through…Kate Somerville Exfolikate, IT Cosmetics Confidence in a Cleanser, Philosophy Purity Made Simple (I just restocked and didn't have when I took these pictures) and Origins Checks and Balances.
Of the four face cleansers I have, the Exfolikate is the newest to the lineup and oh my goodness, it's a dream!  I never knew an exfoliating wash could be so gentle!
Both the IT Cosmetics and Origins face washes were new to me last Spring during the Ulta 21 Days of Beauty Sale.  With both of them I started off with either trial or travel sizes, and purchased the regular size after.  I already have another full size backup of the IT Cosmetics cleanser because I love it so much.
Now let's talk toner.  To be honest, I haven't used a toner since I was using Proactiv and it was part of the system.  I never really felt the point of toner.  A couple of months ago I was looking through the Ulta catalog and they did a spotlight on toners, listing out their benefits.  I figured I'd give it a go with an inexpensive toner.
I chose the Mario Badescu Glycolic Acid Toner.  I've used some Mario Badescu products in the past, including their drying lotion that I use when I have a breakout.
Their toner claims to help refine the look of pores and diminish the appearance of fine lines, wrinkles, and uneven skin tone. And it promotes a more radiant and even, youthful-looking complexion.
Honestly, I can't say if it does any of these things.  I've gone back and forth between using it both day and night versus one or the other.  For now I use it at night because they say it helps to allow your serums to seep into the skin better.
SERUMS
Vinoperfect | Rapid Dark Spot Serum | Eye Serum | Advanced Night Repair | Advanced Genifique
The one area I've branched out the most with is serums.  I don't use all of these serums at once…I have a set that I use in the morning and another at night.
In the morning, I use the Lancome Advanced Genifique serum all over my face and neck.  And I also use the Murad Rapid Dark Spot Correcting Serum specifically on my dark spots, which is mostly my cheek, upper lip and along my jawline.
For the evening, I use the Estee Lauder Advanced Night Repair Eye Concentrate Matrix (talk about a mouthful) first and then I use the Estee Lauder Advanced Night Repair serum.  These products are newer to me and I got them from QVC.  They suggested to use this serum prior to layering any additional serums on top.  They also said it can be used both day and night but I only use them at night.
Now I could write a whole post about these serums…and I just might, because I can tell a difference in my skin already.  My skin is softer, more supple and just in an overall better condition.  The eye serum is everything and I am confident in saying I am a convert!
I've tried layering my other serums next but I've settled on using the Caudalie Vinoperfect serum.  I got this serum from Sephora last Summer and have used it on and off.  Prior to getting it, I had never heard of it.  But I got an email from Sephora offering a deluxe sample of it with a purchase of X amount of dollars.  So I tried it and loved it enough to purchase the full size bottle.
The Caudalie Vinoperfect serum is supposed to visibly combat dark spots, even skin tone, and boost radiance.  It does that but it does it without using Vitamin-C.  So it's great for sensitive skin.  I felt like my dark spots needed more power to attack them, so that's why I added the Murad serum into my routine.
So far I'm really liking the combination of using this serum at night and the Vitamin C serum in the morning.  I use the Vinoperfect all over my face and neck.
EYE CREAM
Cleanser | Eye Cream | Moisturizer
Right now I'm using two main eye creams.  One of them is the IT Cosmetics Confidence in an Eye Cream.   Confidence in an Eye Cream is a brightening eye cream that visibly restores radiance and reduces the look of dark circles and puffiness to make eyes appear instantly more awake. This eye cream also plumps and hydrates under eye wrinkles and fine lines.  In my words, I'd say that it's a nice, thick eye cream that is very hydrating.  I tend to use it mostly at night on top of my eye serum.
Benefit eye cream | Lancome Renergie Lift Multi-Action Ultra | IT Cosmetics Confidence in a Cream
The other eye cream that I use is the Benefit Cosmetics It's Potent eye cream.  Last year when I ran out of my Clinique All About Eyes eye cream I wanted to try something new.  Since I like to buy items on sale, I had wanted the Confidence in an Eye Cream but it wasn't on sale when I was in need of a new eye cream.
So after looking for awhile I decided to give the Benefit eye cream a try.  I love that it's lightweight and still very moisturizing.
MOISTURIZER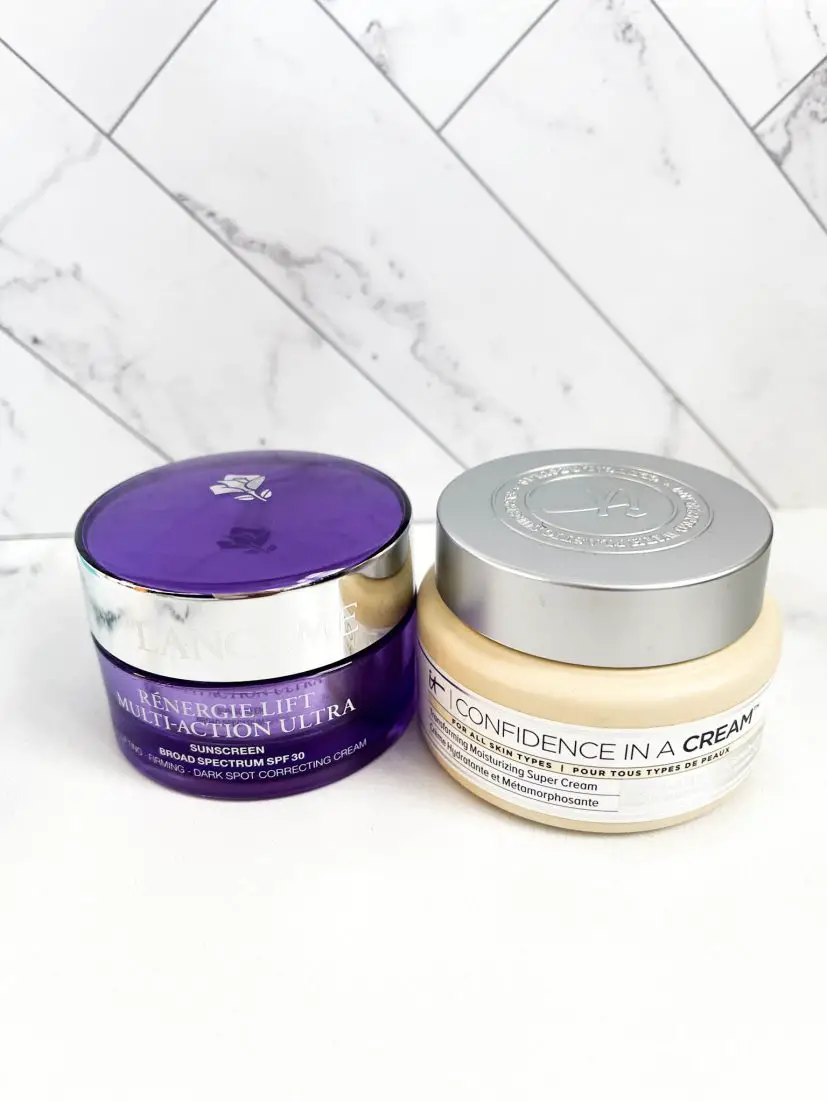 Lancome Renergie Lift Multi-Action Ultra | IT Cosmetics Confidence in a Cream
When it comes to moisturizers, I have two main go to's for daytime and one for nighttime (not pictured).  The Lancome Renergie Lift Multi-Action Ultra moisturizer I got as part of those department store gifts with purchase.  Last Spring before everything shut down, I ordered my Lancome Tient Idole foundation from Belk, because at the time they had the best deal.  With that purchase I got a few extra goodies from Lancome, one of them being this moisturizer.
At the time, I gave it a try but didn't really look into it much.  It smelled like SPF and I didn't realize it wasn't much more than a sunscreen for your face.  Fast forward to a couple of months ago, I saw a commercial about it, touting all of the wonderful things it does…lifting, firming, fading dark spots.  I was like, hmmm I need to get that.  Then I realized, hey, I already have that!
Now that I have been using it, I do like it.  I haven't finished the jar, but I will say, a little goes a long way.  I've found that if I use too much, it will flake off my skin in about an hour or so.
My other go to moisturizer is the IT Cosmetics Confidence in a Cream.  I got my first jar last Spring and I already have a backup jar, because my first one is almost gone.  I love this stuff!  If you're looking for a moisturizer that you can really feel, that doesn't feel greasy or heavy and you can really feel the difference…this is for you.  Read about the 7 benefits of this moisturizer here.
So I use those moisturizers interchangeably for daytime.  I was solely using the IT Cosmetics, but since seeing that commercial, I've been trying to use the Lancome moisturizer more to see if it's worth purchasing again.
For nighttime, I use the Origins High-Potency Night-A-Mins Oil-Free Resurfacing Cream with Fruit-Derived AHAs…yes another very long name.  I discovered this product years ago and loved it but never invested in it.  I was reminded of it last year when I got a sample kit that came with the original formal, however I needed the oil free version because it broke me out.
It's very hydrating and it helps to slough off dead skin and helps to boost new skin cell turnover.  I've found that it's one of those products that when you wake up the next morning and feel and see your skin…you can tell the difference.  Those are the kind of products I love!
I didn't touch on masks or any real treatment products.  I have a few masks but to be honest, I have a hard time fitting them into my skincare routine.  Because I'm lazy.  It's hard enough for me to stay consistent with my skincare routine as it is.  Once I can get consistent with using masks, I'll be happy to share my thoughts.
As for treatment products, I don't use much.  I mentioned the Mario Badescu drying lotion and I will use OXY pads if needed, but thankfully (knock on wood) my skin has been nice to me lately.
That's a broad overview of my skincare routine.  I will share the new products that I recently ordered and how they fit into my routine.  I'll probably share a daytime and nighttime routine very soon.
There's so many skincare lines it can be hard to know where to start on your skincare journey.  My goal in sharing today is maybe if you're searching for where to start, or what to add to your existing routine, you've found something helpful here.  Let me know if you do 🙂