Welcome to another beautiful Parade of Homes tour!  I'm excited to share the Budleigh Estate with you as the first home from the 2021 tour series.  It's the first home I toured last weekend.  And I took a lot of pictures.  So grab a snack and get ready to pin your favorites.
*this post includes affiliate links for your shopping convenience, you can read more about affiliate links by reading my Disclosure*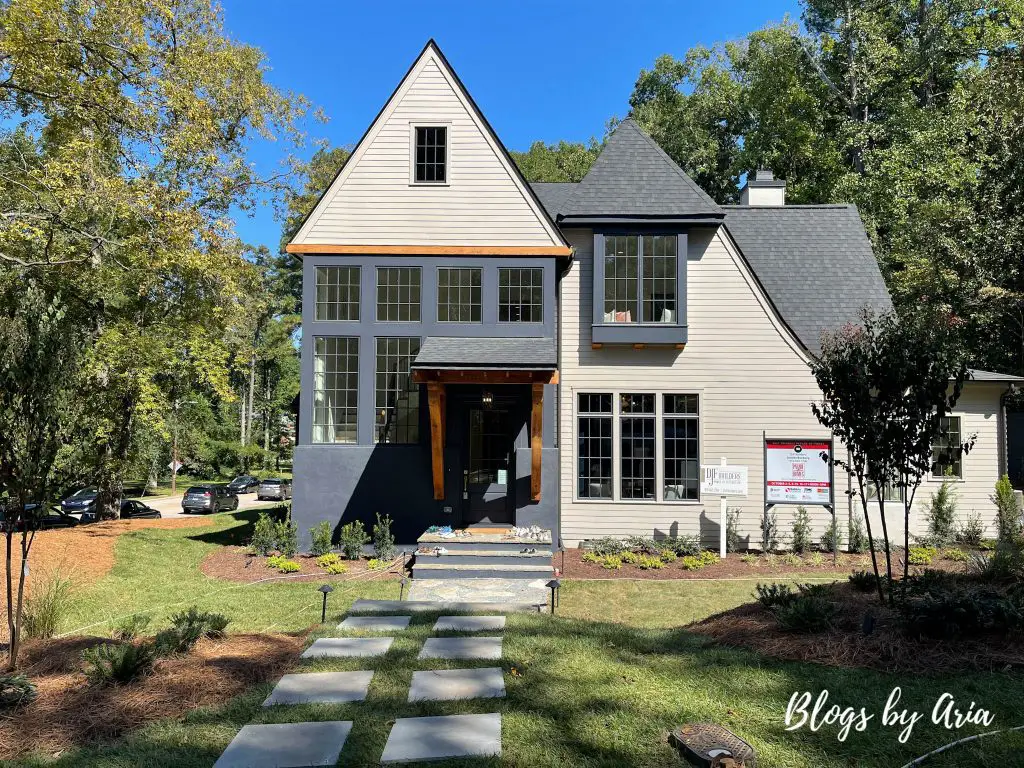 Located inside the beltline of Raleigh the Budleigh Estate is in a highly sought out neighborhood.  You have parks and great schools, easy access to downtown and gorgeous homes like this.  Speaking of gorgeous homes like this…if you're familiar with the home designers in this area you know right away this stunner was designed by Frazier Home Design.
So many of the houses I've shared in the Triangle Parade of Homes are designed by Tony Frazier and I'm slightly obsessed with them!  You'll see why as I share more with you.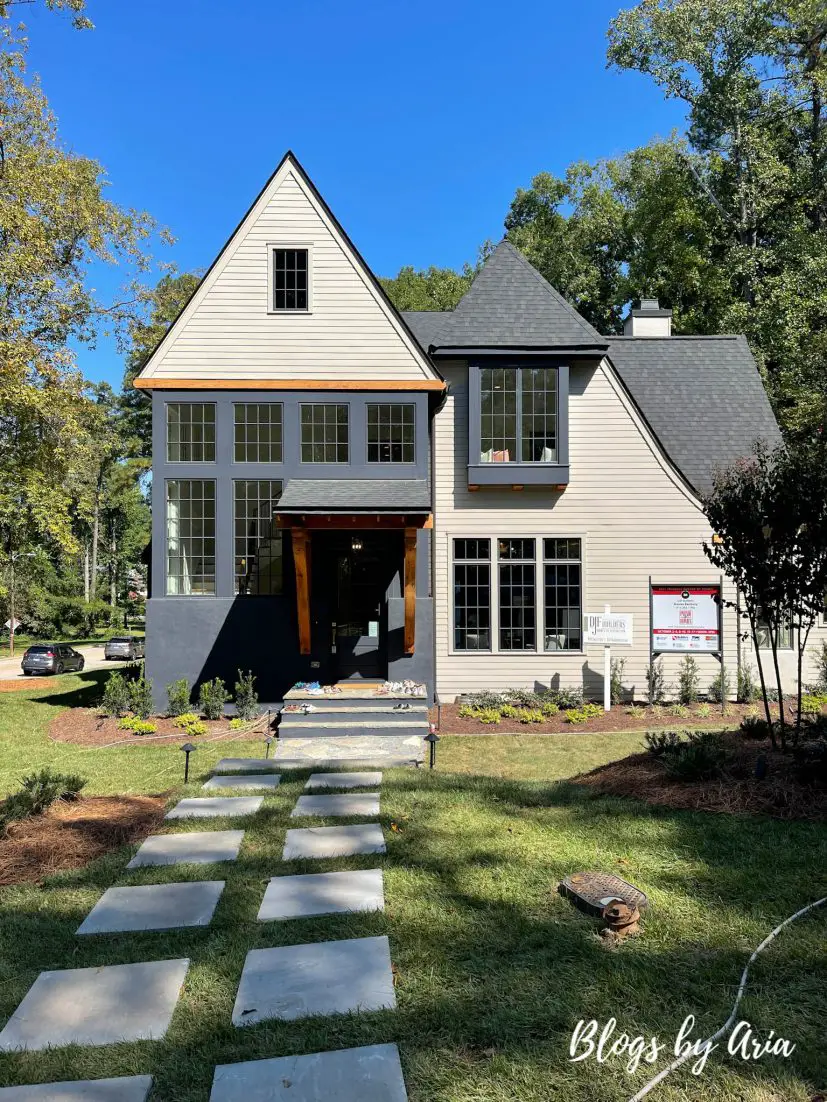 Budleigh Estate features six bedrooms, five and a half bathrooms, a three car garage and is 4,524 square feet.  It sits on a corner lot so you can take in its beauty from every angle.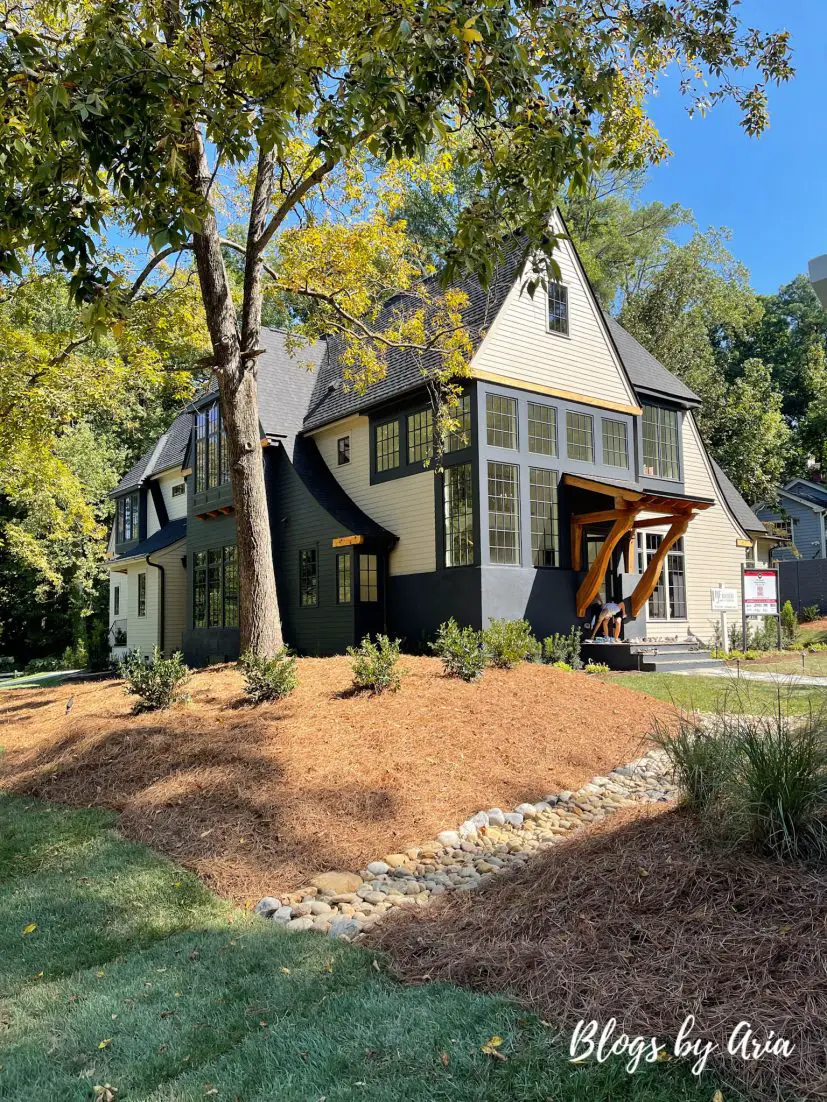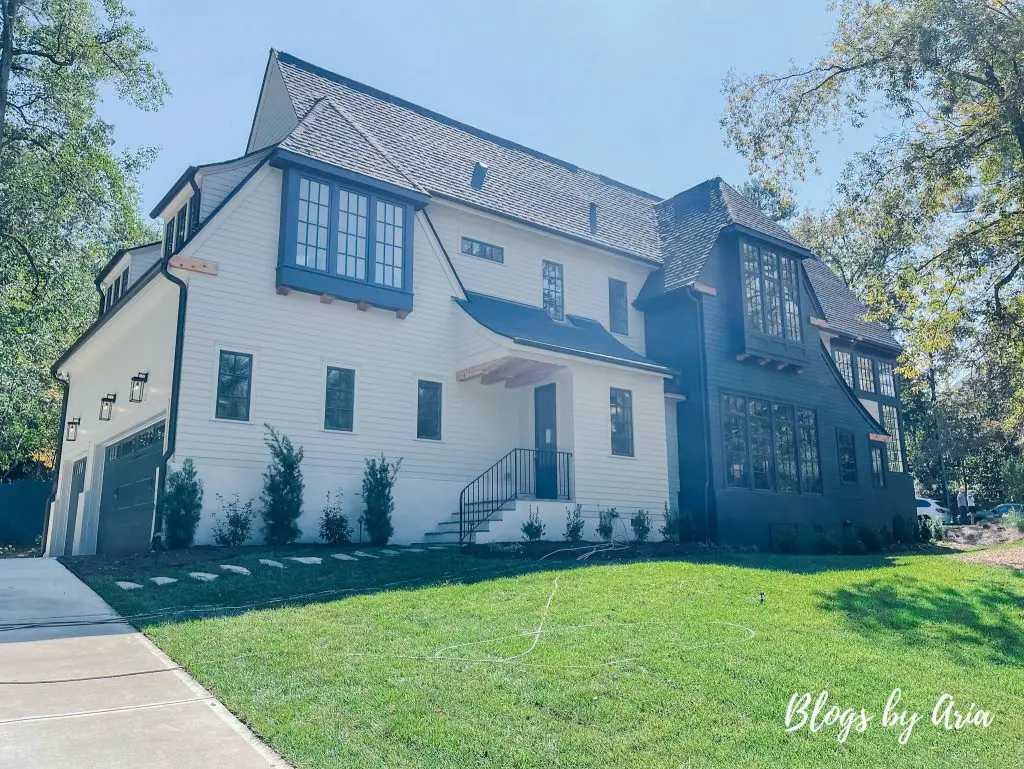 Absolutely stunning isn't it?  Let's take a look inside because I have lots of house eye candy for you with this one!
STAIRWAY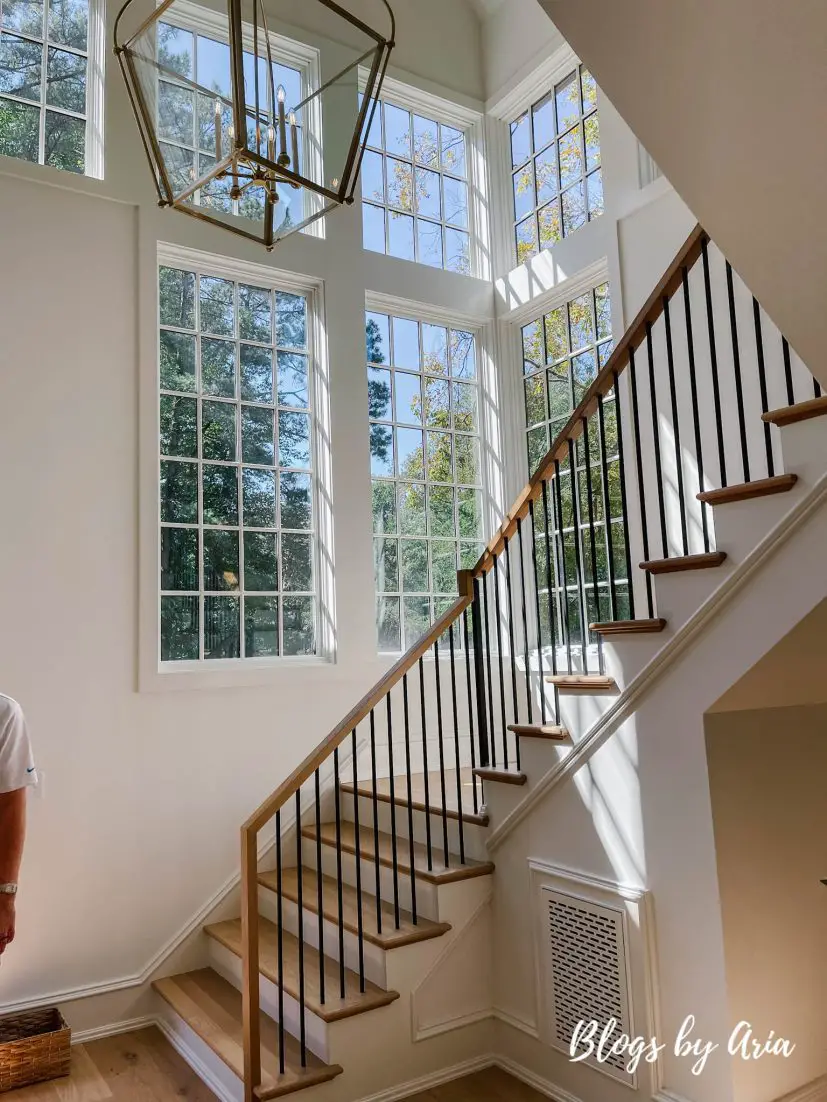 Probably one of the highlights of this home from both inside and out is the casement tower of windows that illuminate this gorgeous stairway.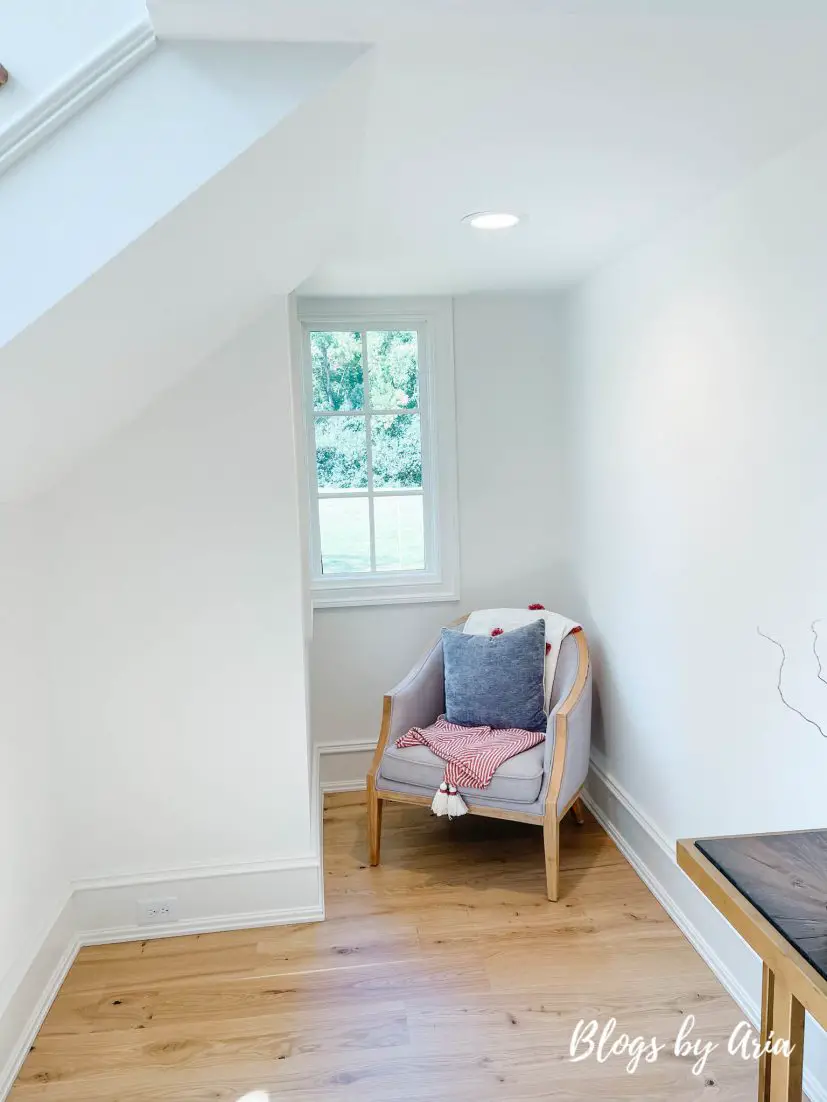 To give you a better idea of the layout of the foyer I'm including this shot.  It expands past where I'm standing to take this picture but there were too many people to give you a good look.  Take my word for it that the foyer is quite large.
HOME OFFICE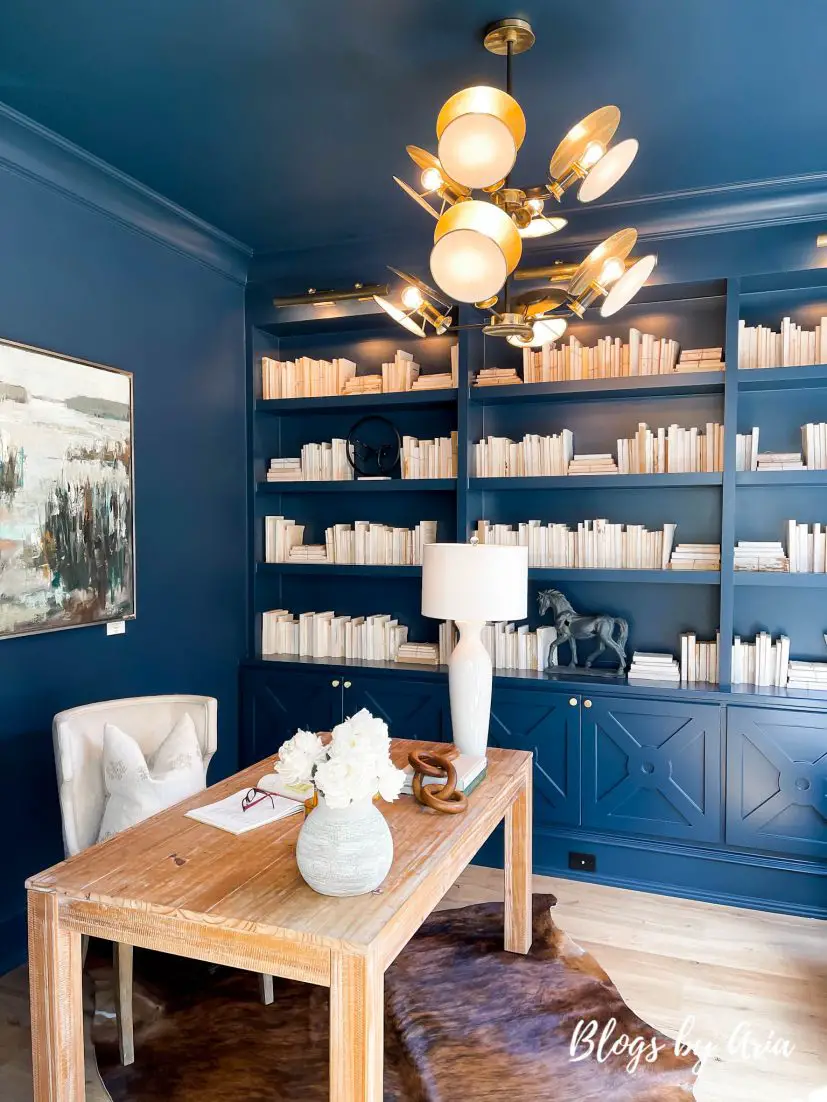 Osiris large reflector chandelier
The home office/study area is right off of the entryway and features beautiful painted built ins.  The star of the show is definitely the unique light fixture.  If you look at the exterior of Budleigh Estate you'll see that there is a large set of windows into this study and all of that light allows this dark paint color to work.
FAMILY ROOM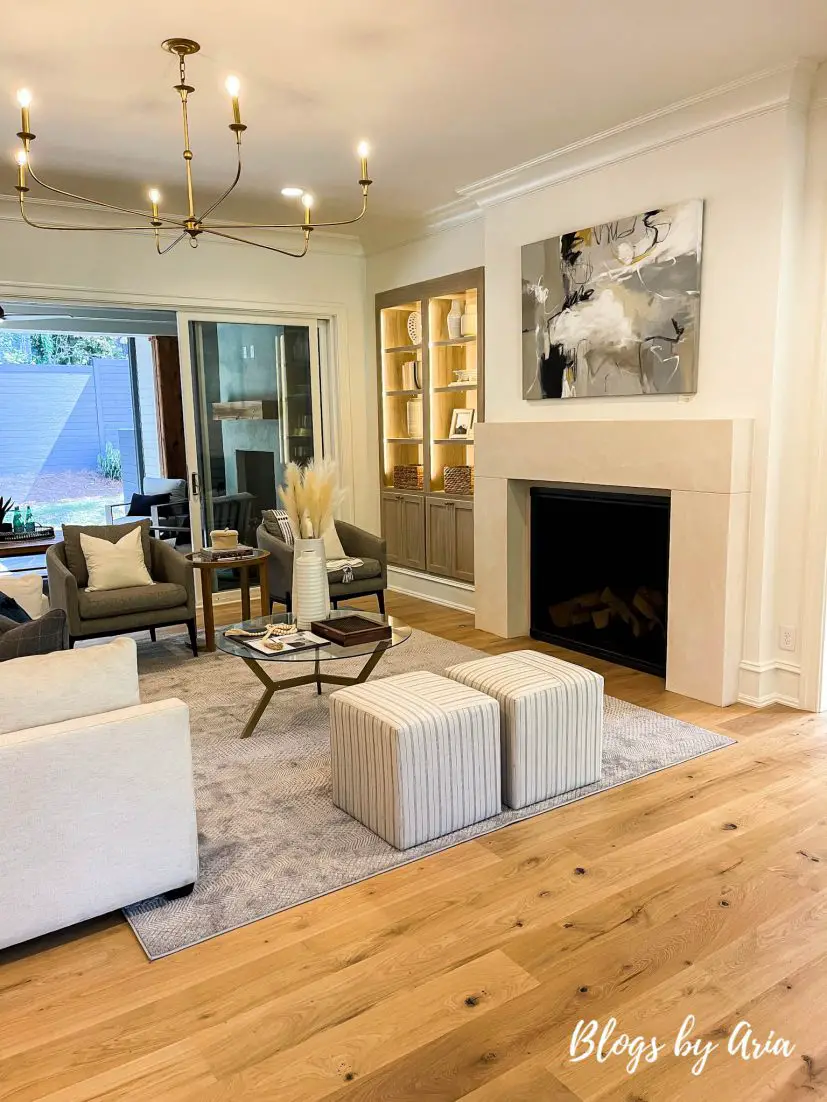 The family room is in the center of the main floor.  Although this a very estate-like home, the family room has a very cozy and inviting feel.  It's definitely comfortable and not stuffy, which you definitely wouldn't expect from entering the home.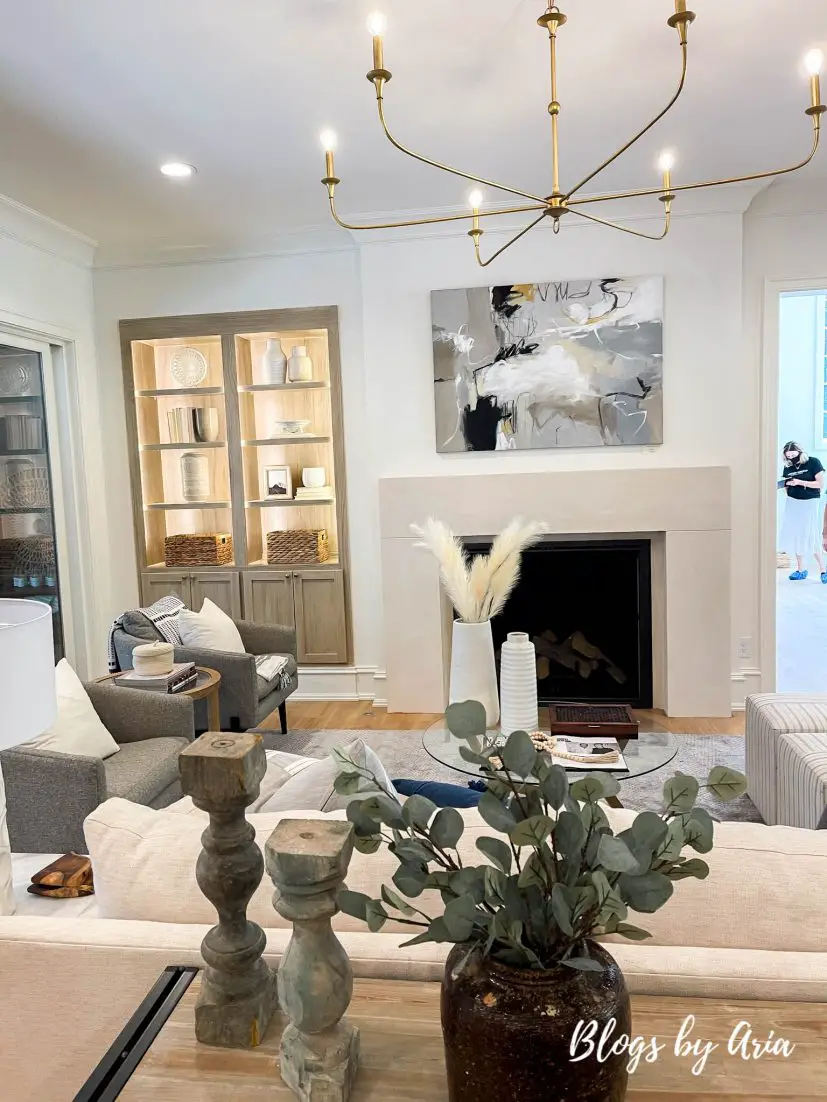 Although I like symmetry when it comes to built ins, I know that's not always an option.  They made a great use of the space to include the lighted built in shelves for decor and storage.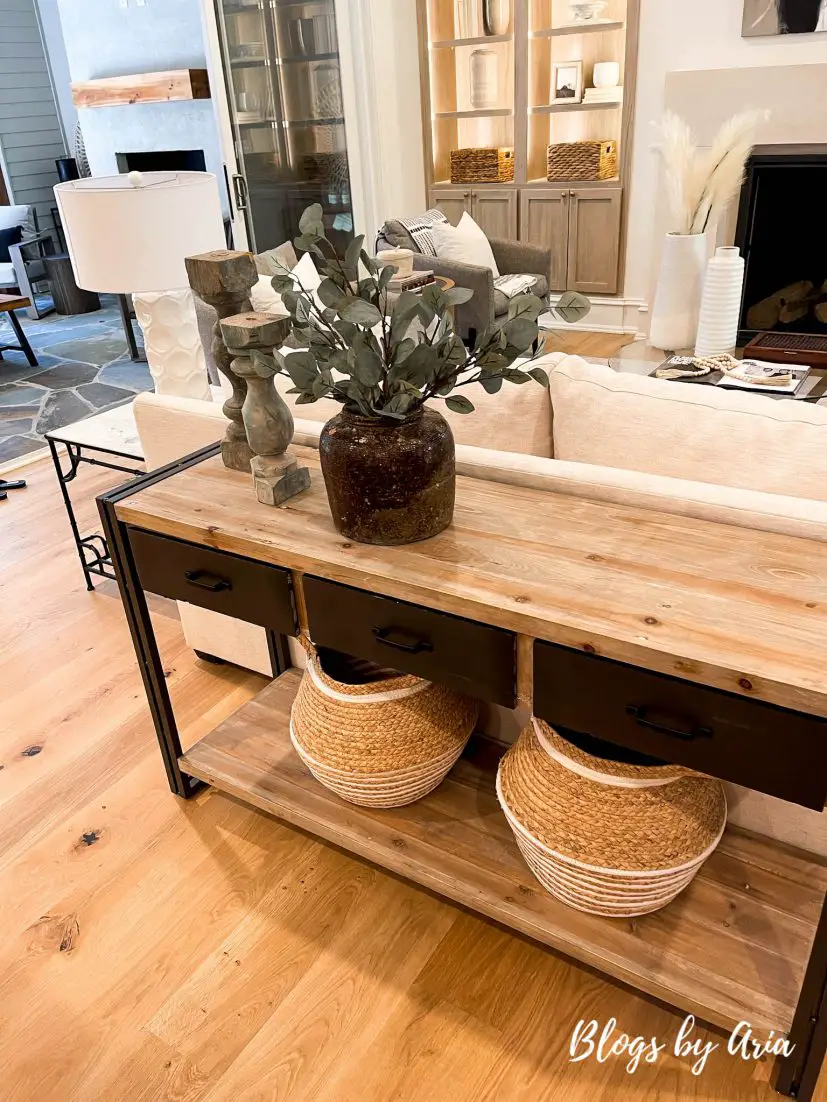 You can get a glimpse of the covered porch from this view and how you can really embrace the indoor and outdoor living.
COVERED PORCH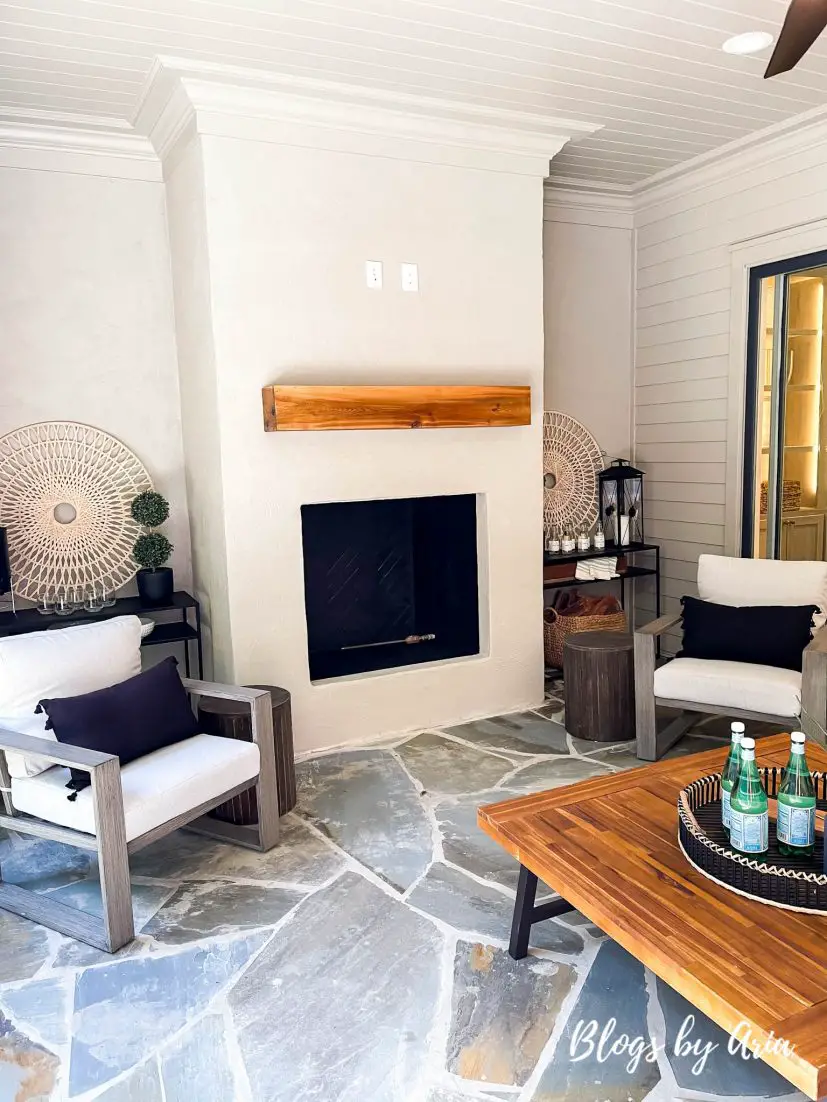 I love the planked ceilings of this covered porch.  The porch expands the full length of the family room and kitchen.  What's not pictured is the outdoor kitchen.  The realtors were setting up a lot of things like balloons and drinks so I didn't take a picture of that.  But I really love this outdoor space.
DINING ROOM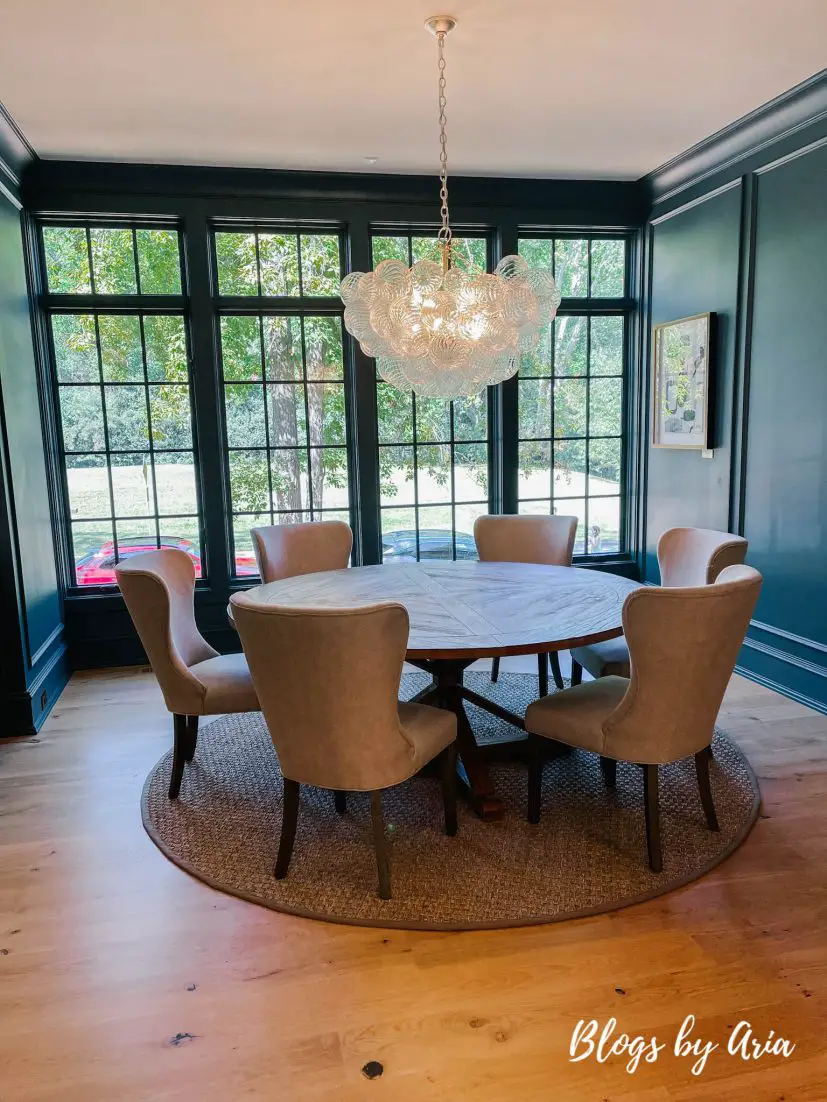 The dining room is right off of the family room.  Because of the gorgeous windows I think the space can get away with such a dark paint color.  It wouldn't be my first choice but I think it works in here.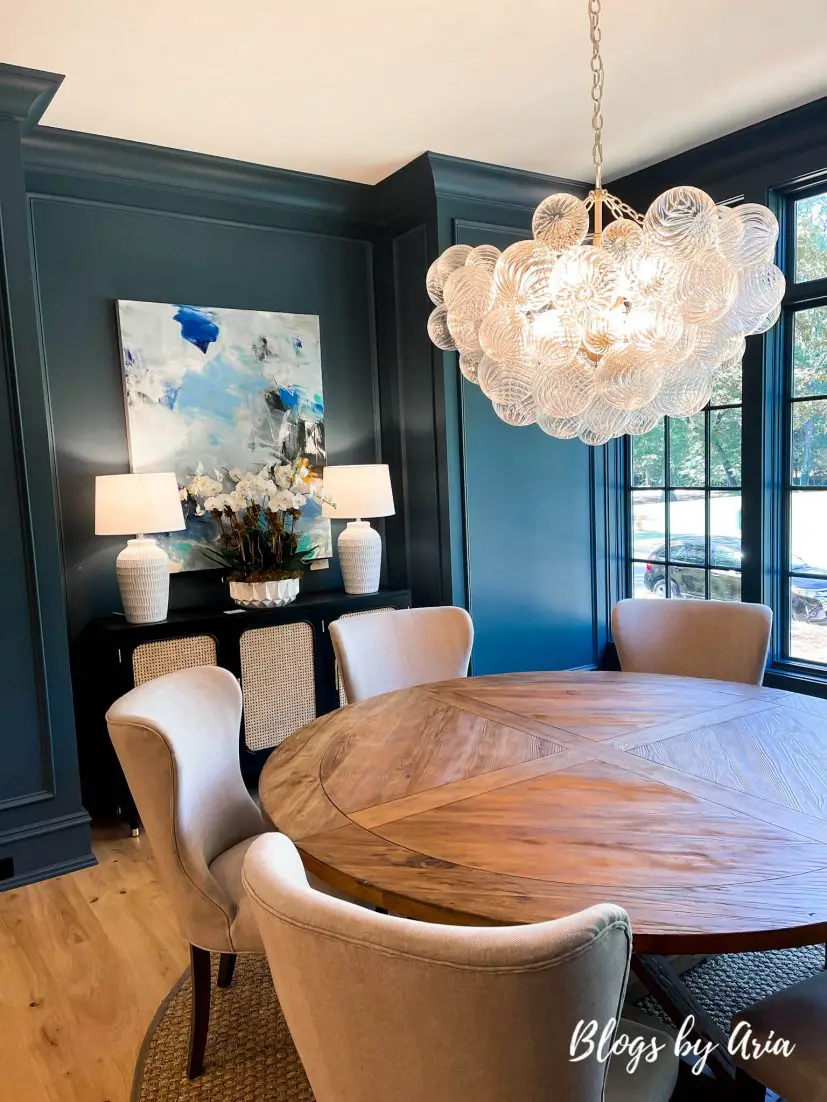 The chandelier is a showstopper isn't it?  It's a perfect match with this round table in this space.
KITCHEN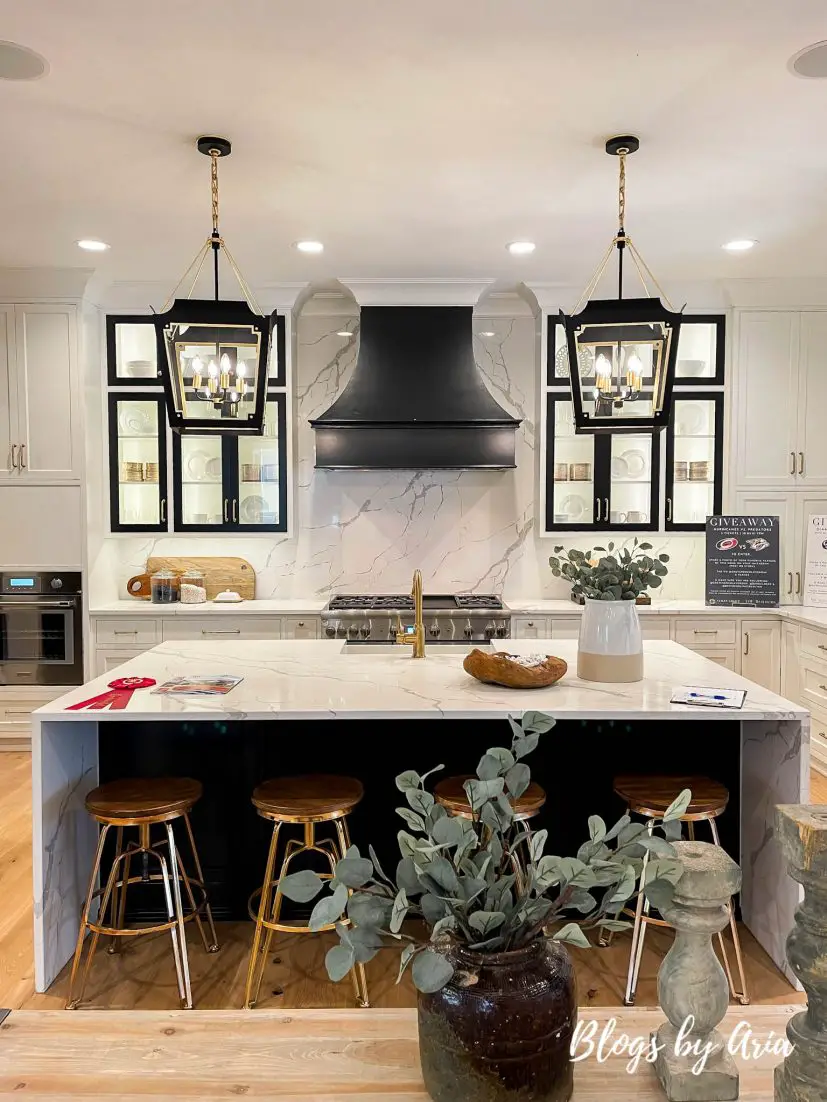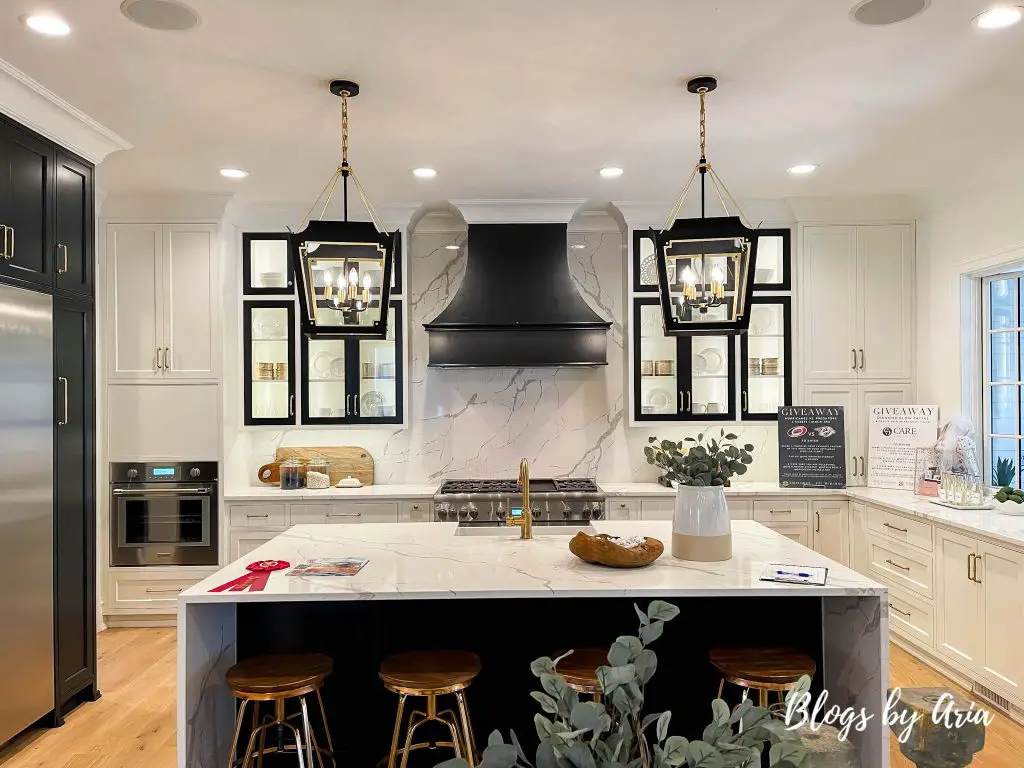 In person this kitchen is jaw dropping.  It's incredible.  The kitchen is mostly white with black accents.  The island is black along with the cabinetry surrounding the massive fridge.  I like the black trim glass cabinets and range hood as well as the light fixtures.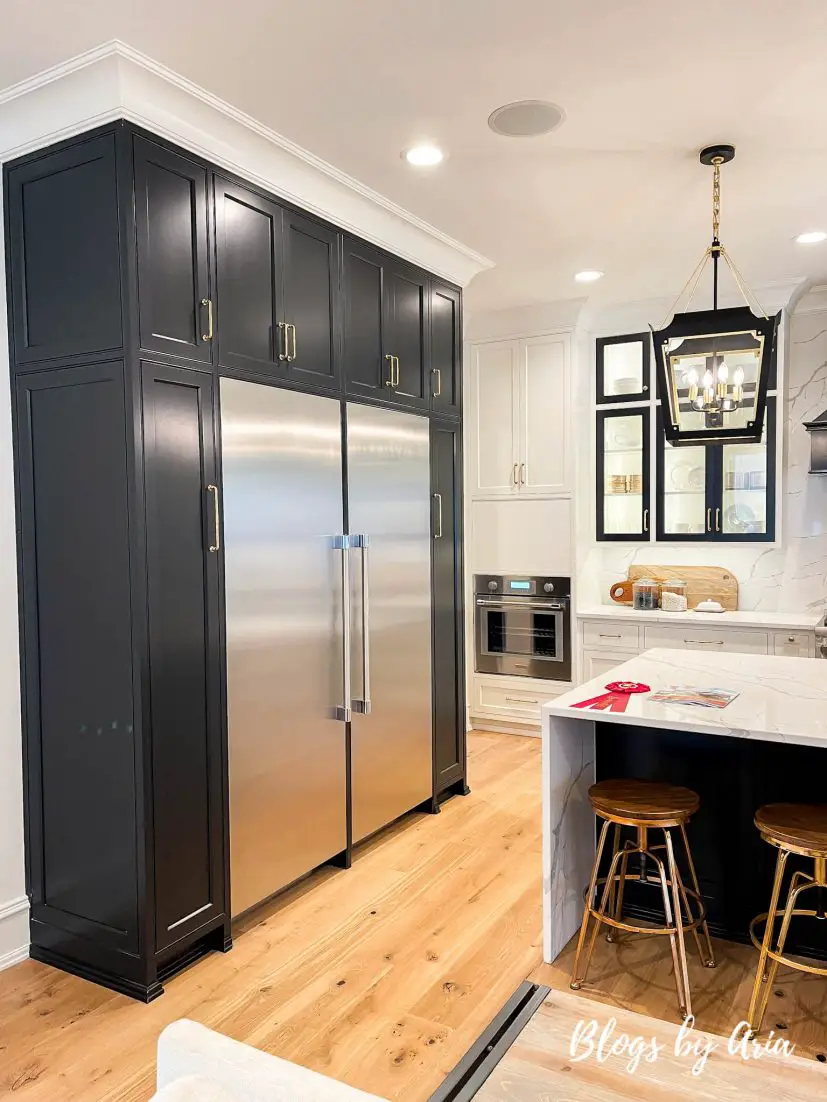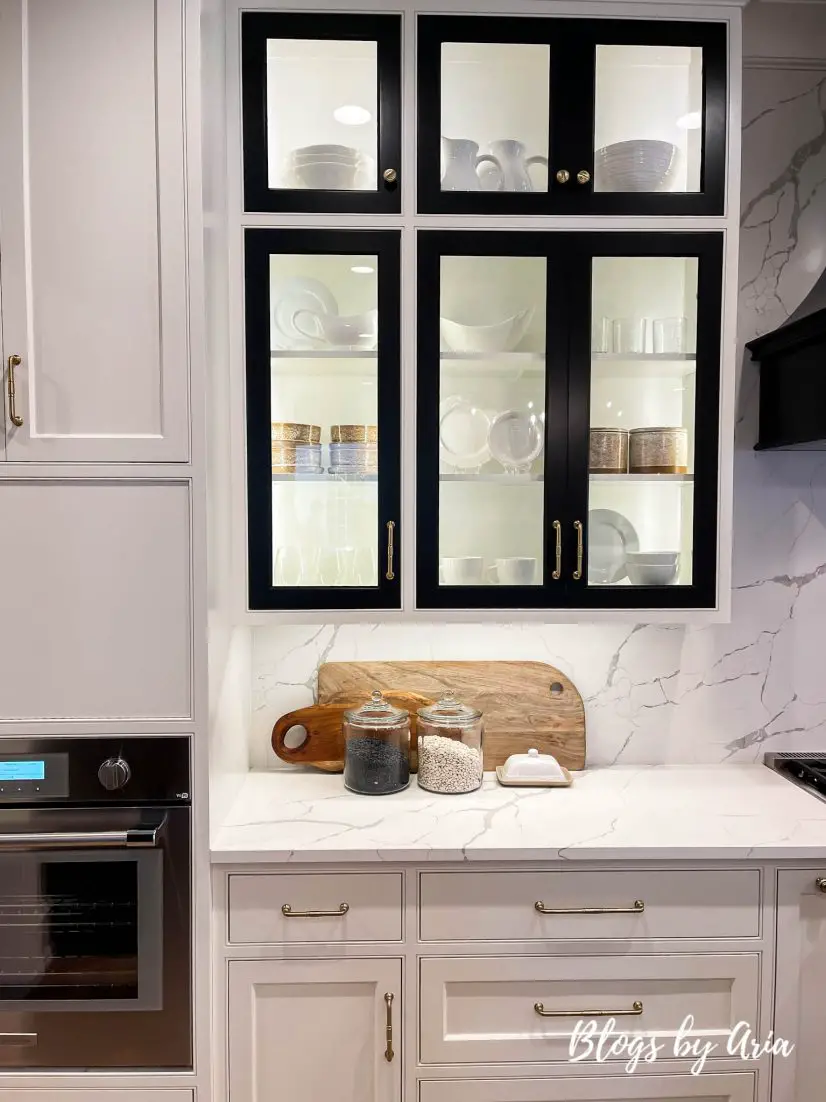 Can I have this range please?  Six burners, two ovens and the wall oven too!  Yes please!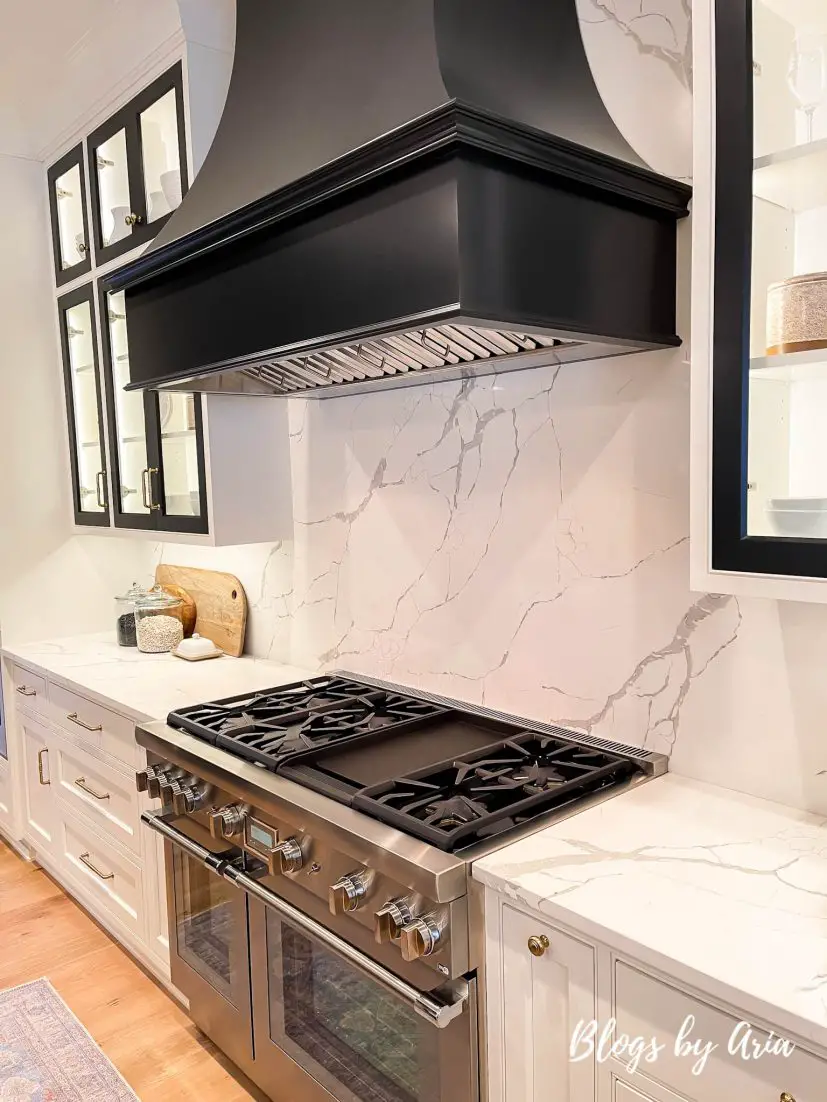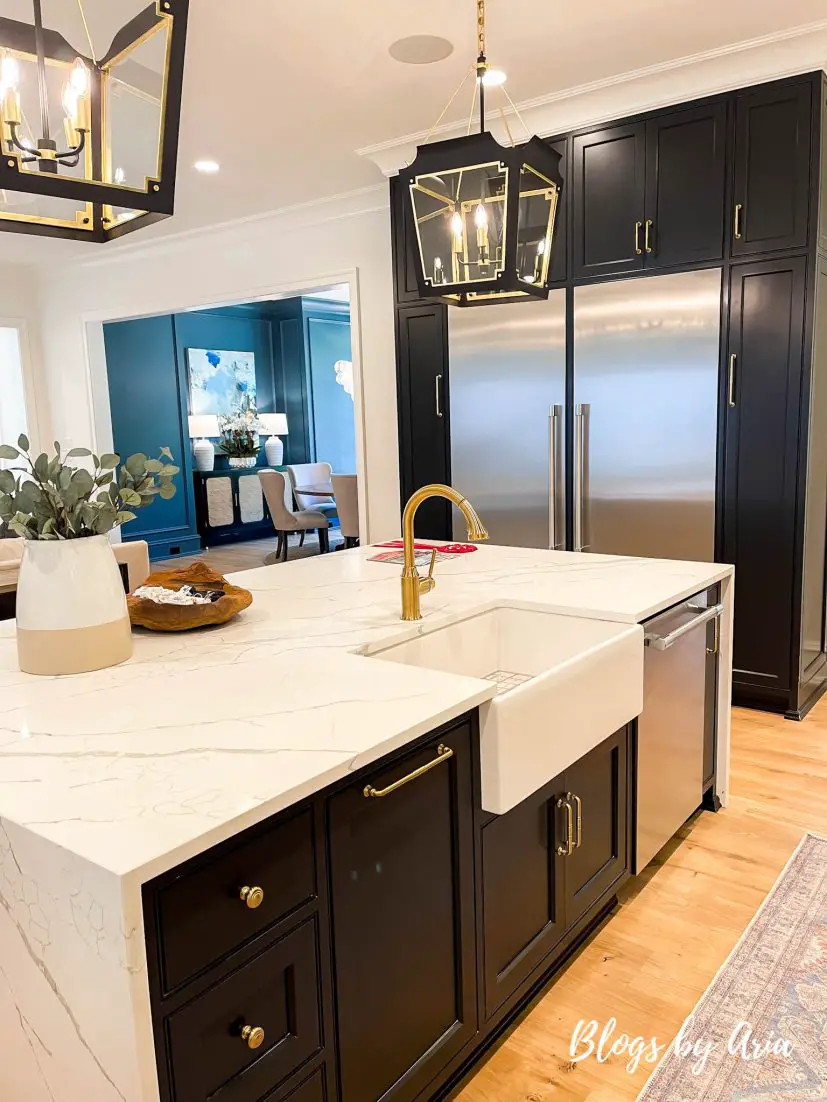 What I love about this kitchen is not only the size, but the flow.  There's an easy flow between the refrigerator, stove and sink which is optimal.  And there's so much prep space with all of the countertops as well as a ton of storage.  It's truly a beautiful kitchen.
SCULLERY AND PANTRY
The scullery features a second dishwasher, sink and refrigerator.  It also offers plenty of storage.  The countertop continues into this space from the kitchen and the mirrored subway tile makes the space feel larger.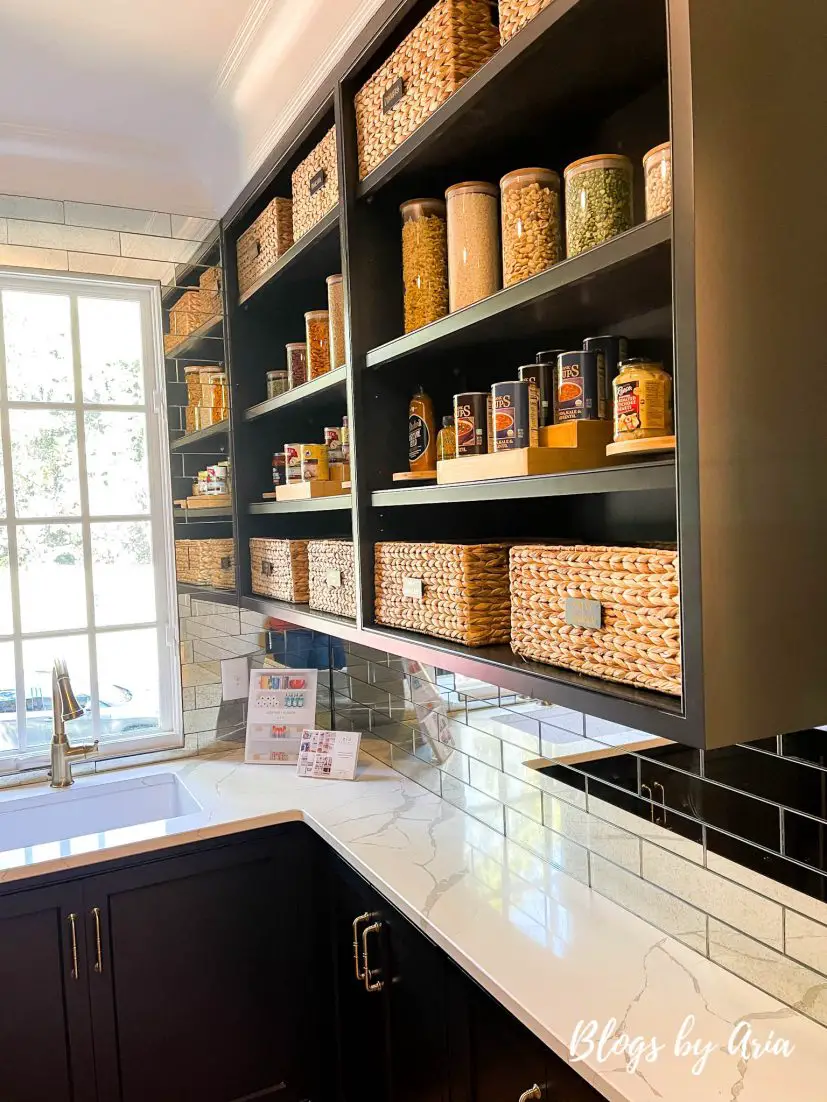 Pantry Organization Sources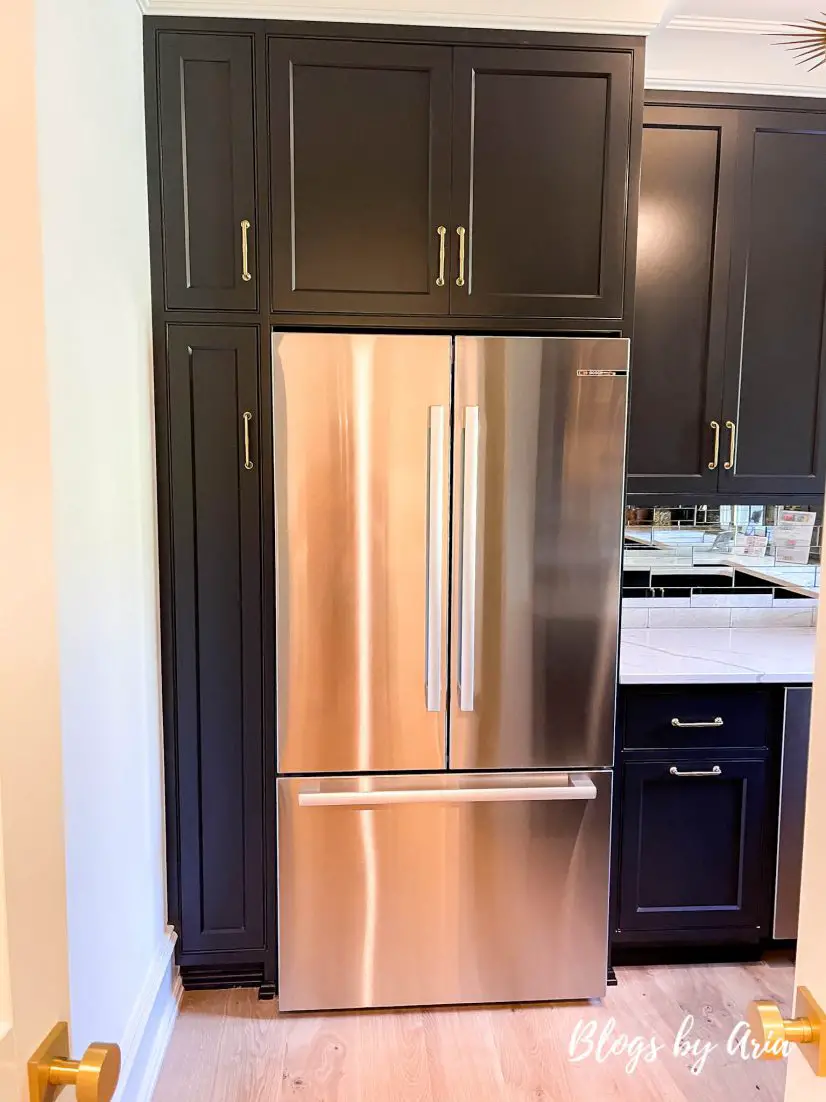 Between the kitchen and the scullery there is certainly no lack of storage in this home!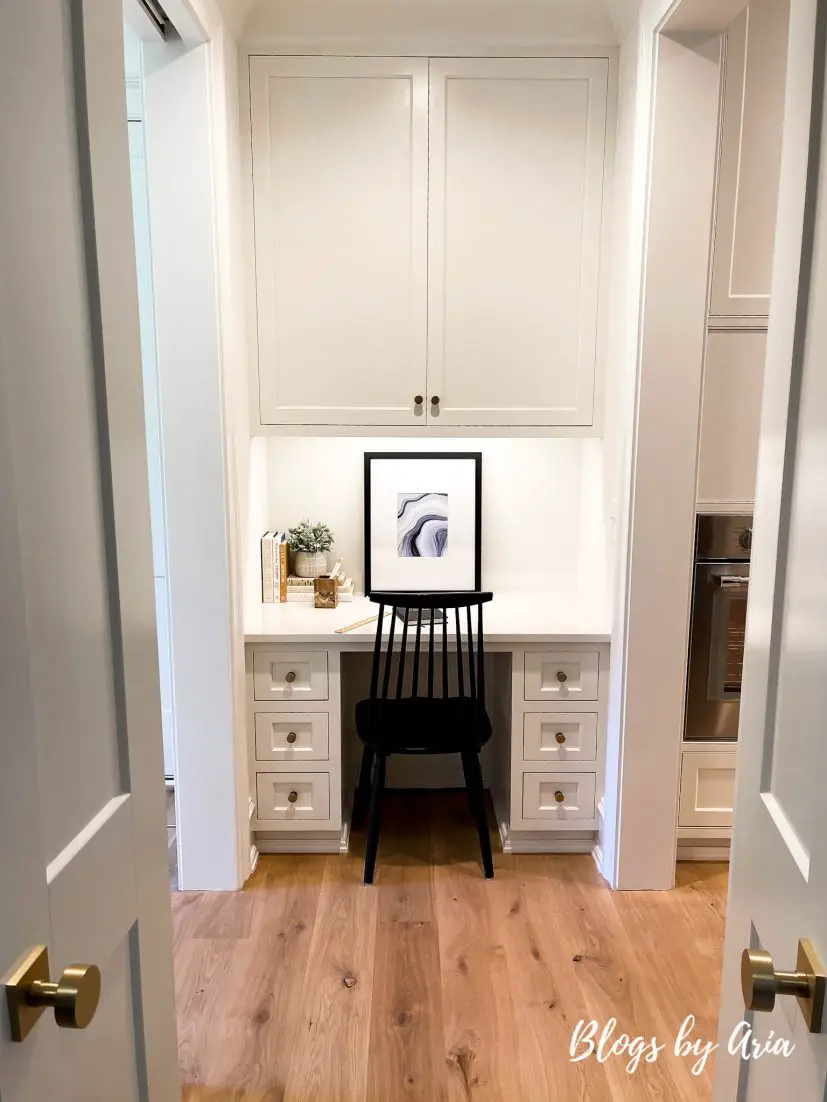 Across from the scullery is a command center with built in desk.  I feel like I don't see these anymore in new construction homes but perhaps they're making a comeback.
MUDROOM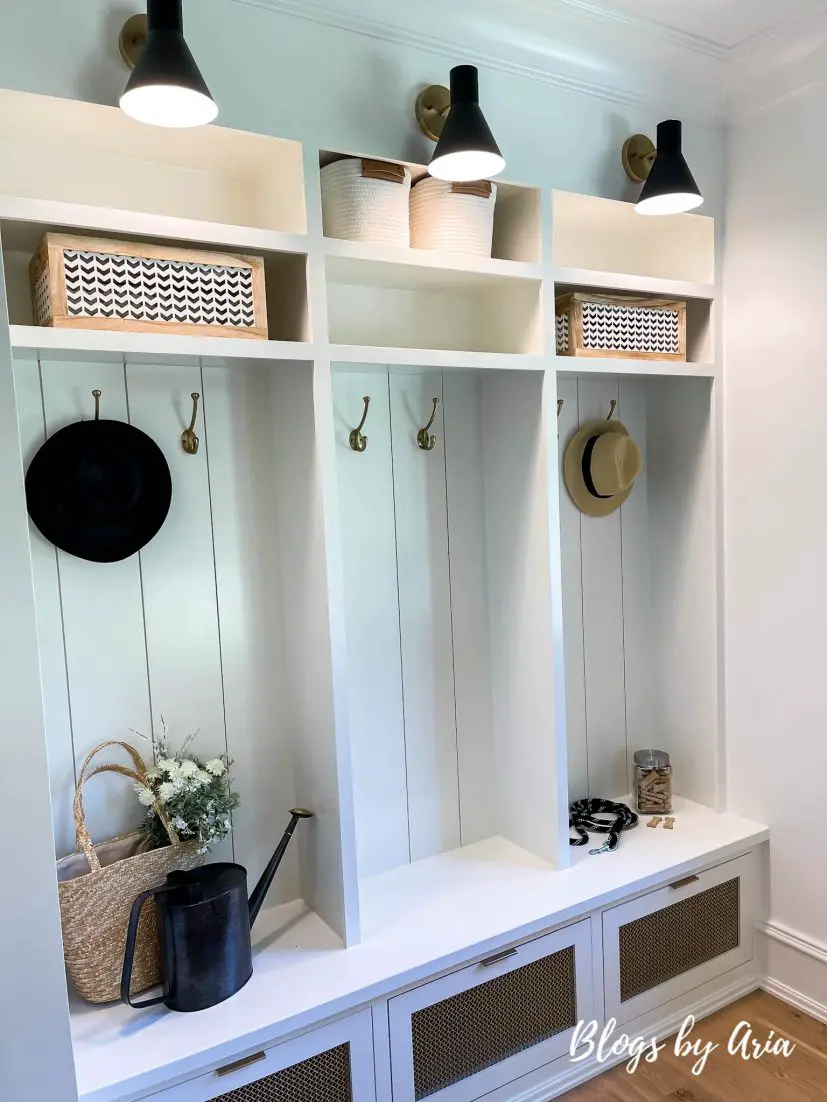 The mudroom features vertical shiplap and wire mesh inset storage cabinets.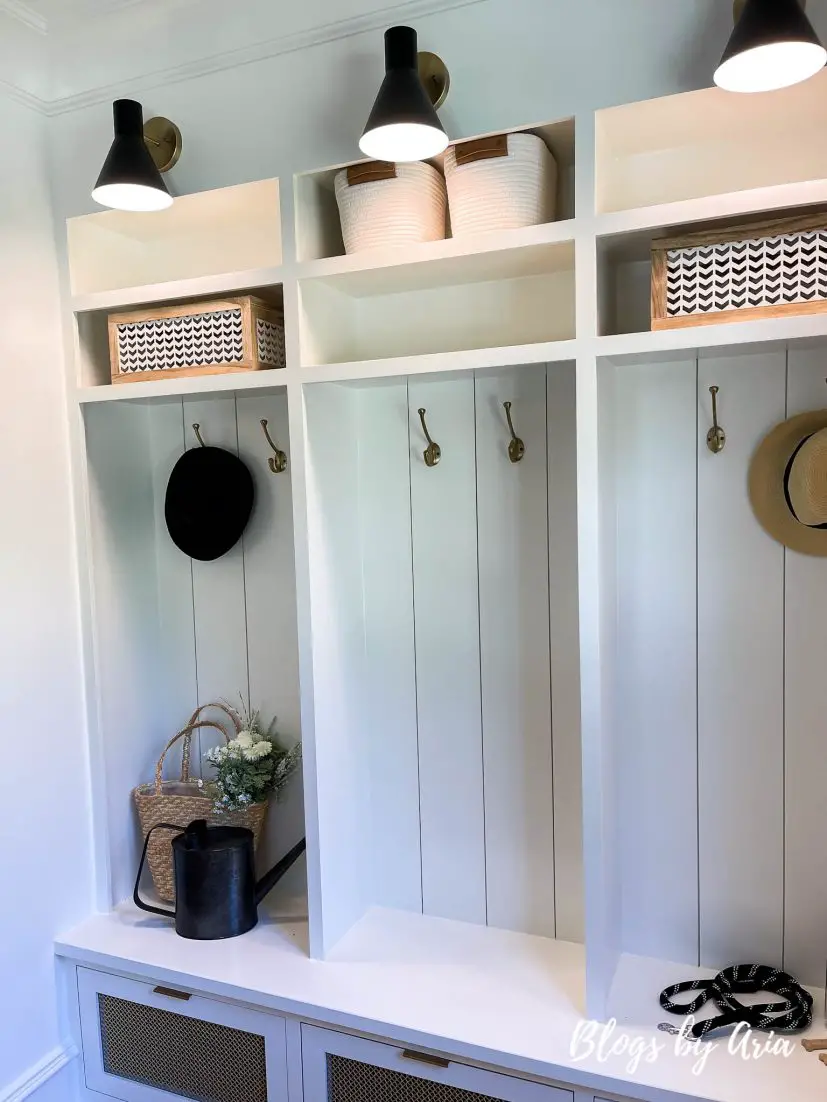 POWDER ROOM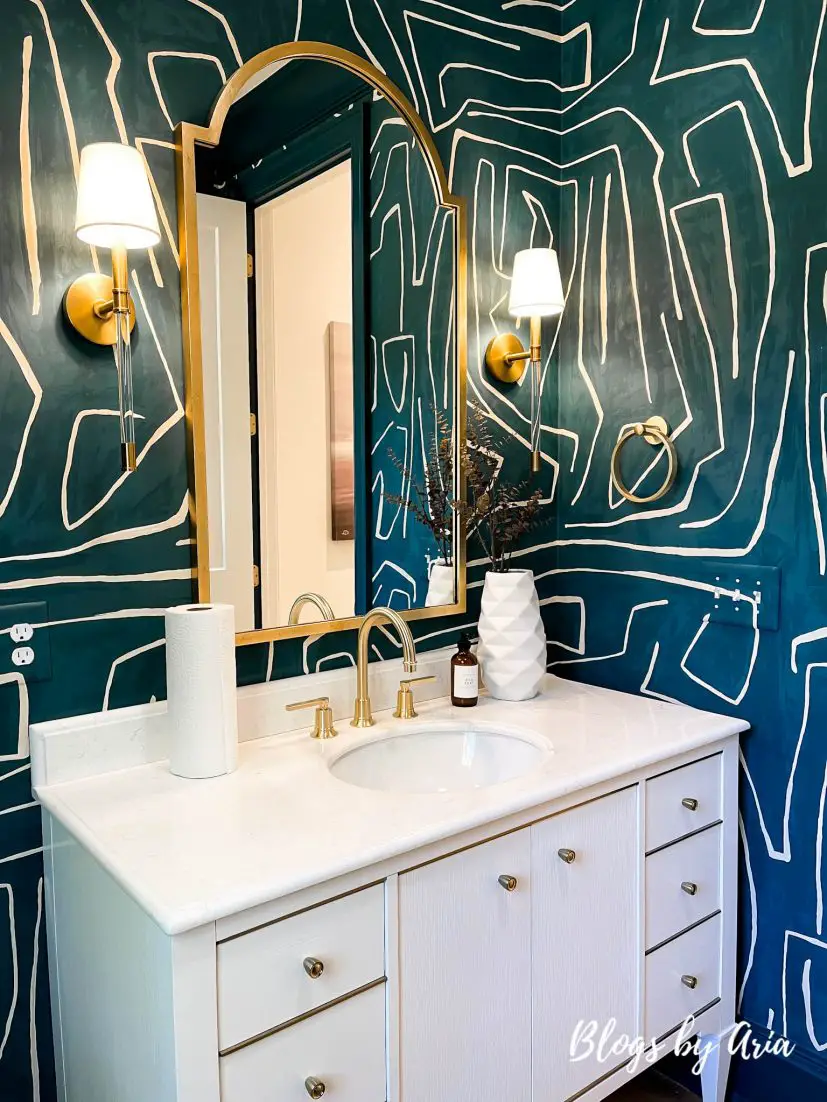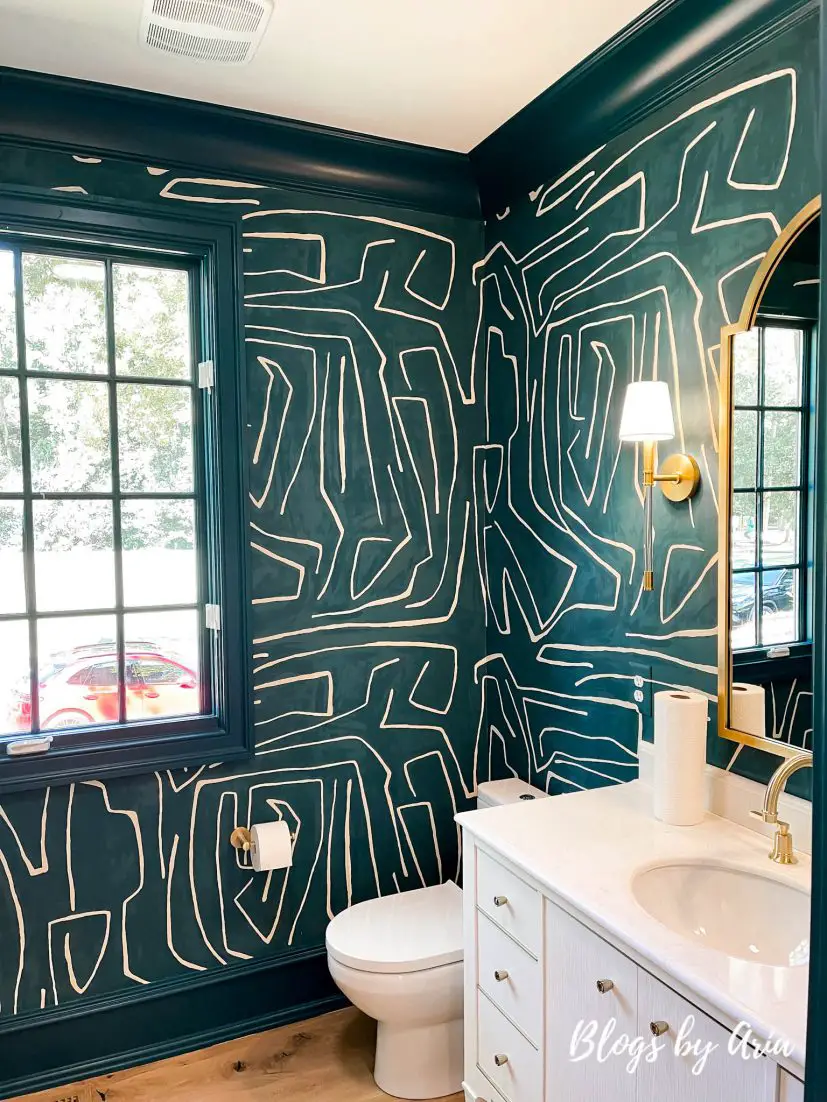 I shared this powder room in my Stories and got a lot of opinions!  On the one hand you can definitely go bold and out of the box in a powder room.  This may be too far out of the box for my taste!
GUEST SUITE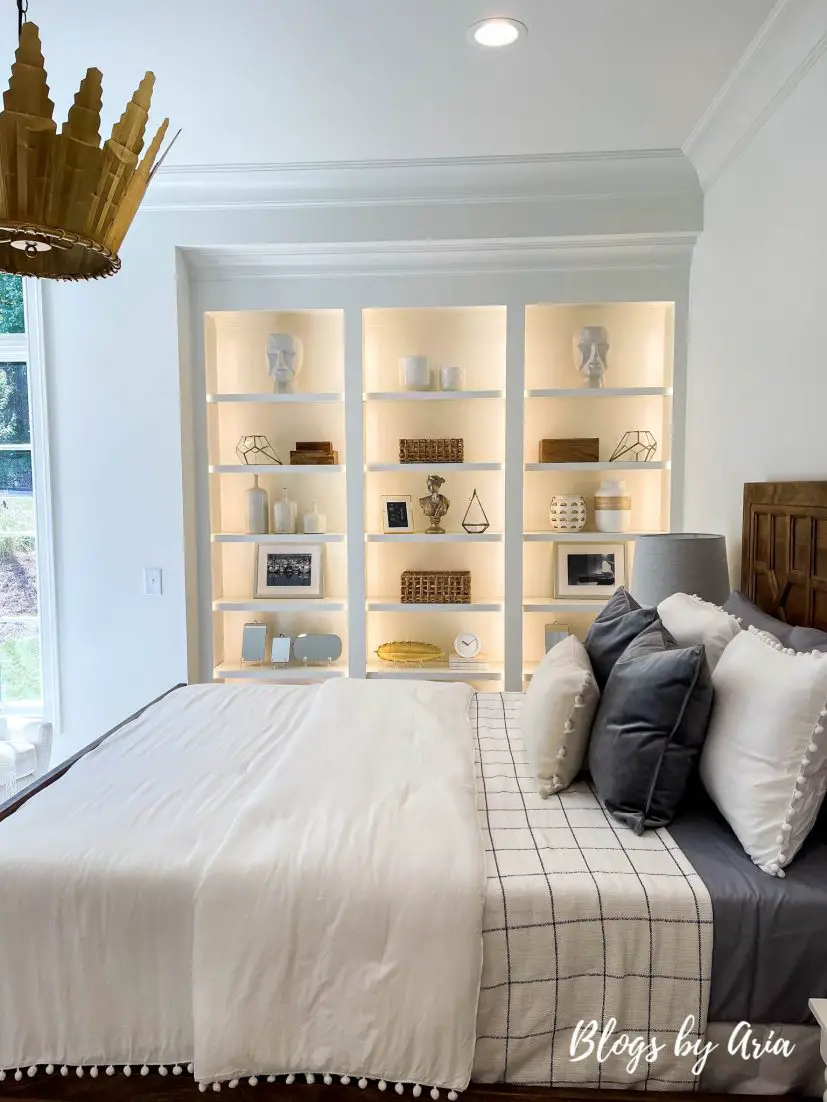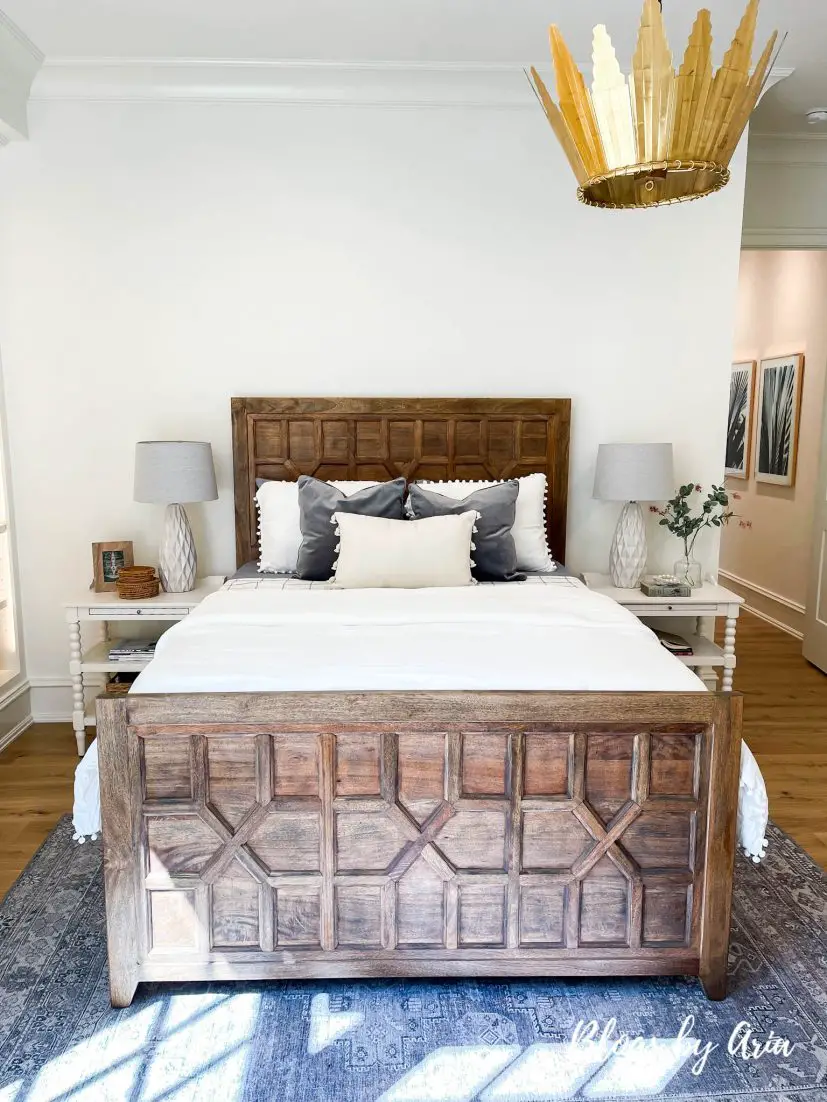 A guest suite is located on the first floor.  It's truly a suite.  Look at how large this room is and those lit built-ins!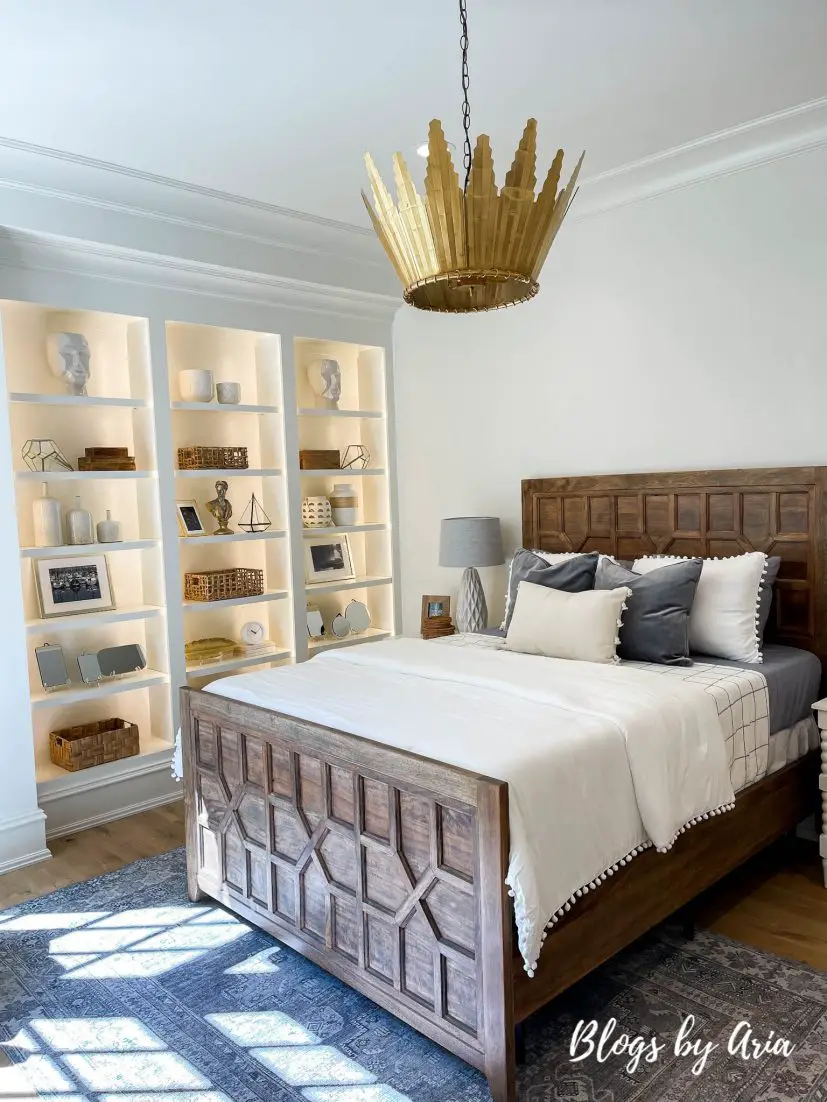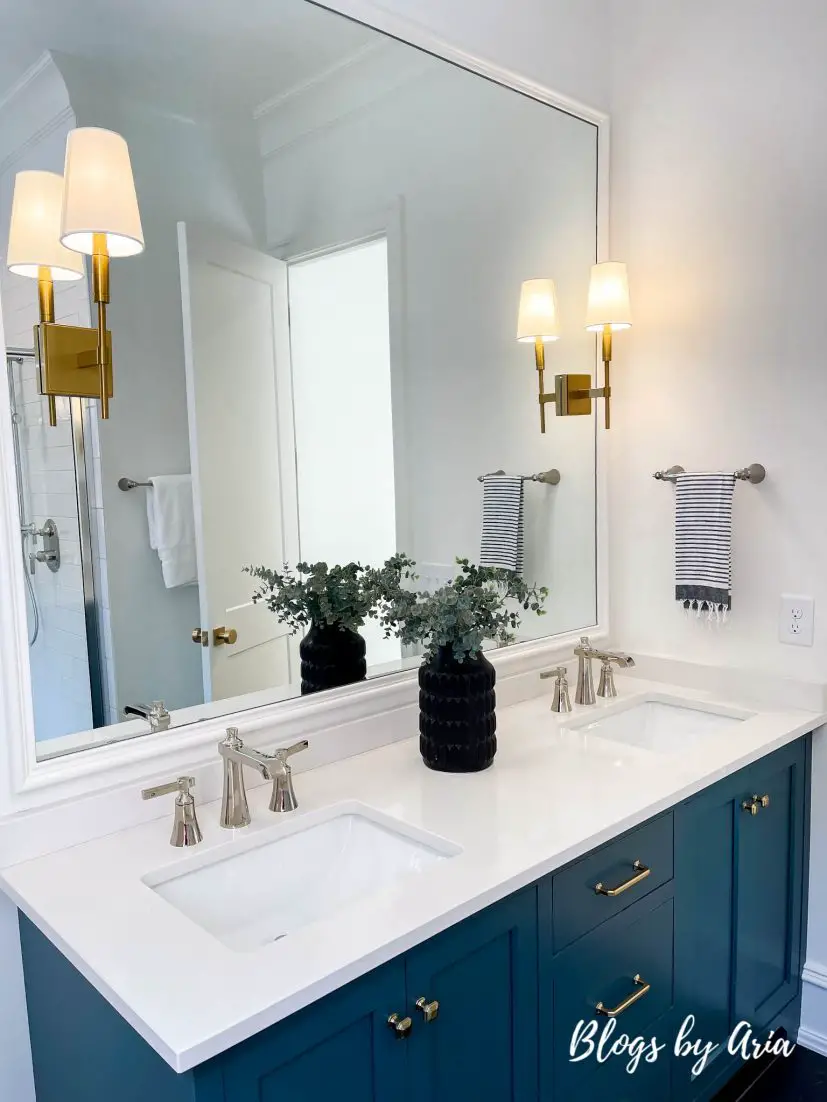 The attached bathroom is a good size for a guest room and features a walk in shower.
BEDROOM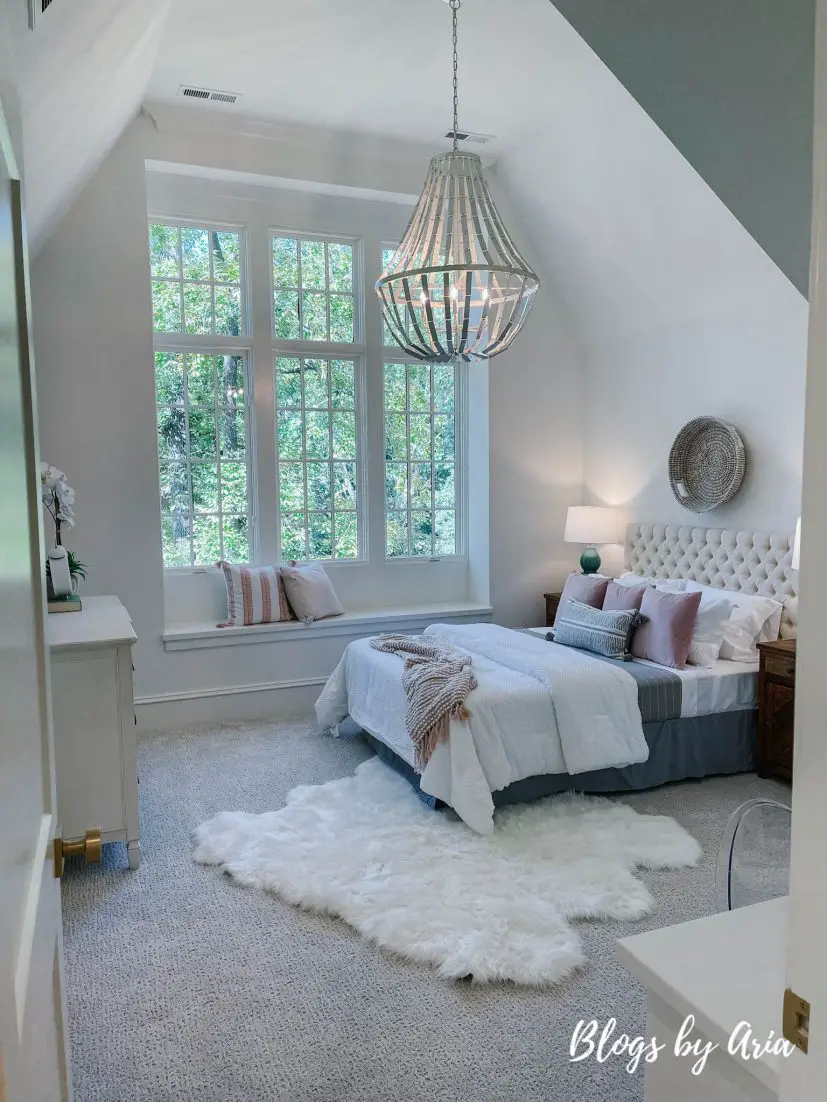 All of the secondary bedrooms upstairs are a great size each with their own bathrooms.  I love how the height and angle of the ceiling is accented by this oversized chandelier.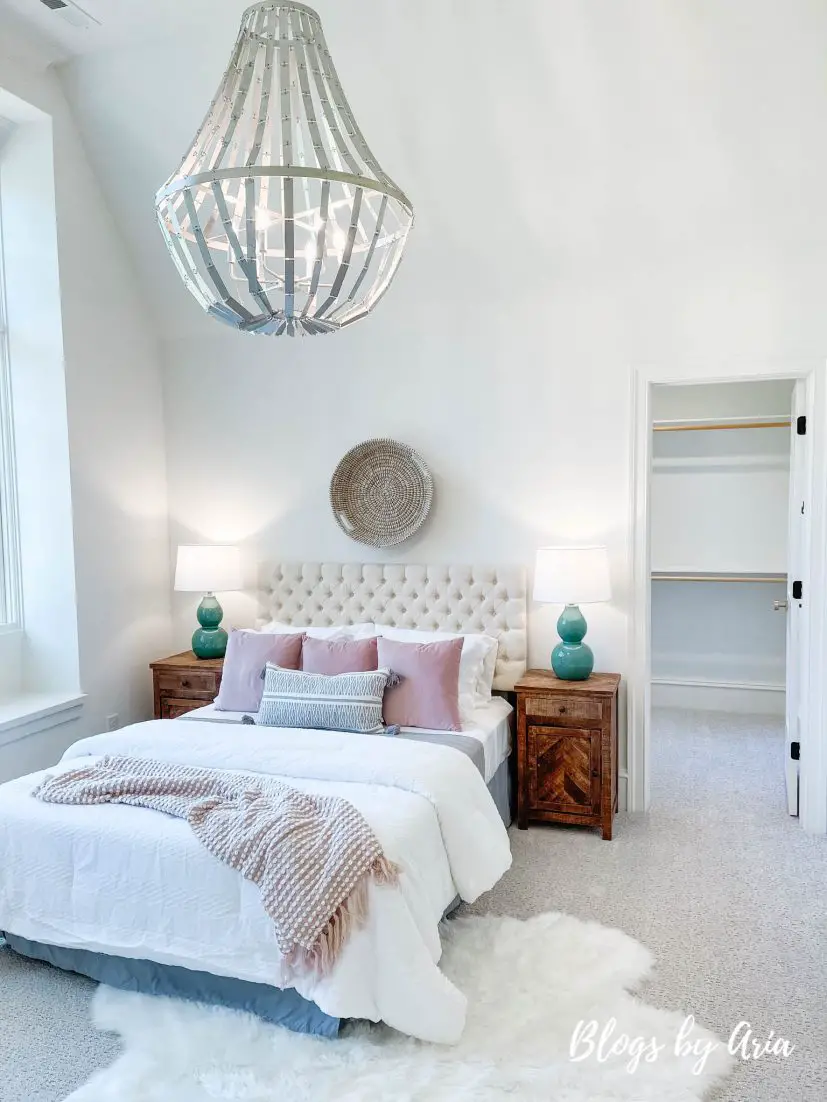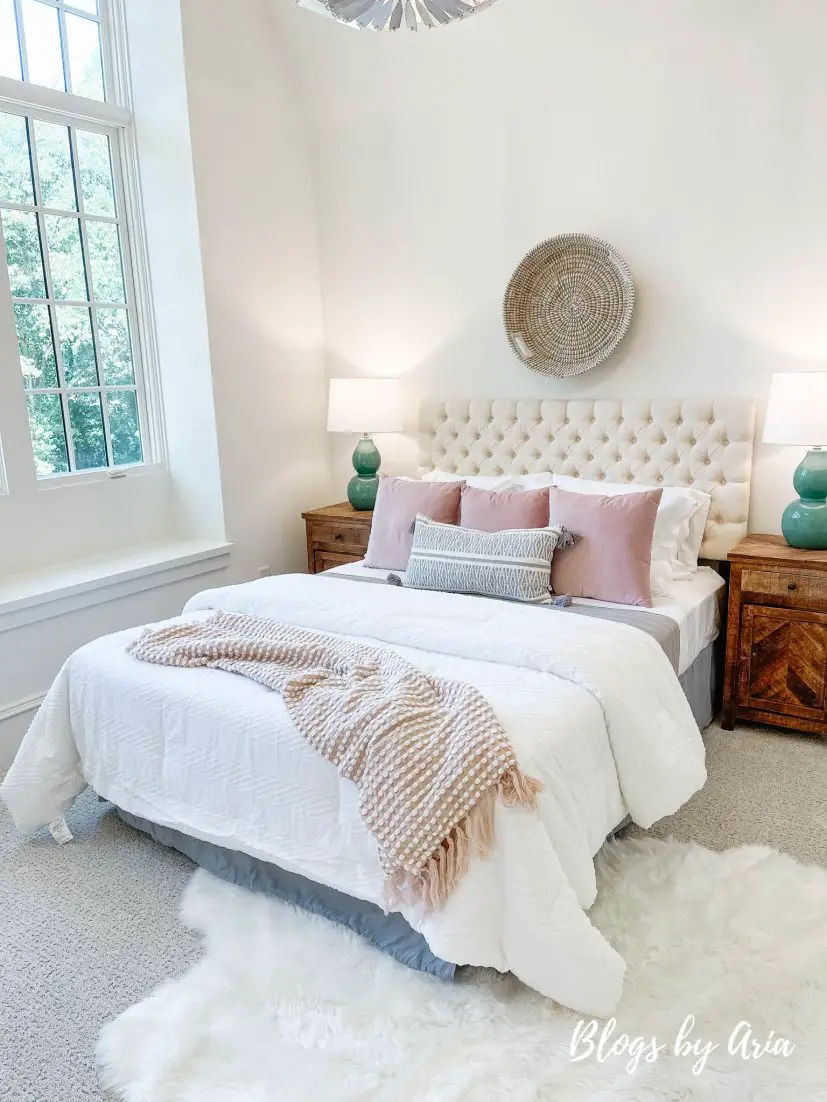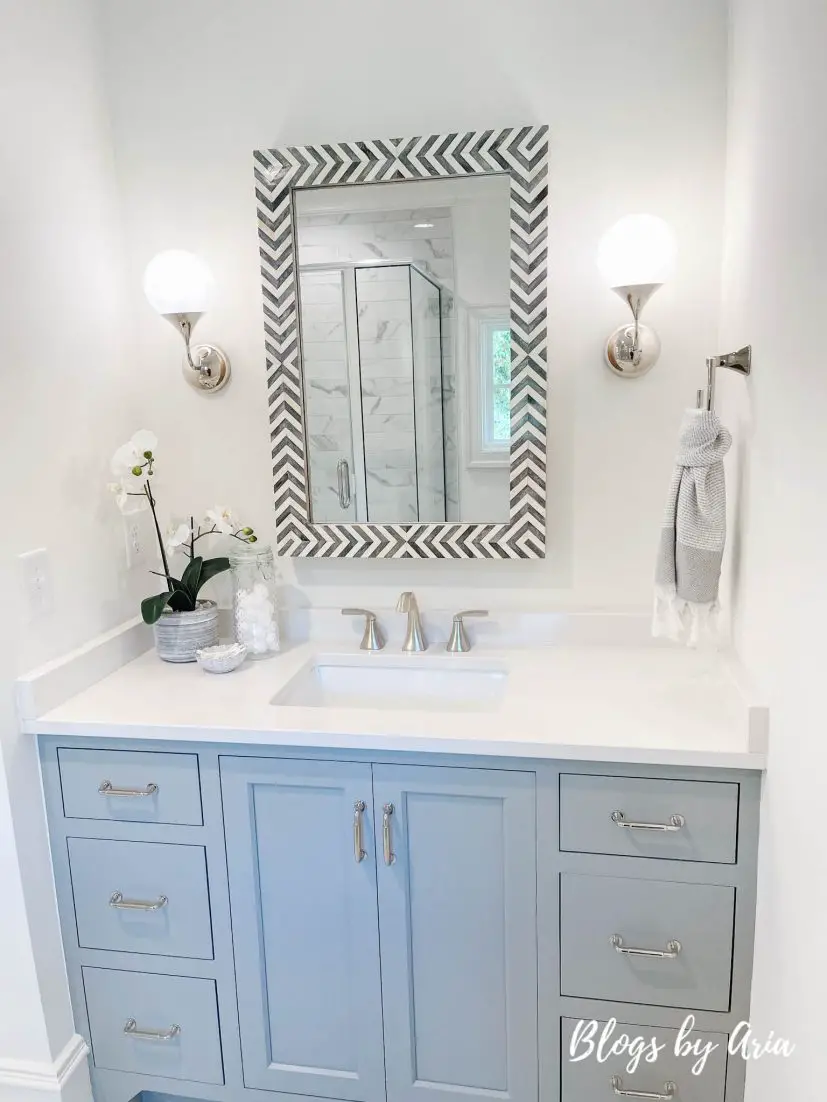 OWNER'S SUITE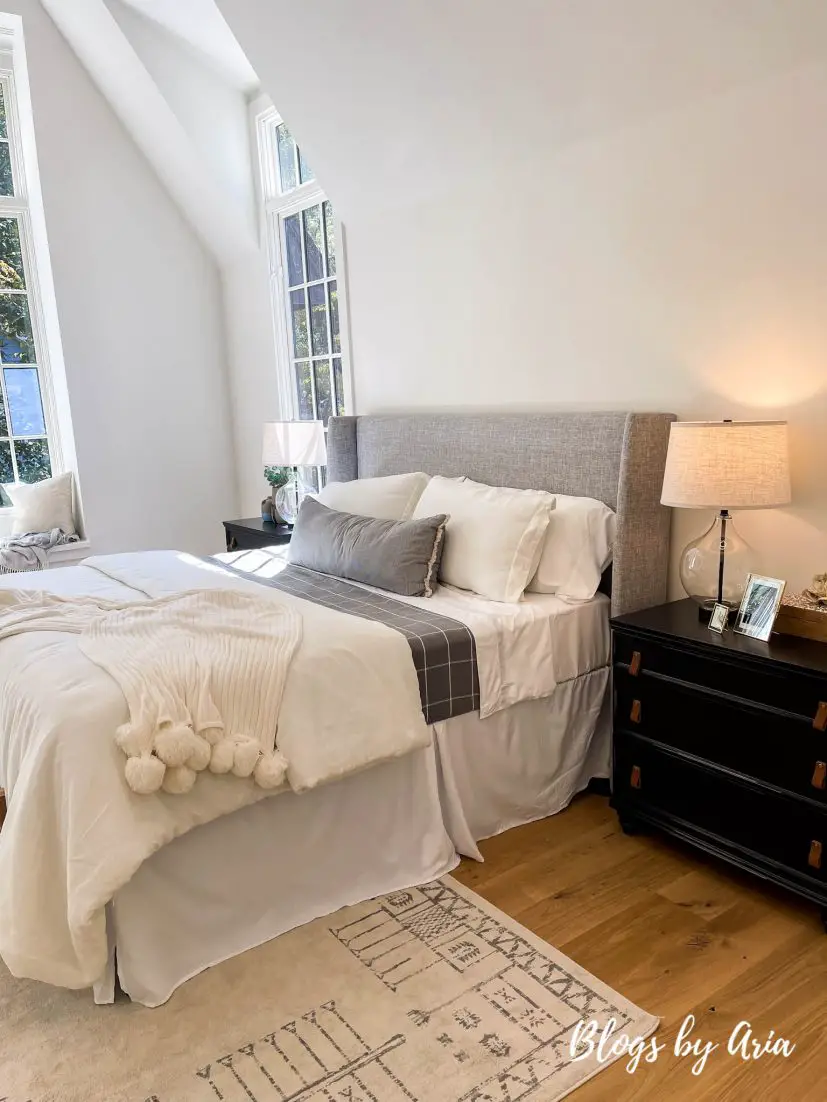 How unique are the leather strap draw pulls?  I've never seen them before but I found a few options online if you want to recreate the look in your home.
Leather Strap Drawer Pulls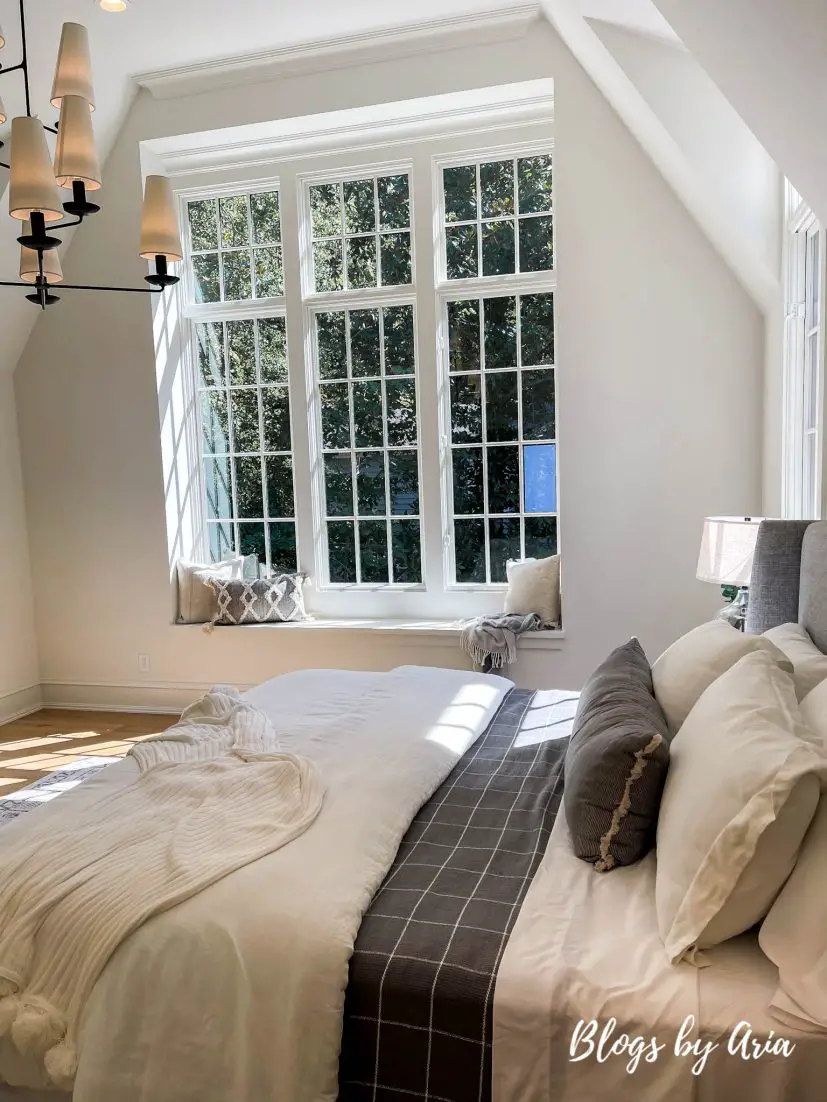 The owner's suite also takes advantage of the peaks and pitches of the ceiling.  I love that even though there are expansive windows, there's a sense of privacy thanks to the trees.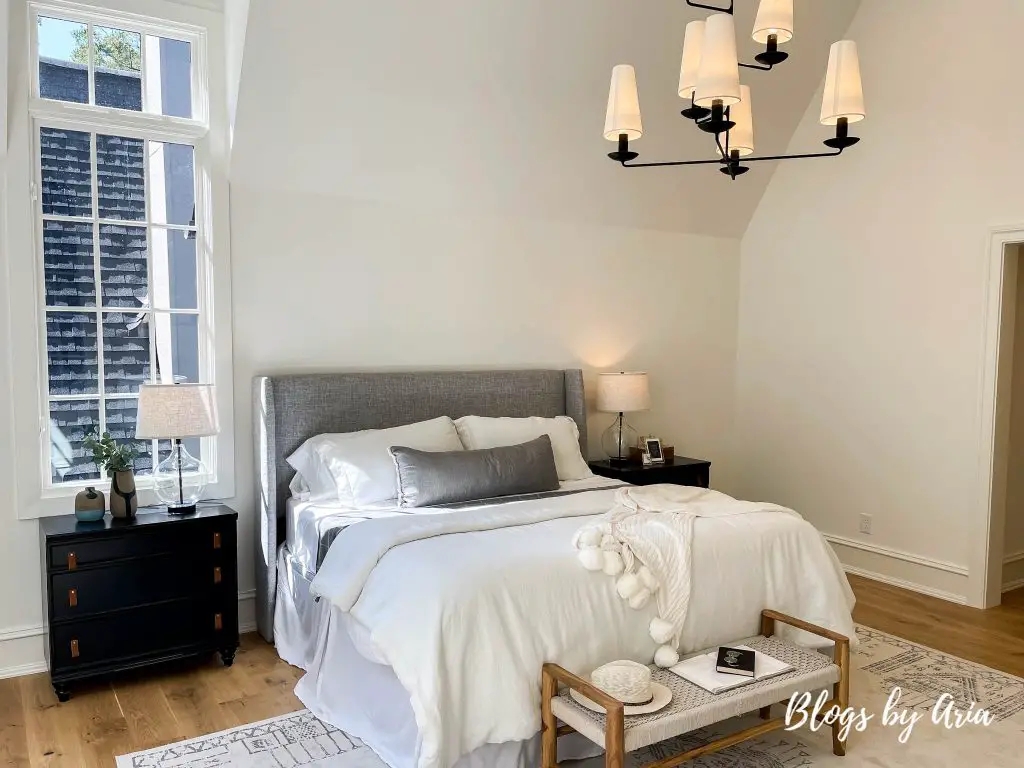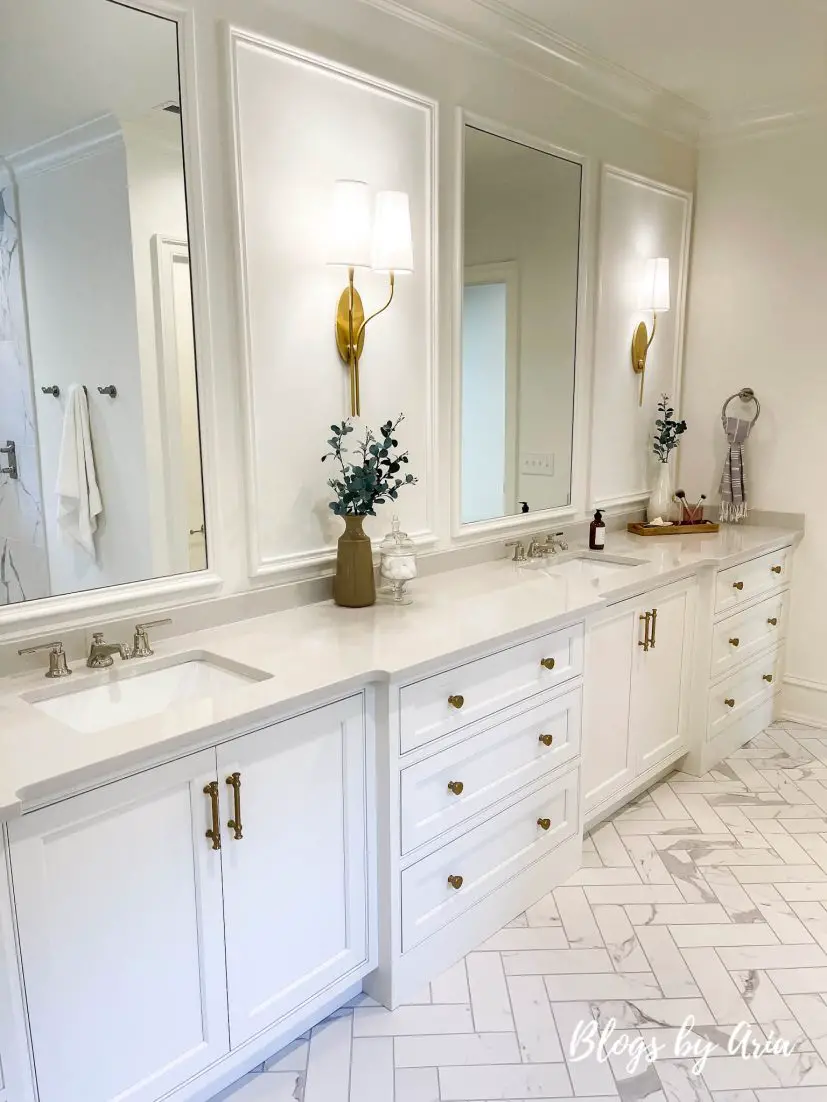 The owners bathroom is a great size and features a wall to wall double sink vanity.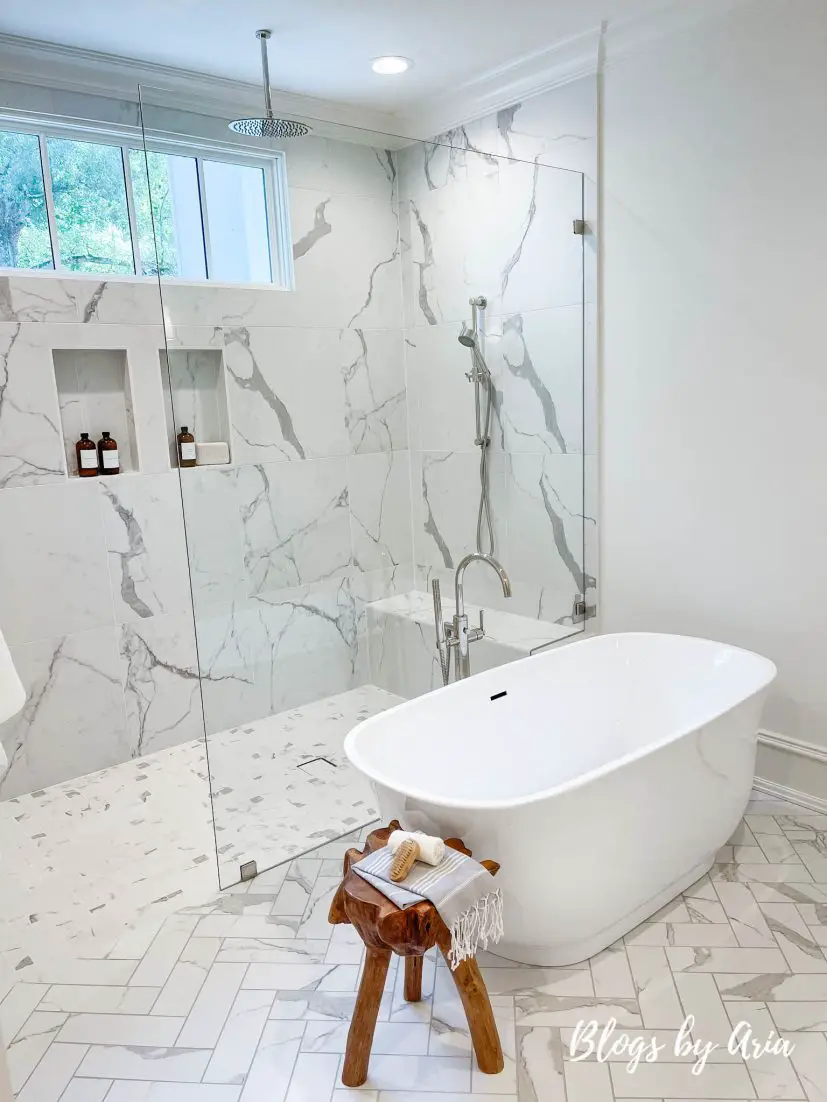 Enjoy a hot shower with the oversized walk in shower with rain head shower system or a nice long soak in the standalone tub.  The marble herringbone floors to the marble tile shower helps to provide a luxury spa-like feel in this bathroom.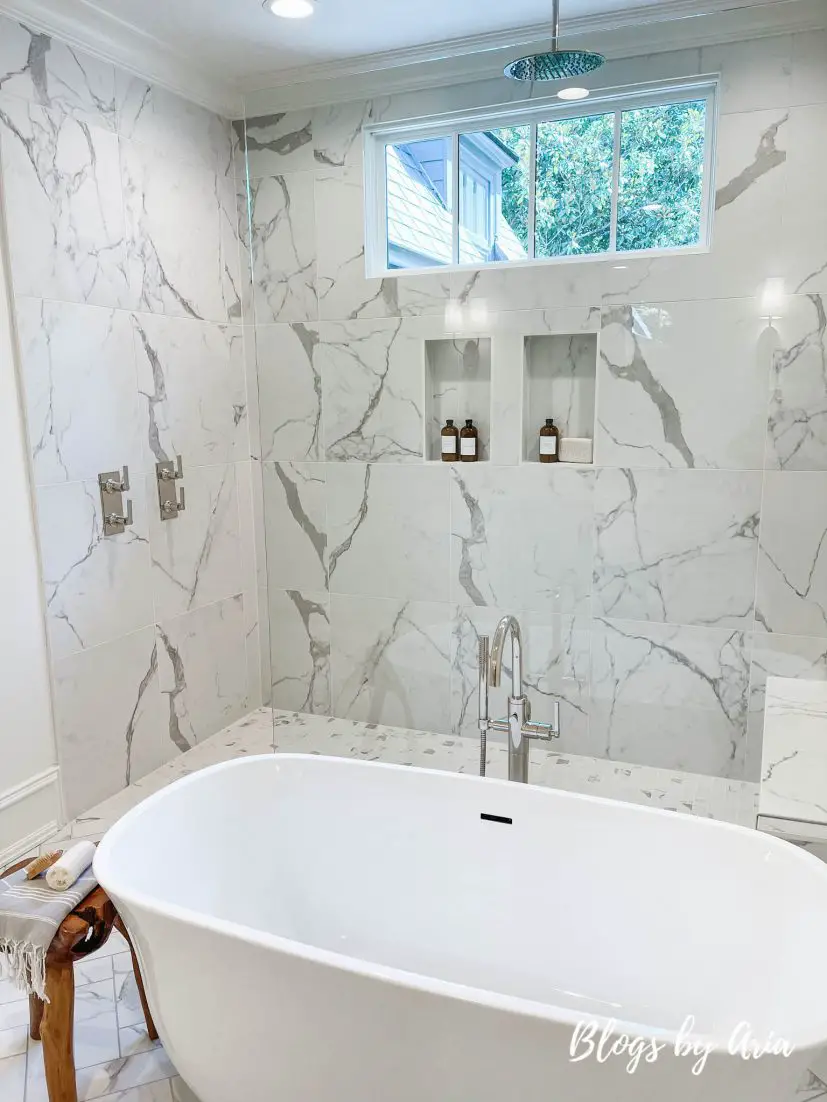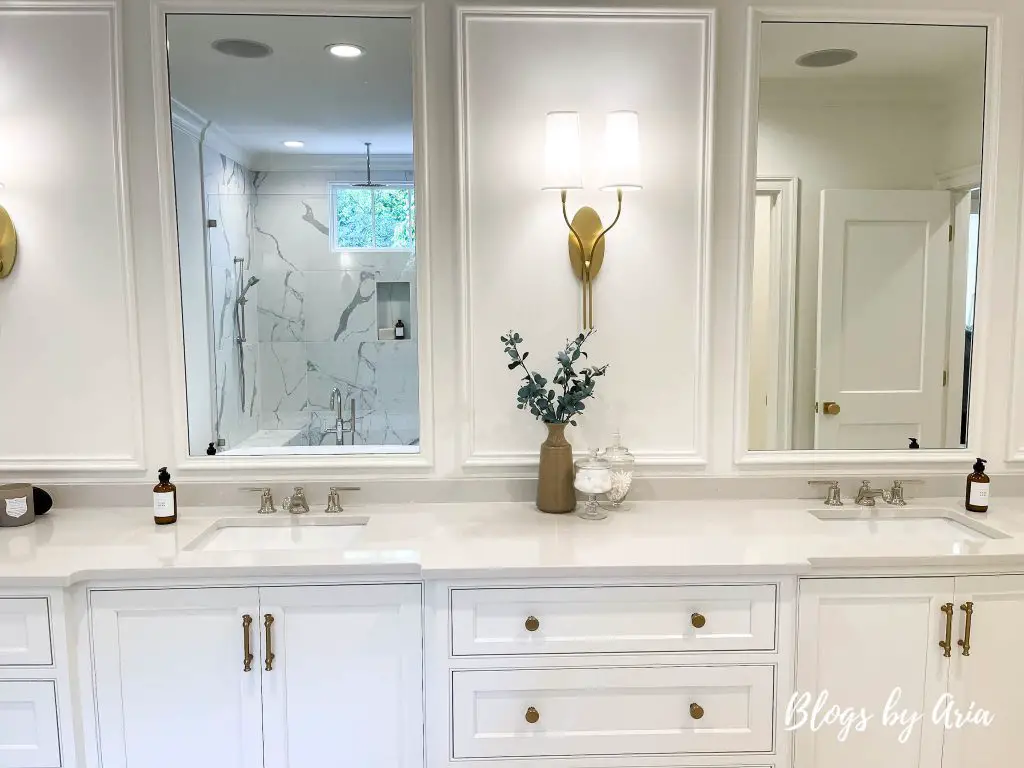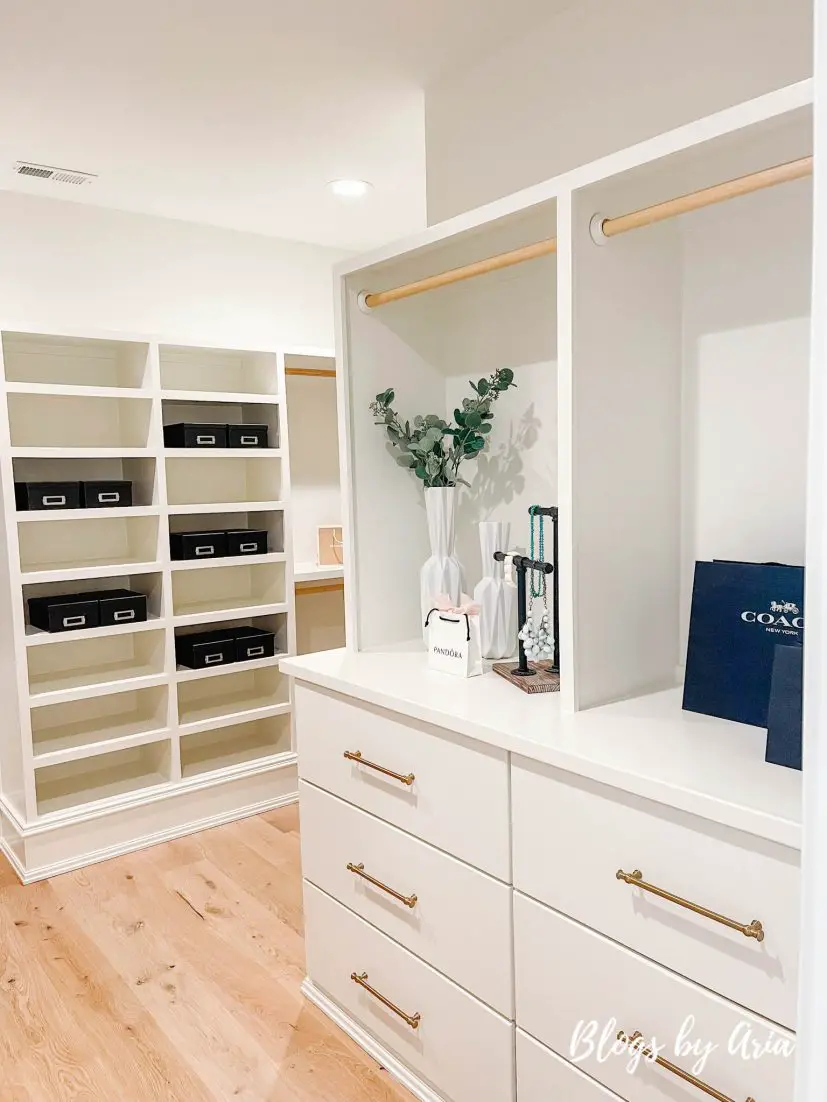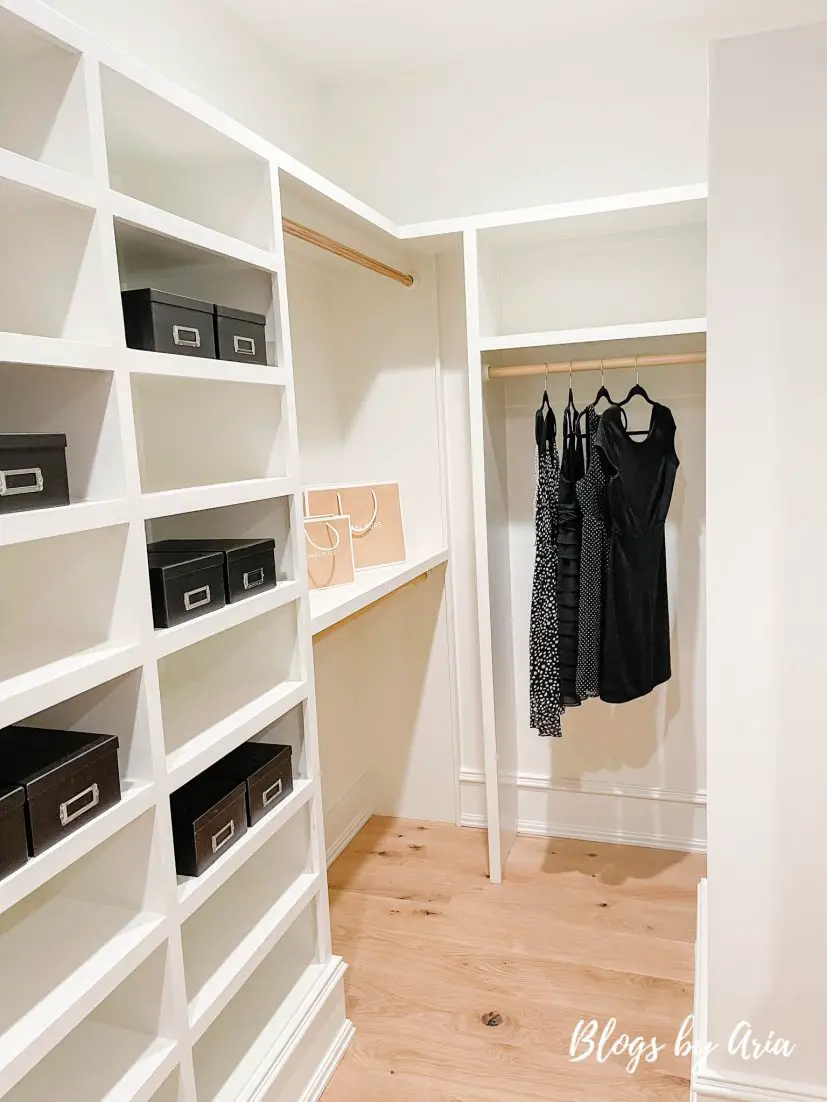 The owners walk in closet doesn't disappoint with so much space, light and storage.
LAUNDY ROOM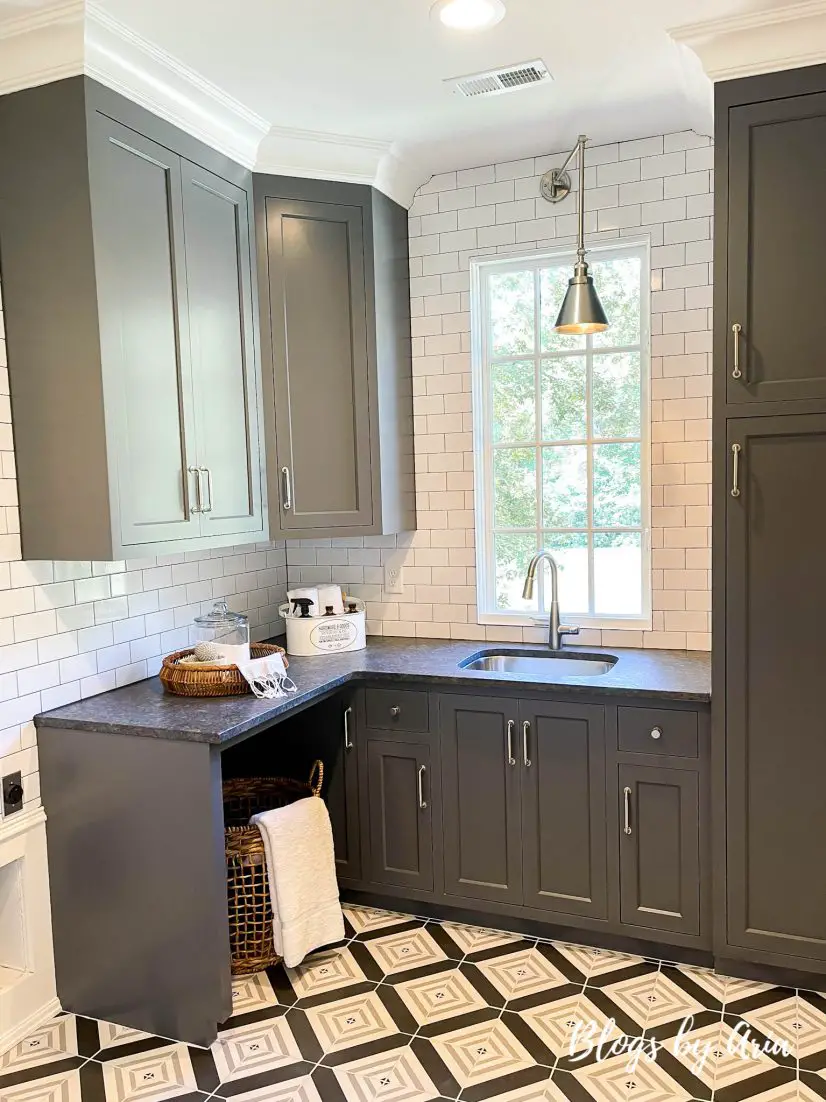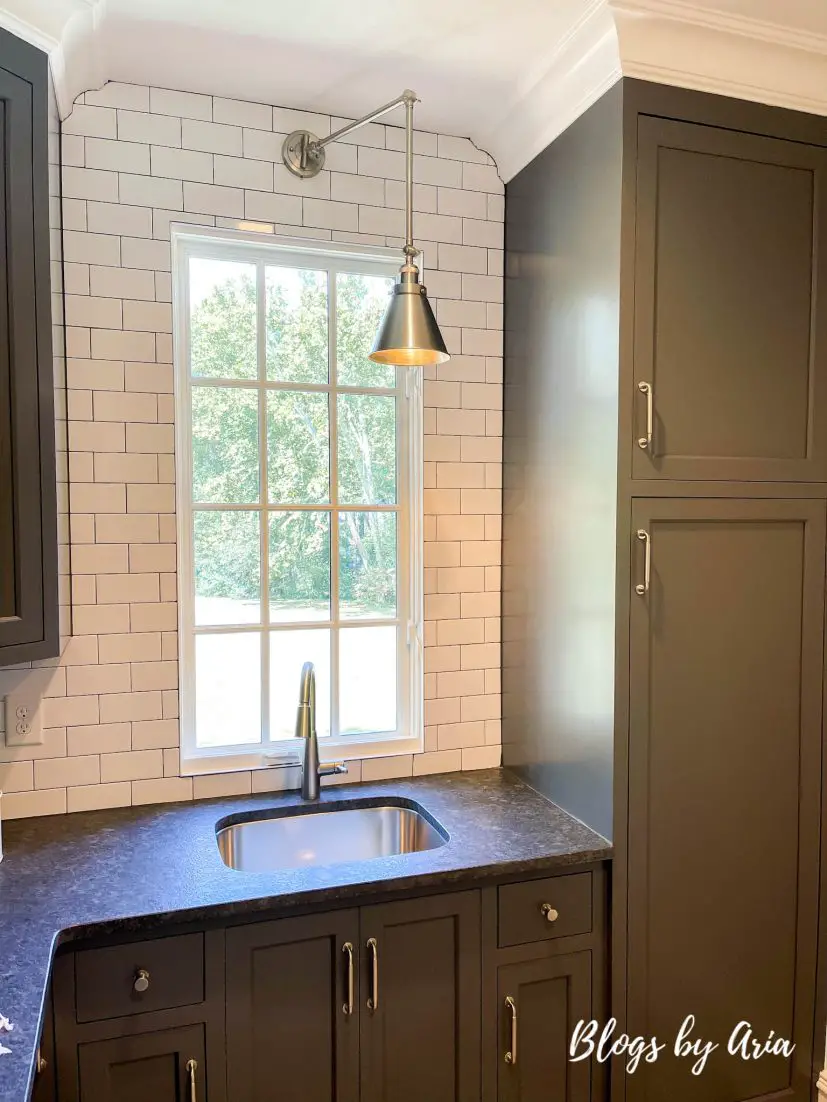 The laundry room is located on the second floor along with the majority of the bedrooms.  I like the color of the cabinetry.  It plays well off of the tile floors and subway tile backsplash.
BONUS ROOM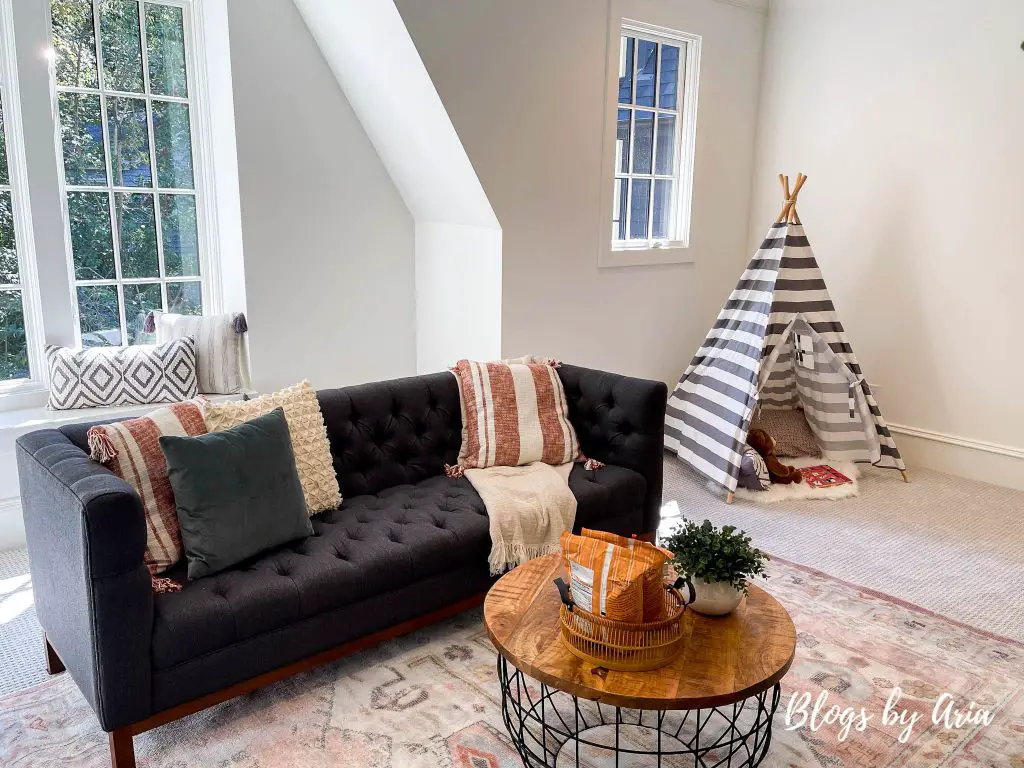 Rounding out the second floor is the game room.  The space is large enough to separate into different zones or create a theater room or recreation room.  The options are endless.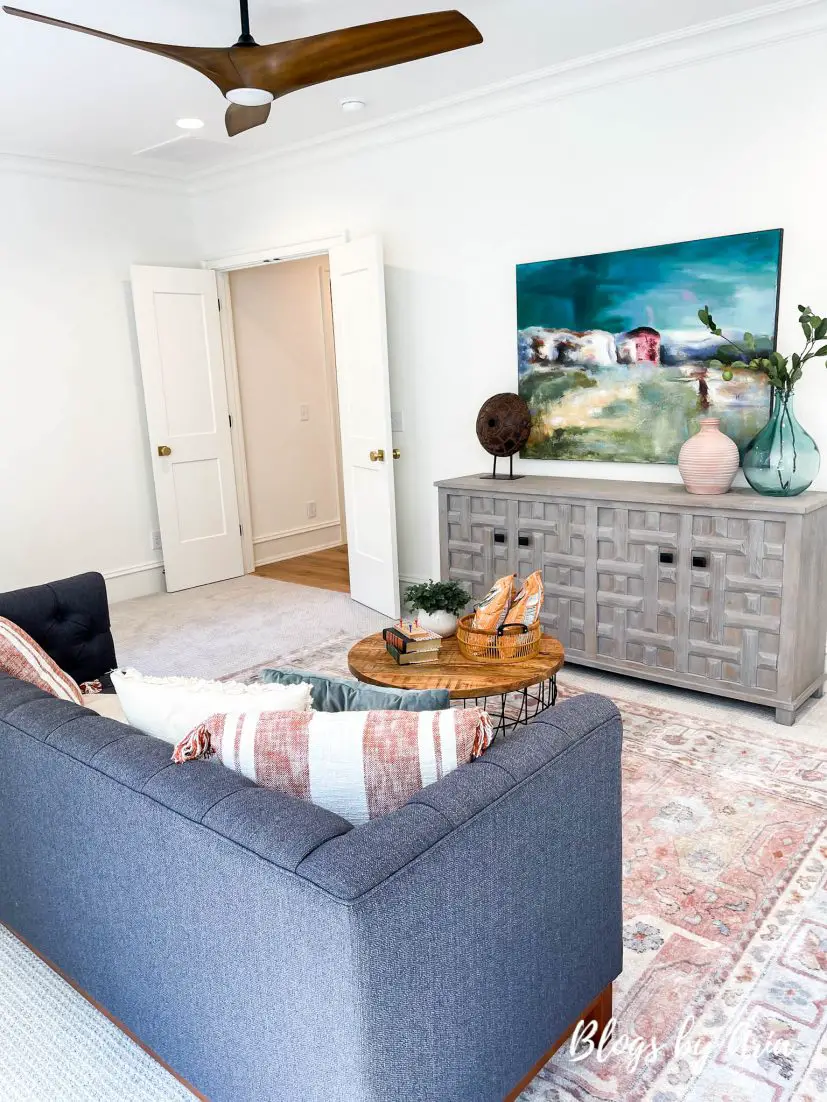 The bonus room has a good size walk in closet for storage which is always great.  If needed, this could function as an additional bedroom because it has access to one of the bathrooms available upstairs.  Two bedrooms have their own dedicated bathrooms but one of the bedrooms has a bathroom right outside of it so that could work for a larger family.
One thing this home has no shortage of is space!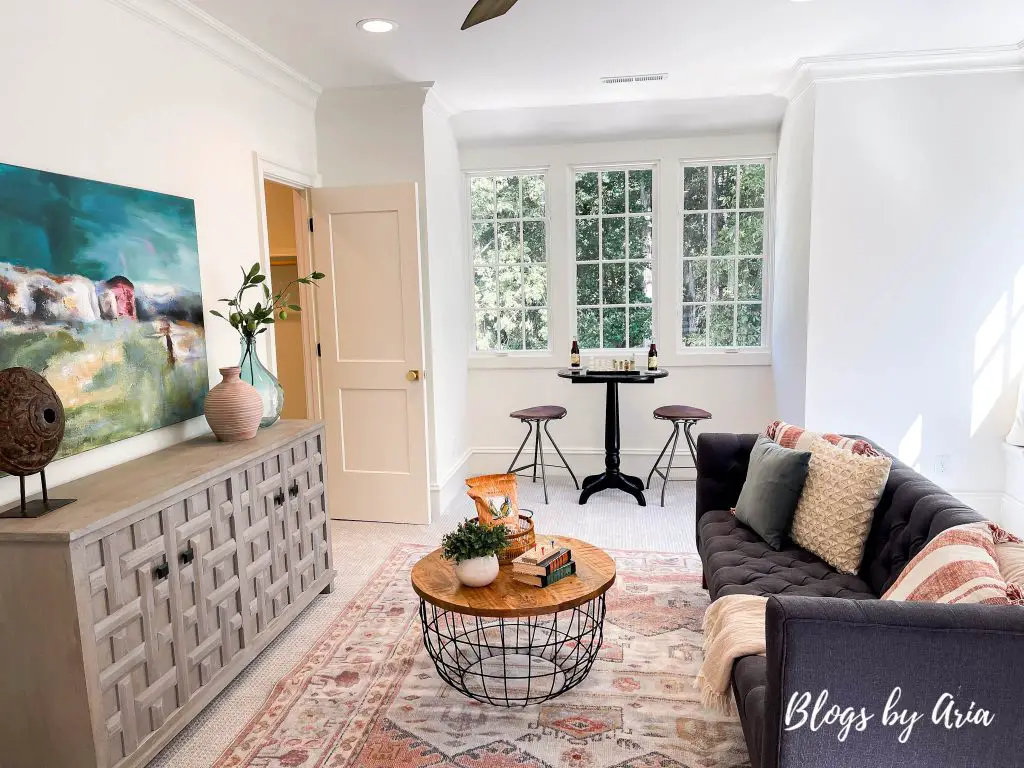 Here's another view of these gorgeous windows in the stairway.
What I love about the Budleigh Estate is all of the natural light.  From every corner and every angle there's light and I can't get enough of it!  Imagine how beautiful this view would be on a snowy day or during Spring when everything is so bright and colorful!
BATHROOM DESIGN IDEAS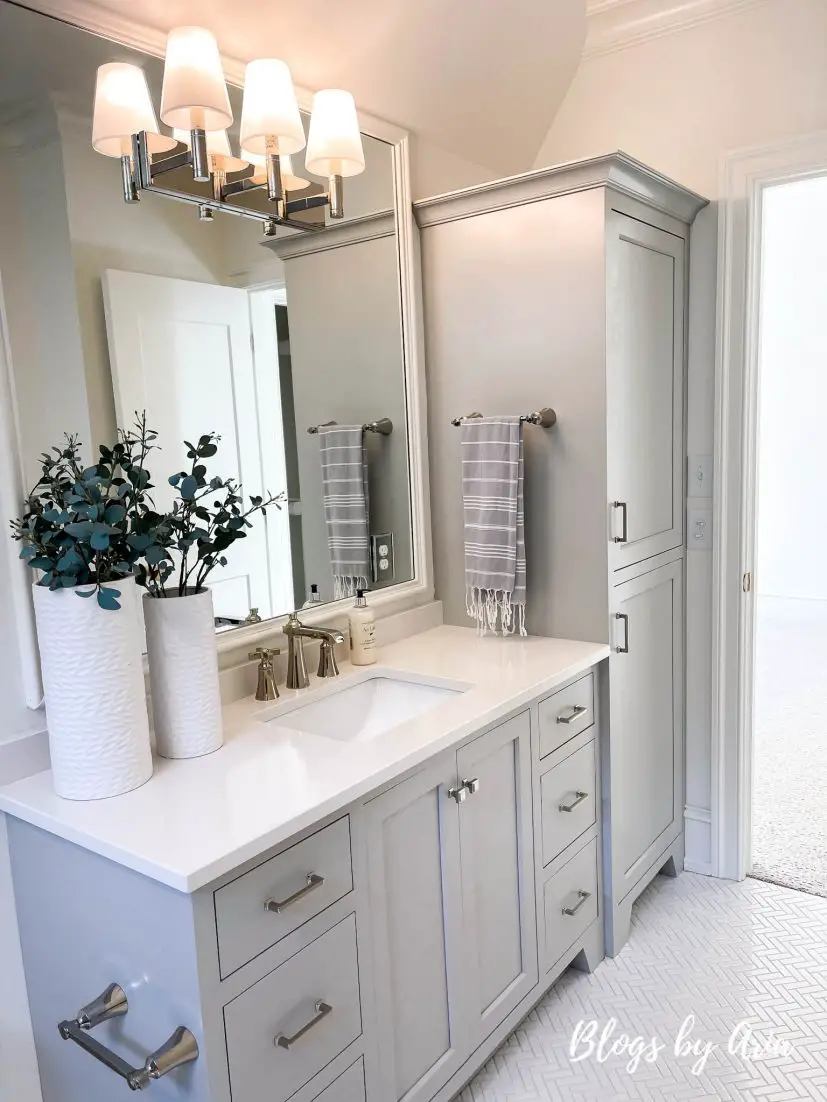 The other bedrooms in the home weren't staged but I had to share the other bathrooms.  This is my favorite bathroom because look at the herringbone floors.  Love them!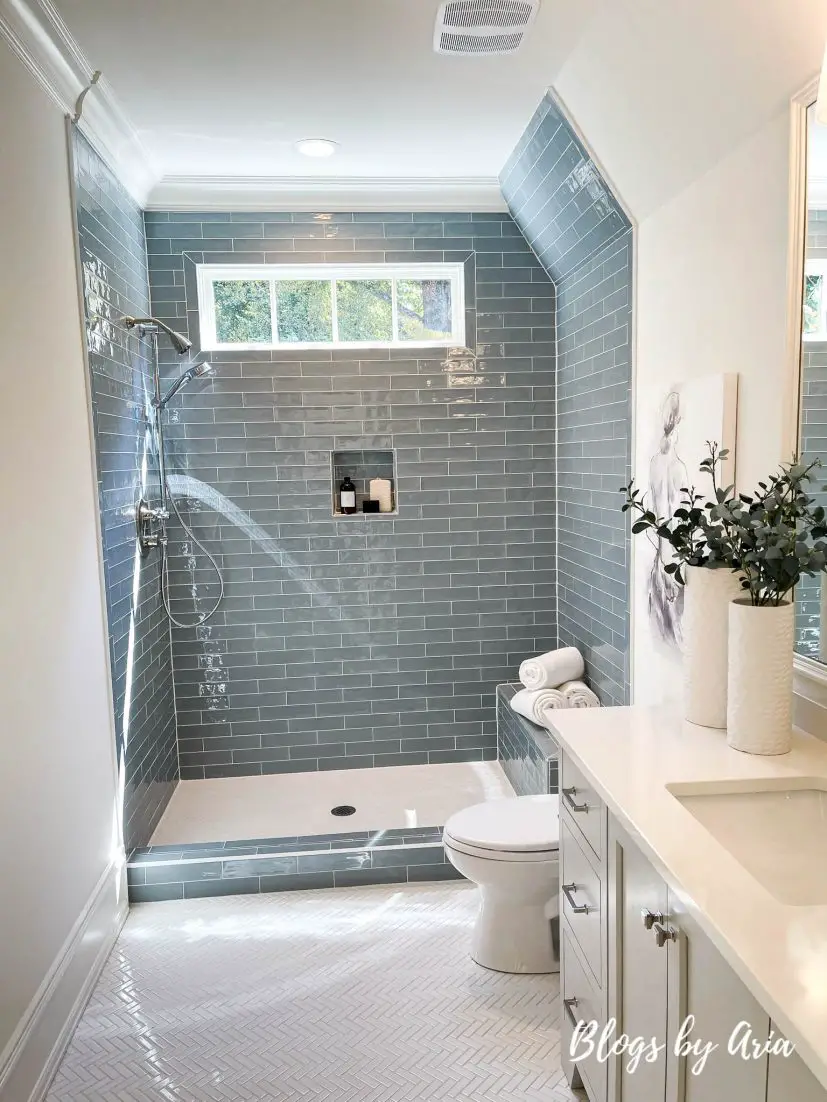 And this beautiful blue subway tile!  It's the perfect shade of calm and serenity which gives this bathroom a spa like feel.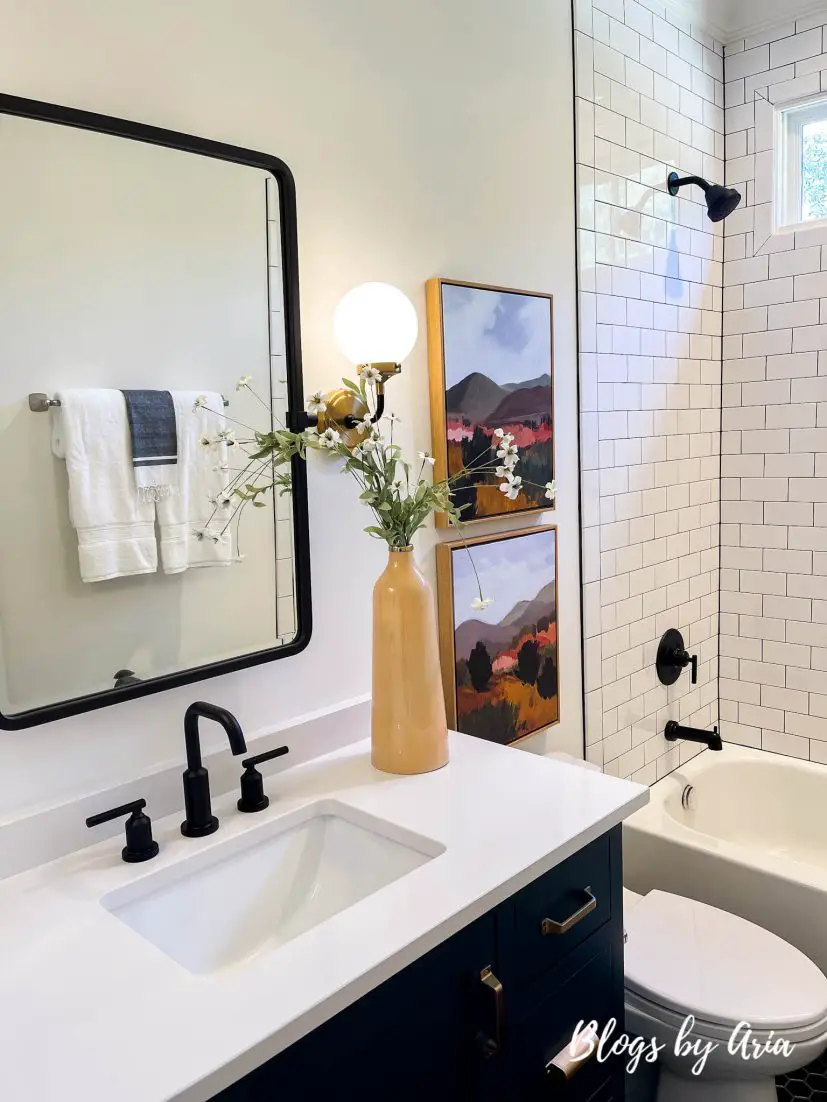 Each bathroom has its own personality.  This space is a little more industrial with the black trim mirror and fixtures.  You can't get a good look but the floor is a dark navy hexagon tile and it all just comes together perfectly.
Overall Budleigh Estate is a well planned, well executed and well designed home.  I think what is the most unexpected aspect of this home is that it feels like a home.  You'd look at the exterior and think wow and expect it to be a little stuffy right?  A little hoity-toity right?  But it's not.  It truly a comfortable space that's warm and inviting.
So what did you think of the Budleigh Estate?  Let me know in the comments below.  There are some wall colors I'd change but otherwise it's truly a beautiful home!