When it comes to touring new houses I definitely like the wow factor.  Who doesn't?  But I also like to look at standard houses too.  By standard I mean, what you expect to see in most neighborhoods.  I've shared before how when I used to tour houses in Greenville, I loved them but many houses looked similar.  As I started to tour homes in the Raleigh area I was blown away by all of the varieties of architectural styles.  I like to see houses of all shapes and sizes and today I'm going to share the Cedar Pond House.
*this post includes affiliate links for your shopping convenience, you can read more about affiliate links by reading my Disclosure*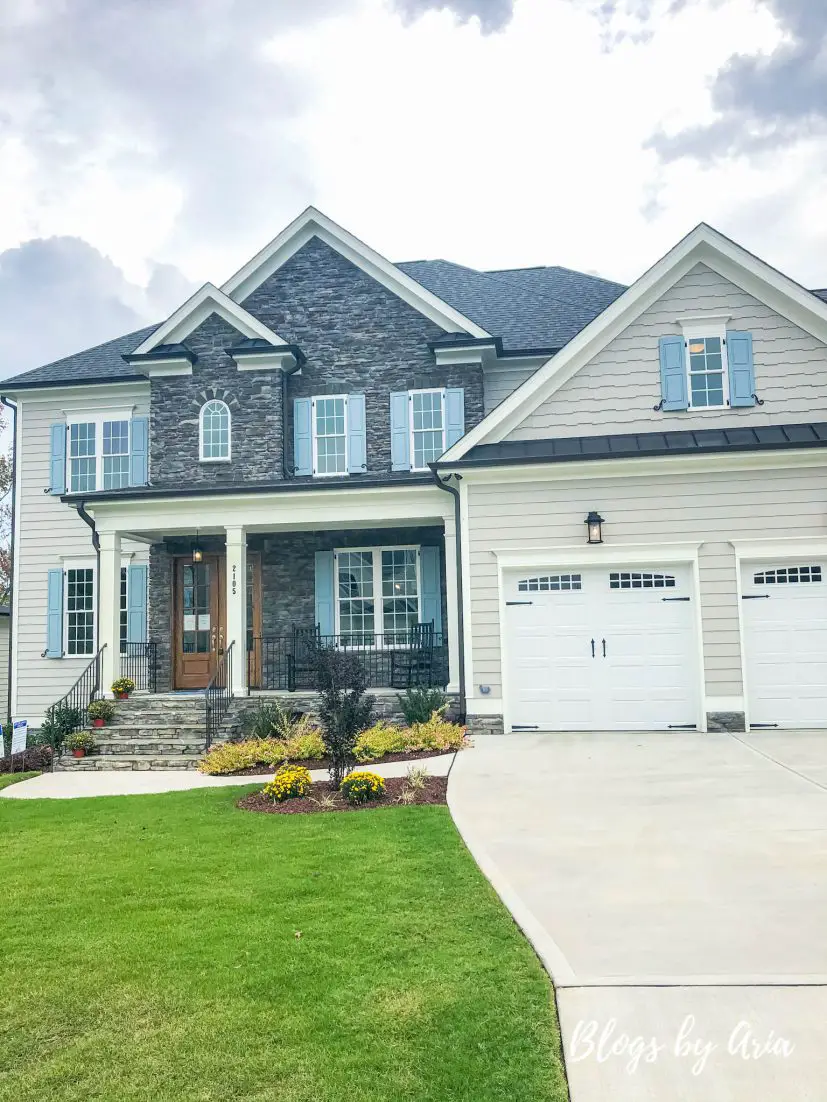 The Cedar Pond house has 5 bedrooms and 4.5 bathrooms.  It boasts 3,702 square feet of living space and an oversized two car garage.  Located in Apex, North Carolina at the time of viewing it was listed at $739,900.
Apex has been a booming housing market for years and they're still growing!  What I like about the Apex, North Carolina area is that you get the feel of suburban living with all the amenities and access of the metro city.  What you can see though, is just in this head on shot, the two neighboring houses and their proximity.  That I don't love and have found to be the case in many neighborhoods in Apex.  I fully understand why, but it's something to take note of.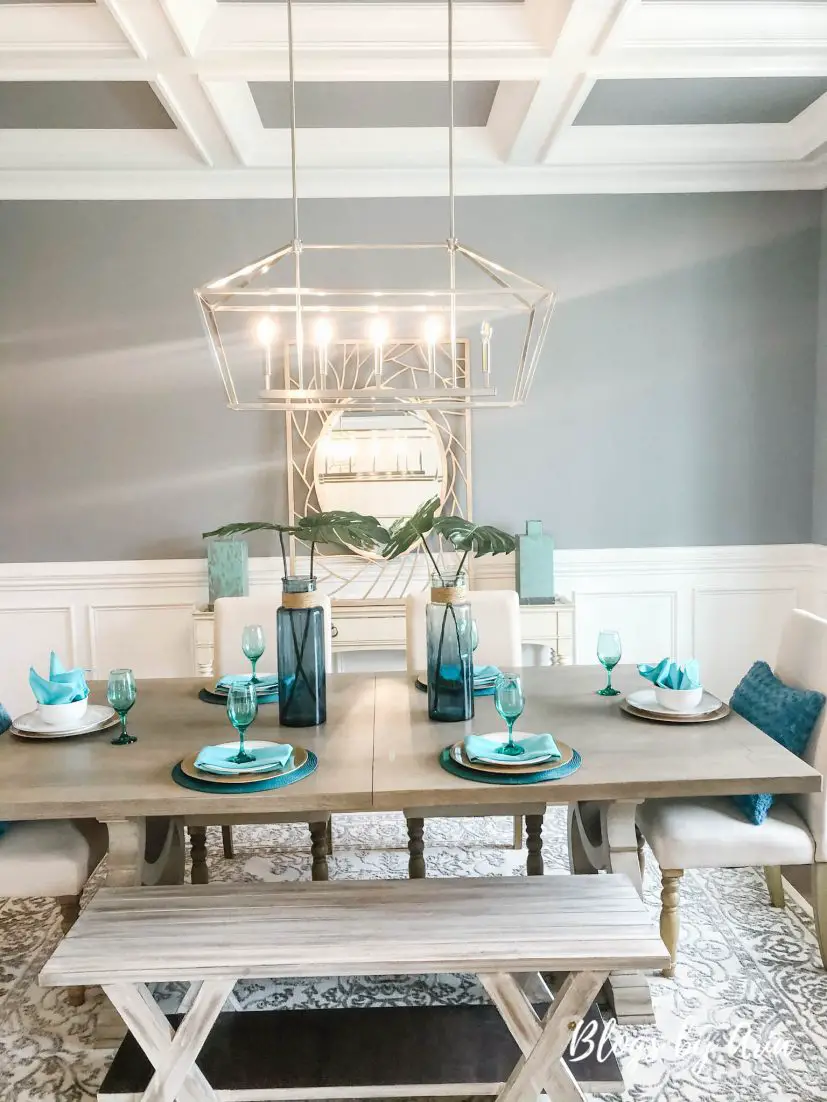 Entering the home the dining room is to your right.  It's your typical formal dining room.  What I like about it is the painted coffered ceiling and wainscoting.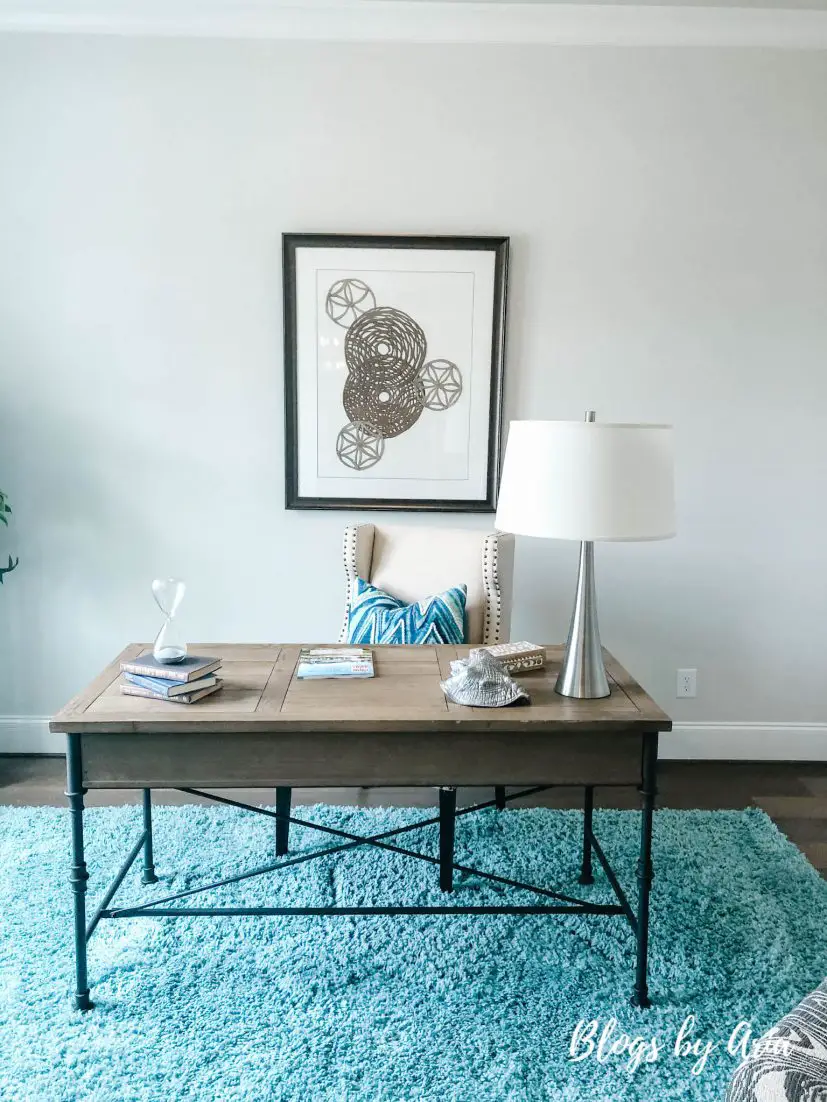 Across from the dining room is the home office that is a decent size.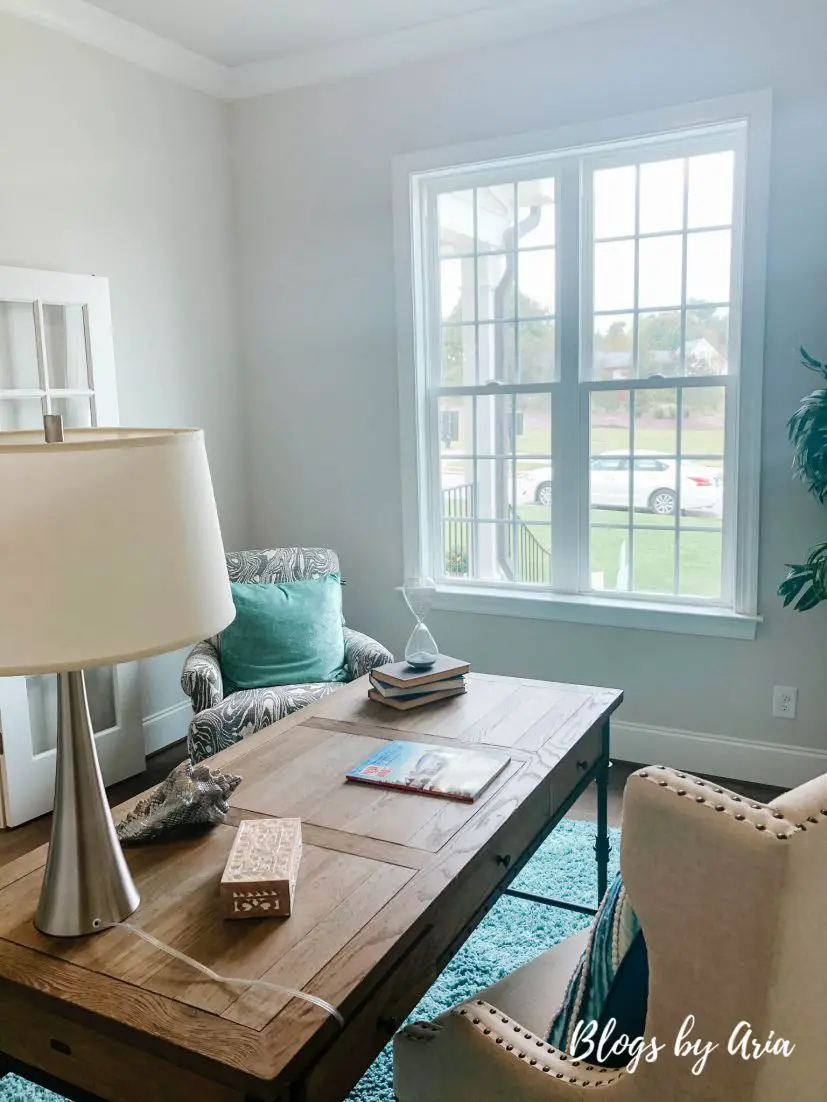 I love a good transom!  And French doors!  A classic touch that never goes out of style.
EAT IN KITCHEN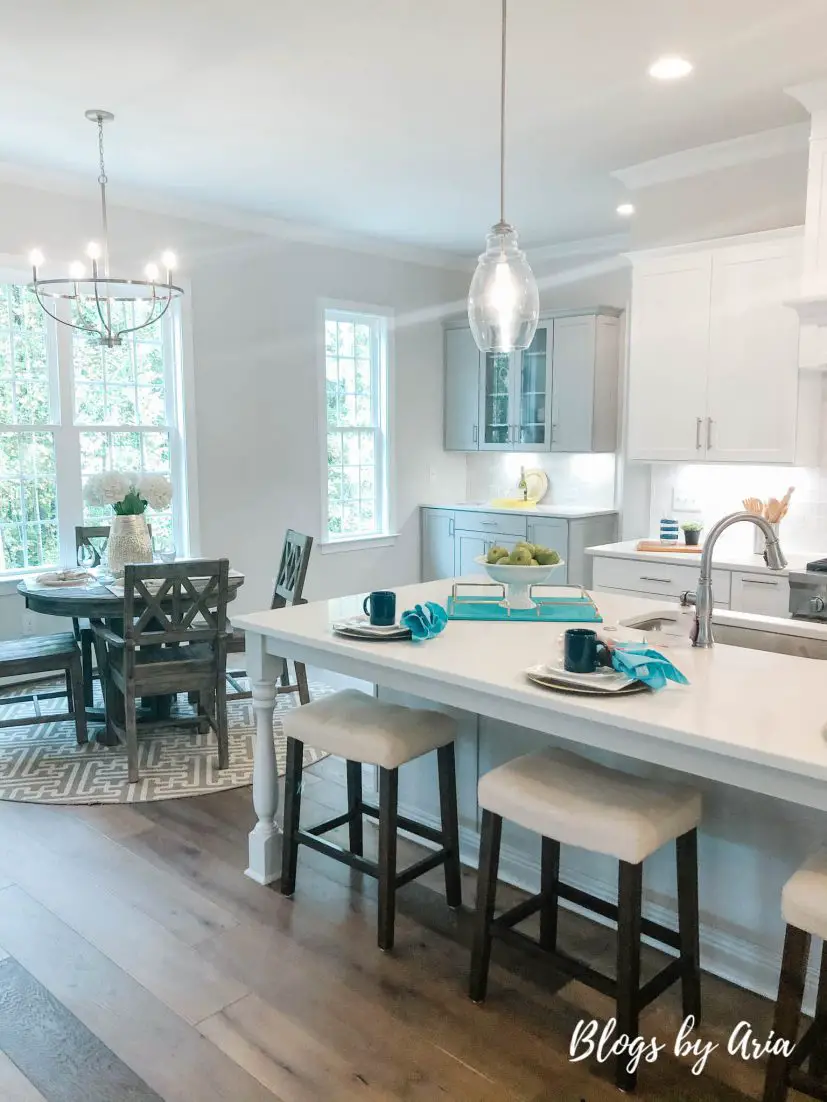 The kitchen layout is what I would deem standard but one aspect that I like is the modified butler's pantry layout.  Instead of the butler's pantry being located between the dining room and kitchen, it is off of the breakfast nook.
One feature I do love throughout this home is the wood flooring.
The walk in pantry is located off of the breakfast nook.  As you can see it's a really good size.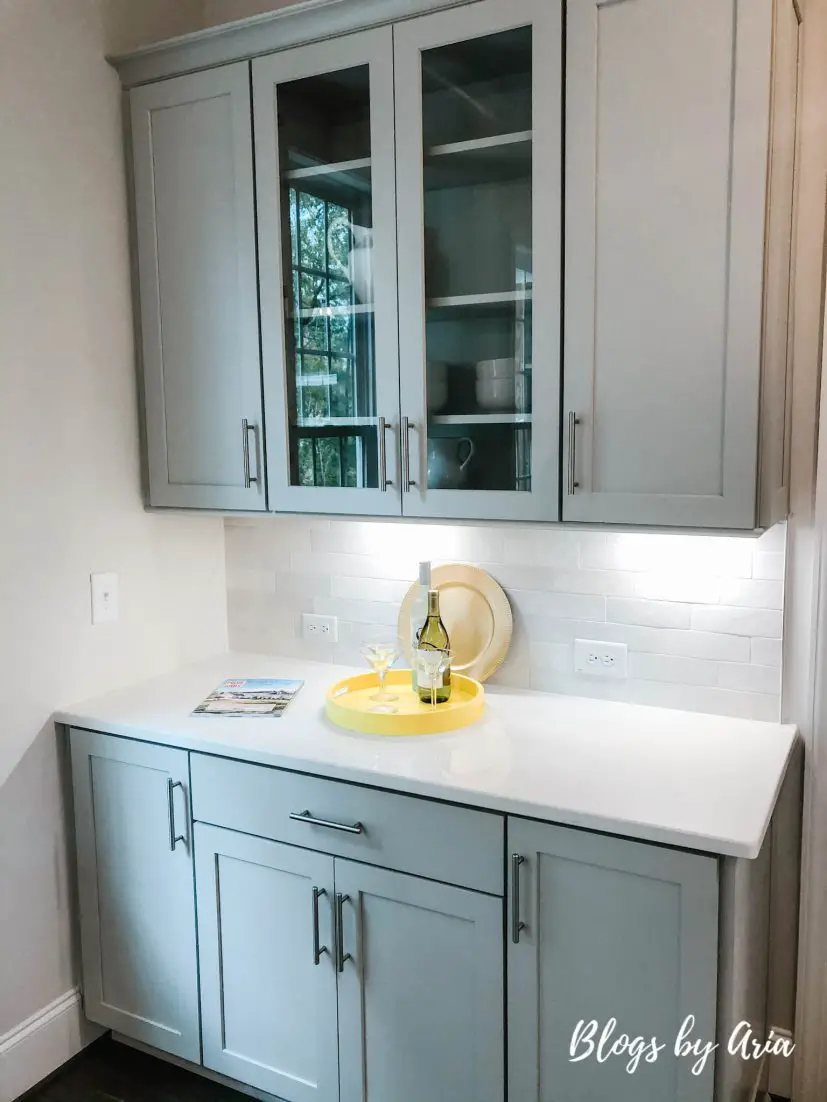 Although I do really like a traditional butler's pantry, I also like this option as well.  This allows for additional storage but because it's out in the open it's also a nice space to decorate.  I love that there's electrical outlets because it gives you more options.  This would also be a nice space to have a coffee bar.  Lots of fun ideas for this space!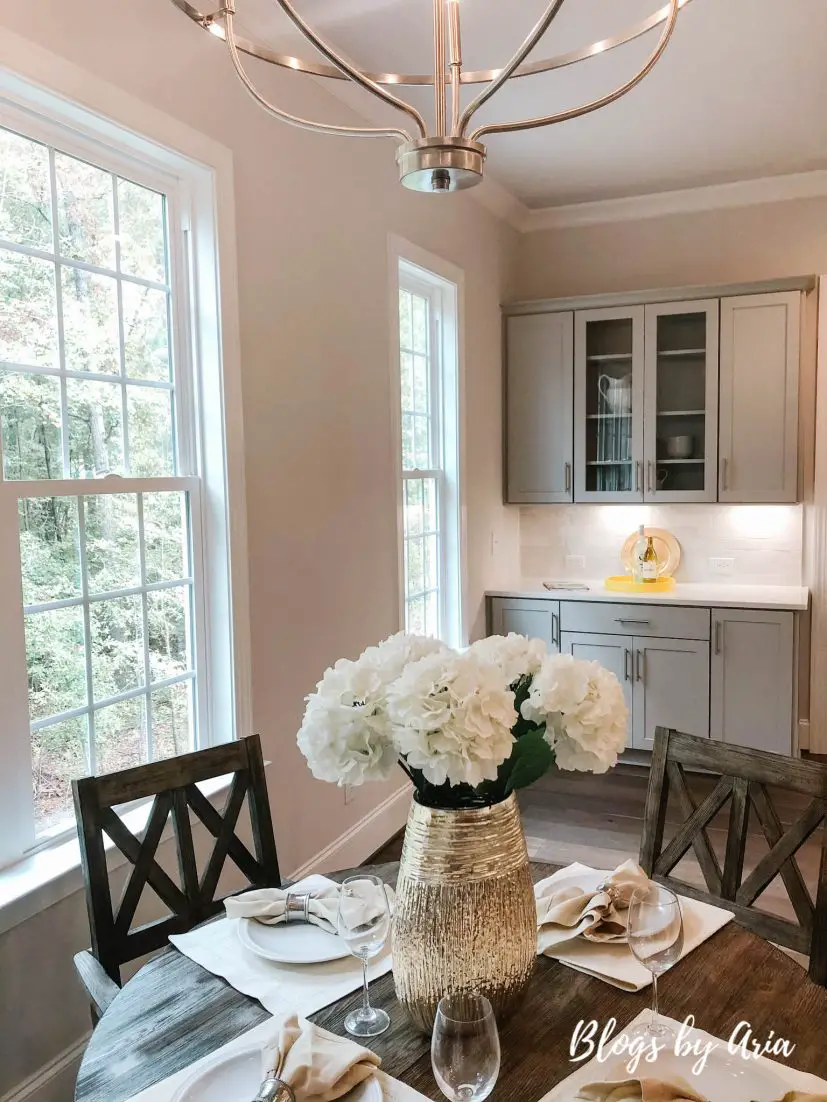 OPEN FAMILY ROOM
The kitchen and breakfast nook opens up into the family room.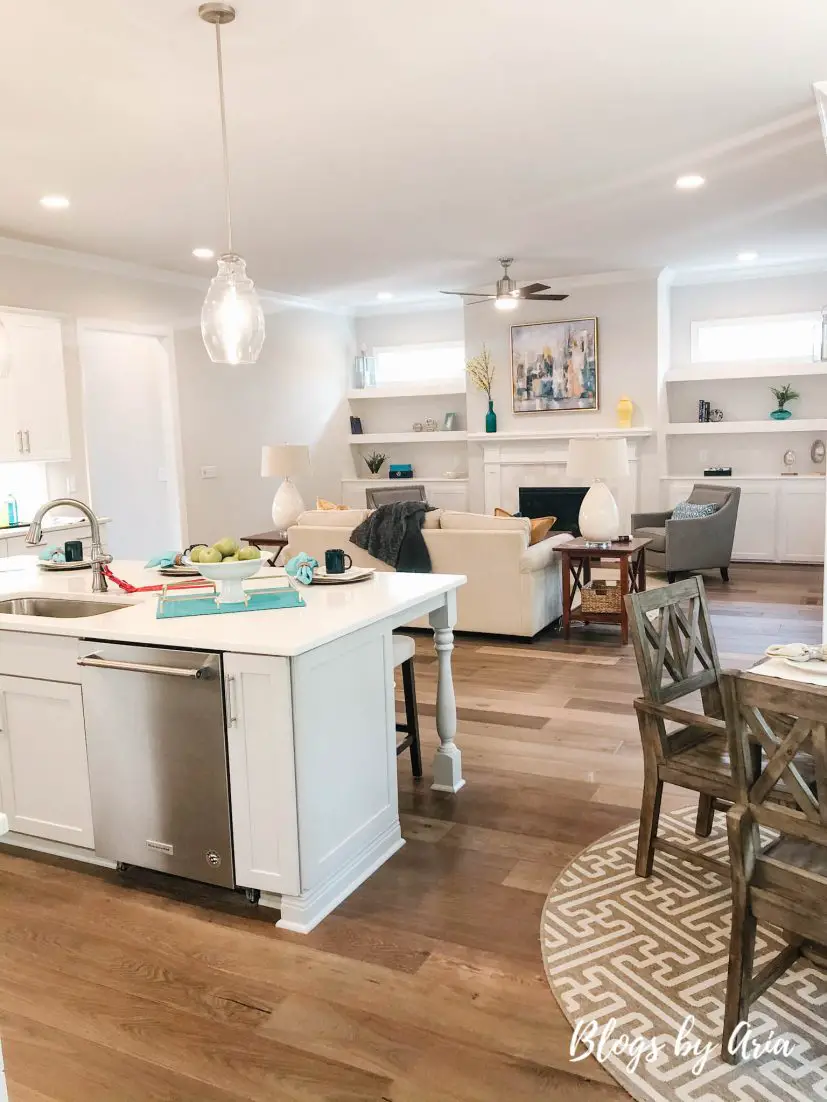 Lots of lighting and storage options in this family room!  Floating shelves and built in cabinets are definitely a plus for me.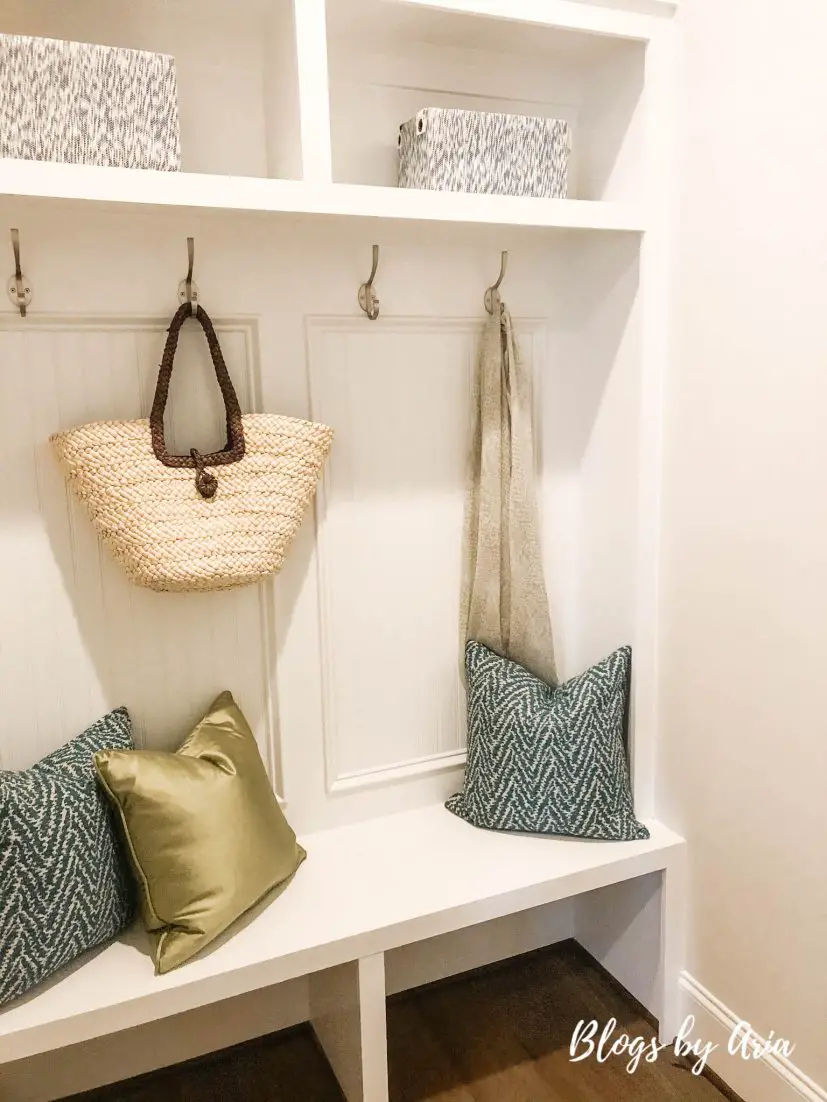 The mudroom isn't large but it's better than nothing.  You also have lots of space for baskets both above and below.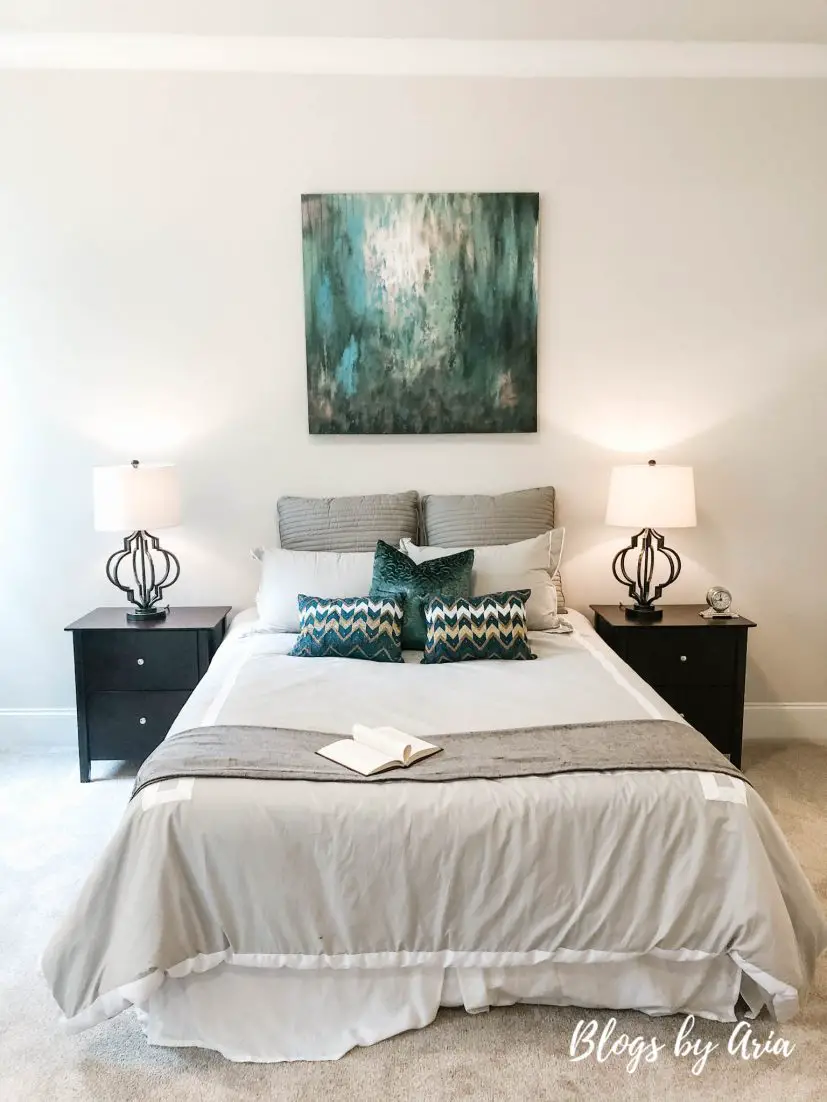 On the first floor there is also a guest suite.  I do like that there's a full guest suite equipped with a full bathroom and walk in closet.
MASTER BEDROOM
The master suite is located on the second floor.  I've gone back and forth on my preference for the location of the master bedroom.  With smaller children I'd want to be on the second floor with their bedrooms.  But now that my kids are older, I think I'd like to be on the main floor.
For me it's not a factor in my house buying decision, I guess at this point I'd have no preference.  What about you?
The master bedroom itself isn't that exciting, but it does have his and hers walk in closets.  Which makes this a wonderful master suite in my book!
Another design feature that I go back and forth on is having a soaking bathtub as a standalone or encased.  I have always liked the functional aspect of having the tub encased.  For me I think it really depends on the layout of the bathroom.  In a bathroom like this, having the bathtub encased makes sense.  But in other bathrooms where the bathtub is in between the two sinks for example, it's more aesthetically pleasing to have it freestanding.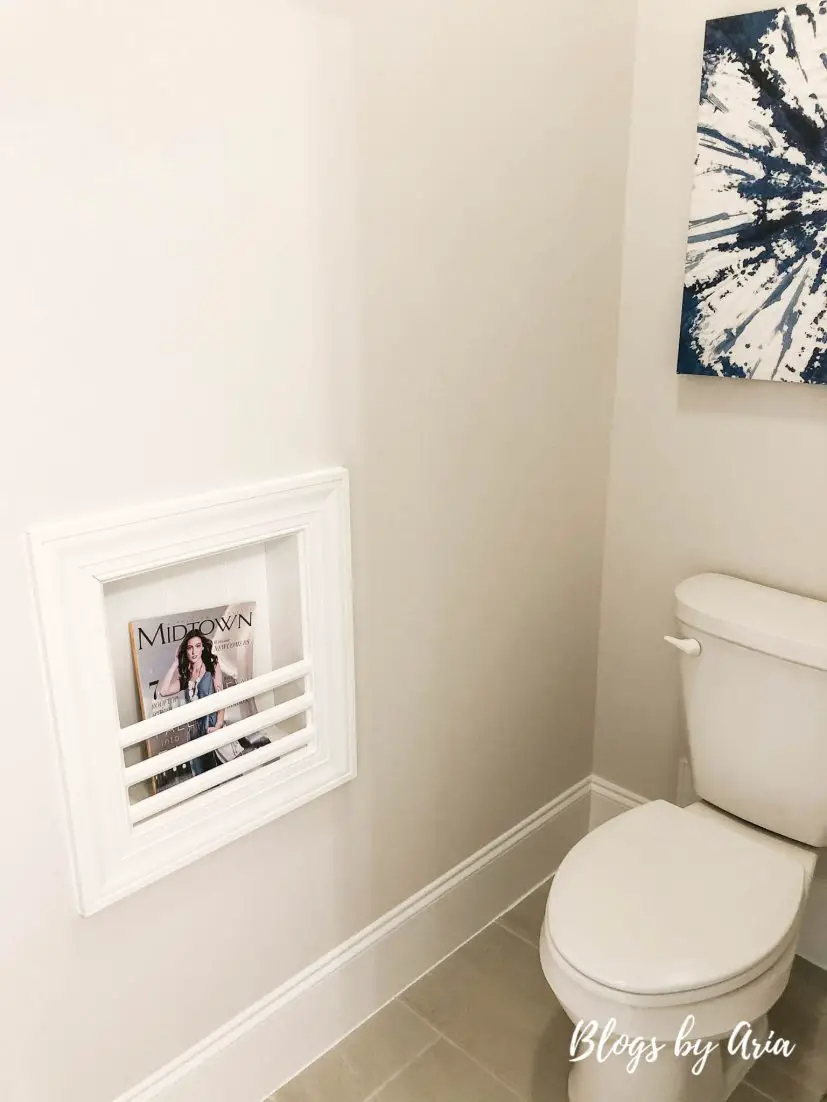 When touring homes I always peek my head in to see the water closet.  I'm looking to see if there was any thought put into its design.  Is it too narrow?  Is it too dark?  I had to share this one because I think it was very clever to put a built-in magazine rack!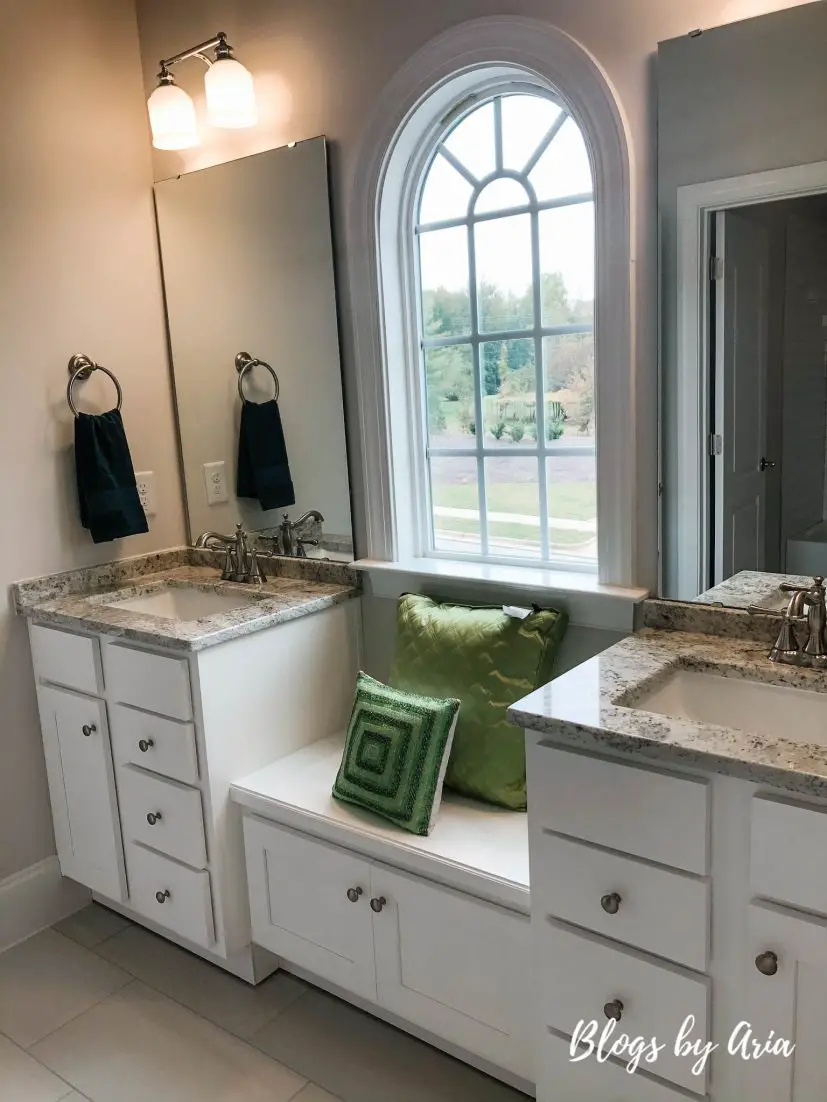 The builder is calling this a buddy bathroom.  Also known as a Jack and Jill bathroom.  This bathroom is shared by the third and fourth bedroom.
Also located on the second floor is the laundry room.  It's not pictured but I like to provide that information because it's important to me.
BONUS ROOM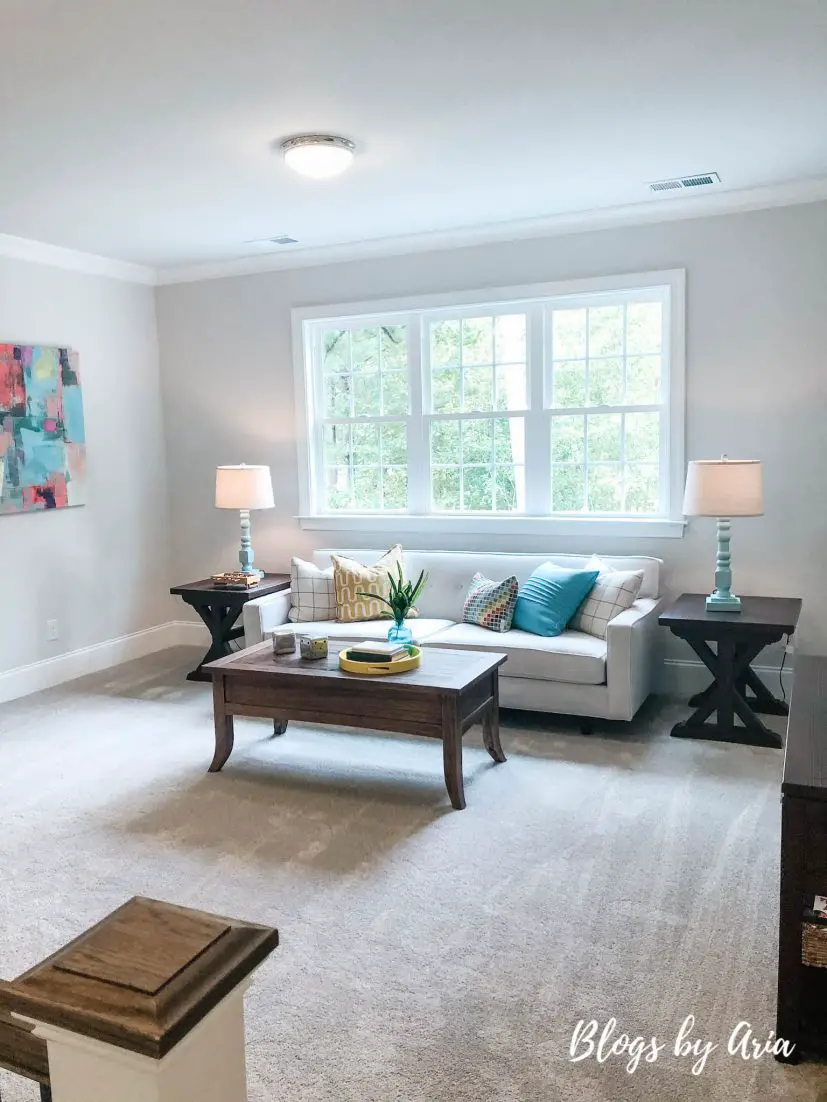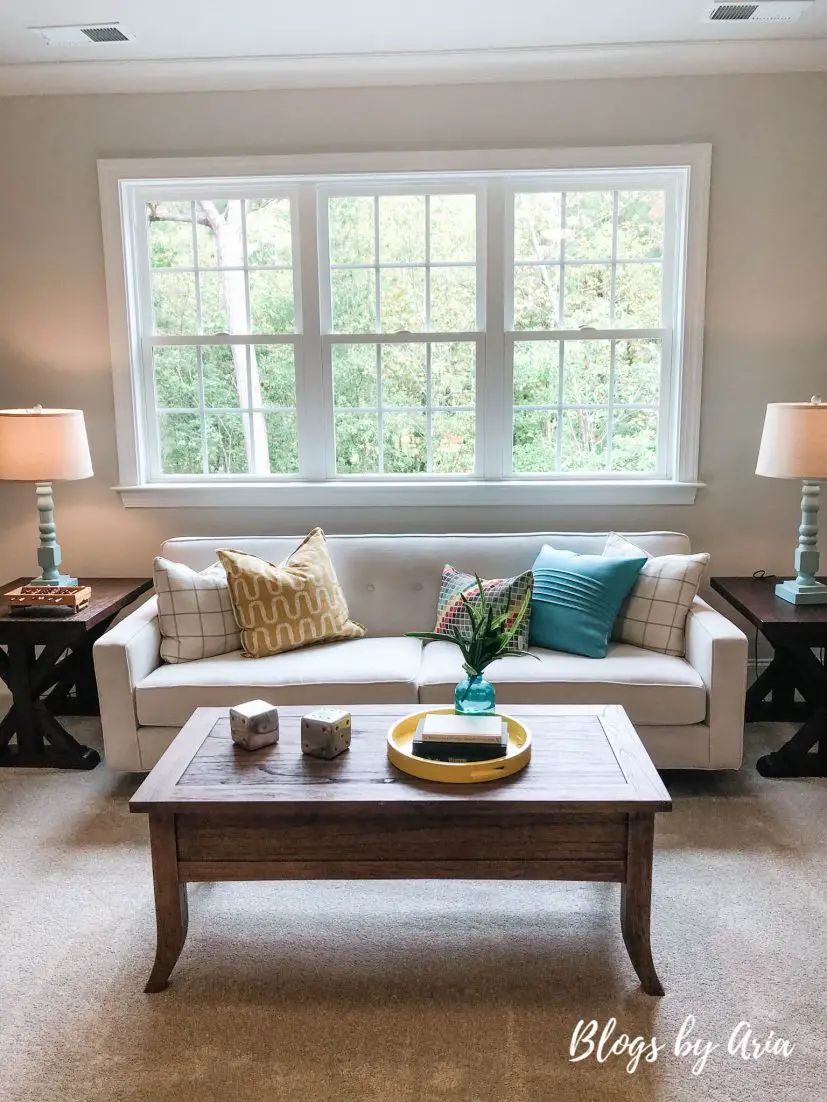 Another perk of this house that I like is there are two sets of stairs.  The primary staircase is located off of the foyer across from the home office.  The second staircase is off of the kitchen, mudroom and garage.  It leads to the bonus room and fifth bedroom.
Pictured above is the bonus room but I'll tell you, the fifth bedroom is huge and honestly unless you have kids to share the room would make a great second bedroom.  The bonus room and fifth bedroom have access to a full bathroom.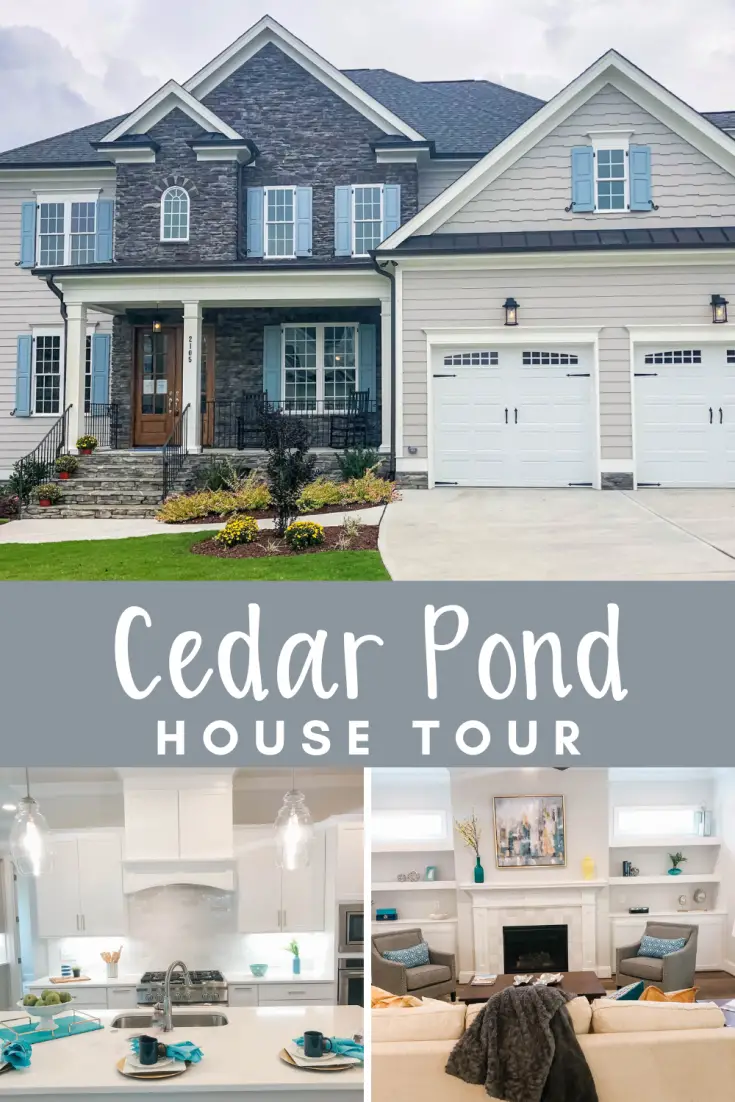 MORE PARADE OF HOMES TOURS