If you're looking for Valentine's home decorating ideas you've come to the right place!  I love to decorate for Valentine's Day after I've removed all of the color it seems from my decor after the holidays.  Adding in pops of pink or red for Valentine's Day is a fun way to bring the color back before Spring arrives.
Today I'm sharing a ton of fun Valentine's home decorating ideas to give you some inspiration for your own home.  Whether you like whimsical or neutral, I've got it all covered for you!
*this post includes affiliate links for your shopping convenience, you can read more about affiliate links by reading my Disclosure*
I love the neutral styling of the entryway table with a pop of pink and red with the garland for a sweet touch.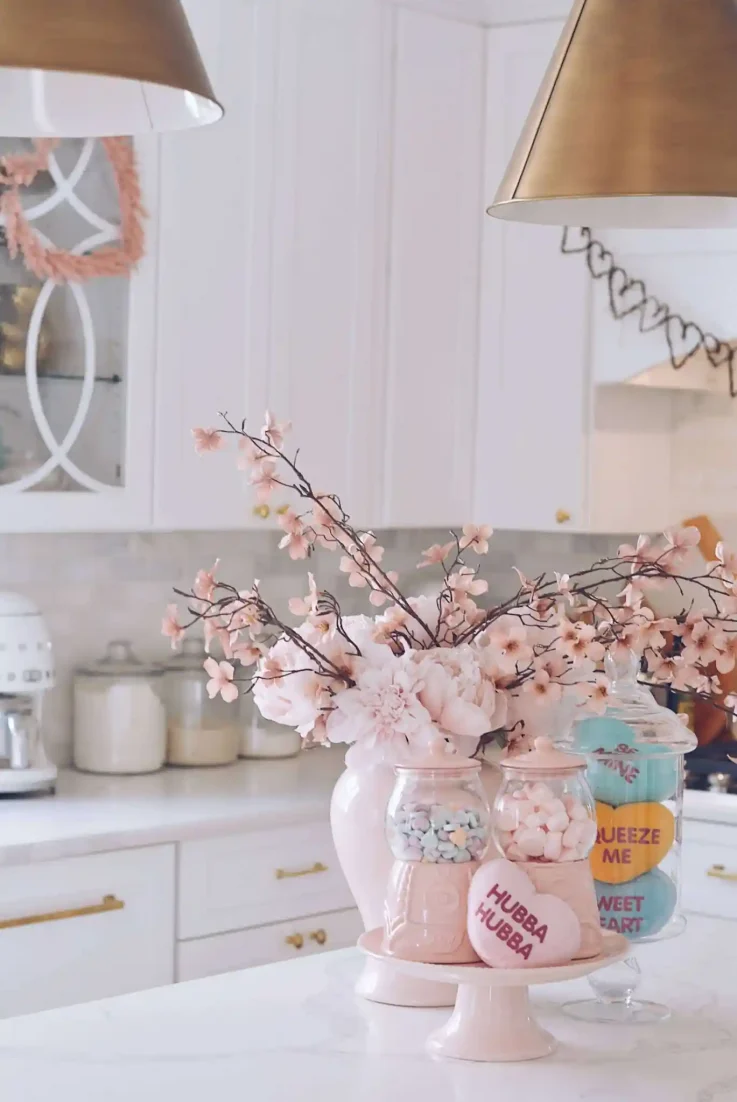 How cute are these conversation heart pillows?  And I love the gumball machine trend, you can usually find them at Hobby Lobby and the Target dollar spot.
How beautiful is the floral heart wreath?  It really pops against the white kitchen.  Add more pink and red roses and it's the perfect Valentine's kitchen!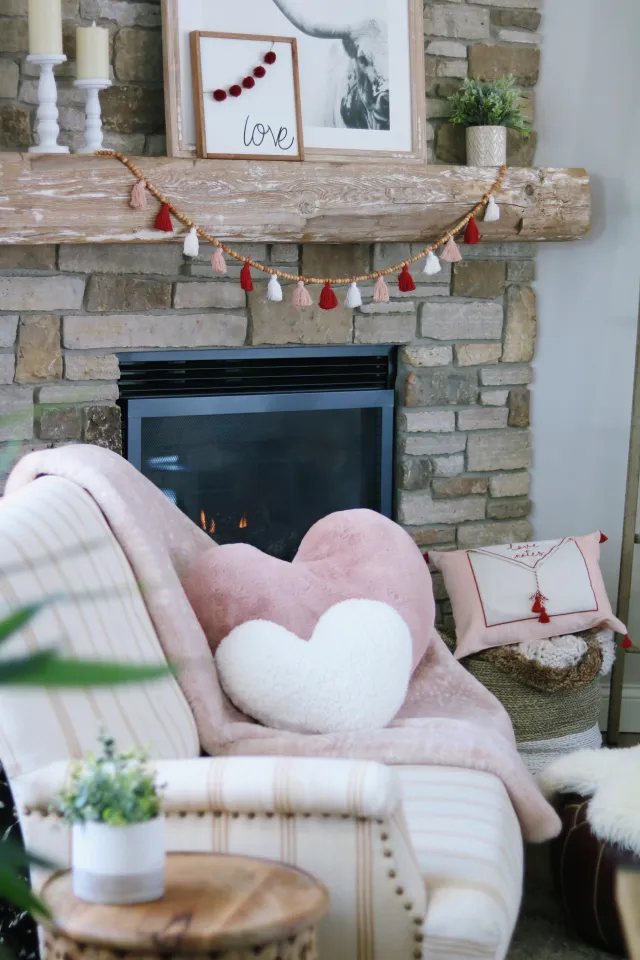 What I love about Valentine's Day is that it doesn't require a complete overhaul of your decor.  Add a seasonal picture, pillow or garland to your existing decor.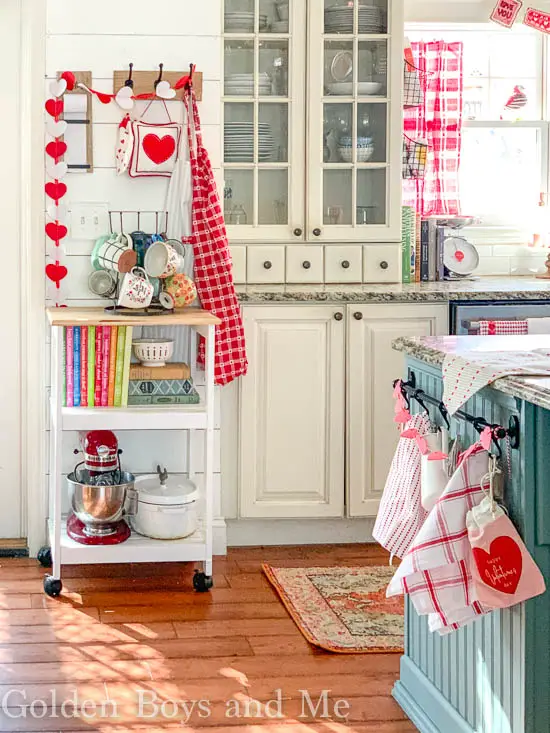 I always love how colorful and whimsical Courtney decorates her home and her fun Valentines kitchen is no exception!
How fun and festive is this mantel?  I love the hanging heart garland and the Be Mine signs!  What a fun idea!
You can add subtle touches of red and pink decor to your shelves when decorating for Valentine's Day.
A simple and affordable way to decorate for Valentine's Day is with a love balloon.  I really like this idea!
You can add a pretty throw pillow and voila!  It's Valentine's Day ready!
This pink, red and white balloon arrangement is perfect for a Galentine's Day party or a Valentine's Day party for the kiddos.
You can still decorate for Valentines Day while keeping it neutral.
Of course I'm partial to all of the pink decorating for Valentine's Day!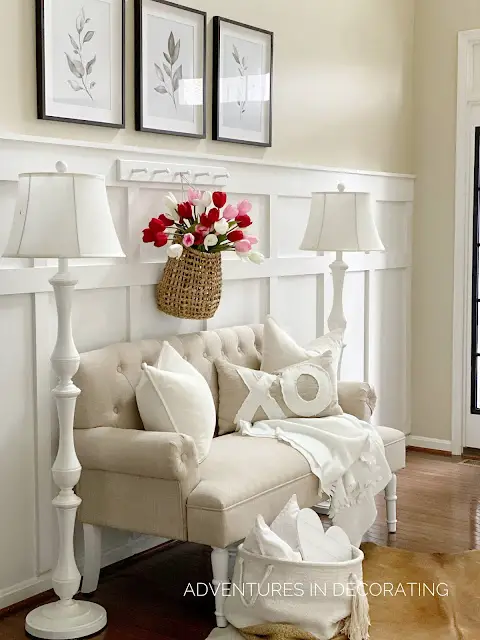 Take a neutral entryway and add pink, red and white roses to a woven basket.
XO VALENTINES MANTLE
XO signs are perfect for the fireplace mantel along with a neutral heart garland.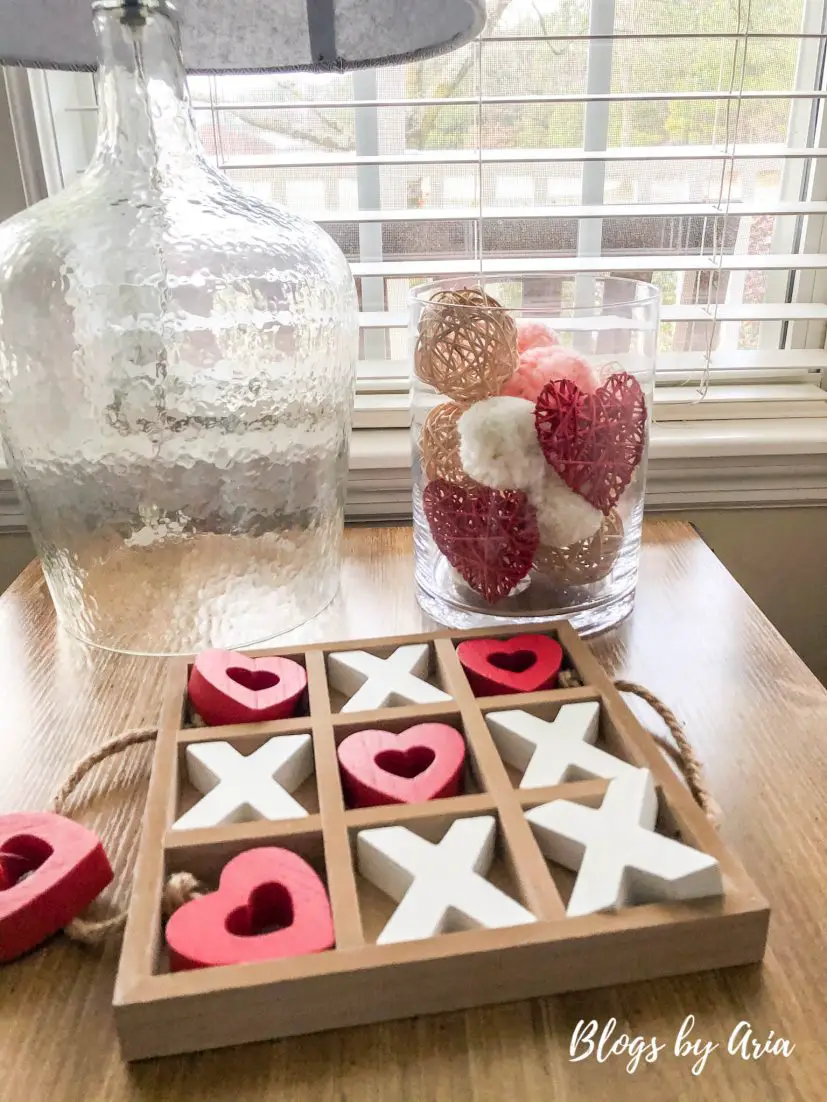 I shared my Valentine's tic tac toe game and it was very popular.  It was too cute not to share!
Pinterest
I love these large scrabble tiles, they're so cute and perfect for a console table for Valentine's Day.
How fun is this entryway decorated for Valentine's Day? I love the LOVE letters along the ladder shelf.
I love the idea of combining some leftover Christmas decor into Valentine's decor.
I love adding a pretty banner to the vent hood to add a touch of Valentine's Day to the kitchen.
Hopefully you found this post helpful and found lots of Valentine's home decorating ideas to incorporate into your home!
If you'd like to get even more home decor, fashion finds, sales and more be sure to follow me here: