Decorating for Valentine's Day is something I've never thought I would want to do.  But now that all of the holiday decor has been stored away and I'm working with a blank slate, I can't help but want a little pop of color.  I don't plan to go all out with Valentine's decor but a few pieces here and there can add that special something in the home.
I thought it would be fun to share some Valentine's decor ideas that are inexpensive and festive.  Just enough to celebrate the season of love.
*this post includes affiliate links for your shopping convenience, you can read more about affiliate links by reading my Disclosure*
I blame it all on Kirkland's.  Because I was in there not too long ago picking up an order and they had a small display of their Valentine's decor.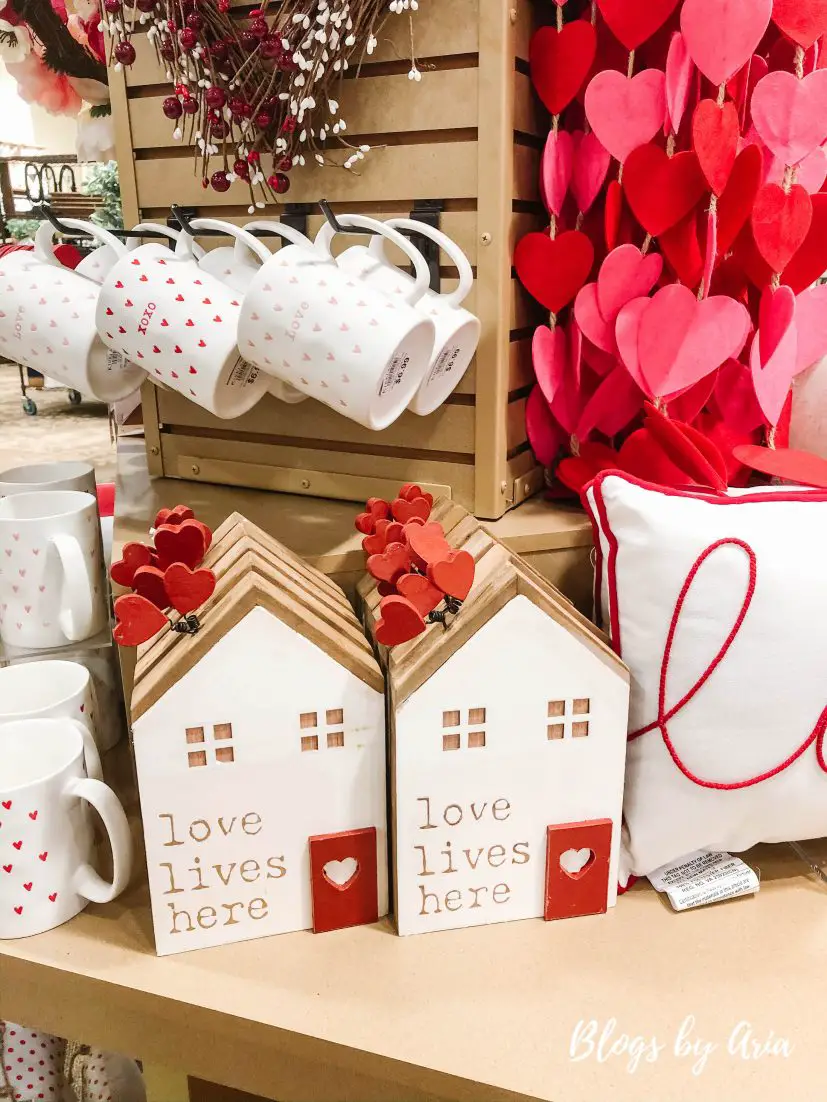 These adorable love lives here houses caught my eye and the xoxo and love mugs are too cute!  I'm hoping I can get at least one of the mugs before they sell out.  I haven't had time to get back to Kirkland's.  Fingers crossed I can still get my hands on them!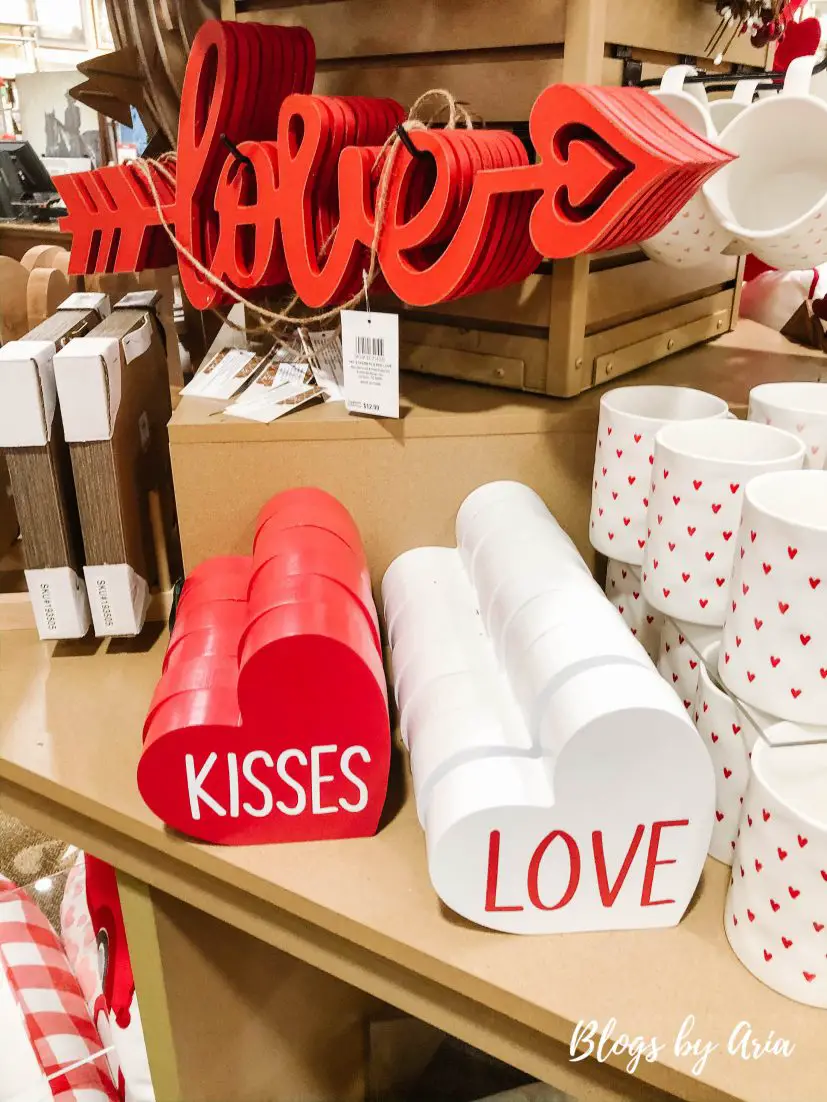 Also the kisses and love heart are on my list.  The love wall plaque is a fun find too.
Honestly, I would love to get this polka dot heart pillow but in reality I don't need to buy anymore pillows.  I don't really have the space to store them.  So if I'm going to add any Valentine's pillows, I'll have to get pillow covers like these from Amazon.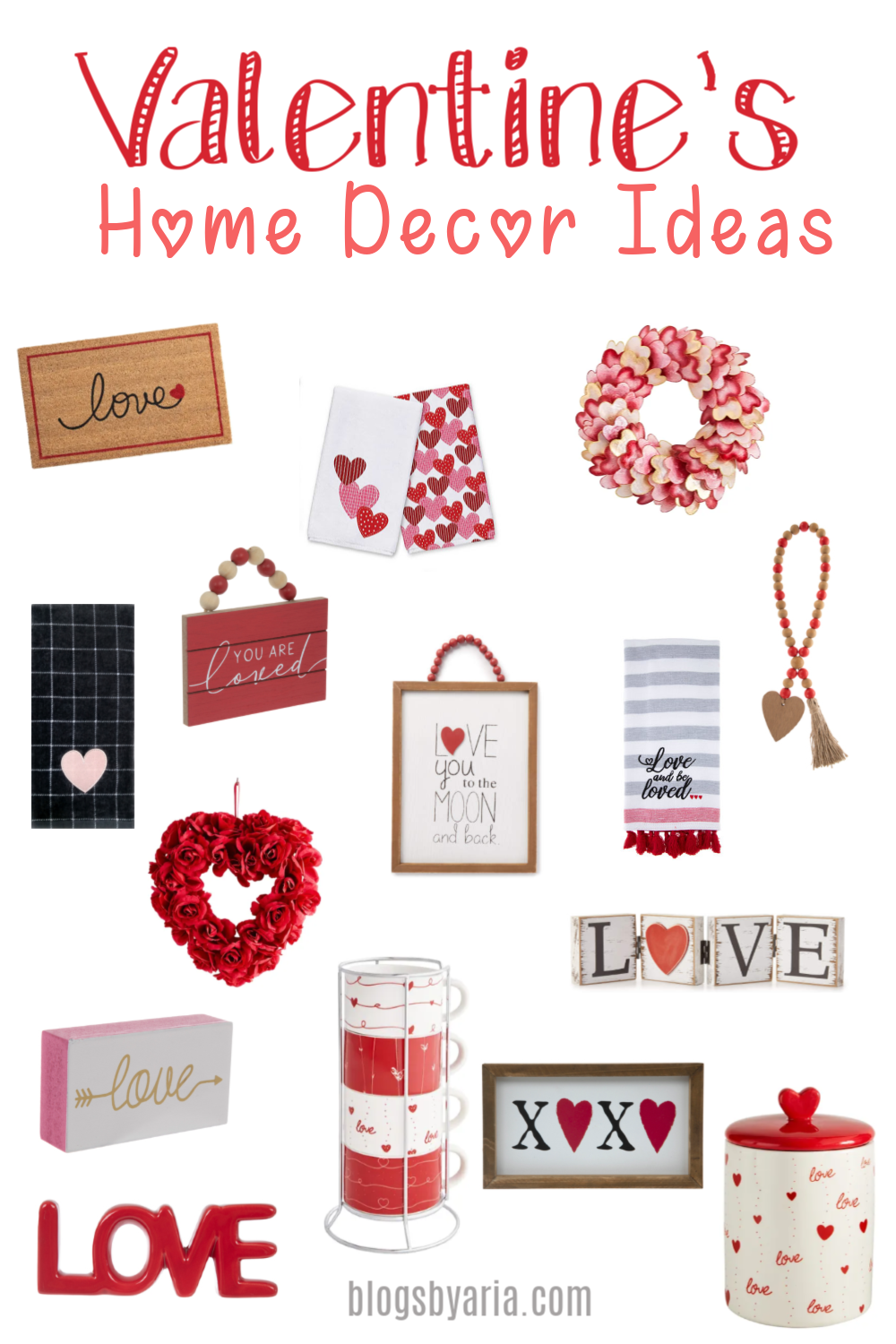 Here's a few super cute Valentine's decor pieces I have my eye on.  Some of them I already have purchased and will be sharing how I've used them in an upcoming post.
An easy way to switch out seasonal home decor is by greeting your guests with a door mat.  This love script door mat is an inexpensive find.
You'll see I have a few different hand towel options.  Seasonal hand towels can add that pop in your kitchen and bathroom.  This red and pink hearts pair is a classic option.  But I also love the colors in this valentine's gray plaid heart towel.  And you can never go wrong with tassels with this love and be loved towel.
Isn't this heart wreath darling?  I love it!
Honestly as soon as I saw this beaded wood heart tag I knew I had to have it.  I picked this one up so that I can use it in my tiered tray.
This love you to the moon and back sign is not only one of my favorite sayings but I love the touch of the beads for hanging.  The bead trend continues with this you are loved wood ornament.  It's small enough for tiered tray decor.  You know I'm always thinking about my tiered tray 🙂
I think this roses heart wreath would be fun on a pantry door or over a decorative mirror.
Just this week I got this accordion love sign.  I thought it was so unique and you won't believe how inexpensive it is!
Small signs are also easy ways to add a bit of Valentine's decor and they're usually budget friendly.  This XOXO heart sign and love block sign are both super cute.
If you have a coffee station these cute red heart stacking mugs would be a cute addition.  I do think this adorable love script candy jar would go great in my kitchen.
Lastly I love this love sign!  Adding a pop of red or pink is an easy way to decorate for Valentine's Day.
Decorating for Valentine's Day doesn't have to be overboard and it doesn't have to be expensive.  I have a few places I want to look like the dollar store and Walmart to see what they have.  The last time I looked at Walmart they hadn't put out all of their Valentine's decor out yet.
I also want to go to another Hobby Lobby because the closest one to me had a few items already sold out.  I knew I was taking a chance by waiting but I wasn't willing to pay full price for Valentine's decorations at Hobby Lobby.  This week it went on sale for 40% off and it will be on that sale until it goes on clearance after Valentine's day.
Now that I've shown you some budget friendly and super cute Valentine's home decor finds, are you planning on decorating?  I really think a little goes a long way.  And I'll be sure to come back and show you how it all comes together soon.  You can see my Valentine's Tiered Tray here.
Enjoy the rest of your week my friend.  I am counting down the days to my first real day off in two weeks!  So thankful for MLK day, in more ways than one ♥
SHOP THE CUTEST VALENTINE'S HOME DECOR