Today I'm sharing my simple two tiered tray decorated for Valentine's Day.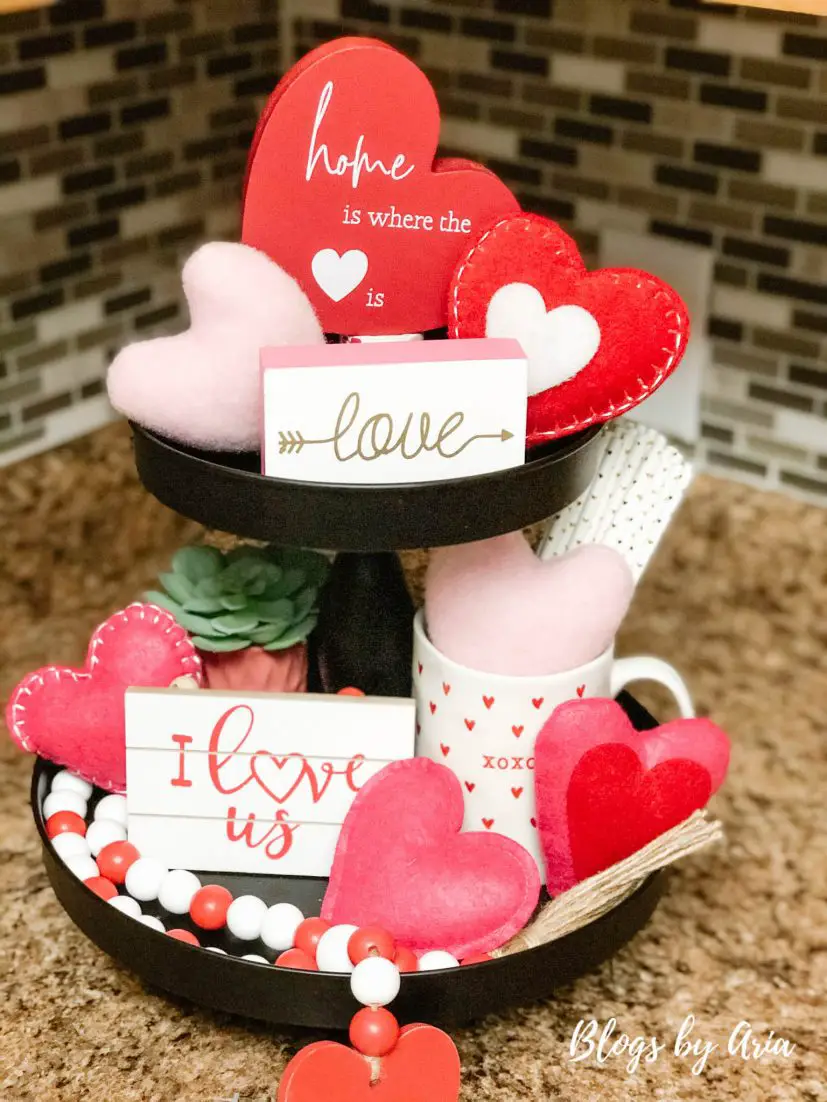 I'm popping in real quick to share my Valentine's Tiered Tray.  Decorating a tiered tray is an easy way to decorate for seasonal holidays.  Believe it or not, it wasn't as easy for me to decorate my tiered tray for Valentine's Day as it was to decorate it for pumpkin season or for Christmas.
For starters, hearts don't stand up on their own.  Aside from that, I had a lot of ideas of what to put on my tray but I couldn't find what I wanted in stores.  Don't you hate when that happens?
*this post includes affiliate links for your shopping convenience, you can read more about affiliate links by reading my Disclosure*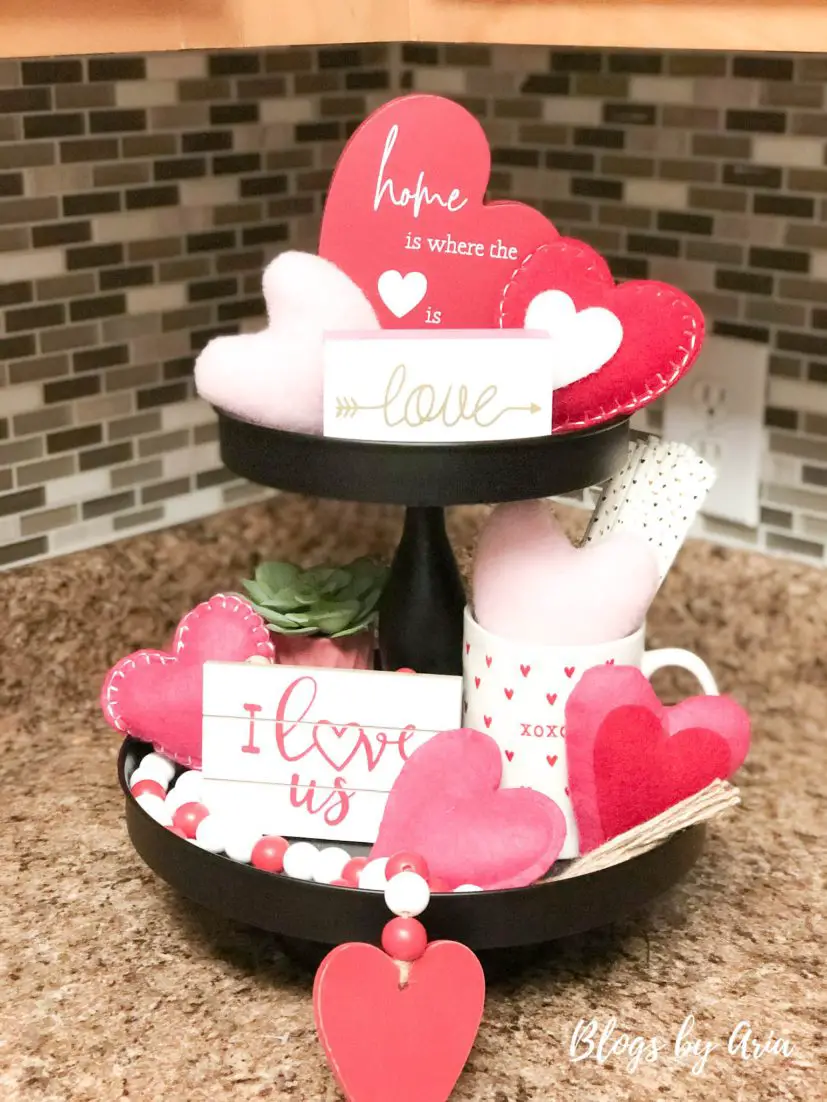 Check you local Walmart for the plush hearts.  I had to go to a couple of locations to find them, but they were the finishing touch I was looking for and I grabbed them this weekend.
Almost everything else is from Hobby Lobby, Kirkland's and Joann's.  And many of the items are listed in my Valentine's Decor Ideas post.
As you can see I didn't have a lot of filler items for my tiered tray.  I would definitely recommend using some greenery or candy or even crinkle cut paper.  I'll keep that in mind for next year.  Coming off of the holidays I really didn't want to spend much on my tiered tray decorations.
To help keep costs low I suggest shopping the Target Dollar Spot and the Dollar Store and then filling in with goodies from Hobby Lobby, Kirkland's and TJ Maxx.  I'll be seeing what I can find on clearance, if anything, so I can use for next year.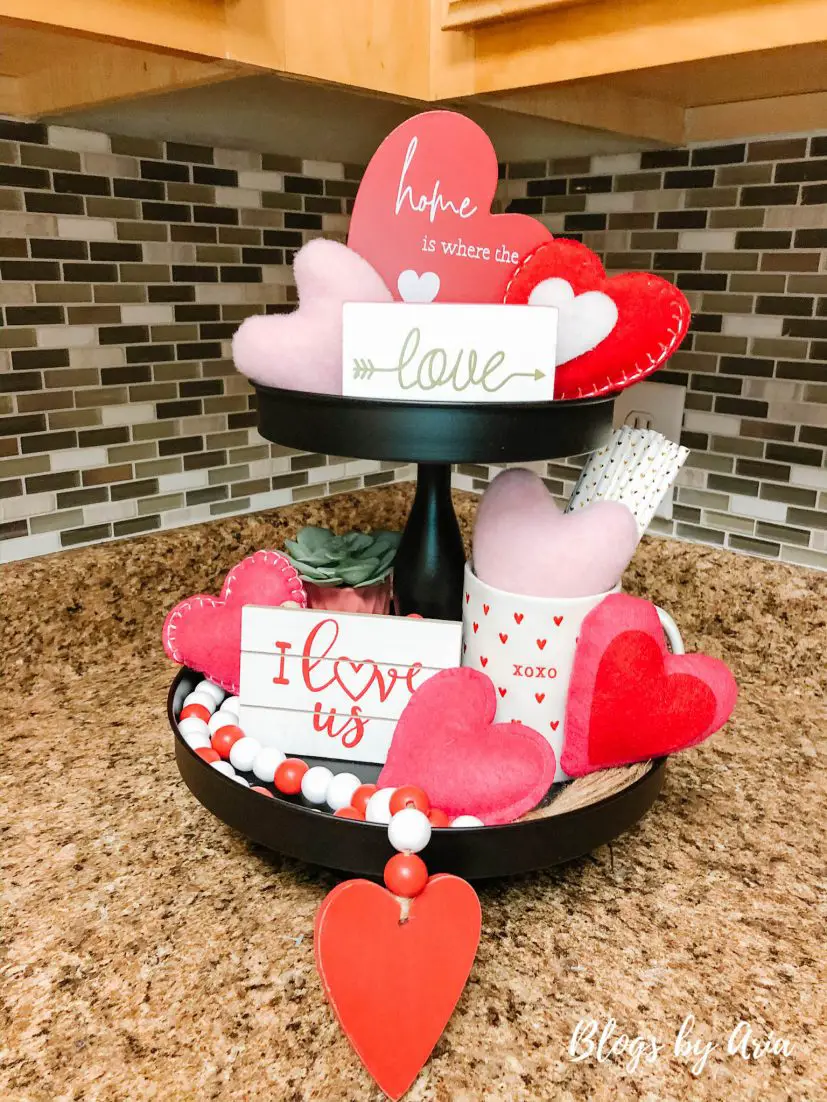 I just want to take a brief moment, from this very brief post, to share that I am so grateful that I get to add little decorative touches throughout my home.  For so long I dreamed of the day that I would have a home that I could (and would want to) decorate and that I could hopefully share here on the blog.  Decorating makes me happy.  And with all that has gone on as of late, I think we should be reminded that we should do what makes us happy.
We should do what makes us smile and we should do what we can to make others smile.  Something as small as adding seasonal decor in my home makes me smile.  I can't tell you how happy I was every single day when I would come down the stairs and see my Christmas decor.  Or when we got our new sofas, I still smile because I'm grateful that I have them and that I enjoy how they look in my home.
I guess I'm saying all of this to say, that it's easy to get caught up in the day to day hustle and struggles and the mundane.  It's easy to take things for granted.  It's easy to assume that when you leave the house in the morning you'll return home or that your loved ones will.
If there's anything we can take away from life's tragedies, it's that we should live each day to the fullest and that can be as simple as adding small touches of decor to your space.  If that's what makes your heart smile.  It's what makes my heart smile and I'm glad that I can share it with you. ♥
I hope I've been able to inspire you to create a Valentine's tiered tray.  If so, I'd love to see your Valentine's tiered tray all decorated. I love hearing from some of you when you reach out to me in my email or on Instagram 🙂
DON'T FORGET TO SHARE THIS PIN ON PINTEREST!