Christmas may have just been a few days ago but the stores are already putting out Valentine's Day home decor.  I've rounded up a few pieces I have my eye on to share with you.
Over the past few years of decorating for Valentine's Day, I've found that I want more pink and less red.  You can see how I decorated for Valentine's day last year.
It's all about transitions for me.  Transitioning from red and green Christmas decor to muted neutrals for Winter.  Then to pinks for Valentine's Day and even more pinks heading into Spring.  It makes it seamless for me.
*this post includes affiliate links for your shopping convenience, you can read more about affiliate links by reading my Disclosure*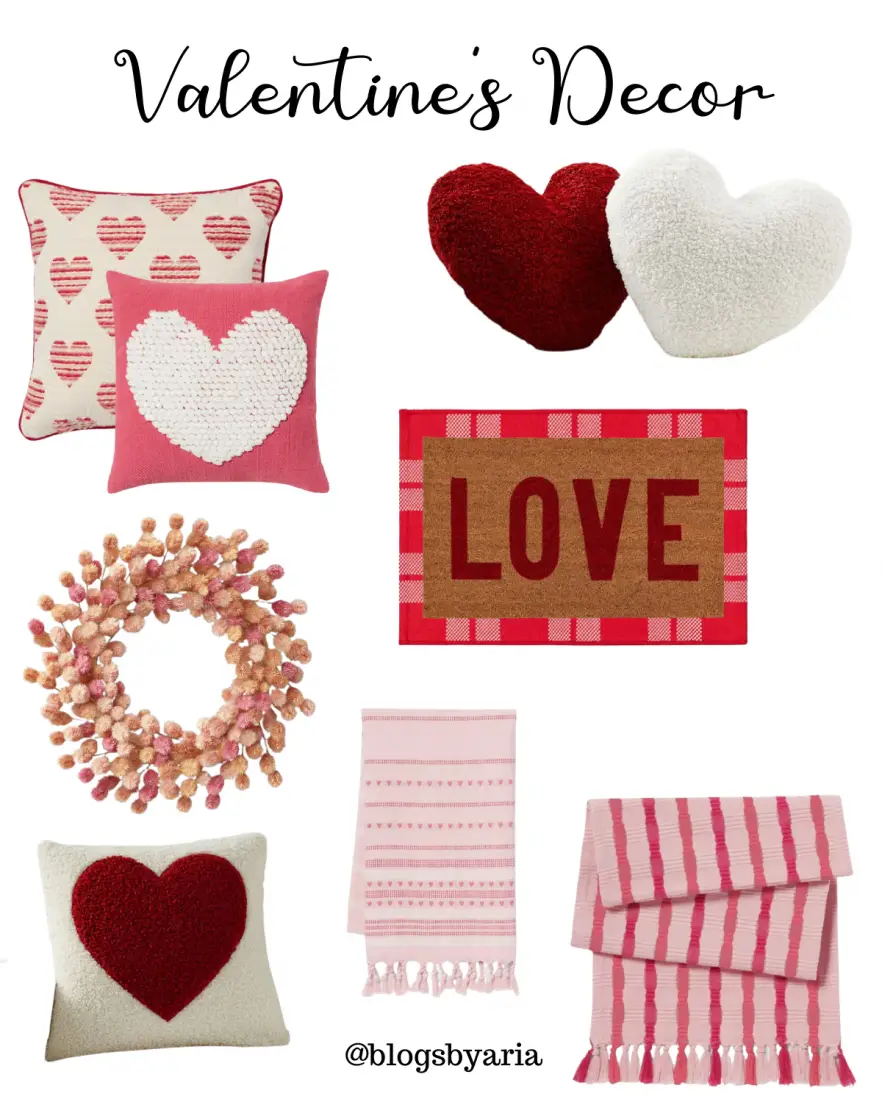 striped hearts pillow · textured loop heart pillow · teddy fur heart shaped pillow · dyetree wreath · red and white layering rug · love doormat · teddy fur heart pillow · dobby heart kitchen towel · striped pink table runner
Each year I like to add a few new Valentine's Day home decor pieces.  To me it doesn't take much.  It's one of the few times I'm minimalist in my decor 😉
This pink heart hand towel is so cute I have to have it for my bathroom or my kitchen.
I've always had my eye on this red heart pillow.  Even though it's red and not pink, I think it's such a statement piece.
How cute is this Love doormat layered on a red and white rug?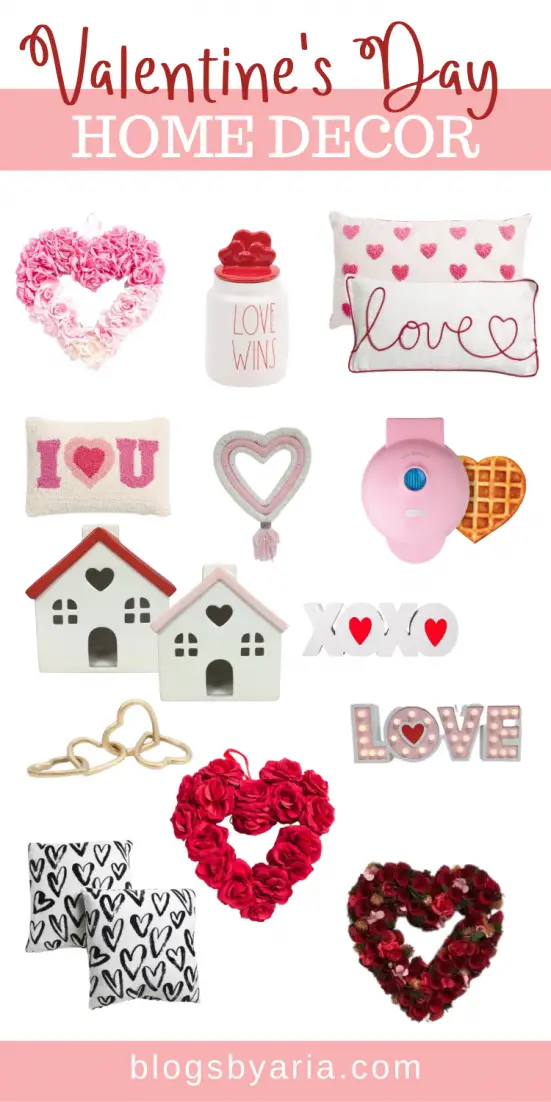 mixed rose heart wreath · love wins canister · heart knot pillow · heart rope pillow · I heart you pillow · wrapped yarn heart wreath · heart mini waffle maker · ceramic valentine's day house · XOXO sign · heart shaped chain decor · marquee lit love sign · black hearts pillows · red rose heart wreath · floral heart shaped wreath
One of my favorite places to find super cute Valentine's Day home decor is Home Goods and TJ Maxx.  A few pieces that have caught my eye are this mixed rose heart wreath and this heart shaped chain, which I think will be perfect coffee table decor.
Aren't these little ceramic houses the cutest?  Definitely need to get a couple of those.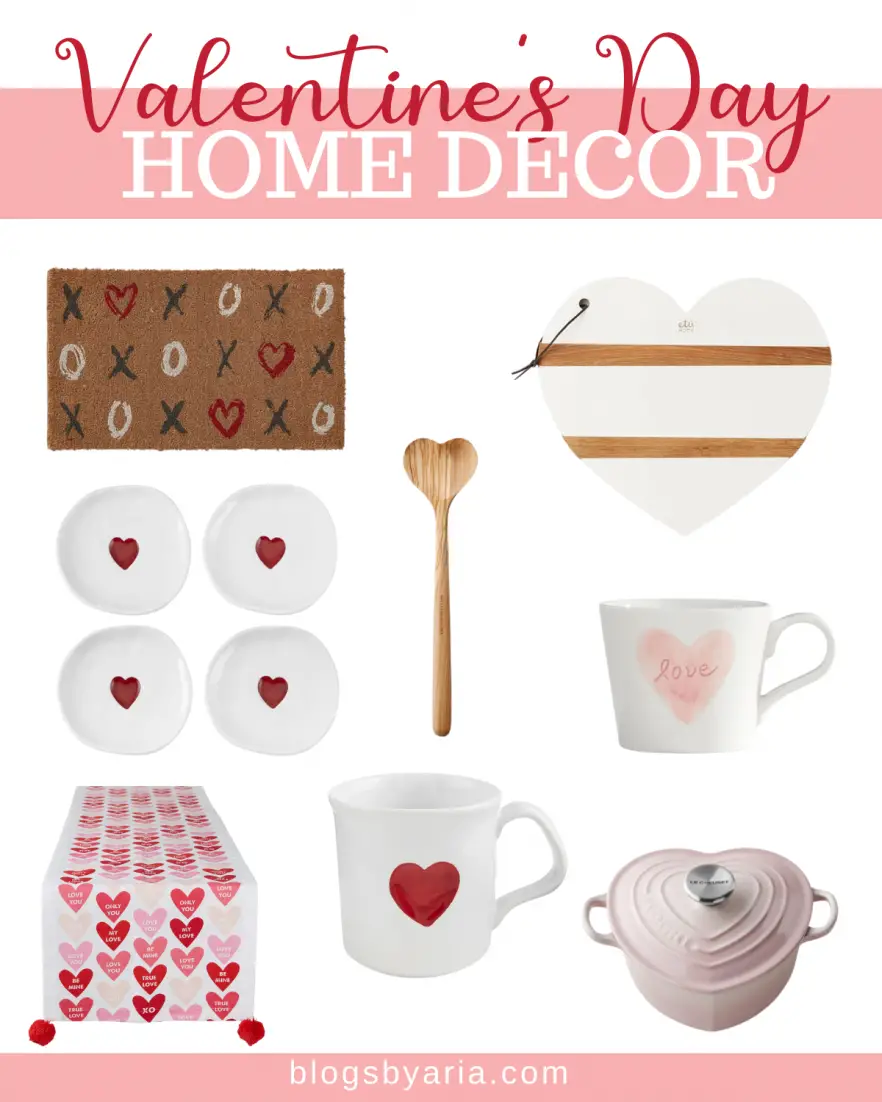 XOXO doormat · heart shaped reclaimed wood cheese board · heart plates · olivewood heart spoon · watercolor heart mug · conversation hearts table runner · heart mug · Le Creuset enameled cast iron heart
I've wanted this red heart mug from Williams-Sonoma for years.  Honestly I don't drink coffee at home as much as I used to (forgot to ask Santa for an espresso machine), but I still want this mug.
Maybe in our next kitchen, the Le Creuset enameled cast iron heart dutch oven will look so pretty on top of our stove.  Maybe I can make a fancy chili in it, who knows?
Even though Valentine's Day decor is being put out on the shelves doesn't mean I'm jumping the gun to start decorating.  We still have some time.  We're still dealing with supply chain issues, so if you see it you better grab it while you can.  But I'm excited to decorate my new floating shelves for Valentine's Day.
If you're looking for more Valentine's Day decor ideas check out these posts:
VALENTINE'S DAY HOME DECOR FINDS