Today I'm sharing how I've decorated my home for Valentine's Day.  This year I'm keeping it real simple with just a few touches here and there.  I've really been enjoying having a clean slate lately and although it would be nice to have a little more Valentine's decor, I'm happy with the balance I've struck.
*this post includes affiliate links for your shopping convenience, you can read more about affiliate links by reading my Disclosure*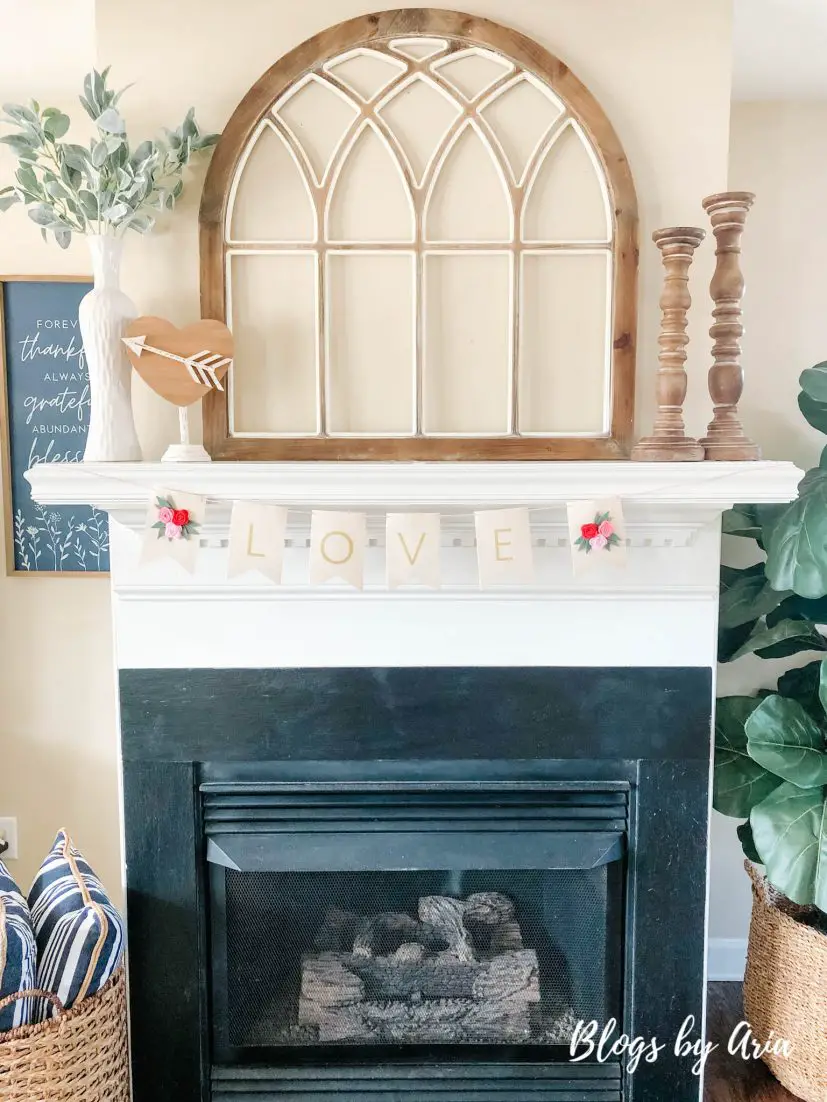 wood arch · similar white vase · lambs ear · candlesticks
When I brought down my Valentine's bin I remembered that I had this cute rustic heart.  Unfortunately it's not available anymore but I like how it's not too loud.  So it allows me to keep this overall space neutral.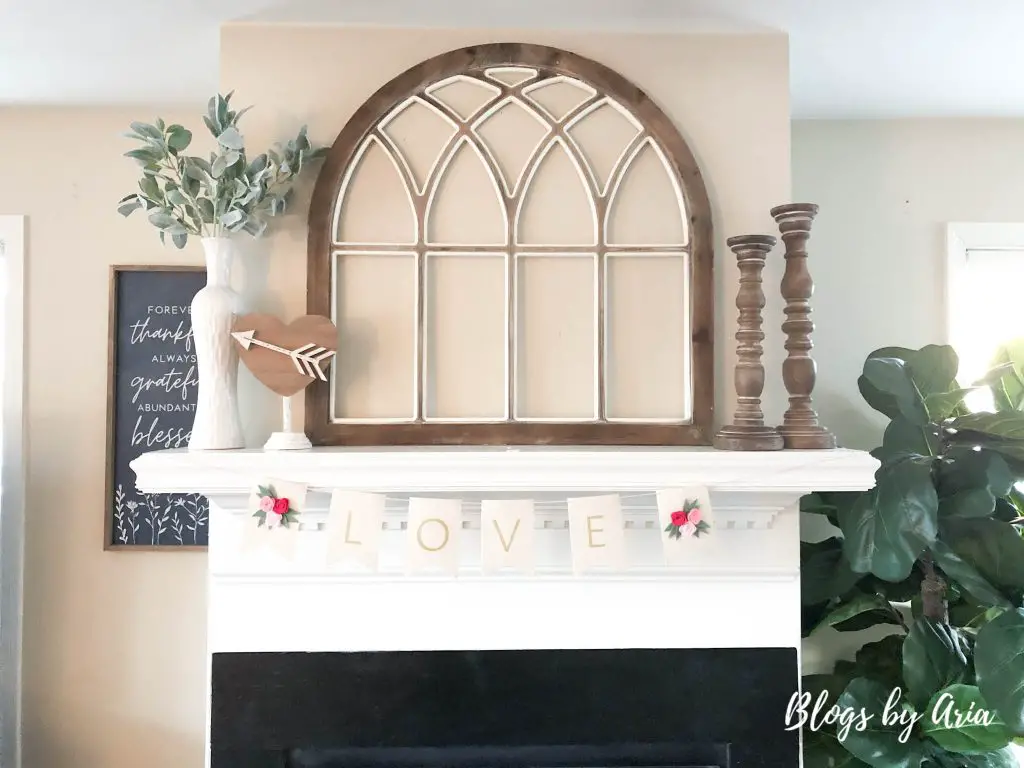 I knew I wanted some type of garland for my mantel but didn't want to spend much on it.  Low and behold the Target Dollar Spot had this cute love garland for only $3!  It works perfectly because it's very neutral with just a little color.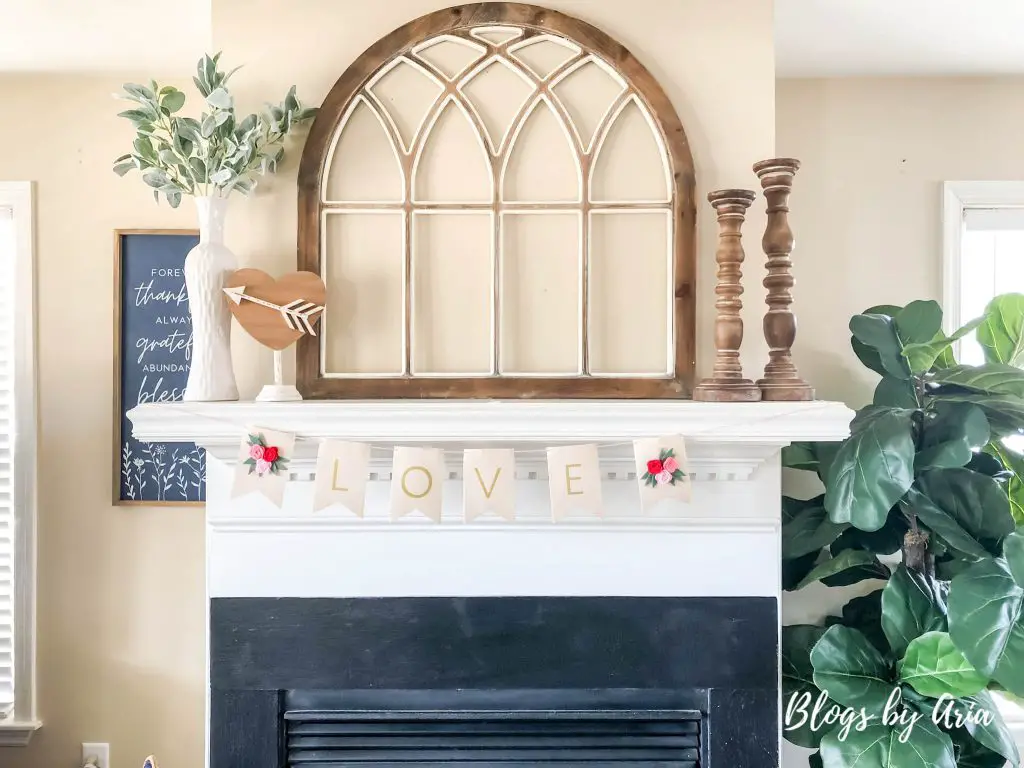 When I purchased this wood arch I loved how it looked on its own.  But I always knew it would be nice to hang a wreath on it for seasonal decor.
Earlier in January I found the perfect wreath I fell in love with from Kirkland's.  I actually added it to my Valentine's Decor Ideas post to share it.  At the time it was showing available online only.
Now you know me, I don't like to pay full price for much of anything.  And when I saw it online it was only 10 or 15% off.  I decided to wait for the weekend when they tend to go up to 20-25% off.  I was even willing to pay for shipping which I hate.
Well just a few days later it was the weekend and the sale was 20% off.  I was so excited to order my wreath because I also had rewards to bring the price down some.  Except it was removed from the website.  I didn't panic yet, hoping that maybe I could still find it in my local stores.
That was a bust because neither of my closest stores had the wreath.  Now ya'll know I love Kirkland's.  But this isn't the first time they've done this and it doesn't make sense.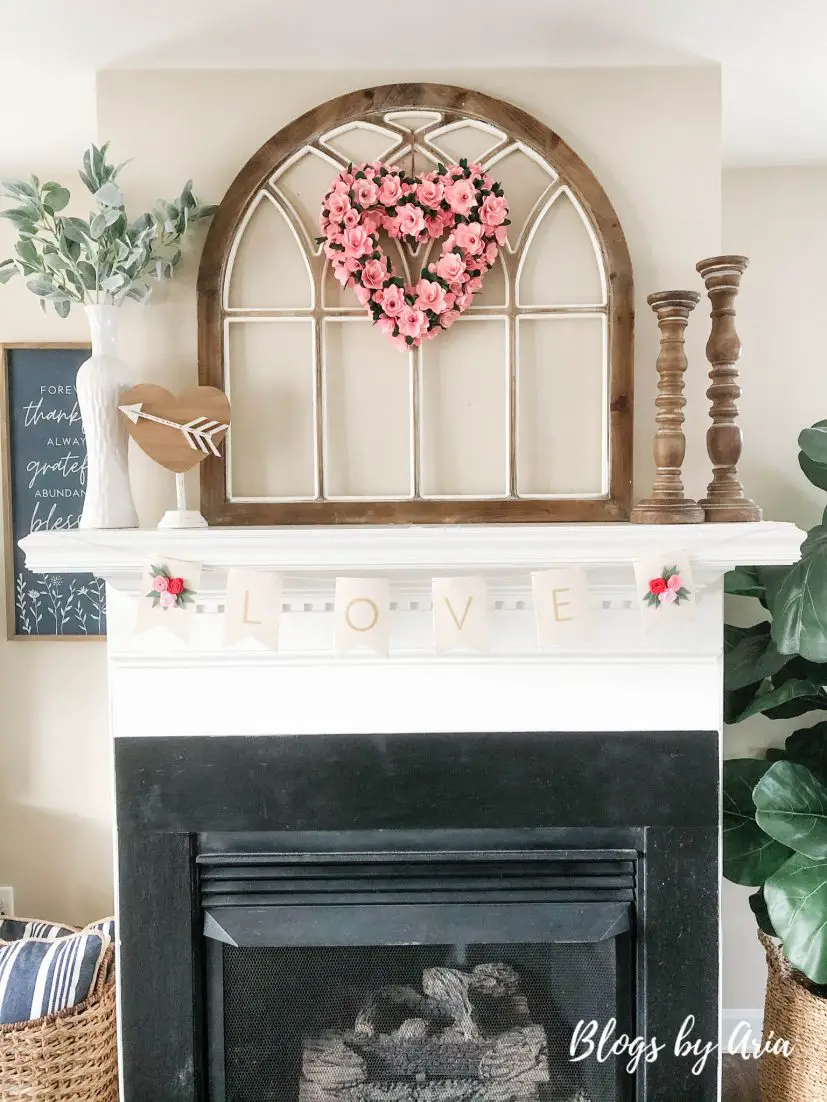 This weekend I found this inexpensive heart wreath from TJ Maxx.  It was the only one I found that was the right size and not too bright.  I really wanted to avoid reds and hot pinks.  This cute neutral heart wreath would have been perfect but it's a little on the small side for this space.
MORE HEART WREATH OPTIONS
blue wall decor · fiddle leaf fig tree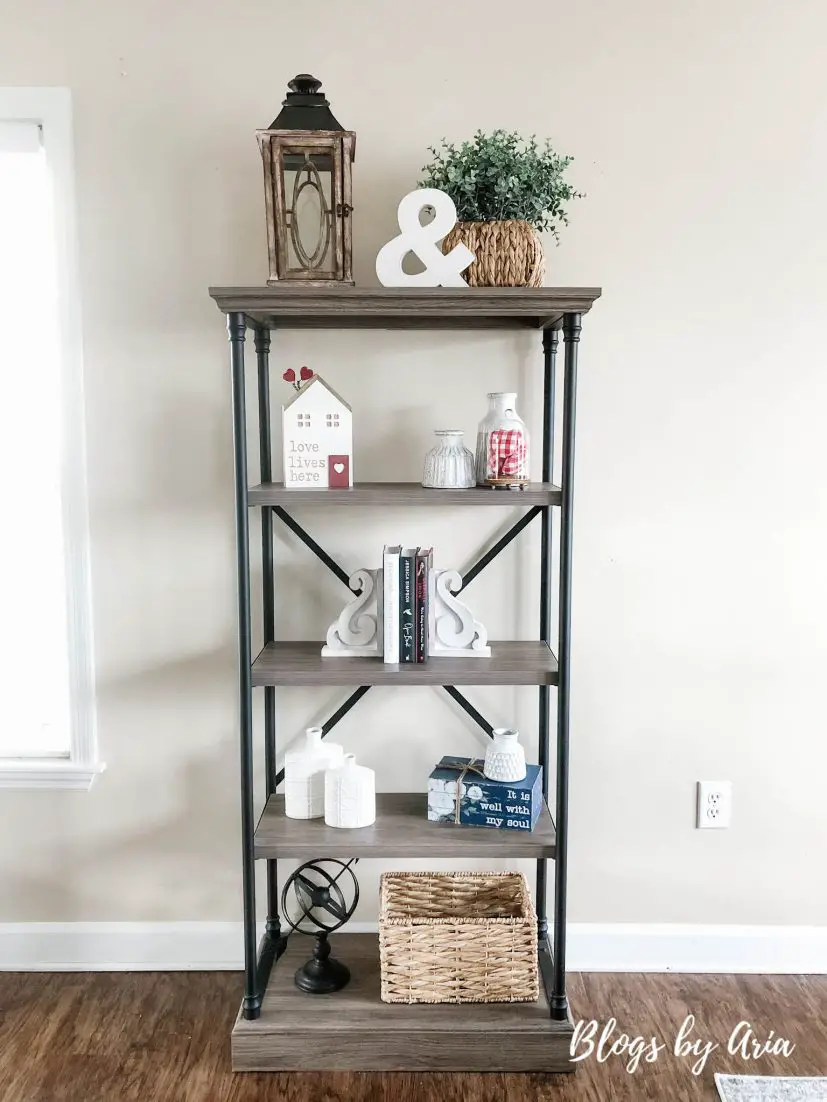 bookshelf · lantern · eucalyptus plant · love lives here house
After I took down my holiday decorations I did a little rearranging.  I moved my tall bookshelf to this wall where I once had my shorter bookcase.  Sometimes all it takes is moving a few pieces around to make a space look and feel completely different.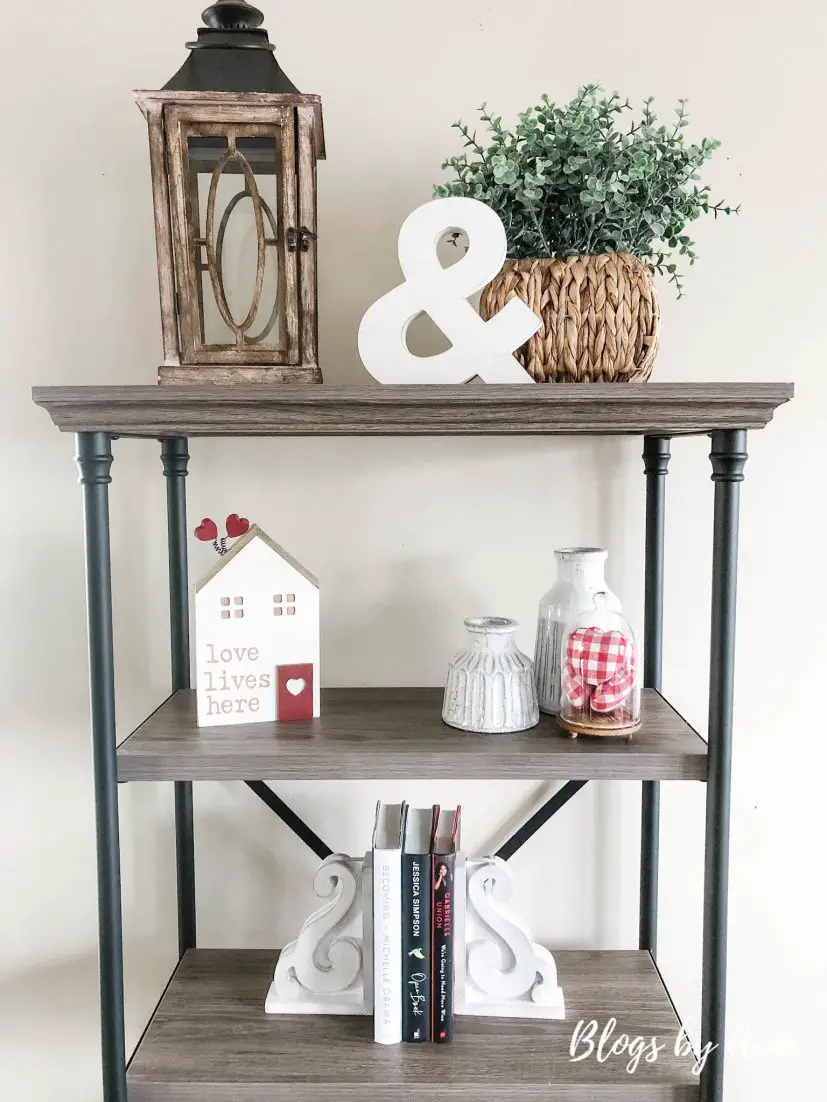 lantern · frosted eucalyptus · love lives here house · cream textured vases · mini cloche · corbel bookends
I wanted to switch it up and move my black scale somewhere else.  I'm not fully loving how I have the top of the bookcase styled but for now it works because I haven't been hit with the inspiration to change it.
The cream vases I have in all three sizes.  You'll see the third one further down on the shelf.  I really like these corbel bookends.  They come in a set of two.  I know a lot of people like to turn books around so they all look the same but I like to see my books.  That's just me.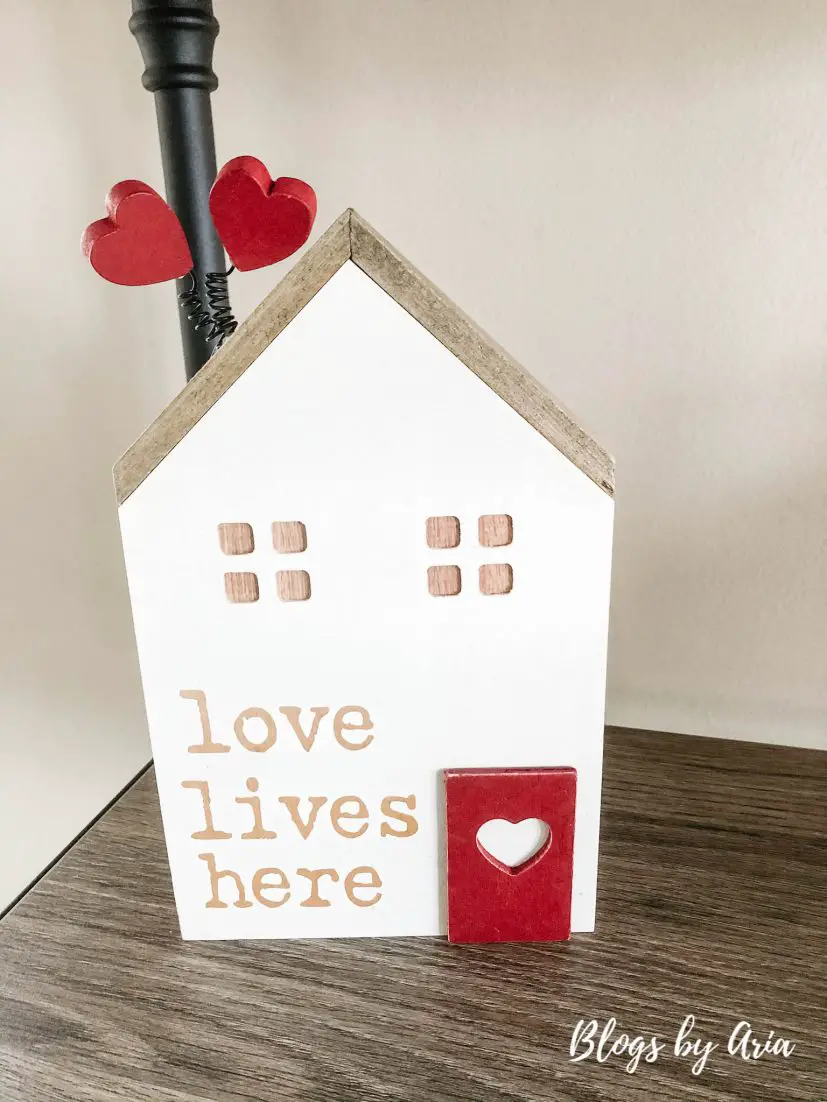 I'm so glad Kirkland's brought these houses back again this year because I didn't buy one last year and regretted it.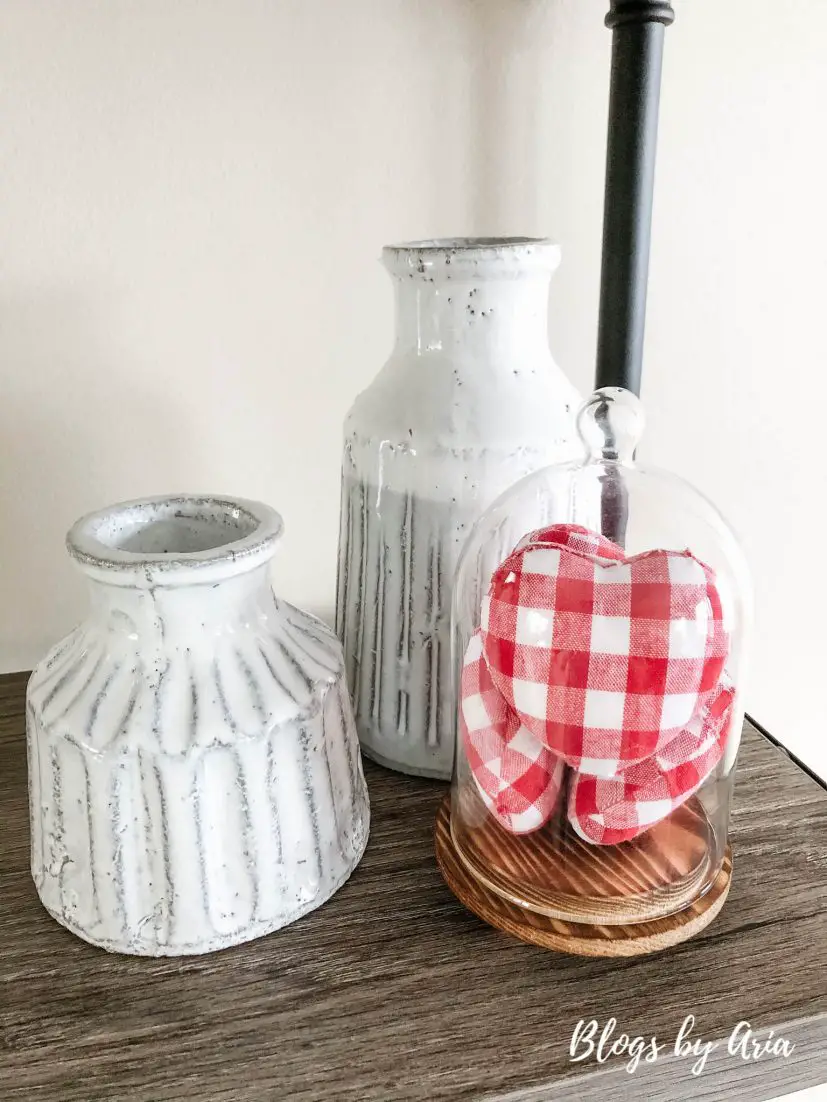 To add to the Valentine's decorating  I filled one of my mini cloches with these gingham hearts I got from Hobby Lobby.  I was really hoping I could have found them in pink or grey instead of the red.  But Valentine's decor goes so fast at Hobby Lobby especially once it goes on sale.
corbel bookends · Becoming · Open Book · We're Going to Need More Wine
I wanted to put books of similar sizes on this bookcase with my bookends.  Hopefully I'll add to this collection and if I can get them to have similar coloring on the spine even better.  For now I liked this here because it covers the X at the back of the bookshelf.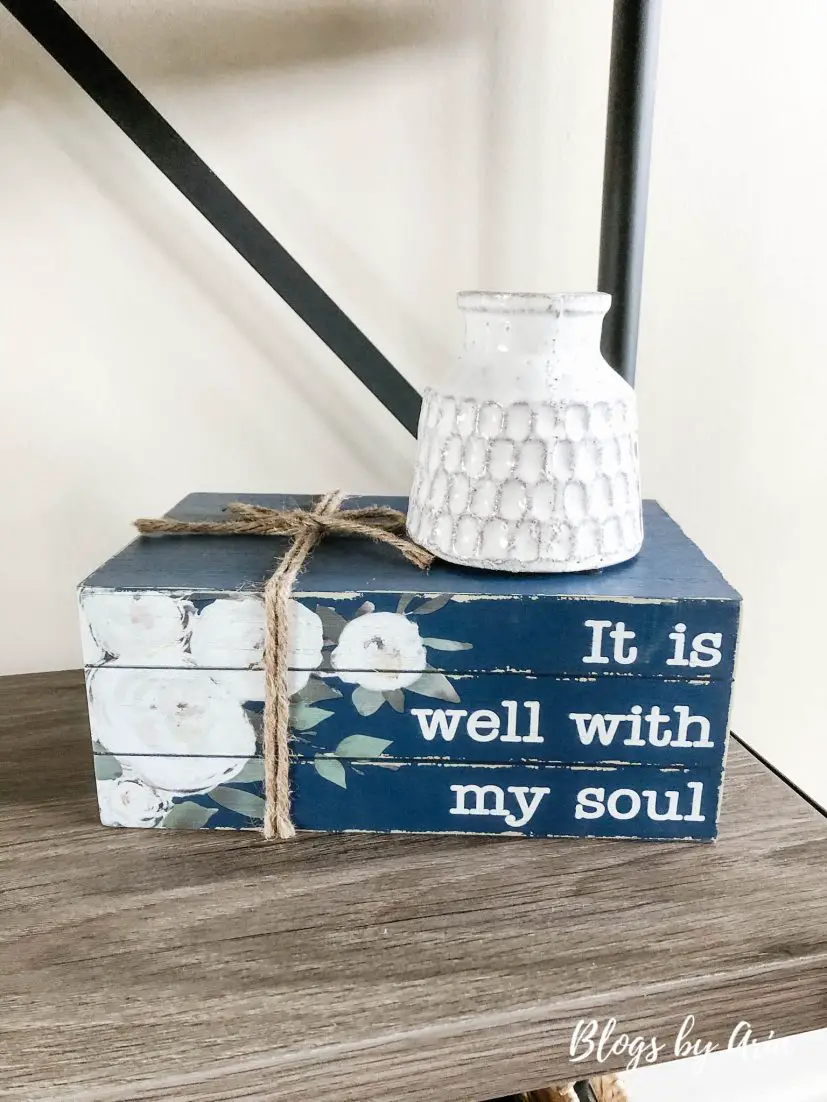 I'm not really a big fan of the stacked books trend.  But when I saw these in Hobby Lobby almost a month ago they caught my eye.  When they went back on sale (every other week) I went back to pick them up.  Turns out they're pretty popular by the way.
I've come to realize that my decorating style is a blend of modern farmhouse, traditional and Pottery Barn! lol So sometimes farmhouse items will call to me.  But I'm not into traditional farmhouse and shabby chic if that makes sense.  Not too long ago I shared a design style quiz and it was pretty spot on.
accent chair · throw blanket · plaid pillow · mirror
I pulled out my pink throw blanket (pink peony) for Valentine's day.  Eventually I'd like to get some good pillows for Valentine's day decor but I didn't find any this year.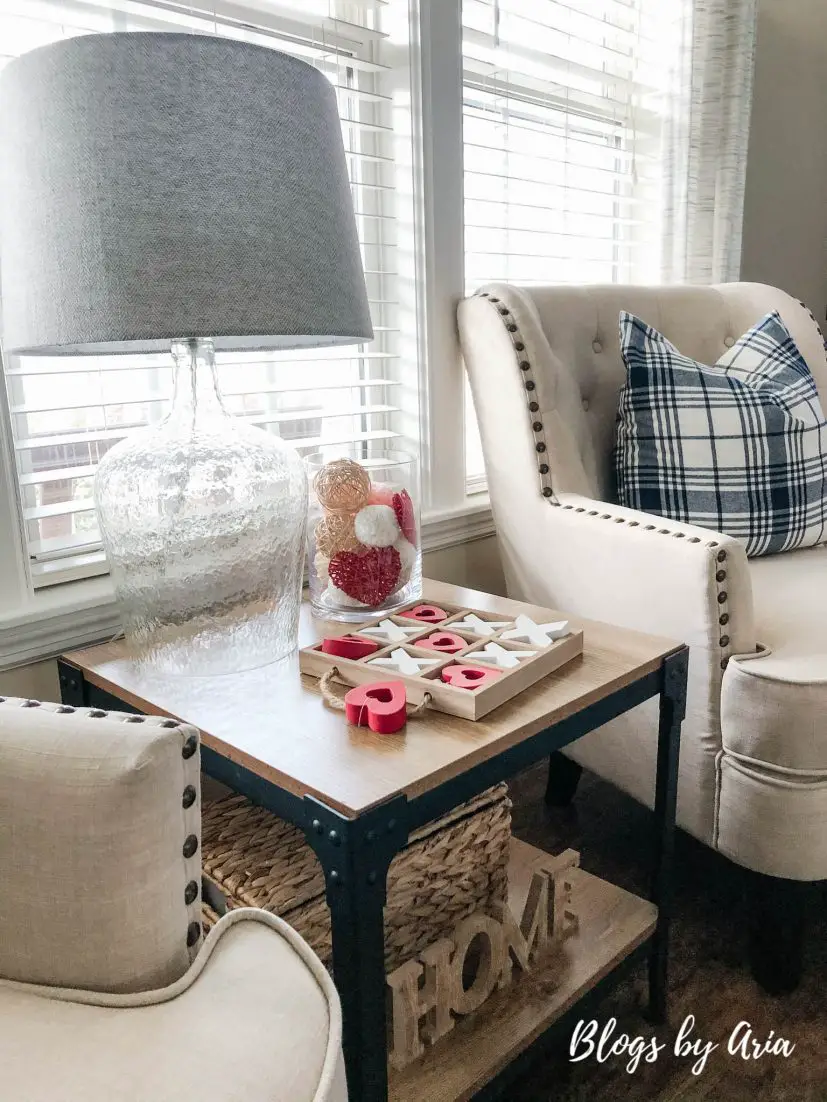 end table · glass jug lamp · vase filler · glass vase
My coffee table is still bare but I found this cute tic tac toe game from Walmart.  It's not available online but this is a cute farmhouse version I like.  Originally I planned to put this heart vase filler in my dough bowl but I like it in this simple glass vase.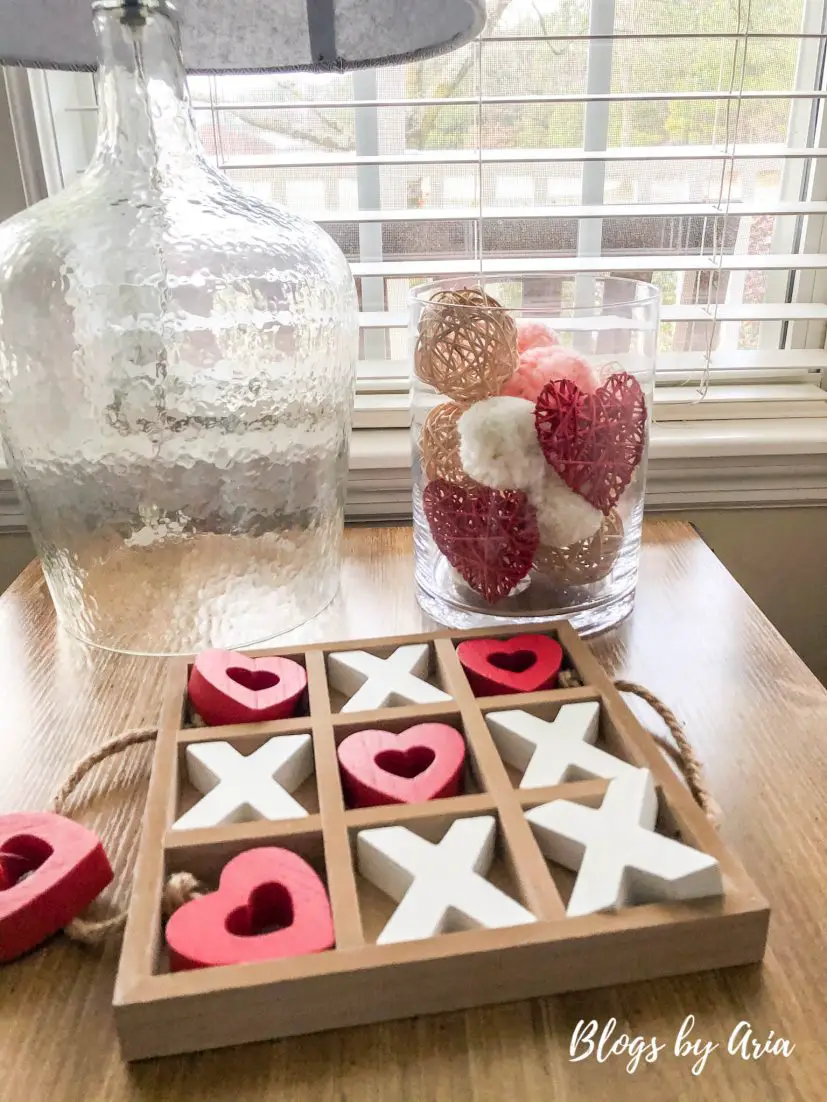 It was a good lighting day when I took these pictures!  Love when that happens 🙂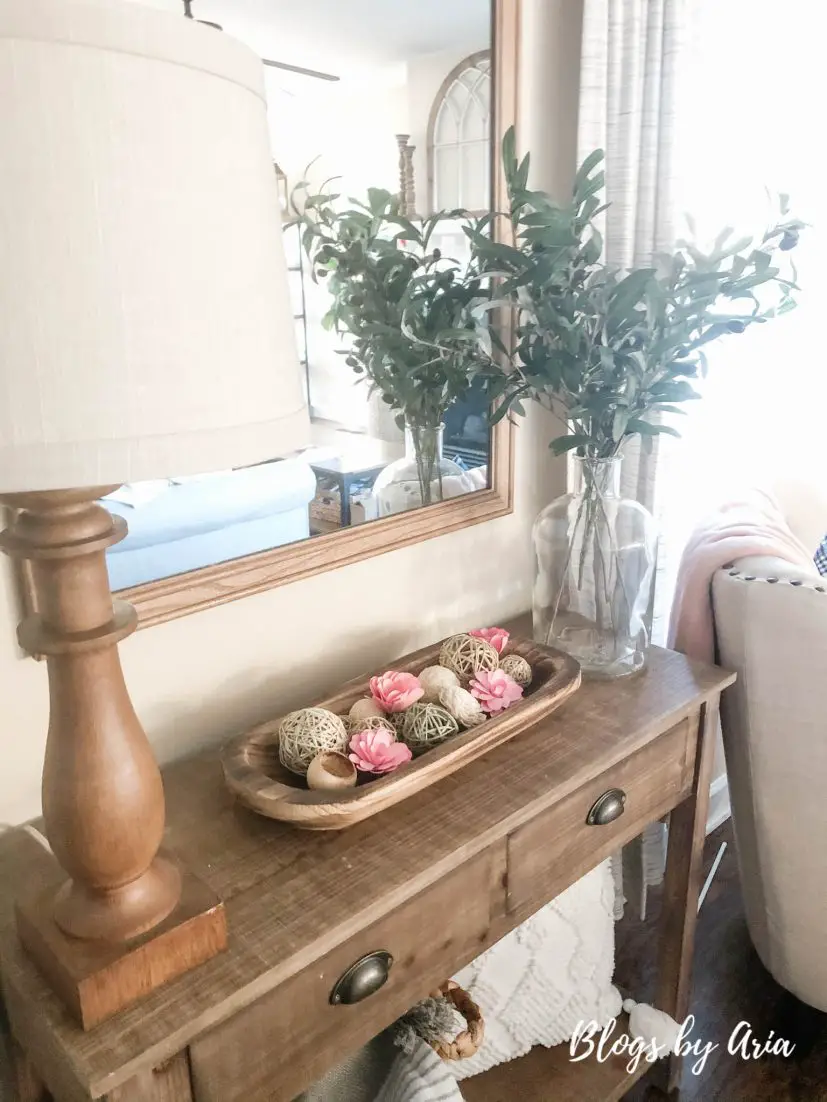 I didn't do much to my entryway table decor other than swap out my vase filler to this more pink based filler.  Just to keep it simple.  I actually want to move this dough bowl but lately I've been pretty stagnant on decorating.  I have to feel the creative spark ya know?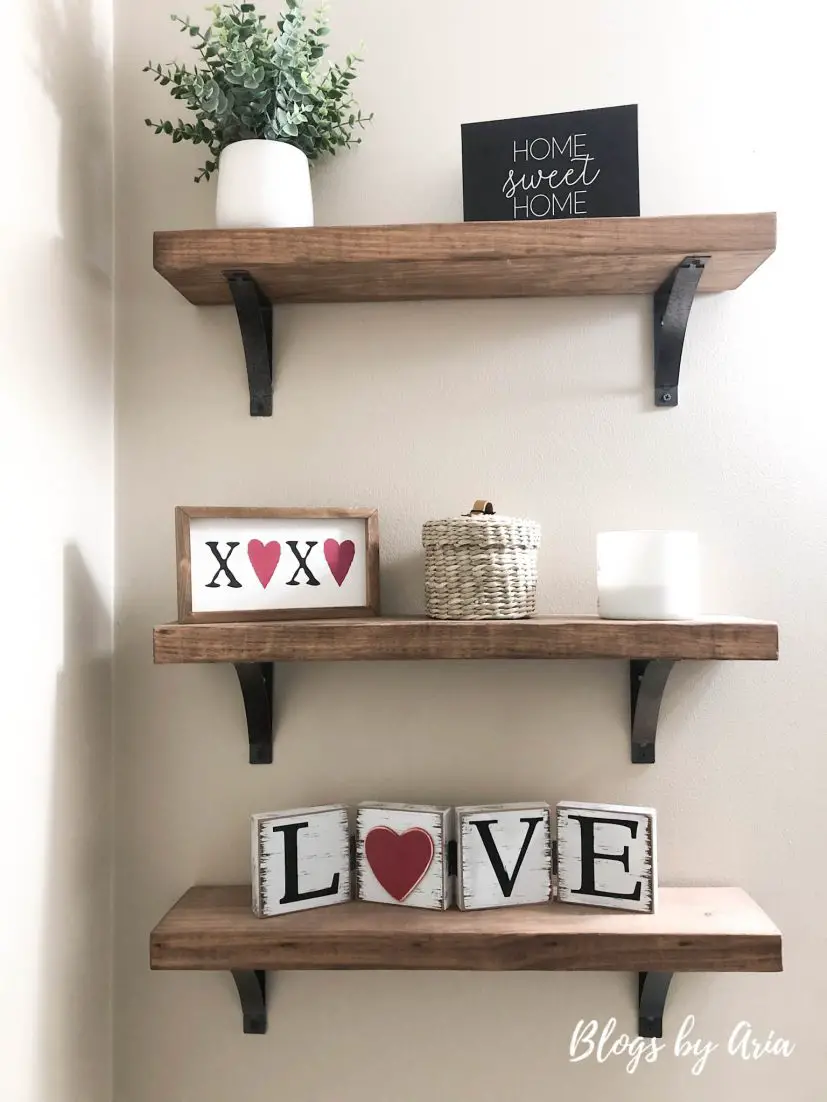 floating shelves · woven basket
I did add a little touch of Valentine's decor in my powder room.  Just kept it simple with decor items I already had.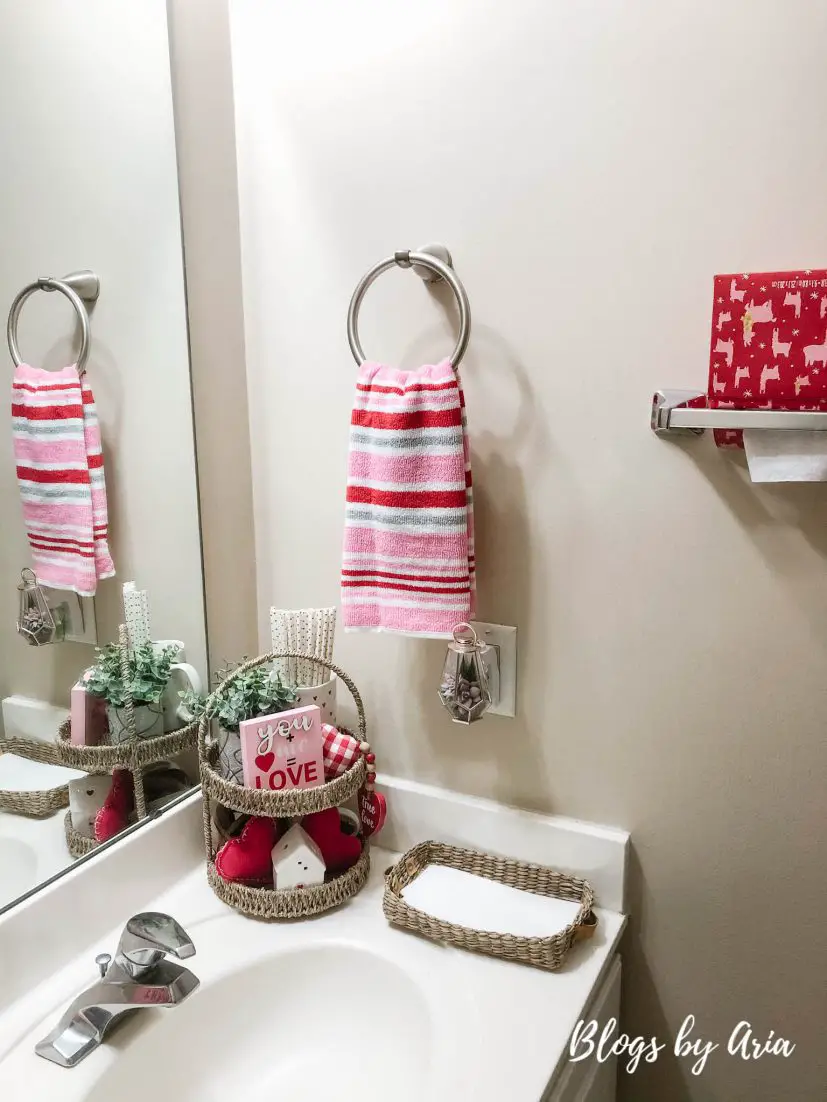 I ended up putting my woven tier tray that I styled in this little spot on my countertop.  It fits perfectly and maybe this will be its home moving forward.  The tier tray pairs well with my Hearth & Hand hand towel holder.
RELATED POST:  VALENTINE'S TIER TRAY STYLING
I've seen so many cute Valentine's rugs for the bathroom, but that will be on the list for next year.
SCROLL THROUGH TO SEE MORE VALENTINE'S BATHROOM RUGS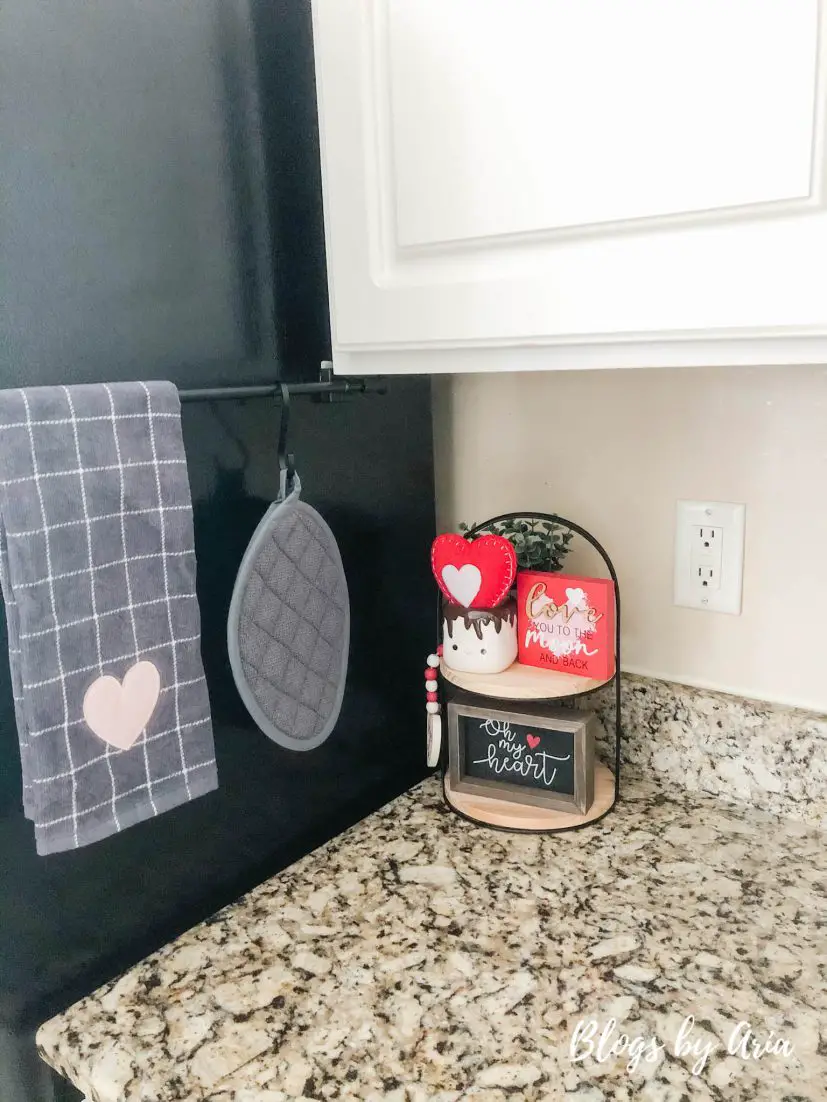 I didn't do much in my kitchen aside from adding a hand towel I got last year and my other small tiered tray.  Which honestly, a hand towel can do so much don't you think?
Even though I haven't been real motivated to decorate lately, I am glad I added a few simple touches of Valentine's decor here and there.  Shopping for Valentine's home decorations is always kind of tricky because in December we're all focused on Christmas.  By the time January rolls around we're still getting over Christmas and we're not really thinking about decorating for Valentine's day.
But if you don't jump on Valentine's home decor quickly it can be gone by the time you're ready to think about it.  I was out this weekend looking for organization items and there was very little Valentine's decor to be found.  It was all Easter and St. Patrick's day.
If you're looking for Easter tiered tray decorating ideas, check out this post I recently shared.
For now I'm enjoying the touches I've added and I'm thinking of Spring decor.  I'm always over winter by the end of January and ready for warmer temps and brighter colors.  How about you?  Until next time friend…stay warm ♥