Over the weekend we finally put away all the Christmas storage bins.  In our bonus room we have a couple of small attic storage holes, for lack of a better word.  That's where I keep my seasonal decor stored.  Now that I've pulled out my Valentine's decor bin I am ready to style my tiered tray.  I'm sharing a couple of Valentine's tier tray styling ideas with you today.
*this post includes affiliate links for your shopping convenience, you can read more about affiliate links by reading my Disclosure*
For my Valentine's tier tray I wanted to go back to my rustic farmhouse tier tray.  I don't have enough Valentine's day decorations to fill out my much larger three tiered tray.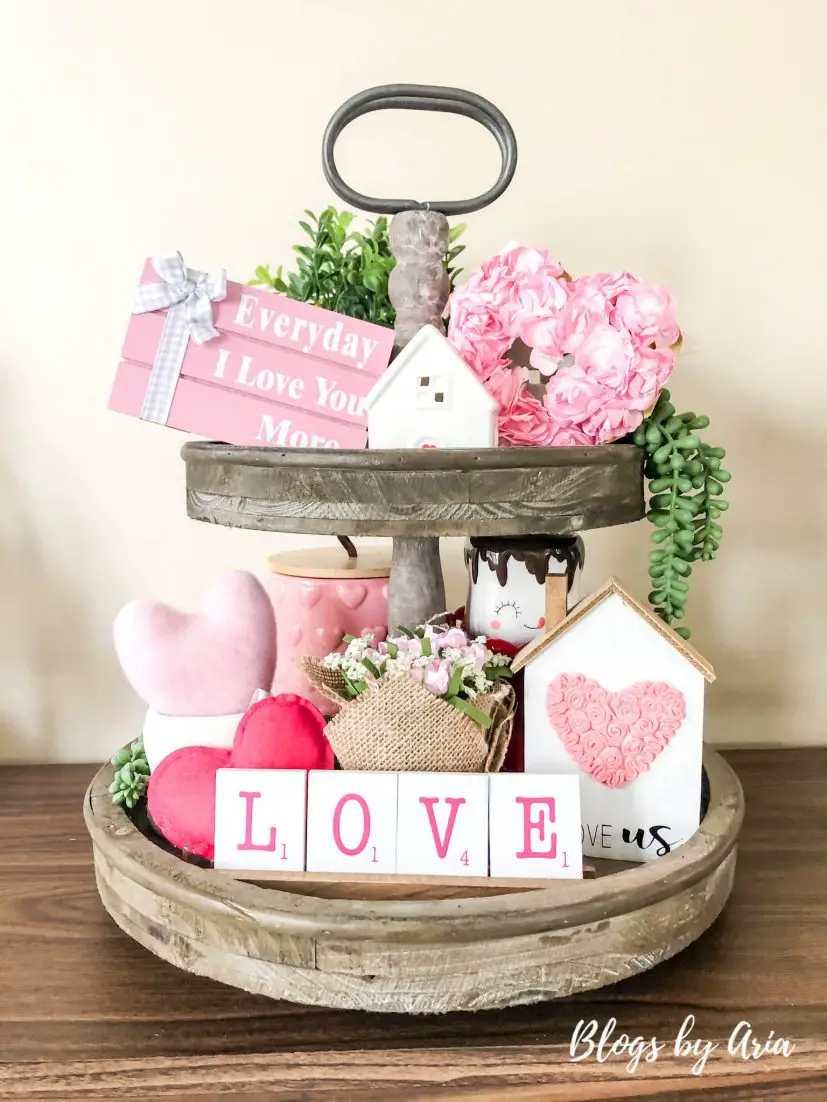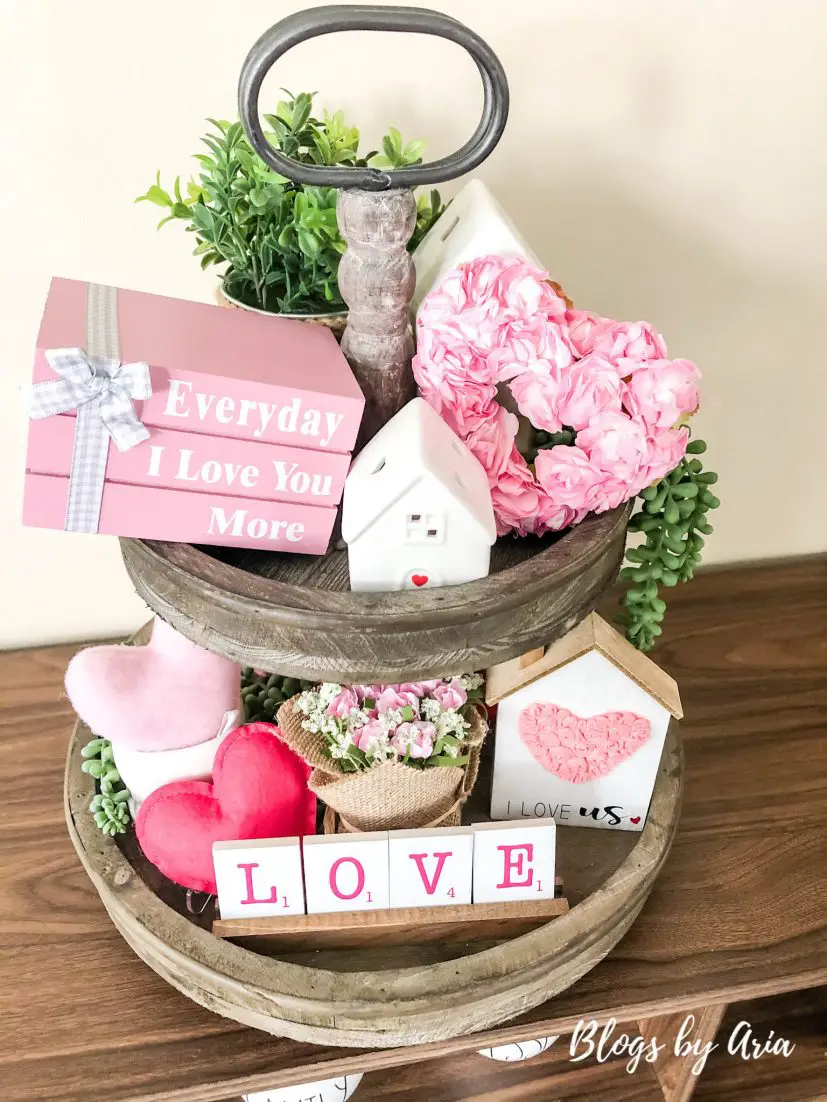 rose wreath · heart house · stacked books · flowers in burlap
As usual, most of the items I use for my tier tray styling are from Hobby Lobby.  The stacked books, greenery, florals and mini houses are all from Hobby Lobby.  The I love us house is from Walmart.
The love scrabble tile set is from a shop on Etsy.  This particular set may be sold out but she has them for every season and you can create your own.
When it comes to styling a tiered tray for Valentine's day I think it's best to take a less is more approach.  Think about what comes to mind when you're thinking about Valentine's day.  A lot of hearts right?  That makes it a bit more difficult to fill out a tier tray.
Try to find items that can fill out your tier tray that can be larger.  For example, the pink heart canister is from Hobby Lobby.  Originally I got it for my kitchen.  But as I was working on my tiered tray I decided to see if it would fit and it did.
I was able to scoop it up on my most recent Hobby Lobby run.  The trip before that they were all out and I was bummed because I really wanted the pink one.  So to see it on my latest trip made me happy.
Now that I've shown you how I styled my larger two tier tray for Valentine's day, I'm going to show you a couple of smaller options too.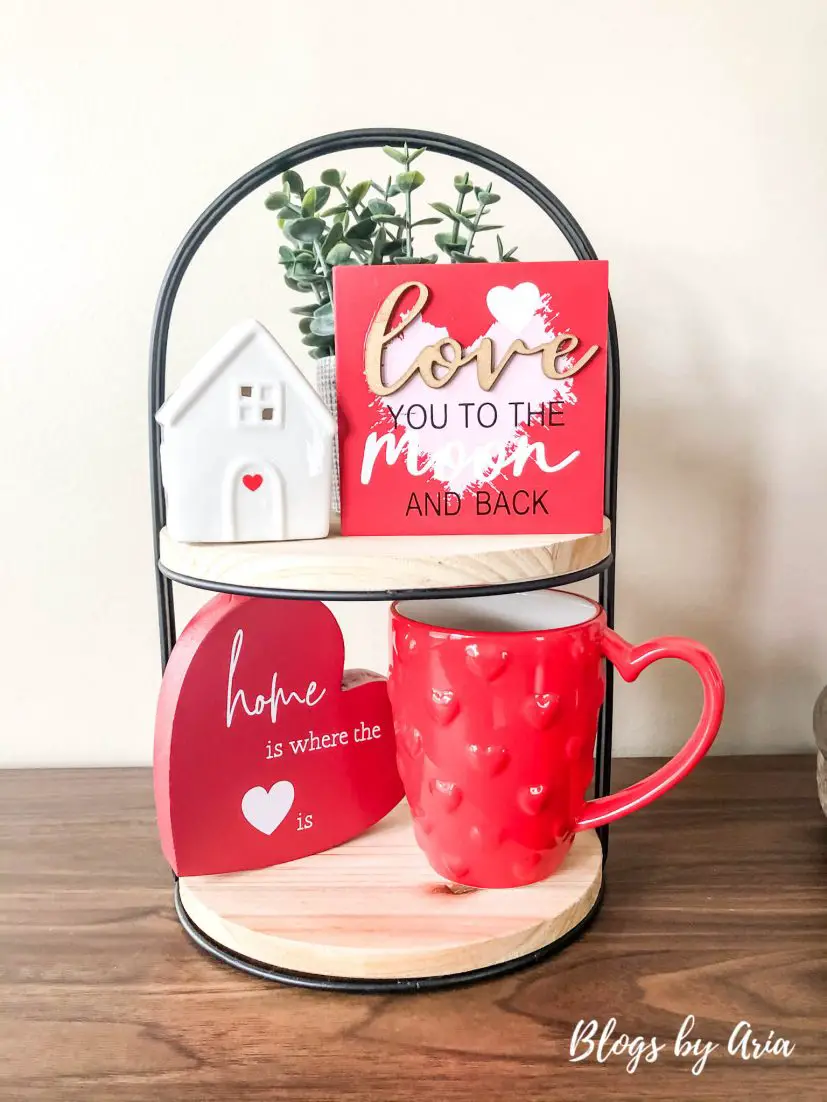 The easiest tiered trays to decorate are the smaller ones.  Only a few items and you're finished.  I played around with this tier tray and styled it a few different ways.
I don't shop at Dollar General much, really at all.  But they have some cute items for seasonal decor!  Many of the items that I've seen others share were already sold out at my local store.  But this little heart tassel is only $1 and I picked up three of them.  The sign on top is also from Dollar General.  So don't sleep on them!
Mini plants are perfect for tiered tray styling.  They fill out space and add greenery.  I find mine at Hobby Lobby, Target and TJ Maxx.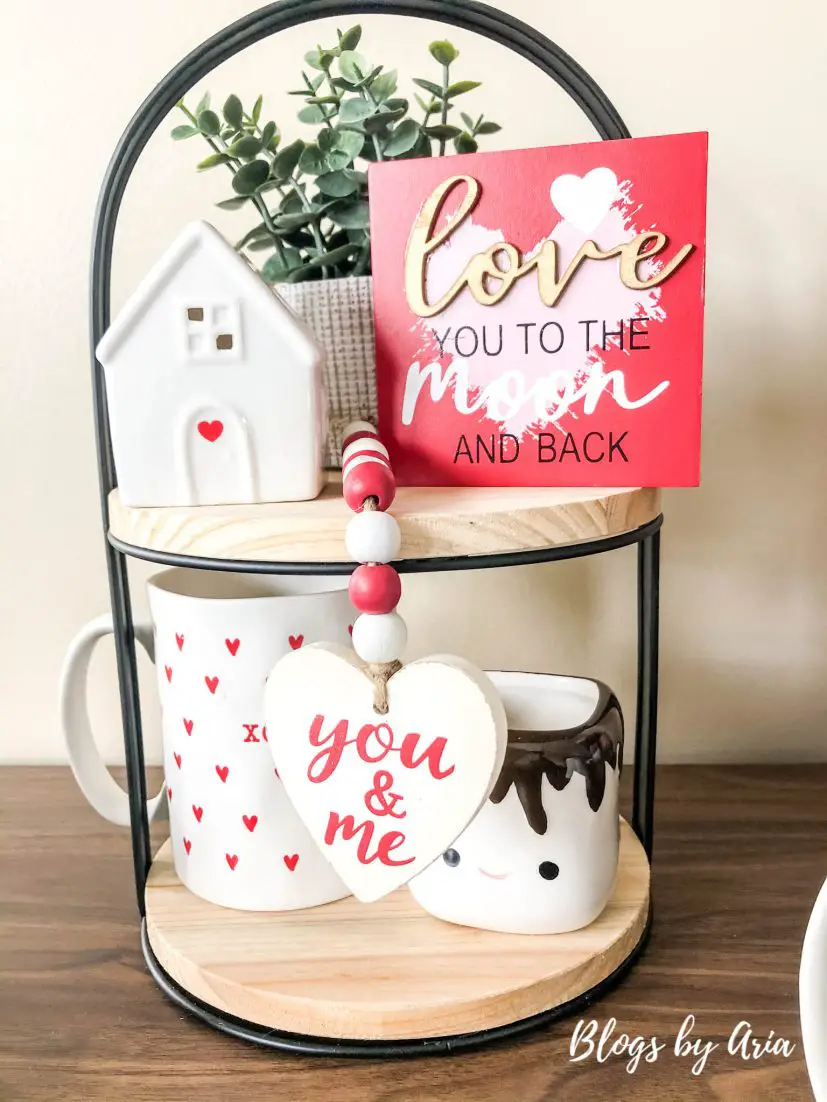 My mini marshmallow mugs are available on Amazon.  You can find seasonal decorations for them on Etsy.  Just be mindful of time frames.  Now would be the time to start looking for Saint Patrick's Day or Easter items.  Oftentimes items are handmade and made to order.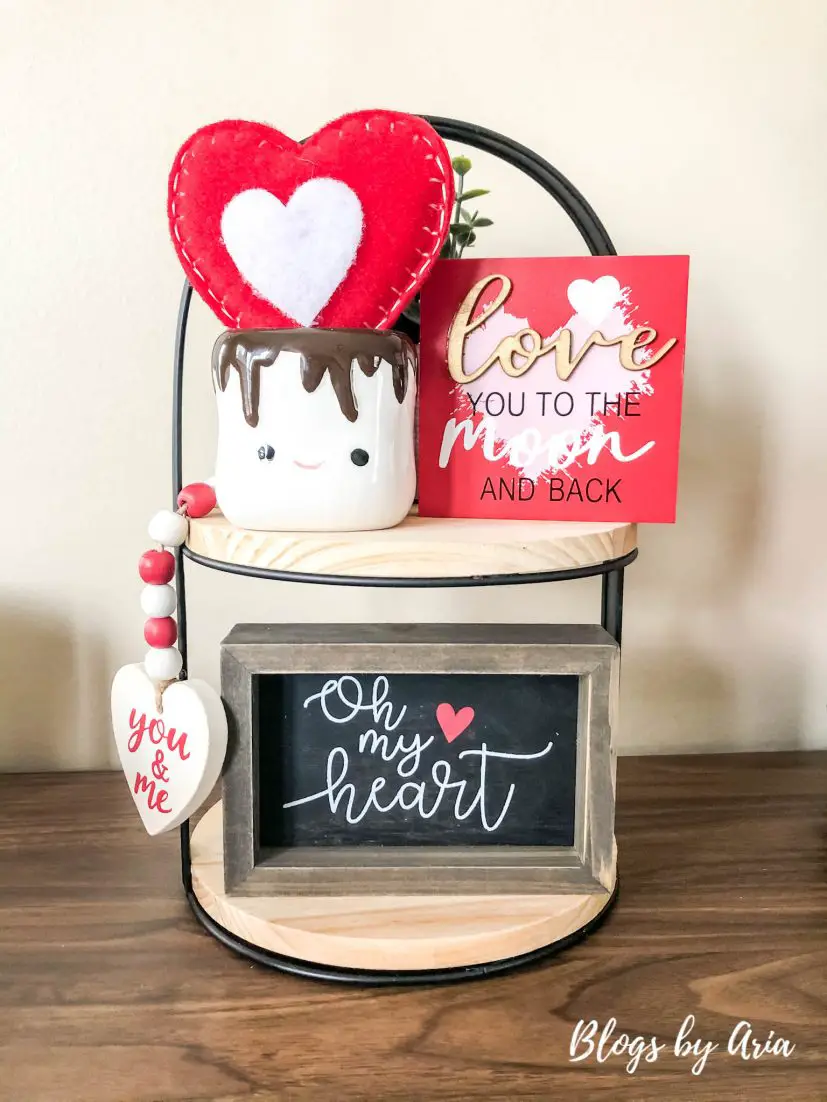 The plush heart I got from Walmart last year.  They have some really cute hearts this year but I haven't been able to find them in my closest stores.  I got the sign last year also, I think it was from Kirkland's.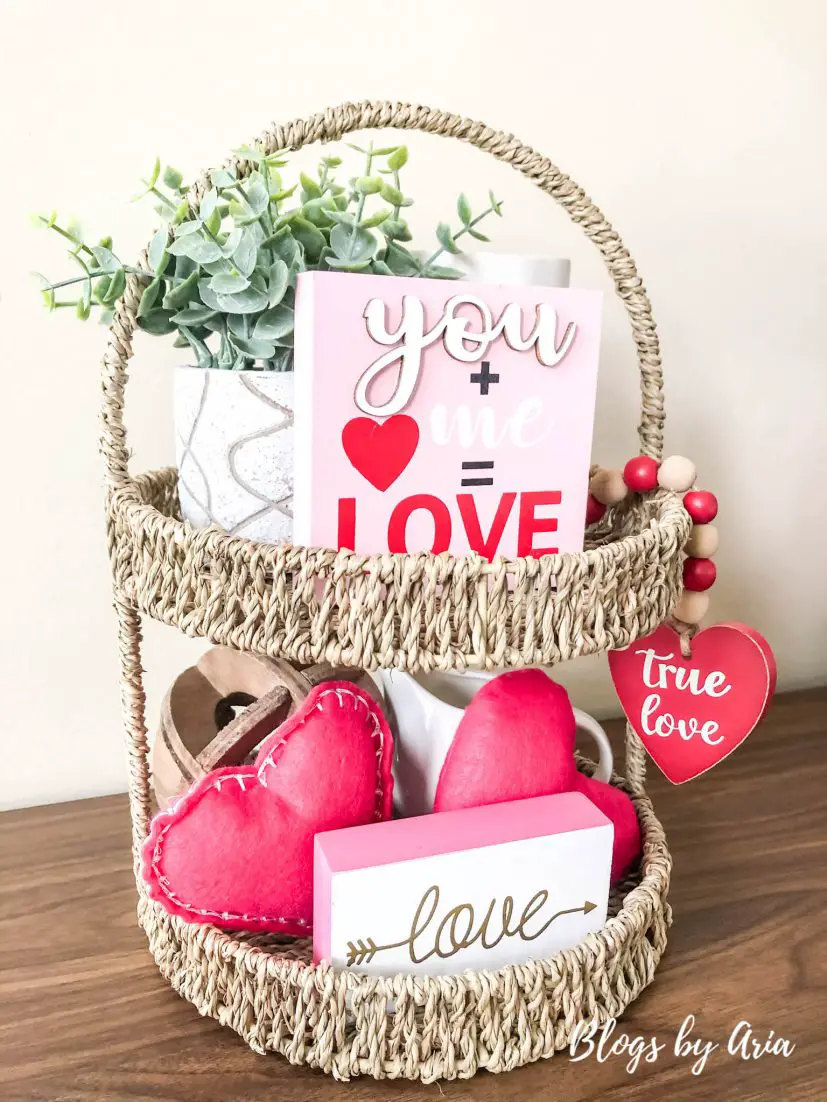 My last tier tray I'm styling is also from the Target dollar spot.  Here's the thing…when you see a tier tray in the dollar spot you buy it.  You just do.  They're usually $5.  If you don't buy it, when you realize you want it, it will be gone.  So just buy it okay.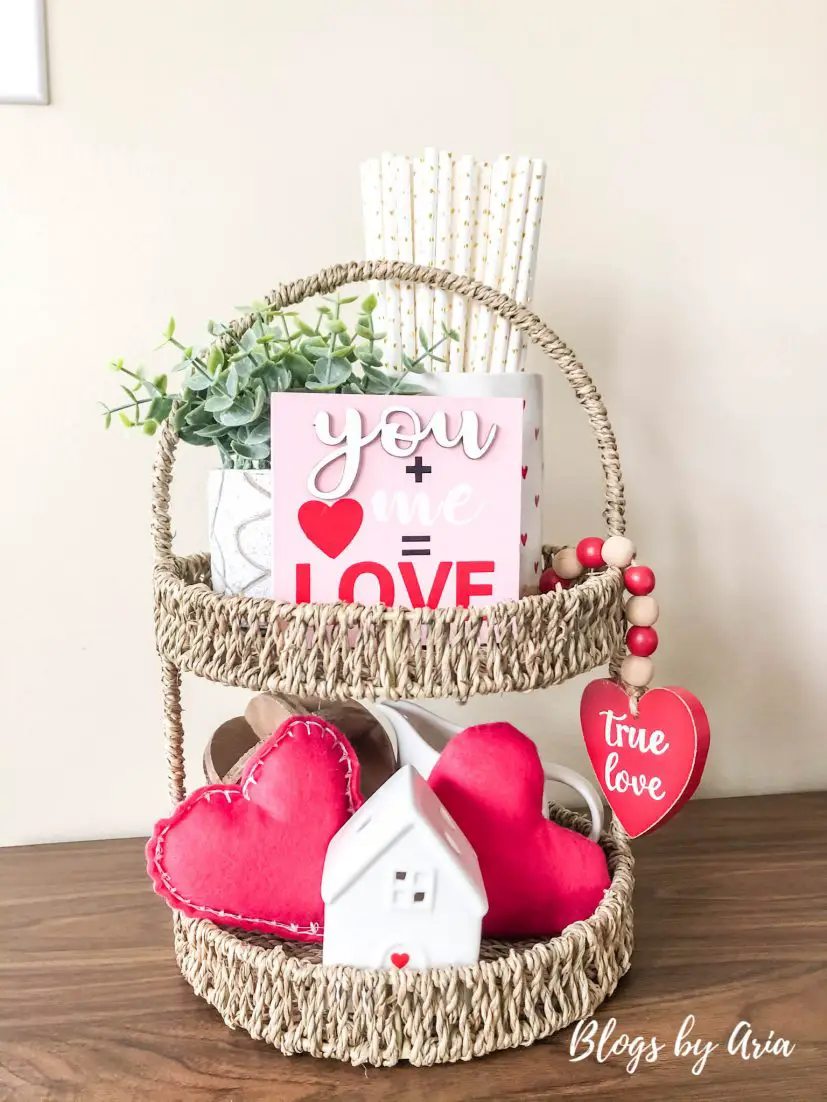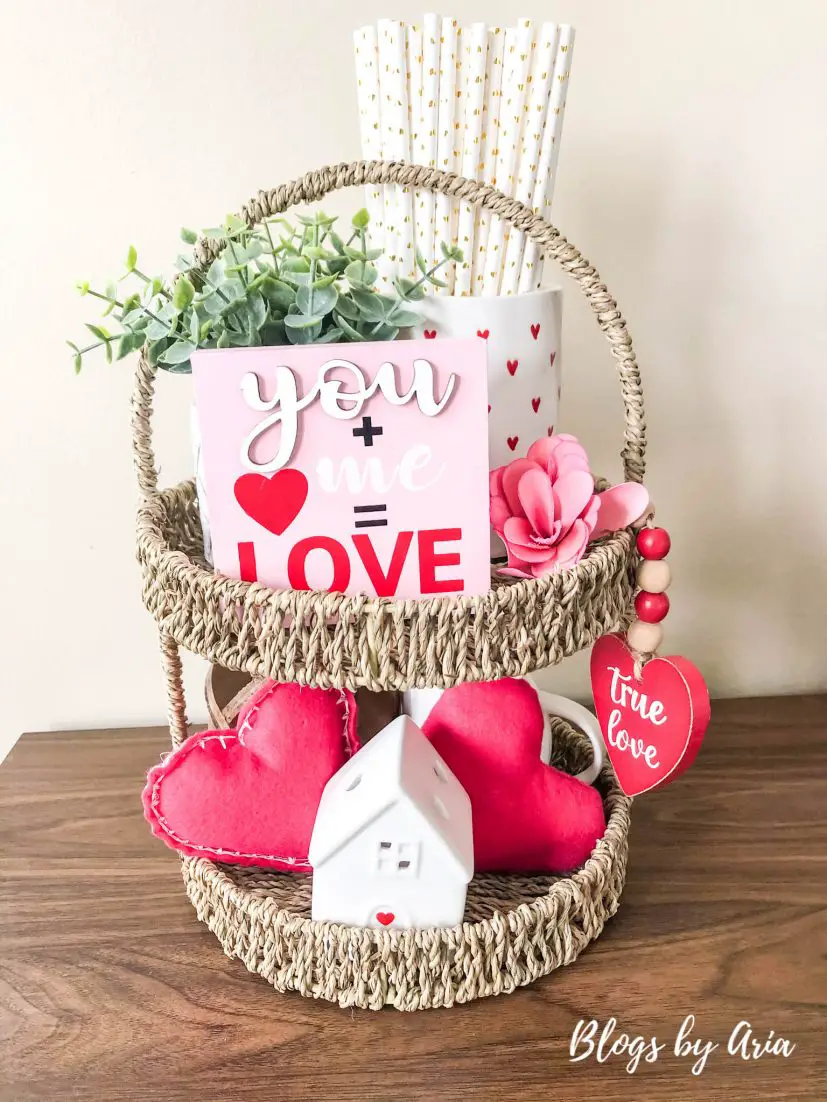 Another suggestion is to use filler items to help fill out your tier tray.  In this last picture I added a little flower that is from a vase filler I got from Target.  I do the same thing with my everyday tier tray styling too.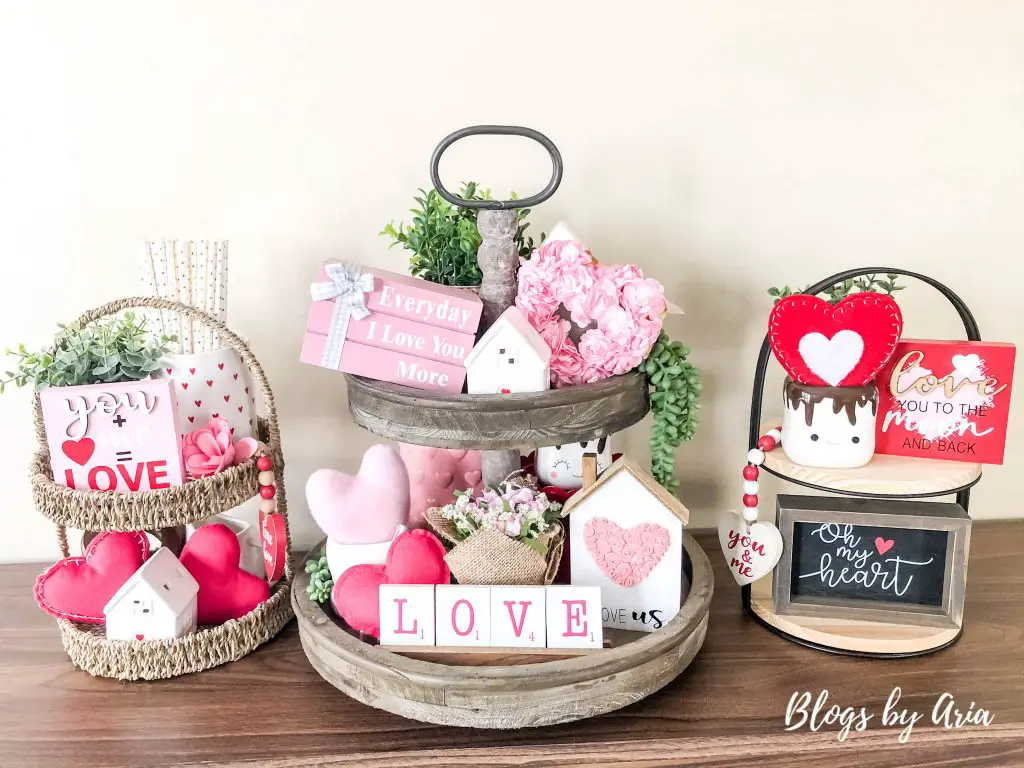 And that's how I styled three of my tiered trays for Valentine's day.  I love how they turned out.  Once you start with the first one, in this case I started with the larger one, it's easy to style them all.  Hopefully you got some ideas on how to style your tier tray for Valentine's Day.  It's always a fun, creative outlet for me.