It's been far too long since I've been able to share a Parade of Homes tour with you! I've missed being able to share beautiful homes with you and I hope you're excited to see this house!
On the top of my list of things to buy is a new computer because mine is conking out on me right now.  But I was able to get a few house tours edited so that I can now share them with you.  Well worth the wait I hope!
Today I want to start with one of my favorite homes I toured this Fall.  If you follow me on my Facebook page you've more than likely seen a reel I shared of this kitchen.  It went sorta viral and a lot of people had a lot of opinions!
Allow me to set the scene for you.  Here in Raleigh we get a lot of rain.  Like hello, Seattle is that you?  A lot of rain.  The day before I saw this house it was a nasty rainy day and on this day it was drizzly and overcast.
I have the address in the GPS and I'm driving, and driving and driving.  I was out in the country ya'll!  Narrow, winding roads…I was ready to turn around.  And then I came upon Darch Manor.  And it was beautiful!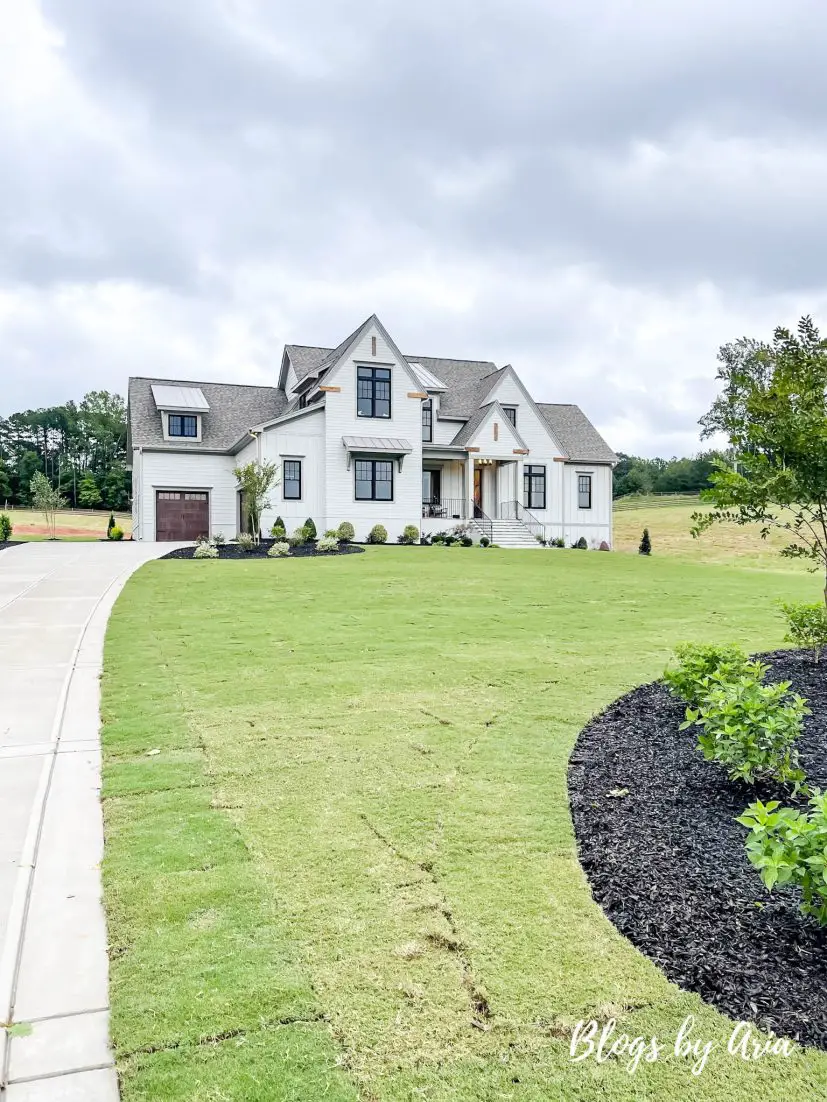 Darch Manor has four bedrooms and three and a half bathrooms.  It's a few feet shy of being 4000 square feet.  Barely located in Wake Forest, North Carolina at the time of viewing it was listed at $1,100,000.
As you can see Darch Manor stands alone on a huge lot of land.  I love this house but I don't love that.  I have no desire to live out in the middle of nowhere without neighbors.
When I see houses like that I think about high speed internet access, well water and how long it takes to get to the grocery store or Target.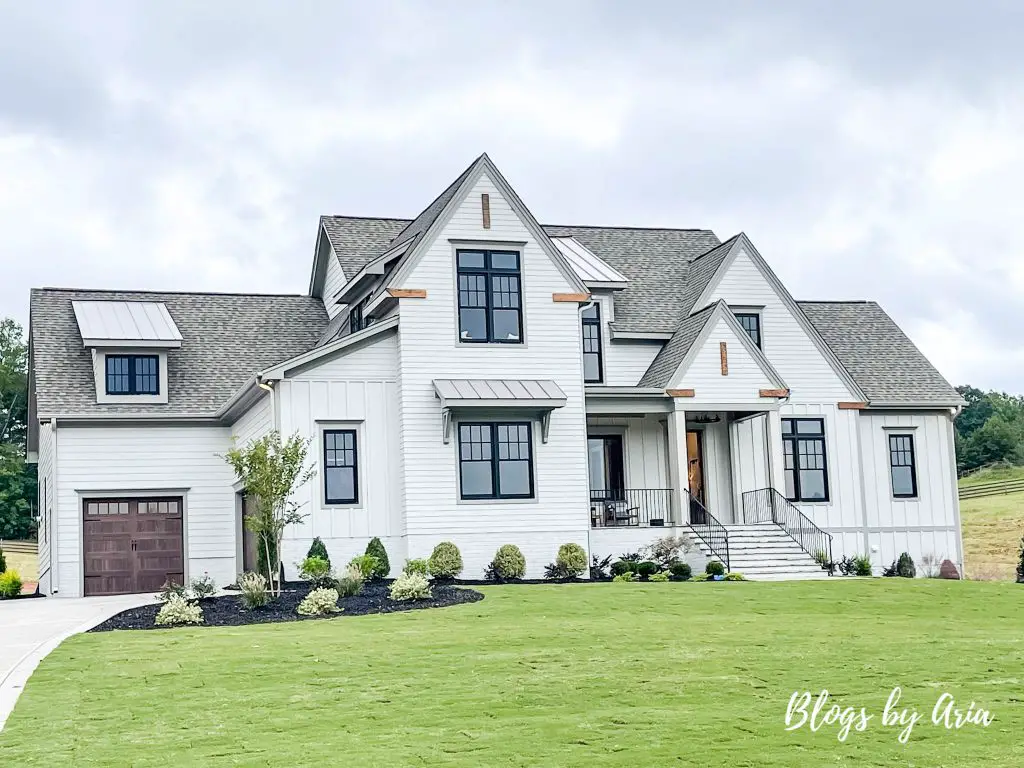 If I could take this house and put it inside a neighborhood this would be the perfect house.  But that's not what this post is about…it's about the design inspo!  So let's dive into this gorgeous home!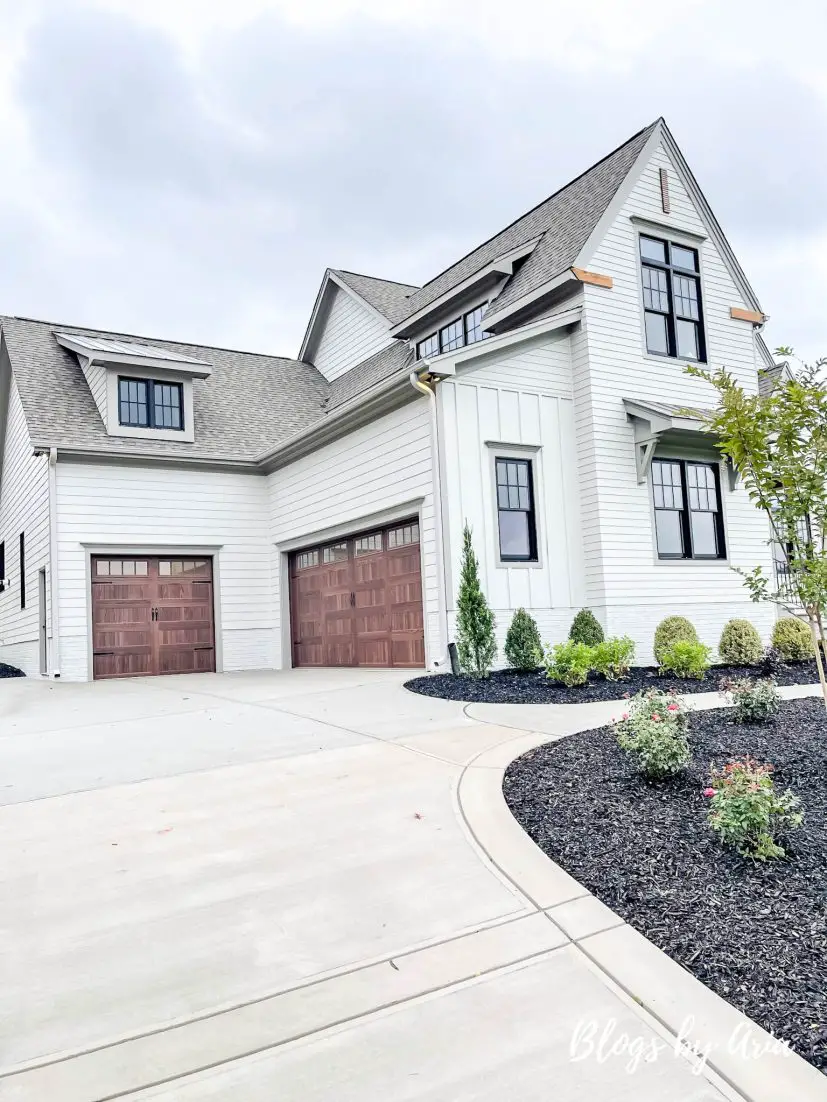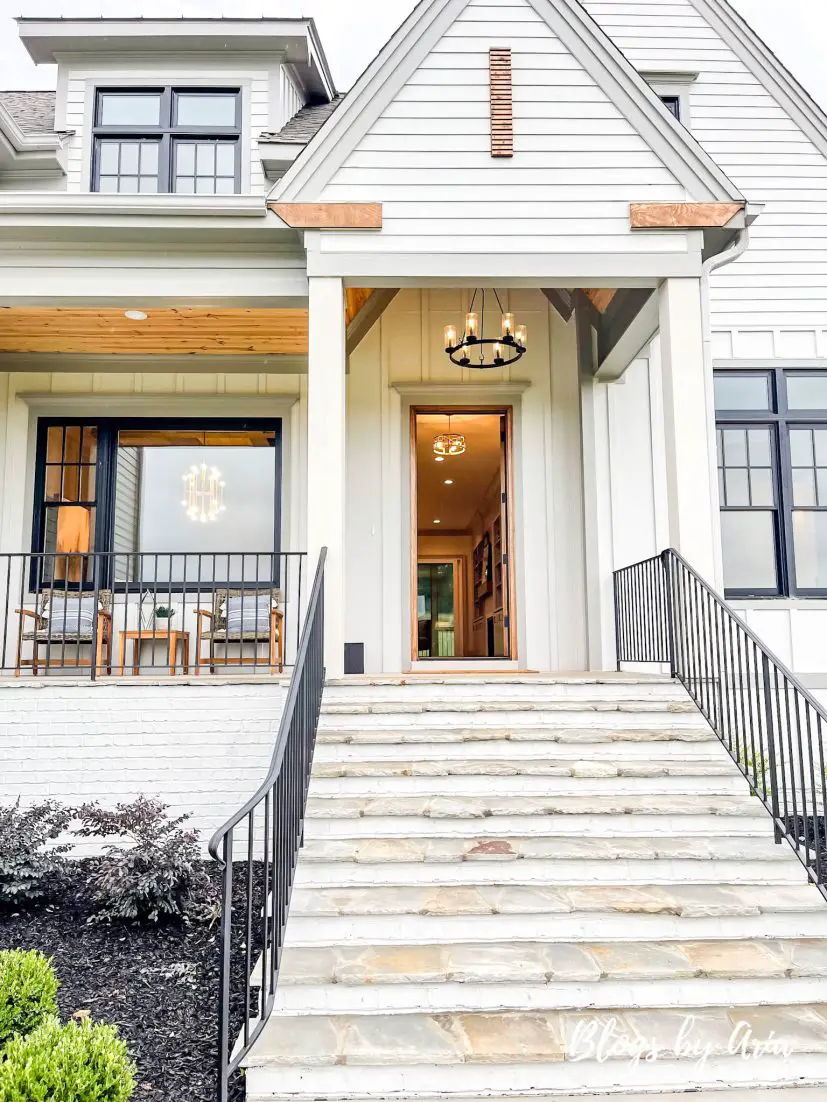 There are so many details from the moment you walk up the very long driveway to get up to the house.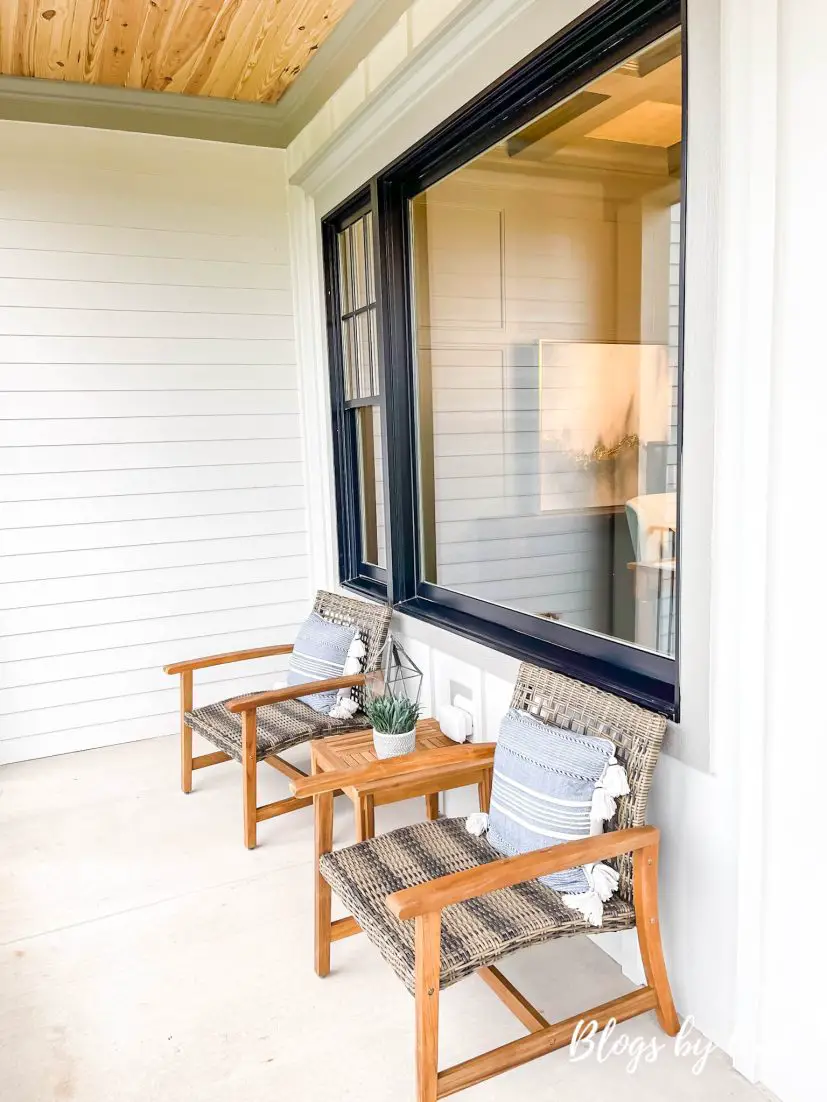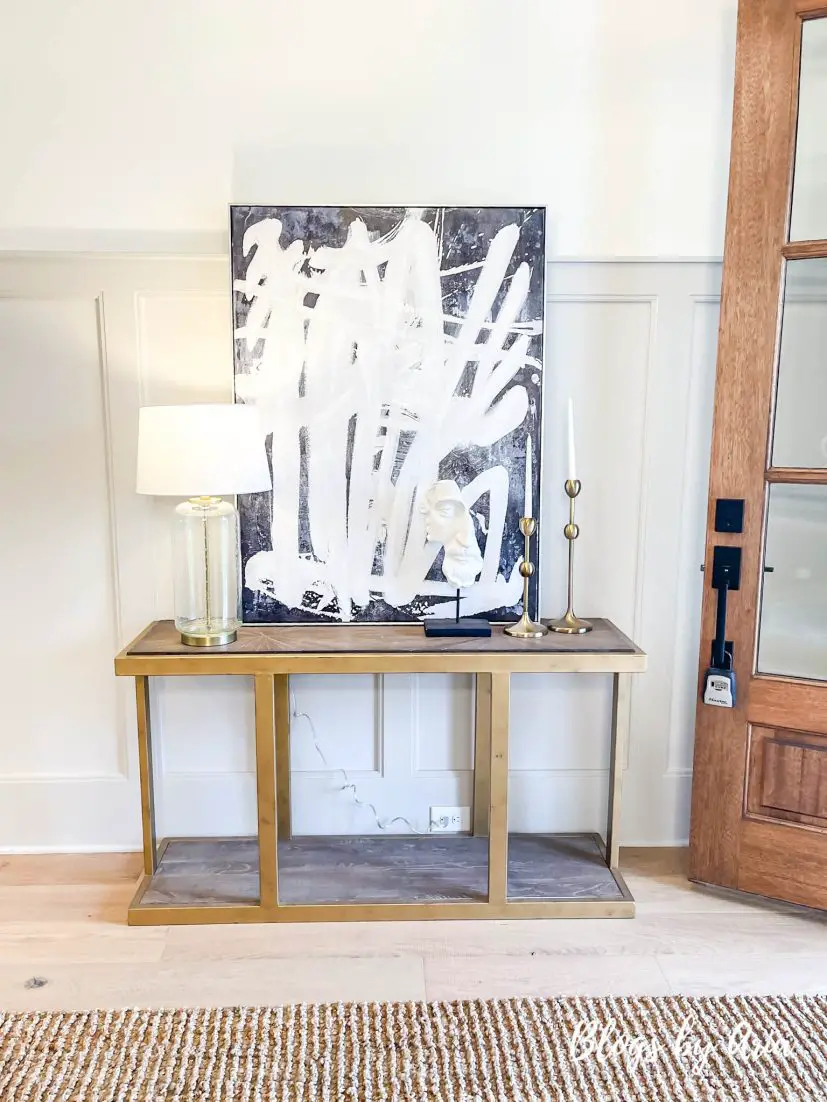 Coming into the home the entryway is light and bright with beautiful trimwork.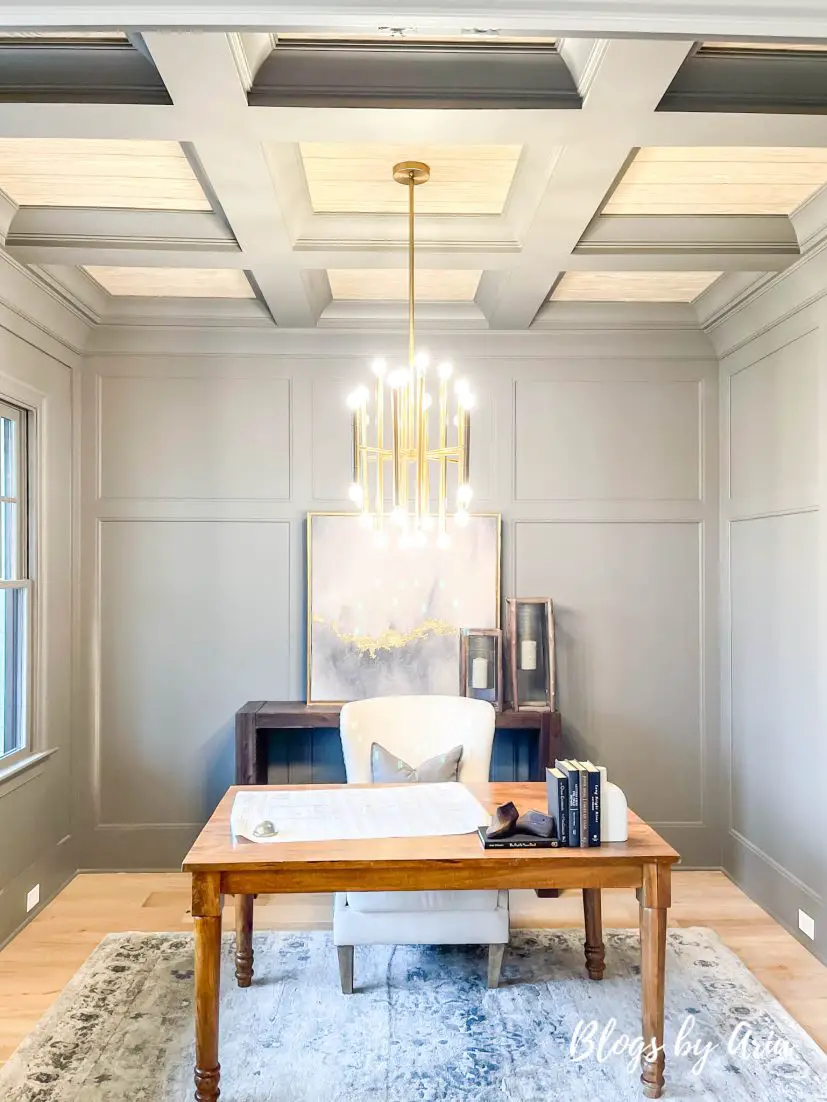 Off of the entryway is the home office.  It features heavy trim detail and look at the coffered ceilings!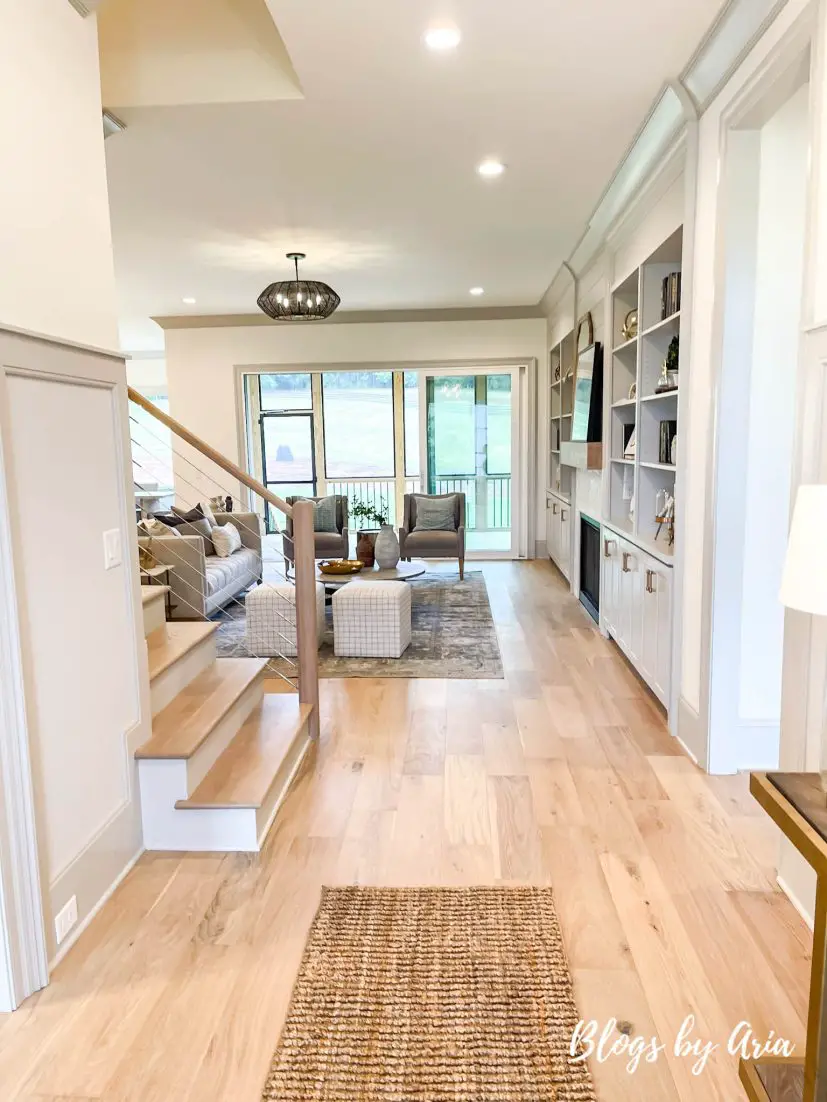 Let's go into the rest of the house!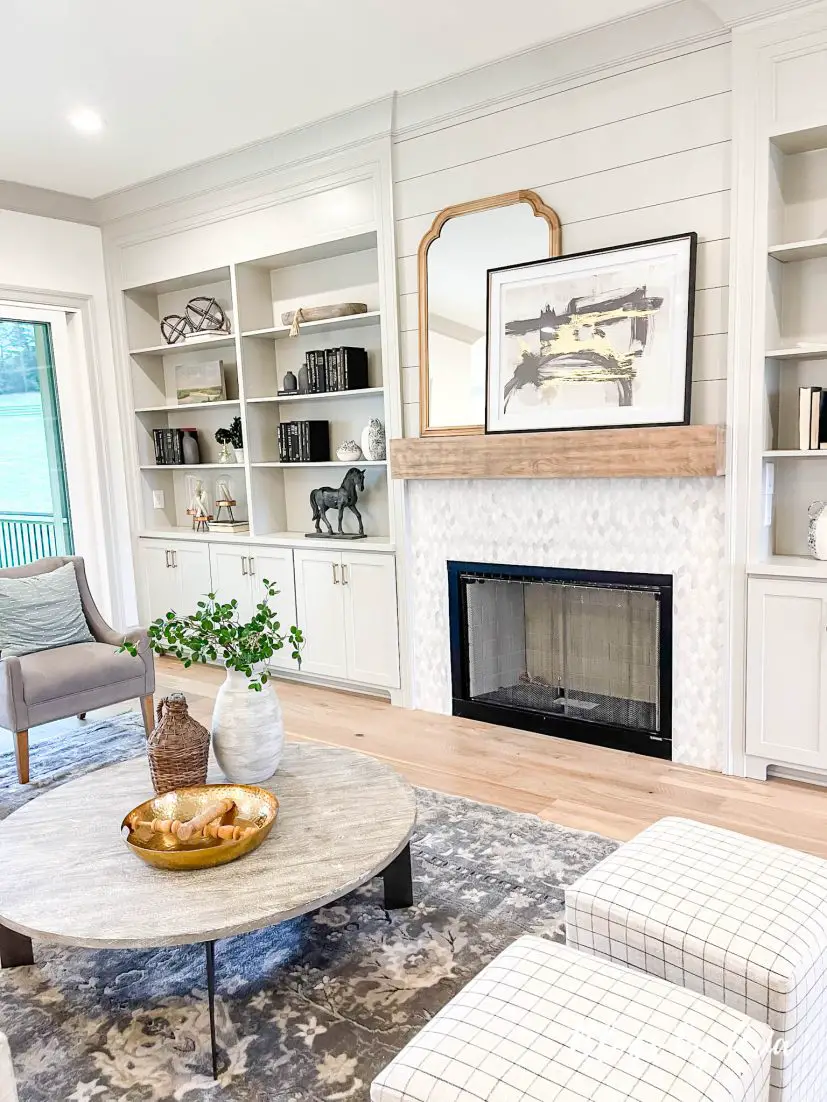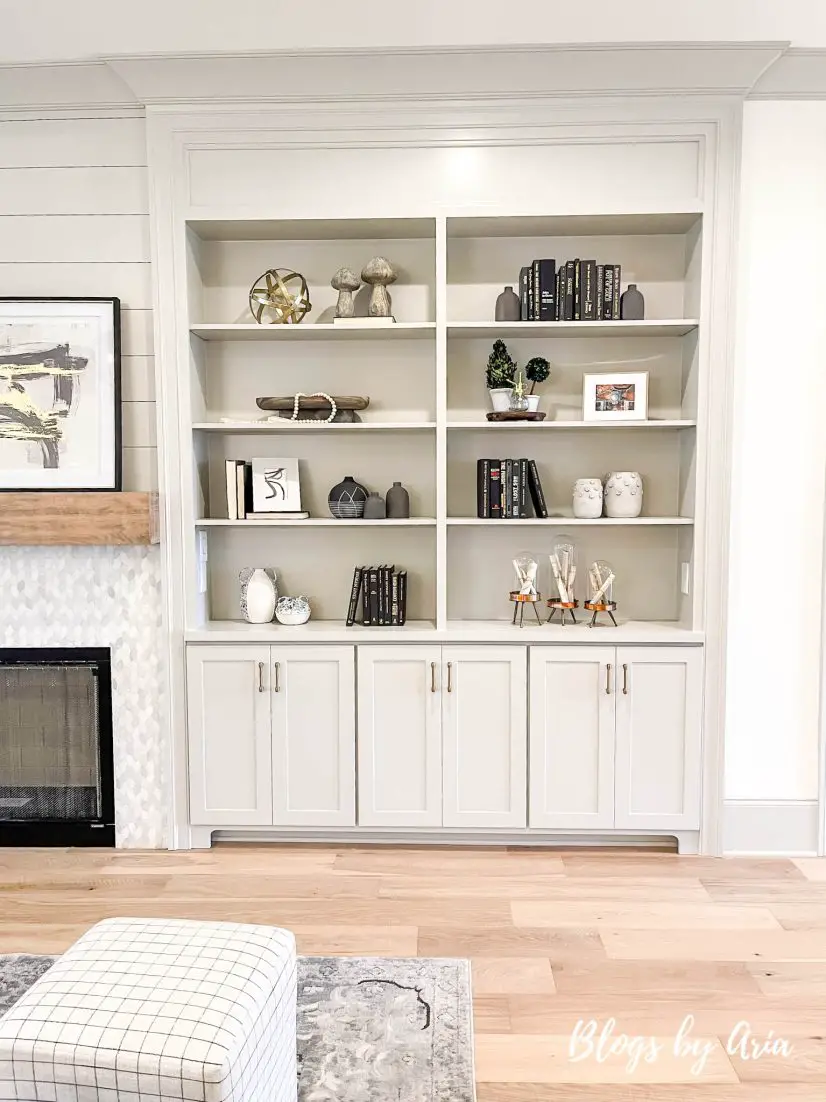 I love the family room!  From the built ins to the shiplap it's the living room of my dreams!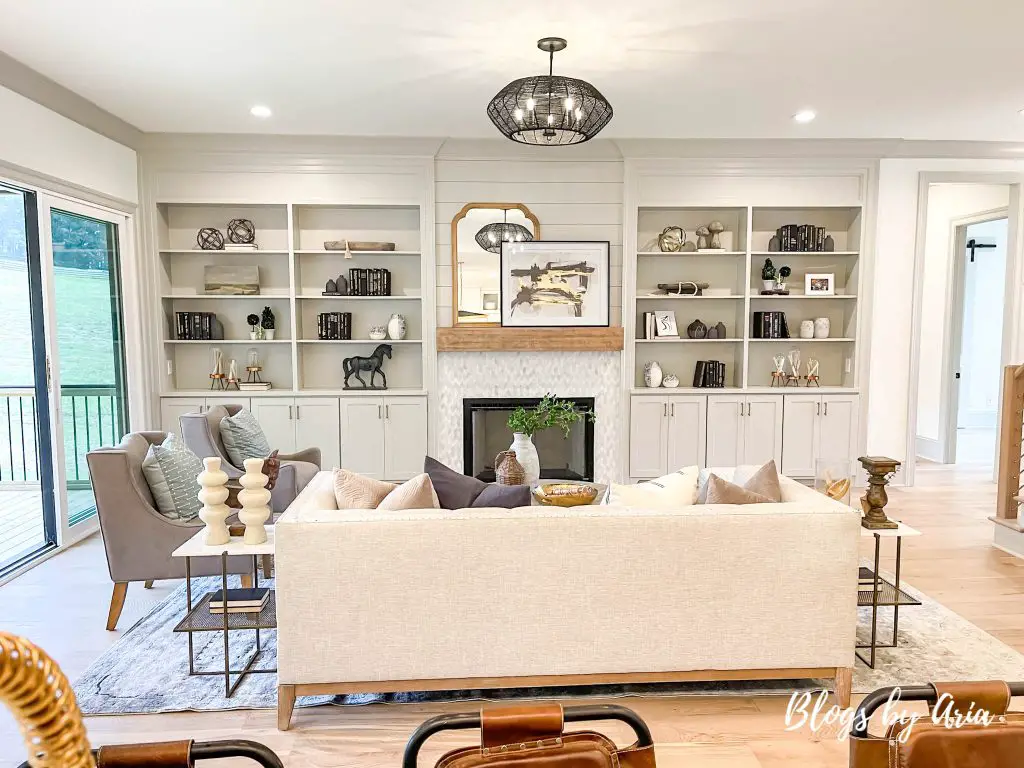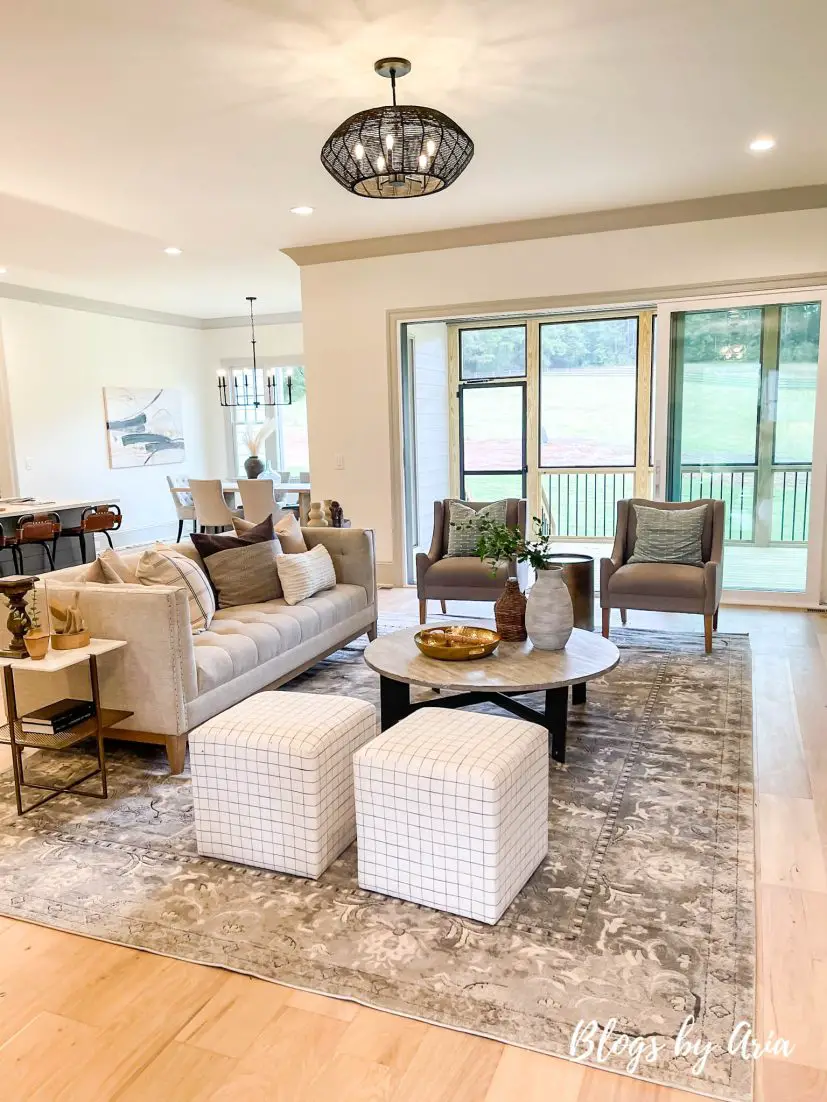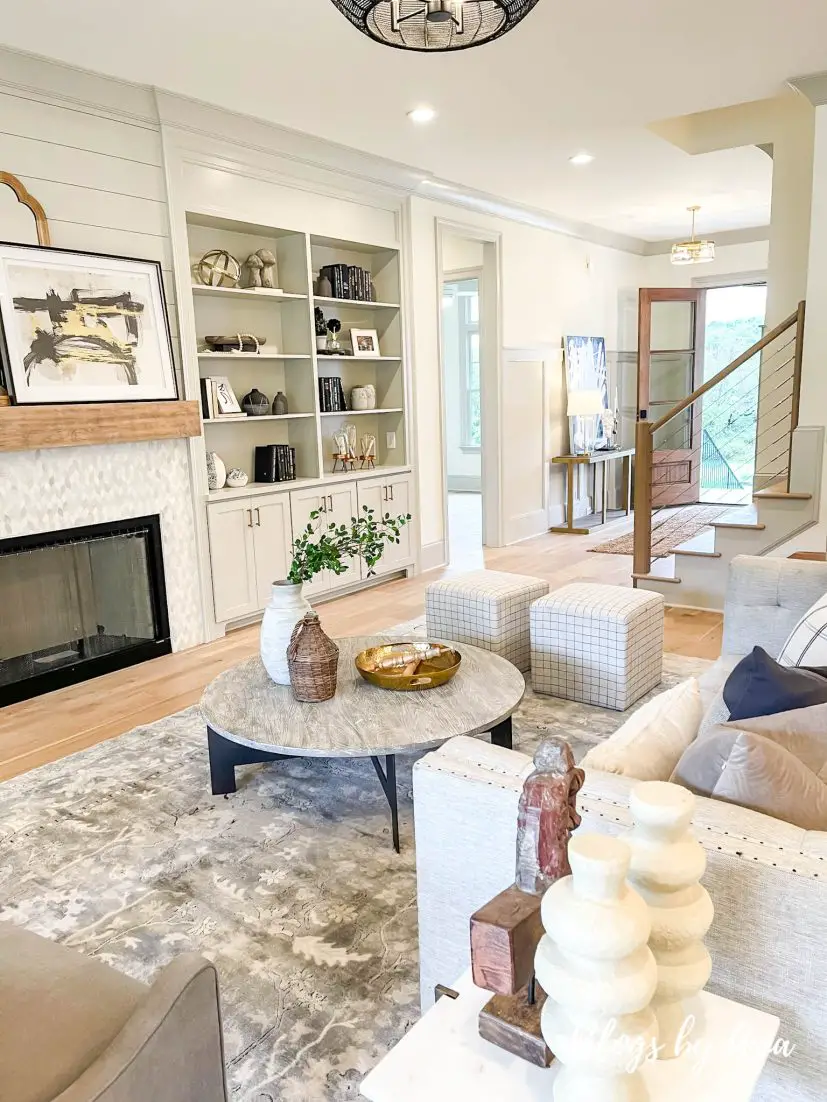 From this view you can see the entryway.  The opening you see on the left is access to two bedrooms with a Jack and Jill bathroom.  There's also a powder room in that space too.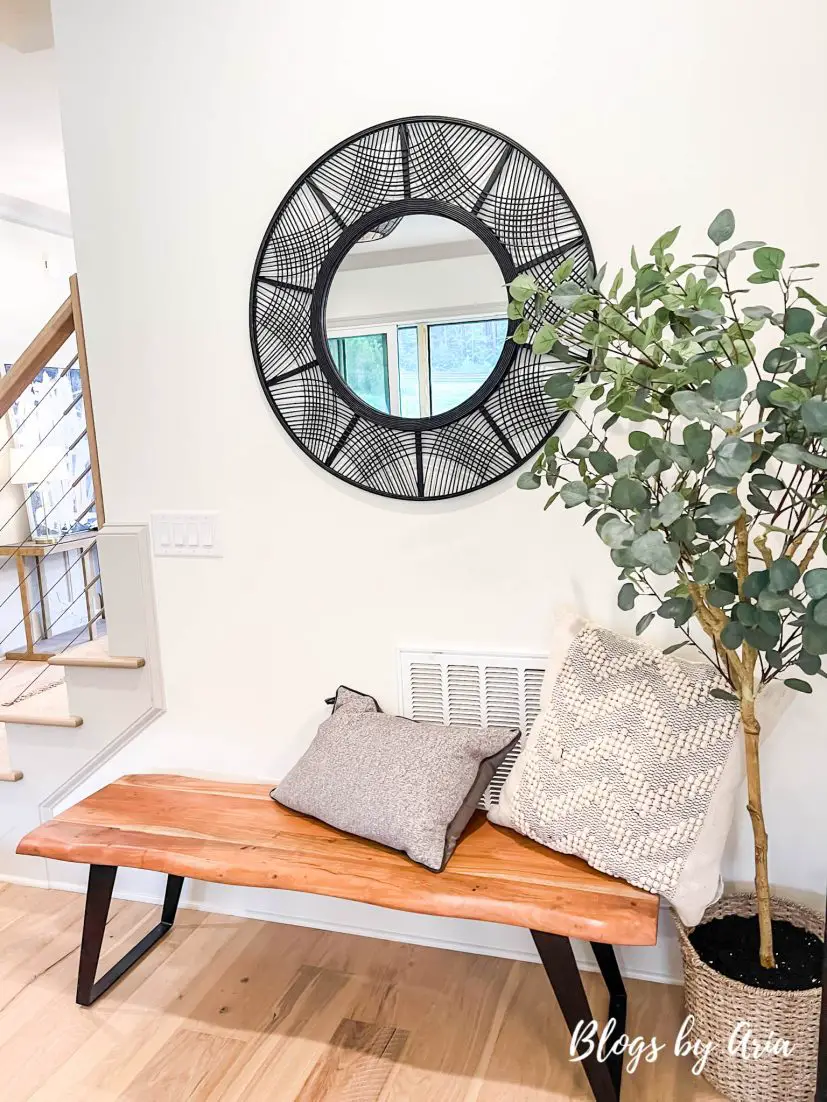 One of the things I like a lot in this home is how it's staged.  They staged it to feel like home ya know?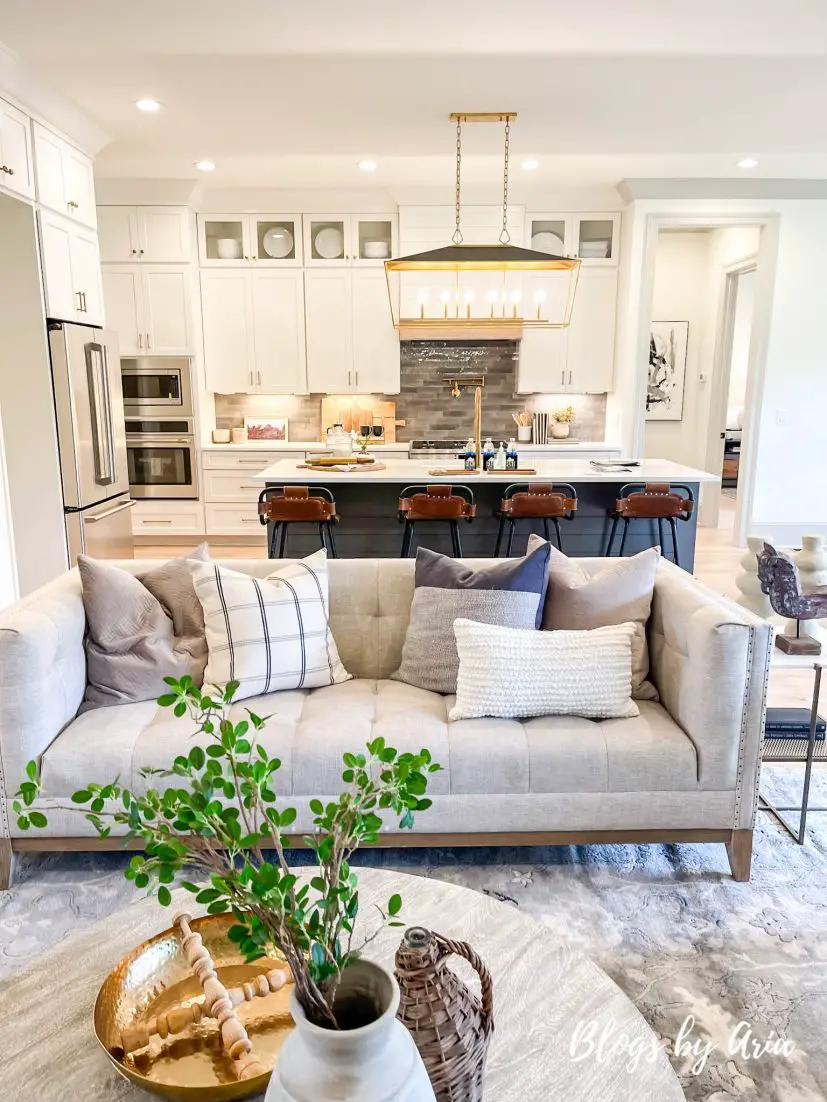 Now let's look at this amazing kitchen!
This is the kind of kitchen I'm looking for.  Shaker style cabinets that go up to the ceiling, double ovens, beautiful backsplash…the list goes on and on.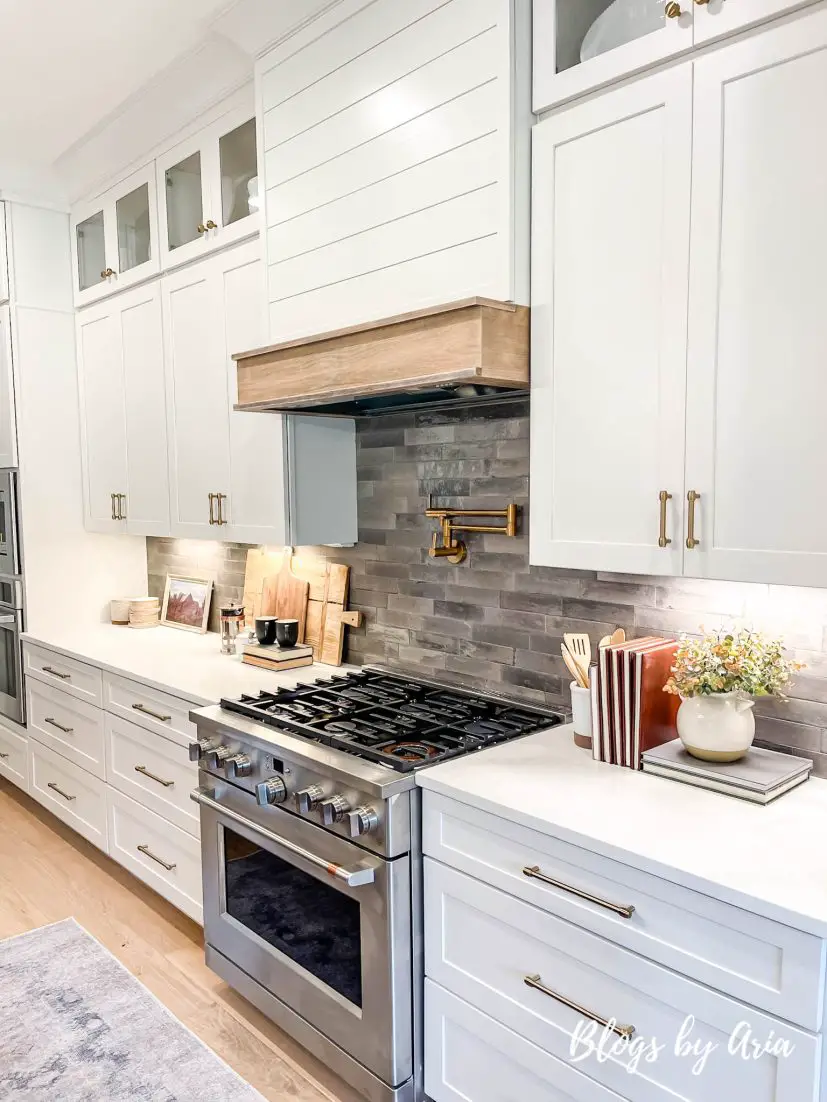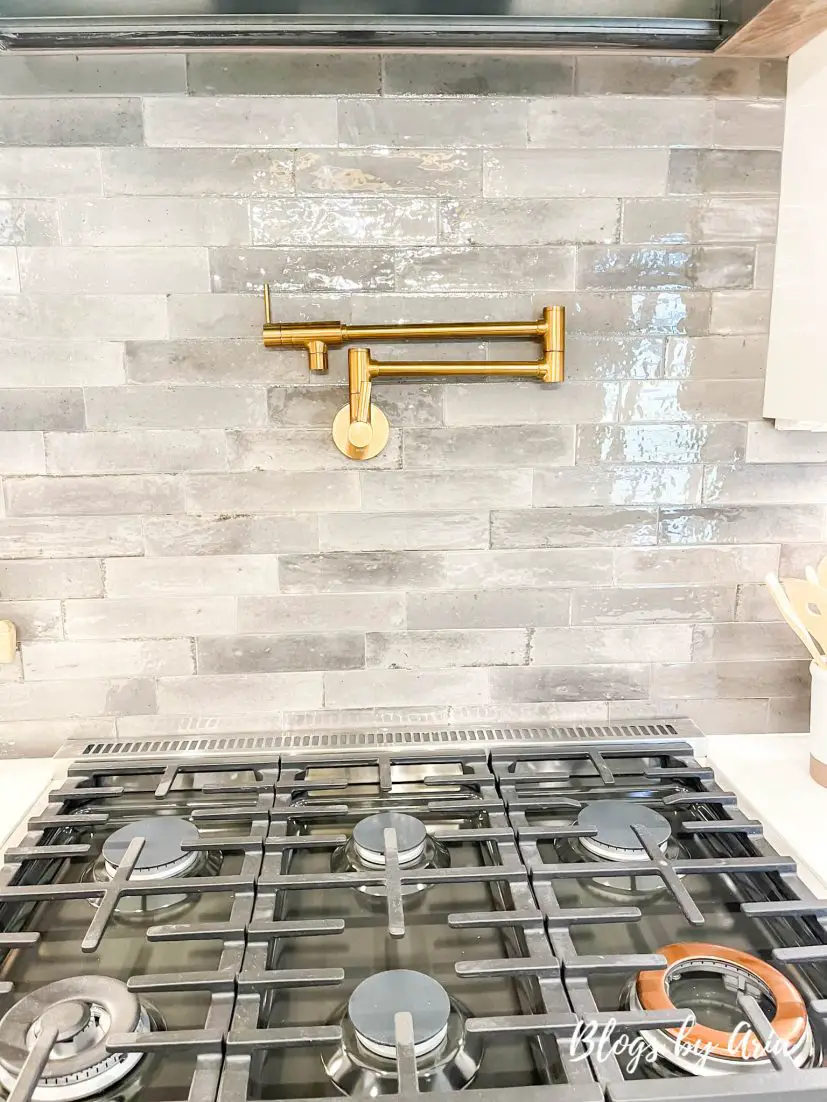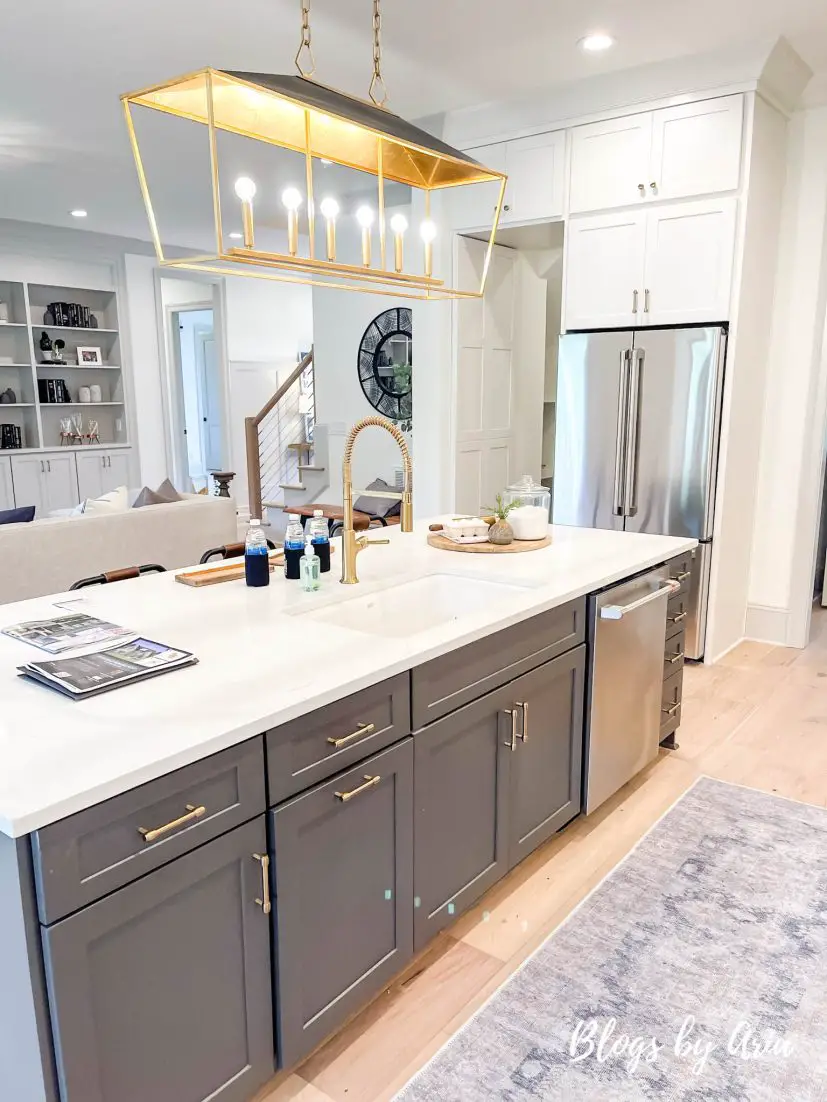 I love the sink!  An apron sink versus an inset sink isn't really a factor for me.  I'm open either way.  But I really like this whole island.  It has so much storage.  The drawers being laid out right next to dishwasher are a genius touch to me.
I've never seen this type of light fixture over an island and I have to tell you I'm here for it!  What do you think?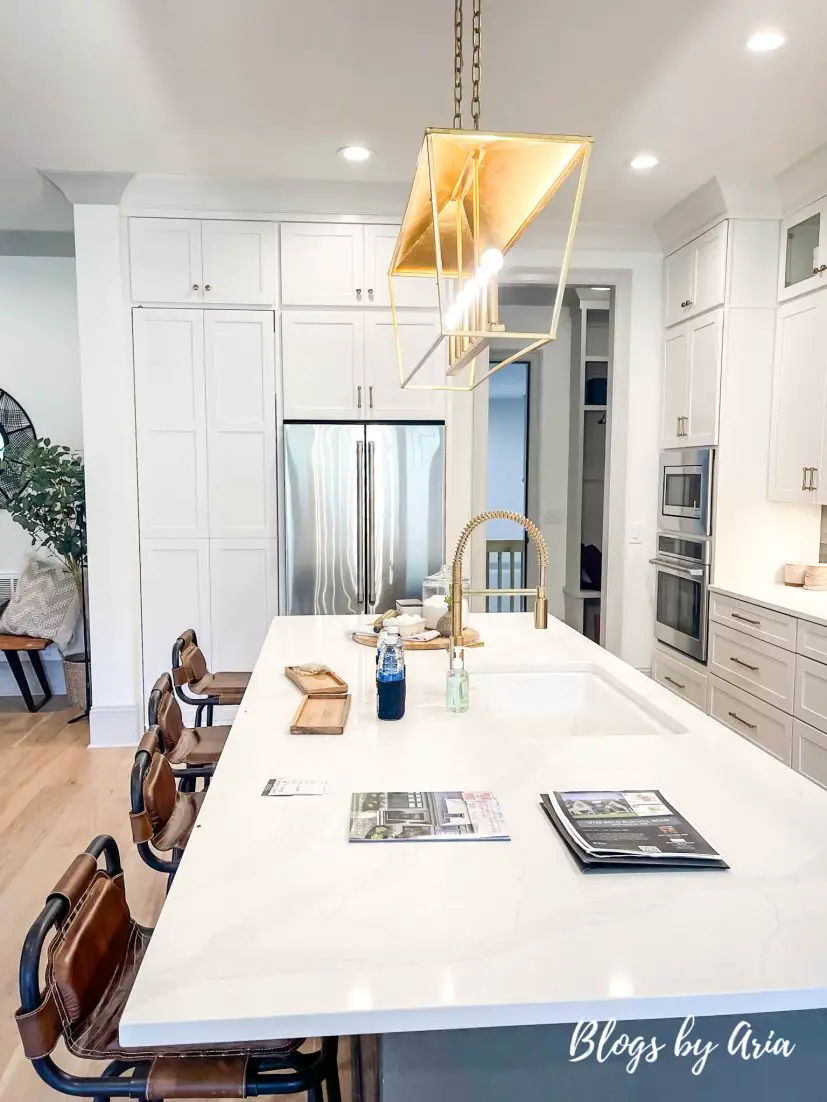 You may be looking at this view and wondering what's beside the fridge?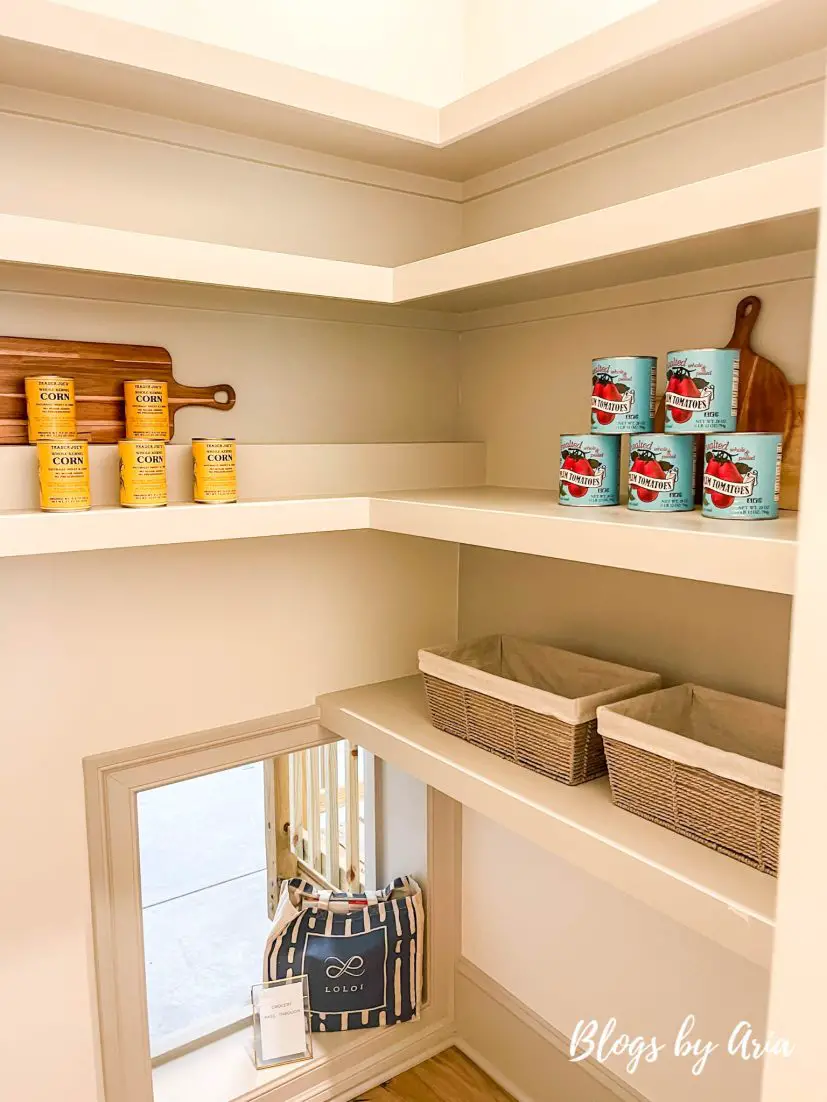 Why it's a hidden pantry of course!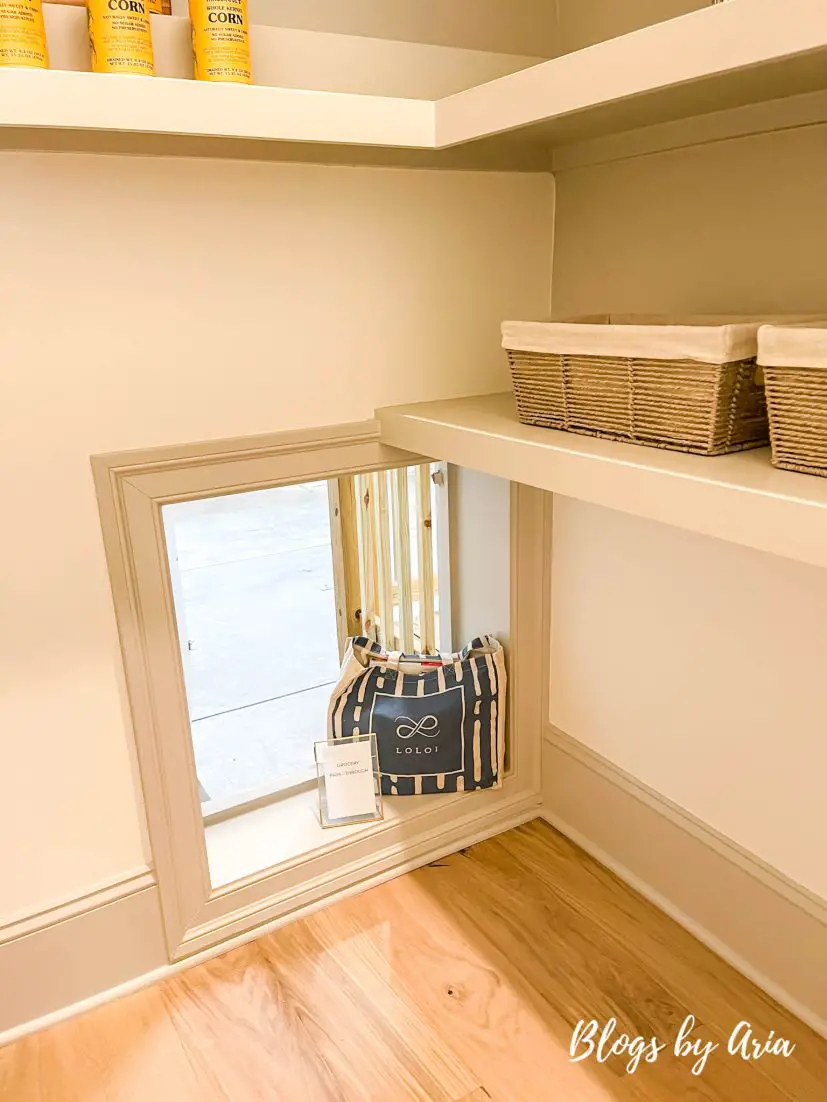 This little door is from the garage and allows you to load your Costco and Sams Club bulk items into the pantry directly without having lug them all the way into the house.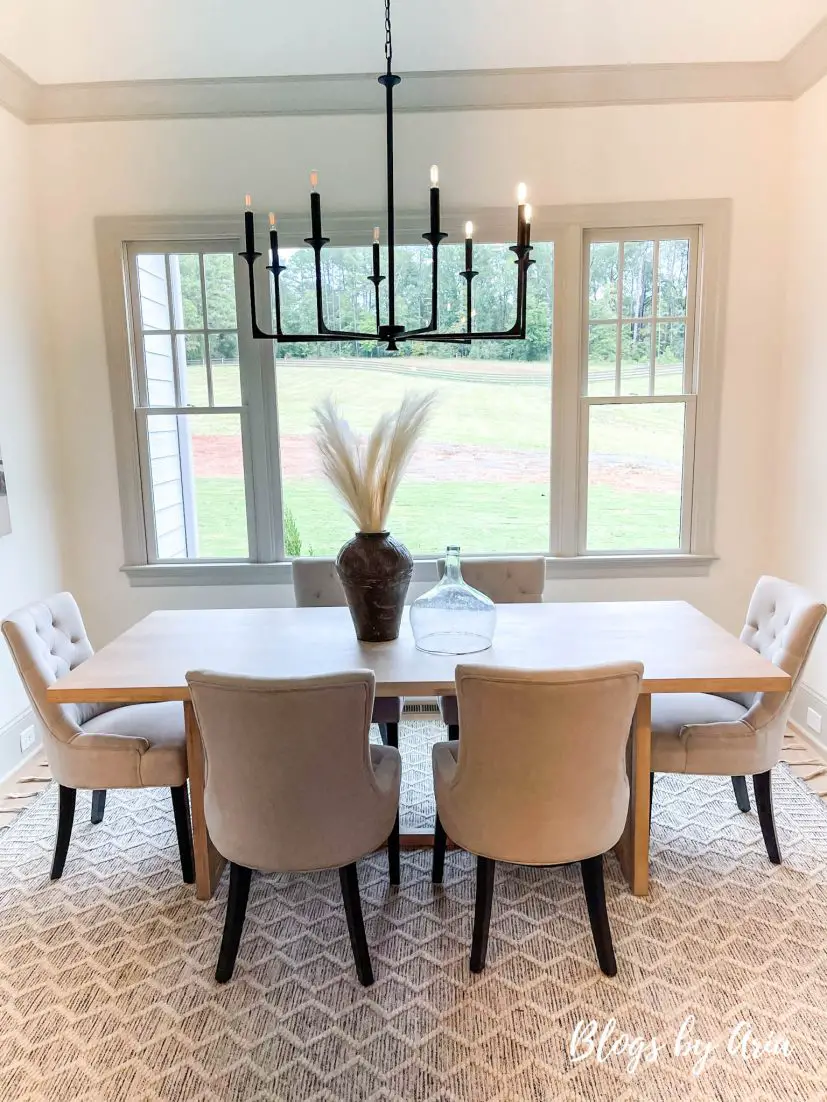 There is one dining space right off the kitchen.  Which is great if you don't feel the need for a formal dining room.  I love the windows.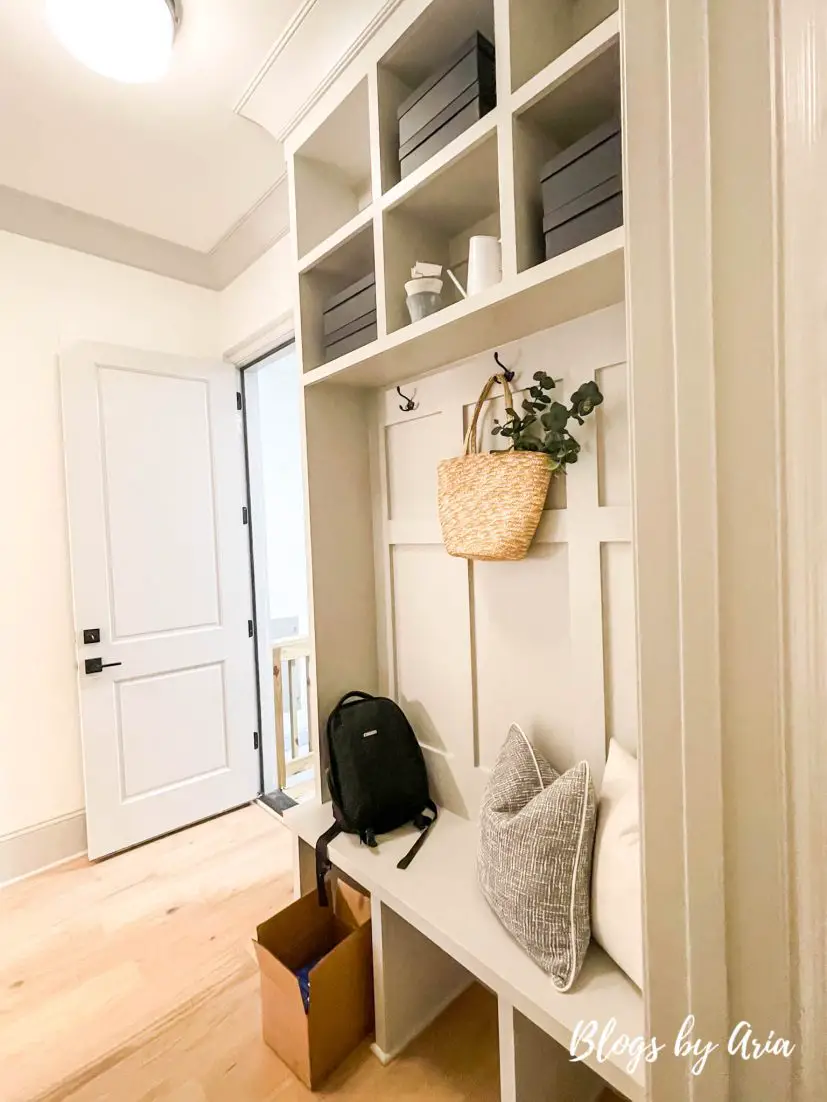 Here's a look at the mud room off of the garage.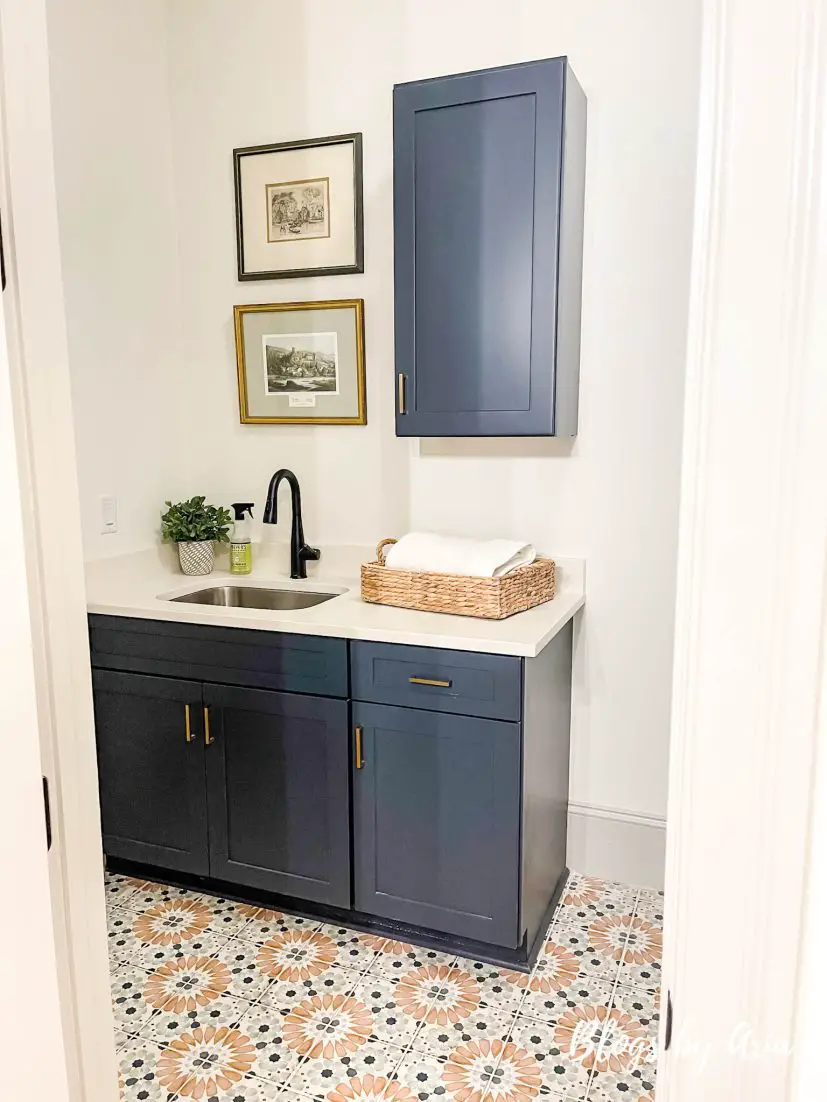 Off of the mudroom is the laundry room.  The laundry room opens into the master closet.
The owners suite spans this entire side of the house behind the kitchen and dining room.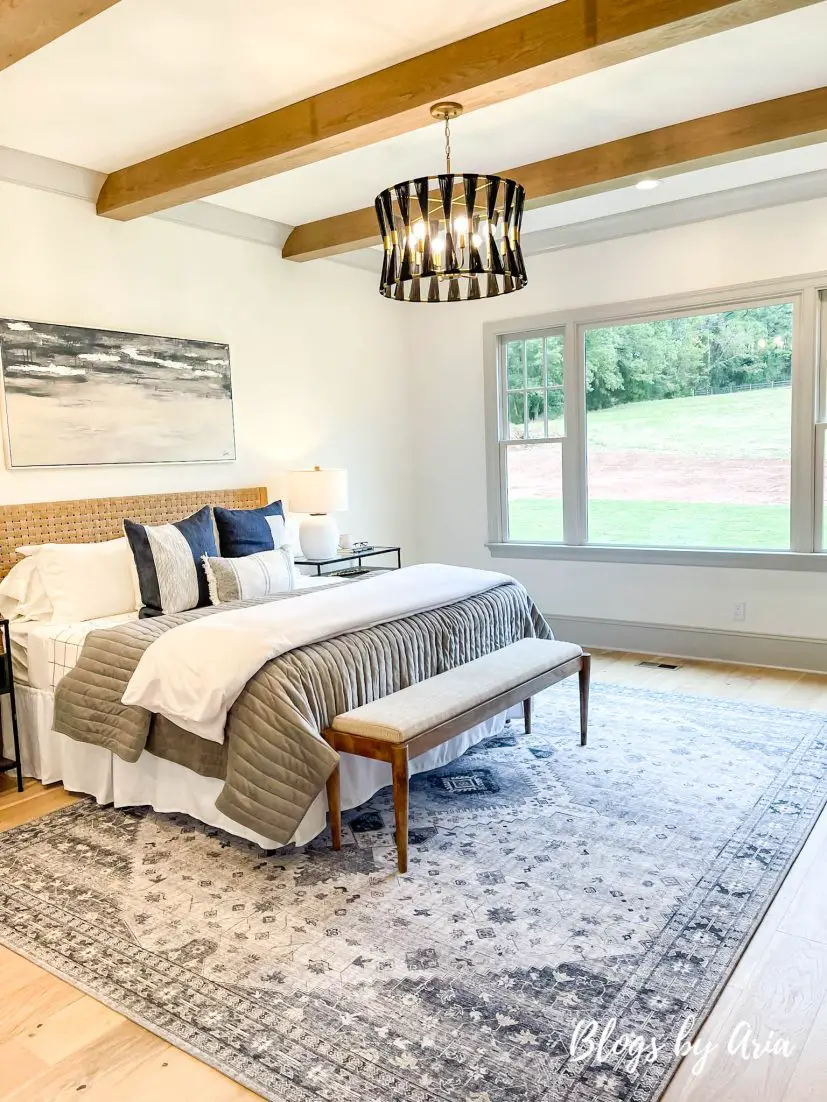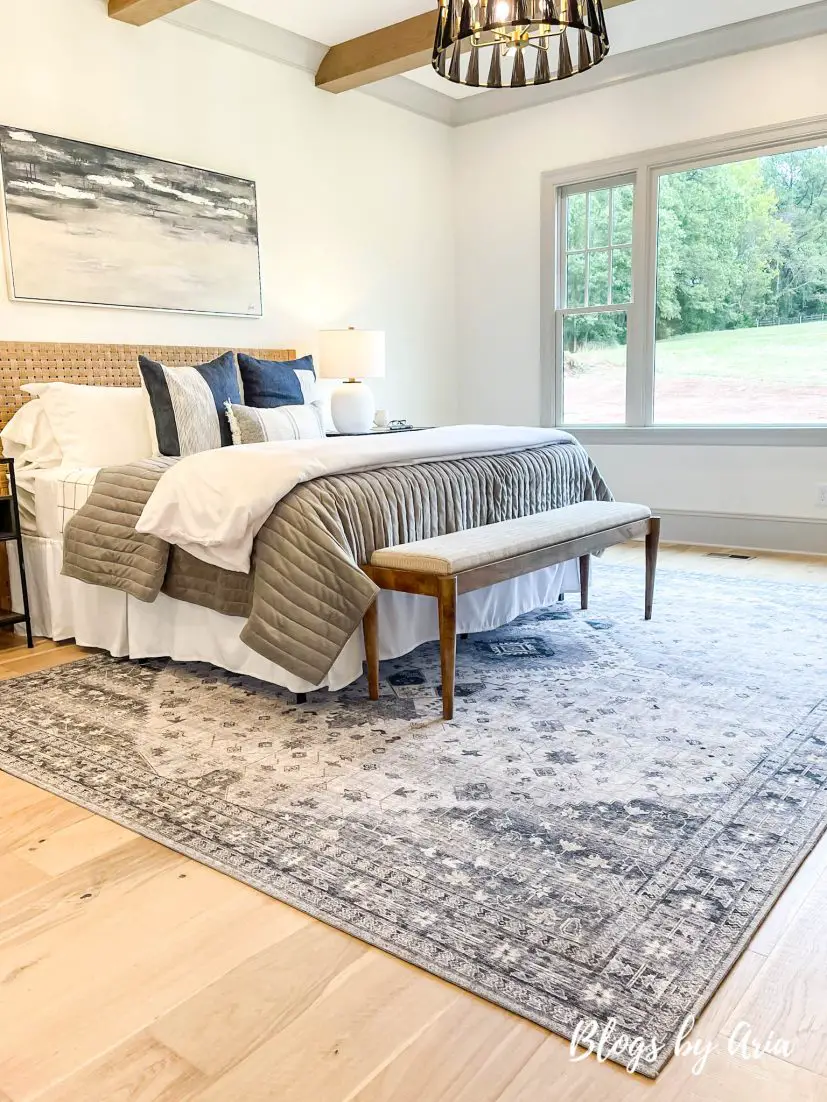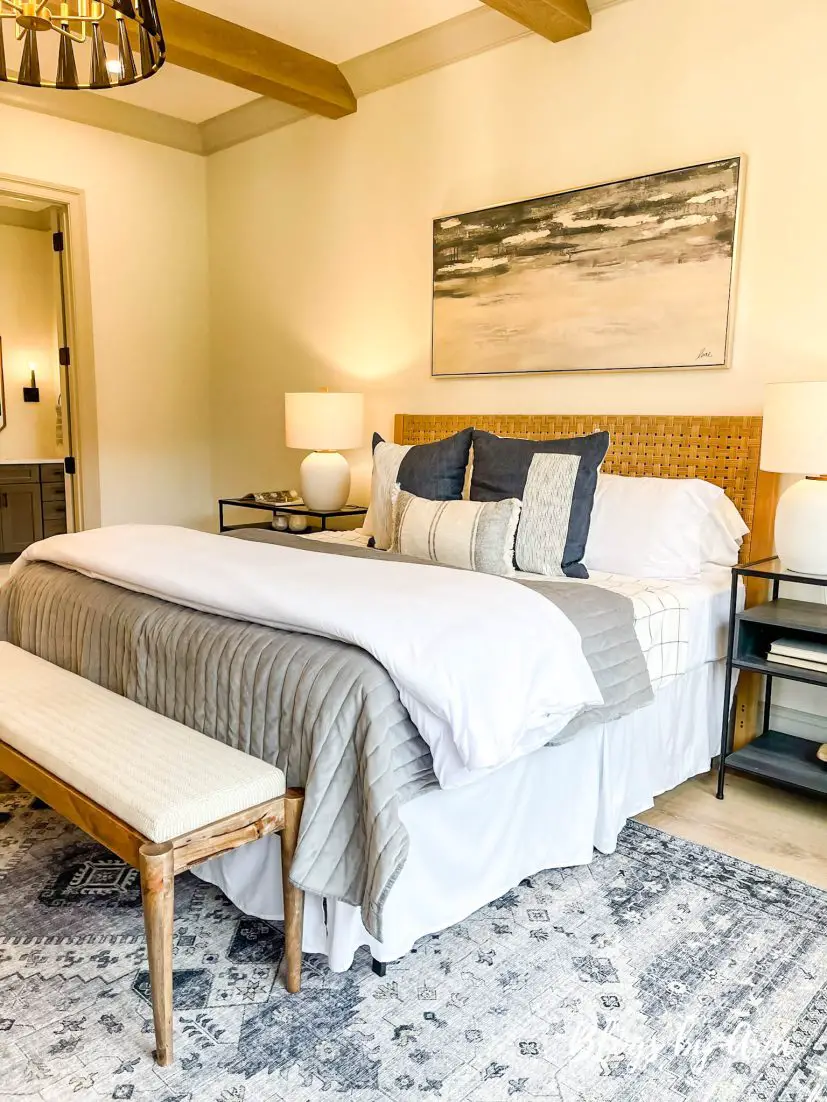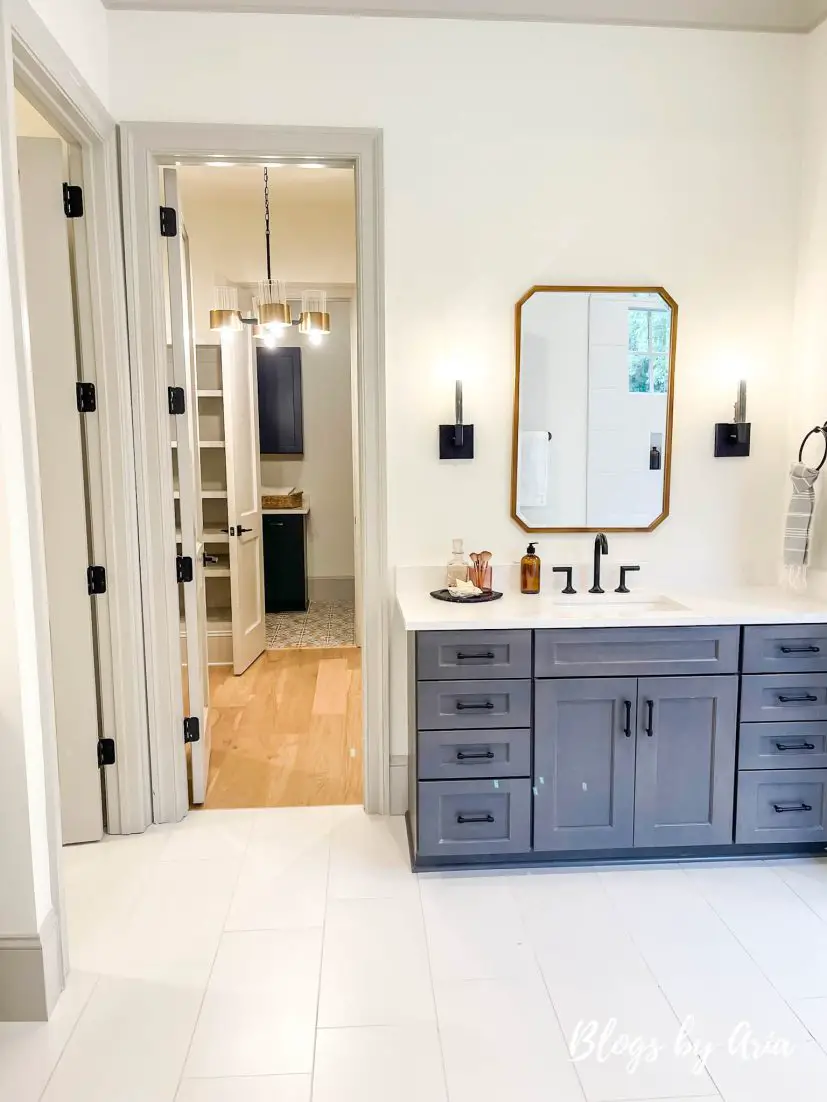 Stepping into the owners bathroom you can see through the closet and into the laundry room.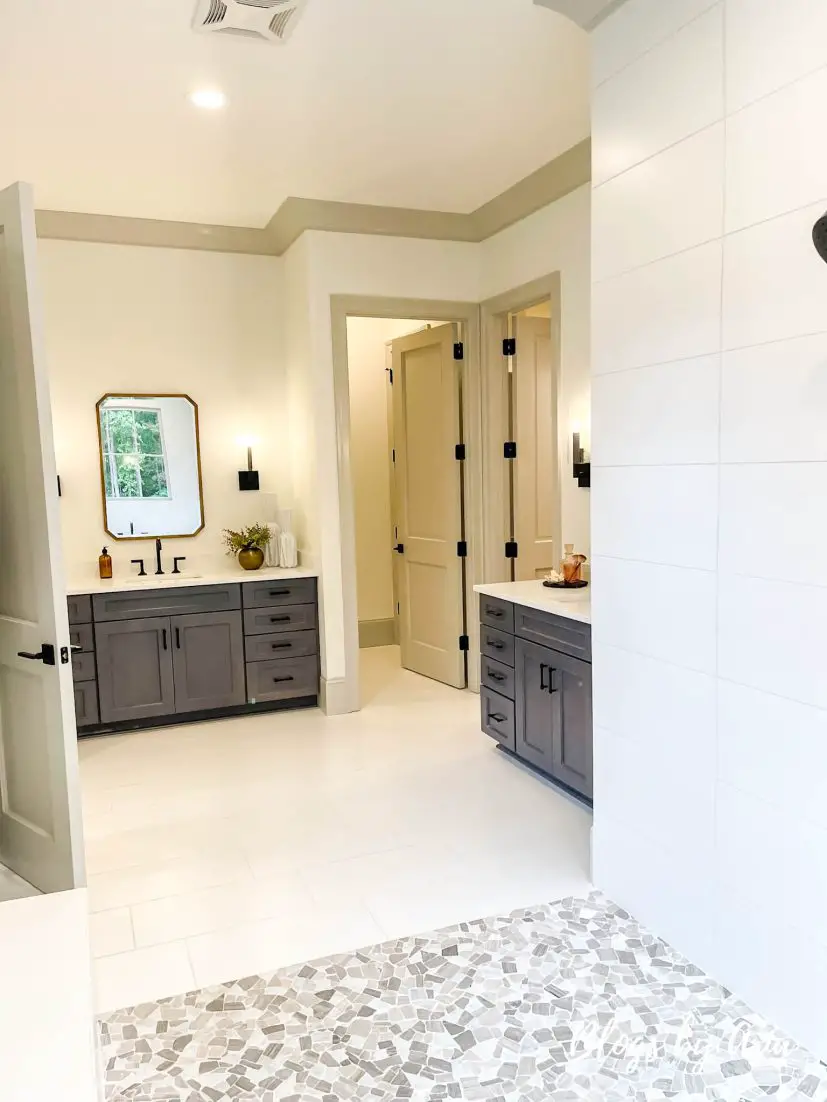 I really like the separate vanities.  The more storage and space the better!
The shower and bathtub are set in a wet room.  I'm seeing this more and more lately in new construction.  It's not my cup of tea but then again I haven't had a sip before.
I prefer an enclosed shower space but who knows?  This may work great.  I'll have to try it some day.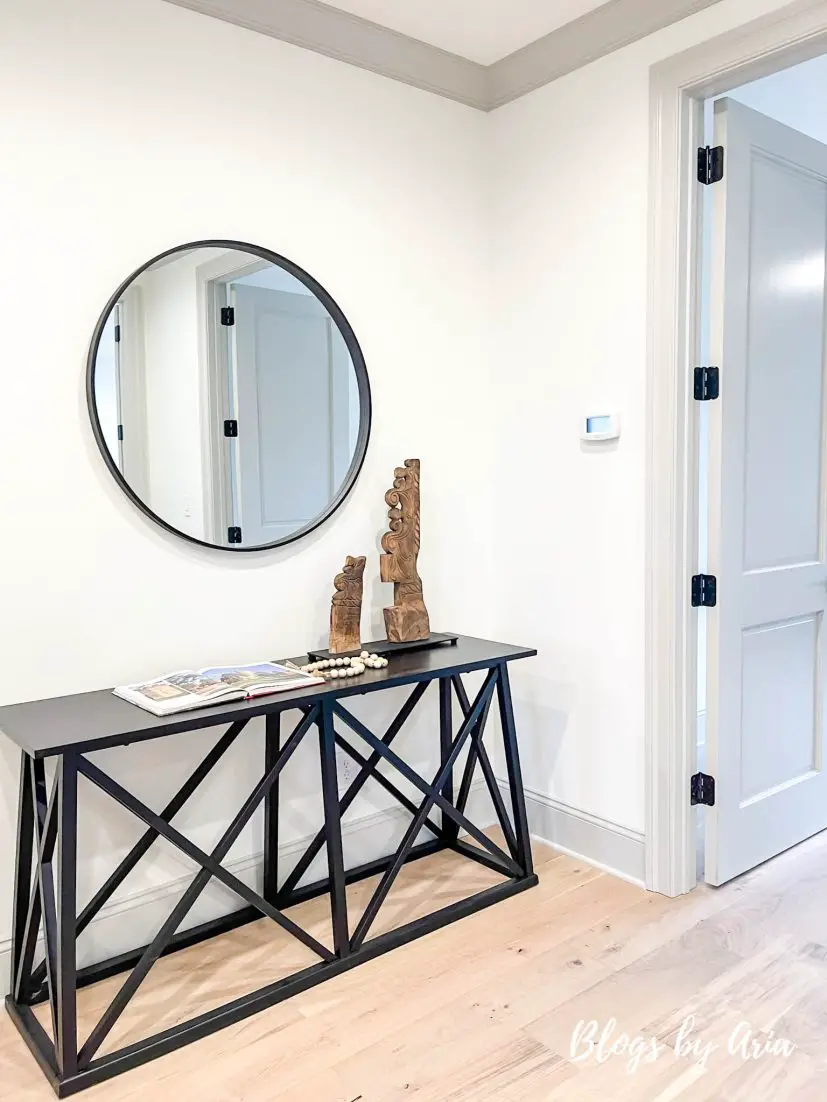 As you've seen the majority of the house I've shown is all on the main level.  Just to remind you the primary bedroom and two secondary bedrooms are on the first floor.
The second floor features a game room, media room, crafts room and a fourth bedroom.  There's also two separate walk in storage spaces.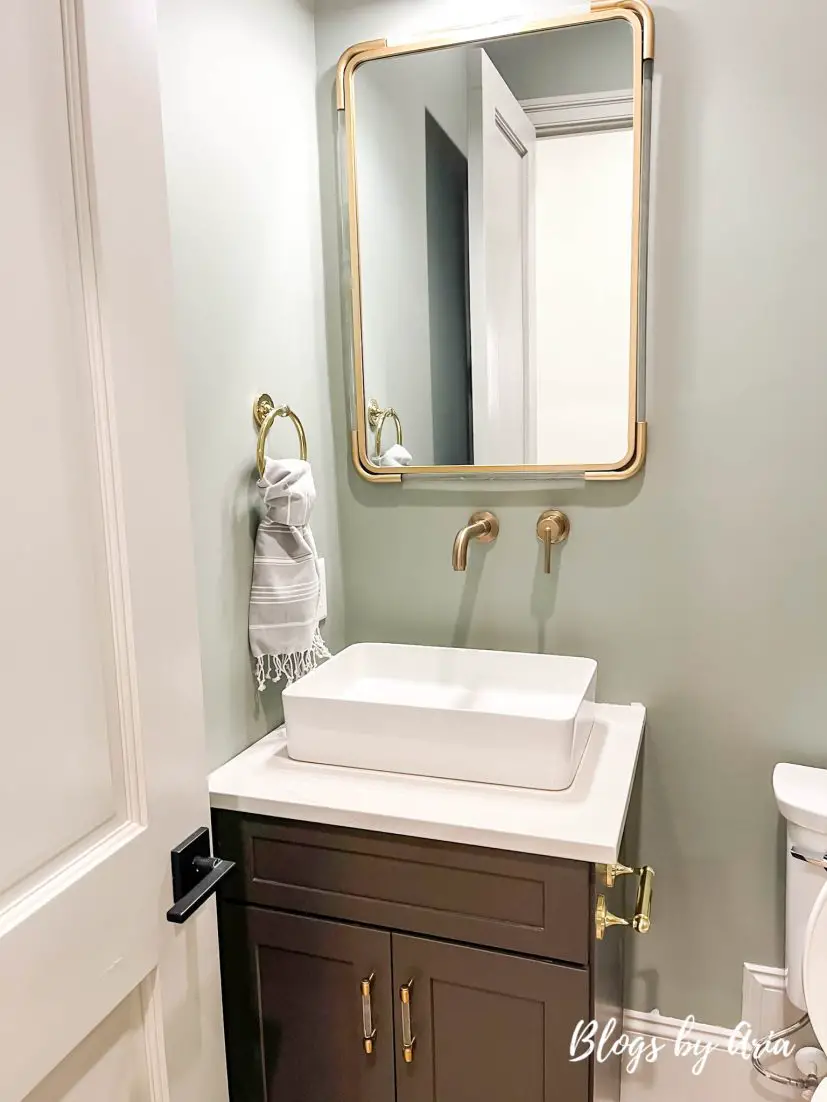 I want to share a few more spaces throughout the home.  Mostly bathrooms and the game room.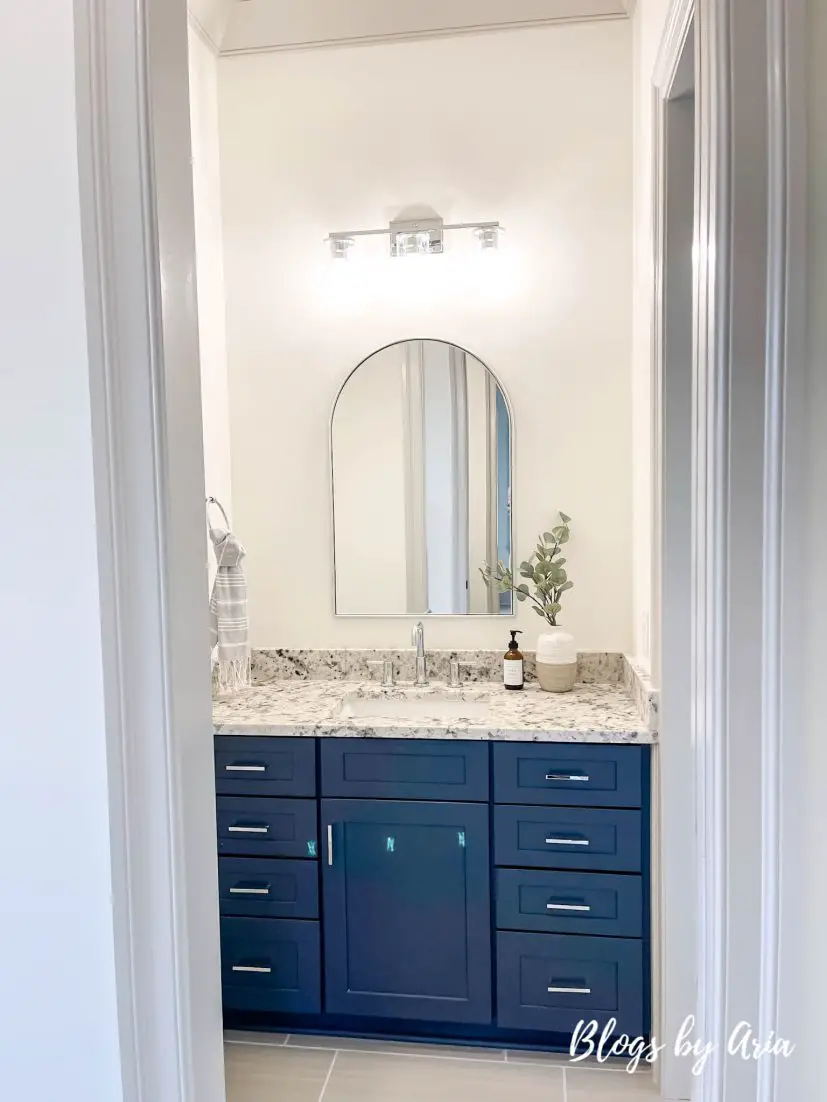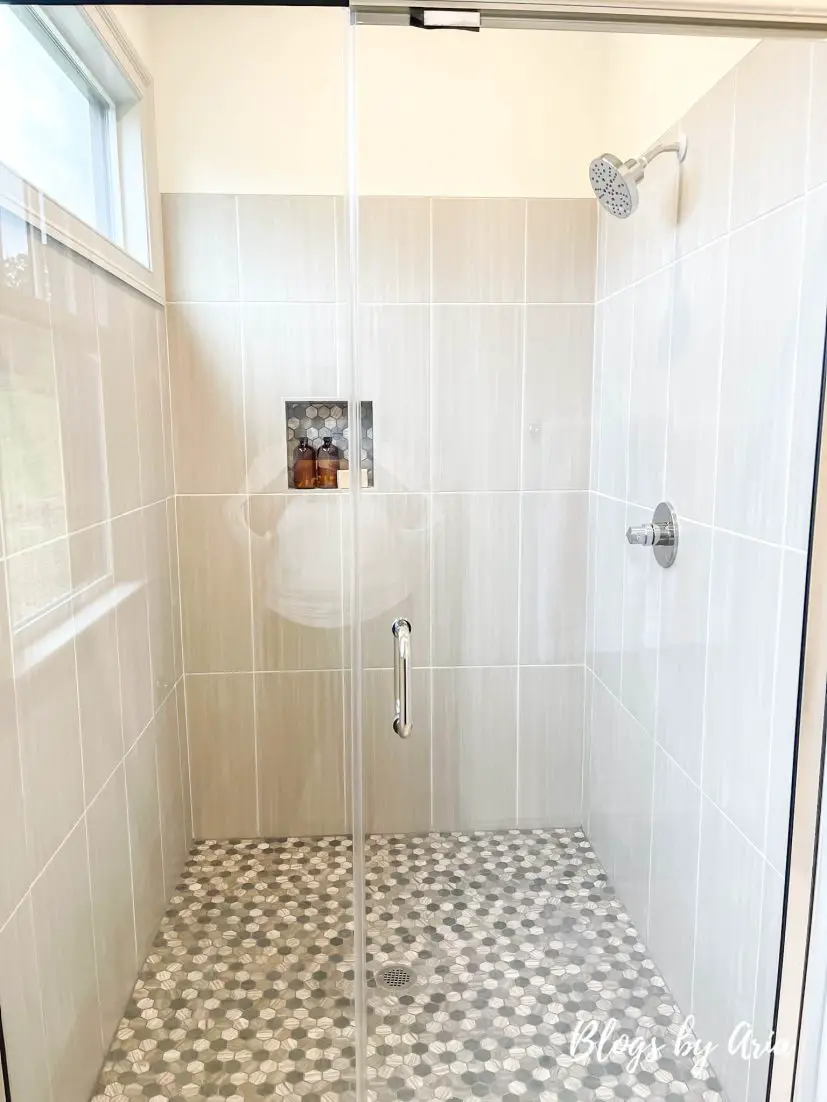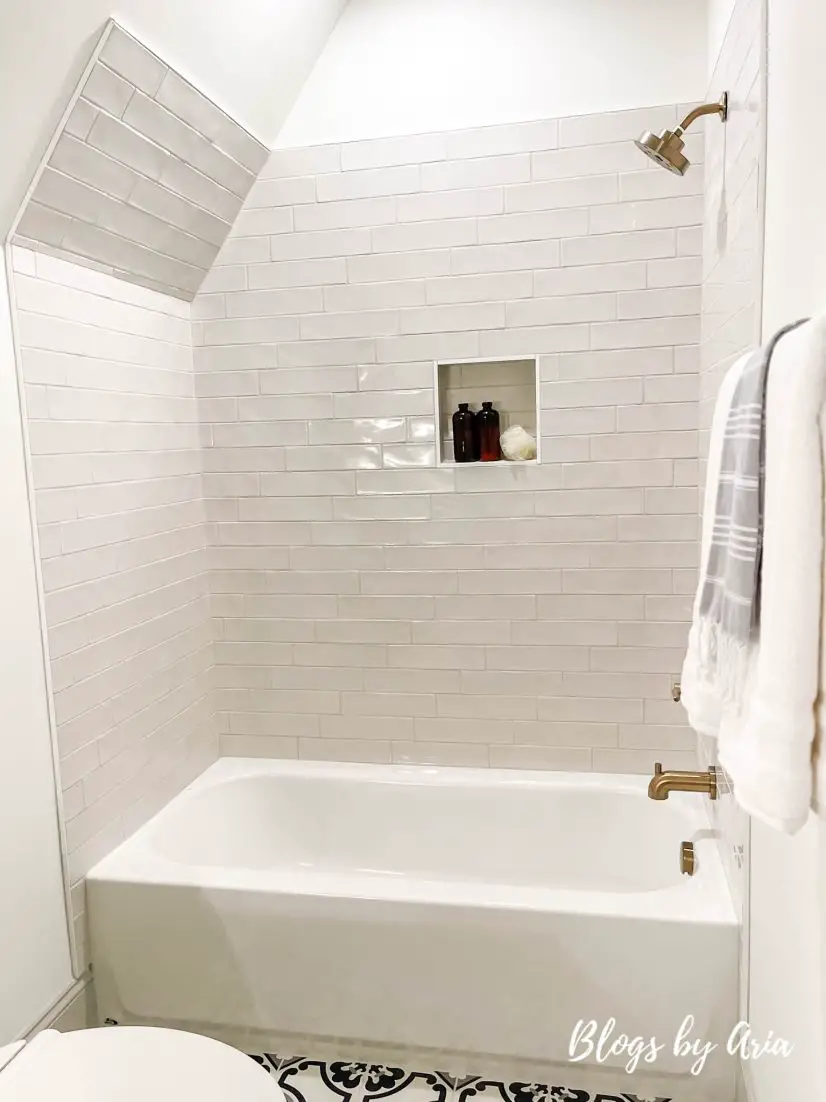 I love the texture of the tile!  That's a detail that is throughout the home and I appreciate that touch.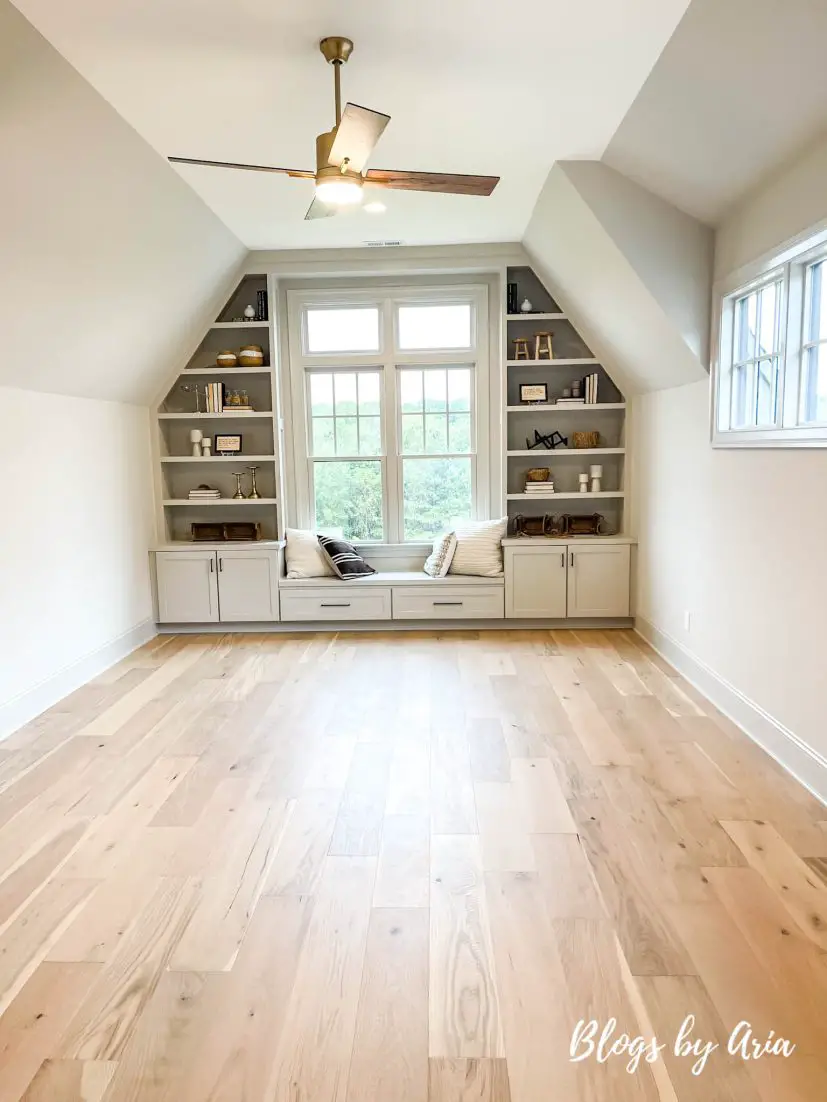 Here's a look at the game room that is at the front of the house.  I love this built in space that is perfect to cozy up with a good book.
So tell me what do you think about Darch Manor?  I love it so much if you couldn't already tell!
It's truly one of my favorite houses from the 2022 Parade of Homes Tour that I had the privilege to see.
I hope you enjoyed taking a tour of this home with me today.  Many more are coming soon 🙂
If you're looking for more beautiful spaces and home decorating ideas, here are a few of my favorites from the blog:
If you'd like to get even more home decor inspiration and finds and all things random, be sure to follow me here: