Happy weekend!  It's been awhile since I've had the opportunity to share with you.  A lot has been going on and I'll share more about that in an upcoming post and in my newsletter.  For now I wanted to share a weekend watchlist where I share a roundup of beautiful interiors and favorite spaces.
Today you'll find gorgeous kitchens, bathrooms, living rooms and bedrooms to give you some design inspiration.
I enjoy pulling these spaces together and I hope you enjoy them too!
*this post includes affiliate links for your shopping convenience, you can read more about affiliate links by reading my Disclosure*
This oversized kitchen is a dream!  I love the planked ceiling with the wood beams and of course all of this beautiful storage in this kitchen!

When I first saw this gorgeous white modern farmhouse kitchen it took my breath away!  It's the perfect kitchen and I love the layout.  Seriously it has every design element anyone (or I) could want:  the range hood, farmhouse sink facing a large window, an oversized island, open shelving and glass cabinets.  You'll definitely want to take in even more details of this kitchen here.
Because I fell in love with everything about this kitchen, I looked into more projects and had to share a few more.
This owners bathroom is a dream!  Typically I don't love a lot of gold/brass but I'm obsessed with the mirrors!  I'm also in love the vanity with all of the storage and how it looks like a beautiful piece of furniture.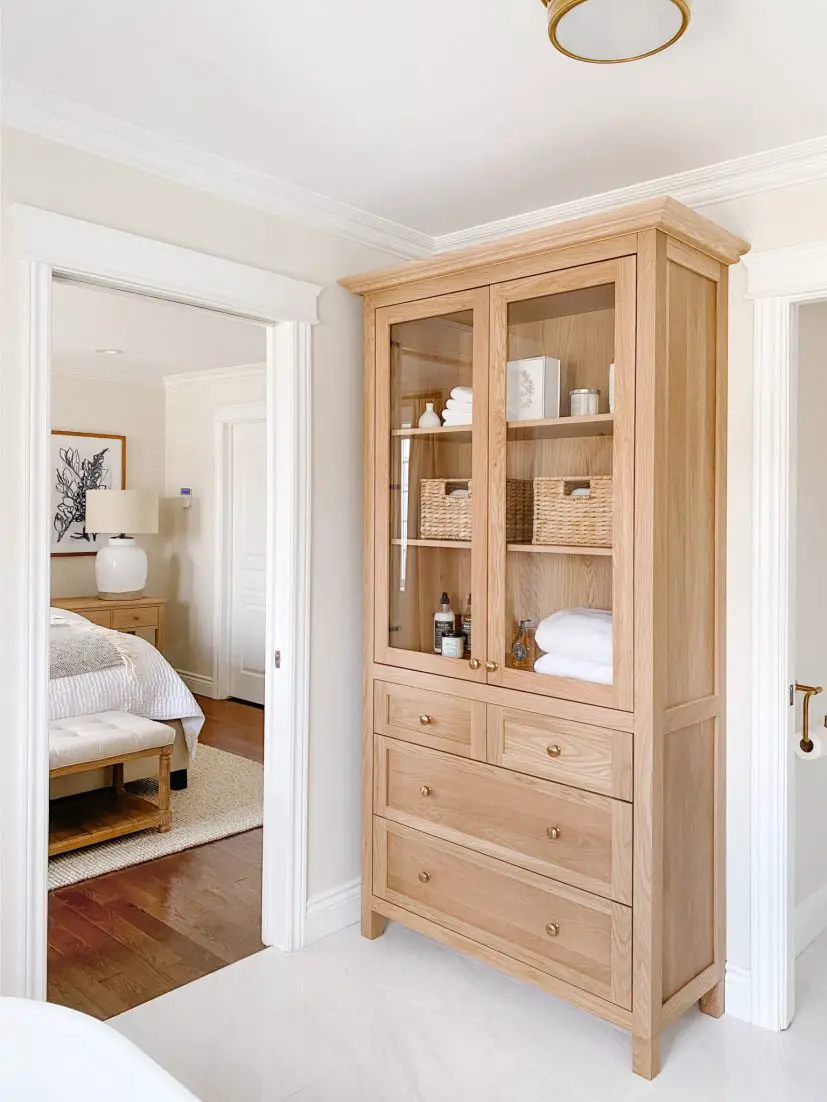 I also love this linen cabinet.
 harper tufted upholstered bed  • miller ceramic table lamp • sausalito nightstand • berlin tufted bench • chunky wool jute rug • similar framed wall art
The bedroom that the bathroom is attached to is equally as perfect.  Can I just have this as my bedroom please?  Because it's everything for me!

Shelf styling ideas are always needed if you ask me.  Sometimes you need to see different ways of styling built in shelves or floating shelves to inspire you in your own space.
How unique to add stacked artwork on the windows!  I love the combination of the ticking stripe dining chairs with a round table in a breakfast nook to make the space more relaxed and informal.

Although I prefer white built ins, I love the contrast of the wood built in shelves in this space.  I like how it compliments the overall light and airy feeling of this space and ties in with the mantel.  In addition to shelf styling ideas, this space provides coffee table decorating ideas and pillow combinations.  All things I need help with.
Here's an overhead view to get an even better look at the family room.
This is a unique kitchen with more of a moody aesthetic without being too dark.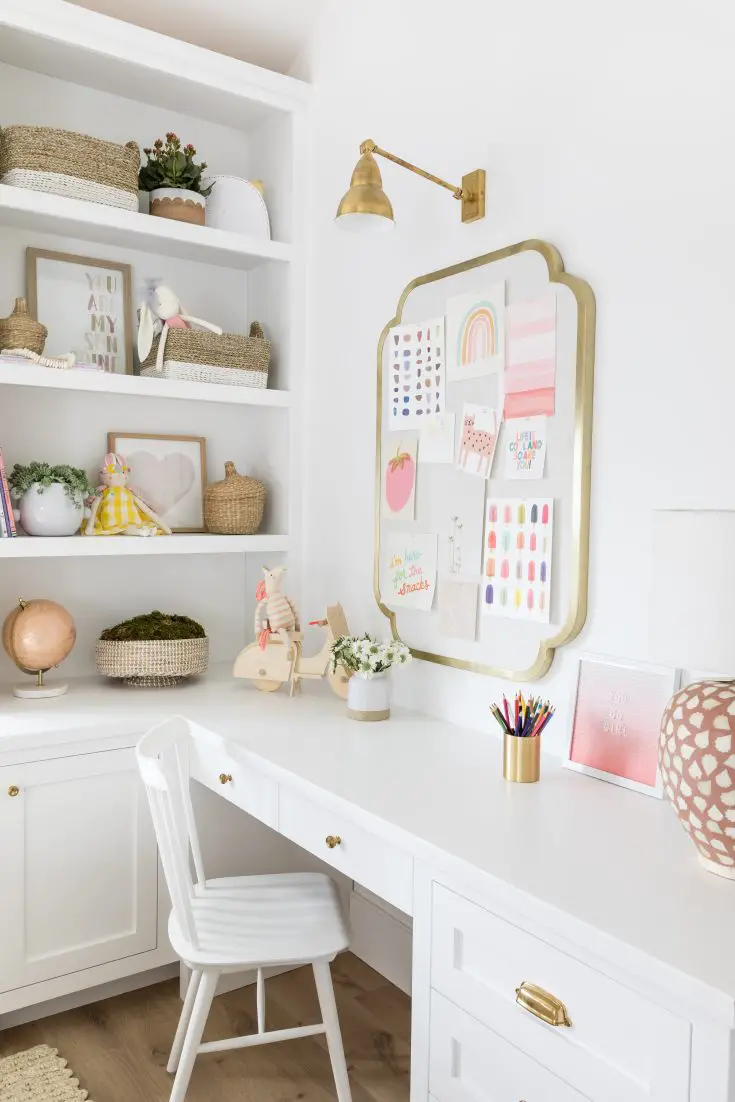 Every space in this home I love, especially the kids bedrooms.  If you have the opportunity to have a built in desk and bookshelf in a kids room, I think it's a option!  I think it's a space that a child can use and grow into from preschool to college.
The space can be more decorative for younger children and progress to more functional as their needs change.
If you're looking for more beautiful spaces and home decorating ideas, here are a few of my favorites from the blog:
That wraps up my Weekend Watchlist and favorite spaces this week!  I hope you found lots of design inspiration!  If you'd like to get even more home decor inspiration and finds and all things random, be sure to follow me here:
Facebook | Instagram | LTK | Tik Tok