Since I took so many pictures of my home decorated for Spring, I'm back to share my Spring home tour part two!  In case you missed it, my last post I shared my living room and entryway with pops of pink.  Decorating for Spring has been so much fun, I think I'll keep my home like this for a few months.  Today I'll walk you through the rest of my main floor.  Let's take a look at more of my Spring home decor.
*this post includes affiliate links for your shopping convenience, you can read more about affiliate links by reading my Disclosure*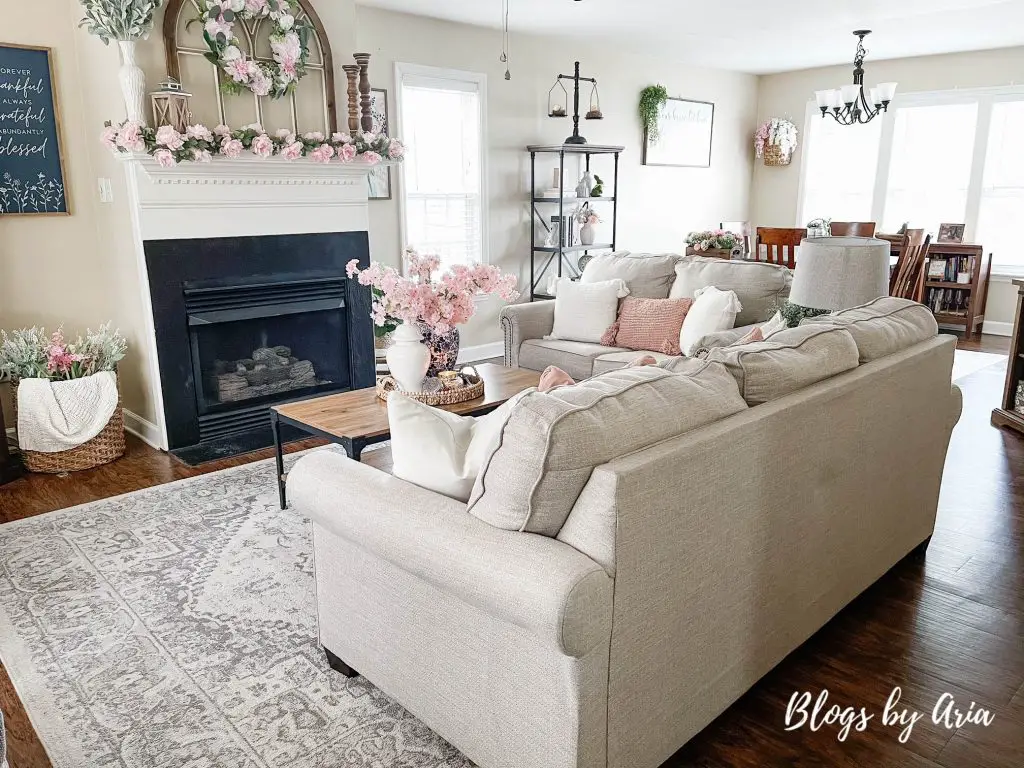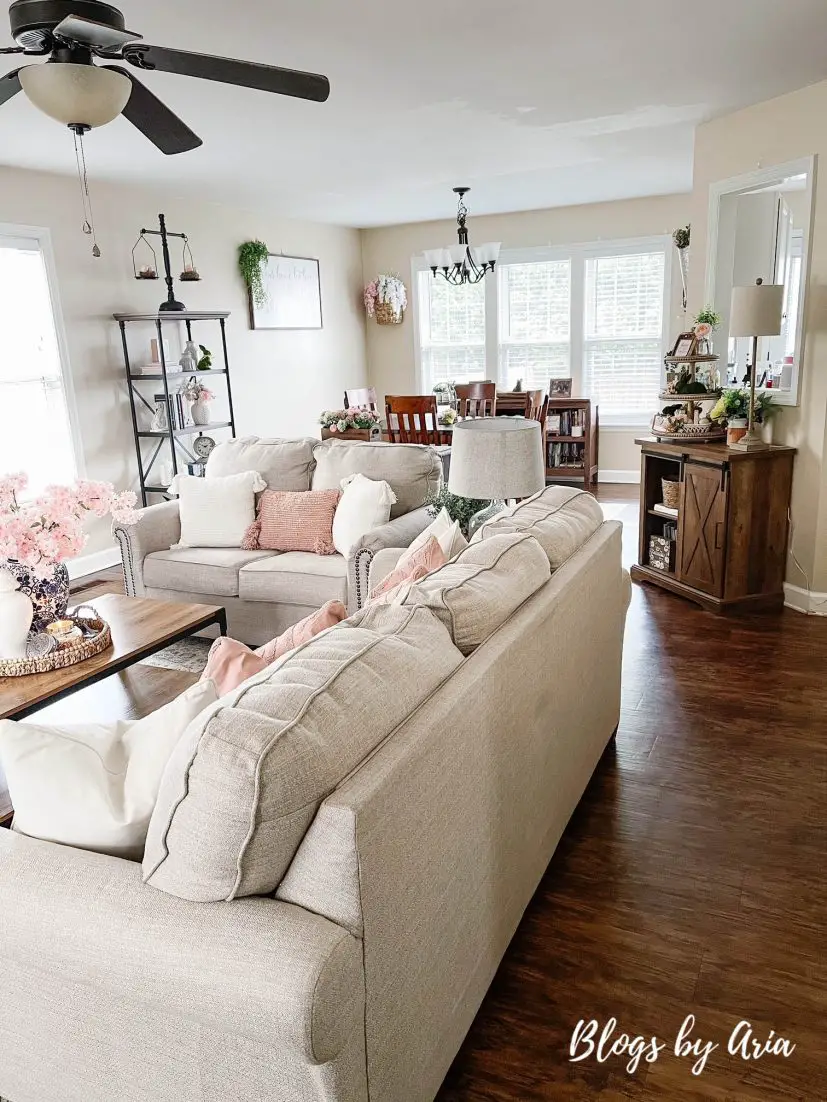 Our main floor is an open floorplan with the exception of the kitchen.  After the holidays I rearranged some of my bookshelves and I like having my taller bookcase to sort of separate the living room from the dining room.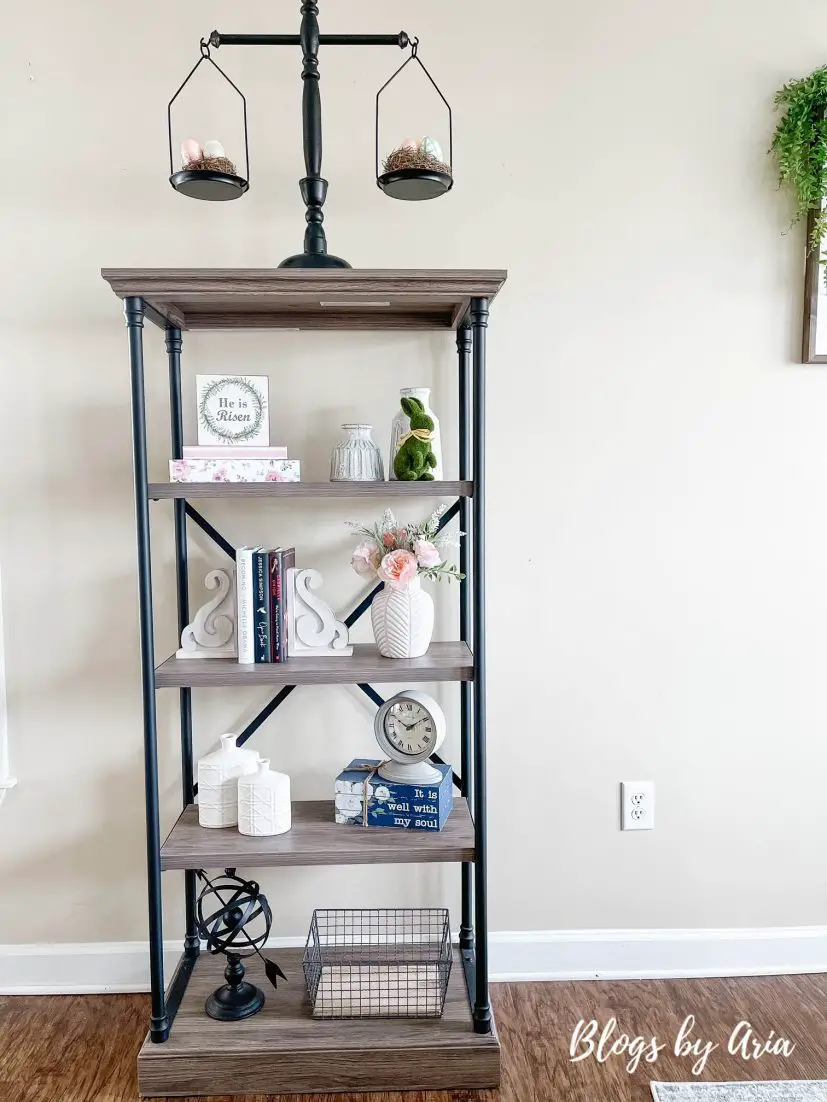 bookshelf | scale | pink striped book | floral book | corbel bookends
My bookshelf is one of my favorite furniture pieces I own.  Every time I share it I get tons of questions about it.  We got it back in the Fall of 2019 and I've enjoyed decorating it each season.  I didn't do a lot in terms of decorating for Easter this year so I decided to add a few pieces here and there.
On top of the scale I have a couple of nests filled with eggs.  I also added a mini green moss bunny from Michael's and a He is Risen sign from At Home store.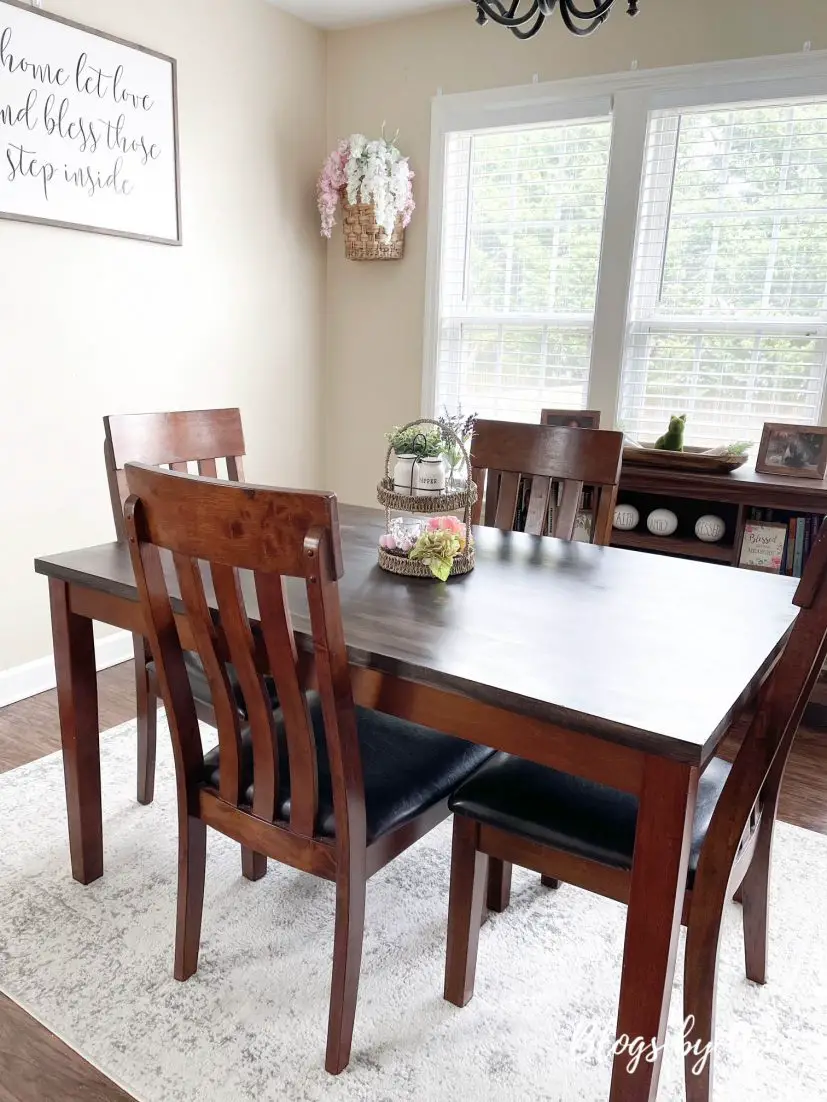 area rug | wall basket | bookshelf
Recently I shared that we're looking for a new dining room table.  You'll see why in a minute as you see more pictures of this table.  For now I'm working with what I've got.  I kept the centerpiece simple with a woven tiered tray I got from the Target dollar spot.  We keep our salt and pepper shaker set on it and small flower accents just to make it pretty.
In the left corner I added some flowing wisteria bushes to this woven wall basket.  A big part of me wanted to do all pink flowers but I tried to reign in the pink by adding a white bush to go in the basket.
A project I'm working on is using my bookcase as a sideboard.  I'll share more about that soon.  For now it's still a bookcase.  Originally it was on the right wall and after I moved it to the wall with the windows it makes the space feel larger.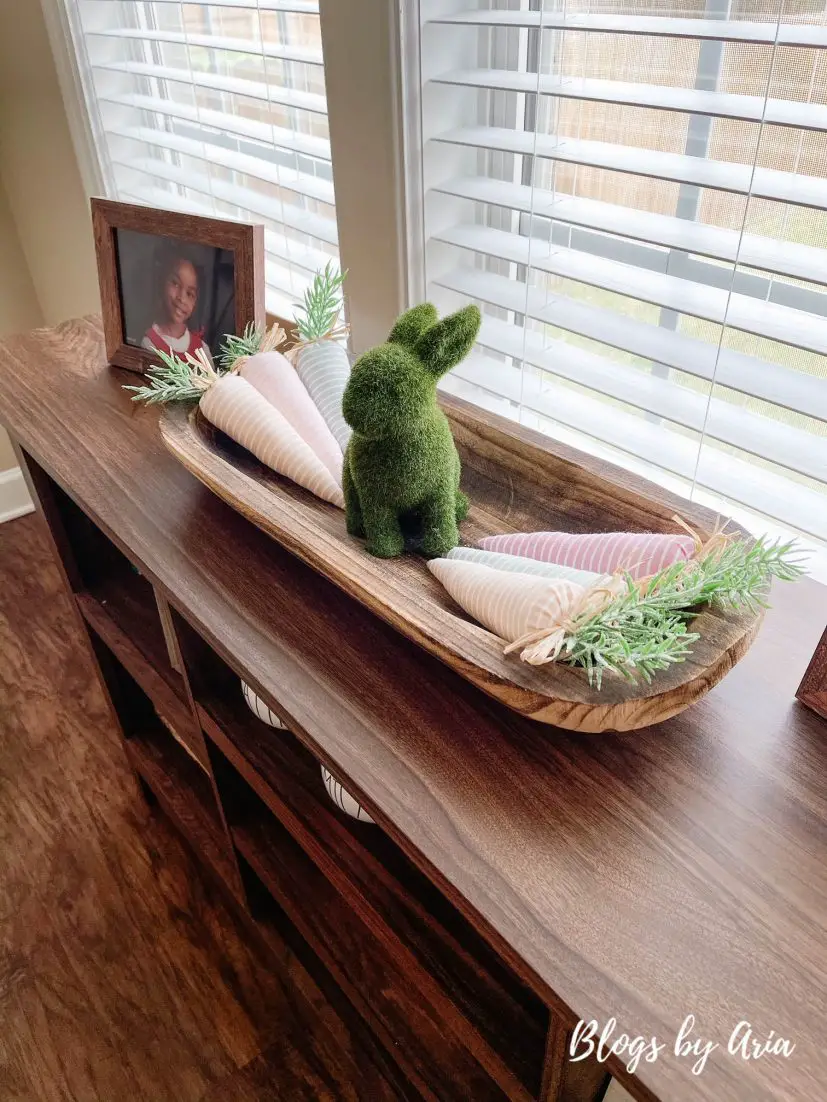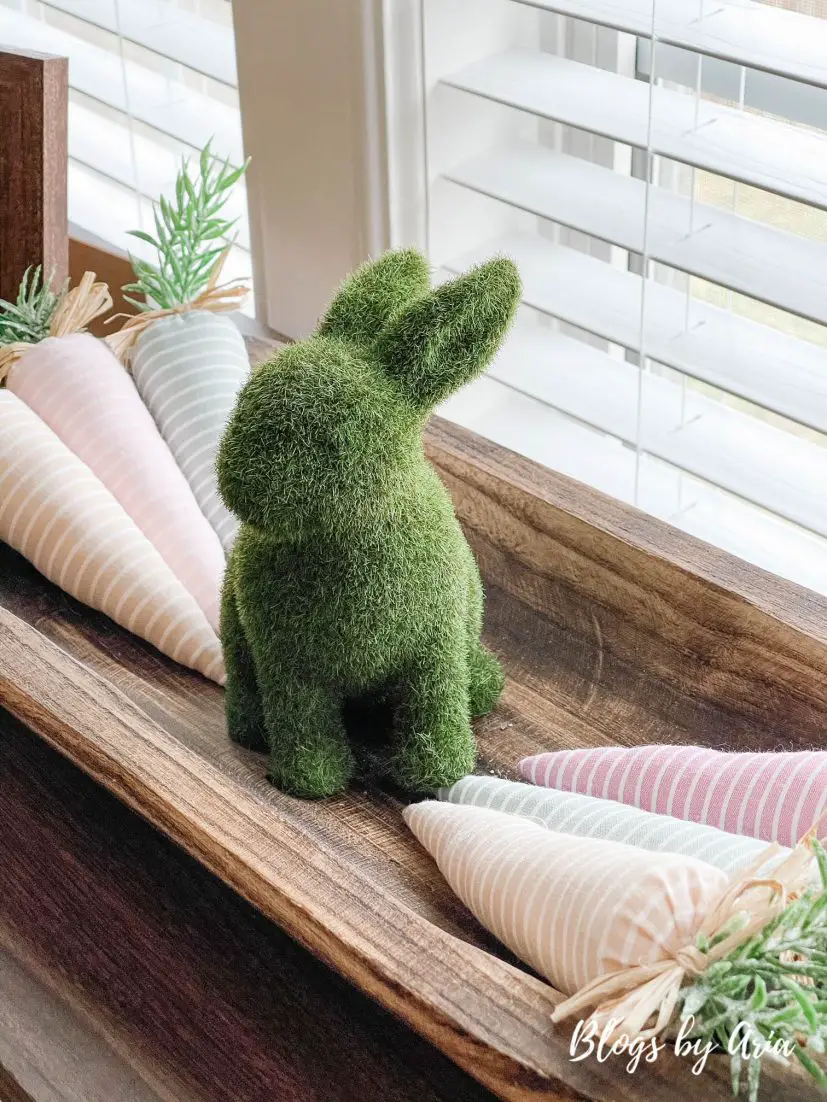 Another small touch of Easter decor is a green moss bunny from Hobby Lobby alongside pastel striped carrots I picked up from TJ Maxx.  I wish I would have purchased another set of carrots to make this centerpiece fuller, but at the time I had no idea how I would use them.  But you know how it is at TJ Maxx, if you see it and you want it, you buy it.  Otherwise it won't be there when you go back.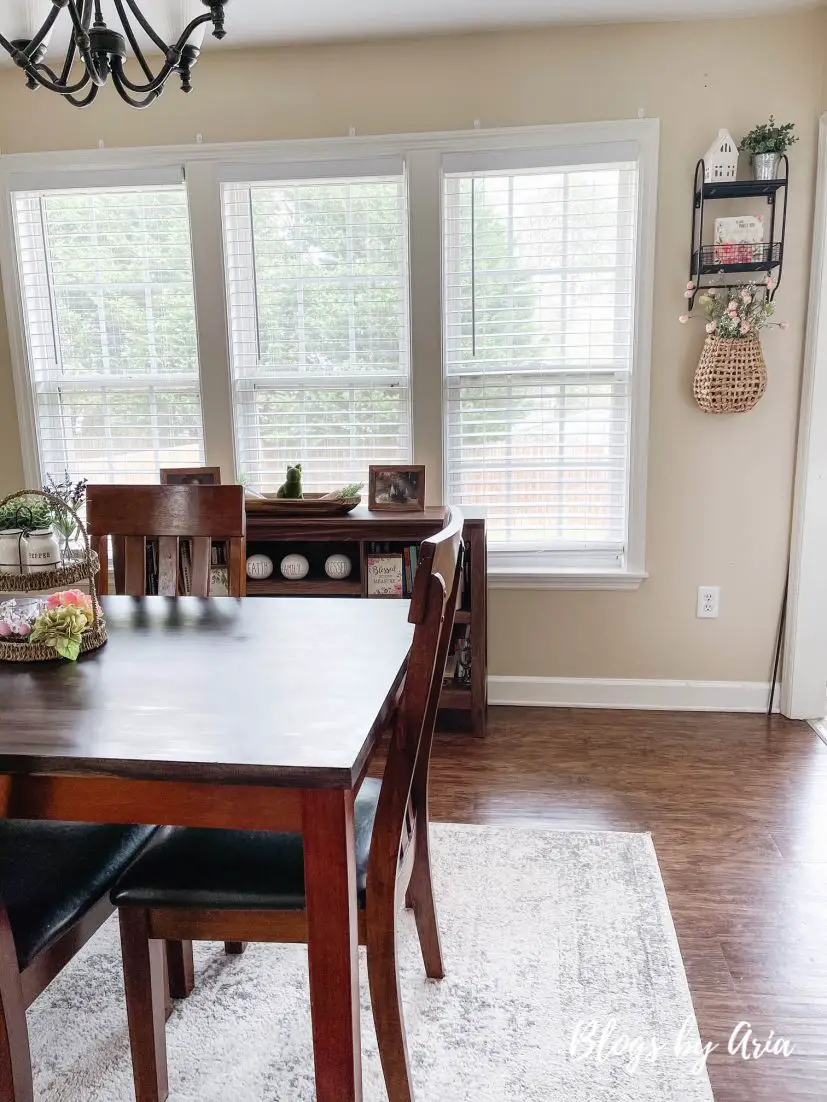 You'll notice a few Command hooks over windows and doorways.  They're from Christmas and I haven't taken them down.  I've been thinking of putting greenery garland over the dining room windows since I'm not going to install curtains.
I also haven't taken them down over doorways because you never know when I may want to get a little extra and throw up some garland or floral stems on the wall. 🙂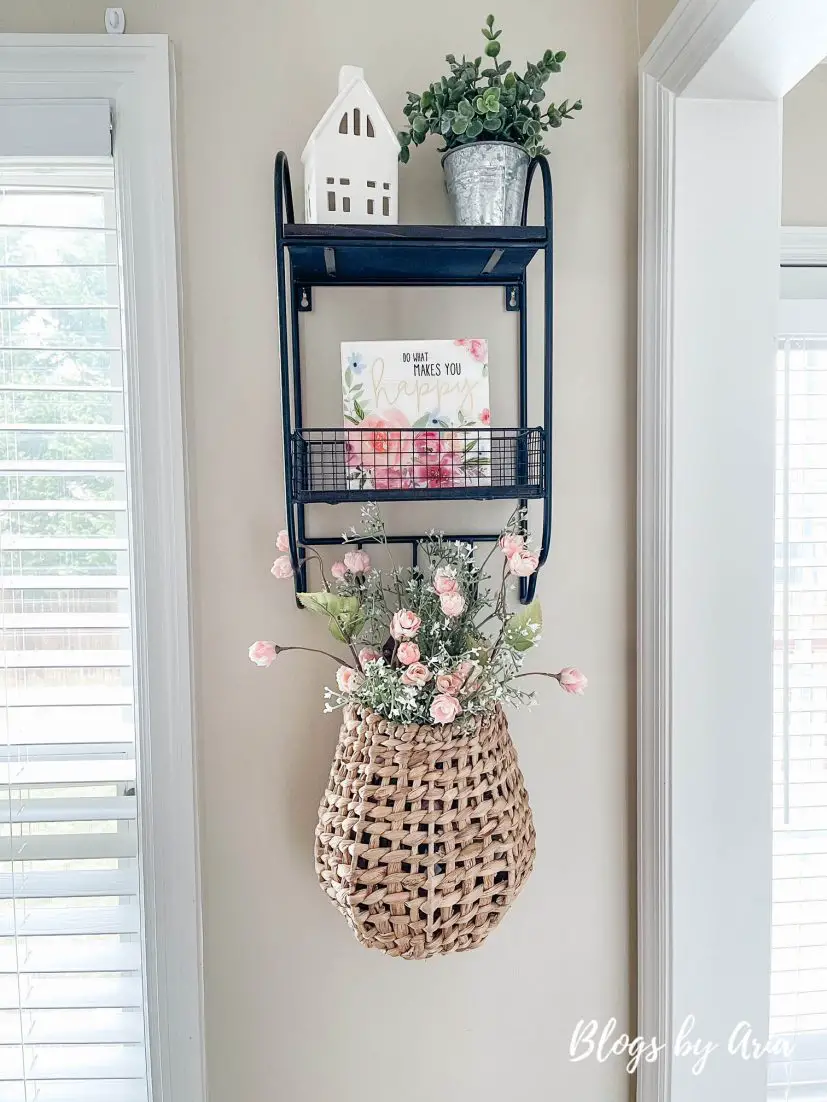 On the right side of the windows I have a simple wall shelf with a woven hanging basket filled with Spring blooms.  The hanging basket would be even cuter on a mudroom hook or a hook inside of an entryway.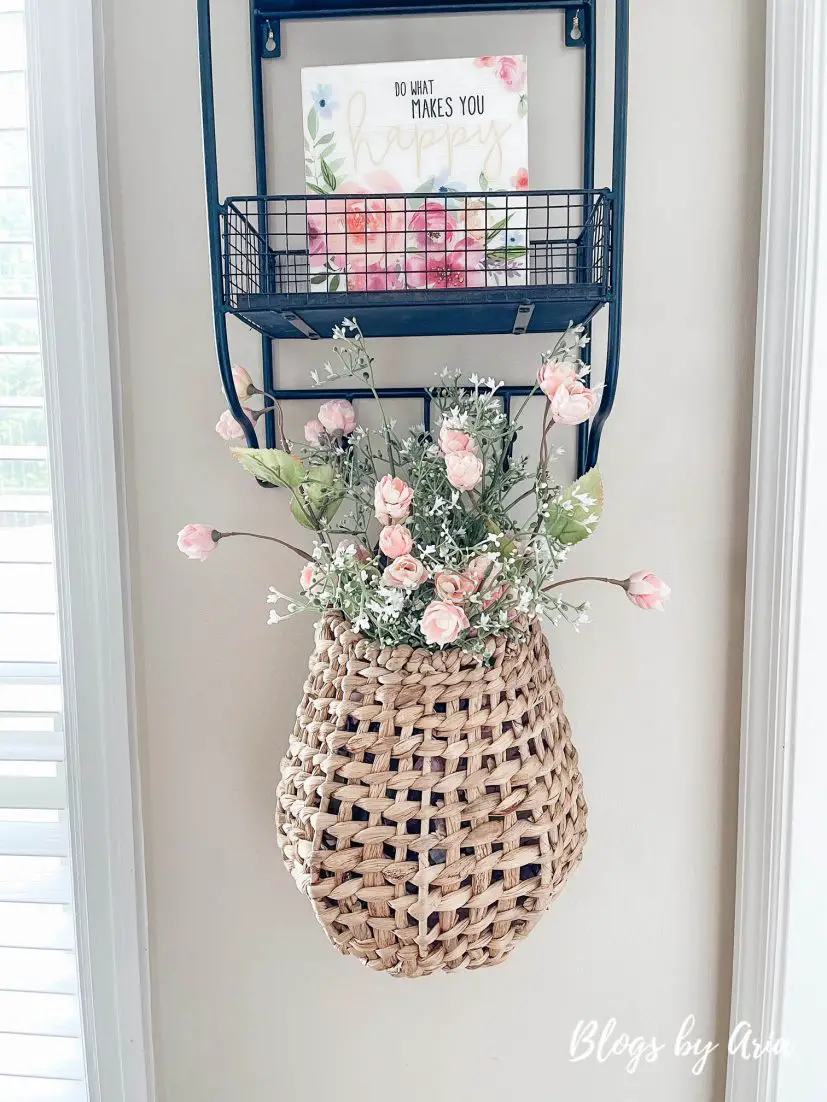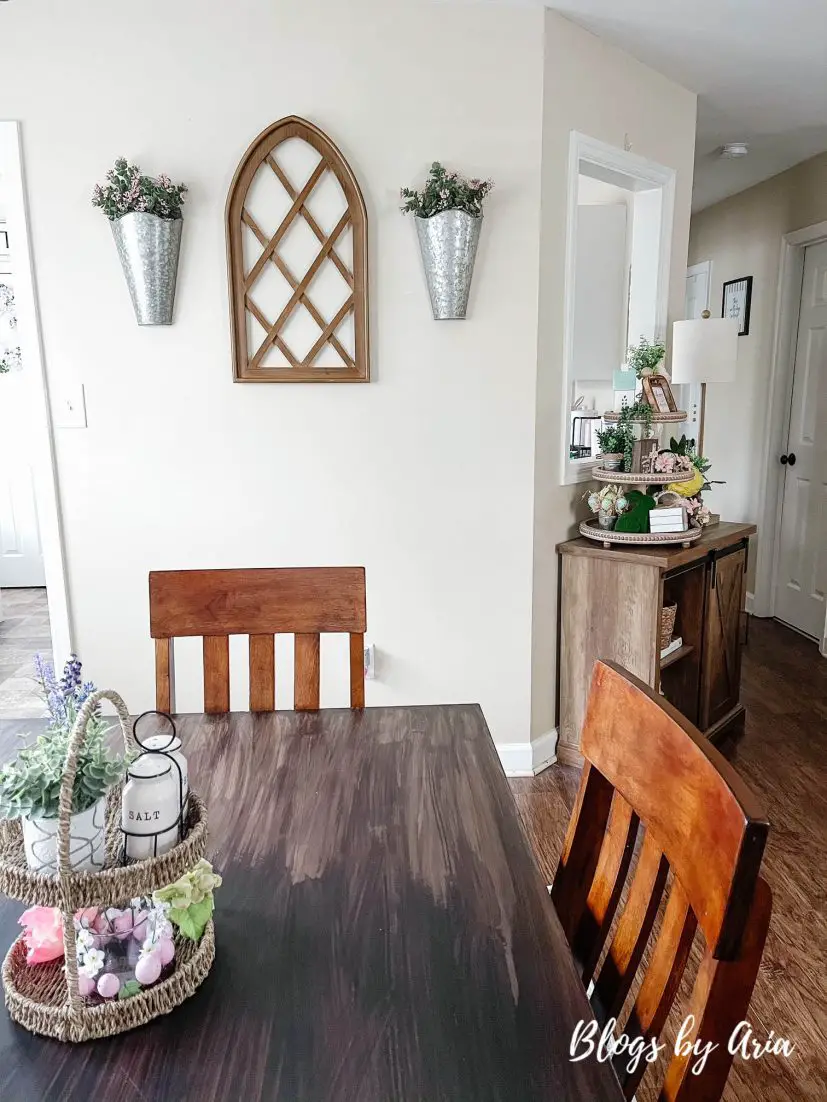 similar wall pockets | similar wood arch here and here
For awhile I wanted to put a piece of art on this wall.  I even have my eye on this beautiful clock, but for now I am using what I already have and put up this wood arch and galvanized wall pockets filled with some pink eucalyptus bushes.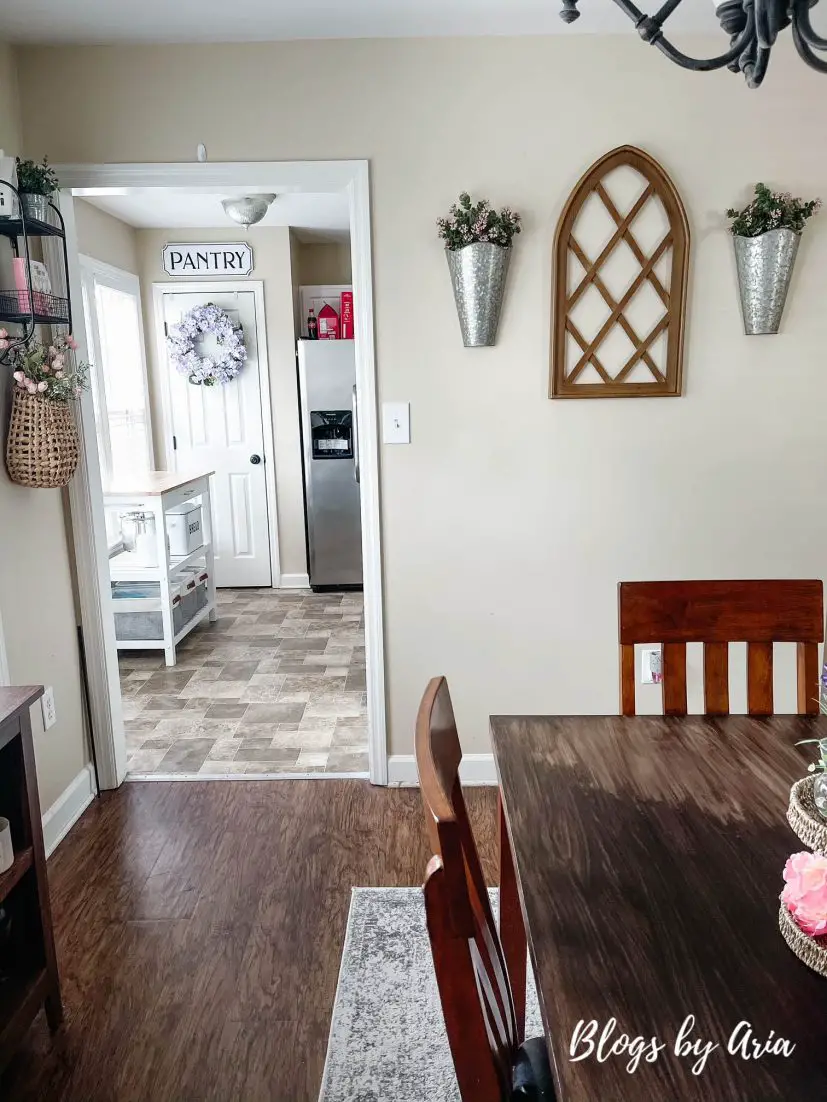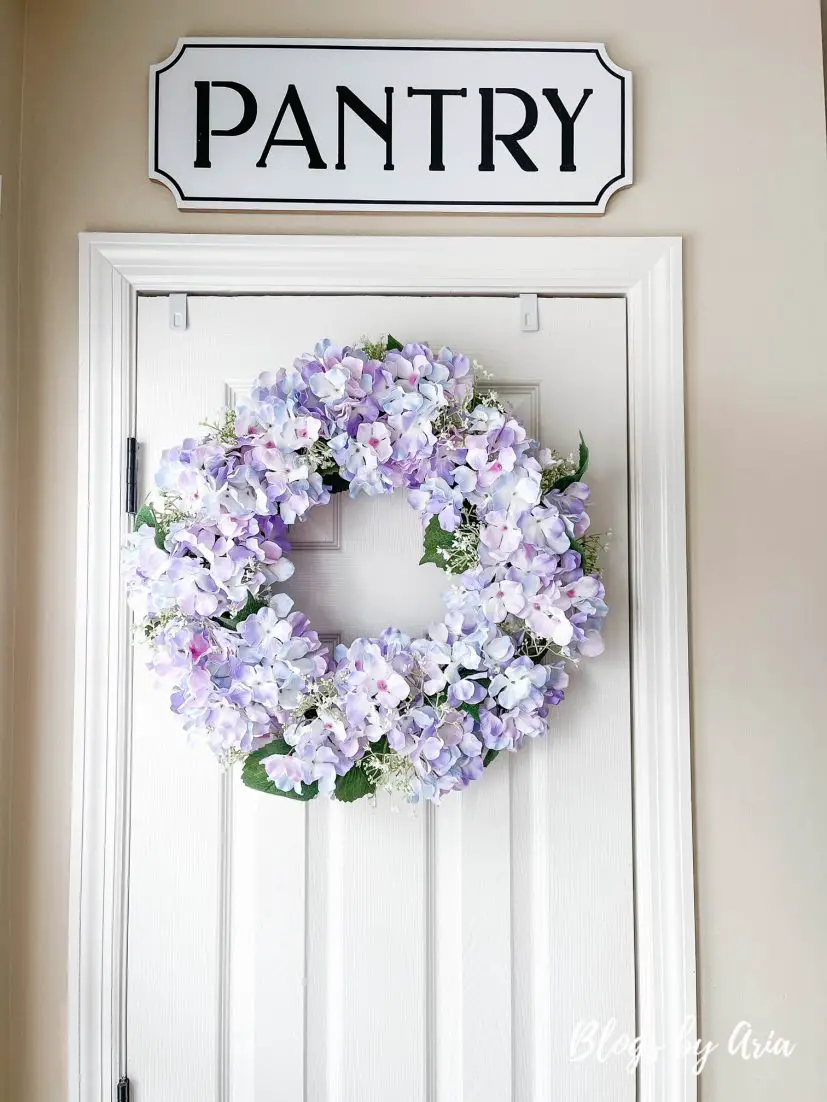 I kept it pretty simple in my kitchen.  A pretty hydrangea wreath on my pantry door is the main decor in the kitchen.  My wreath is from Home Goods last year but this one is a similar option.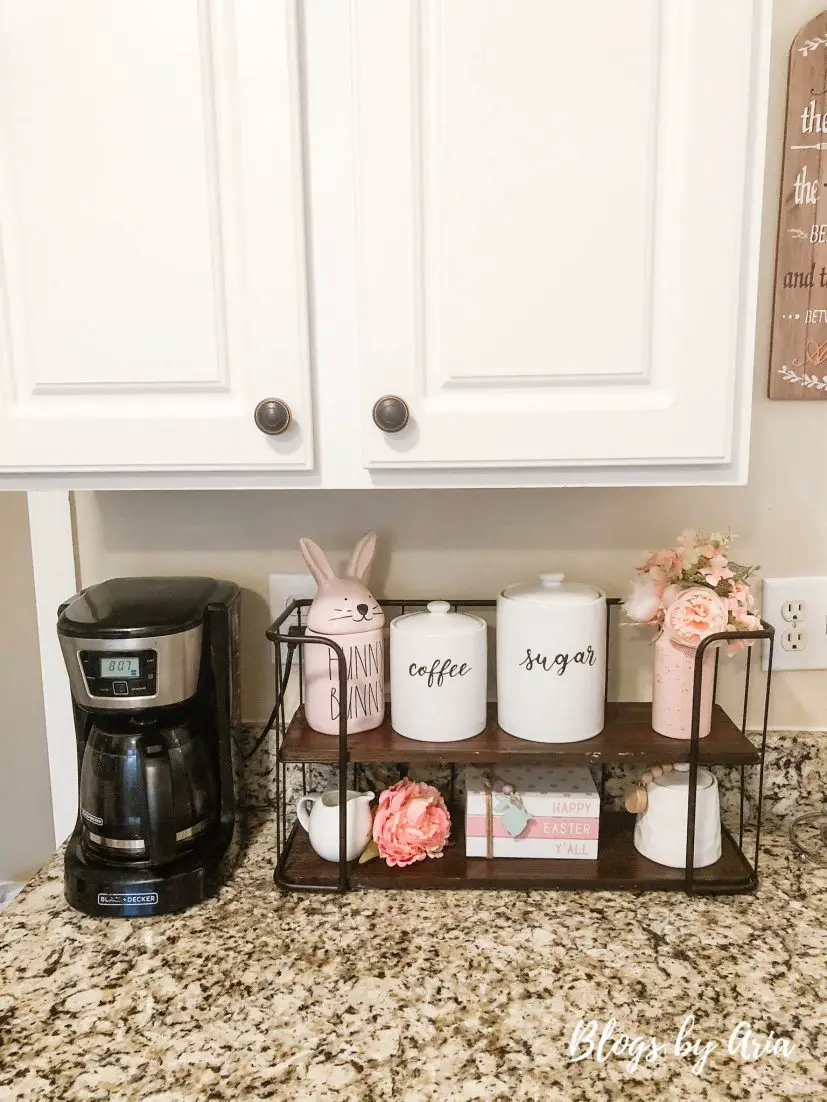 tiered shelf | coffee canister | sugar canister | similar shelf
I took this picture a couple of weeks ago and the lighting was horrible.  My bunny mug that I shared for my two tiered tray doesn't fit on my larger three tiered tray.  So for now it works on my coffee station.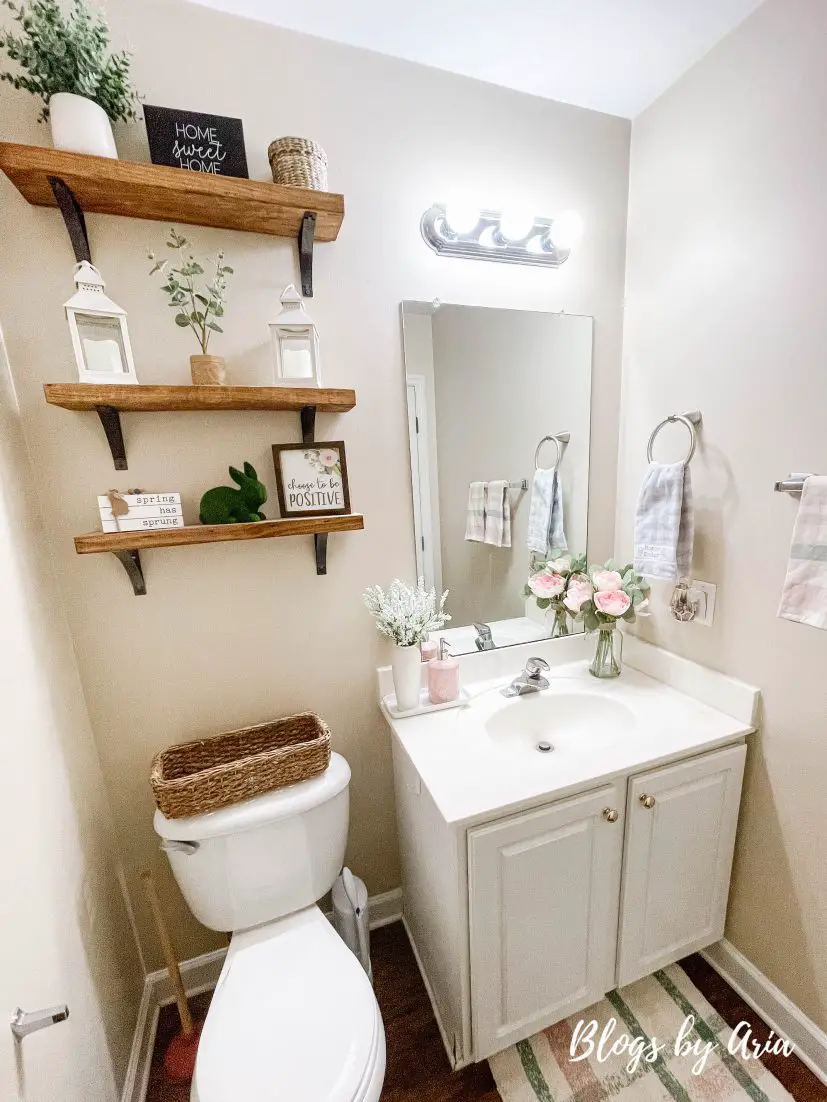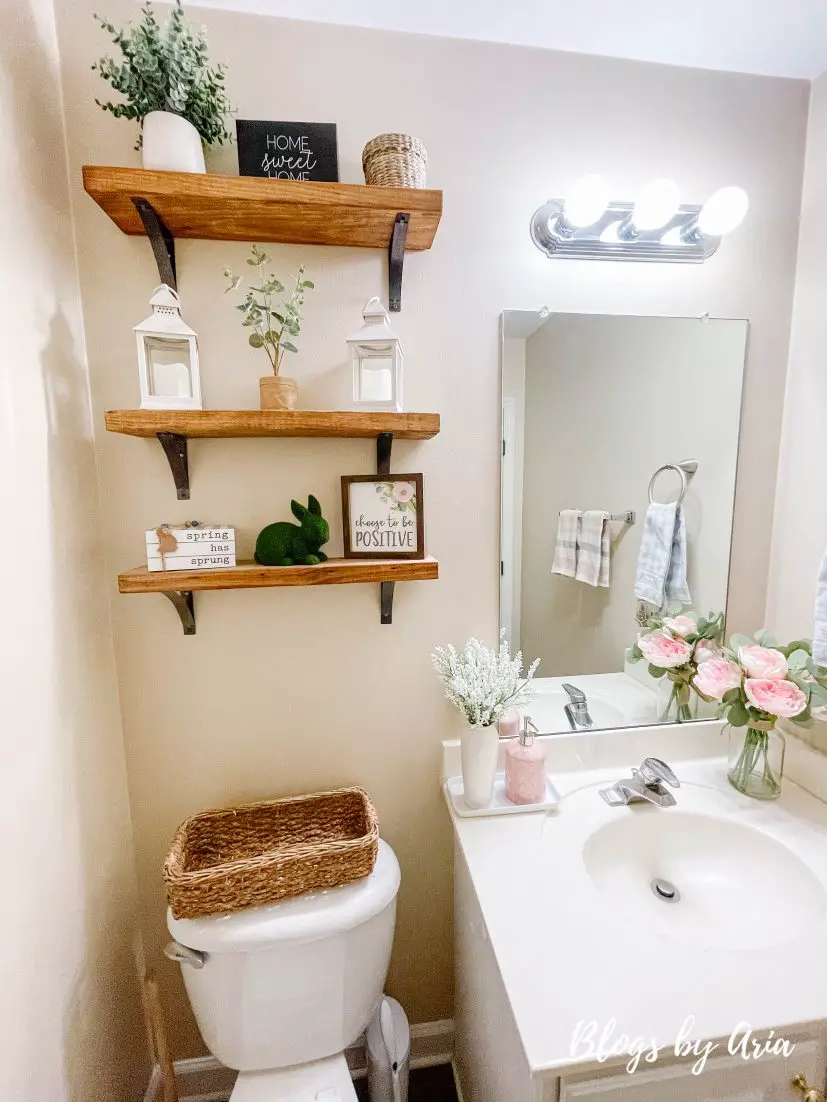 In an effort to get the full powder bathroom in one shot, my phone kind of distorts the image.  But I did add a little touch of Spring in here too.  (On this day I needed to get more toilet paper, that's usually in the woven basket)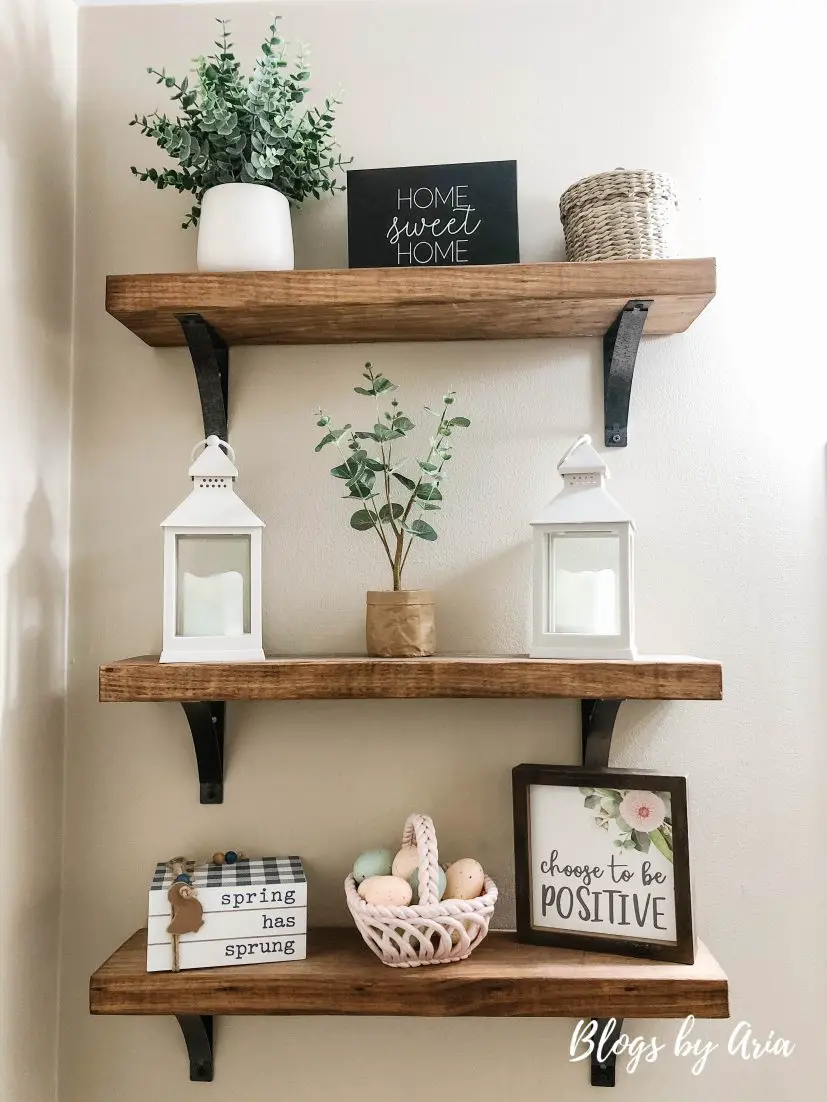 floating shelves | similar floating shelves
I styled my shelves a few weeks ago.  The two mini lanterns were a fun find from At Home store.  The basket with eggs will be moved as you'll see in a moment.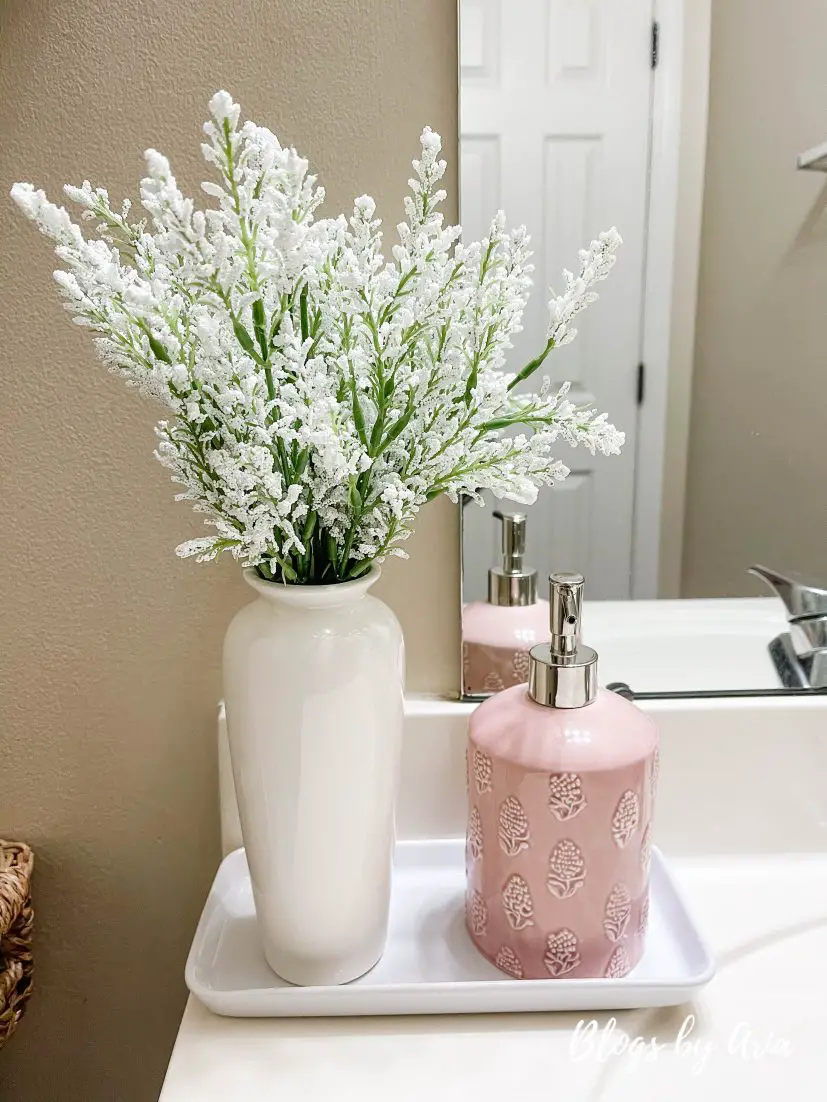 ceramic vase | flowers | soap dispenser
I saw this pretty soap dispenser at Target and went back and forth on whether I should get it or this plaid one to match my bathroom rug.  But the pink one was too pretty to leave in the store!  I even filled it with one of my favorite Mrs. Meyers hand soaps which means a lot because I never fill soap dispensers.  They're usually just for decor.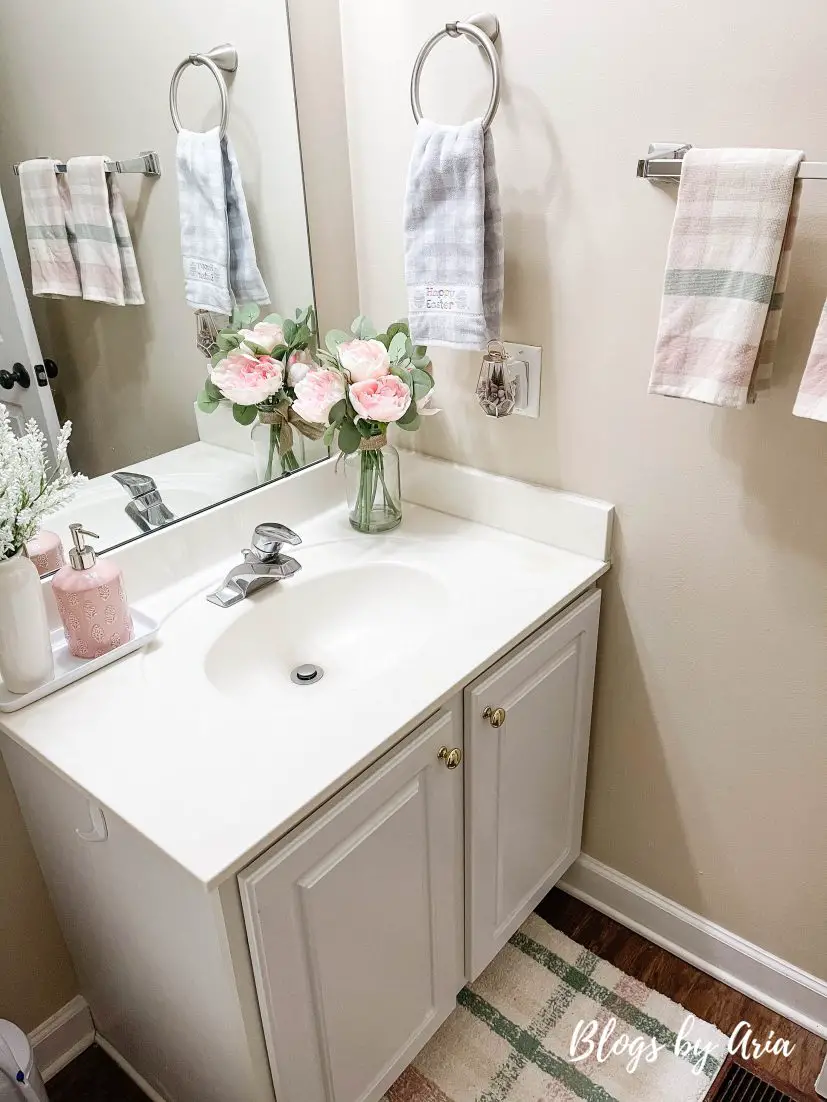 flower arrangement | bath rug | hand towels
My new peony and eucalyptus flower arrangement fits perfectly in this corner of my sink.  And I love the colors of the bath rug and matching towels.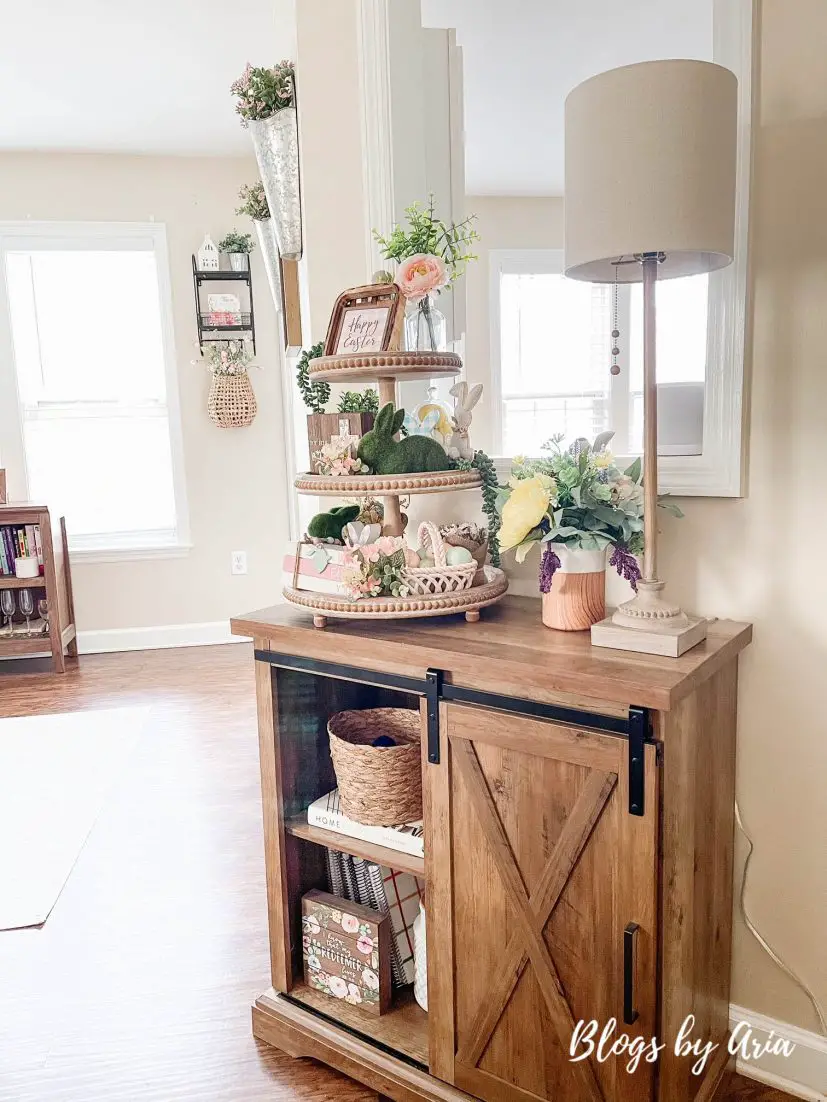 tiered tray | farmhouse accent table | lamp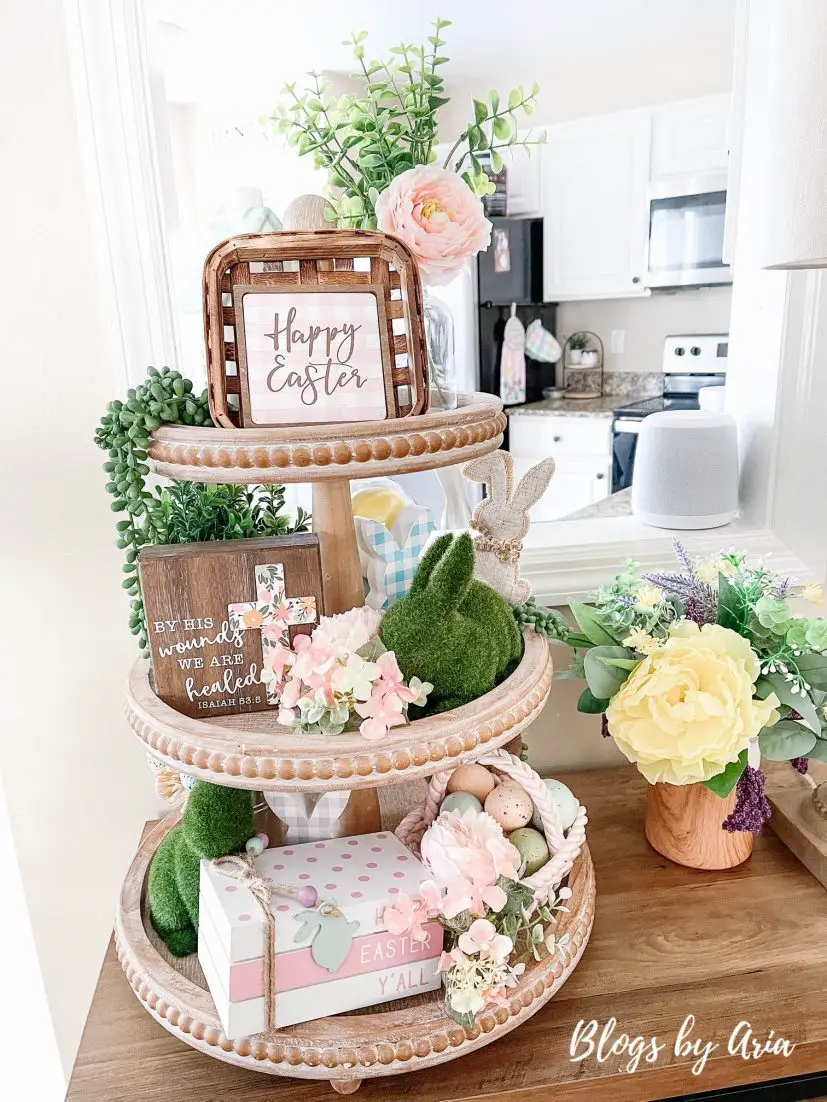 Rounding up the last of my Spring home tour is a look at my three tiered tray I threw together for Easter.  I actually wasn't going to do this tiered tray but at the last minute decided I might as well.  Even if it's only up for a week.  I tried to find other places for this tiered tray to go but it works the best here on this table.
Now you've seen my home decorated for Spring!  I'm loving all of the pinks.  Pink is my favorite color but it's not a color I really decorate with.  After decorating for Valentine's day when I went with more pinks versus reds, I knew that I wanted to go pink for Spring.
Hopefully I've given you some inspiration in decorating your home for Spring this year.  Be sure to pin what inspires you and if you know someone who loves to decorate like me, share my post with them 🙂
What colors are you using for your Spring decor this year?  Leave me a comment below ♥