Now that all of our Christmas decor has been tucked away, it's the perfect time for a living room decor refresh.  Even before I started to take down our holiday decorations I was thinking of how I wanted to refresh this space.  Before we jump into Valentine's Day decor, I wanted to enjoy a calm and serene space.
Originally I planned to live with a blank slate for a bit but it looked like we had just moved in!  So I started to shop my home to bring in a little life, as well as get a few new things.
*this post includes affiliate links for your shopping convenience, you can read more about affiliate links by reading my Disclosure*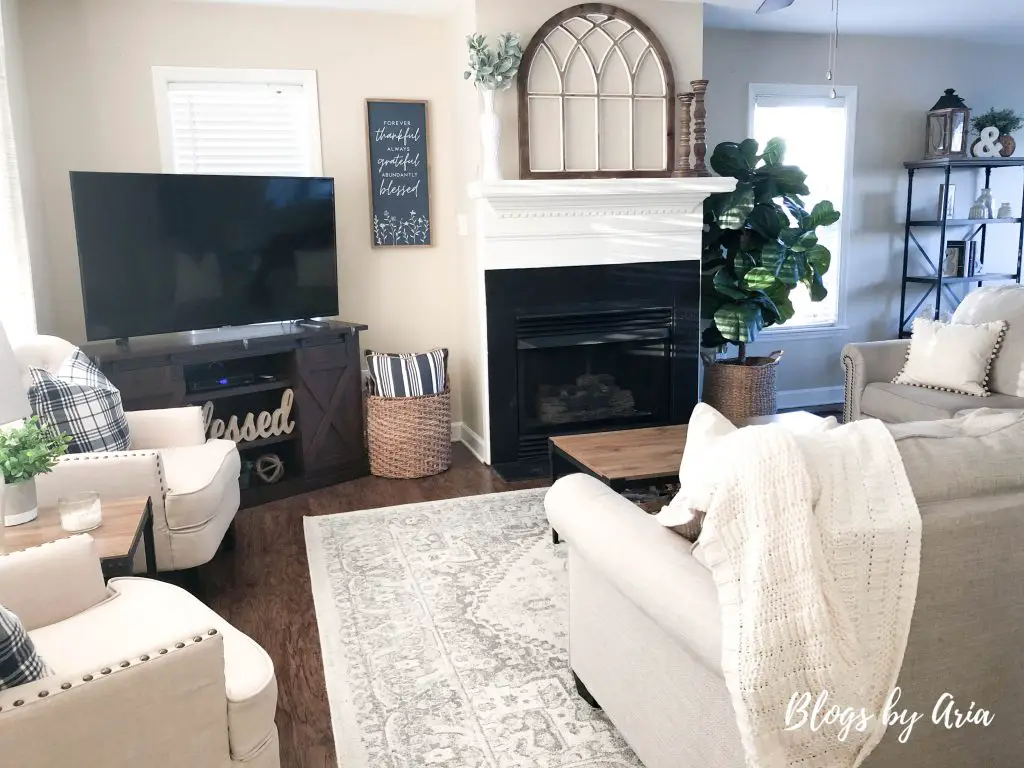 Overall I wanted to keep the space very neutral and cozy.  A few whites and creams, of course some blues, which is a neutral in my book, and some comfy texture.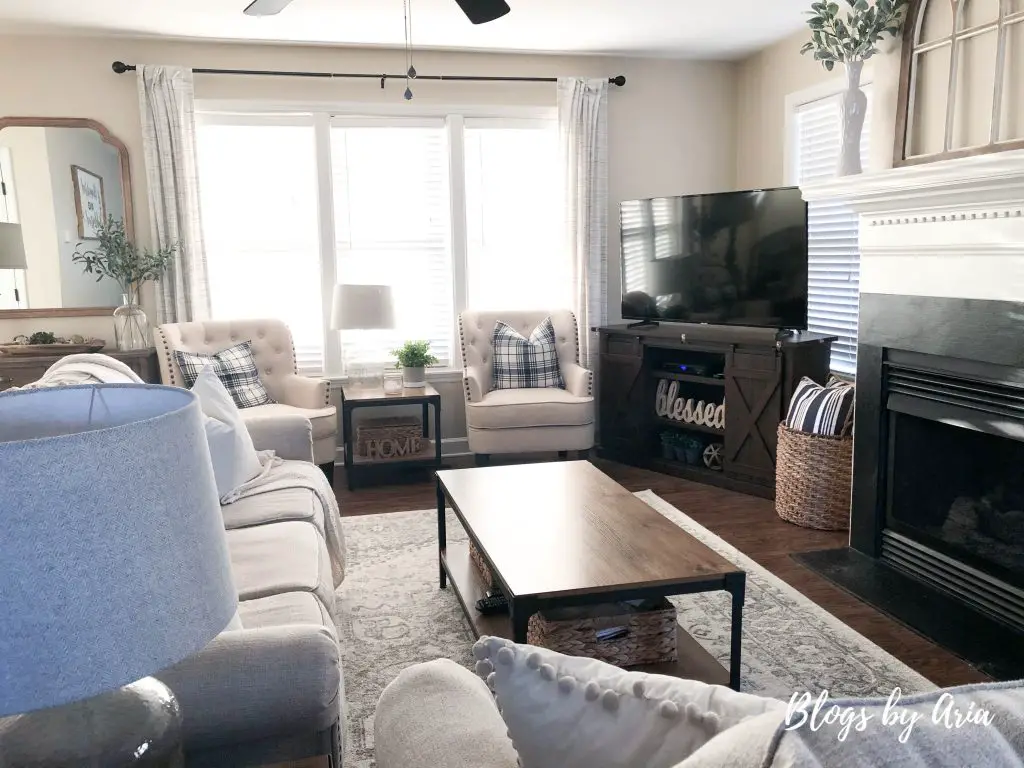 From this overview you can see how much of a difference my new mirror in my entryway makes!  I spotted these soft and cozy throw pillows at TJ Maxx.  They came in a pack of two for $25.  I don't really need more pillows but I was looking for something neutral that I can use to transition from winter into spring.
In addition I got this cozy throw blanket on clearance at Target.  I love the look and feel of it as well as the texture it adds to the space.  It sheds like crazy though, so maybe it's best for draping on a sofa and not yourself.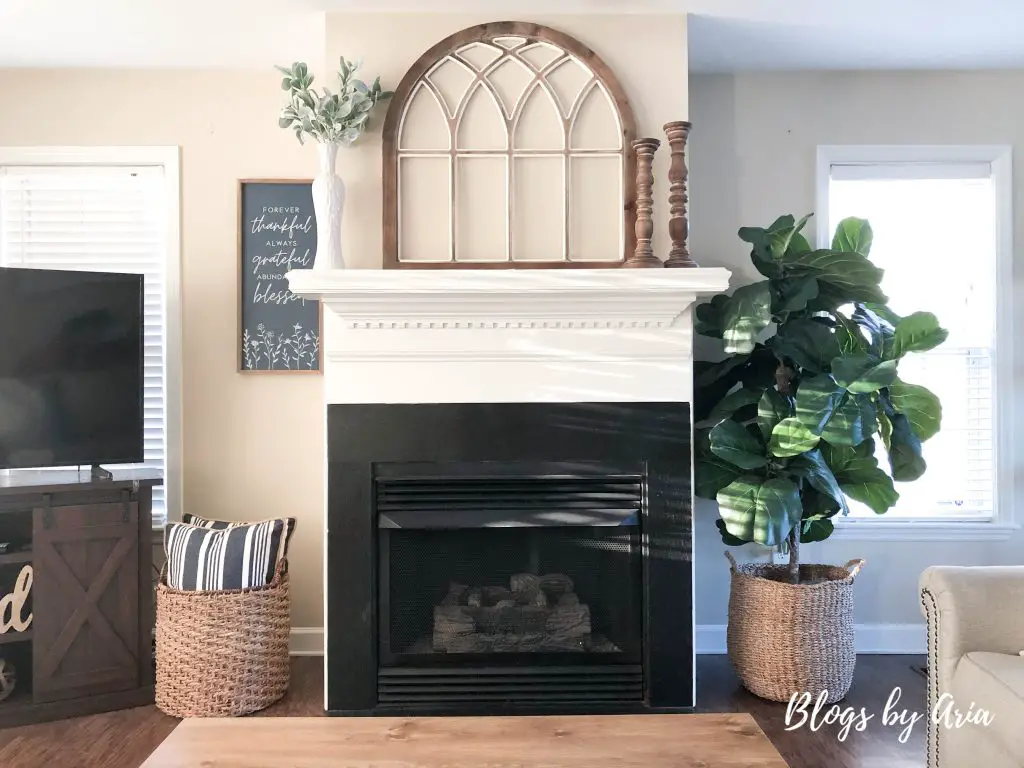 Recently I shared some of my Wayfair home decor favorites and I showed a picture of my fiddle leaf fig tree.  Once I moved it next to the fireplace, it felt like the perfect fit!
On my fireplace mantel I finally picked up this arch wood wall plaque.  I've wanted this since before we moved to this house!  The clock we used to have in this space fell one night and shattered.  I was so devastated.  So I've been a little wary about putting another one there.  The arch is simply leaning against the wall and I think that's fine.
I'm thinking of maybe adding a small to medium size wreath in the middle of the arch from time to time when I want to switch things up a bit.
To the left of the arch I have these beautiful brown washed wood candle holders.  They come in a large and medium size and I have both.  I purchased them when they were half off at Hobby Lobby.  Which is every other week.
On a recent Hobby Lobby trip I was looking for wall decor, when it was on sale, again, every other week.  And I saw these candle holders and they're the perfect size and color.  There was only one in each size left and I crossed my fingers hoping that when I came back the next week they'd still be there.  Thankfully they were!
When wall decor is on sale at Hobby Lobby, so is floral.  On the left I have a tall skinny vase filled with a few lambs ear stems.  I thought the lambs ear would be great for winter and everyday.  I'm not sure if I like it here or in this vase, so that is subject to change.
You may have spotted the wall decor to the left of the fireplace.  Another Hobby Lobby find, this time from the Spring Shop.  Right now everything from the Spring Shop is 40% off.  For me, blue is a neutral because I love the color and you can still use other colors and they won't clash.
My denim and white striped pillows fit perfectly in this basket under the sign.  They were on my love seat but I felt they were too stark with everything else being so light.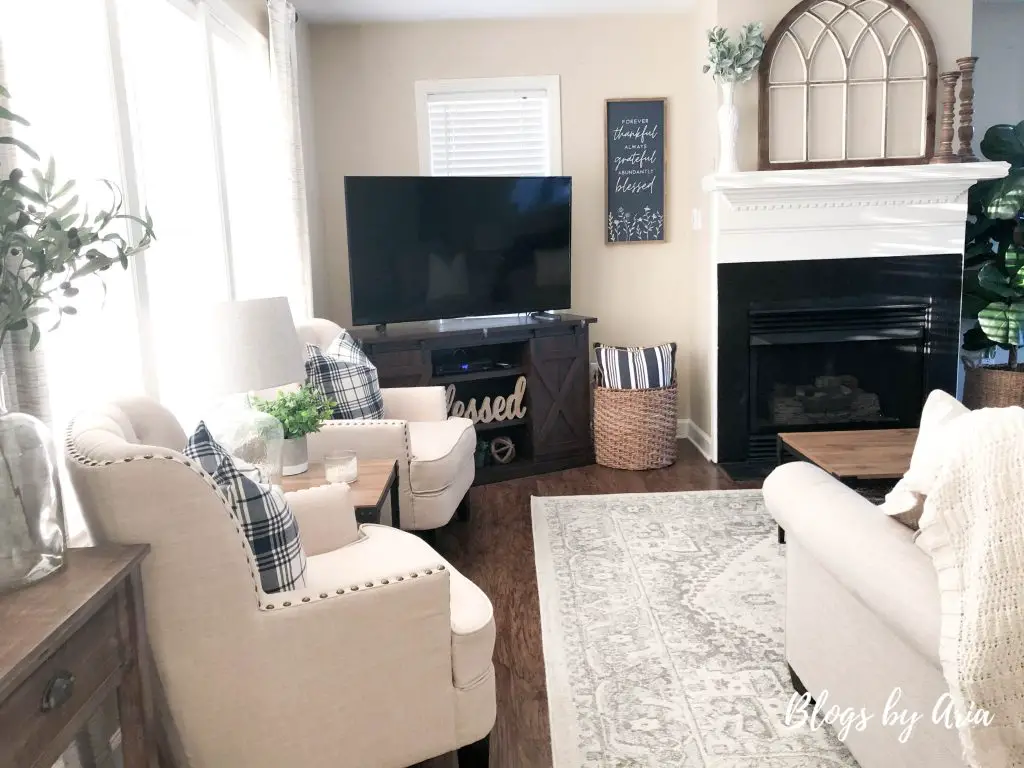 My plaid blue and white pillows are a little softer in hue and I really love them on my accent chairs.  After taking down my holiday decorations I found the need for more lighting.  So I brought back my artisan glass lamps and placed them on my side tables.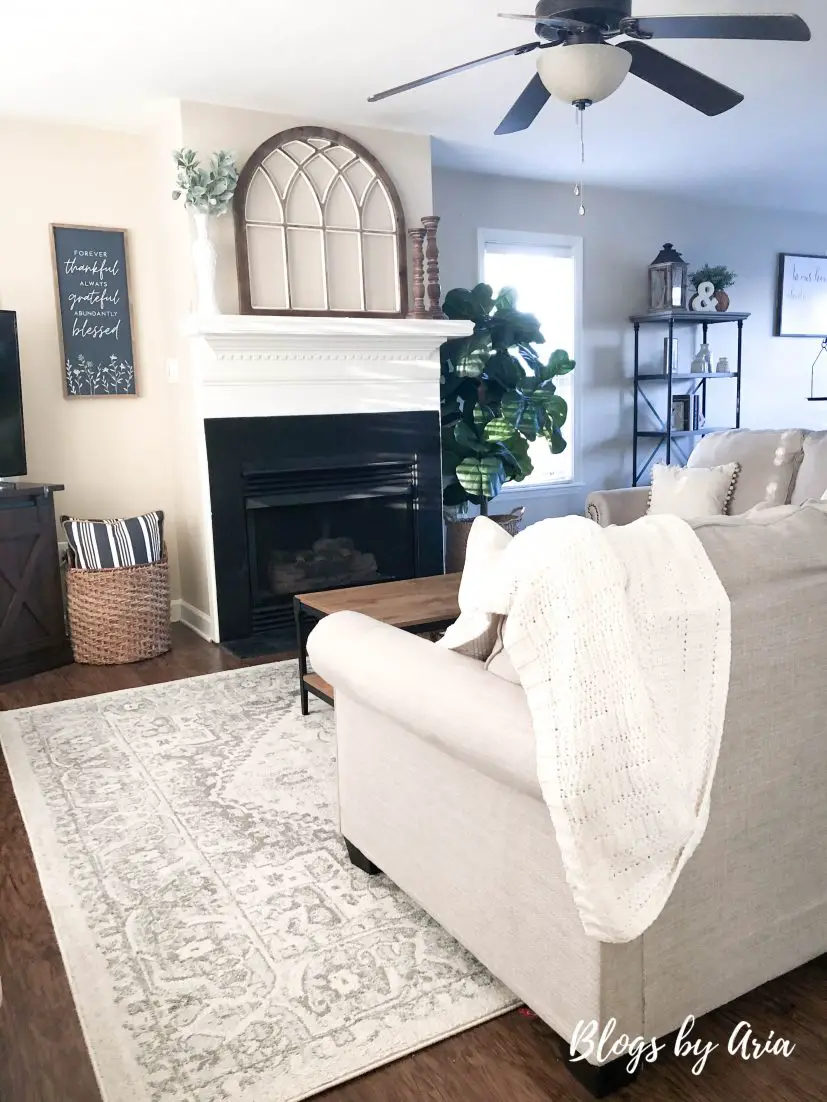 Another thing I did when I took down all of the Christmas decorations is rearranged some furniture.  My cast iron bookshelf has a new home and I really like it in this space!  I'm still working on styling the shelves so I didn't take any close up pictures of it.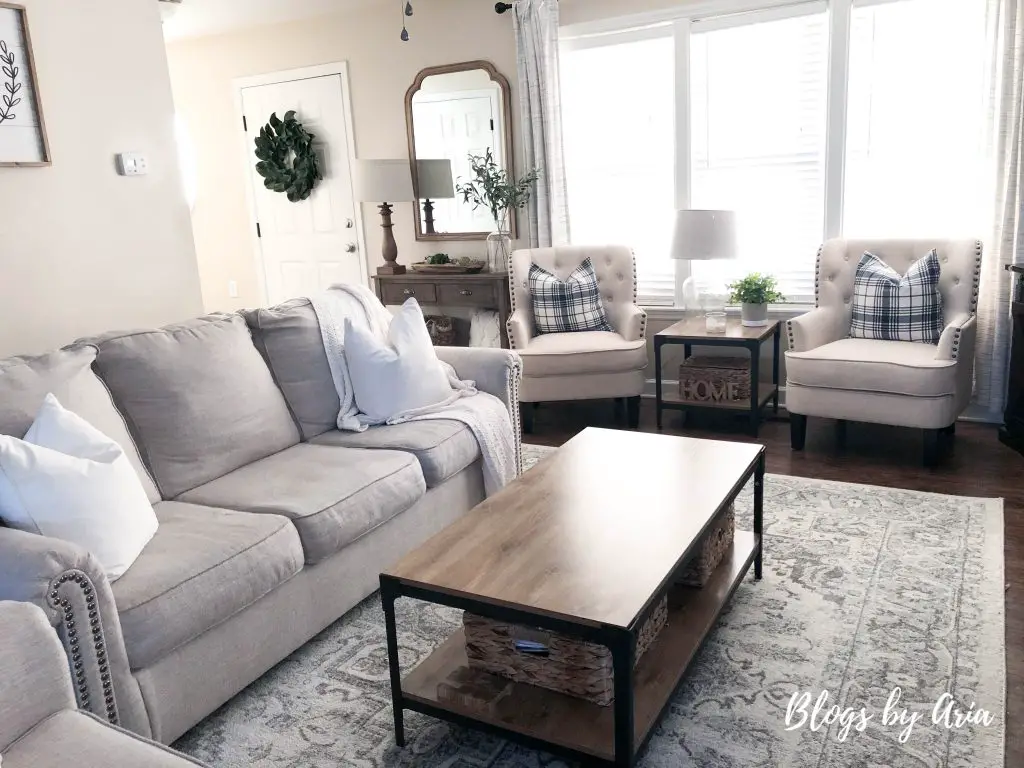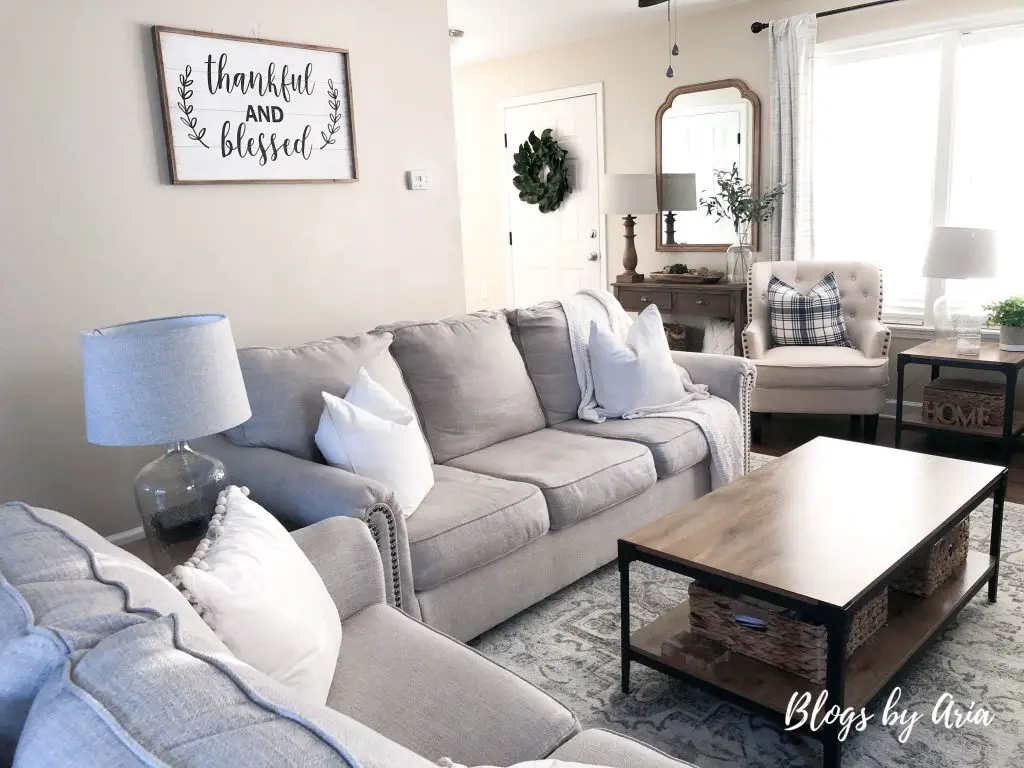 My coffee table is bare.  That's because I haven't decided what direction I want to go in.  And it's also because it's only been bare for a few days!  So I kind of want to enjoy it being cleared off for a while.
It feels so nice having very simple decor in my living room.  Now this space feels refreshed and quiet.  After taking down  all things Christmas it's nice to quiet down the house.  If that makes sense.  I didn't like how bare it looked with no decor, but this is more my speed.
There will be a few sprinkles of Valentine's decorations here and there, but I'm looking forward to enjoying my living room as is.  Hopefully you got some inspiration if you want to keep your living room decor simple.  A blank slate is perfect for a fresh start in January, don't you think?
{SHOP THIS POST}