We've had several Christmases together as a family, but with this year, I felt like it was a good time to start some traditions as a family.  This Christmas Brianna is 6 and Jordan is 3.  With each Christmas you want to build on the traditions that you create.  For us this year, was that year.  Now that Jordan is age 3 I feel like he's able to hold on to a memory going into next year.  I wanted to share our Holidays this year and we'll see how things go next year.
~ One thing I posted on my facebook page about was "Does Santa wrap his gifts or leave them unwrapped?  Of those who responded…they said they're unwrapped.  Well I decided that Santa's gifts will all have the same wrapping paper.  It's this really nice, heavy paper from Hallmark that simply has pictures of Santa on red paper.  The gifts from Santa came wrapped the same.  I decided on this because the kids saw me buy some wrapping paper.  This  makes it easy to spot the gifts from Santa.  In the future, if it's an odd shaped gift, or something that requires assembly that is from Santa…it will be unwrapped.
~ Speaking of Santa…something we did new this year was to track Santa.  There's  this cool site I posted a link on facebook that I got from our local news station.  And you can track where Santa is.  This worked out well because Brianna was very excited and when she saw that he was crossing the Atlantic Ocean she said " we have to hurry up and go to bed, he's on his way!!"  Hey, worked  for me!
~ As a kid I always got to open one present on Christmas Eve.  DH and I decided that we would start the tradition of making that one present new pajamas.  The kids loved them!  That will be our new tradition.
~ If you read my recent post Mommy Grinch, then you know I've had issues with Brianna's behavior and had to cut her items down short.  Now I'm  not sure if she realized it or not, but she had less presents than her brother.  Santa isn't the main player in our game, so he doesn't give but so many gifts as is.  Most of the gifts come from Mommy and Daddy.  But she got one gift from Santa while Jordan got two.  He got more toys than her.  She was very happy about what she did get, so I'm not sure if she really could tell.  I feel like I did my  part by limiting her gifts, my pocketbook is happy about that.  We'll see over time if it worked or not.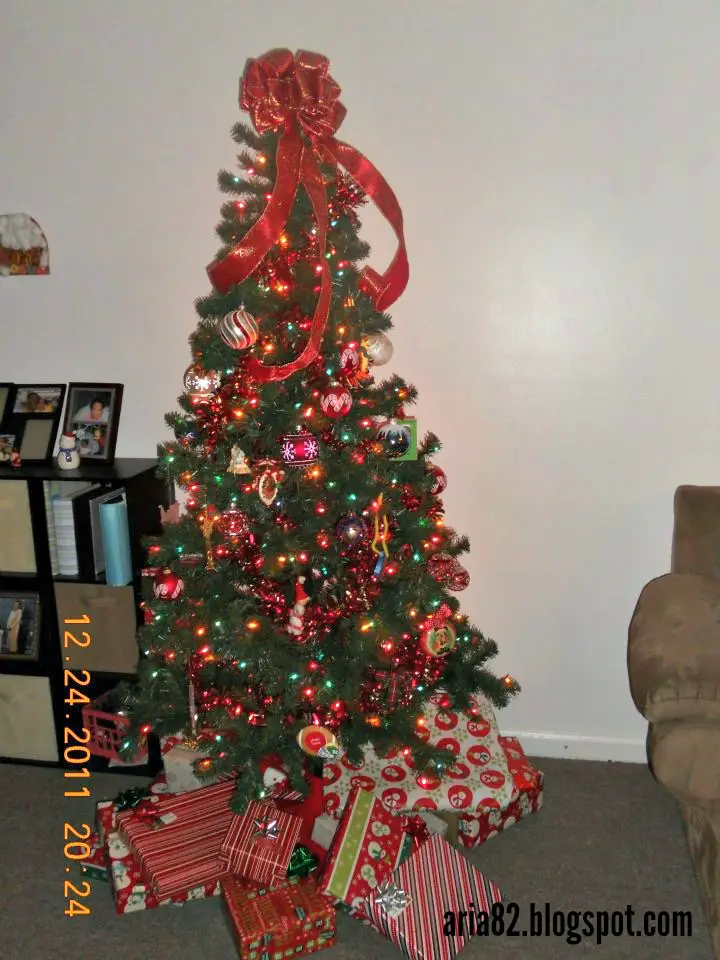 All in all our Christmas 2011 went well.  Of course I wish I could give more gifts, but the kids were  happy, hubby was happy, hubby made me happy with my gifts…it was a win win.  With the exception of my cold that is…  Now my thoughts are turning to next year and what we will want to add or change.  I'm thinking of changing how we have our Christmas with our families.  But I'm not sure, so we'll see.  Mainly what I'm looking forward to adding next year are a lot more decorations.  Lord willing, we'll be in a new home next year and I'm excited to put more into our holiday decor.  Who knows, maybe next year we'll be host to a Holiday gathering.  Two things I definitely know, are that I must buy some more holiday music because I can't find my Christmas music and trying to use youtube as playlist this year was a bust.  And also that I want to buy Christmas movies.  Instead of waiting for them to come on tv with all the commercials, why not just have them already on dvd to pull out when needed?  So that is the plan for Christmas 2012.
I hope everyone had a wonderful Christmas!!!