I'm excited to share some home decor updates with you today! Specifically our living room decor.  We've finally (by we I mean me) added some new decor pieces in our living room.  I'm sharing what we've added so far and what we (I) have our eye on to continue to add to the living room.
*this post includes affiliate links for your shopping convenience, you can read more about affiliate links by reading my Disclosure*
For starters, a few months back I was on the hunt for the perfect throw pillows.  I never shared them on the blog but I did find these down filled striped pillows at TJ Maxx.  It took me so long to find something I a) could commit to and b) sparked joy.  The pillows came as a set for probably around $20 and I had a gift card.  So it worked out great.
The pillows helped me to decide what colors I wanted to focus on with the wall art.  I got this canvas art from At Home (one of my new favorite stores!)  I could have gone larger with the art but I think this size works well.  I've debated putting up some type of sconce or something that flanks either side.
Of course I've mentioned before how we need a new couch.  This couch is about 14 years old because we got it a few months after Brianna was born. Either way I'm not going to let the fact that I don't have a new couch now stop me from decorating around it.  I am mindful of the colors I'm working with so that they can work with our future couch.
Having the canvas art just makes the space feel more put together.  I love seeing it everytime I come into the room!
To the left of the couch I have a new end table that I purchased from Walmart.  I have two, the other isn't pictured.  I've had my eyes on the Mainstays Logan Side Table for months.  I just didn't pull the trigger before and when I looked for it in the multitude of stores around me, if they had it, it wasn't in the finish that I wanted.  I ordered them online in the Espresso finish.  I put them together (minimum difficulty) and I couldn't be happier!
I'm all about the budget, and I must share that they were under $20 each! #winning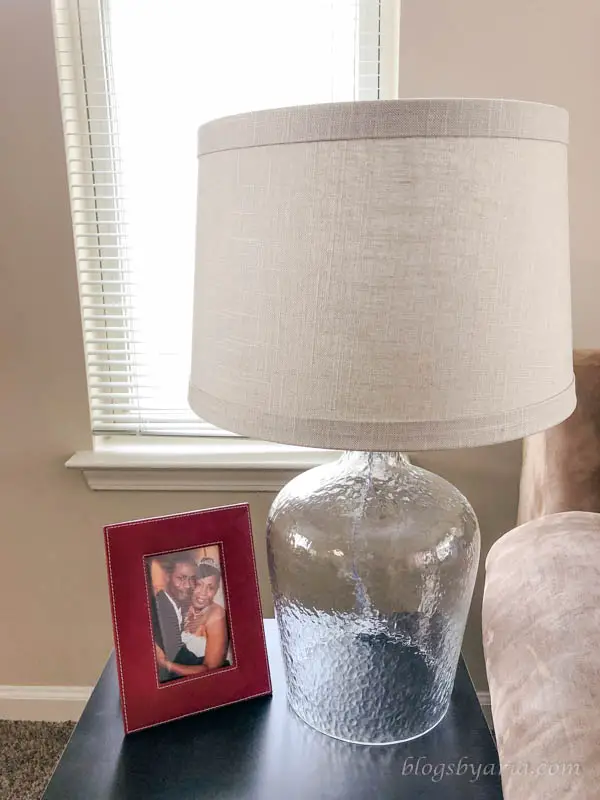 The favorite new item in my home is my lamp from Target!  It's the Threshold Artisan Glass Jug lamp base and I paired it with the Threshold Textured Trim large gray lamp shade.  A few weeks ago I was browsing through my emails and saw one about saving 30% off Target home purchases online only.  I had already had the smaller version of the Artisan Glass Jug lamp in my mind.  I had only a couple of days earlier been in Target taking pictures trying to get DH's opinion.  So when I saw the email I knew now was the time.  I hate paying full price.  After seeing a few people's reviews on Target I knew I needed the larger version.  I ordered the lamp in my Target app to take advantage of the sale and picked it up in store.  It was such an easy process!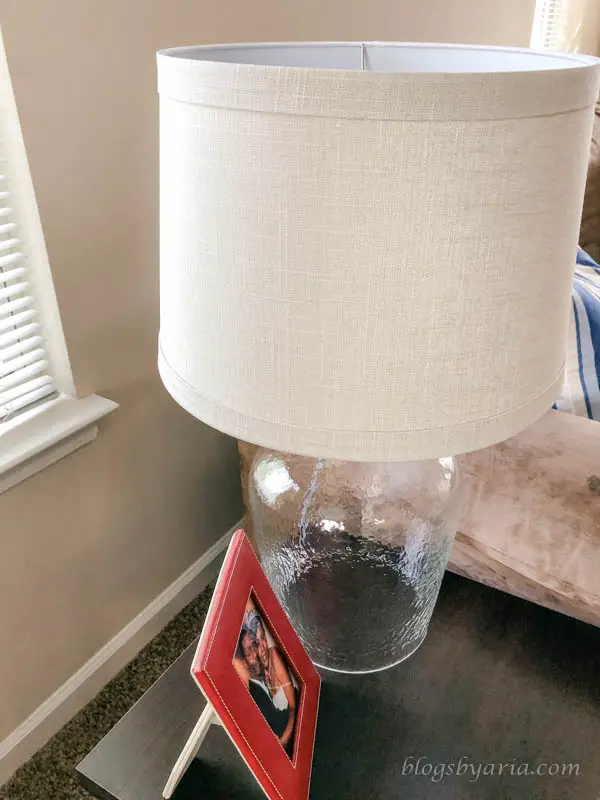 I am loving this lamp!!  I only got the one and I am waiting for another sale to get the second one.  It'll be the perfect balance for our living room decor.  For whatever reason there isn't a ceiling light in our living room.  I don't know if I shared that before but it's so annoying.  We've needed additional lighting for quite some time now.  There's not a bottom to the lamp that you can't really tell if you're just looking online.  It doesn't bother me but I didn't even notice it until I read the reviews and I had already seen it in the store.  Something to take note of.
I saw this basket set in Walmart on clearance so I can't find them online.  But I got them mainly for the small basket.  I thought it would be the perfect size for the Xbox controllers and headsets that would always find themselves on the floor.  And I was right, it is the perfect size and has been working well for us.  I put the larger basket on the bottom shelf of the side table and for now I put my laptop cords and wireless mouse in it.  I'll link to similar baskets at the end of the post.
I love the look of this farmhouse-ish mirror that I got from T.J. Maxx.  I've seen so many beautiful mirrors that I've wanted but at prices I wasn't willing to pay.  I saw this in T.J. Maxx and took a picture of it.  I couldn't stop thinking about it so I new I needed to get it before it sold out.  It's perfect over the bookshelf.
Another T.J. Maxx find was this potted plant.  I really have been looking for some greenery to liven up our home but didn't want to spend too much nor did I want the plant to look too fake.  I thought this was a good buy.  It doesn't look too fake and it was inexpensive.  Up close it may look faux but not from at a normal distance.  This frame is also from T.J. Maxx for like $4 featuring my handsome little man : ) That's what I used to call him when he was a baby.  These are his new Spring school pictures.
I love the frame on the right.  I got it from Pier 1 years and years ago.  Back when I used to shop there often, which was before I had kids.  I haven't found pretty frames the way I used to.  It's a shame.
When I come downstairs every day and see my wall art and my mirror, it just gives me all the feels!  Brianna even said to me the other day, "Mom, you decorate really well, you have a good decorating style."  I almost cried haha! My teenager gave me a compliment!  It may take me forever to make a decision but I do think I have a good sense of style.  I just need the funds to match my style 😉
I shared in my latest post about my adventures in hydrangeas.  Now I realize I never took a picture of just the white pitcher on its own.  I got it from T.J. Maxx too and it was around $7 I think.  Talk about a #MaxxFind!  This is my first round of hydrangeas that were an epic fail.
But you can catch a small glimpse of the top of the pitcher.  It's a little, what's the word? Antiqued? Farmhousy?  Either way I love it whether I have real flowers or faux flowers in it.  I'm leaning towards faux at this point…
The last thing I'm sharing is this Better Homes & Gardens Basket Weave Bin that I also got from Walmart.  I got it so that I could put these binders and notebooks in them.  They were previously in my cube storage and they didn't fit well there or in my bookshelf.  This bin is sturdy and the basket weave texture makes it look like a real basket.
This basket bin would also work great to hold throw blankets or pillows too don't you think?  The organization possibilities are endless!
ON MY WISHLIST
In addition to getting a second lamp, there are a few items that I want to get to complete our living room decor.  One of them being this Cainsville Coffee Table from Birch Lane.  I should have got it months ago when it was on a better sale even though it's on sale now.  I'm saving up for it.  We haven't had a true coffee table in years.  I can't wait to get this one!  I looked at the Logan Coffee Table from Walmart but it wasn't big enough.  The Cainsville Coffee Table can grow with us for years to come even with a different sofa.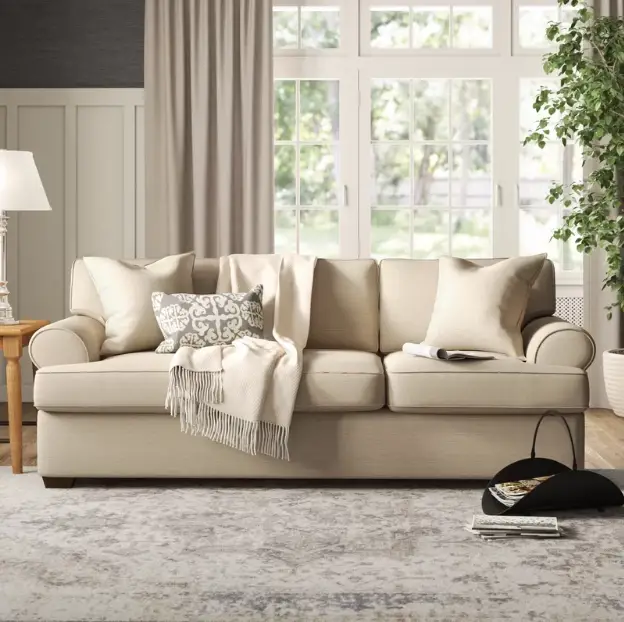 I have been looking at a lot of sofas and I can buy a lot of things online but I am a bit weary of buying something so large without sitting on it first.  If you know me you know I love Pottery Barn.  I will eventually have the PB Comfort Roll Sofa or Sectional but until then, I am going to have to find something else.  When we can make that purchase we will probably go with a local furniture store.  But I have had my eye on this Birch Lane Heritage Wright Sofa.  The reviews are pretty good.  We shall see.
Have I shared our debate on getting curtains before?  I don't recall.  But our townhouse has three main large windows in the main living space.  Four if you count the one in the entryway.  That's a lot of windows and we question if it would look weird to only add curtains to one window.  Plus we have two narrow windows too.  It's our ongoing dilemma.
SOURCES AND SIMILAR ITEMS:

It feels so good to finally have some real progress made on our living room decor.  It only took us what, nine months now?  Better late than never right?  And I'm not buying pieces just to suit this townhome.  We may move in a few months who knows?  But we'll be able to set up our living room right away fully decorated if we do.  It's nice to feel like we're living in a grown up space.  For now I'm content with what we've (by we I mean me) done in this space and don't foresee buying anything else unless my lamp goes back on sale at Target or my coffee table goes on a better deal.  In that case maybe I'm not content? haha
Thanks for spending time with me today friends.  I appreciate you for it.  Enjoy the rest of your week 🙂