It's 6pm on Sunday and I still can't quite believe that my daughter will be starting 2nd grade tomorrow.  This summer has flown by and mega-warp speed that's for sure.  Christmas is literally right around the corner…and before that…I turn 30.  Eeekk!!!  But that's another post…

I decided to go ahead and do this post since I may not get the chance to post this tomorrow.  I honestly can't remember when school has ever started on a Monday.  All day yesterday I was online looking for design inspiration with coming up with a great style for Back to School.  I mean you can't just come looking like anything right?  I wanted something that would be cute but  at the same time not take me all day to do.  I was searching around on Beads, Braids & Beyond's Facebook page and found a user-submitted look and decided to use that as my inspiration.  Because I didn't see a site for that user, I'm not  going to post it here, but you can find it by clicking on the link. Anyway, the user didn't post everything around so I wasn't trying to copy exactly since I couldn't see the entire style.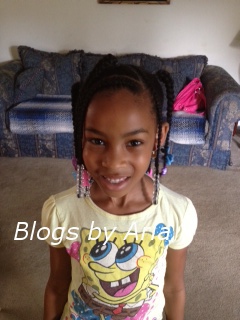 I started by parting her hair from ear to ear and starting with the back.  Using a rattail comb and banana clips I sectioned off an area on each side to do a single cornrow and then I made ponytails and did two braids out of each ponytail.  This is a very simple style to create and took me maybe an hour tops.  That's the primary reason why I chose it.  Because usually I will be the one still braiding now…last minute on Sunday night.  But I was finished with this before lunch today.  I deserve a pat on the back!


I don't know why, but it seems that for the life of me, we can't ever keep her supply of barrettes!  I decided to use clear beads on the cornrows and barrettes on her ponytail braids.  This is a cute and creative style that will last her the week.  I'm not looking forward to it, but I will do something a little more detailed next weekend.  My goal is to do styles that will last a minimum of two  weeks each.

I could definitely tell that her ends were trimmed when braiding…it made the process a tad slower and I had to use rubberbands on the ends of some of the braids. Aside from that, I think I've found an easy go-to style 🙂