No New Year's Resolution to lose weight for me! Nope!!  Because I'm almost to my ultimate goal and it's not going to be a year long process!! I really haven't done an update post in ages and for that I apologize. I will try to do better…
Currently I am 166 lbs.  I have roughly 28 lbs to lose.  My dream goal used to be 145 lbs.  For some reason as I've gotten older I've wanted the number to be lower.  140 would be amaze.  I figure if I shoot for 138 lbs that would work. I'm roughly a size 8.  I say roughly because I don't have much that fits, so my size 8 jeans fit well, I can fit a size 6 skirt I have well, my size 10 jeans and pants are too big…but I have a size 10 dress that doesn't fit at all…but that's the only thing so I don't let that phase me.  This workout outfit is too big for me.  My yoga pants are baggy.  Needless to say, when I get my next bonus and/or refund I'll be getting some new digs.
Which is why I'm trying to make myself get into full swing right now with my workouts and my eating.  I don't eat a lot as it is, but I need to eat cleaner and make sure I'm getting enough protein to fuel my workouts, drinking sufficient water, and taking my vitamins.  For my workouts, I need to make sure I'm getting enough sleep so that I'm not going back to sleep in the mornings, so I can be consistent with my workouts.  For weeks like my upcoming week, where I'm working a lot of overtime, extra sleep is the death of my workout.  Not working out tends to make me sour(er) lol.  It's definitely good for my overall workday mood and I find that I'm more productive on days I workout vs those I don't.  Anyway, the point is I have to sleep in order to get up to have the kind of energy I need to complete these workouts! More on that below…
So since it has been forever and a day since an update, go here to see a good "before" pic.  Looking at it now, I have come sooo far…yet to me, I have far to go to achieve my ultimate body.  And I think I have realistic goals.  Tight and toned.  Less than 20% body fat.  Size 4/6 depending on the brand.  Being able to wear a bikini. No offense to my bigger ladies…but just because it comes in your size doesn't mean you should wear it.  So in my opinion, I think if you're in a double digit size, a bikini isn't for others to see you in.  So with that being said, I don't expect to look like a Victoria's Secret model in a bikini…but I do expect to look like their slightly heavier, more fit/healthy build cousin I suppose is how I'd put it! haha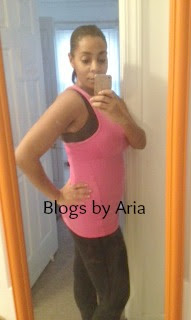 I took these pics this week on Thursday.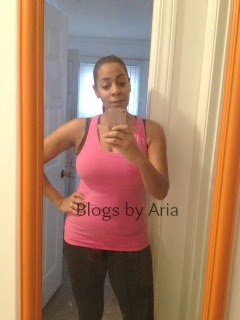 I finally got Turbo Fire back in November!!  It was my birthday gift to myself.  I ordered it Black Friday when it was exceptionally priced at only $53!!  At the same time I ordered Body Gospel and gave it to my mom for Christmas.  It was only $24.95!!  I haven't done all of the workouts, but I love the ones I've done!  I've decided to do it with my final phase of ChaLean Extreme because it is by far the hardest and the most elusive for me to be able to complete!  So dammit, I'm going to get it done within the next 30 days!  NO EXCUSES.
I've only done one HIIT workout…the 15 minute one, but I've done it twice so far.  Can I just tell you that it's no joke!  It's amazing tho because the next day you feel the same burn as if you had worked out for an hour!  The second time I did it, I could jump higher and push harder!  So that's saying something there.
I have a little personal goal and want to accomplish it within the next five weeks.  So it's my mission to keep myself accountable in some way…at least a weekly update on my progress.  I'm so looking forward to what I'm going to reward myself with!  
If you did make a resolution to get some lbs off this year…then join me and take this next month to #pushharder!!!  #pushplay everyday!!