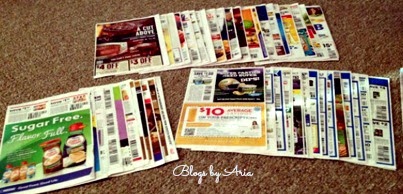 If saving money is on your Resolutions list then you may be thinking of getting into couponing but from the outside looking in…it's pretty overwhelming.  Hopefully I can make it a little simpler for you to digest and you'll be saving money in no time.
*this post includes affiliate links for your shopping convenience, you can read more about affiliate links by reading my Disclosure*

One of the questions I am most often asked is:  Where do I start? or How do I get started?

Well here's the answer…

For starters, I suggest figuring out how you are going to organize your coupons.  Whether you're going to use an envelope, an accordion file folder, a coupon organizer or the full on binder system…you will not be able to get a handle of your coupons if you don't keep them organized.

You can get started for under $15.  Many of the items you should already have on hand:
As you get bigger in your couponing, you'll add more types of inserts.  Check out more about organizing your binder here.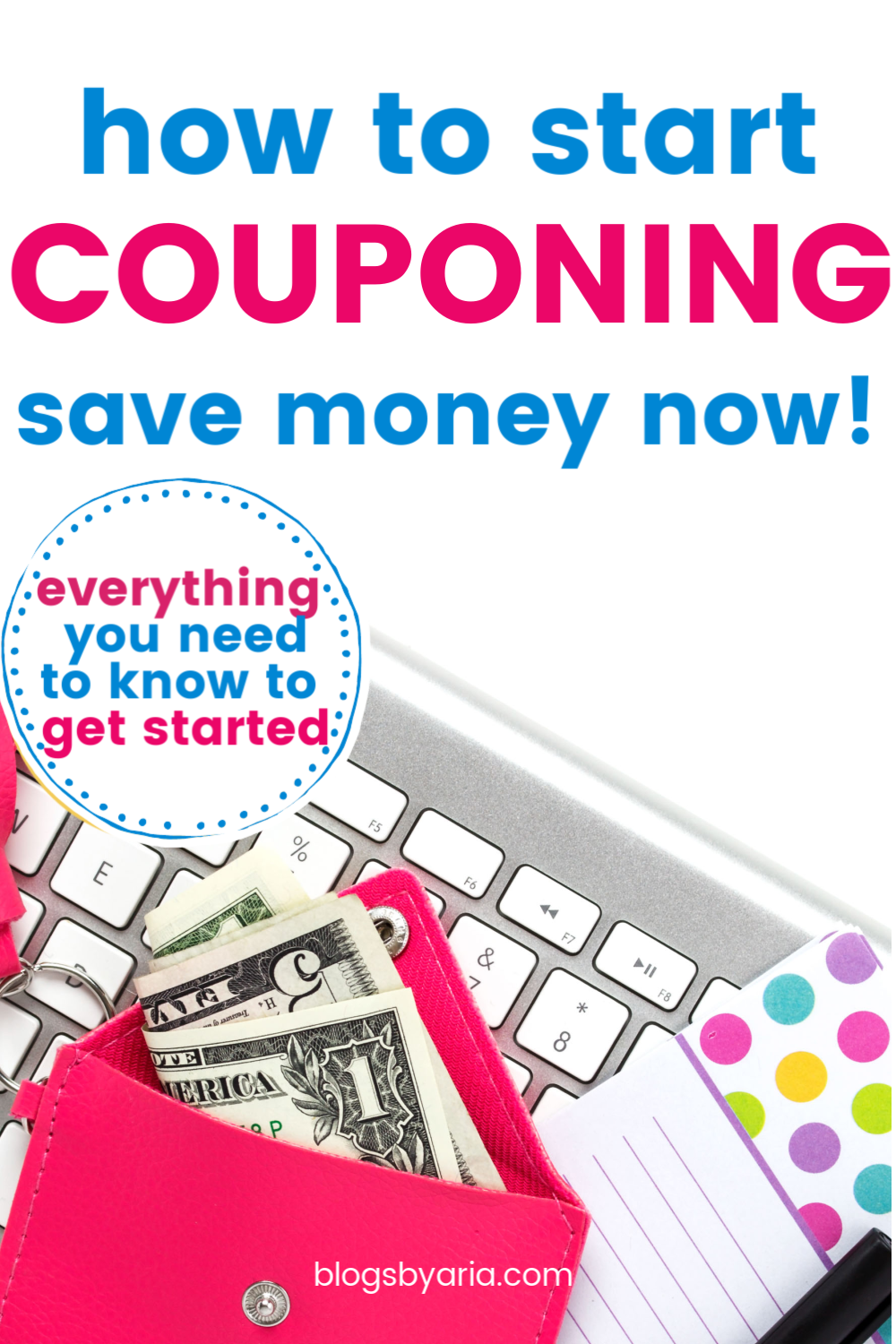 Now that you know where you're going to put your coupons it's time to get them.  These days you can get coupons from so many places.  The primary ways to get coupons are from your Sunday newspapers and printable ones.  If you don't have a printer at home, don't be dismayed, but add it to your must buy list.
Unless you're going to be out every Sunday morning, getting the newspaper delivered is your best bet.  For new subscribers I suggest going to Discounted Newspapers to save a little.  Once you've started getting your subscription then you can check with your local newspaper if they offer multiple paper deliveries.
How many coupons do I get?  That is depending on the size of your household and how much you consume.  I have a family of 4 with younger children.  Right now I only get 1 paper but ideally I would get 3 papers.  If my children were older and really were eating me out of house and home (that will be coming up sooner than later) then I would be getting probably 4 papers.
If you do go out to get your newspapers try to check the paper before you leave the store or kiosk.  People like to steal inserts.  Most dollar stores offer the paper for only $1 which is great because most Sunday papers are upwards from $1.50.
Printing your coupons is the other main source of coupons.  There are plenty of websites to access and many of your favorite brands have coupons for you just by signing up for their newsletter or just by visiting their site.
You can print coupons from:
Sign up at these sites and get access to free coupons to print:
And there's plenty more, so visit your families favorite brands websites and facebook pages for coupons and special offers.
For printing coupons you will have a limit of 2 prints per IP address.  Here's where having multiple coupons comes in handy.  If you're able to print from your job that's even better.  I don't have that opportunity.  The only thing to keep in mind for printing coupons is that ink isn't free.  Find a way that works best for you to keep your ink supply up.  I take advantage of sale prices for my ink cartridges.  I also have an HP which is known for having less expensive ink cartridges.  You don't have to print in color, black and white is fine.  I find that I have less scanning issues when mine are printed in color.
You cannot copy coupons.  That is considered fraud.  Besides it more than likely won't scan, so just save yourself the humiliation at check out.
Now that you have your coupons and know how you're gonna keep them, now you need to know how to spend them.
As with anything, organizing, losing weight, what have you, you gotta start off small otherwise it will overwhelm you and you will quit.  So start small.  Start with one store.  If you shop at Walmart it's perfectly fine to start there.  But to get the most bang for your buck you will want to start with a store that doubles coupons.  In my area that would be Harris Teeter and Lowes Foods.
If your store has a loyalty card and you don't have one, get one asap.  Sign up for their emails and any other special programs they have available such as electronic coupons.
For example, with Harris Teeter they have the VIC card.  You also will want to sign up for their emails to get a weekly ad, plus special evic emails and evic coupons that  you load to your card and come off automatically at checkout.  These can be combined with your regular coupons.
Once you decide what store you will start with then you can get started with couponing.  For your standard grocery store, their weekly sales run from Wednesday – Tuesday.  The Harris Teeter weekly ad email comes out on Tuesday nights.
Every store has a

coupon policy

.  Go to their website or to their customer service desk and get a copy.  Read it.  Study it.  Know it.
Because you're starting out, I suggest starting out on your own.  Take some time to go thru the weekly ad.  What's on sale?  What do you need?  What do you have coupons for?
Start with what is on sale and what do you have a coupon for.  The art of couponing is here:  matching what's on sale with what you have a coupon for.
That is the art of couponing right there.
In most cases the coupons I got today aren't the coupons I will use this week.  More than likely, these items aren't on sale this week.  But two weeks from now they probably will be.  And that's how it works.  The manufacturer's want you to use today's coupons today.  You'll even see the sales ads entice you to do the same, by advertising the price with wording like "using the $1 off coupon in most Sunday's papers."  Yeah, good try.  I'll save that $1 off coupon.  Next week or so, it'll be on sale for $1 off and I'll match that with my $1 coupon and come out better.
Once you have made your own coupon matchup list for yourself based on what you buy for your household, I suggest starting to find some good sources for matchup lists.  That will based on your area.  I live in Eastern North Carolina and I don't have any sources in my local area.  My sources are in my expanded area such as Raleigh and Winston Salem, NC.  But it wouldn't make much sense for me to use a blogger in Virginia or Maryland for example because that's a completely different market.  They get different coupons.  And stores are different and have different policies for different regions.  
Once you have found your sources then you use them to find freebies or the really great deals.  I suggest doing this after you have started making your own lists.  You will find that if you only go after the deals others post, that you'll have a bunch of items you got great deals on but that you don't have bread or rice or deodorant.  We all run into that issue sometimes.
In your first few weeks, your focus is on gathering and organizing your coupons and getting used to making your lists off of what's on sale and what you have coupons for.  You're starting to see that maybe instead of spending $100 a week you're down to $75 – $80 just by shopping the sale ad and matching with coupons.  You could have even a bigger savings than that.  By now, a few weeks in, you'll begin to see items go on sale this week that you got coupons for a few weeks back.  Because of that, this week you'll see your savings going up and the amount you're spending out of pocket go down.
And that my friends, is the answer to the question:  Where do I start?




Do you have more questions about couponing?  Check out these posts:
Couponing 101 – Clipping & Sorting
Couponing 101 – Let's Get Started