I am really excited about all of the gorgeous pinspiration I am about to share in these next few Parade of Homes posts!  If you remember from last year, I enjoy, well love going to our Parade of Homes every year.  I stalk our local Home Builders Association website waiting for the dates to be released every Spring.  Then I get the newspaper to get the Parade of Homes guide.  It's one of the highlights of the year!  Can you tell?  I decided last year that I would share all of the beautiful houses on the blog and I'm excited for this to become a fun tradition!
I took a ton of pictures!! It's nice that I wasn't the only one with their cellphone out taking pictures.  There were so many people this year I was surprised.  I just loved being in these new homes.  Specifically those of the builders that I really admire. With that being said I have to break this up over several posts.  I overall focused on homes in my desired neighborhood.
There were four homes (five if you count the neighboring neighborhood) featured in the Parade of Homes in this neighborhood.  Let's talk about this neighborhood for a moment shall we?  It's a highly desirable neighborhood.  And a lot of the people who live here custom built their homes.  The other half are comprised of builders who build homes here and then sell them.  That's the homes I've seen this year and in the past few years.  There's only a few lots left, but it looks like they're looking to expand this neighborhood which would be a dream come true for me.  It is located next to another highly desired neighborhood and either of the two would be perfect for me.  The buyers who got in this neighborhood early on are the ones who got large lots with room for a pool in their backyard.  None of these homes fit that bill.  Depends on what you want.
Enough talking… let's look at some house eye candy.
Today's post focuses on what I am calling The Vassar House.
This is my preferred style of house, as far as architecture goes.  I love craftsman details but when I look at the outside of the house, this is my style.  I like the brick color.
This house is 4 bedrooms 3.5 bathrooms and it's 3700 square feet.
(some rooms I had to lighten up for you to see the details)
I think I've mentioned before how this is the main setup of the entryway for many of the new homes in this area.  I actually really enjoy this style.  I like how the stairs are there but aren't obtrusive or a huge focal point.
To the right of the entrance is the dining room.
Even with the dark paint color, thanks to the large window, it lets in a lot of light.
In case I forget to mention, all of the doors in this are really tall to accommodate the high ceilings.  I really love all of the trim work throughout the home.
Going through the doorway you access the garage to the right and a storage closet to the left.  This home does not have a butlers pantry.
Coming back to the entry, let's make a left.  The master bedroom is located on the first floor away from the main living areas.    This master is HUGE!  It's a very long bedroom.  It has more than enough space for a king size bed, side tables, a TV and dressers.  It also can fit a seating area comfortably.  My first thought was space for a baby's bassinet or crib along with a rocker and changing table. #dontjudgeme
You can see in the middle picture access to the master bath and his and her master closets.  You can also see the entrance into the master suite.  It's not a full walkway, but it is a small separation area so that you're not just walking into the master suite from the living room and entryway.
Let's talk about the his and her master closets.  If you know me then you know that is definitely my preference.  But these closets aren't that large.  Large enough for sure, but not large enough for me to get a good pic of them.  One of the closets has a built in safe.
Past the closets we find ourselves in the master bathroom.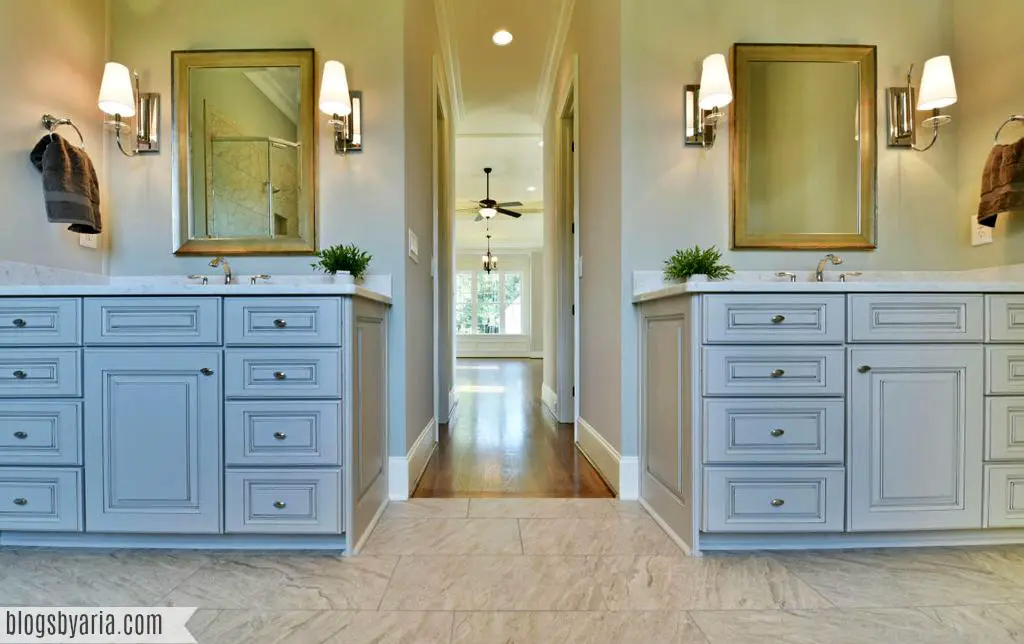 I think the his and her sink invention is one of the best inventions ever!  So much storage space and elbow room.  Don't you just love these light fixtures?
(as my son tries to get into the shower)
speaking of the shower…
rain shower head…
and the kids…
I really like the amount of the niche space.  It's more than enough.
And the bathtub…
So what do you think about the master bed and bathroom?
Moving on from the master suite, let's see the heart of the home.
The living room opens to the eat-in kitchen and morning room.  This is what I want for my family.  Love the casings over all of these gorgeous windows.
A close up of this beauty of a fireplace.
OK so I took a crapload of pics of this kitchen! Did I suggest a snack?  If not, I do now! : )
From the living room you see the eat-in kitchen (that's not technically pictured here) and the morning room.  Call it what you want.  To me it's the family room.  From this view you also see into the laundry room.
From this angle you can see on the right, the powder bathroom.  Next to the laundry room on the left, behind the beam is the pantry.
It's so hard to get a good picture of a pantry or closet when it's not large enough to really get into and spread your wings.
This kitchen gives me almost everything I need.  I'm particular about a couple of things…I like a double oven.  I like a stove/oven attached.  But as with many things in the realm of a house… compromise is key.  I love how much room there is for people to eat in this space.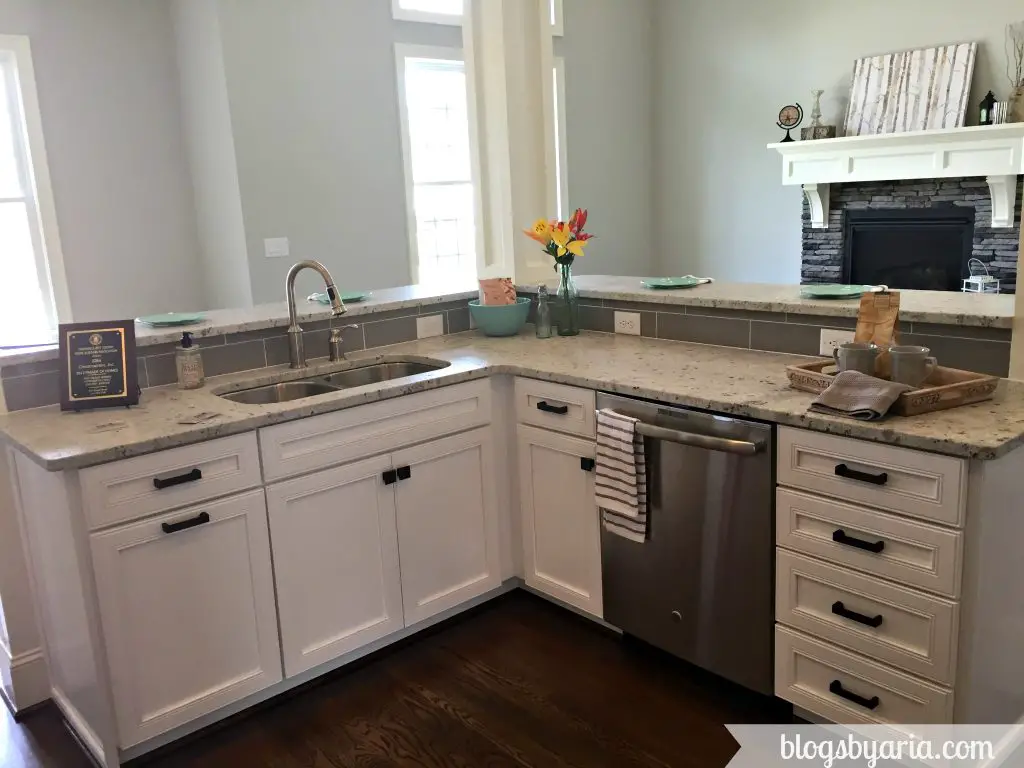 A great availability of counter space.
I kind of like the squared off hardware.
What are your thoughts about this kitchen?
Where I'm standing to take this picture, is where the kitchen nook is.  Large enough for a standard size table.
This door accesses the screened in porch that then has a door to the outside patio.  I'm a sucker for a screened porch.  It's another living space that we in North Carolina can use about 70% of the year if not more.
In this picture you can see the majority of the family room.  It may not look like it in the pictures, but it's large enough for a sectional sofa and probably another chair and coffee table.
The day we saw this house first, it was 90 degrees.  So in every house the fans were running full speed along with the air conditioning.  But I still wanted to take this picture to show this gorgeous ceiling.  Love it!
And this window! (enhanced pic to show details…when you take a picture without a DSLR and you're facing a window letting in a lot of light, it makes the picture dark)
I love the stone fireplace and feel like one would have the best of both worlds with the two fireplaces in this home.
In the next house I will show you an amazing closet.  All of the bedrooms have a large or walk-in closet.  There's 3 bedrooms on the second floor in this home.  This very large one with it's own en suite.  Two smaller bedrooms with a jack and jill bathroom.
This bedroom is great if you had two kids who slept in it.  I just love this window.
Last room I'm going to share from this home is the bonus room.  This house and one that I'm sharing soon are built by the same builder.  And the bonus rooms are almost a mirror image of each other.  Both have these built-ins.  The space is large, great if you want to use it as a theater room or a game room.
This is the entry into the bonus room.  I think it adds character by keeping these stairs the same wood as the other stairs in the house.  A nice touch.
My Final Thoughts
If I had to choose from any of the houses I've seen this year for parade of homes, I would choose this house.  But there are a few cons.
there's no true mudroom.
there's no butlers pantry, not a deal breaker but  I want one.
one of the bedroom closets upstairs is really tight.  I don't see how one could even put full size hangers in there.
there's no dedicated office.  I want an office and if I were to come into this house I would use the bedroom with the inadequately sized closet.
the countertops would need to be replaced.
I completely spaced on talking about these countertops.  They're the same in the other house built by same builder.  They're granite.  But according to the builder they have a leather treatment.  So they're not smooth and they have a dull finish.  The color of the granite is fine but that to me is something that is a personal preference and I prefer to have a smooth and shiny countertop.
With all of that said… what do you think of the house?  I'd love to hear your thoughts in the comments.  And if you made it to the end of this post…you're the real MVP! 🙂