Thank you so much everyone for all of your well wishes and encouragement after my most recent post.  I've gotten comments, emails, Facebook messages and I really appreciate it all!  It's one of the things I love most about blogging , sharing my life experiences and having a sense of community 🙂
Today I'm happy to share a traditional house tour from my Parade of Homes series.  It's the Cameron Park House Tour.  This home boasts four bedrooms and four and a half bathrooms at 3,403 square feet.
When it comes to house styles, I love traditional with craftsman touches and the teeniest amount of farmhouse vibes.  The houses I enjoy sharing the most from Parade of Homes fit that style.  And this house is no exception!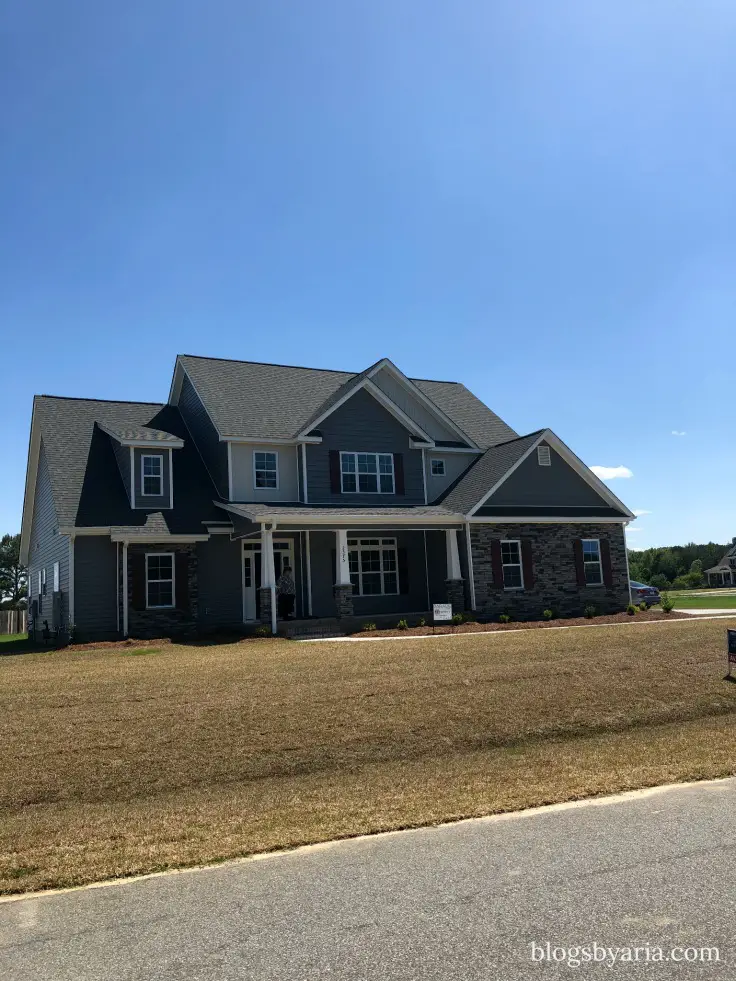 One of the biggest draws to this house is the neighborhood.  If you're someone who wants neighbors but not right next to you, this is for you.  This neighborhood is on the outskirts of town and I know a lot of people like that.
I really am drawn to the exterior colors of this home…the blues, the grays and the brick facade.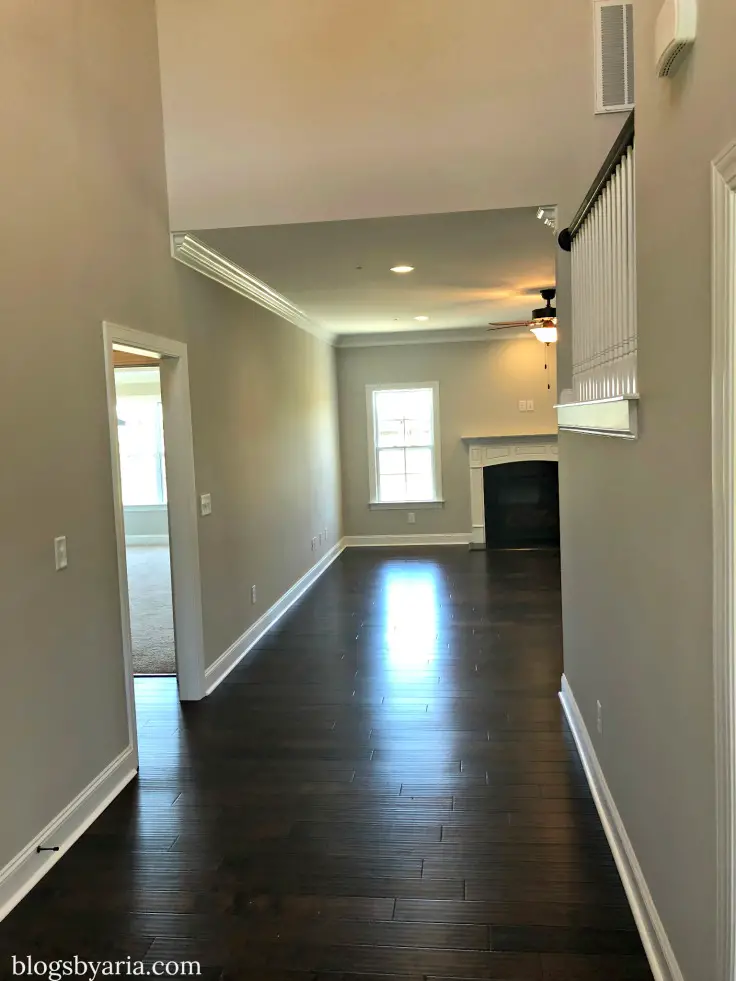 When you come through the entry you enter this amazing two-story foyer and from there you have the dining room to the right and the master is off to the left.  Straight ahead is the great room that features a gas fireplace.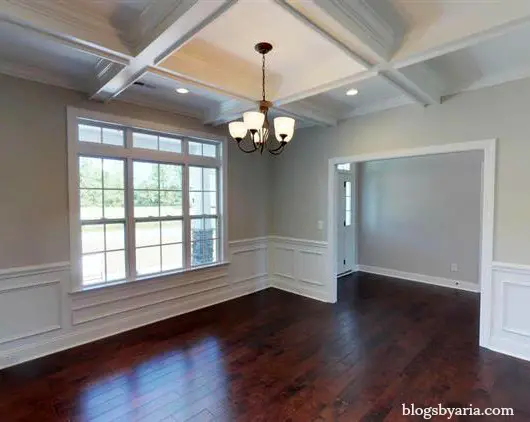 The trimwork in this dining room is absolutely stunning!  The coffered ceiling, with it's additional trim adds a beautiful wow factor.
From the dining room you can access the kitchen.  And you'll see that instead of the stairs being in the entry, they're off of the dining room/kitchen.
This kitchen is beautiful!  It has this huge island which is perfect for spreading out.  I'm not sure if it's great for cleaning, since it's so large, but I'm sure I could work my way around it 😉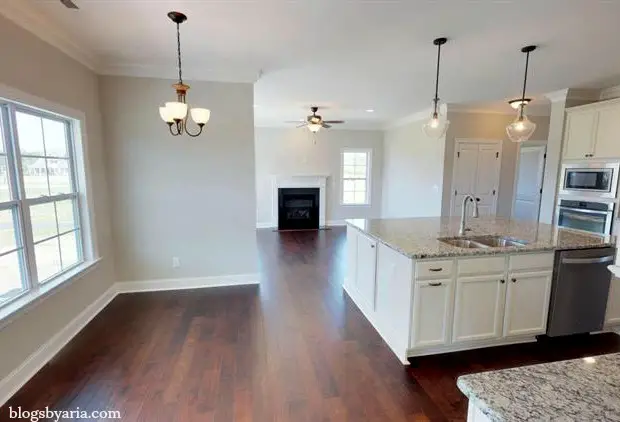 In addition to the oversized island, there's this nice size breakfast nook.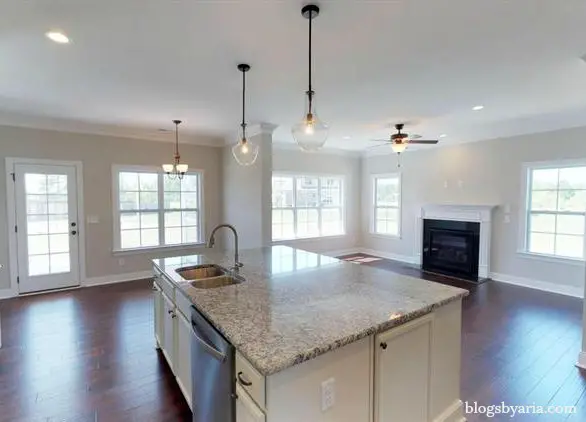 This open floor plan also allows you to flow from the kitchen to the keeping room.  This is my absolute preference because I like having two living spaces on the main floor for us to spread out.  I'd have the great room be more casual and the keeping room a little more formal, or vice versa.  And I love all of the light from these nice and large windows.  There's an additional gas fireplace and to me, this whole first floor is perfect for entertaining.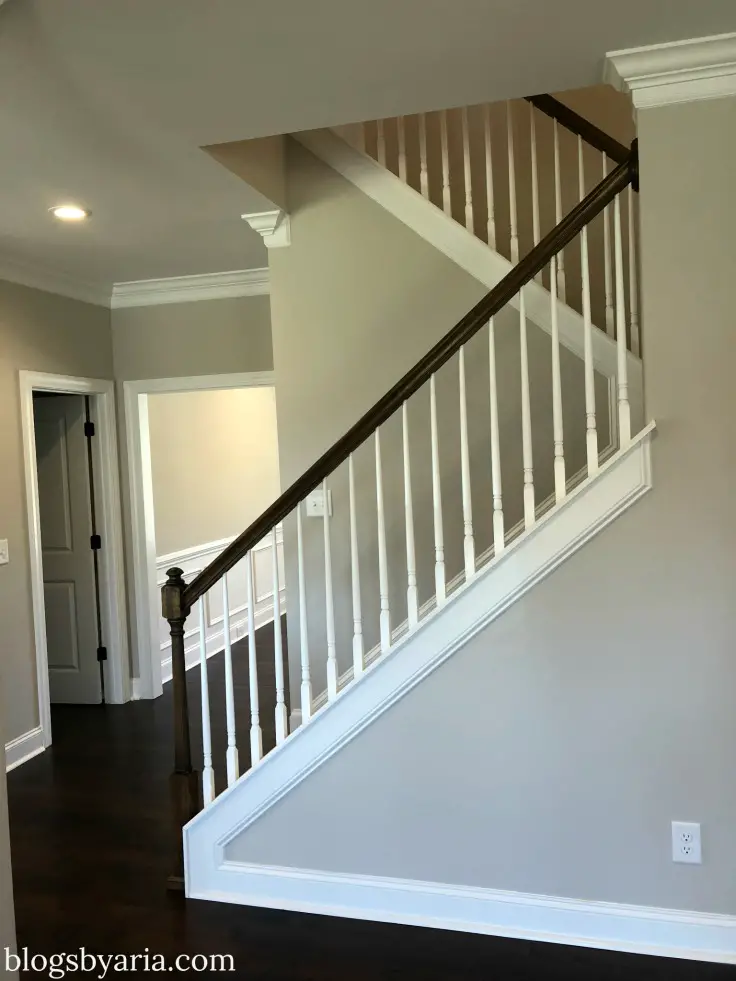 Can't you just see Christmas garland hanging from the banisters?  I prefer these stair rails over the wrought iron look.  What about you?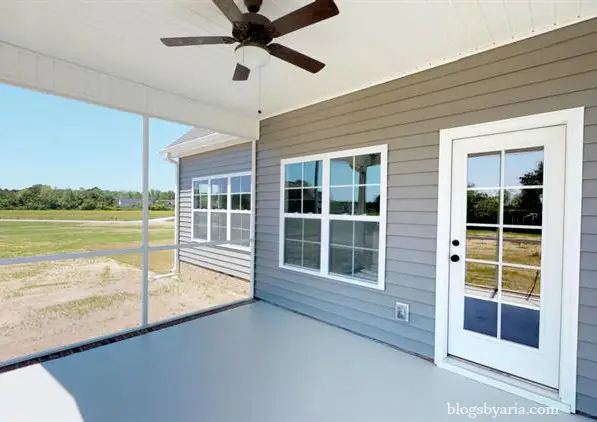 Another thing I love is a sun room.  Or a screened in porch, depending on where you're from.
Before we head upstairs, let's look at the master bathroom.  I didn't get pictures of the master suite, there's not much to see when it's not furnished, but it does have a very pretty trey ceiling and an oversized walk-in closet.
I so want to take a relaxing bath in this huge soaking tub.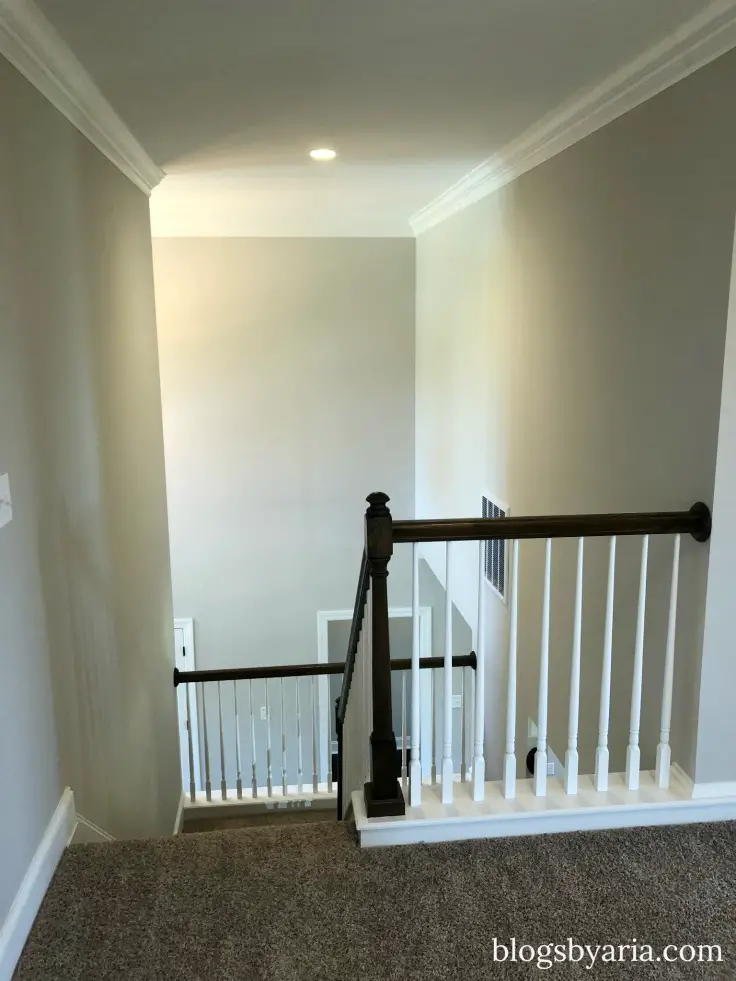 Heading upstairs, which is carpeted, the only thing I want to share from here is the loft space…
This is perfect for the kids to use a computer/study zone.  It also works great for a home office space, if you don't require a truly enclosed room to use as a home office.
It's my favorite space in this house!
Also upstairs are the remaining bedrooms and bathrooms with a huge bonus room and walk-in attic storage.  This house really is a gem.  Perfect traditional house for a family of four or more and allows for great entertaining and a nice amount of space for everyone.
What are your thoughts on this house?  You already know I am a fan 🙂  I only have a few more homes to share in this year's Parade of Homes Series.  I guess depending on what's available in our new city, determines if I'll be able to continue this tradition or not.  We shall see.  In the meantime, I have more packing and purging to do. I wish I could just pay someone to do it for me haha!  Have a great rest of your week and weekend! Until next time friends 🙂