I love all things home design, home decor, home building… etc.  I used to want to be a realtor.  Then I changed my mind.  It's just not my cup of tea.  Eventually when we do move, and build, and decorate, and organize, and all of that good stuff, I'll be sharing that on the blog.  That's the goal.  Until then, I'll share pictures that I am able to take when I'm at an open house or Parade of Homes.
I get alerts on my phone of upcoming open houses in the area.  It was a beautiful spring day in February when I attended this open house.  Yes I did say February, I blame the beautiful weather we had then for all the cold we've had lately.  Anyway, I'm sure that if I had a DSLR I could have taken pictures in this house.  That's how laid back the realtor was and I appreciate that.  Many people go to open houses just because they like to, I'm not the only one.  And there's nothing worse than an overbearing realtor who wants to follow you around at an open house.
I didn't get a picture of every room but I got enough to share today.  I call this the Dunhagan house.  It is four bedrooms with three full bathrooms.  New construction in a highly sought after neighborhood and around 3200 square feet.  Nice size house depending on what your needs are.  To be honest, it's not big enough for what I want.  But to each their own.  I know plenty of people who this house would be perfect for, or even they would think it's too big for them.  Yes I only have two kids, and yes I do want more and yes my clock is ticking.  Yes that's probably too much information for this post!
Looking at the outside of the house it's my style of architecture but the brick is a bit light for my taste.  I took a quick shot from my car and I feel that you can't see the full detail of the brick with this picture.  Side load two car garage is my preference so that aspect is perfect.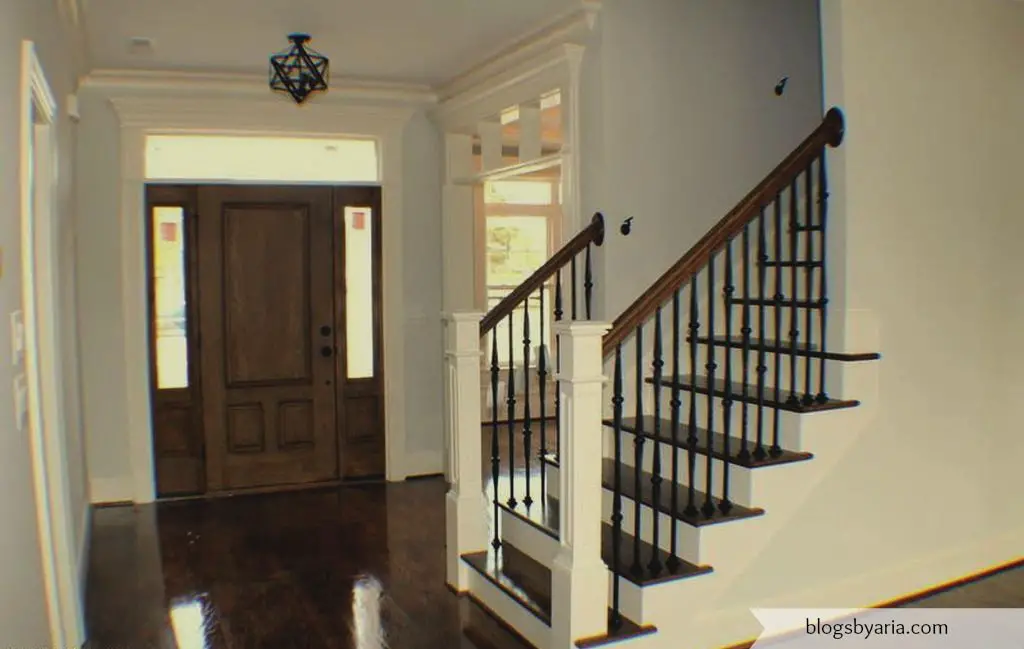 This entryway is pretty standard for new construction homes in this area.  It is my preferred entryway.  I'm okay with there being two living areas on either side of the entry or as pictured here.  And these are the kind of stairs that I love!  One thing about these stairs that I kicked myself for not getting the picture of…well I did think I got the picture until I looked at the pics after I was back in the car and saw that I didn't get the picture.  The builder had installed tiny lights in the stairway area that lit up at night so you can see up and down the stairs without turning on the lights.  Loved that touch for sure!  This is a master bedroom downstairs floor plan so I just felt that was a really thoughtful idea!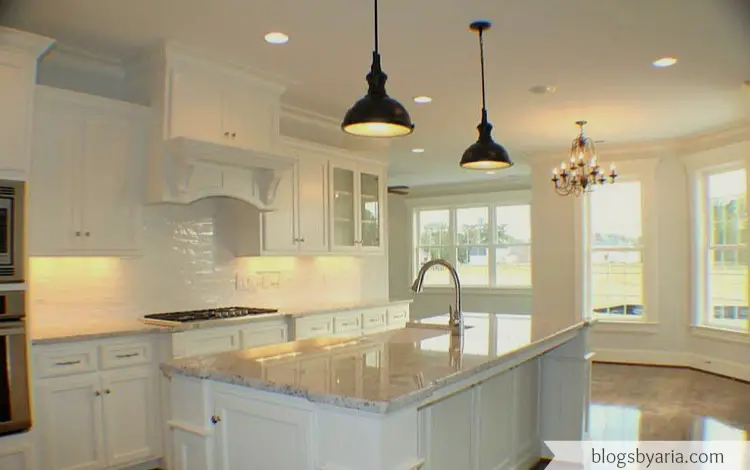 Let's talk about this kitchen!!  Almost a perfect kitchen for me!! The first thing my eyes were draw to was this awesome range hood!  I hate when they're separated from the rest of the cabinetry.  Or if they're metal.  I like it to look built in like this and it's just gorgeous!  I love the white cabinetry and the granite countertops.  My happy place!!! : )
The only thing that I would change in this kitchen is the range.  I love a stove/range combination.  And then have an extra wall oven and microwave.  But this kitchen would be worth the compromise!
You can see that nice breakfast nook from this view and a really wonderful bonus…a morning room!  Family room, living room, library whatever you want to call it.  I love it!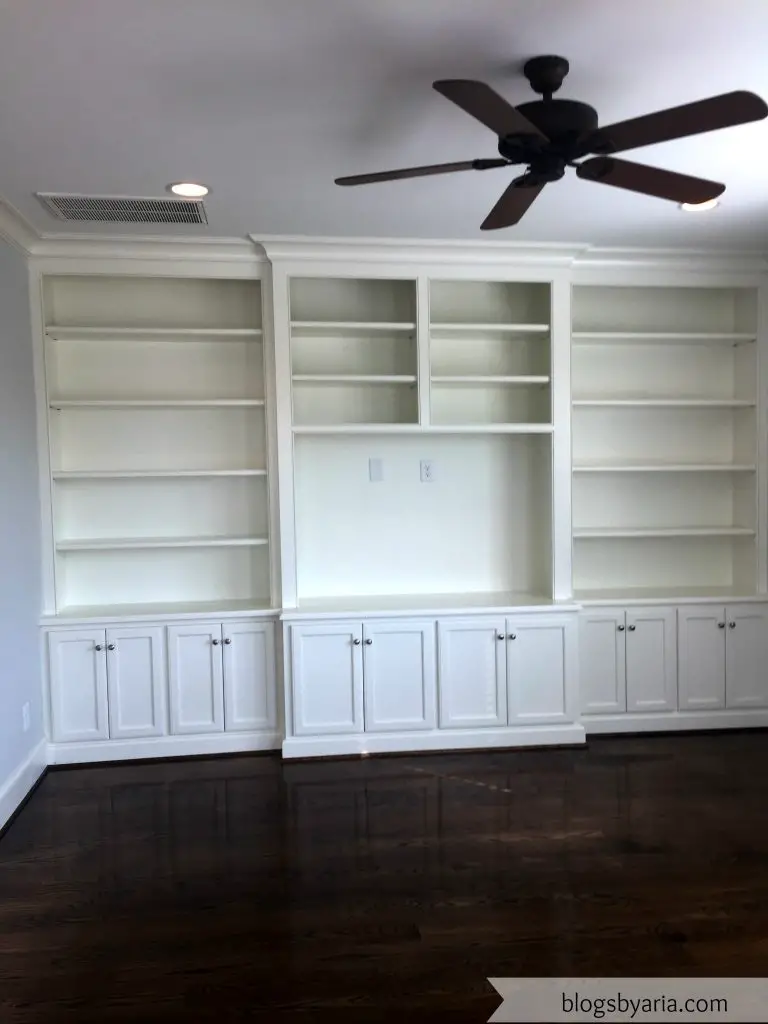 These built-ins are amazing!  You can really tell this is new construction because these built in shelves are not dated at all.  I love the cutout for the tv that allows for two living spaces.  I love the idea of having two living rooms.  I'm not a formal person at all but I really want two living spaces for my family.  Mainly because we all want to be able to watch tv but I don't want televisions in the kids rooms.  So that's how I deal with it!
Also on the main floor, right off the garage, I was able to get a picture of the laundry room looking out into the hallway.  The laundry room is definitely large enough so that you don't feel cramped, which I like.  It has a hanging rod over the sink and has a great amount of storage.  And looking out into the hallway I love the hardwoods and the style of the doors.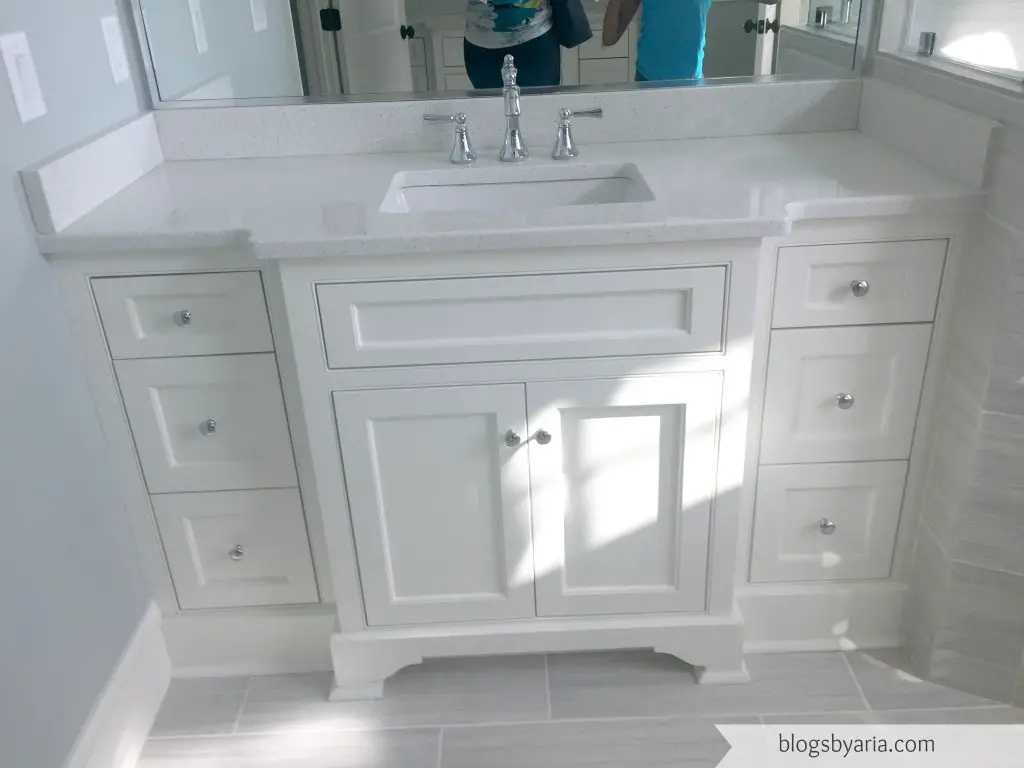 Next I got pictures of the master bathroom.  I'm all for his and hers vanities and walk-in closets.  The craftsmanship of the vanities and the countertops and the faucets… I mean all just superb.  I wish I had this bathroom right now!
This walk-in shower is giving me all the feels! I just love how big it is!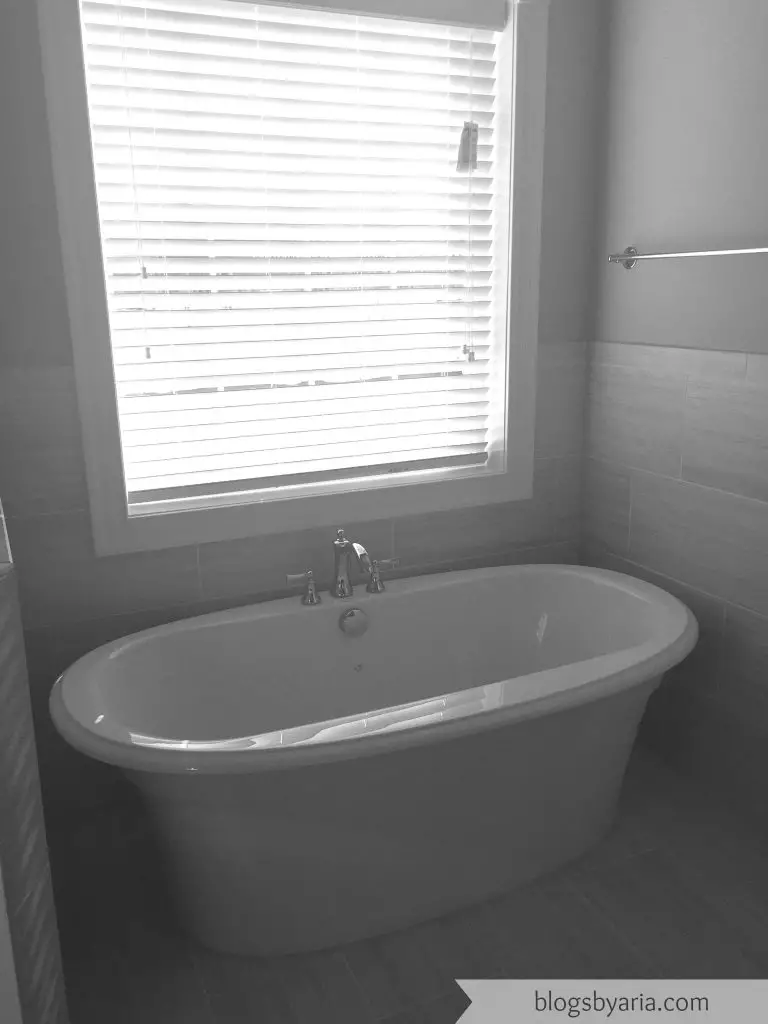 And this freestanding tub is deep and looks so relaxing.  Freestanding bathtubs aren't my preference but I can imagine how great it would be to take a nice hot relaxing bath in it.
Those are all the pictures I was able to get of this home.  I'm excited to share more homes as we get into the spring months with the Parade of Homes and other open houses that will come available.  And I hope that you like these kind of posts because that's where my blog will be headed in the future.  Not fully, I could never blog about just one thing, but it's something that I'm excited to share when I have it to share you know?