Today I am excited to share our cozy traditional Christmas tree!  If you follow me on Instagram Stories you've seen everything that went into decorating our Christmas tree this year.
You also know that this is our last year with this tree.  She's definitely stood the test of time.  We've had this tree since 2012!  Poor thing is leaning to the side, has a few broken branches and a lot of the lights no longer work.  For years I've wanted to upgrade our tree but this time it's necessary.
But we can talk about our new Christmas tree next year, for now let's see how we decorated our cozy traditional Christmas tree.
*this post includes affiliate links for your shopping convenience, you can read more about affiliate links by reading my Disclosure*
For starters I got new garland this year from Crate & Barrel.  I purchased three sets of their cozy knit garland after eyeing it for years and honestly I should have bought at least one more set.  Even though I don't have as much as I'd like I definitely am loving the cozy vibe it gives our Christmas tree.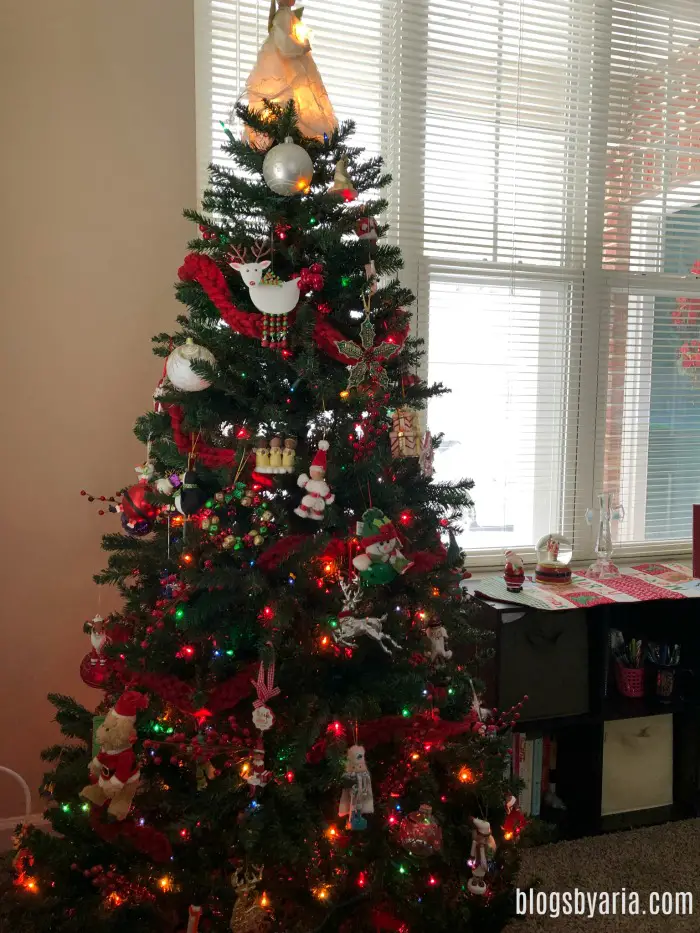 In previous years I've used ribbon  but I just wasn't feeling it this year.  Garland takes a lot less work 😉
Speaking of things that will change moving forward, I want a new tree topper.  I like our angel but with a bigger tree we'll need a bigger tree topper.  Maybe a star, or my Santa hat or a larger angel.
Each year we add a new ornament or two to our Christmas Tree
I'll oftentimes get a new ornament from the Hallmark Keepsake Collection.  This year I decided to go back to my favorite Pier 1.  I got this glass angel.  I used to get Pier 1 ornaments all of the time, then when the kids were younger I stopped, and a few years back a couple of them were broken.  But now I can return to Pier 1 with confidence that sticky fingers won't touch my fragile ornaments.
I still put them towards the top of the tree though, just to be safe.
The ornaments were buy one get one half off at Pier 1 so I got this pretty star ornament too.
This is my first year using tree picks.  There's so many styles to choose from.  I kept it simple by using these red berry picks.  Some are solid, some are deeper in color and some are glittered.  I got them from Hobby Lobby and Michael's.  On sale of course!
Of course it wouldn't be our cozy traditional Christmas tree without our kids ornaments.  Some are purchased and some are made with love.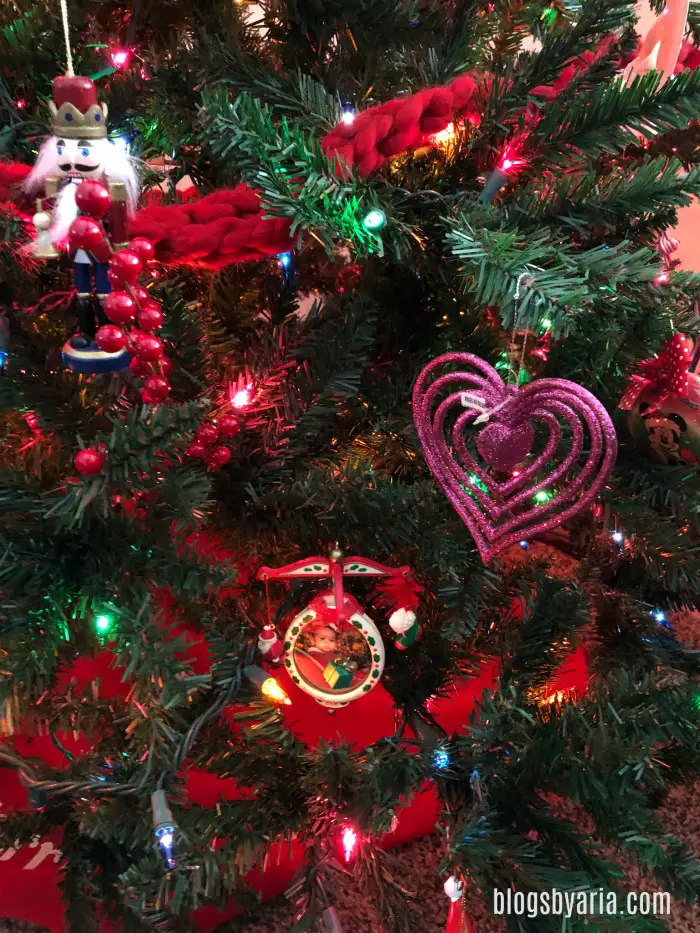 Some we've had since they were babies.  And some don't go with our color scheme but since Brianna bought the magenta heart a few years ago on a field trip, it goes on the tree, no question!
Our cozy traditional Christmas tree is filled with memories.  We have ornaments handed down from my mom, ornaments that have different meanings, and ornaments that mark different times in our lives.
Typically we decorate the tree together, just me and the kids.  But this year DH wanted to make my day by fully participating in the process.  All I did was hand out the ornaments.  I did move a few around but for the most part, I left everything where they put it.  I can officially say we have too many ornaments for this tree!  This isn't even all of them!
The day will come when we will have several Christmas trees up throughout the house with different themes.  But we'll always have our cozy traditional Christmas tree.  It's the one that means everything to us 🙂  It must have multi-color lights, because I've loved them since I was a kid.  And it must have all of these ornaments.  It's the highlight of the holiday season for me 🙂