Something I've had to learn over the years is that I can't wait for the right time to decorate my home.  I spent so many years in our old house not decorating.  So much so that when I started decorating in our townhome my husband was like "who is this woman?" haha!  Last year I made great progress with our home decor.  We got our new sofas, our new coffee table and more.  This year I have a few more items to add to the list.  Today I'm spilling the beans on our home decor plans and goals.
*this post includes affiliate links for your shopping convenience, you can read more about affiliate links by reading my Disclosure*
ENTRYWAY TABLE
The first area to tackle on the home decor to do list is to finally get an entryway table.  Shortly after we moved in I shared some of the ideas I've had for our entryway.  Unfortunately, I still have to get a handle on this space.
So the very first thing on my to buy list is an entryway table.  I've hemmed and hawed over it for months and I have it narrowed down to two options.  And yes, to only be two options is narrowed down in my book 😉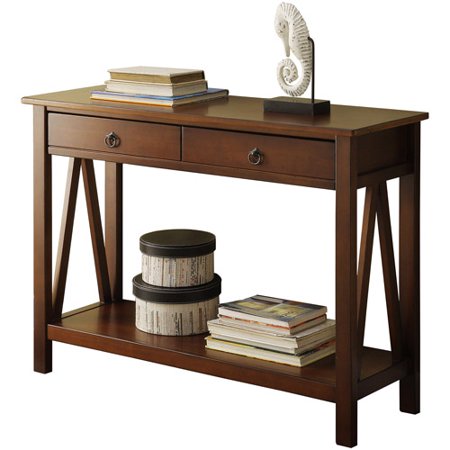 One of the contenders is this Linon Titian console table from Walmart.  It has great reviews and I like the simple style.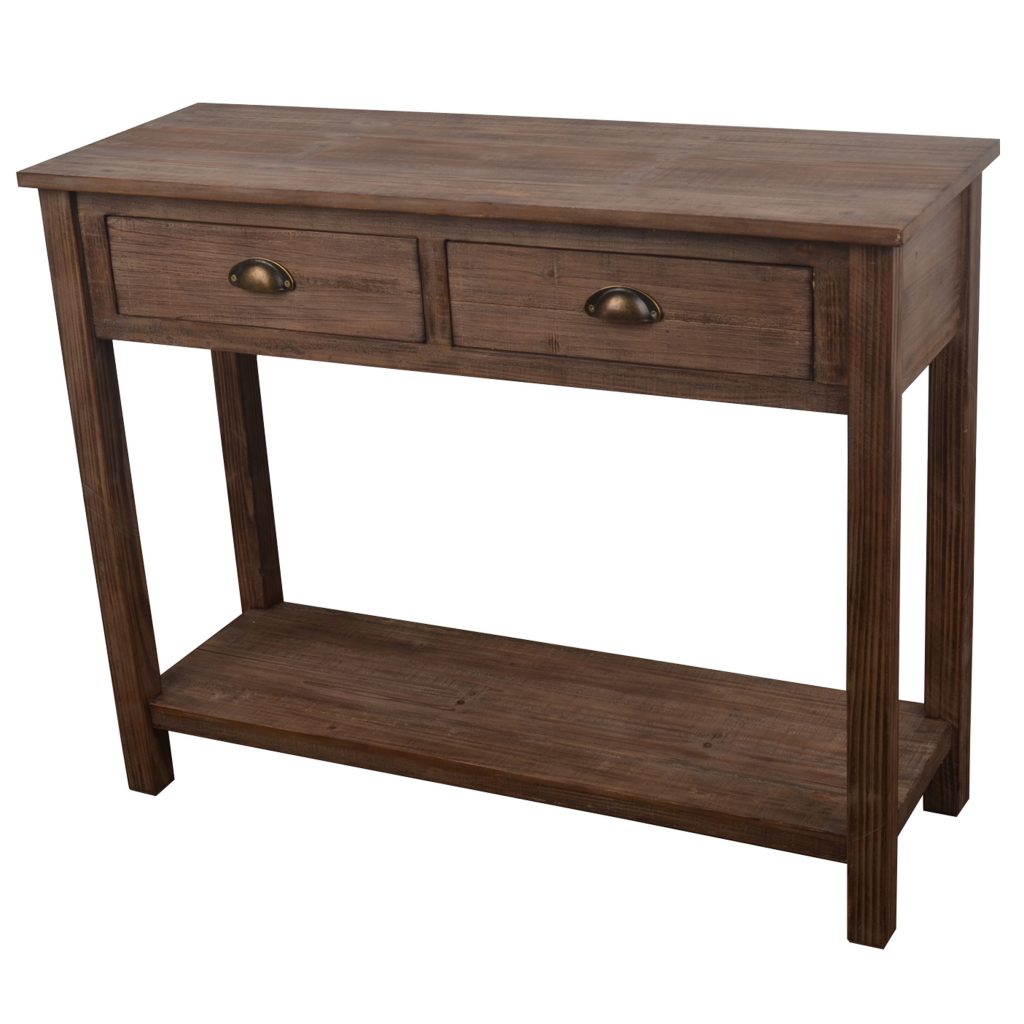 The top contender, also from Walmart, is this vintage distressed wood console table.  It doesn't have many reviews but I like the look of it more.
Both options would work great as an entryway table in our current home, or our next home or perhaps as a console table in our next home.  That's something I'm very mindful of…buying items that will work for us not only now but also in the future.
NEW ENTERTAINMENT CENTER
Next up on the list of home decor plans this year is a new entertainment center.  Our TV space has changed a bit since I shared our DVD organization.  For one we don't have a DVD player anymore.  I got tired of never having access to my TV and listening to my son yelling at Fortnite and other games on his Xbox.  So he now has the Xbox upstairs in his room.
We do want to get another one, since it was originally my husband's.  But at the very least, we need to get a new DVD player since we used the Xbox to watch them before.
In addition to a new Xbox my husband wants a larger TV.  If we're going to get a bigger TV I definitely would love to have a smart TV with Netflix and all that good stuff built in.  Which got me to thinking…if we get a bigger TV we have to get a bigger TV stand.
The stand we currently use is maxed out with the size TV we have.  When I look at our TV now all I see is cords and it drives me crazy.
One day I was watching a home decorating video on YouTube and the girl had a really cute entertainment center in her bedroom.  She said she got it from Amazon.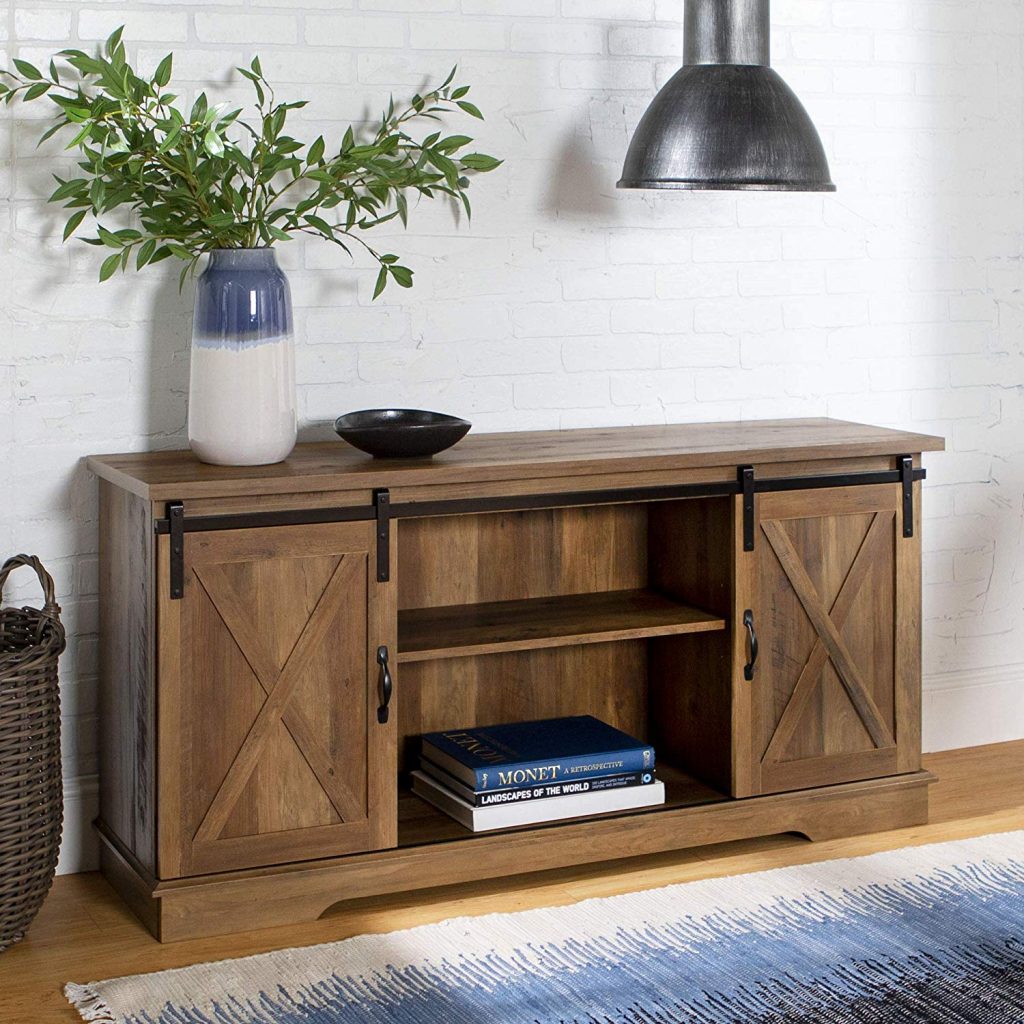 After some research of my own, I found a great option.  This sliding barn door TV stand is similar to the one I saw on YouTube but in a finish that will work for us.  And it's cheaper than the one I saw in Walmart that I also liked.  So this is second on our list.
DECORATIVE STORAGE
In the corner of our living room between our couches, where our Christmas tree was, I was thinking of adding a decorative storage piece.  Pretty soon we'll be getting our new lamp that I shared in this post and I think this accent storage table is the right piece to complete this space.
It's funny because I've had my eye on this piece for a few months and never thought of putting it in this spot.  I like that it is a spot to add more decor and also to store things away.  When we move it can be used in a different space and in a different way.
NEW BEDDING
Lastly, we want to get new bedding for all of us.  I've shared before what I would like to get my daughter for her bedroom, but other than that, I think we'd have to go out shopping to find what the rest of us would like.  At least for DH and me, we'll probably end up getting our new bedding from TJ Maxx or Ross.  Maybe Target or Kohl's when they have a good sale.
When looking for bedding for us I'm looking for something that's not overly feminine.  We're well overdue for a new comforter set.  I really like something very simple, like this Embroidered Hotel Bedding set from Kohl's.  It's a budget friendly and comforter version of this duvet set I love from Pottery Barn.
Jordan never got to get a great bedding set.  Do you ever find that when you're looking for something specific you can't find something great so you just settle for what you can find?  Well that's what it was like when we were shopping around for his bedding a couple of years ago.
Whatever we end up getting, I'll be sure to share with you 🙂
Because we're renting I'm very much aware that our home decor plans can't be centered around just this house.  That's why I've decided to not get curtains here.  But I will get them in our next place…hopefully.  We plan to move this year at the end of our lease so I have to keep that in mind.
Which is why the home decor plans I have made include items that are versatile and can function here and in our next home.  What about you?  Do you have any home decor plans you're working on this year?  Let me know!