I don't know about you but I am itching to decorate for fall!  I'm trying to pace myself though.  Keyword is trying!  I'm excited to show you my pumpkin tiered tray today!
Last year we were still getting settled in around this time.  As much as I was excited to finally be able to decorate for fall, I didn't have the time, energy or money to really get into it.  This year is different and I've been chomping at the bit to start adding fall touches throughout our home!
*this post includes affiliate links for your shopping convenience, you can read more about affiliate links by reading my Disclosure*
FINDING THE PERFECT TIERED TRAY
A simple way to add decor to a space is with a tiered tray.  Now I like a few farmhouse touches in my decorating but I wouldn't say my style is farmhouse. To be honest, I'm still trying to figure out my design style.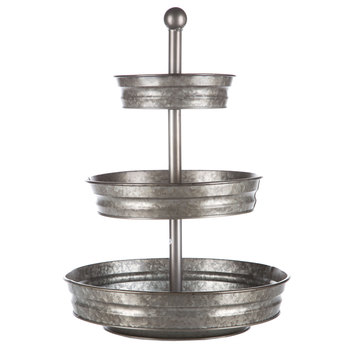 I thought that I'd get a galvanized metal tier tray but when I saw it in person I knew it wasn't me.  Instead I chose my black tiered tray from Hobby Lobby.
Unfortunately the three tiered tray was too big for the space.  So I exchanged it for the two tiered tray and I love it!
I will say that there's a couple of other tier tray options that I still have my eye on…like this metal option that I like better than the previous one and this two-tiered wood tray.  The jury is still out on that.
You'll see that I shop a lot at Hobby Lobby for home decor.  Most of what I ended up using in my pumpkin tiered tray is from Hobby Lobby.
GIVE ME ALL THE PUMPKINS!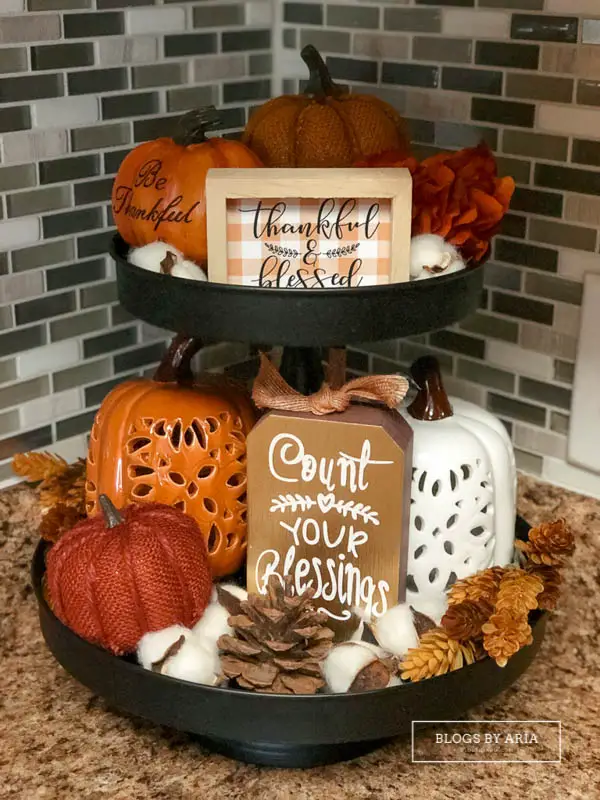 burlap pumpkins | large cutout pumpkins | count your blessings | thankful & blessed sign | thankful pumpkin
I knew that with the majority of my fall decor this year I wanted to stick to more neutrals.  But not with my fall pumpkin tiered tray 🙂  Give me all the pumpkins is how I see it!  And in all of the beautiful harvest colors!
The traditional autumn colors work well in my kitchen since we have brown cabinets and brown granite.  If we had a white kitchen I'd do more neutrals in the kitchen…
maybe next year
.  You can see how I styled my
three tiered tray
in our new home.
SWITCH THINGS UP
The fun thing about decorating a tiered tray is that you can always switch things up.  I've added and taken away from the tray so many times I've lost count.  And that's okay.  That's part of the fun in decorating with a tiered tray.
This is what my pumpkin tiered tray looked like before I added a couple of more items.  And I may swap out one pumpkin for another here and there throughout the season.
The pinecone is from this green velvet and pinecones set that I am using somewhere else in my home, I decided to pluck one and add to the pumpkin tiered tray.  The faux leaves, hydrangea and cotton are also all from Hobby Lobby but you can also get them from the dollar store or any craft store.
DECORATE THE WHOLE TRAY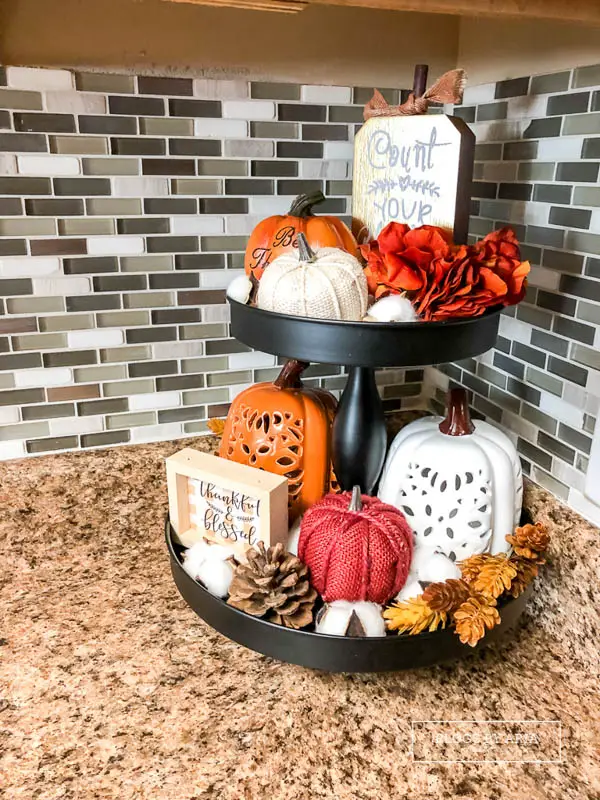 My tiered tray is in this corner in my kitchen.  But if I were to use this tray or another tiered tray somewhere else in my home I would decorate all the way around it.  I've seen great ideas of using a tiered tray as centerpiece on a dining room table or on a console table or on a kitchen island.  All awesome ideas and they would all require you to decorate the whole tray.
Every time I walk into my kitchen I see my fall pumpkin tiered tray and it makes me smile 🙂 (And it helps me ensure I keep my counters cleaned so it's a win-win)  I have so many fun fall decor posts coming up that I'm excited to share with you!  If you're not already in the mood for fall, hopefully I'll nudge you into it 😉
You can see how I decorated my three tiered tray for fall here!  If you already have Christmas on the brain, check out my Christmas tiered tray too.