Cape Cod Manor is a coastal Maine style home in the heart of Raleigh, North Carolina.  Get ready to be inspired with this unique Parade of Homes tour!
I can't believe I still have house tours to share from last year's Triangle Parade of Homes!  I really need to get on the ball and share all of the home tour goodness!  Especially since I have already attended this year's Parade of Homes.
Today I'm sharing Cape Cod Manor.
This gorgeous home is in the same neighborhood as the Nantucket house.  The houses in this neighborhood aren't all themed to be what you'd expect to find on the coast of Maine or the Hamptons, but these two homes are.
PARADE OF HOMES | CAPE CODE MANOR
Cape Cod Manor has 4 bedrooms, 4.5 bathrooms and is 4,268 square feet.  Get ready to be inspired!
The neighborhood is small but Cape Cod Manor is situated on almost an acre and a half lot, which is a rare gem to find in the heart of Raleigh.
Also rare is finding a flat lot here in the Triangle.  This house sits atop it's own little hill.
FOYER
Walking into this entryway, it's very different than what I'm used to seeing.  I don't know what one would really use this space for because there is a mudroom off of the garage.  If not for function then perhaps a great space to decorate.
This foyer walkway leads to a guest bedroom which is great to have on the first floor.
Take notice of the beautiful craftsmanship throughout this gorgeous Nantucket inspired house tour.  The window and door casings, the stair banister trim, the hefty baseboards and crown molding, all are top notch.
CAPE COD LIVING ROOM
The living room features floating shelves with uplighting and a floating mantle. I've noticed more and more floating shelves instead of built in shelving to provide a more modern aesthetic.  It creates visual interest, that's for sure.
Phantom doors open fully to access the screen porch and patio.
Outdoor living area with a fireplace and automatic screen allows you to enjoy the outdoors most of the year here in our overall mild climate.
CUSTOM CAPE COD KITCHEN
The gourmet kitchen features a custom handmade range hood and top of the line Wolf and Subzero appliances.
The contrast between the darker stained range hood and the white cabinetry is unique along the backsplash.
BUTLER'S PANTRY
The butler's pantry has the same stain as the living room built-ins and kitchen island.
I love the ceiling trim detail that sets the perfect stage for this stunning light fixture in the dining room.
LAUNDRY ROOM
Although I like to tour Parade of Homes with as few visitors in the home so I can get great pictures, I do like to hear what people's thoughts are.  A lot of people, from when I'm touring, don't like the idea of having a large laundry space.
What are your thoughts on large laundry room?  I like it because I think of all of the storage capabilities and I only have a family of four.  If your family is larger, even more possibilities right?
Look at the crown molding and cabinetry in this laundry room.  I love that even in this space, the attention to detail was not spared.
MUDROOM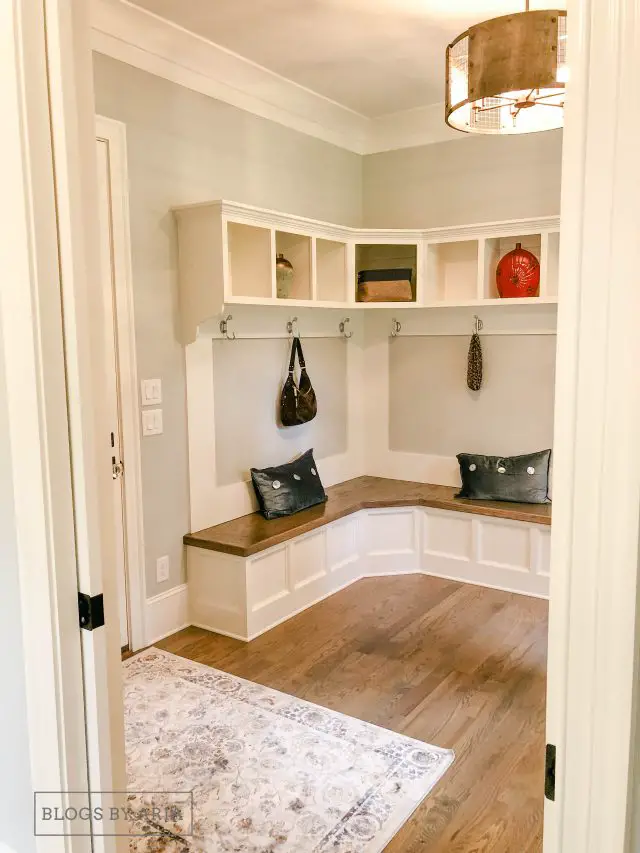 The mudroom in Cap Cod Manor serves a dual purpose.  It's both a mudroom and workstation.  The mudroom is very spacious and that's something I can appreciate.
A built in workstation is great if you don't require a full home office and just need a space to do bills and keep up with the happenings of the family.
This mudroom is conveniently located off of the laundry room and kitchen.
MASTER BATHROOM
The standard rooms in this cape cod house aren't that extravagant.  The wow factor is in this master bathroom and walk in closet.  Just look  at this stunning bathroom!
The chandelier is absolutely breathtaking!
The detail in the window and feature wall are those extra touches that compliment the master bathroom.
For a standalone bathtub, this is one that I like.  I like the rectangular shape with the thicker ledge and look how deep it is!  Can't you just imagine taking a long soak after a long day at work?
WALK IN CLOSET GOALS
The walk in closet isn't overly large but I love the wood tone used.
Look at all of the shoe storage!!
UPSTAIRS GALLERY
I love getting design ideas and inspiration with each house that I tour during Parade of Homes.  Like this shiplap feature wall in the stairway, perfect to display a gorgeous piece of art.
Speaking of displaying art, the upstairs gallery built-ins are great for showcasing family photos, books and decorative accents.
GAME ROOM
The game room features the same stain on the wet bar to tie in with the living room and kitchen island.
CRAFT & BONUS ROOM
Of course I want this in my future home, my own built in gift wrapping station.  It's a good way to use the angled ceiling too.
UNIQUE GUEST BATHROOMS
Upstairs aside from the game room and craft room there are two bedrooms each with their own bathroom.
Each bathroom has it's own personality.  I love the unique design of the tile floor.
The mosaic accent tile jazzes up the darker colored subway tile.
I really wanted to keep my commentary short and sweet for this home tour.  Two reasons: (1) I took a lot of pictures and (2) because I just toured a bunch of other Parade of Homes tours these past few weekends, I am excited to share them and they're fresh in my mind.  So, even if I don't share them all now, because I have a lot of holiday and seasonal content to share, I want to at least write the posts so I don't forget them.
What do you think of Cape Cod Manor?  Did you see anything that you want to have in your dream home?  I hope you did!  It's my goal to inspire you when I share these Parade of Homes tours the way they inspire me ♥