I'm excited to share this gorgeous craftsman farmhouse home tour today!  To be honest, I have no clue if this home qualifies as a craftsman farmhouse.  I feel like I need to take an architecture class.  That's the vibe this gorgeous home gives me, so that's what we'll call it today.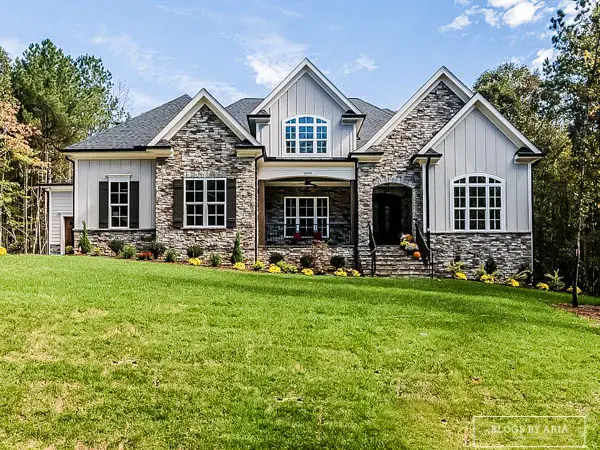 There's so much that I love about the exterior of this home.  The board and batten, the stone facade and the porch.  I had the privilege to see this house twice.  It's still on the market and has had a few open houses.
Grab a snack 😉
MODERN CRAFTSMAN FARMHOUSE HOME TOUR
This home boasts 5 bedrooms, 5.5 bathrooms and 4400 square feet.  It sits on just under an acre on a beautiful wooded lot in a prestigious North Raleigh neighborhood.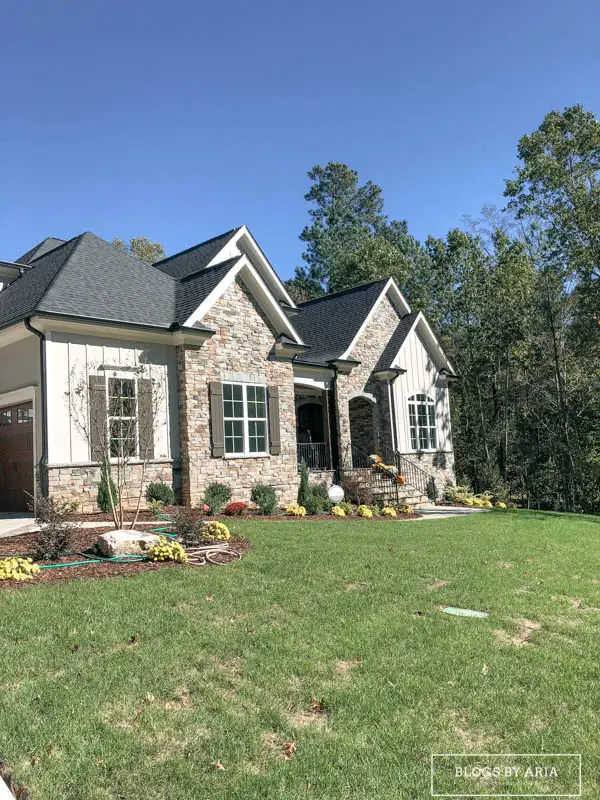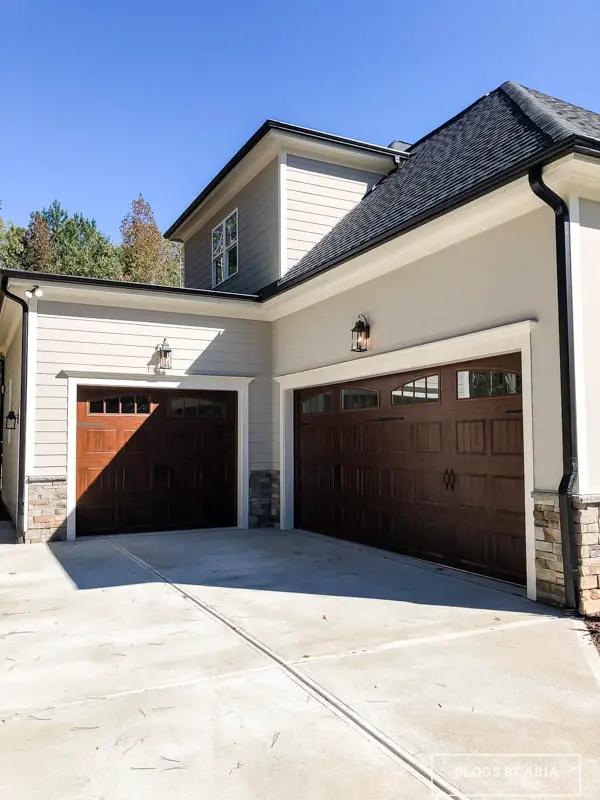 I like the contrast between the board and batten siding on the front of the house and the shiplap siding on the side and back of the home.  The garage doors are beautiful and add so much character to this home.
Now that I've thoroughly shown you the exterior of this craftsman farmhouse, let's take a look at the inside.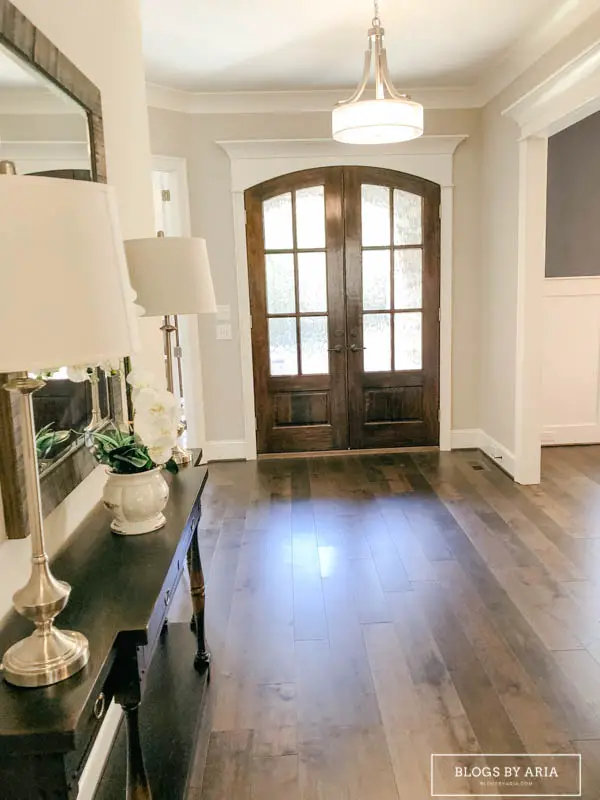 The double doors let in a ton of natural light.  Look at the casing around the doors!  It's those extra touches that this home is full of.  These dark hardwood floors are the perfect tone and they flow throughout the house.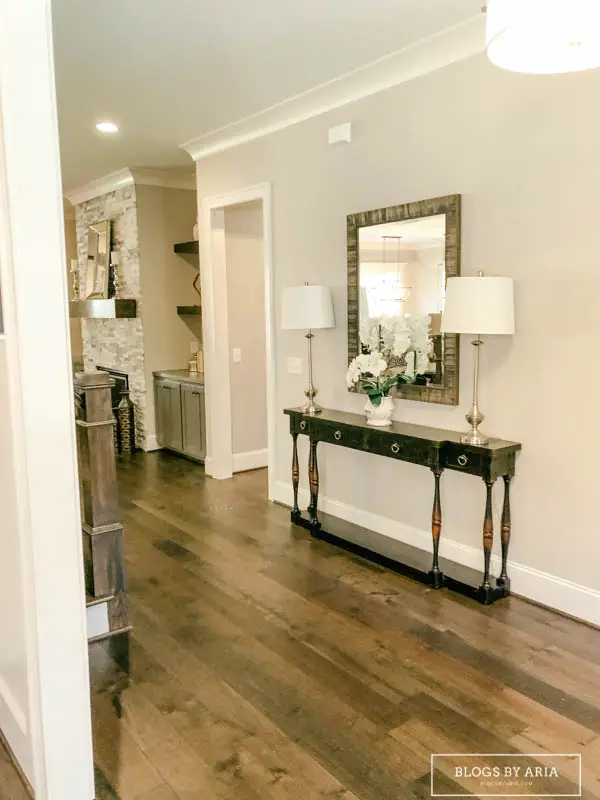 HOME OFFICE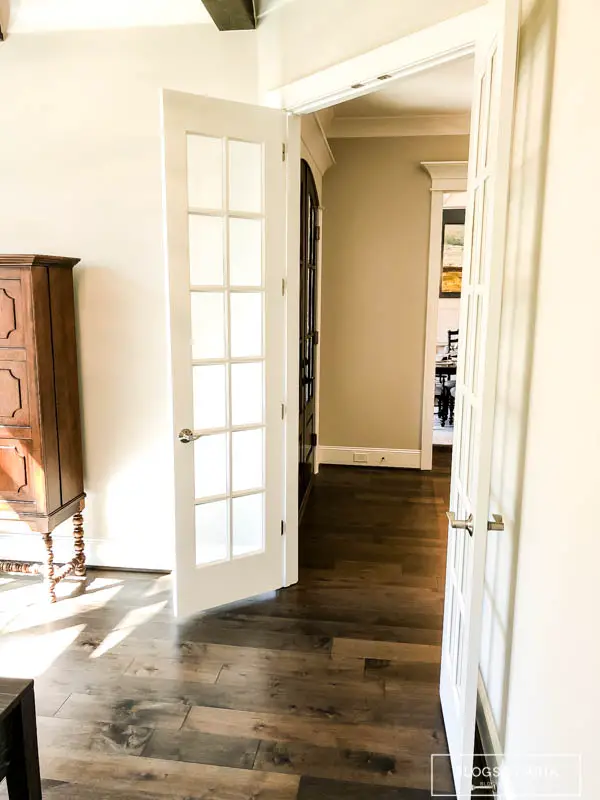 Coming into the home to the right you are greeted by the home office or study.  French doors add a classic touch.  I love french doors for a home office so that you can close out the noise but not feel completely closed off from the rest of the home.
I also like to have the home office off of the front of the house.  It works great if you have clients coming in or being able to see what's going on outside.  I love this large window it's simply stunning.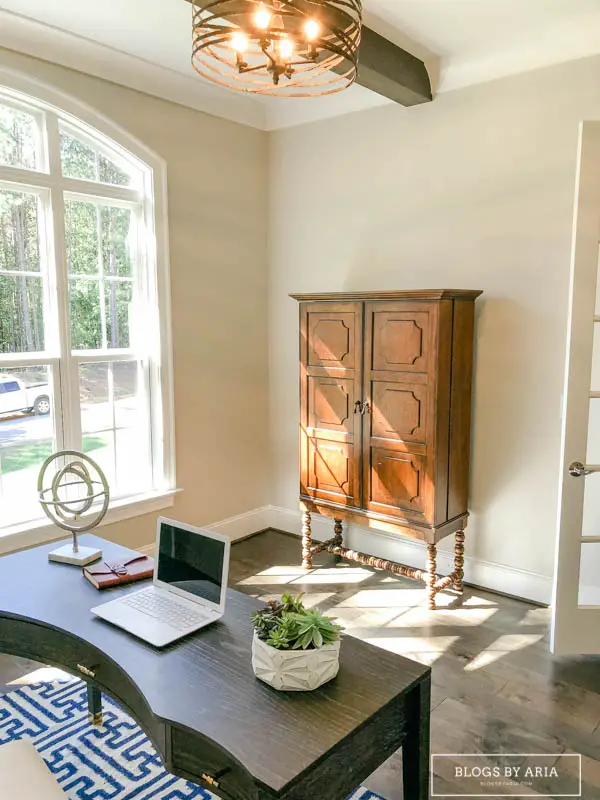 The wood beams add the popular craftsman design element.  The light fixture adds personality to the room.
CLASSIC DINING ROOM WITH A FARMHOUSE TOUCH
The bright dining room is perfect for family life and entertaining.  I love the classic wainscoting that has a simple inset panel.  It's exactly my style.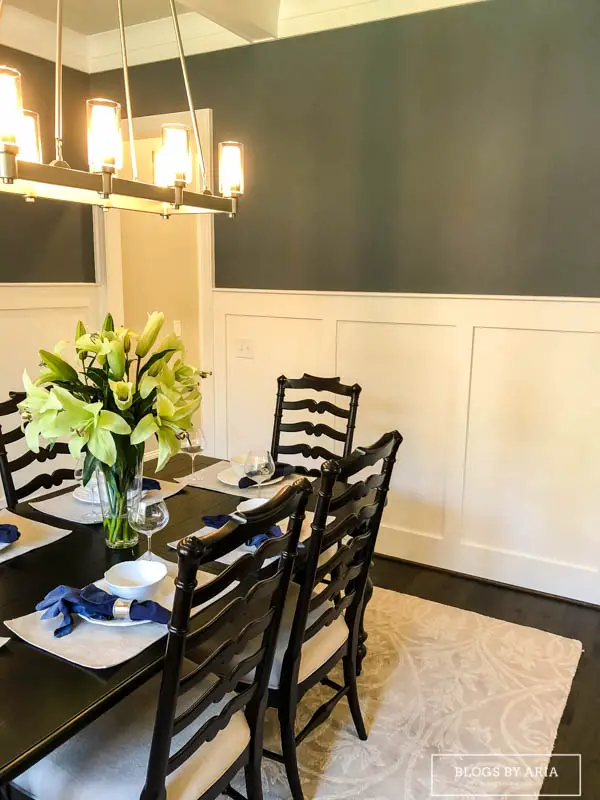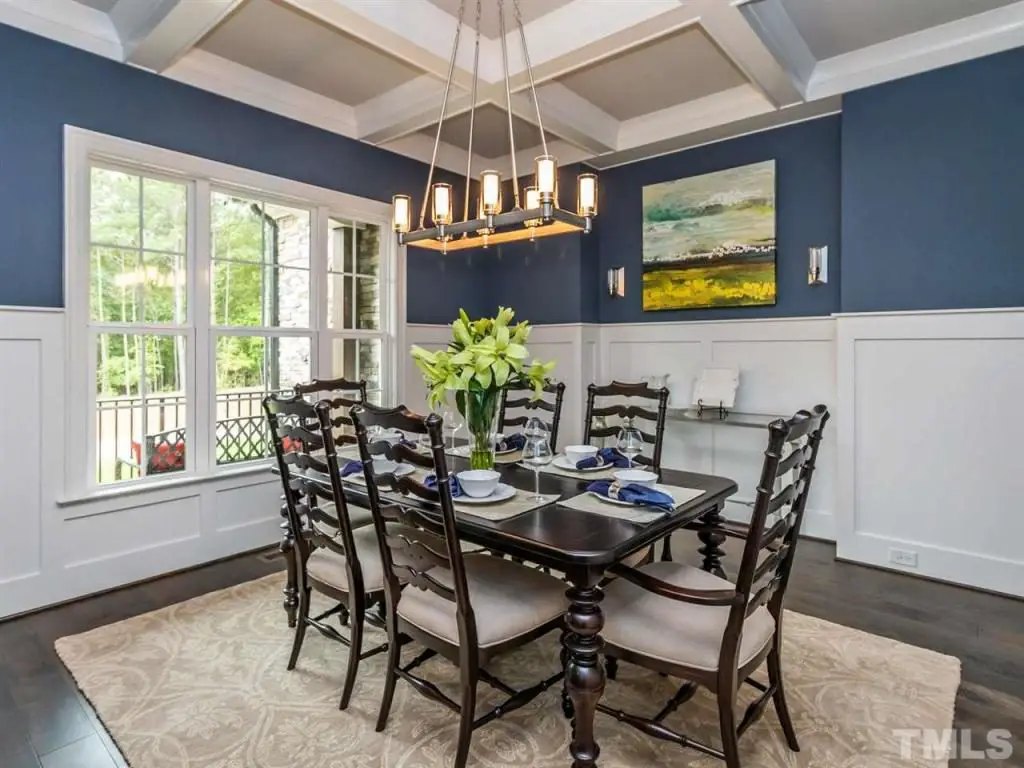 You can see from this view just how large this formal dining room is.  Imagine how large of a table you can use in here for family meals and holiday gatherings.  I love the modern farmhouse light fixture that's very popular right now.
BUTLER'S PANTRY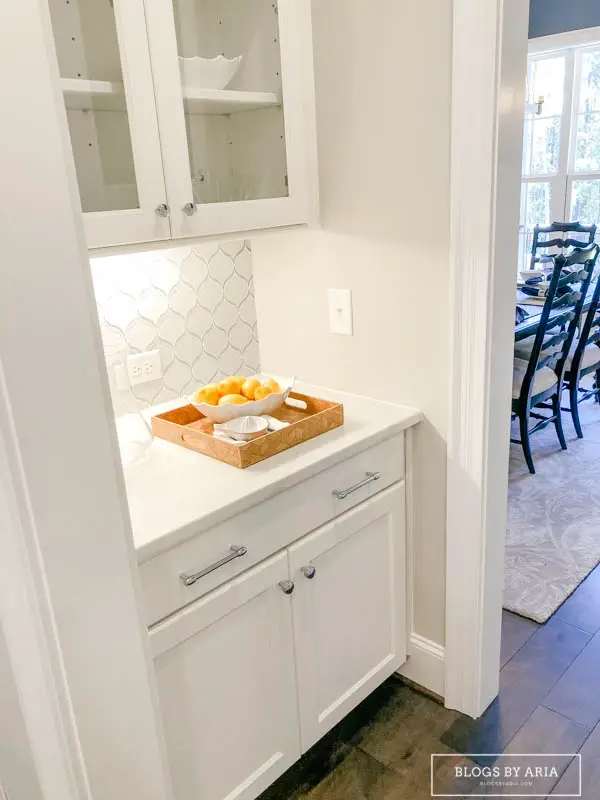 There's a small butler's pantry between the dining room and the kitchen.  It features glass tile backsplash that continues in the kitchen.
WHITE CRAFTSMAN STYLE KITCHEN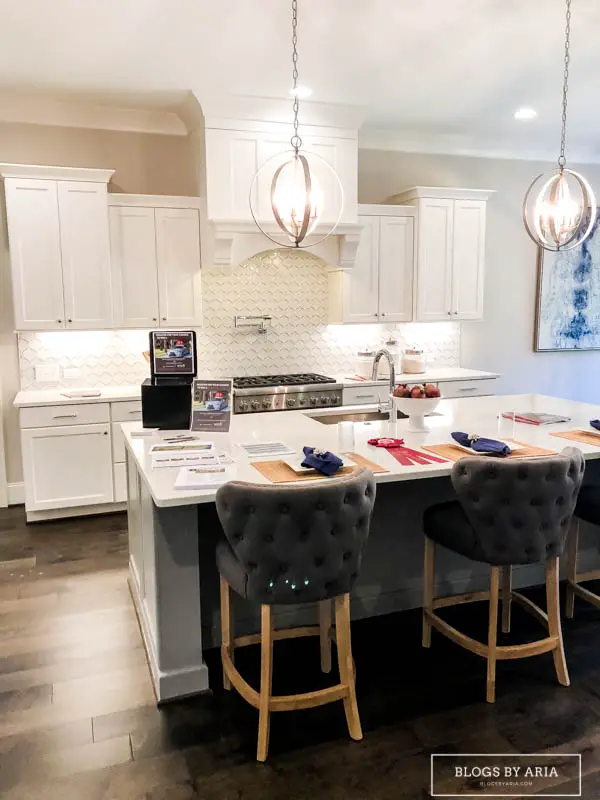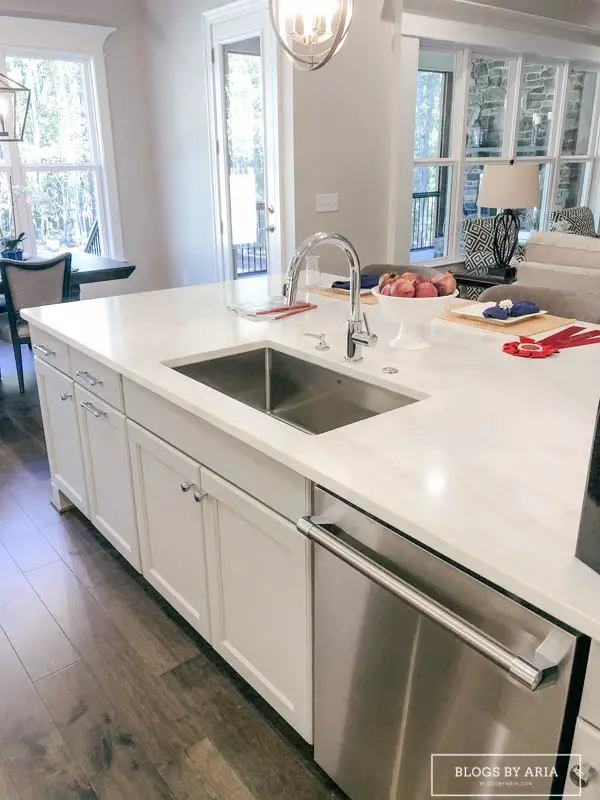 The gourmet kitchen features custom white cabinets, quartz countertops and Thermador stainless steel appliances.  This seems to be the standard kitchen layout these days and it allows for an open flow in the main living area.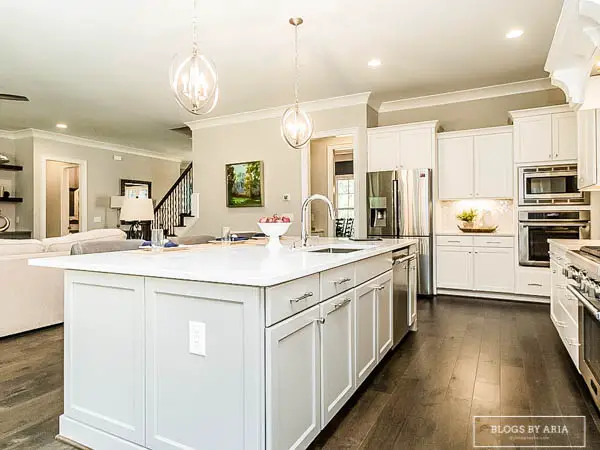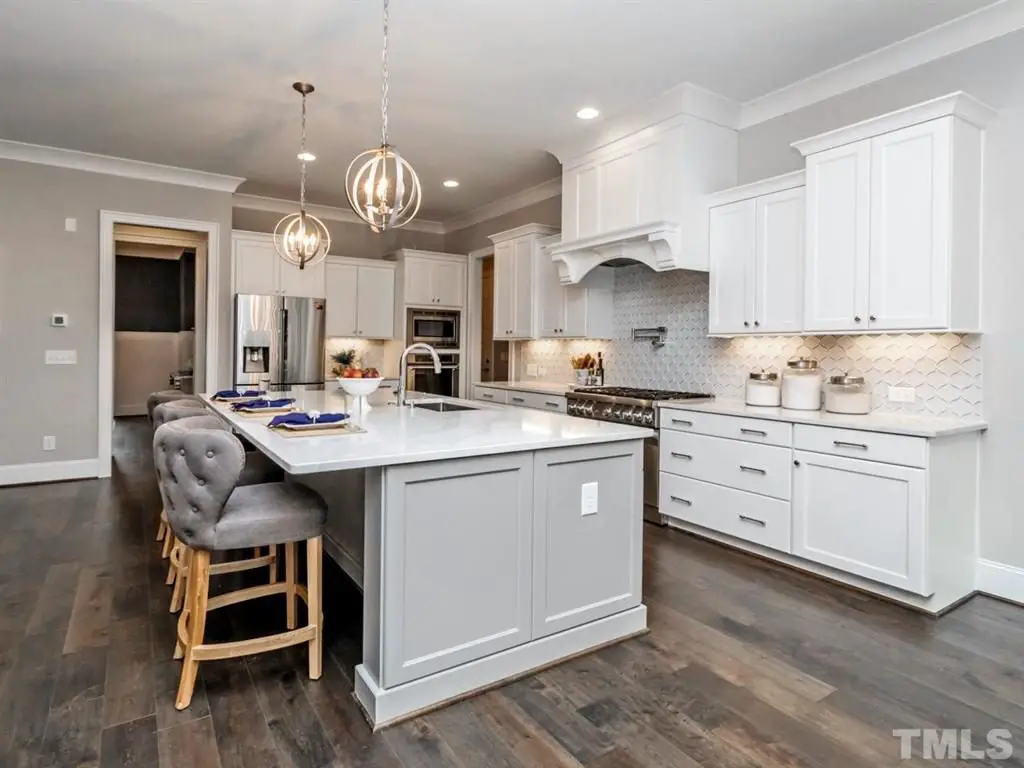 Off of the kitchen is the informal breakfast nook.  I love the classic window casing and the large baseboards and crown molding.
WALK-IN PANTRY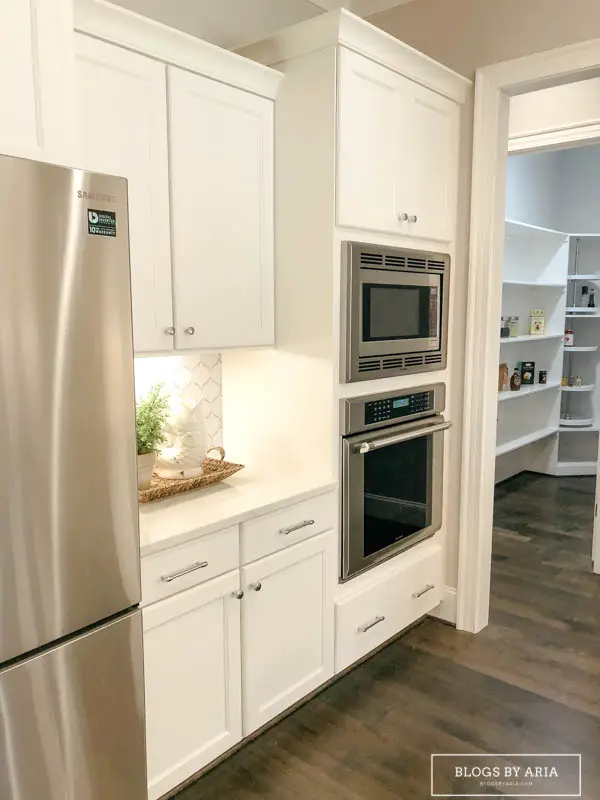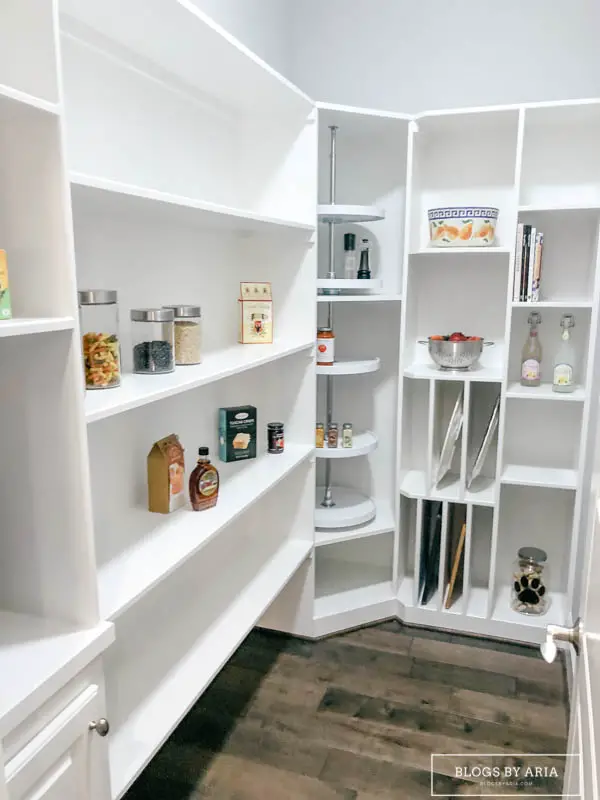 One of my favorite features of this home is this well thought out walk-in pantry.  Can you guess why?  It has a lazy susan tower!!  Ya'll know I love a lazy susan and this has several of them!  Plus lots of standard pantry storage space and built-in slots for cutting boards.  I definitely want a pantry like this when we custom build our house.
CRAFTSMAN FARMHOUSE FAMILY ROOM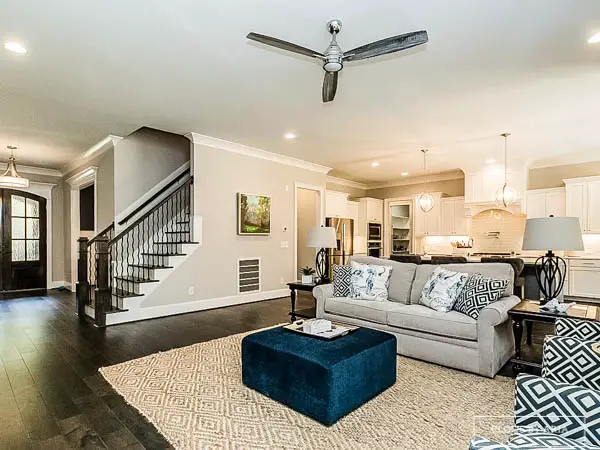 The family room has this gorgeous stone fireplace facade with floating shelves on either side.  I love how the floating shelves match the mantle.  It's not my style but I like the overall look.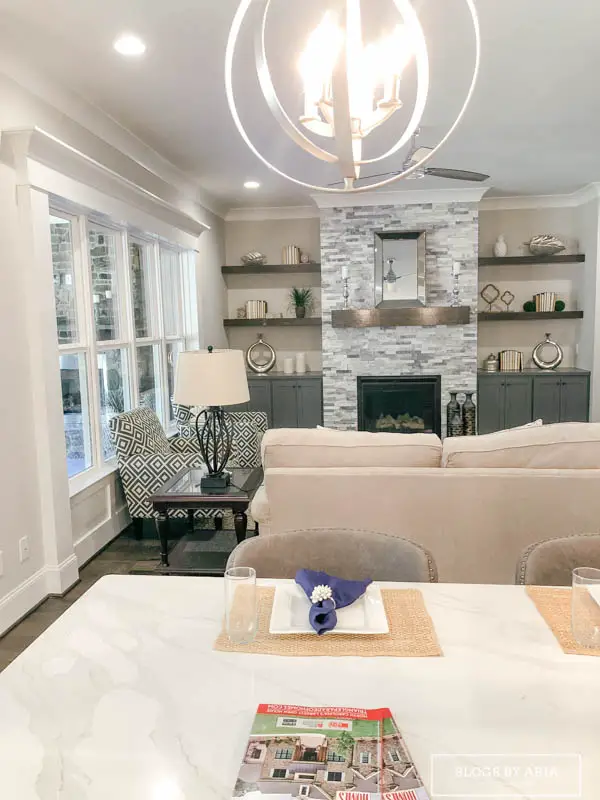 I just cannot get enough of the beefy window casings!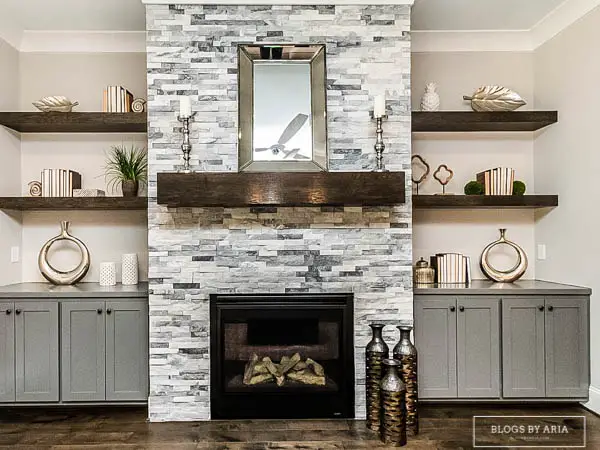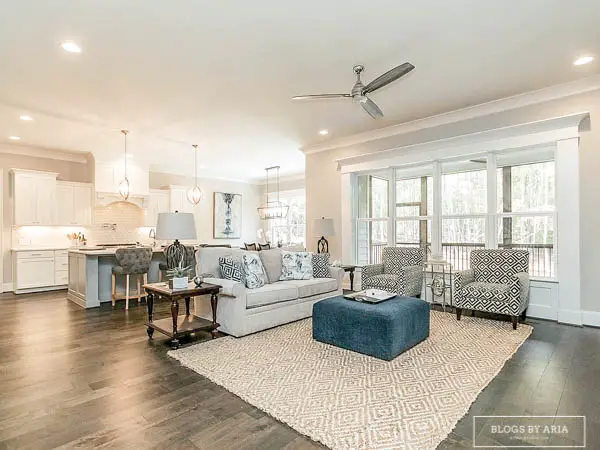 SHIPLAP MUDROOM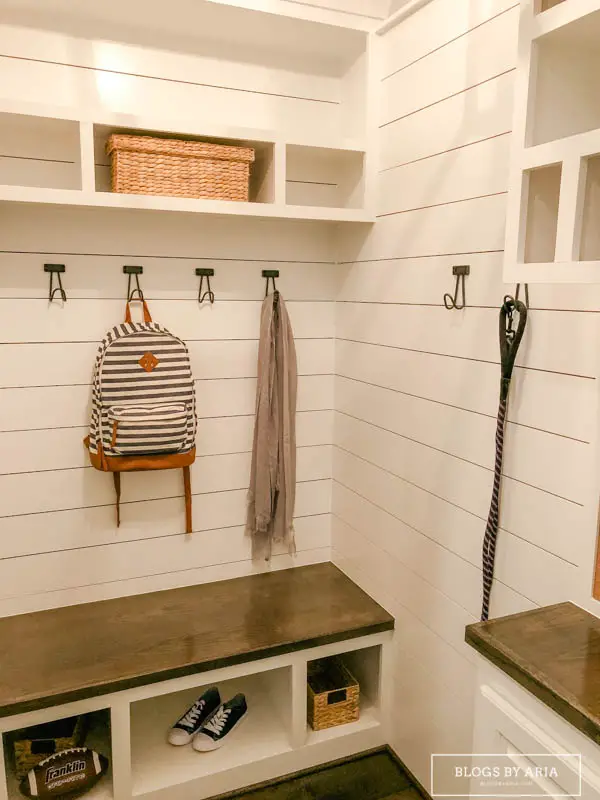 This shiplap mudroom would make Joanna Gaines proud!  I love the hooks, they're so cute!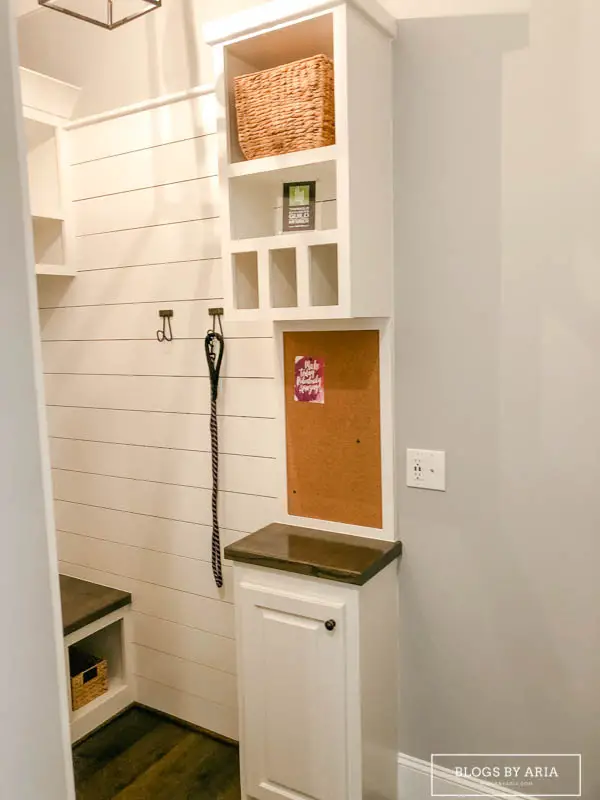 It's more than a mudroom.  It's kind of a drop zone for the family.  You have a command center pinboard, a place to sort mail, hang dog leashes and a cabinet for storage.  On top of all that makes it functional, it also looks really nice too.
CRAFTSMAN FARMHOUSE MASTER SUITE
This is a beautiful and classic master suite.  Not a lot of frills but a great size room.  The frills come with the master bathroom and closet.  Let's keep looking!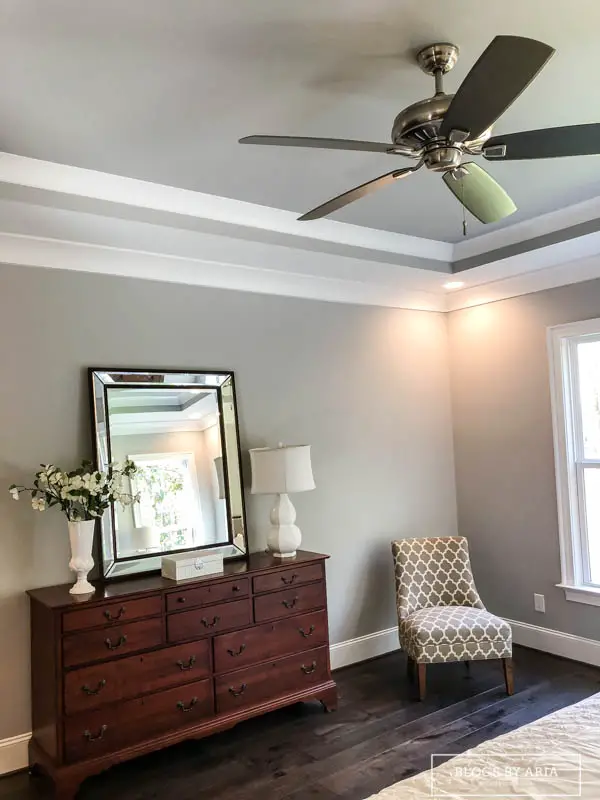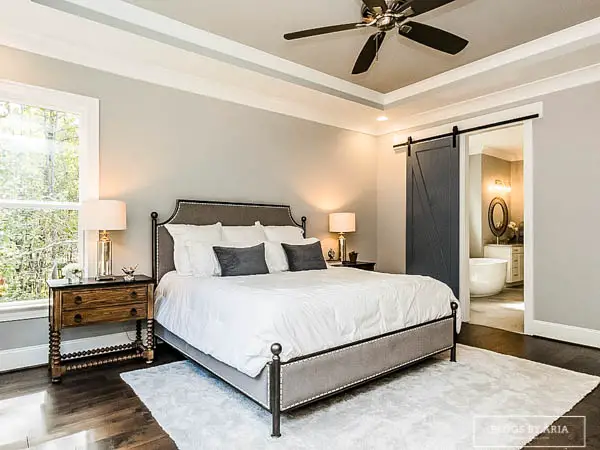 The farmhouse touches come into play in the master bedroom with the sliding barn door that leads to the en suite.
FARMHOUSE MASTER BATHROOM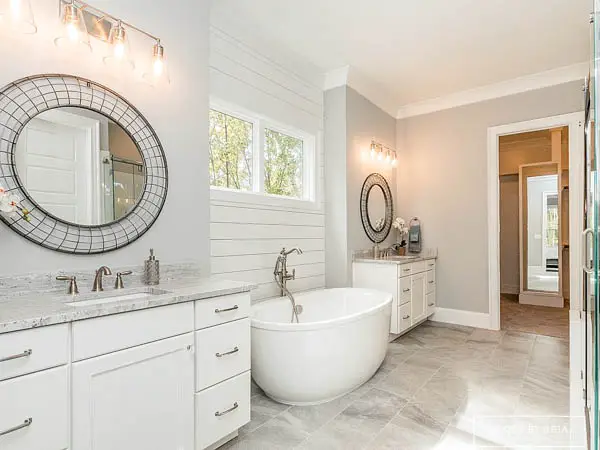 This farmhouse master bathroom is truly something special.  I love the shiplap inset wall with the standalone bathtub.  I also really like the mirrors.  They add a little something something to the space.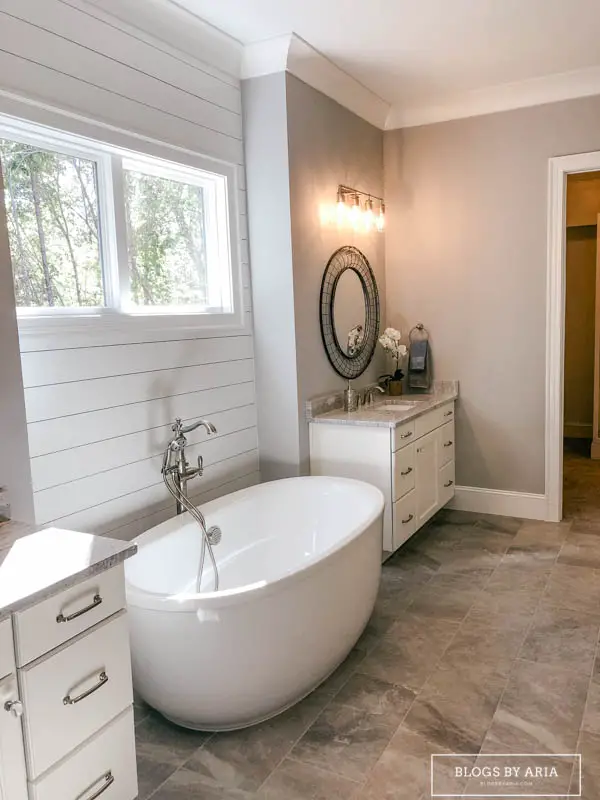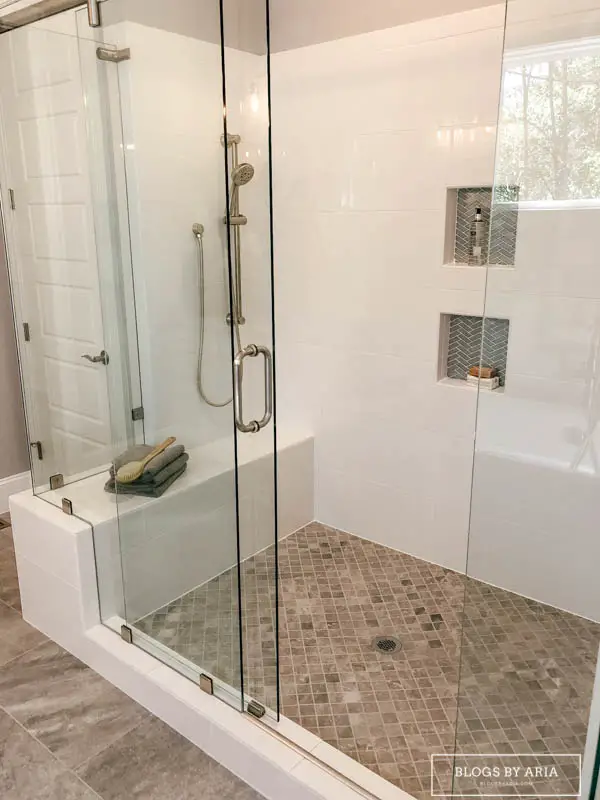 A simple but spacious walk-in shower rounds out the master bathroom.  There's also a linen closet that you can see here and a water closet.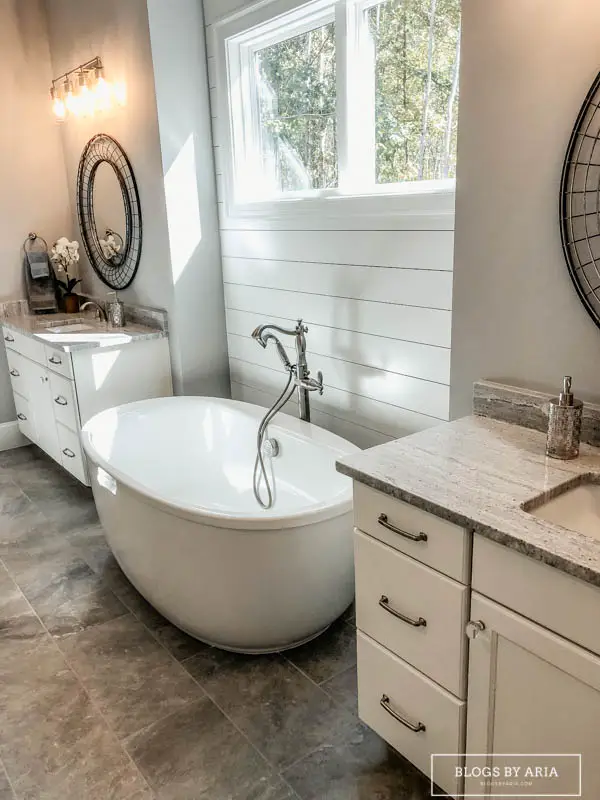 MASTER CLOSET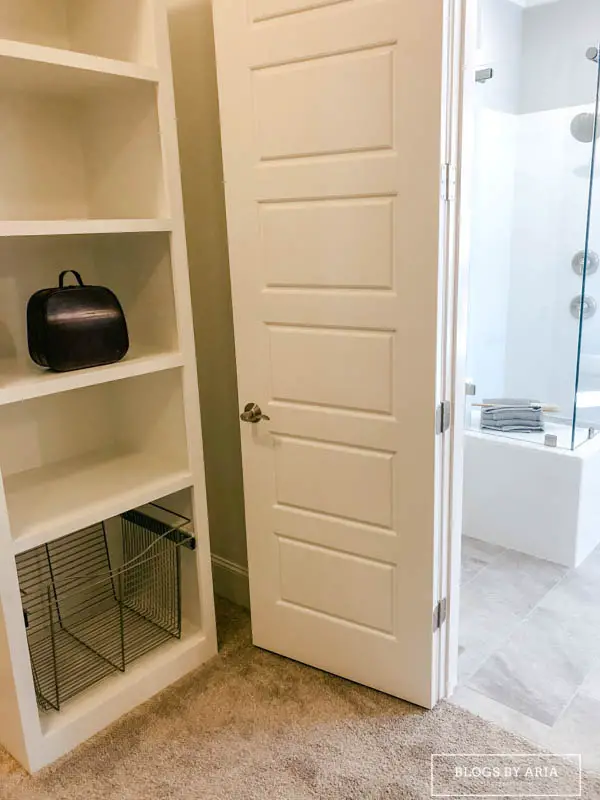 The custom walk-in closet is off the master bathroom.  No words are necessary, just take in all of it's well organized goodness.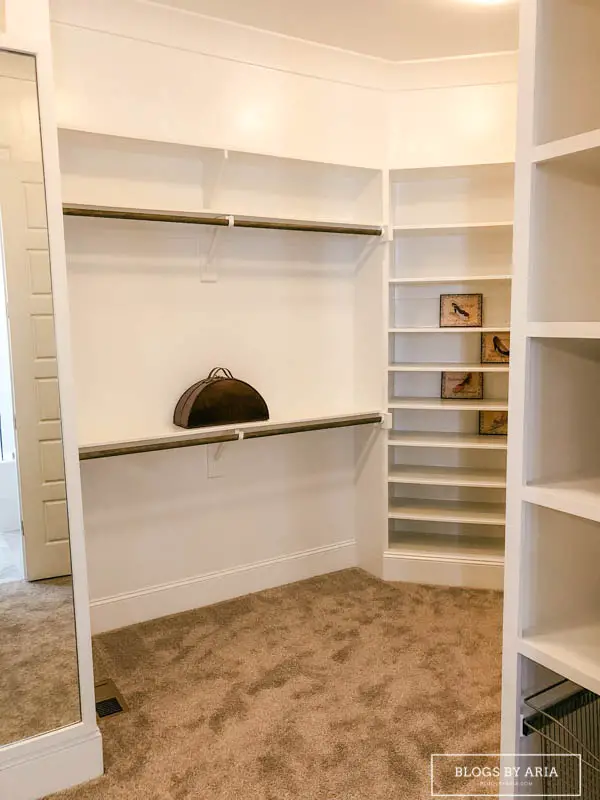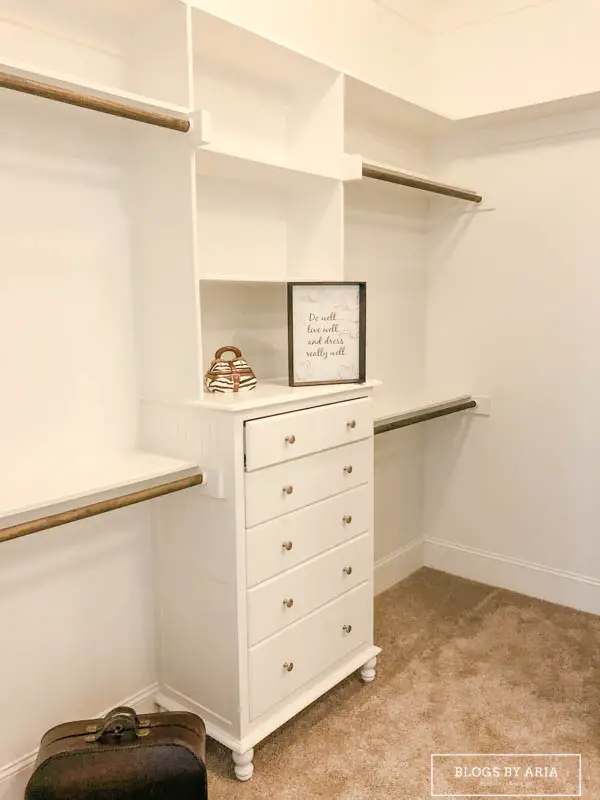 Do well, live well and dress really well.  I think that's my new motto : )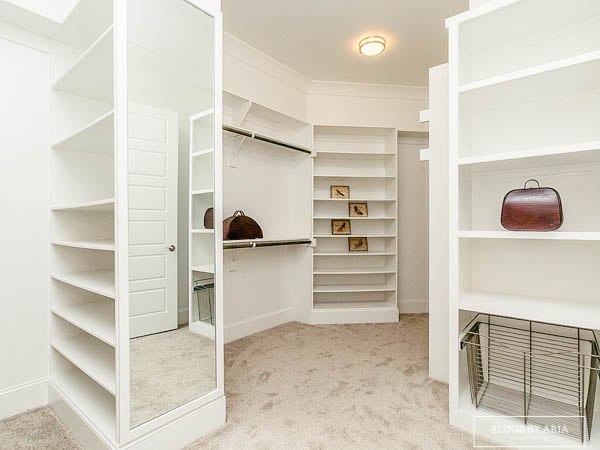 HOME THEATER ROOM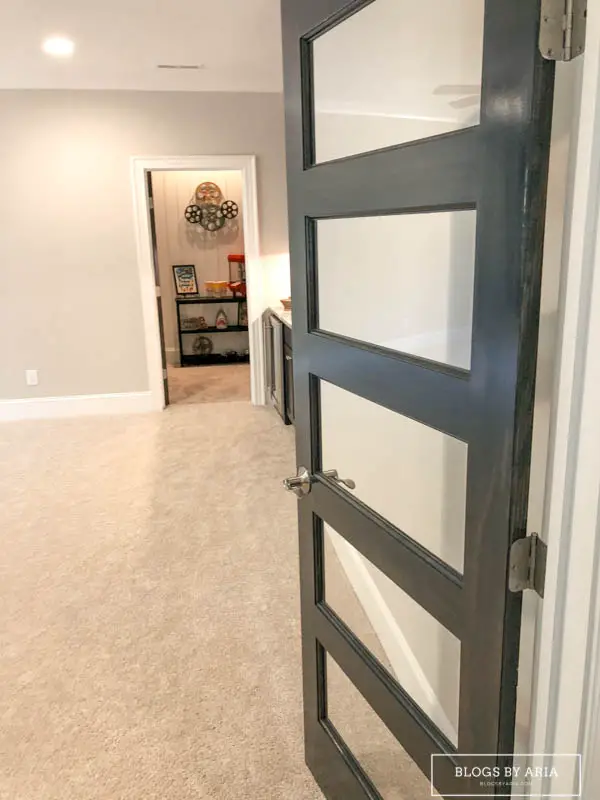 The second floor has three bedrooms, each with their own bathrooms and this very large home theater.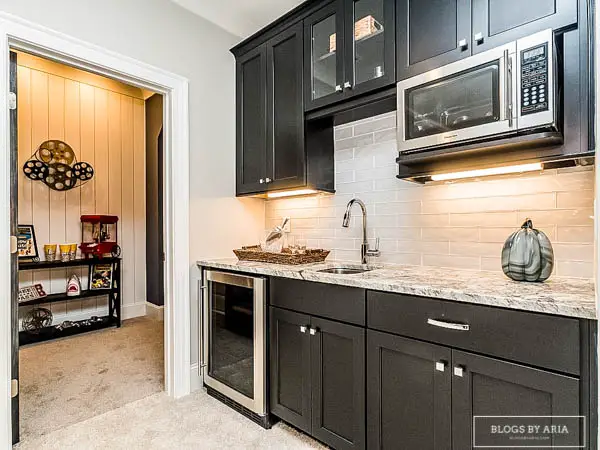 Before you get to the theater room, there is a wet bar.  Perfect for keeping snacks for movie nights.
You can move in and be all set to watch a movie with surround sound and all of the AV hookups ready to go.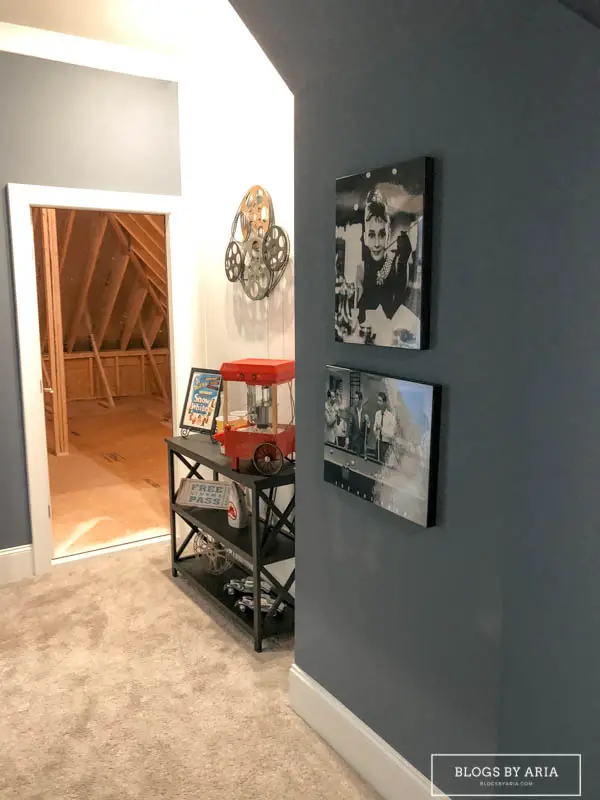 There's two large walk in attic storage accesses on the second floor.  One of them, the largest one, being off of the home theater room.
BATHROOM DESIGN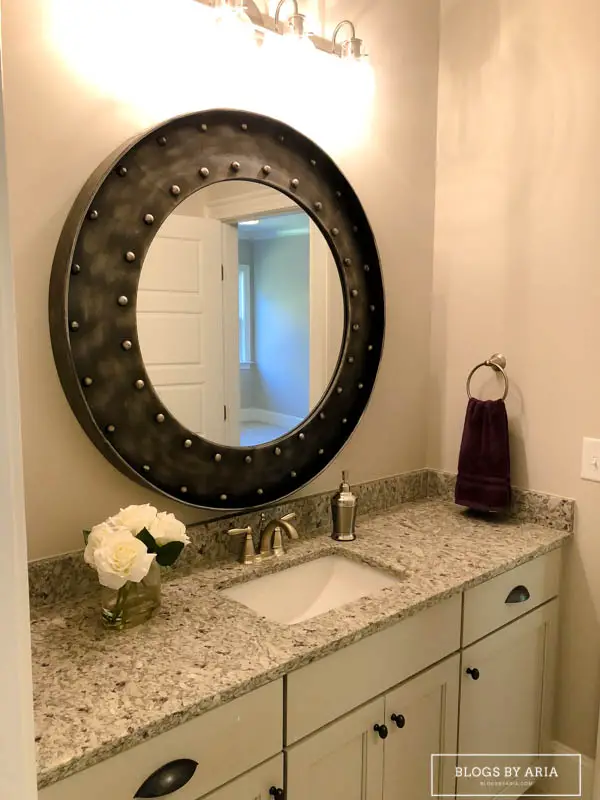 I was already going overboard with pictures for this post.  I wanted to include a few of the bathrooms throughout the home.  This bathroom is off of the theater room and one of the bedrooms.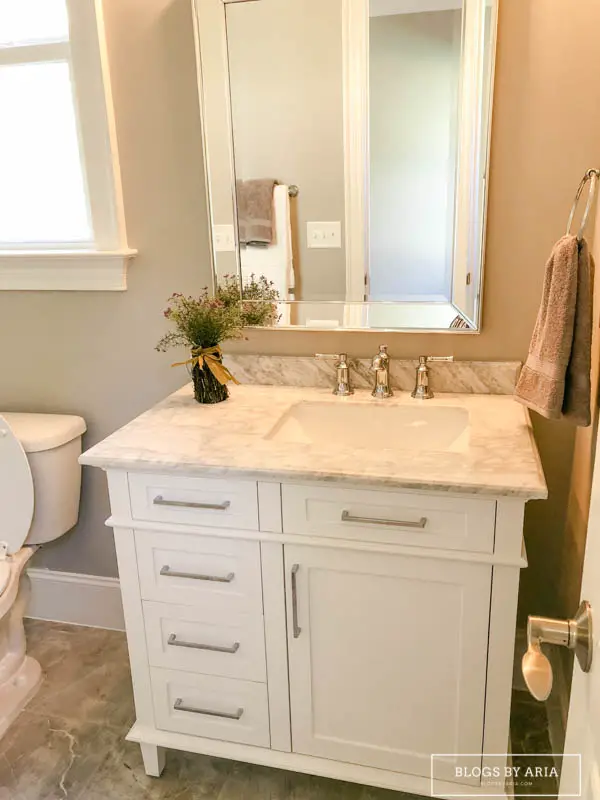 I love the classic look of this vanity don't you?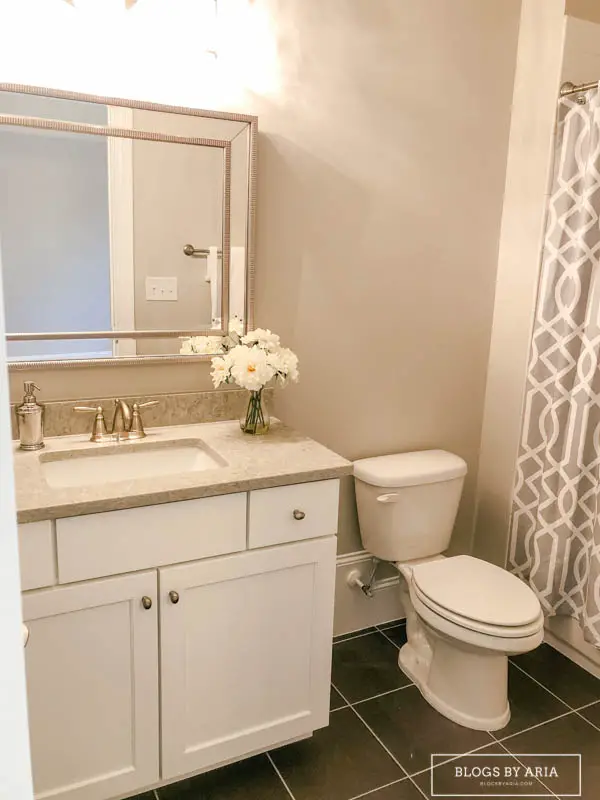 I wanted to share this bathroom because I love the mirror.
BACKYARD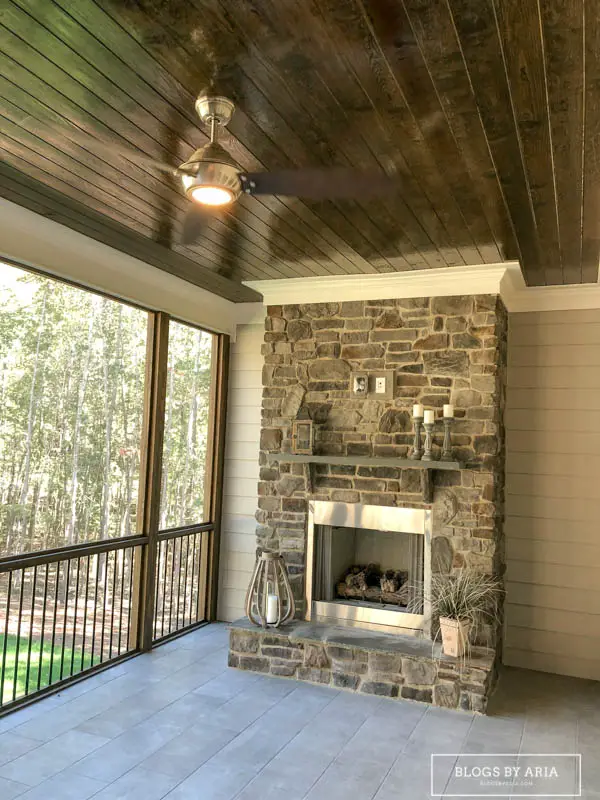 This home, as with many of the homes I've shared from Parade of Homes has a great size screened in porch with a stone fireplace.  You can see it has hookups for a TV.  I can see our family taking great advantage of a screened in porch like this almost year round.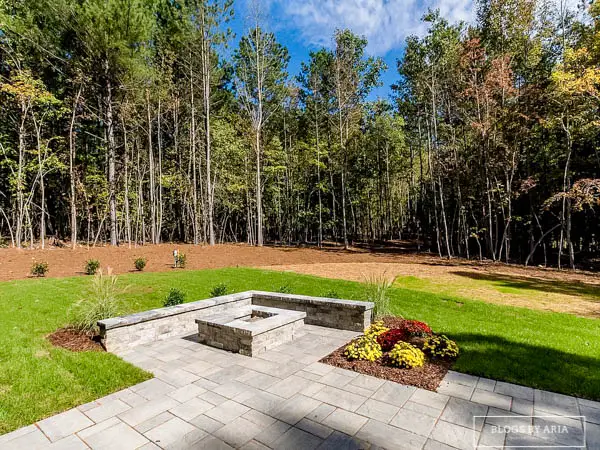 This craftsman farmhouse home includes a built in fire pit.  The lot is large enough to add a pool, however there is a neighborhood pool too.
What do you think of this craftsman farmhouse home tour?  There are so many custom appointments throughout this gorgeous home that make it stand out for me.  It's in a beautiful neighborhood in North Raleigh, which is highly sought after.  I love sharing these beautiful homes with you.  I get so much inspiration from touring homes and sharing them.  One day I'll be including features that I see from these homes into our own dream home : )