Even before I started decorating my home seasonally, I used to get so excited when I saw Target put out their Easter decor.  Because that meant one thing…Spring was coming!  It still makes me excited!  Today I'm rounding up some of the new Easter arrivals at Target.  I've been able to see a few pieces in my local Target and I can't wait to add a few new items to my Easter decor collection.
Let me also state, that I'm not sponsored by Target, I'm just obsessed with them!  I'd say over the past year my obsession has only grown with all of their home decor lines.  I totally get the obsession now!
*this post includes affiliate links for your shopping convenience, you can read more about affiliate links by reading my Disclosure*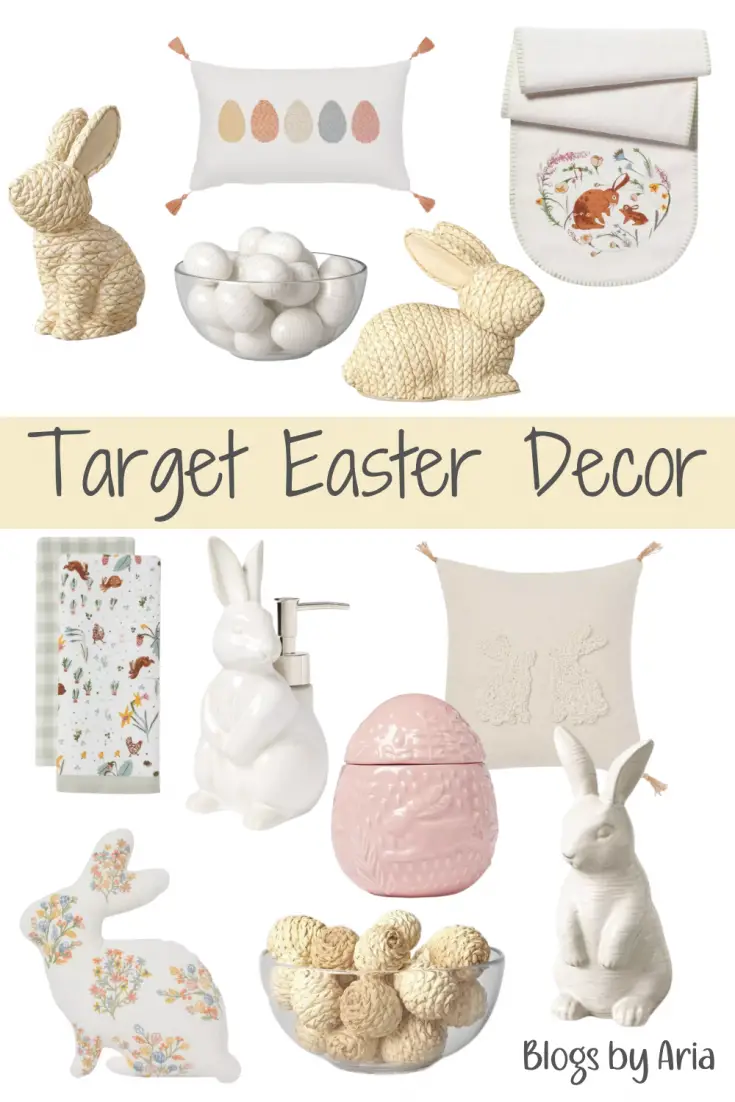 woven sitting bunny • egg throw pillow • cotton bunny table runner • ceramic eggs • woven lying bunny • kitchen towels • bunny soap pump • pink Easter egg candle • textural bunnies neutral throw pillow • large ceramic bunny • woven eggs • floral embroidered bunny shape pillow
I like that there are so many neutral options to add Easter decor to your home.  A few pieces I have my eye on are the woven bunnies.  I want to see them in person to know for sure.  They'd be great to pair with the woven eggs.
The large ceramic bunny and ceramic eggs are on my list.  I did see the eggs in store recently and they're really pretty.  I'd need to find the perfect display bowl for them.  The ceramic bunny looks like it would fit in perfectly with a couple of the glaze pieces I already have and shared in my last post.
The floral embroidered bunny pillow gives you the look for less.  There's an embroidered bunny pillow from Grandin Road that is more than double the price of this one from Target.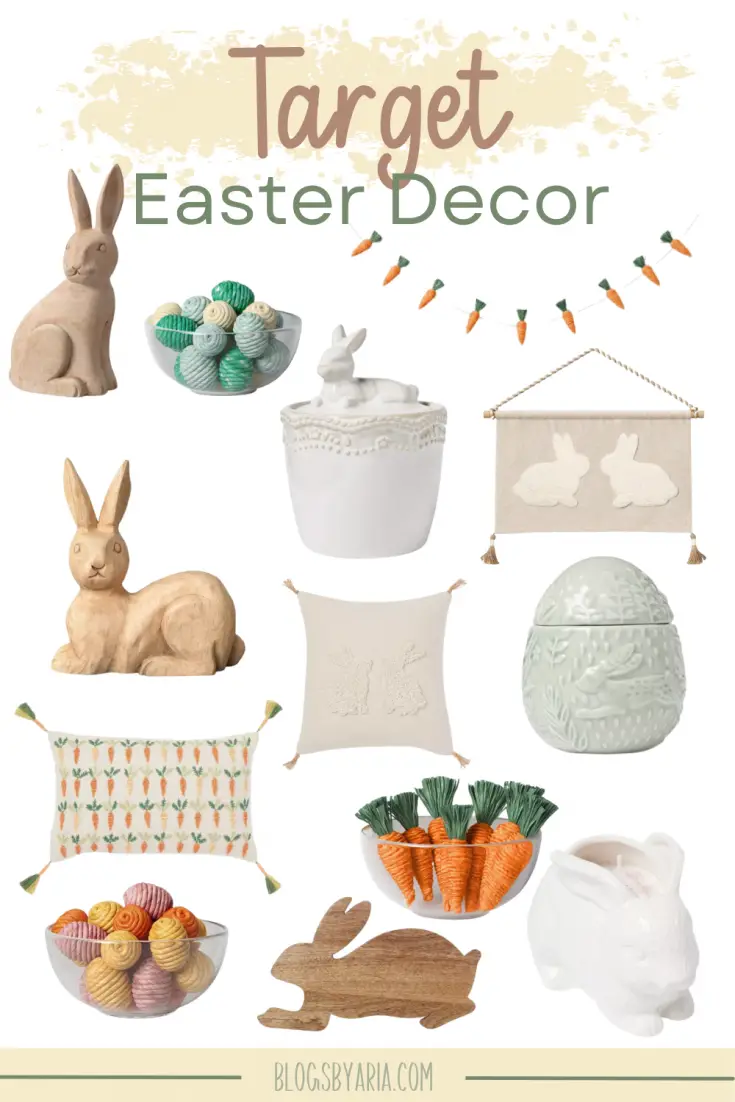 wood sitting bunny • cool egg filler • carrot garland • bunny canister • bunny wall hanging • wood lying bunny • textural bunny pillow • Easter egg candle • carrot filler • carrots lumbar pillow • warm egg filler • wood bunny shaped serving board • Easter bunny candle
I think the wood bunnies are great for neutral Easter decorating options.  Along with the neutral bunny pillows.  The only thing I wish Target offered more of would be more Christian Easter decor.  I'll probably have to see what I can find at Hobby Lobby or elsewhere.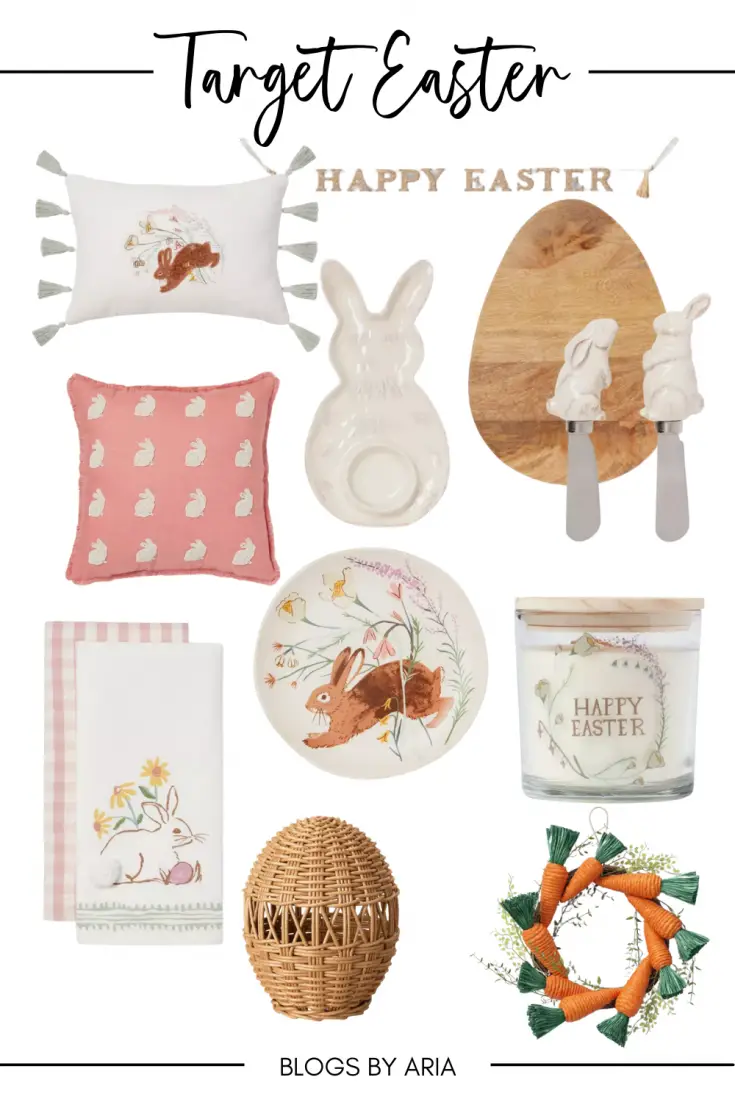 bunny lumbar throw pillow • woven happy Easter garland • beaded bunny throw pillow • bunny platter with dip bowl • wood egg shaped serving board • bunny cheese spreader tool set • cotton bunny kitchen towels set • brown bunny salad plate • Happy Easter kit • small woven egg • carrot wreath
I've noticed there is a good selection of tableware and dinnerware for Easter.  If you entertain for Easter you should check out some of the fun pieces like the bunny platter with dip bowl and cute Easter plates.  They're cute for kids too!
There's a lot of fun decorating finds for Easter at Target this year.  I've linked even more below!  If you're looking for a few new pieces to add to your Easter decorations make sure to check Target.  Pieces will go fast so don't hesitate 🙂
You can also check out my LTK where I've been sharing more Easter decor from other stores and will continue to share great finds as I come across them.
EASTER DECORATIONS AT TARGET